UK fuel prices began trending upwards following the lifting of COVID-19 lockdown measures in April 2021. Average pump prices per litre were 125.48p in April 2021, according to the Department of Business, Energy, Industrial Strategy (BEIS). Prices were driven upwards in the following months as the economy reopened and fossil fuel demand recovered.
For most UK motorists, the elation of eased lockdown measures was quickly wiped out by rising car running costs. In March 2022, unleaded petrol prices shot up to 165.37p, from 147.77p in the previous month, due to Russia's invasion of Ukraine. Russia is the third largest crude oil producer in the world and western sanctions resulted in an effective reduction in global supply, driving up prices.
Squeezed consumers
The UK government's 5p cut in fuel duty from 23 March 2022 had little to no effect on pump prices. Concerns remain that refineries and wholesalers may not pass on savings. In July 2022, a Competition and Markets Authority investigation was launched into the sector's pricing structure. Also in July 2022, unleaded petrol prices reached 190.63p per litre.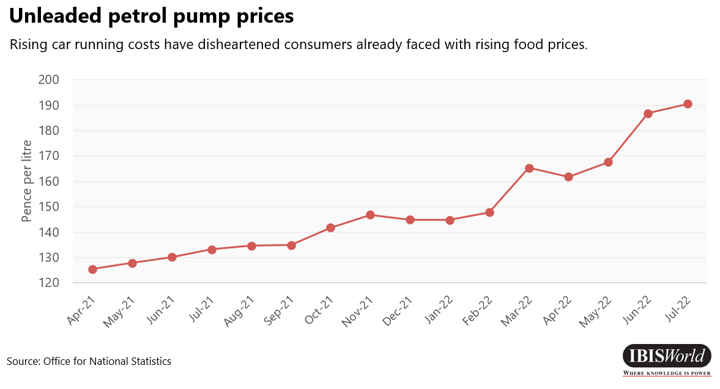 A daily rise of 2p per litre in June 2022 was the largest in 17 years.
For UK households already reeling from higher food and energy costs, paying more at the pump further squeezed household budgets. The UK Consumer Prices Index (CPI) rose by 9.4% over the year through June 2022, up from 9.1% in May 2022, the fastest growth for 40 years. Motor fuels and food made the largest contributions to price rises.
The cost of filling up an average family car exceeded £100 in June 2022, according to the RAC.
Forecourt Eye, which works with petrol stations in the UK, reported that customers are increasingly frustrated, with drive-off incidents up 61% year on year over the six months through June 2022.
To avoid higher vehicle running costs, UK motorists have:
Reduced vehicle usage
Opted for public transport
Opted for rentals
UK motorists in regions where public transport is less developed have been particularly affected by rising fuel costs. Go Ahead, one of the largest firms in the Bus and Tramway Operations industry, has recorded a significant uptick in demand.
Fleecing businesses
Businesses continue to shoulder the burden of higher prices in 2022, squeezing profit margins and altering previously planned budgets. A large proportion of firms are unable to pass on the bulk of cost increases as consumer spending wanes due to inflationary pressures.
In April 2022, restrictions on the use of rebated diesel, also known as red diesel, increased costs for many road service and agricultural industries. Red diesel, which is dyed red to make it easily identified, benefits from a reduced tax burden and restrictions on its use due to environmental targets are likely to lead to firms paying up to 50p per litre more for white diesel. In the Non-Hazardous Waste Collection industry, the sharp increase in fuel costs has narrowed profit margins. Firms operating in the industry generally absorb short-term cost vagaries due to the nature of long-term local authorities' contracts.
Waste, construction and agricultural firms that use white diesel have been affected by cost increases since April 2022. The nature of long-term public-sector contracts means that collections and other waste services must continue even if operating costs balloon.
Wholesale relief
On 18 July 2022, the AA announced that petrol prices had fallen from record-highs in previous months. Average petrol prices fell from 191.53p per litre to 188.76p per litre in July 2022, to the relief of millions of UK motorists. This is due to falling prices in the Fuel Wholesaling industry, owing to fears of recession in the United States, which have weighed on demand for fuel.
Policy push
UK government policies and incentives have encouraged electric vehicle manufacturers to announce new models. Rising fuel prices are likely to accelerate demand for plug-in and battery electric vehicles. UK motor vehicle manufacturers have ramped up production of these vehicles to meet rising domestic and foreign demand.
Over the six months through June 2022, electric and plug-in electric vehicles accounted for 32.2% of UK new car registrations, up from 22.5% over the same period in 2021, according to the Society of Motor Manufacturers and Traders.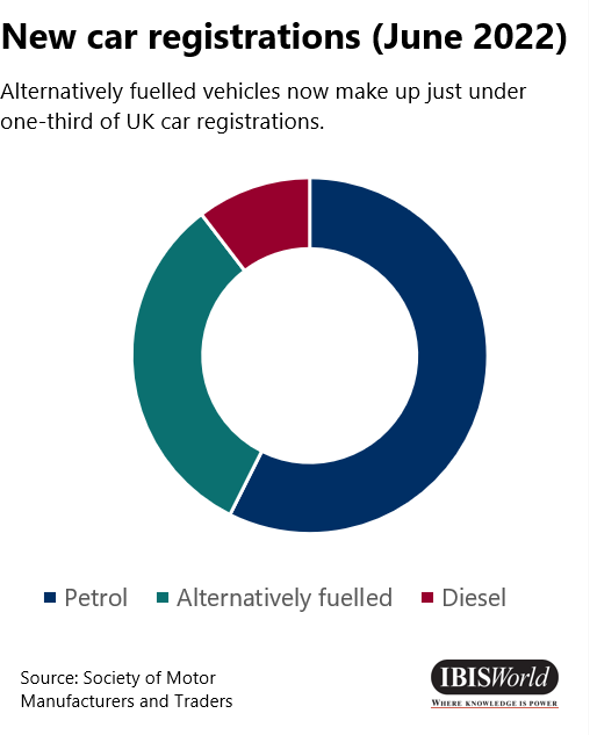 For UK households and businesses, fuel prices are set to remain high in the short term, with global headwinds constraining output and raising global prices as the Russia-Ukraine war continues. Petrol stations operate on slim profit margins and their reluctance to pass on declines in wholesale prices will mean families and businesses will continue to pay more at the pump.
Source from Ibisworld
Disclaimer: The information set forth above is provided by Ibisworld independently of Alibaba.com. Alibaba.com makes no representation and warranties as to the quality and reliability of the seller and products.
Was this article helpful?