Tesla cars are cutting-edge electric vehicles that are more than just a mode of transportation but a statement of innovation and style. When considering taking these cars to the next level and making them stand out from the crowd, vinyl wrap films offer a fantastic opportunity to personalize and protect the vehicle's exterior with an array of eye-catching designs.
However, with many options to choose from, selecting the right Tesla vinyl wrap film can take time and effort. That's why this post provides the essential factors to consider when selecting the ideal film.
So keep reading for key tips to finding the perfect vinyl wrap film for Tesla vehicles.
Table of Contents
Market overview of wrap films
What is a vinyl wrap film?
Advantages of vinyl wrap films for Tesla
Factors to consider before choosing a vinyl wrap film
Vinyl design options for your Tesla
Vinyl color options for your Tesla
Conclusion
Market overview of wrap films
The global automotive wrap film market size is valued at US$ 7.12 billion in 2023. Market analysts expect the market size to grow at a compound annual growth rate (CAGR) of 22.2% to reach US$ 28.89 billion from 2023 to 2030.
According to the research, their findings show that the vast market size erupts from the many benefits owners realize from applying vinyl wrap films on their vehicles. Some advantages like vehicle paint preservation, variety of color choices, and eliminating the need for a complete paint makeover have fueled the need for automotive wraps, driving sales.
Vinyl wrap films are common on taxis, trucks, vans, buses, boats, and other automobiles across the United States. Additionally, camouflage wrap designs becoming popular among car enthusiasts are projected to boost their demand in years to come.
Based on these trends, wrap shops are expected to generate more revenue as the demand for vinyl wrap films surges. Businesses thus need to source attention-grabbing vinyl wrap designs for their customers, and that's where this article aims to help. But first, let's understand what wraps are and learn more about their advantages.
What is a vinyl wrap film?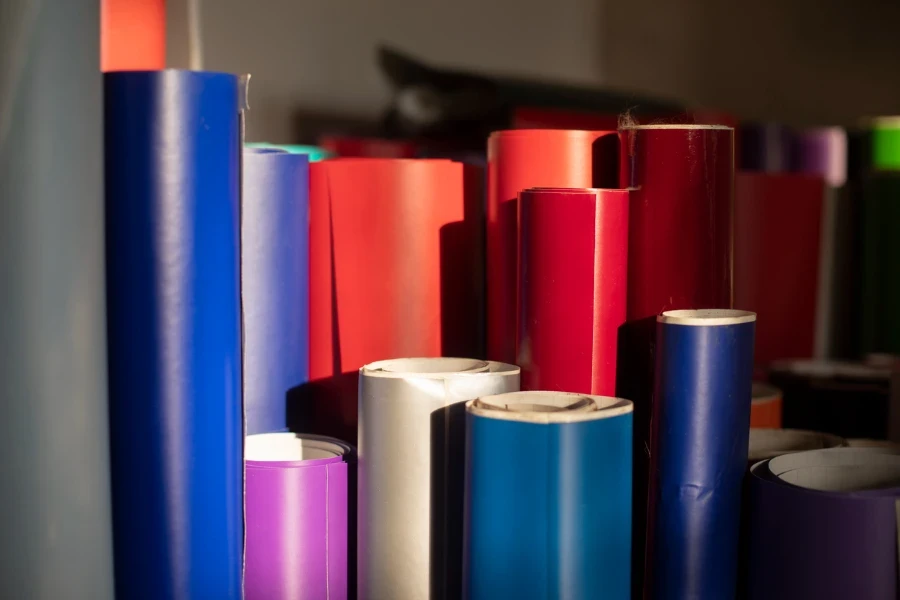 A vinyl wrap film is a large decal applied on all or some painted areas of the vehicle. The film completely changes the appearance of the vehicle after application depending on the color or finish one has selected.
Types of vinyl wrap films available in the market
Glossy finishes
A glossy wrap finish features a shiny, smooth surface coating that makes the car look sleek and reflective.
Matte finishes
Like glossy finishes, a matte wrap provides a smooth surface coating, but the finish gives the vehicle a non-shiny, flat appearance.
Satin finishes
A satin finish falls in between a gloss and matte aesthetic. The wrap film is made of a satin or semi-gloss finish with a slight shine without being overly reflective.
Color-shifting films
These are films that change color depending on the viewing angle. They create a dynamic and dramatic appearance as the car moves, shifting between hues and shades.
Metallic and chrome finishes
A metallic wrap finish characterizes a shiny, lustrous material with a sparky look resembling metal. On the other hand, a chrome finish is highly reflective and mirror-like and imitates the appearance of polished chrome metal.
Advantages of vinyl wrap films for Tesla
Contrary to popular belief, wrapping a car like Tesla is not a gamble but a beneficial choice. Numerous individuals worry that it might compromise the factory look and originality of the vehicle. However, the truth is quite the opposite. Below are some key reasons why wrapping your Tesla is a favorable decision.
Paint protection and preservation
Enclosing the car in a vinyl wrap frees it from exposure to external elements like UV rays, road debris, scratches, and minor chips, which can harm the vehicle's paint. Therefore, the paint hiding under the wrap can stay new for a long period without getting any damage.
Enhanced aesthetic appeal and personalization
Customizing a Tesla car with a desirable decal color generally improves its sleek exterior appearance. With many options, shoppers can transform their cars however they wish. Whether it is a glossy, satin, matte color shifting, or chrome finish, wrap film design choices are limitless.
Ability to reverse the customization
Another benefit of vinyl wrap films is the ability to reverse the customization. Buyers can peel off the wrap and return the car to stock whenever they need. Furthermore, a vinyl wrap delete is straightforward, and one can do it without professional skills.
Resale value considerations
Customers who consider retaining the value of their car can benefit from wrapping up their Tesla model. Some vinyl wrap film can also increase the car's value. Red, blue, and silver are better-looking colors that boost a Tesla's resale value.
Factors to consider before choosing a vinyl wrap film
Quality and brand reputation
When selecting a vinyl wrap film for Tesla cars, prioritizing the quality and brand reputation would be helpful. The quality of a film shows how well it is made and how long it will last. 
Excellent vinyl wraps are durable, resistant to fading and damage, and can maintain their appearance over time. On the other hand, low-quality films are susceptible to premature peeling, fading and will show signs of wear relatively faster.
Buyers should invest in a top-tier wrap film for their Tesla cars as they are confident that it will look great and protect the car's original paint for a long time. Buying cheaply manufactured wraps may be a good use of money, as they will likely replace it sooner than expected.
Brand reputation is all about the trustworthiness and reliability of the vinyl wrap manufacturer. Brands with a good image likely earned it through consistently providing top-of-the-range products and excellent customer service.
Some of the world's most trusted vinyl wrap brands include:
3M,
Avery Dennison,
Arlon Graphics,
KPMF,
Fedrigoni S.P.A.,
Vvivid Vinyl,
ORAFOL Europe,
Hexix, S.A.S.,
Guangzhou Carbins Film Co, Ltd, and
JMR Graphics.
Therefore, buying films from reputable brands like the ones mentioned above gives the peace of mind of knowing that they are dealing with a company with a proven track record of delivering satisfactory products.
Buyers can ensure they are making the right decision by taking the time to research different brands and reading reviews from other Tesla owners who have used their wrap films. This provides valuable insights into the quality and honesty of the brand to help one choose wisely.
Compatibility with the Tesla model
One of the primary considerations for choosing a vinyl wrap film is whether it is specifically designed for the Tesla model the buyer owns. Vinyl wrap film manufacturers often create templates tailored to different Tesla models, ensuring a precise fit. Shoppers should, thus, buy wrap films labeled or marketed as compatible with their model year and variant.
Buyers should note that Tesla models vary slightly in trim, contours, and body features. For example, the Tesla Model Y has larger body dimensions than the Model 3 sedan. Therefore, they should ensure the wrap they buy accounts for these differences to provide seamless coverage.
A good quality wrap film can only conform to the specific shape and model of the car, giving it a professional and factory-like finish when applied.
Durability and longevity
Considering the durability and longevity of the vinyl wrap film is also essential before purchasing. This depends on how long it will last and its weather resistance capabilities. A wrap film must be tough and weather-resistant to withstand the various environmental conditions the Tesla might encounter.
While a good Tesla wrap lasts up to four years, elements such as harsh sunlight, rain, snow, and pollutants should not compromise the film's appearance and protection over the years.
Ease of installation
The ease of installation matters when choosing the perfect vinyl wrap for Tesla. Businesses should emphasize buying quality products to have an easy time working on the car.
Premium-quality vinyl films are generally easier to install than cheaper and lower-grade materials. They tend to have better conformability and adhesion properties, making them more forgiving in the installation process.
In addition, buyers should look for vinyl wraps that feature air-release technology. This means that the vinyl has tiny air channels on the adhesive side, allowing air bubbles to escape when wrapping the car. It helps to prevent bubbles and wrinkles, making the installation simpler and less prone to mistakes.
Also, businesses should buy a wrap film that is repositionable when installing. This means that the installer should be able to lift and reapply the vinyl even if they make a mistake or need to adjust the positioning. Vinyl wraps with poor repositioning ability can make installation difficult and lead to the wastage of material.
Maintenance and cleaning requirements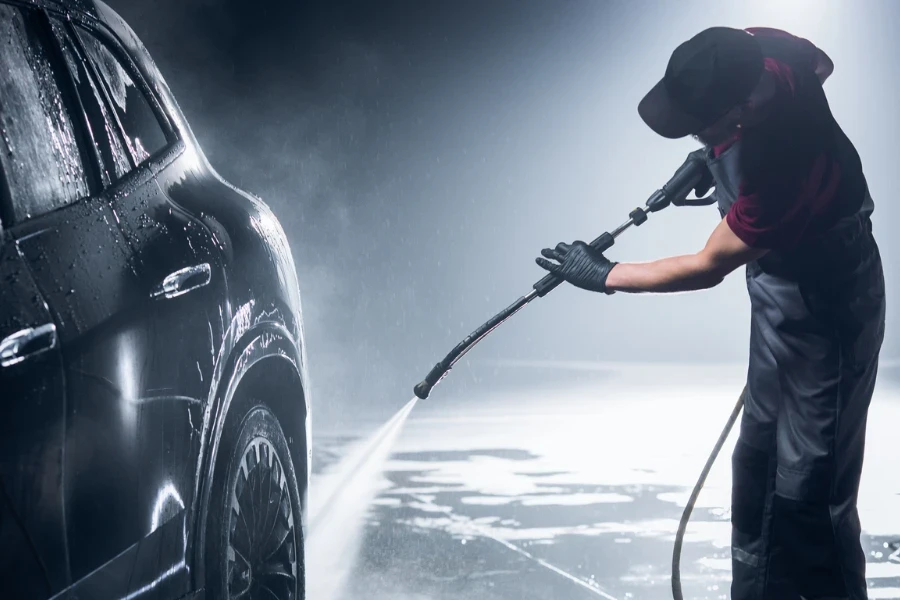 When choosing a vinyl wrap for a Tesla car, considering the cleaning and maintenance requirements is crucial to ensure the longevity and appearance of the wrap. Consumers can opt for a vinyl wrap that is easy to clean.
Some films possess self-cleaning properties which repel dirt and water, making them easier to maintain. Water and a mild detergent or specialized vinyl wrap cleaning solution should be enough to keep the wrap sparkling.
Vinyl design options for your Tesla
When selecting their go-to wrap design, Tesla owners often opt for black colors, specifically satin, gloss, and matte finish. Nonetheless, there are more wrap color designs that customers can choose to customize their electric car.
Decals and stickers
Wrapping with decals and stickers is one way of personalizing a Tesla car's exterior look. Customers can add extra flare by installing stickers such as anime and cartoon characters, flames, skulls, or any other decal style they desire. Even if the design they seek is unavailable, some shops can print and apply it to their car.
Patterned wraps
Another way to customize their Tesla is by wrapping it with sophisticated designs. Customers can take their Tesla to the next level by adding patterns. Popular patterned wraps like camouflage, animal, and geometric prints are great choices. Race car liveries are also becoming common on Tesla cars.
Custom wraps
Buyers can opt for a custom wrap made specifically for their needs if there are no suitable designs. However, designing a wrap from scratch may be costly as one may hire an expert to design and execute the vinyl. Even if the design and labor charges are higher, the result is a unique Tesla easily distinguishable from other cars from a distance.
Vinyl color options for your Tesla
Matte metallic black blue
Consumers can opt for this classic matte finish when unsure of a color choice, as it always stays in style. Moreover, the Tesla will surely catch everyone's attention when paired with this eye-catching blue-black color. The charm of this wrap is its simplicity and subtle look. As for staying trendy, consumers can rest assured that their car wrap will remain stylish and elegant for many years.
Matte white gold
This dreamy white wrap with hints of shimmery gold excites a Tesla. The matte finish blends all the elements of this wrap, presenting it beautifully to onlookers. The gold specks on the matte white wrap sparkle in the sunlight–creating a vibrant appearance. This wrap is designed for consumers who desire a classy, unique, bold look for their Tesla.
Glossy metallic liquid silver
Gearheads have always loved silver. Its ability to conceal minor scratches and shine beautifully in daylight makes it a desirable color. Glossy metallic liquid silver is an excellent choice to wrap a Tesla. 
With its futuristic design and features, the silver color perfectly complements the car's exterior. This dark shade of silver has an added shimmer thanks to its glossy and metallic blend, making it even more stunning.
Satin chrome silk azure
Installing this Azure wrap on a premium Tesla takes the car to a new level. It will look like it's wrapped in luxurious silk and become a symbol of style and elegance on the road. The chrome finish adds charm, while the satin gives it a unique shine. When searching for a glamorous wrap, this is a great option.
Glossy metallic stone gray
This beautiful wrap combines the shine of a gloss and metallic finish with a stunning stone gray color, creating an exquisite look. It perfectly conforms to the contours of a Tesla, highlighting its remarkable exterior shape. When driving the car during the day, the gray stone wrap flickers, leaving bystanders and passersby in awe of its appearance.
Super carbon fiber
Tesla owners who prefer wrapping some parts of the car can opt for carbon fiber vinyl. They can install it on the mirror caps, bumpers, or hood to create a sporty look. Those who want an aesthetic appeal can mix and match with another color. There are unlimited ideas to transform their Tesla car into a stunning masterpiece.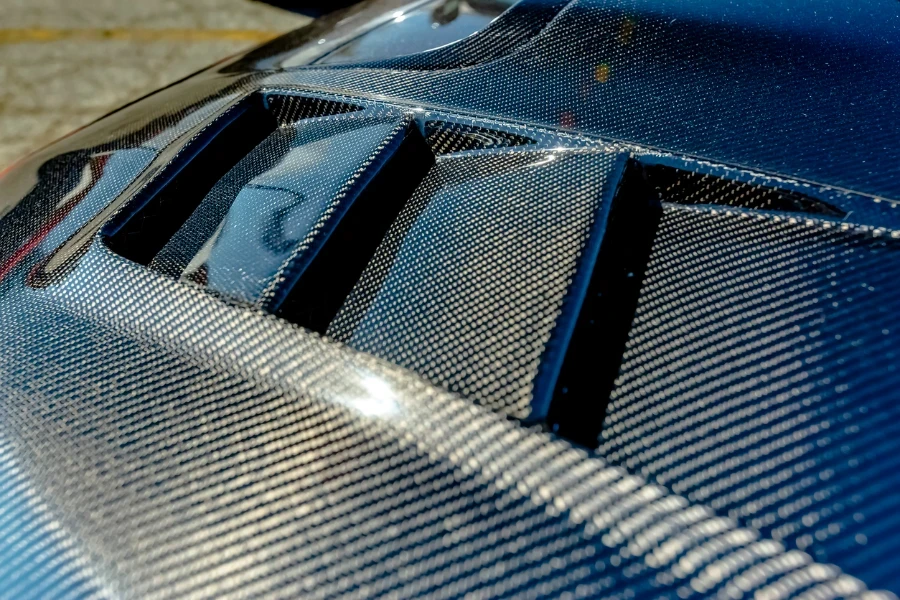 Candy metallic neon pink
This vinyl wrap handsomely captures the essence of a sunset. It combines shades of pink, orange, gold, and yellow with a metallic finish, creating a truly magical look. The metallic neon pink wrap shines and glistens and provides additional protection for the Tesla. It's a stunning choice that makes the battery-powered car stand out and sparkle.
High glossy racing yellow
Incredibly bright and vibrant yellow, this shade is guaranteed to draw attention wherever anyone goes. This racing yellow wrap pushes the boundaries of car modification, adding excitement to life. Rest assured, the color won't fade if the Tesla is appropriately stored. It's the perfect way to make a bold and unforgettable statement on the road.
Conclusion
This guide details everything about Tesla wrap vinyl and what to consider when selecting the perfect option. Vinyl wrap films offer more benefits than disadvantages for Tesla car owners. For additional wrap film details, visit the digital showroom at Alibaba.com.
Was this article helpful?