The backhoe is a familiar tool for digging and earth moving and has become an essential tool for farm work. Usually the backhoe is a fitted piece of equipment on the front of an excavator, or on the back of a tractor or loader. However, there are also versions that are towable rather than fitted. This article looks at towable backhoe models and considers the pros and cons of the towed version to help buyers make the best choice.
Table of Contents
The global backhoe market
What is a backhoe?
What is a towable backhoe?
Towable backhoe benefits and limitations
Final thoughts
The global backhoe market
Global market analysis for backhoe machinery focuses on backhoe loaders specifically. The market for backhoe loaders is expected to grow to USD 25.9 billion by 2030, with a very healthy compound average growth rate (CAGR) of 7.1% from 2022 to 2030.
Market analysis does not segment into autonomous machines versus towed machines, but it does however segment by engine power and by dig depth. Towable backhoes fit at the bottom end of this segmentation with a power range well below the lowest category of 80Hp, and a dig depth at the lowest segmentation of below 10 feet (approx 3.1m).
The backhoe market segments expected to grow fastest are in the 80-100Hp range and in the 10-15 feet (3.1m-4.5m), which exceed the capacities of towable backhoes. However, small capacity, towable backhoes do have their market niche and provide a low cost, low power option for agricultural and residential projects.
What is a backhoe?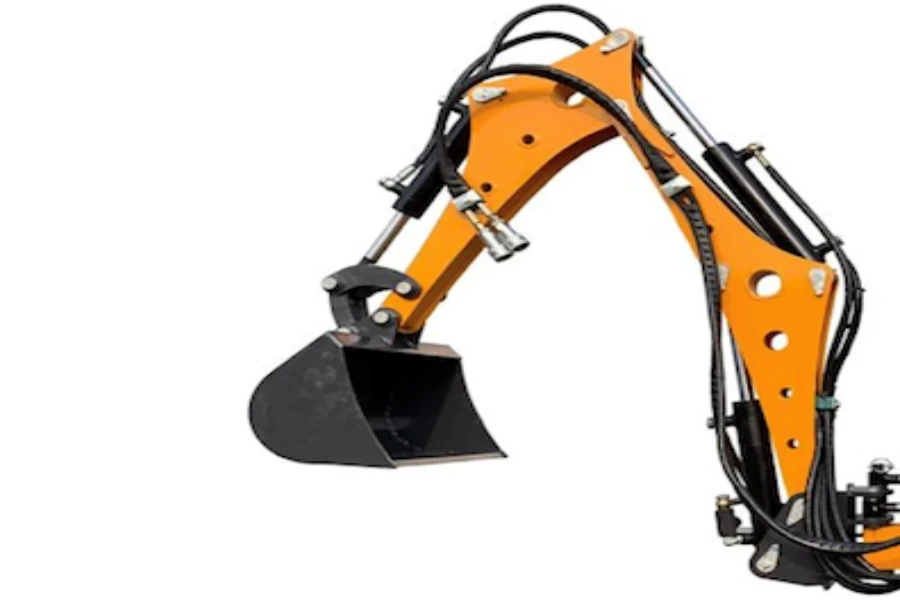 The backhoe is a common machine fitting for digging trenches and holes, and for moving earth or for scooping up debris. The backhoe comprises three main parts, a moveable boom connected to the chassis, an extending arm or stick, and a connected bucket or other attachment. The name backhoe is sometimes mistakenly taken to mean a fitting at the back of the machine, but actually refers to the way it is used, by pulling earth towards itself in a backward movement. Backhoes are usually the main fitting on an excavator, and at the rear of a backhoe loader, and as an optional attachment on a tractor.
The boom, arm and bucket are moved by hydraulics. For digging, power and stability are important, and for digging down deeper, a long reach is needed. Usually, on an excavator or backhoe loader (often called a JCB), that power comes from the main engine or, if fitted on the back of a tractor, by the Power Take-Off (PTO) shaft, that transfers power from its engine to attachments.
What is a towable backhoe?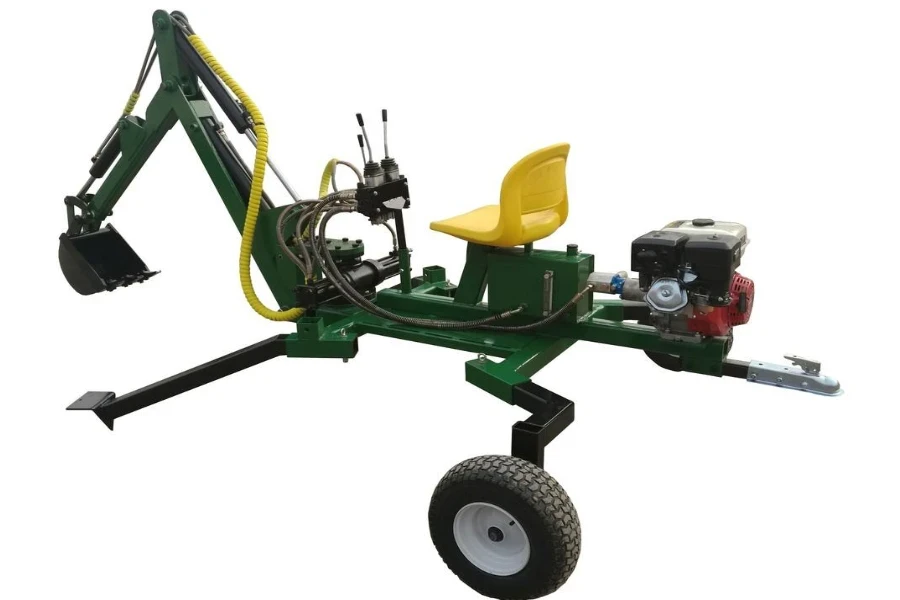 A towable backhoe is a standalone unit that is towed behind a tractor, truck or any other machine or vehicle with towing capability. It has two wheels for easy towing, and when in operation, extends out two stabilizing 'outrigger' legs to create a steady base. The backhoe has a single seat with joystick controls, with a small engine power unit at the rear. These machines look very insect-like with their stabilizers extended, but are actually a handy flexible alternative to large backhoe machines.
Towable, or towed backhoes, are small and lightweight, typically with a maximum weight of around 1000lbs to 1500lbs (approx 500-700kg). On many models, the boom can swing from side to side, but cannot rotate 360 degrees as an excavator could. The typical range is between 120-140 degrees. However, there are also some models that have the seat and boom mounted together on a rotating platform, giving 360 degree rotation.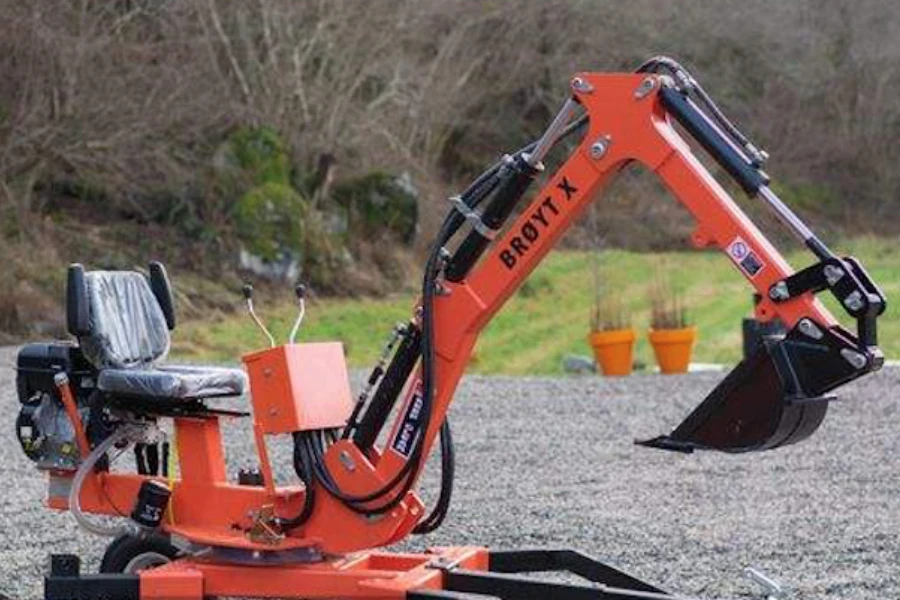 Maximum digging depth is determined by the boom-arm length and typically ranges between 7-8 feet (approx 2100mm to 2400mm). The arm length is around 10 feet (approx 3100mm).

Digging power is driven by a small gasoline-driven engine that generates around 9-15hp. Most engines are EPA emission approved for North America, and EC emission approved for European markets.
The small sized boom and arm, together with the limited horsepower, limit the digging capabilities for the towed backhoe, and it is not well suited to heavy construction or large scale digging projects. However, it is well suited for small plot farms, grazing lands, gardening and landscaping. Suitable uses are for digging small drains, ditches and trenches, pool excavation, stream and channel waterway clearing, and peripheral construction activities.
Towable backhoe benefits and limitations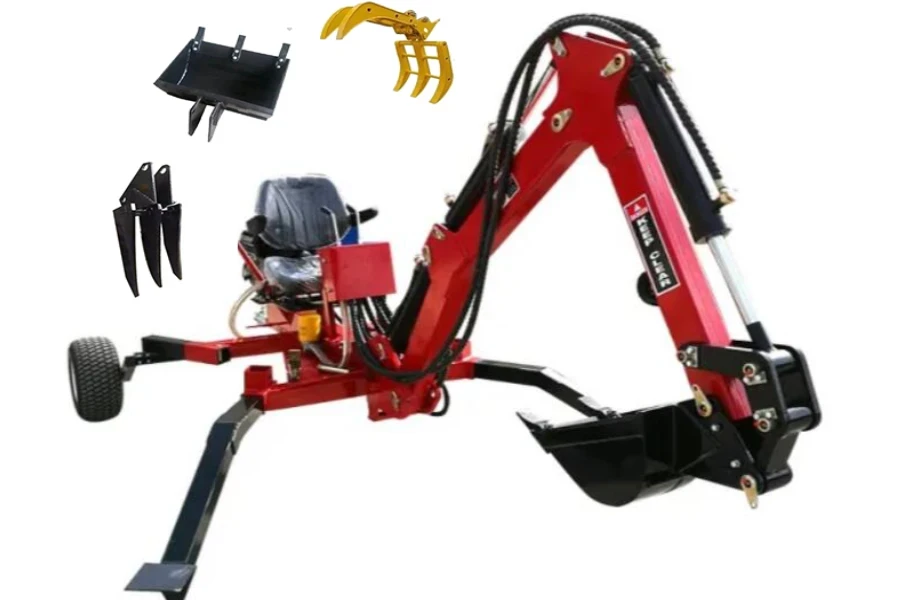 Why choose a towable backhoe over a large backhoe loader or a mini excavator? The benefits and limitations are highlighted below.
Features and benefits
Cheap to buy versus large backhoe machines
Cheap to run, the small gasoline-driven engine runs on conventional  low octane gasoline
Easy to maintain with few major engine and hydraulic parts
Ease of storage in barn, shed or garage or in outdoor shelters
Small size makes it easy to access and work in tight spaces
Some models can fit other tools instead of the bucket
Can be used while still attached for towing and the attached vehicle can provide additional stability
Can be unhitched and used standalone, freeing up the towing vehicle for other tasks
Can easily be moved around by small vehicles such as a mini tractor, ATVs or rider lawn mowers
Limitations and downsides
As the towed backhoe is reliant on other vehicles for transport, it is less mobile than independent backhoes for quick movement from one place to another
The backhoe can shift itself in small movements using the arm and bucket to raise its outriggers, but this is very slow and cumbersome to move over even a few feet without towed assistance
Limited power from the small fitted engine means the bucket cannot pull, dig or lift hard or heavy loads
Limited digging depth and reach, added to the limited power, makes the towed backhoe unsuitable for deep digging, or for accessing loads at the end of its reach
Price ranges and comparisons
Towable backhoes come in a variety of prices, with the cheapest coming in at around USD 500 and the higher priced ones up to around USD 2,800.
Price is not a direct indication of digging power, maneuverability or reach,  so when comparing models, make sure that the features and fittings match the intended use.
Variations, the backhoe attachment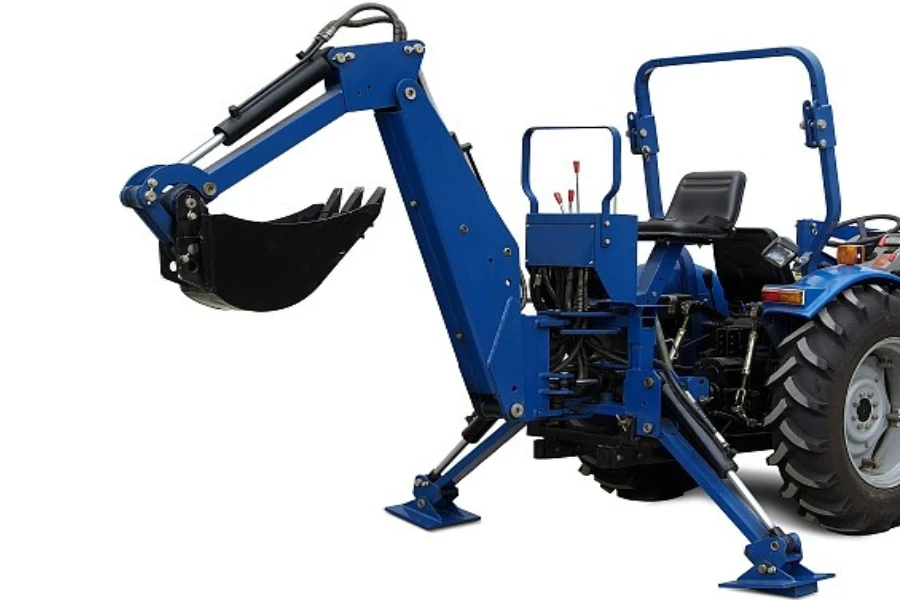 There are several models in the market that may advertise as a towable backhoe, but don't actually have wheels and are not truly towable. These backhoes are designed to attach to the back of a tractor rather than to operate as a standalone machine.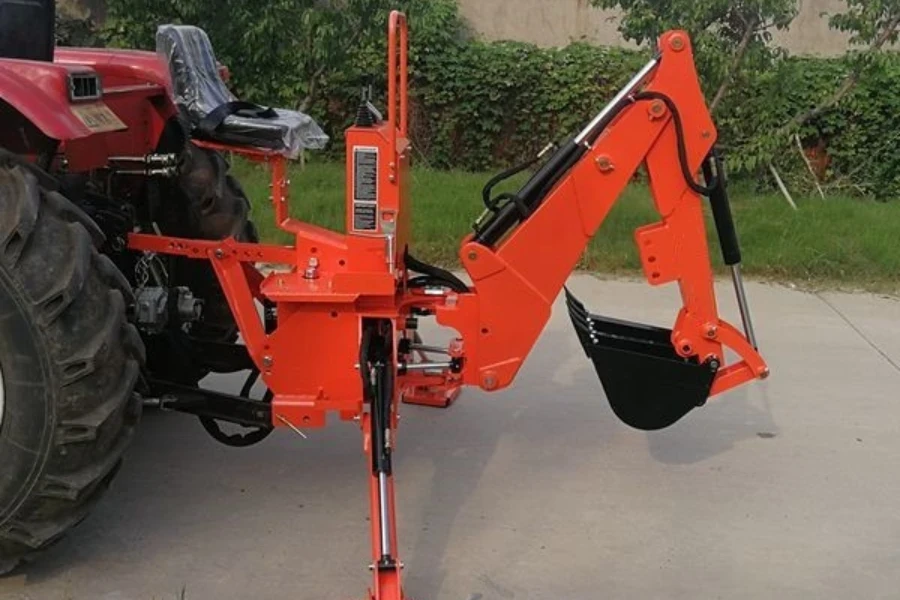 They are priced in a similar range to towable backhoes, between USD 1,500- USD 3,000, but don't have the independence of the towed versions. However, they do make use of the tractor's engine power, rather than rely on a small gasoline engine, so they can generate much greater digger power upwards of 30hp using the Power Take-Off (PTO) adaptor.
Final thoughts
Towable, or towed backhoes, are a good option to consider for small plot agricultural and land work. Once towed to their location the transport can depart. The backhoe can then dig and move earth as needed, and is able to make small adjustments in position by using the arm and bucket as leverage. They are small and compact and can be easily stored away in a shed or garage. They use small engines that are easy to maintain, or if necessary, replace.
Pricewise, the towable backhoe is a low cost option compared to the larger and much more expensive backhoe loader, excavators or skid steers. However, there is a price overlap with the smallest of mini excavators, that are usually in the USD 2-3,000 territory, but can start as low as USD 1,000. For more information on the wide choices and prices available, check out Alibaba.com.
Was this article helpful?