The bathroom mirror segment is rife with exciting looks and trends. From timeless shapes to cutting-edge technological enhancements, these are the latest bathroom vanity mirror trends for businesses to earn a return on this year.
Table of Contents
Learn about the bathroom products market
Top 6 bathroom vanity mirror trends
The future of the bathroom mirror industry
Learn about the bathroom products market
The market for bathroom products is made up of categories including bathroom basins, bathroom furniture, and bathroom accessories. Globally, the bathroom products market grew from $98.81 billion in 2022 to $111.64 billion in 2023 at a compound annual growth rate (CAGR) of 13.0%. The market is forecasted to expand to $164.86 billion in 2027 at a CAGR of 10.2%.
The bathroom mirrors segment consists of commercial, residential, and institutional customers, with a surge in the hospitality and hospital sectors as the demand for well-maintained and beautiful public bathrooms increases. The desire for aesthetically pleasing bathroom fixtures has also bolstered the emphasis on illuminated bathroom mirrors. Additionally, rising urbanization has resulted in smaller living spaces and the need for practical bathroom solutions like mirrors with built-in storage features. Technology-integrated bath mirrors are also a major trend as smart home and home automation becomes more widely adopted.
Top 6 bathroom vanity mirror trends
Vanity mirror with lights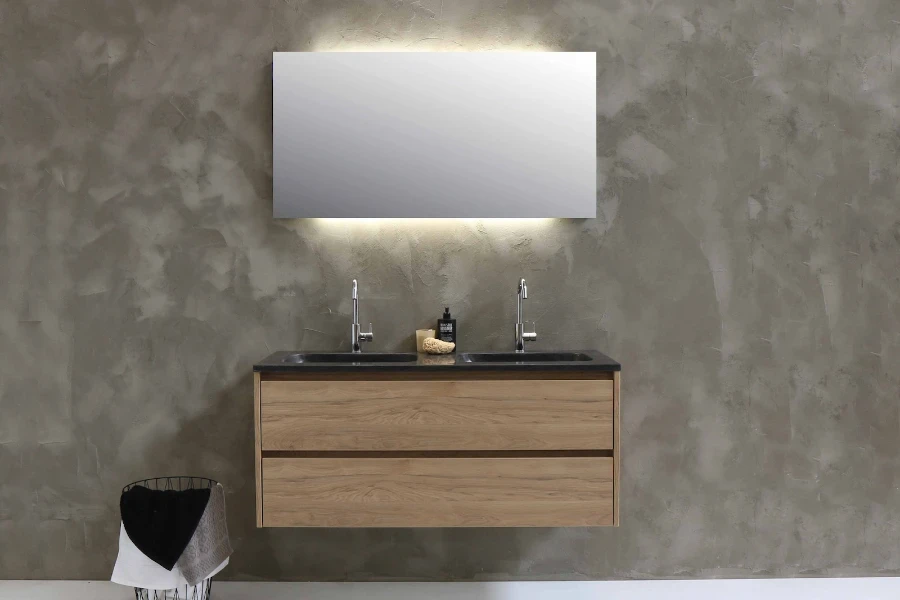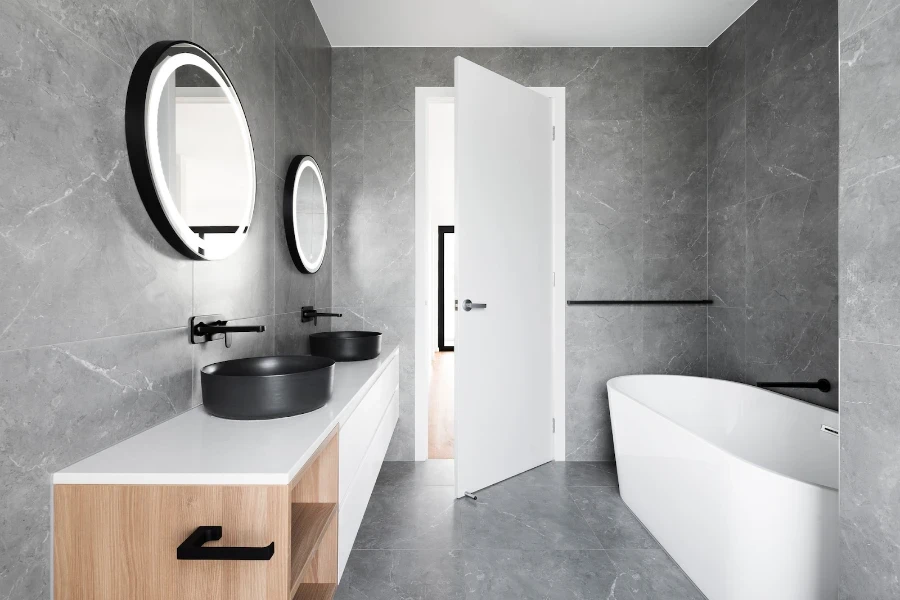 The bathroom mirror market is expanding thanks to a growing adoption of light emitting diode (LED) mirrors that assist with daily grooming activities. Based on 2022 reports, the global LED mirror market was valued at USD 2.7 billion. Industry experts forecast that after five years, that figure will double to USD 5.9 billion in 2027. According to Google Ads, the term "LED mirror" and its related variations garner up to 74,000 average monthly searches, which indicates its substantial popularity over other types of mirrors.
Vanity mirrors with lights make applying cosmetics, shaving, or performing skincare routines easier because the lighting provides consistent illumination and reduces shadows. The lights can be integrated into the front of the mirror as a row of LED bulbs along the border or built along the back of the mirror for a back-lit design. A bathroom mirror with lights can generally be turned on or off by touching the surface of the mirror, and some models may even offer dimmable lights for additional flexibility.
Bathroom mirrors with storage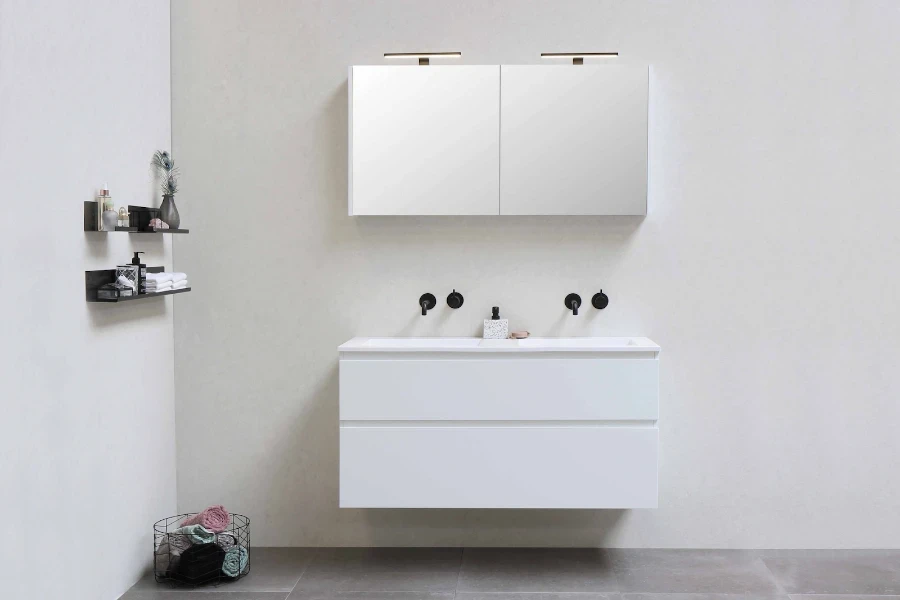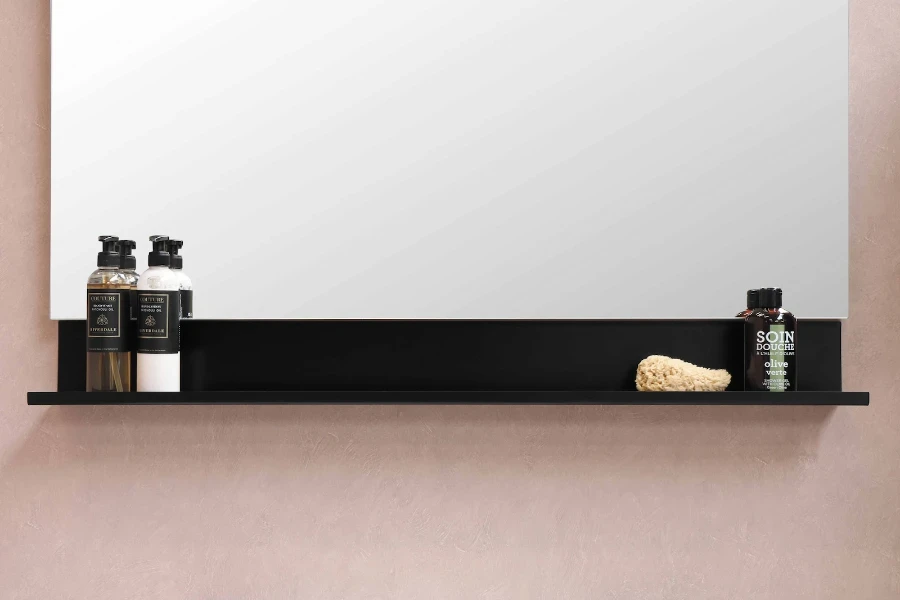 The rise of apartment and flat living encourages customers to seek out space-saving bath mirrors. To meet this demand, bathroom mirrors with storage are a big trend.
Vanity mirrors with storage can be designed with built-in cabinets or shelves to offer extra space in small bathrooms. Medicine cabinets are popular because they are built flush or recessed into the wall and can hide many toiletry items behind a mirrored door. The term "bathroom vanity medicine cabinet" garnered 14,800 searches in October and 12,100 searches in June, which represents a 22% increase over the past 4 months.
Alternatively, a bath mirror with a shelf attached to the bottom of the frame is suitable for holding smaller everyday essentials or decorative items to help declutter the bathroom counter. For customers with small spaces that necessitate multi-functional furniture units, speciality bathroom counters or cabinets with built-in vanity mirrors can also fulfill that need.
Pivot wall mirrors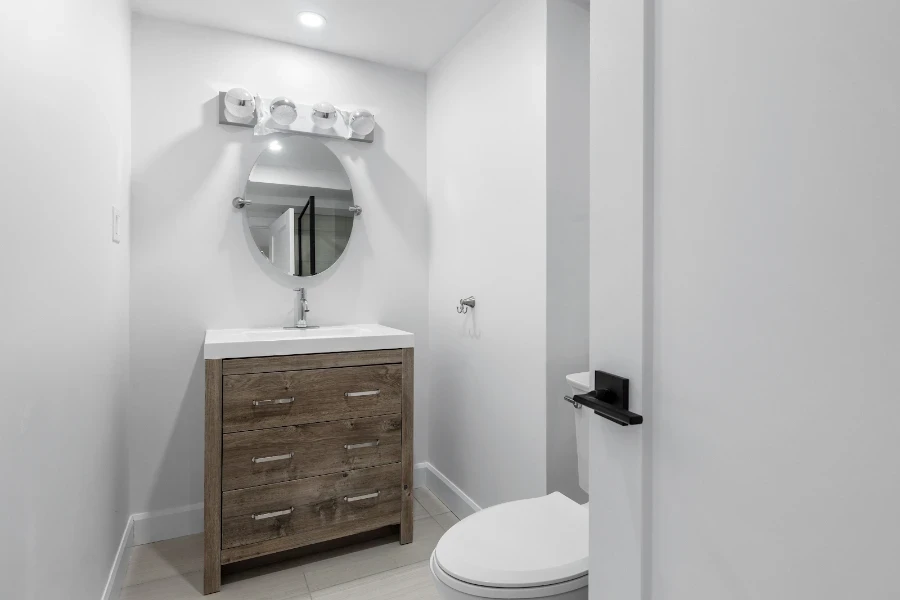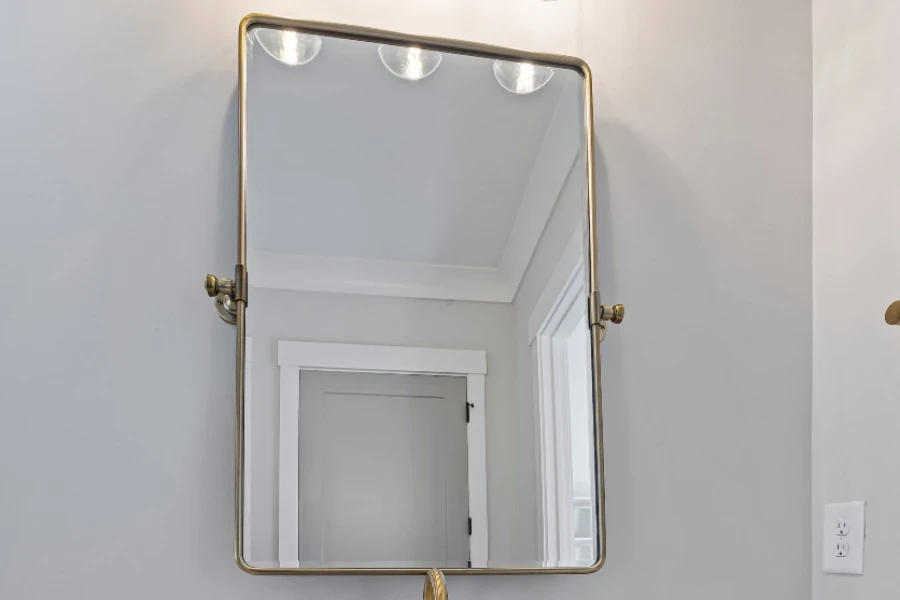 A pivot mirror is ideal for a bathroom with windows because its angle and direction can be easily adjusted to suit the time of day or lighting available in the space. It is also a great option for family members with different heights who do not have room in their bathroom for multiple mirrors.
Pivot bathroom mirrors are secured to the wall with a horizontal swivel rod that allows them to be tilted up or down. There are even pivot vanity mirrors with a vertical rod to enable the mirror to be rotated to the right or left. The rod can come in chrome, matte black, or brass finishes to suit a variety of interior design styles.
Framed bath mirrors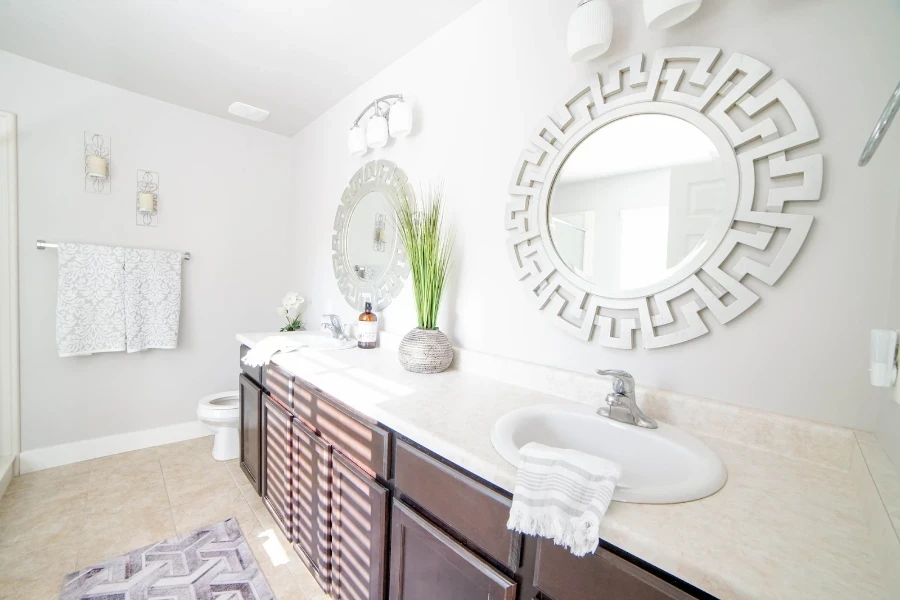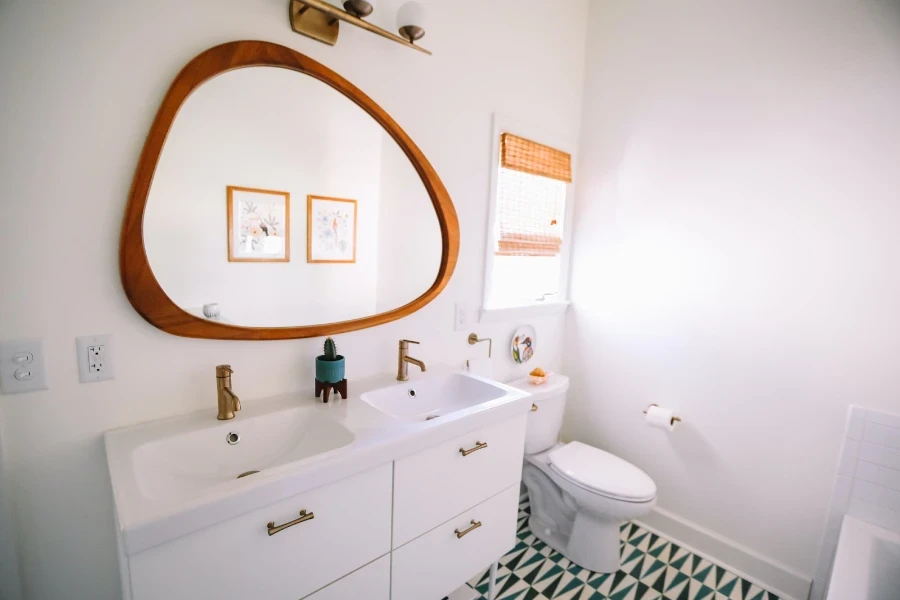 Framed bathroom mirrors are a timeless option in any bathroom because they are easy to mount to the wall and can add extra personality to the bathroom design. The term "framed bathroom mirrors" attracts a significant average monthly Google search volume of 14,800, which suggests its continued popularity among customers.
The frame of a mirror can come in a variety of materials, including metal, wood, rattan, or beveled glass. Vanity mirrors with minimalist metal frames are popular for the modern bathroom. Metal frames can feature finishes ranging from aged brass, matte black, antique bronze, or classic chrome.
Framed vanity mirrors are available in a multitude of shapes, such as round, oval, rectangular, hexagon, arched, scalloped, or asymmetrical and can be mounted in portrait or landscape orientation. Additionally, extra wide framed mirrors are suitable in large bathrooms with a grand and luxurious appearance.
Magnifying bath vanity mirrors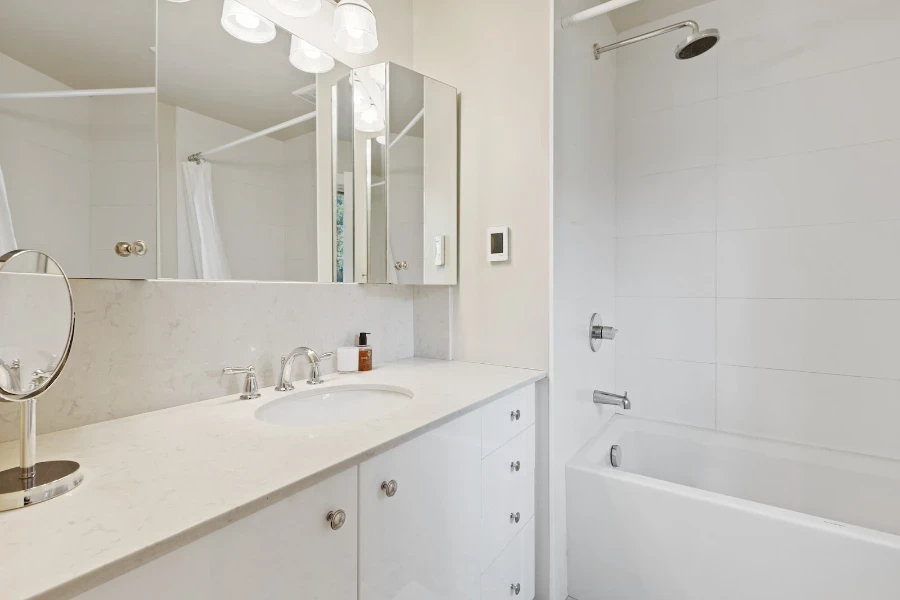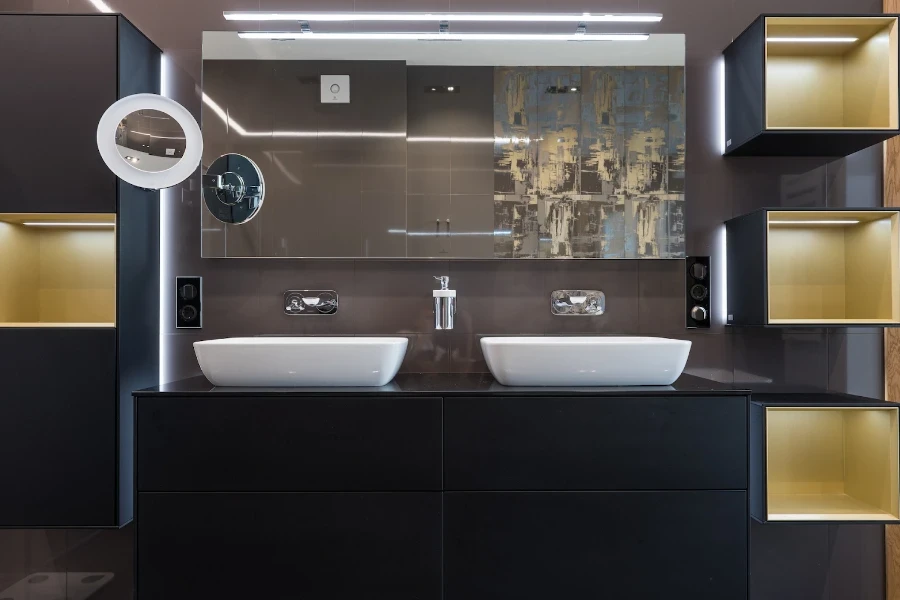 Magnifying bath mirrors add a luxe hotel or spa vibe to bathrooms and are ideal for customers who need a mirror for precise shaving, personal grooming, or makeup application. A magnifying vanity mirror will often come with a section or sections of the mirror that offer magnification ranging from 3x to as much as 10x for low-vision customers or those performing detailed work.
Magnifying bathroom mirrors are also frequently paired with built-in LED lights to enhance use of the mirror. These types of mirrors may even come as a wall-mounted or tabletop vanity mirror for small baths that have no room to hang a mirror or to supplement a main wall mounted mirror.
Smart mirrors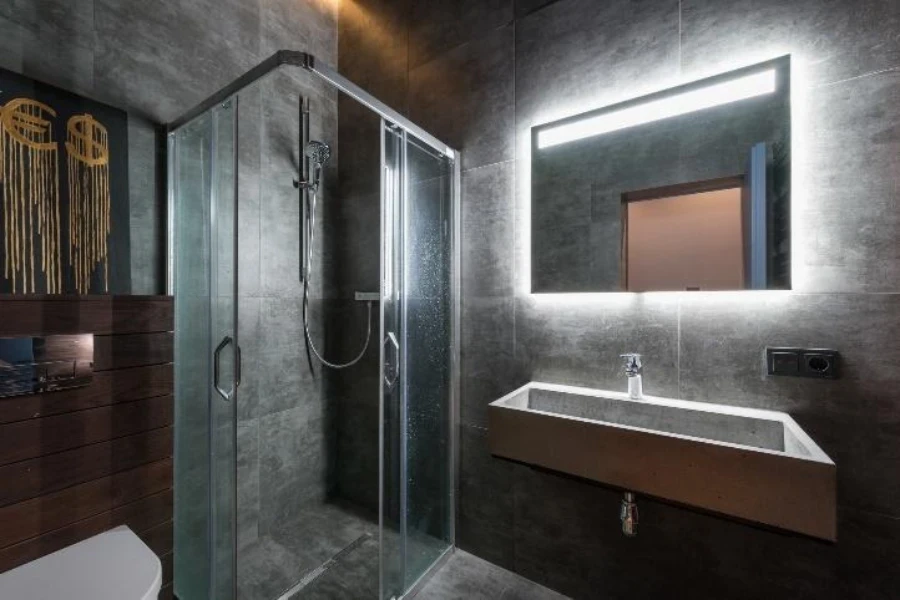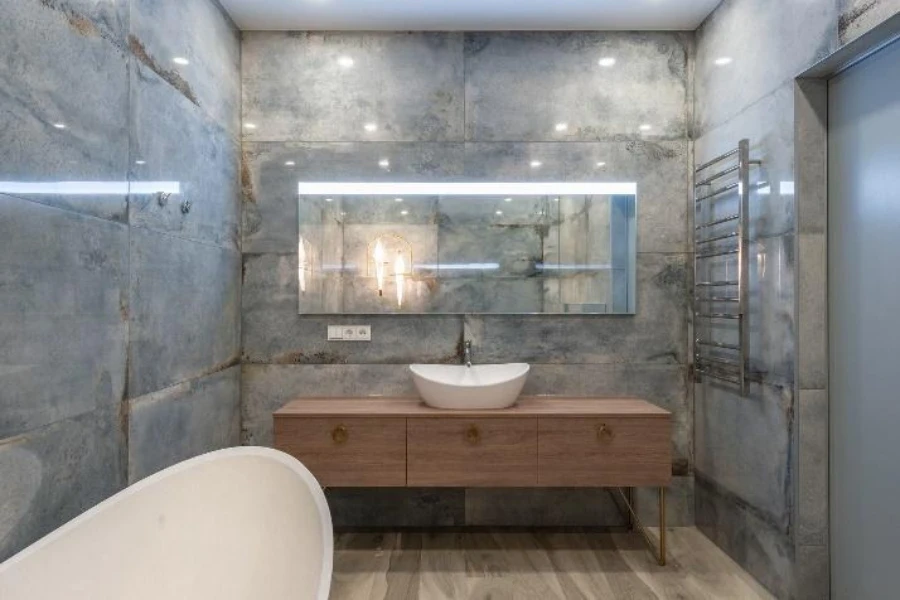 Smart mirrors are bath mirrors that are connected to the internet to make morning routines more convenient and efficient. The global smart mirror market was valued at USD 514.6 million in 2022 and is anticipated to grow at a CAGR of 8.8% from 2023 to 2030.
A smart bathroom mirror may feature LED lights with programmable color temperatures and built-in displays for time, calendar, traffic reports, or weather forecast. Customers with busy lives may also appreciate interactive mirrors that are linked to other devices in the house so they can multitask without leaving the bathroom.
Customers may be excited by a smart bath mirror they can interact with through touch screen, voice controls, or Bluetooth connectivity to perform activities such as playing music or searching for skincare or makeup recommendations. Technologically advanced mirrors can even come with skin analysis tools that provide information on skin types and offer tips on how to address skin concerns.
The future of the bathroom mirror industry
The latest bathroom vanity mirror trends are as beautiful as ever. A focus on functionality and personal grooming is driving the demand for vanity mirrors with lights, pivot wall mirrors, magnifying mirrors, and smart mirrors. Bathroom mirrors with storage also support customer need for multi-functional fixtures in apartment-sized bathrooms, while framed bath mirrors of all shapes and sizes remain timeless in any home.
The bathrooms in modern commercial and hospitality spaces like hospitals, malls, hotels, or resorts are becoming more luxurious. As a result, demand is developing for mirrors that have a high-end and magnificent appearance. Bathroom mirror businesses are advised to capitalize on the market by investing in mirrors that boast the latest innovative trends.
Was this article helpful?