Yurt tents have significantly grown in popularity in recent years with consumers looking to have a camping experience that blends the historical charm of Central Asia with modern comforts that aren't found in regular tents. Even consumers who don't enjoy camping often have an unforgettable experience in yurt tents with their spacious interior, sturdy construction, and unique design. Yurt tents offer a one of a kind retreat for consumers which is why they are starting to pop up around the globe.
Keep reading to learn more about why yurt tents offer such an unforgettable camping experience, and discover the most sought after yurts in 2023. 
Table of Contents
What are yurt tents?
Where are yurt tents predominantly used?
Global market value of glamping products
Popular types of yurt tents for camping
Conclusion
What are yurt tents?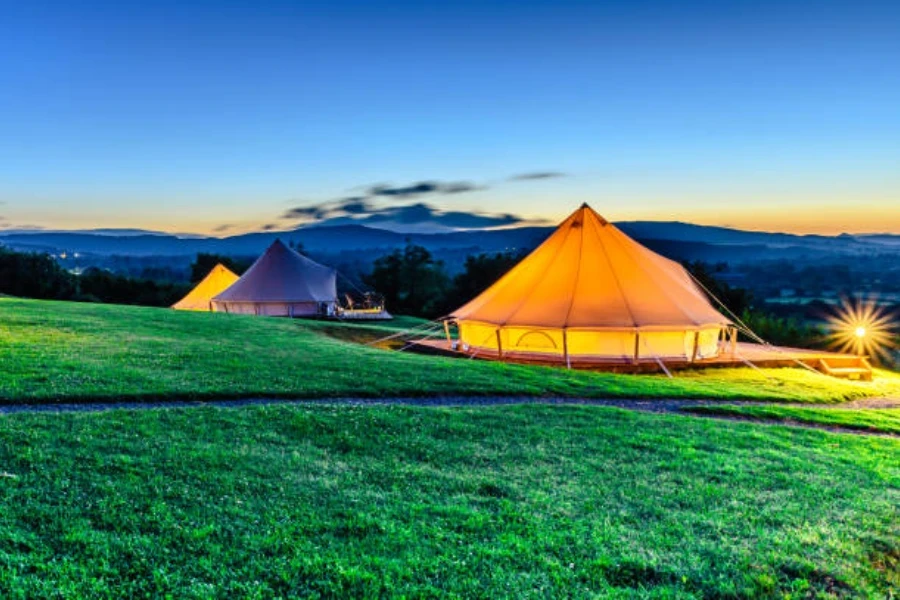 Unlike standard camping tents, yurt tents offer consumers the chance to be immersed in the nomadic cultures of Central Asia while having modern amenities and comforts on hand. The tents are circular by design with a durable framework that's covered by a waterproof and weather resistant fabric so that they can withstand harsh conditions. The circular design of yurt tents give consumers significantly more space than regular tents meaning that more luxurious and comfortable furnishings can be set up inside.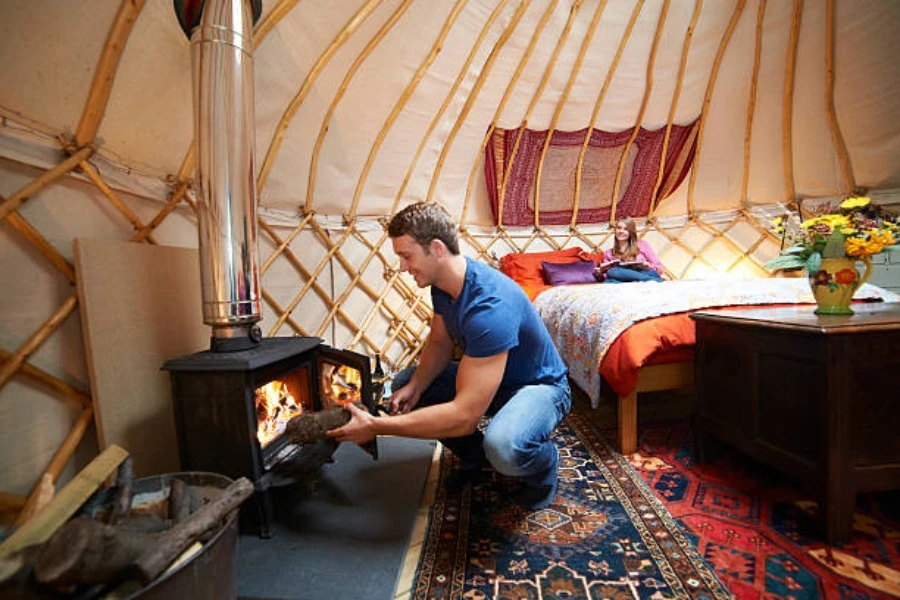 Depending on where the yurt tent will be set up they are often able to accommodate some sort of heating method so consumers are able to camp in colder climates as well as an opening on the top to let fresh air in during the warmer seasons. The style of these types of tents brings a traditional charm to the camping experience that's not found with other tents and they allow campers to enjoy nature in a luxurious way which makes them appealing to a wider audience.
Where are yurt tents predominantly used?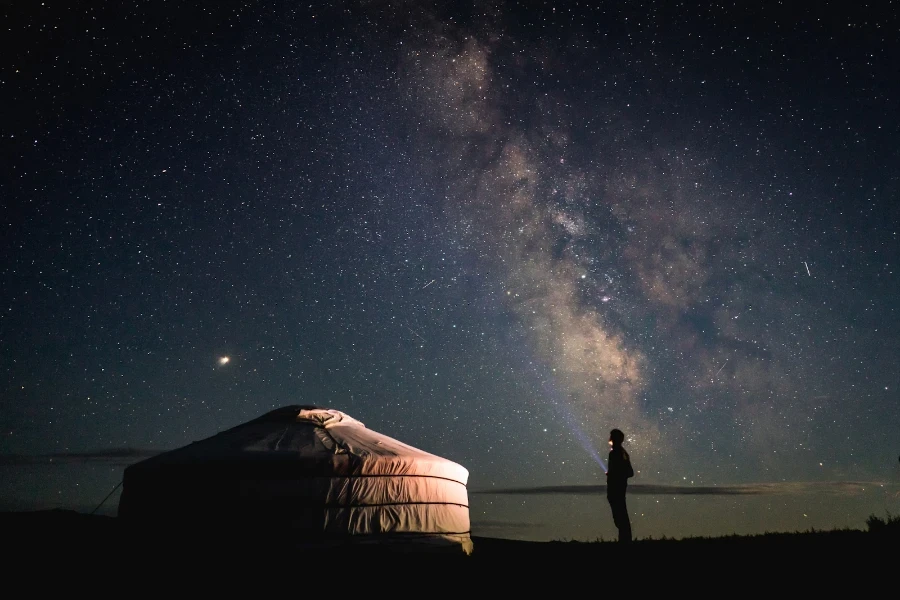 The versatility of yurt tents makes them an exceptional camping product for consumers. What were once used as portable dwellings for nomadic tribes such as the Mongols now have a variety of uses that go far beyond their original purposes. Here are a few examples of the different uses of yurt tents today:
Glamping: Glamping, or glamorous camping, continues to increase in popularity among consumers as a more comfortable and luxurious way to enjoy the great outdoors but with modern comforts. Yurt tents have become synonymous with glamping due to their large size and their ability to accommodate amenities such as heating and air conditioning, full sized beds, electricity, and private bathrooms in the more upscale glamping sites. Glamping is one of the most popular uses of yurt tents globally.
Ecotourism: Modern yurt tents are incredibly simple to set up which is why they're a big hit with ecotourism sites. Ecotourism still allows people to experience nature but it has a strong focus on limiting people's impact on the environment. Yurt tents are a great alternative to permanent buildings since they can easily be moved after a short amount of time so as not to disturb the surrounding ecosystem.
Camping: Camping differs slightly from glamping as it's more rustic and doesn't involve high-end amenities and modern comforts. Yurt tents for camping are still very spacious but they often won't include luxurious amenities. At campgrounds, yurt tents offer campers an alternative to regular tents and can be a fun and new way for families or groups of friends to enjoy the outdoors.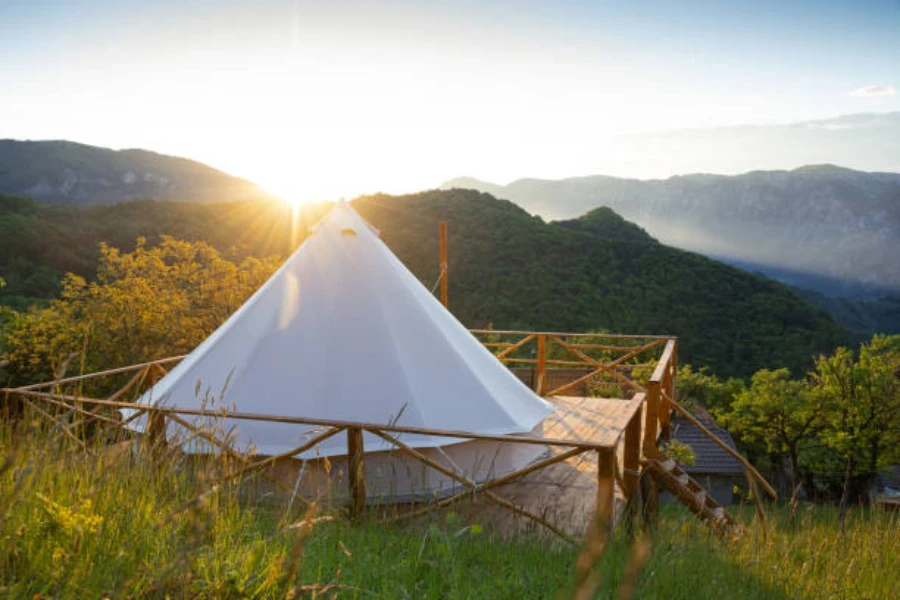 Events: The size of yurt tents makes them ideal for consumers who are running educational or cultural events. At certain historic sites, for example, yurt tents are the perfect setting to teach people about nomadic lifestyles and they can also be a good place to hold small cultural events.
Retreats: Outdoor retreats are another way that yurt tents can be utilized. Retreats often host workshops or presentations and the spaciousness of the yurt tent as well as the fact that they're weather resistant can create the perfect environment for participants.
Temporary housing: In the most serious situations yurt tents are a good option for temporary housing due to their size and it can often be easier and more cost effective to place people in these tents for the time being rather than finding traditional housing for them.
Global market value of glamping products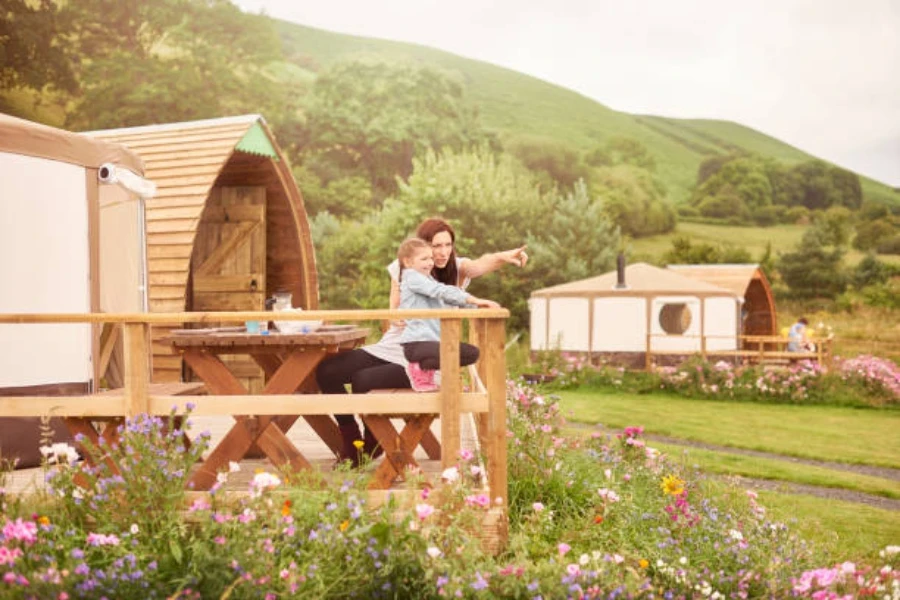 The popularity of yurt tents can't be understated. In recent years there's been a sharp increase globally with consumers wanting to participate in glamping experiences which is being spearheaded by the United States. Consumers enjoy glamping because it gives them the opportunity to enjoy their outdoor experience without the hassle of bringing equipment with them and needing to set everything up upon arrival. The market has also noted that consumers are looking for more staycation experiences than ever before and glamping offers them a way to unwind in a luxurious setting that sits between camping and hotels.
In 2022 the global market value of glamping reached USD 2.73 billion. Between 2023 and 2030 that number is expected to increase at a compound annual growth rate (CAGR) of 10.2% which includes the sales of yurt tents. It's worth noting that the influence of social media has contributed to the popularity of glamping too. 
Popular types of yurt tents for camping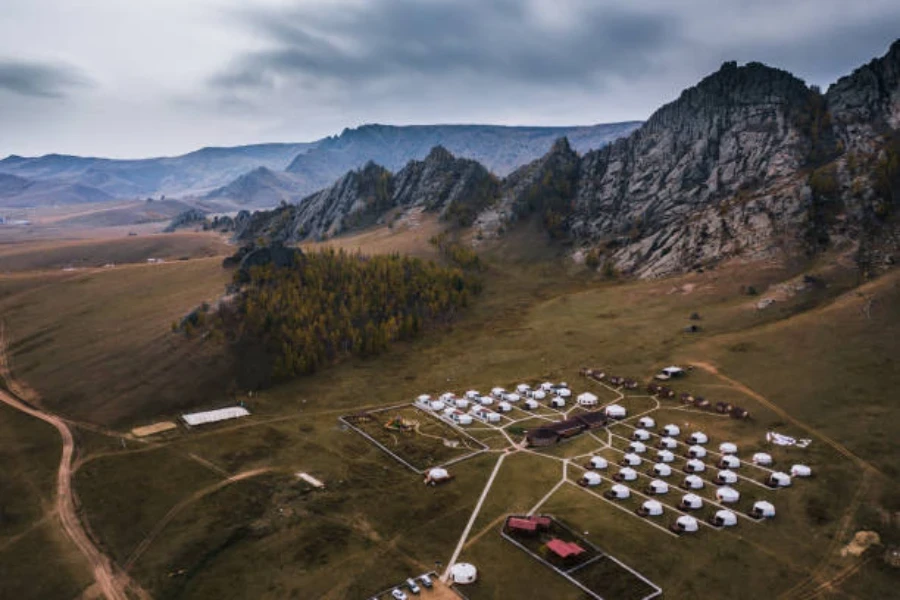 Yurts have been used for centuries in various regions of the world and while the majority of today's yurts still resemble these traditional versions there are some that have been designed with the modern day consumer in mind. The size and design of yurts will vary, as will the materials used, so consumers will want to take into account their own preferences and the needs of the people using it before making their purchase.
According to Google Ads, "yurt tents" has an average monthly search volume of 33100. In March "yurt tents" was searched for 27100 times and in September that number rose to 49500, an increase of 45% over a 6 month period.
Of that number, "Mongolian yurt" has 9900 monthly searches, "modern yurt" is searched 2900 times monthly on average, both "canvas yurt" and "portable yurt" have 590 searches, and "dome yurt" has 390 searches per month. Keep reading to learn more about each of these yurts and what makes them so highly sought after by consumers around the world.
Mongolian yurt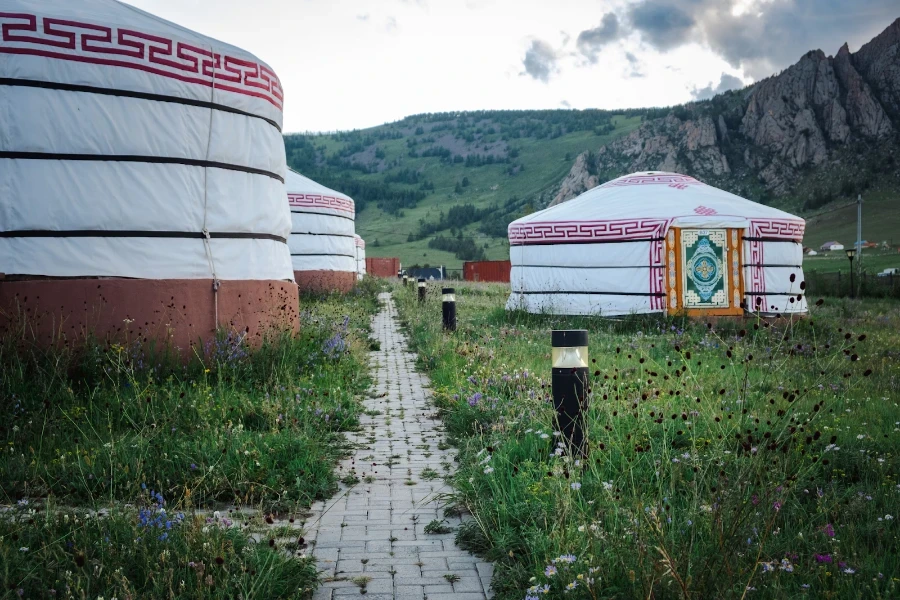 The traditional yurt, also known as the Mongolian yurt, will be what most consumers instantly think of. These tents were traditionally used by nomadic peoples as a portable as well as comfortable place to live and much of the design has stayed the same for centuries. Traditional yurts have a circular design that allows for the even distribution of tension that allows it to withstand high winds. The framework, also known as the "khana" consists of a variety of interconnected poles of either wood or metal and at the center of the roof there's an opening for ventilation and to allow daylight to come in.
Apart from the well known shape of the yurt, this type of camping tent is known for being incredibly spacious and it can accommodate various amenities or a large group of people. The covering is traditionally made of felt to provide insulation but now there are different modern day options available when it comes to material and weatherproofing. The traditional yurt is one of the most popular types of yurt tents for camping available and brings traditional living to different parts of the world that consumers really enjoy taking part in.
Between March and September 2023 there is an increase in average monthly searches for "Mongolian yurt" of 18%, with 8100 and 9900 searches respectively.
Portable yurt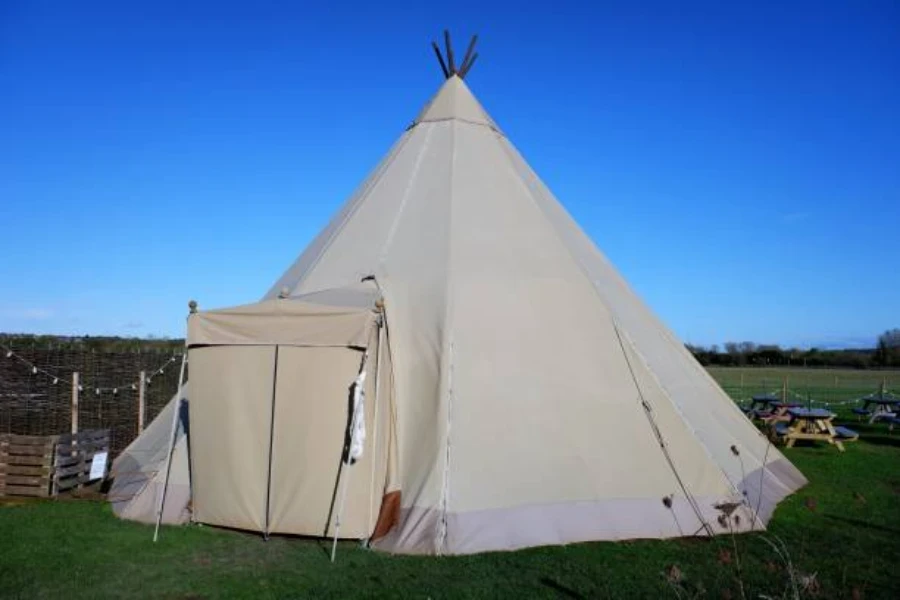 Designed with portability in mind, the inflatable yurt is proving to be a big hit among consumers. This type of yurt still incorporates the traditional yurt design but with the addition of modern technology that not only makes it incredibly simple to set up but also easy to store away when it's not in use. Rather than using solid poles, the portable yurt takes advantage of tubes or beams that are filled with air to support the rest of the yurt's structure. This means that it takes less time to set up and take down compared to traditional yurts, saving time and effort overall.
Like traditional yurts, the portable yurt has a spacious interior to allow for comfortable sleeping arrangements and a few modern amenities if needed. It's also made of a durable and weather resistant material so the interior remains dry. One thing to note though is that since the structure isn't made from solid beams it can only withstand moderate weather conditions so it shouldn't be set up or used in high winds or during storms. 
Between March and September 2023 the average monthly searches for "portable yurt" has remained steady with both months seeing 590 searches. The most searches came in in August, October, and November at 720.
Dome yurt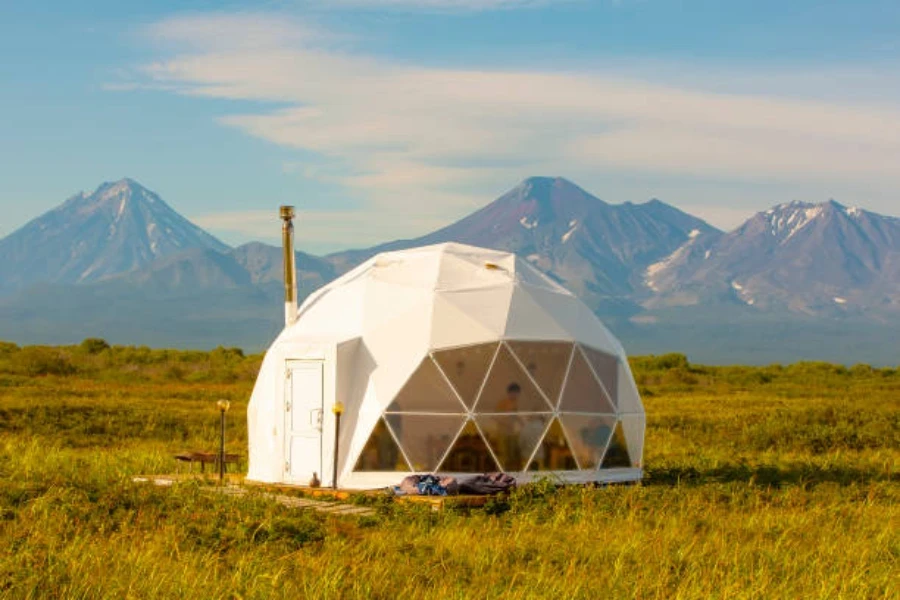 Many glamping sites have started to incorporate dome yurts into their accommodation options to give campers a truly memorable and unique camping experience. The transparent yurt consists of all of the comforts of a regular yurt but the transparent material of the cover means that campers will be able to enjoy views of the outdoors from the comfort of their tent without needing to open windows or entrances and let bugs in. They're particularly popular with consumers who enjoy stargazing or want a romantic glamping experience and some yurts offer a "privacy material" so it's more difficult for other people to see inside without hindering the view from the interior.
The geodesic yurt is another example of the dome yurt which incorporates interconnected triangular panels into the design. These panels are put together in the shape of a yurt to offer added durability and security for the campers. The unique geodesic architecture is a popular choice for permanent glamping sites and consumers who like modern aesthetics. 
Between March and September 2023 there is an increase in average monthly searches for "dome yurt" of 18%, with 390 and 480 searches respectively.
Modern yurt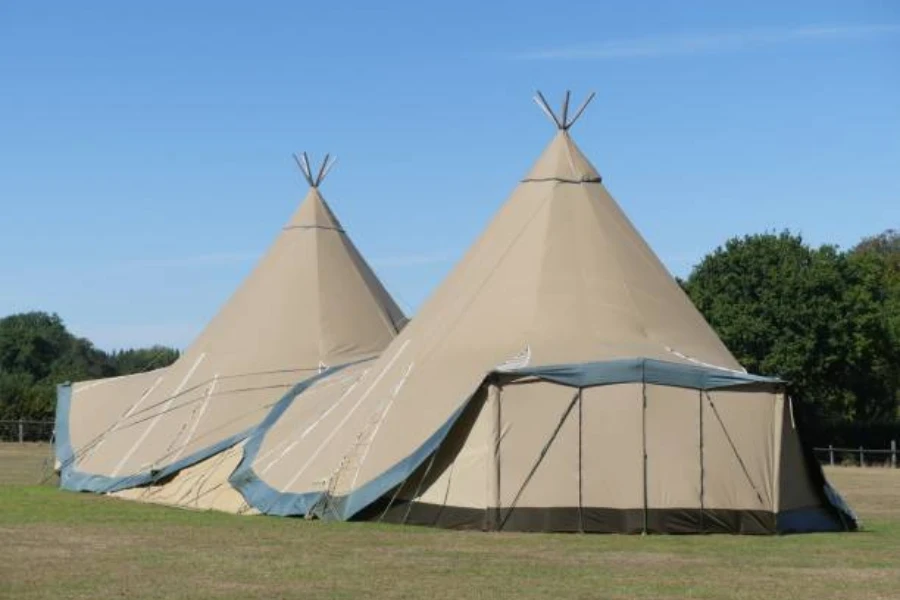 The difference between the traditional yurt and modern yurt is the material used and the way that the yurts are constructed. The core of the traditional yurt is still very much apparent but the addition of modern innovations allows for a more comfortable and safe camping experience overall. The fabrics used for this type of yurt can not only withstand the various elements while being lightweight but they also help to protect people inside from UV rays. Ventilation is also improved with the modern fabric yurt with the addition of mesh windows and screens and they tend to be more affordable compared to traditional yurts.
Between March and September 2023 there is a decline in average monthly searches for "modern yurt" of 60%, with 1600 and 1000 searches respectively. The highest number of searches comes in February with 22200.
Canvas yurt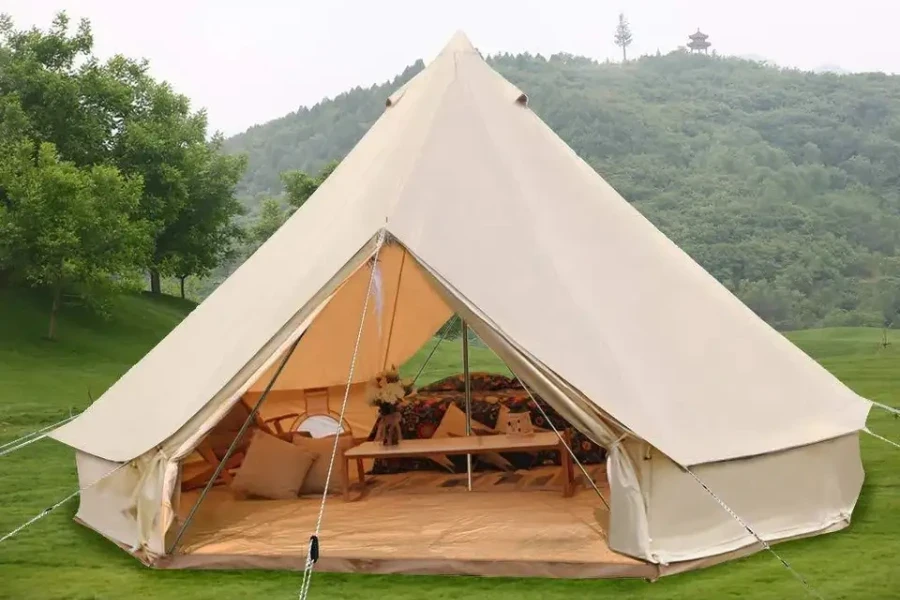 Yurts come in many different sizes and materials and not all yurts are designed for use in every season. The canvas yurt has changed the game though with its design that's meant to protect and provide comfort to campers regardless of the season. It provides the best insulation available to maintain a comfortable temperature inside the yurt, the materials used are completely weatherproof so the yurts can be used in the winter and rainy conditions, and the frame is very durable and sturdy to withstand winds.
What's also worth noting about the canvas yurt is that many provide a stove or heating source of some kind so campers can cook inside the yurt as well as keep warm, a specific flooring will be used that includes a moisture barrier and insulation for colder weather, and the doors and windows will have seals on them to keep the cold air out. For businesses looking to use yurts throughout the year the canvas yurt is one of the best options at keeping campers warm and comfortable. 
Between March and September 2023 there is an increase in average monthly searches for "canvas yurt" of 33%, with 480 and 720 searches respectively.
Conclusion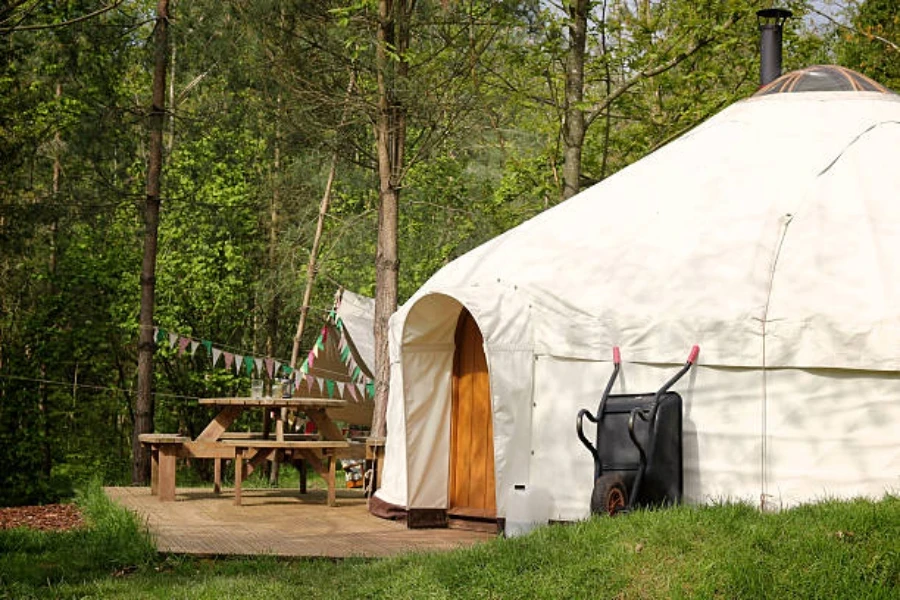 The most popular types of yurt tents for camping vary depending on when and where they'll be used. While the structure of the traditional yurt remains intact with modern adaptations, some yurts offer more amenities than others and are therefore preferred with luxury travelers and campers. The most common places to find yurts being used includes camping sites, ecotourism sites, glamping sites, at events or retreats, and as temporary housing options for displaced peoples. Yurts are a very versatile structure and their popularity is only set to increase in the next decade.
Was this article helpful?