Have you heard that order confirmation emails only need to include the order details of a customer's purchase?
If so, it's time to rethink that.
The order confirmation email is easy to take for granted. After all, unlike other emails, this one is expected after making a purchase. Yet it's an incredibly powerful sales tool, generating the biggest open and click-through rates in the ecommerce industry and bringing in four times more orders than a promotional newsletter. 

Omnisend customer Amundsen found that order confirmation emails generate a revenue-per-email (RPE) 9.5 times higher than that of promotional emails! They also have a conversion rate of 32%.
So how can you implement this powerful email into your marketing strategy? 
This article will share everything you need to know, including what information you need to display in your confirmation emails to get repeat sales.
Table of Contents
What is an order confirmation email?
The order confirmation email template
Order confirmation email best practices and examples
The order confirmation page
Next steps
What is an order confirmation email?
An order confirmation email is an automated transactional email sent to a customer once they've completed a transaction in an online store. 
As the name suggests, this email contains a buyer's order confirmation details, including what they bought, the purchase total, and the estimated delivery date. 
Since these emails are automated, ecommerce stores can create a series of order confirmation workflows to send to customers on autopilot. These emails can include:
Order confirmation
Shipping confirmation
Delivery information
Post-purchase surveys etc.
Like most transactional emails, order confirmation emails are essential for keeping your customers in the loop: every customer will expect to receive one after they make a purchase.
The order confirmation email template
Here's an example of an order confirmation email template and the specific details that customers are informed of: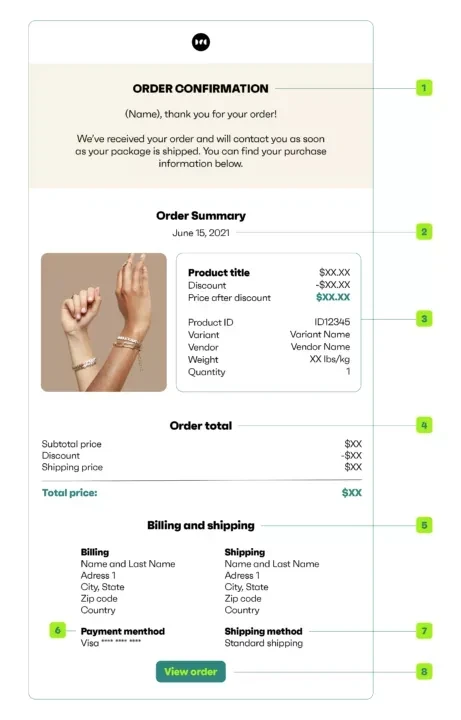 It's got a simple layout and all the information is prominently displayed. It includes:
Order confirmation message and a thank you note
The date of the order
Product details including title, price, and quantity
Total price
Billing and shipping addresses
Payment method
Shipping method
A 'view order' button that takes them back to the store
This template has the necessary information that a customer wants to see, and the 'view order' button is what helps the order confirmation email have such a high conversion rate, by taking active buyers back to the store to check the items they bought.
Of course, you're also free to include other information, such as relevant products, a limited-time offer for their next purchase, or a request for a review.
Here's an example of an order confirmation template that includes upsell offers: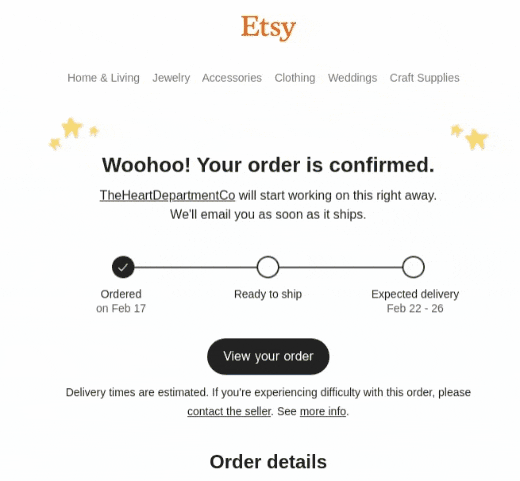 This example begins with the information that the customer needs to see: their order details and shipping address. It also includes a thank you note from the store owner, and the option to contact them in case anything comes up.
The order confirmation includes return and cancellation policies, which is an important part of any online sale. It also winds up by upselling additional items that you can buy from the store besides your current order.
Order confirmation email best practices and examples
Although you can change the specifics to your own preferences, there are some best practices to consider that we'll look at in this section along with some order confirmation email examples.
Use a catchy subject line
As with any email, the success of the order confirmation email relies heavily on the subject line. If it doesn't compel people to open it, the details and offers inside can't perform.
Despite this, people often overlook the subject line for order confirmations, largely because they know that buyers expect this email. Don't let that stop you from getting creative, seeing as you can still use these emails for promotion and to build engagement.
Omnisend has a free AI subject line generator to help you craft compelling subject lines. All you have to do is provide a few keywords and an idea about what you want your email to be. 
If you're stuck for ideas, take some inspiration from these five top-performing confirmation subject lines:
Thank you for your order
Your [Brand Name] order confirmation [#12345]
Order received – [Brand Name] order #12345
Great news! We've got your order #12345
Your [Brand Name] order has been received [#12345]
Choose the best time to send your email
An order confirmation email should be sent immediately—especially if you want it to drive additional sales. 
Customers want the initial peace of mind that the order has been processed properly, and delays can cause concerns. You're likely to receive messages from buyers asking for confirmation, adding to your customer service workload.
There's also the risk that the customer feels let down if they don't get instant confirmation, making them unlikely to shop with you again in the future.
To make the process more efficient, the confirmation email should be automated. This way, the email will always be sent immediately for every purchase, even if you're asleep at the time.
Here's how the order confirmation workflow looks in Omnisend: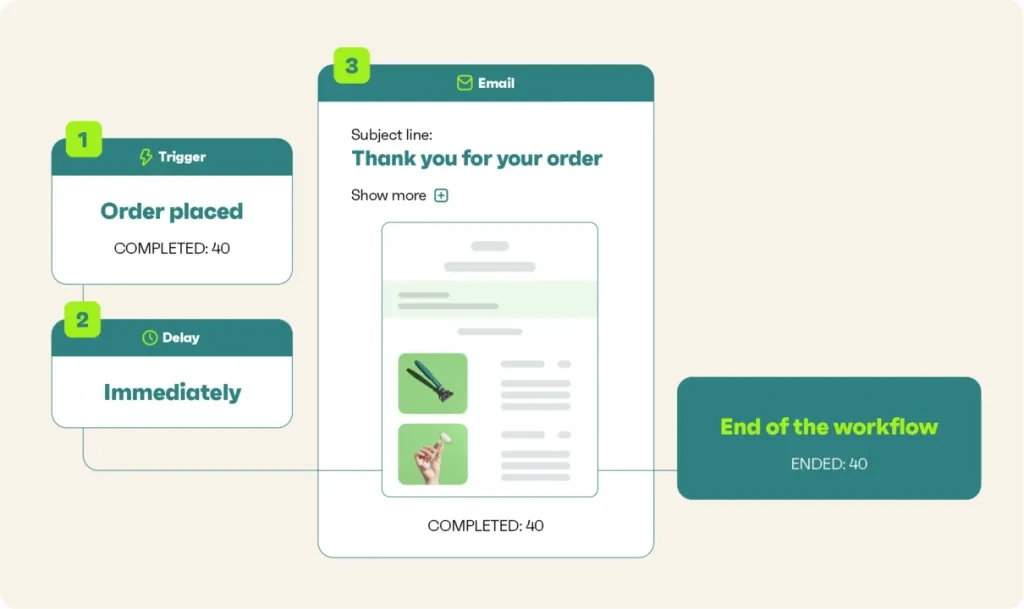 Provide important information or FAQs
Sellers should also provide relevant and important information to the buyers in their order confirmation. This could include information such as:
Order confirmation details, i.e. product details, price, and quantity
Order date
Thank you note
Shipping and billing address
Return/cancellation policy information
Payment and shipment method

The above order confirmation example shares lots of important information, tries to upsell to recipients, and also includes some interesting facts about their products.
For any queries, it includes a link to a page where you can get all your questions answered. This is one way to redirect your readers to the FAQ section of your website.
It's also important to include your contact information to allow buyers to reach you in case any issues come up.
Feature your best-sellers
Order confirmation emails have an open rate of around 60%, making them an ideal place to showcase more of your products—especially ones that are related to what your customer has just purchased.
Many ecommerce stores choose to promote their recommended items and top sellers just before their customers' purchase. This is by no means bad, but not all of the visitors are ready to commit at this stage. 
By adding them to the confirmation email, you're ensuring that willing buyers see them too. Just be sure not to include too many, or you risk overwhelming the customer.
Dollar Shave Club's order confirmation email is a good example of this. It not only shows related products, but it even has an icon for adding those products to the order before it ships. This makes the process simple and smooth for the customer: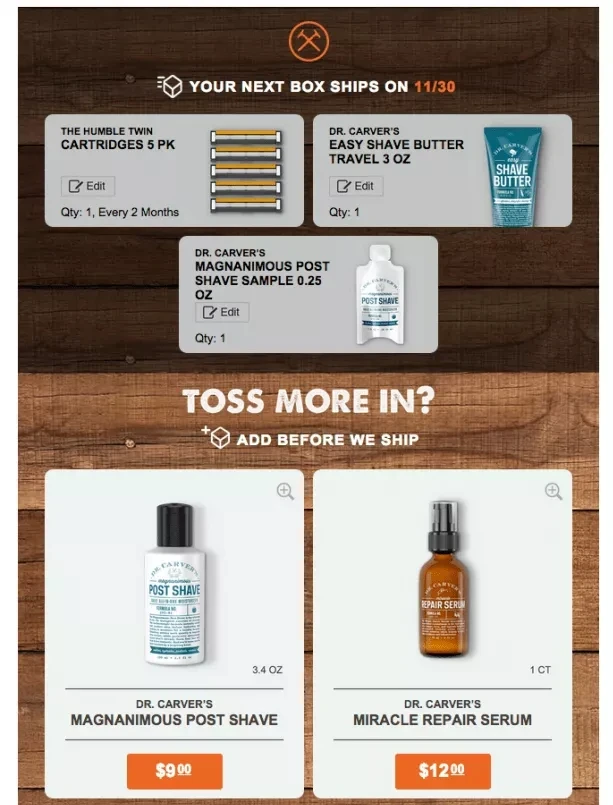 Promote your reward program
By purchasing from your store, the customer has put a level of trust in you and now you have an opportunity to develop loyalty.
An effective way to do this is with a reward program, and iHerb makes excellent use of its order confirmation email to promote its benefits (you can also see it recommends additional products in its "You may also like" section):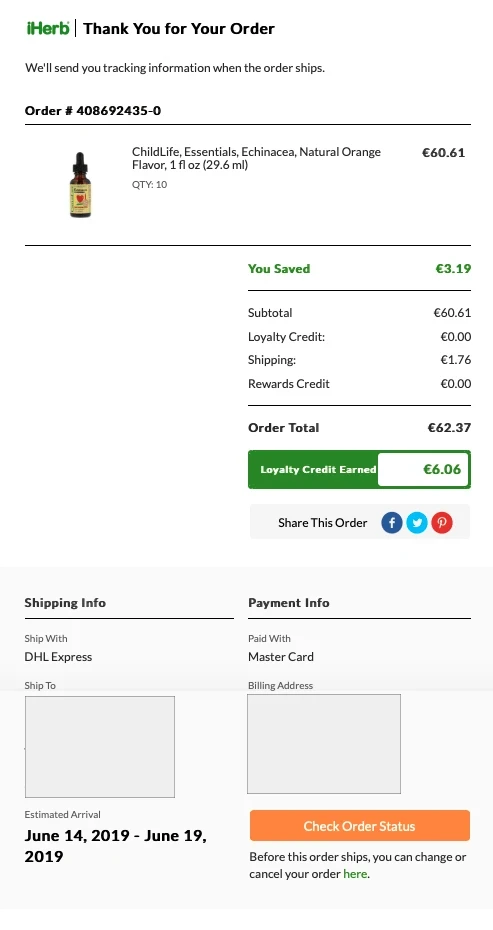 Collect customer data for improved communication
Sometimes, businesses make purchases on online ecommerce stores without providing their personal details or going through the signup process.
In such cases, businesses can ask for their customers' contact details via order confirmation emails. As already mentioned, it's crucial that order confirmations get to the customer immediately after checkout.
For this reason, you'll need to be able to reach your customer via multiple channels including email and SMS.
Asking for your customer's phone details also allows for further engagement through promotional messages, thank you notes, and any other alerts.
The order confirmation page
In addition to the email, you'll want to ensure you have an order confirmation page on your website too. Your customers would be automatically directed to this page after payment, giving you the assurance that up to 100% of buyers will see this message.
That percentage gives it an advantage over the order confirmation email's open rate of 60%, so this is an ideal place to showcase your most popular products, loyalty programs, and the order timeline—exactly like the email examples above.
It can also include additional details such as FAQs and your returns policy. Here's an example of what this page may look like:

Next steps
Once your order confirmation email and page are implemented, you should consider adding an automated thank you email and shipping confirmation email to your workflow. 
These are both excellent at providing a positive experience for your customers, which in turn helps to build long-lasting relationships.
You can also send different messages depending on the buyer's status. For example, first-time customers can receive emails with information relevant to them.
In addition, because most of your sales probably come from repeat buyers, it's worth looking at ways to encourage customers back to your store with post-purchase emails that renew the customer journey.
Source from Omnisend
Disclaimer: The information set forth above is provided by Omnisend independently of Alibaba.com. Alibaba.com makes no representation and warranties as to the quality and reliability of the seller and products.
Was this article helpful?