Wearable technology has gifted us with many impressive gadgets over the past few years. From smartwatches to smart bands and earbuds, the innovations keep coming. Now, there's a new kid on the block: smart rings.
While they're not very popular currently, smart rings have the potential to be the next big thing in consumer electronics, amassing approximately 110,000 searches of Google Ads in 2022 alone.
This figure has already increased by an impressive 11% in 2023, reaching 246,000 searches. Here, we'll delve into this rising trend, uncovering how businesses can select the best models for their customers from the options currently available on the market.
Table of Contents
What are smart rings?
Is the market for smart rings profitable?
How do smart rings work?
5 factors to consider when choosing smart rings
Are smart rings worth it in 2023?
What are smart rings?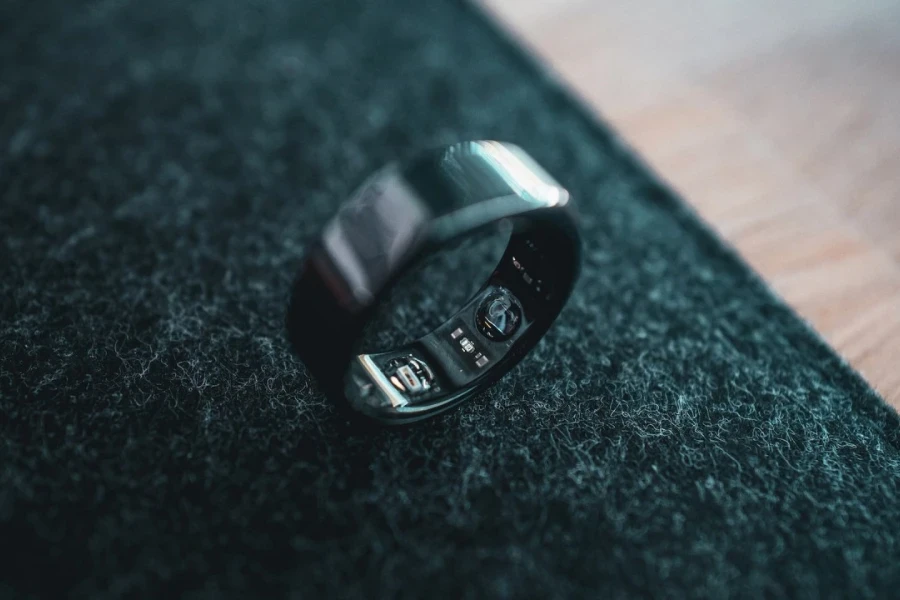 Smart rings are exactly what they sound like – rings with various electronic components like NFC chips and sensors that can track daily activities or be linked to peripheral tools for mobile device support.
For this reason, smart rings provide a more portable option to usual smartwatches and fitness bands. 
Here's a brief look at what smart rings are capable of – it's already a lot more than just monitoring steps.
Sleep monitoring
Smart rings can monitor the wearer's sleep patterns, providing accurate data on how much sleep they get, any disturbances, and the duration of different sleep cycles. And, since smart rings are small, they offer better comfort than other sleep-tracking wearables – smartwatches inclusive.
Contactless payments
Going cashless is a convenient way for consumers to make easy payments via electronics. Smart rings are cashing in on this system, easily adapting contactless payment features to allow consumers to use easy tap-to-pay systems for cashless transactions.
Smart keys
Why use traditional keys when smart rings can do the same with the wave of a hand? Yes, that's right, some smart rings are now compatible with smart locks, allowing them to work as digital keys for homes, cars, or offices.
Health and wellness management
Smart rings can also help monitor the wearer's health. They can provide data on parameters like blood oxygen (SpO2), glucose levels, heart rate, and blood pressure. More advanced smart rings can even use EDA (electrodermal activity) to measure the user's stress levels.
Transit passes
The days of paper tickets may be numbered as smart rings start to stand in as digital tickets or travel passes for public transportation, similar to how some tap-to-pay card reader terminals already accept contactless payment systems.
Is the market for smart rings profitable?
The global smart ring market is not one to scoff at. It's been growing quickly, gaining enough momentum to become one of the fastest-rising wearable technologies in 2023. Experts estimate the market's value as US $233.73 million in 2023.
That figure is forecast to hit US $1.096 billion by 2028, climbing at an incredible 29.29% CAGR. In addition, North America held the largest market share in 2021, equalling 48.2% of the total revenue made on smart rings.
How do smart rings work?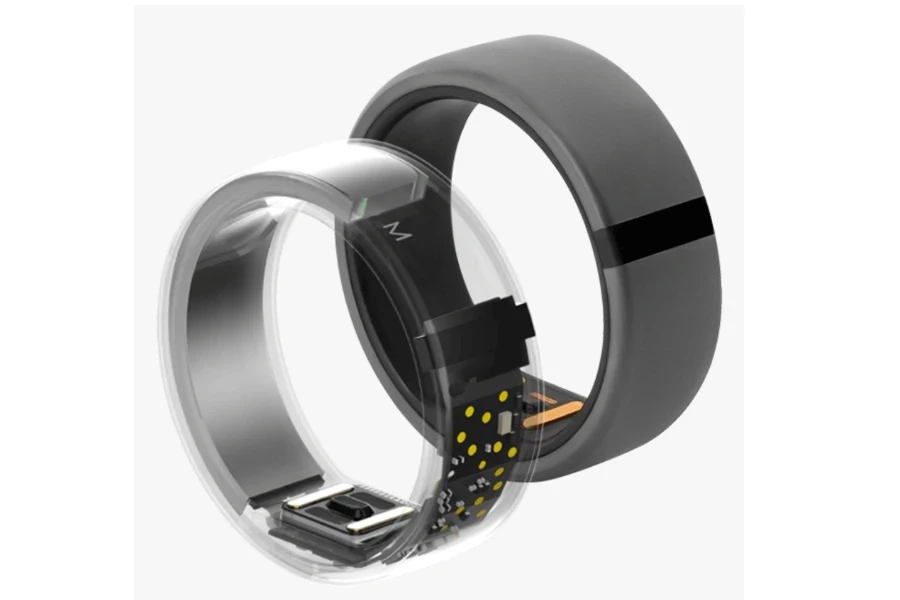 Smart rings may be small but they pack an impressive amount of technology inside their compact body, including an NFC chips, light indicators, Bluetooth chips, microcontrollers, and a battery.
Let's take a look at what each of these technologies brings to the table.
NFC
NFC (near field communication) helps a device to passively or actively communicate with other devices. Smart rings mostly operate passively, using NFC to make secure payments, act as a travel passes, and perform other contactless procedures.
Bluetooth
Smart rings mostly use Bluetooth to connect and sync all data collected to an accompanyingsmartphone app. While some smart rings provide raw data from their sensors, other higher-end models will analyze the parsed data and offer tailored guidance.
Sensors
While Bluetooth and NFC handle communication, the sensors are in charge of collecting data. They can track any of the smart ring's parameters, depending on the functionalities included in the device.
Here are some common sensors found in smart rings and their uses:
| | |
| --- | --- |
| Sensor | Application |
| 3-axis accelerometer | Tracks movement, such as walking, running, and during sleep |
| Glucose sensor | Measures glucose concentration in the blood |
| Optical or infrared heart/pulse monitor | Monitors heart rate and blood pressure |
| EDA sensor | Tracks emotions, cognition, and feelings, including stress levels |
| NTC thermistor | Monitors body temperature |
| SpO2 sensor | Tracks blood oxygen levels |
5 factors to consider when choosing smart rings
Design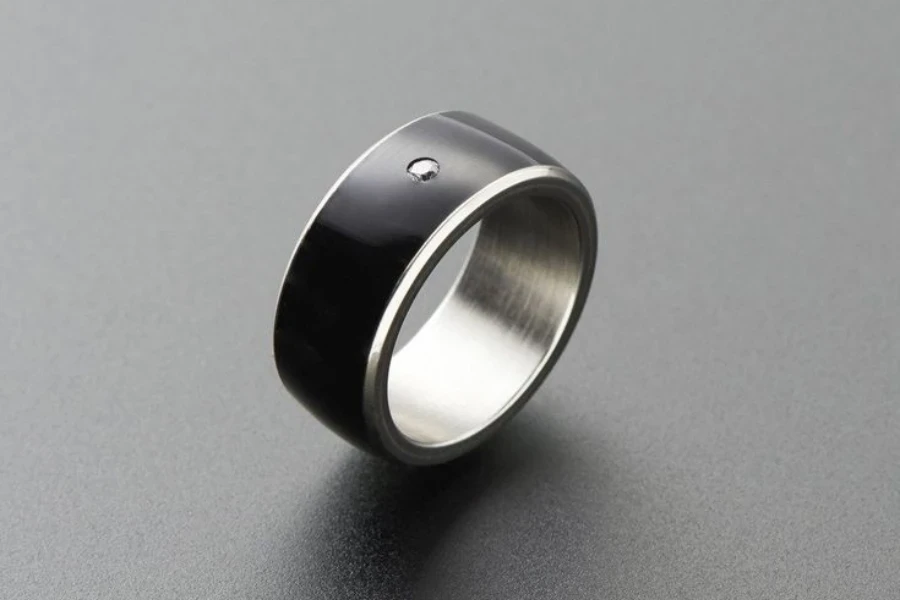 Smart rings may be electronic devices, but it's important to remember that rings were simple fashion accessories before they became "smart." So, naturally, design is one of the most important factors when choosing which smart rings to stock up on.
In that regard, smart rings aren't like smartwatches and other wearables in that consumers are likely wanting to wear their ring all the time. As such, they'll choose one that resonates with their style.
These rings come in band styles like their traditional predecessors or feature sporty designs. Other smart rings may have gemstones, while others feature switchable outer shells.
According to Google Ads, "smart wedding bands," which has 590 average monthly searches, are significantly more popular than other styles out there, such as "sports smart ring,." which only had 40. Furthermore, the search volume for "smart wedding bands" peaked at 1,300 in May, but stood at only 480 in September.
Size and fit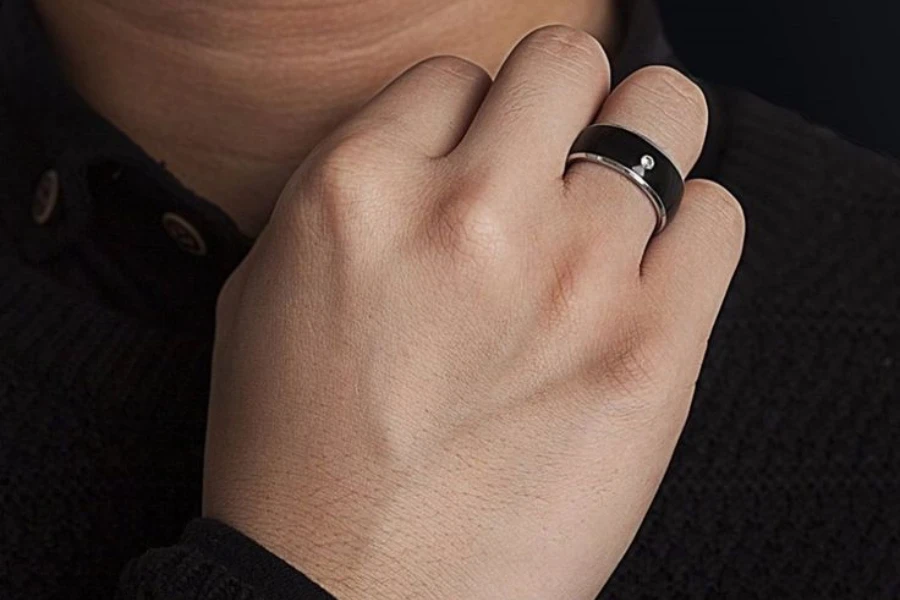 A smart ring's design has aesthetic benefits, but its size is even more important. Consumers will need to determine which size is right for them. Businesses can help point them in the right direction by using a ring size chart.
Here's a chart detailing some ring sizes businesses may want to offer:
| | | | |
| --- | --- | --- | --- |
| Ring size (US) | Circumference (inches) | Circumference (mm) | Diameter (mm) |
| 4 | 1.73 | 44.1 | 14.0 |
| 5 | 1.76 | 44.8 | 14.3 |
| 6 | 1.81 | 46.1 | 14.7 |
| 7 | 1.86 | 47.4 | 15.1 |
| 8 | 1.88 | 48 | 15.3 |
| 9 | 1.91 | 48.7 | 15.5 |
| 10 | 1.96 | 50 | 15.9 |
| 11 | 2.01 | 51.2 | 16.3 |
| 12 | 2.04 | 51.9 | 16.5 |
| 13 | 2.09 | 53.1 | 16.9 |
| 14 | 2.14 | 54.4 | 17.3 |
| 15 | 2.16 | 55.1 | 17.5 |
| 16 | 2.21 | 56.3 | 17.9 |
| 17 | 2.24 | 57 | 18.1 |
| 18 | 2.29 | 58.3 | 18.6 |
| 19 | 2.31 | 58.9 | 18.7 |
| 20 | 2.37 | 60.2 | 19.2 |
Note: For more detailed size information, businesses will want to check the manufacturer's specific size chart.
Weight is also crucial, but this will mostly depend on consumer preference. Some may prefere a lighter smart ring, while others love heavier ones. Other factors that determine how heavy a smart ring will be include:
Comfort: Smart rings should be comfortable to wear all day long, and some may be uncomfortable if they're too heavy
Durability: Smart rings should be durable enough to withstand wear and tear damage; if they're too light, they may be more likely to break
Features: Feature-packed smart rings are likely to be heavier than their more basic counterparts
See the table below for the three optimal weight ranges for smart rings:
| | |
| --- | --- |
| Weight | Range |
| Light weight | 2-4 grams |
| Medium weight | 5-6 grams |
| Heavy weight | 7-8 grams |
Durability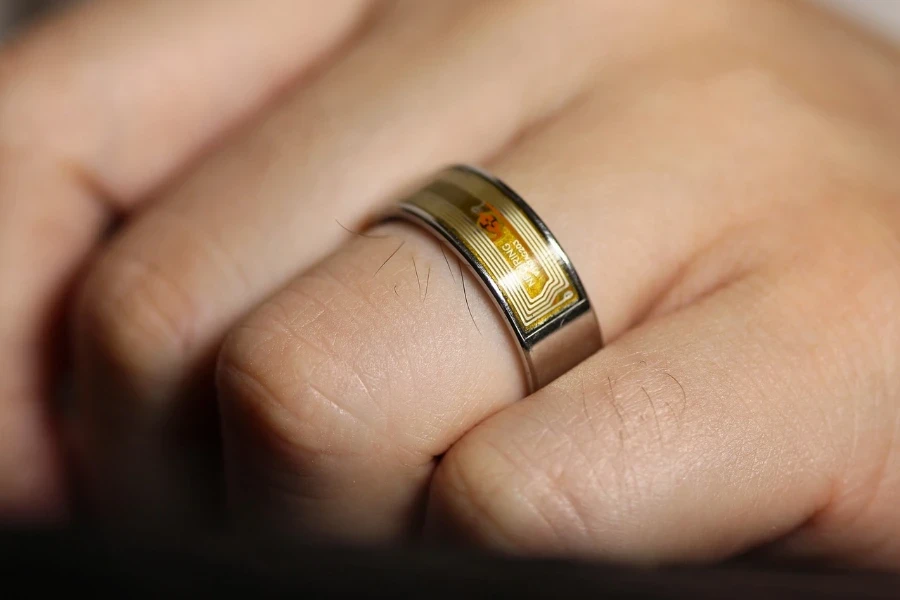 Manufacturers design smart rings to be worn virtually all the time, meaning they must be tough enough to withstand day-to-day usage. Therefore, the material that a smart ring is made from is one of two factors that will likely determine its durability.
Some of the best materials for smart rings include titanium, steel, plastic, and ceramic. According to Google Ads, ceramic is an up-and-coming material for smart rings, growing from nine searches in October 2022 to 480 in May, before settling at 590 in September.
A smart ring's protective properties is the second factor determining their durability. Water-resistant or waterproof smart rings are especially useful for swimming and other sports. "Waterproof smart rings" get 50 average monthly searches, which is impressive for an upcoming gadget.
Battery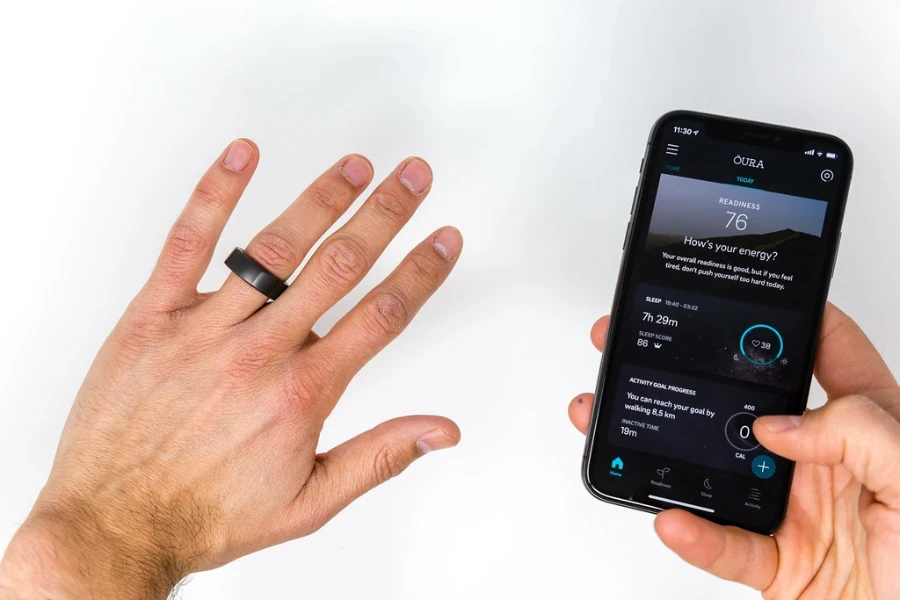 Battery life is another crucial aspect to consider when choosing smart rings. Usually, these rings can last anywhere from four to seven days with a 15mAh or 60mAh battery capacity on a single charge, but this range will depend on what features are packed into the ring. For example, using heart rate monitoring can eat up battery power faster than not.
Consider charging speed as well. Typically, smart rings take 20 to 80 minutes to attain full charge, depending on the battery. You'll also want to source rings with a charging station.
Moreover, some smart rings don't have batteries, but instead, simply house an NFC chip, so consumers don't need to go through the hassle of charging them.
Data privacy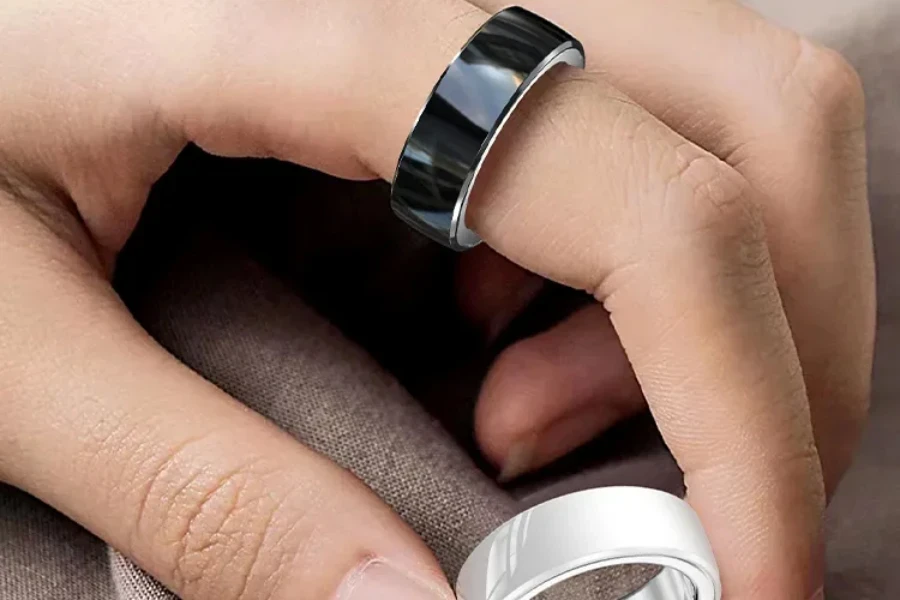 Finally check the manufacturers' privacy policies before stocking up on their smart rings. Since they collect health and location data, it's important to ensure the consumer's information remains secure and isn't shared without their permission.
Privacy policies can usually be checked on the manufacturer's page or via smart ring's companion app.
Are smart rings worth it in 2023?
There's little doubt that smart rings will be the next big thing in wearable tech, with their popularity skyrocketing to new heights in recent years. Although it's still a relatively new product category, they're gaining momentum rapidly thanks to their compact and innovative design.
Surprisingly, some smart rings already offer nearly all of the capabilities packed into a smartband. It's likely for this reason that market data increasingly shows that investing in smart rings will be a profitable endeavor, so consider researching what's available and what your customers may need in 2023.
For a huge range of smart rings and other wearable tech, browse Alibaba.com today.
Was this article helpful?