It's a common belief that an SMS compliance checklist is a concern solely for large enterprises.
However, the reality is quite different. Compliance is a crucial aspect for businesses of all sizes. This includes small and medium-sized enterprises (SMEs).
Disregarding compliance can lead to serious legal and financial repercussions.
This guide explores the role compliance checklists play in enhancing SMS communication strategies. By the end, you'll learn how to ensure text message compliance while building customer trust.
Let's get started!
Table of Contents
Acquire consent from the customers to receive SMS messages
Explain what communication your customers opt-in to
Provide clear terms and conditions
Secure user data and privacy
Understand the regulatory landscape
Consider that you can't include SHAFT-related content in your messages
Provide an option to opt out of your messages
Consider your recipient's time zone
Use dedicated short codes or long codes
Avoid sending unsolicited messages
Provide easy access to help and support
Wrap up
Acquire consent from the customers to receive SMS messages
Before crafting bulk text messages for your campaign, acknowledge one fundamental reality: proper consent is paramount. 
Obtaining explicit permission from recipients is one of several SMS legal requirements. It's also a best practice that helps you build trust and loyalty with your audience.
By asking for permission, you show respect for user preferences. You also avoid spamming them with unwanted messages.
You can get two main types of consent from your customers: single and double opt-in.
Single opt-in: Involves a user providing their phone number without any further confirmation.
Double opt-in: Requires users to confirm their subscription via a confirmation message.
Single opt-in might seem an easier choice. But double opt-in provides a more robust consent record as it confirms the subscriber's genuine interest. They can't be accidentally subscribed by someone else, for instance.
Consent must be explicit—users should know what they're signing up for.
As such, always maintain a well-documented record of opt-ins. This can be a potential lifeline in case of regulatory inquiries. Keep track of timestamps, subscription sources, and any accompanying terms and conditions.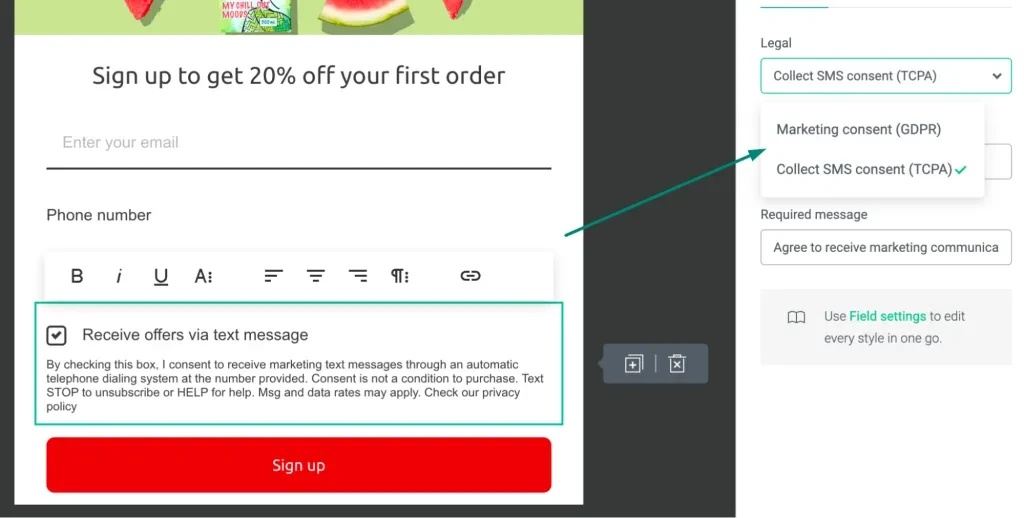 Explain what communication your customers opt-in to
An essential aspect of an SMS compliance checklist is clearly stating what the person is opting into.
Customers opt-in to your SMS messages for a specific type of communication. This could range from order confirmations to shipping updates. It could also be for exclusive promotions and weekly newsletters.
Use specialized SMS marketing software to manage and customize these diverse communication streams efficiently. These tools empower you to:
Segment your audience
Tailor messages to their preferences
Ensure a seamless opt-in experience
If clients opt-in to receive an order confirmation message, that's the only message you can send. Don't send promotional messages or newsletters unless they've agreed to receive them.
Similarly, clients may be signing up for special offers or product updates. If so, align your messaging with their expectations.
These seemingly minor details make the initial opt-in message a critical touchpoint. Here, where customers provide their consent, you set the stage for communication.
Be precise, conveying the exact nature of your messages. Also, give your customers a way to change their preferences anytime.
Provide clear terms and conditions
Your SMS compliance checklist isn't done without clear terms and conditions.
Transparency is the bedrock of ethical text message marketing. Every recipient should be well-informed about what they're signing up for, including:
What kind of communication they're opting into
Who is sending the messages
How they can contact you if they have any questions or concerns
Include a link to a detailed terms and conditions page. On this page, provide relevant information, such as:
How often you'll send messages
How much they'll cost
How you'll protect customer data and privacy
Don't hide away your SMS terms and conditions in fine print. Instead, make them easily accessible. Use plain language that's understandable for recipients.
Transparency about your terms and conditions can build engagement, trust, and credibility. It'll also help you avoid any legal issues or complaints.
Use this opportunity to showcase your brand identity and value proposition. You can highlight how your email and SMS marketing software can help them achieve their goals and solve their pain points.

Secure user data and privacy
Users opting into your SMS communications are entrusting you with their personal information.
You're legally obligated to safely store and protect this data. To help you with this, you can check out some of the best Shopify SMS marketing apps. These offer security features and compliance tools.
Use robust security measures to prevent unauthorized access, breaches, and data leaks. Data breaches can:
Damage your reputation
Erode customer trust
Expose you to legal liabilities
Here are some best practices to secure user data and privacy:
1. Securely store and protect user data collected during the opt-in process.
Use encryption, authentication, and access control mechanisms. These prevent unauthorized access or disclosure of sensitive information.
2. Comply with relevant data protection laws.
Be aware of laws like the General Data Protection Regulation (GDPR) in the European Union. These data protection laws mandate stringent standards for handling personal data.
3. Never share or sell user data to third parties without explicit consent.
Doing so violates your customers' privacy and trust. It may also breach the terms and conditions of your SMS service provider.
If you need to share data with third parties, ensure they have adequate security measures. Additionally, check that they follow the same regulations as you.
Understand the regulatory landscape
Different regions have different laws and regulations governing text messaging compliance. For instance:
In the US – There's the Telephone Consumer Protection Act (TCPA). It requires businesses to get express written consent from customers before sending texts.
In the EU – There's the General Data Protection Regulation (GDPR). It mandates businesses to have a lawful basis for processing personal data. These include consent, contract, or legitimate interest.
In Canada – There's Canada's Anti-Spam Legislation (CASL). It prohibits businesses from sending commercial electronic messages without the recipient's consent.
A dynamic regulatory landscape demands constant vigilance. Thus, staying up-to-date with changing regulations and industry best practices is crucial.
Failing to follow these regulations can have severe consequences for your business. You may face hefty fines, lawsuits, and reputational damage.
Consider that you can't include SHAFT-related content in your messages
Avoid sending messages that contain SHAFT-related content.
SHAFT stands for Sex, Hate, Alcohol, Firearms, and Tobacco. Most carriers and regulators restrict these content categories.
As such, sending messages with SHAFT-related content can result in blocking or filtering. Your message could also get flagged as spam.
So, always ensure your messages are appropriate, respectful, and relevant to your audience.
To avoid sending SHAFT-related content, follow these best practices:
Review your message content carefully before sending it. Ensure it contains no problematic words, images, links, or vulgar emojis. It shouldn't be offensive, abusive, indecent, or discriminatory.
Use clear and concise language that conveys your message without ambiguity or exaggeration. Avoid using slang, jargon, abbreviations, or acronyms that could be misunderstood or misinterpreted.
Be mindful of the context and tone of your message. Consider how different segments of your audience might understand your message. Avoid using humor, sarcasm, irony, or exaggeration that people might take the wrong way.
Provide an option to opt out of your messages
Maintain trust and SMS compliance laws by providing a clear option to opt out of your SMS messages.
Always include a STOP keyword in your SMS campaigns. Also, respect recipient preferences by honoring any requests to unsubscribe promptly. Then, send them a confirmation message that acknowledges their request.
Additionally, update your records. This ensures you don't send any further messages to that customer unless they opt-in again.
Respecting customer choices and preferences shows that you value their relationship. You also show you're not keen on spamming them with irrelevant or excessive messages.
This way, you optimize your SMS communication. You also increase your chances of engaging clients with relevant and timely offers.

Consider your recipient's time zone
Timing can make all the difference in the effectiveness of your SMS communication.
Don't annoy or disturb your customers by sending them messages at inappropriate hours. These include late at night or early in the morning. Doing so will reduce your engagement rates.
Instead, aim to send messages within the 9 am to 9 pm window of your recipient's local time. This timing strikes a balance between engagement and intrusion. It ensures your messages are more likely to be well-received.
What is the best way to achieve this?
Segment your audience by their location and schedule your text messages accordingly. Use tools like Omnisend to automate this process. This way, you deliver your messages at the optimal time for each customer.
Proper timing can lead to higher open rates, engagement, and ultimately, conversion rates. It also aligns with both SMS marketing compliance guidelines and user preferences.
Use dedicated short codes or long codes
Short and long codes are unique phone numbers allowing you to send and receive SMS messages.
A short code is a five or six-digit number that can send high-volume messages quickly. A long code is an up-to-10-digit number that can send low-volume messages at an average speed.
Long codes serve as excellent choices for transactional messages. They provide a personal touch for order confirmations, shipping updates, and customer support.
Another difference between these codes is that many businesses can share short codes. Meanwhile, long codes are exclusive to one business.
However, using a dedicated short code or long code can help you avoid confusion. Dedicated codes also provide a distinct identity for your brand. This bolsters recognition and increases trust and engagement.
Avoid sending unsolicited messages
As part of your SMS compliance checklist, avoid sending unsolicited messages.
Get express written consent from recipients. Only then should you send them SMS messages for marketing purposes. This ensures that your communication is relevant, anticipated, and aligned with user preferences. Clearly inform recipients of the:
Identity of the sender and the purpose of the message
Frequency and content of the messages
Charges that may apply to receive the messages
Right to revoke consent at any time
Method to opt-out of the messages
You also want to resist the temptation to buy or use third-party lists. These lists are often unreliable, outdated, or fraudulent. The people on them haven't provided proper or explicit consent.
Relying on lists without explicit consent risks legal repercussions. It also dilutes the quality of your communication.
Provide easy access to help and support
Ensure customer satisfaction and loyalty by providing easy access to help and support.
When texting your customers, include clear instructions on how to contact you. For example, you can add a phone number, website link, or chatbot option at the end of your messages.
This way, your customers can quickly contact you if they:
Need more information
Have a problem
Want to give feedback
Respond promptly to any inquiries or issues raised by your customers via SMS. This shows that you care about their needs and value their opinions.
Prompt responses resolve issues while reinforcing the reliability of your communication.
By providing easy access to help and support, you enhance your customer experience. You also build trust with your SMS communication.
Wrap up
SMS communication is a powerful way to connect with your customers. It can also help drive conversions.
Yet, it comes with specific SMS rules and regulations. Follow these, and you'll be sure to avoid legal issues and maintain your reputation. 
Implementing this SMS compliance checklist is the way to go. It'll help you pave the way for successful and compliant SMS marketing endeavors.
Source from Omnisend
Disclaimer: The information set forth above is provided by Omnisend independently of Alibaba.com. Alibaba.com makes no representation and warranties as to the quality and reliability of the seller and products.
Was this article helpful?