There are various types of printers classified under the inkjet printer family, including direct-to-film (DTF) printers, UV printers, direct-to-garment (DTG) printers, sublimation printers, and UV DTF printers. However, many people don't know how these types differ in terms of application. This article will briefly explain the unique characteristics and uses of various types of inkjet printers to help you decide when and where to use them.
DTF printers
DTF printers are basically the improved version of thermal transfer printers. These machines first print designs onto a special PET film, which are then pasted to fabrics using melted rubber powder.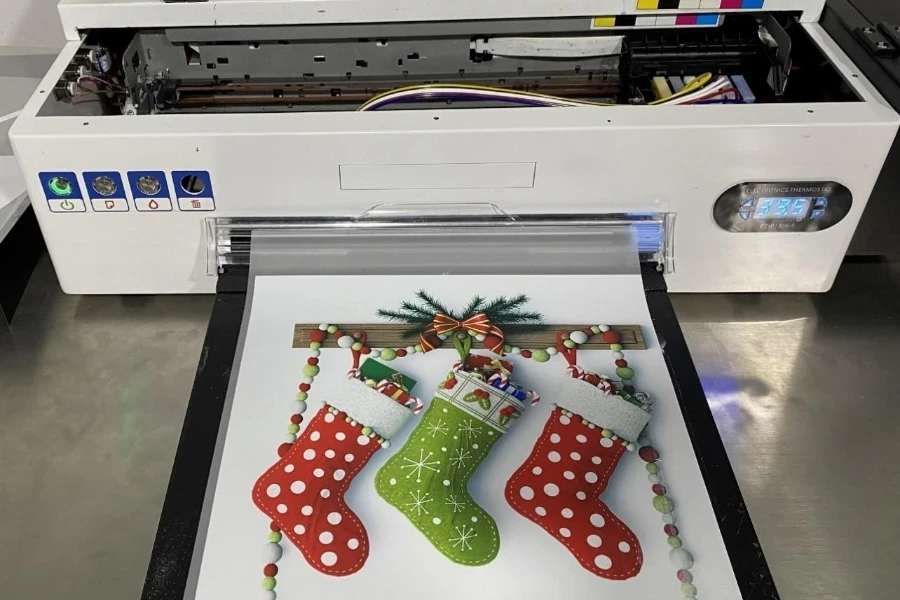 Application and advantages of DTF printers
Due to their innovative technology, DTF printers can be used on a wide range of items, including fabric, bags, pillows, hats, denim, nylon, and more. Designs can also be stamped on flat surfaces like glass, metal, and wood through DTF printing.
As for their benefits, the first on the list is the zero pre-treatment requirements. DTF printers have a preheating function and adjustable temperature and humidity settings to avoid undesirable ink blots.
DTF printer also uses minimal (around 40%) white ink, compared with DTG printers that require 200% white ink. This is a big plus, especially for those who have printing businesses, because white ink is the most expensive ink color. The finished printouts are highly durable and scratch-resistant, thanks to the micro piezoelectric inkjet technology that restores images with excellent color accuracy and durability. You don't need to worry about cracking, peeling, or fading designs.
What's more is that the DTF printing process is user-friendly, allowing for the creation of any desired pattern, and features fast printing speed and easy control. The process is fully automatic, with a white ink circulation system that prevents nozzle clogging and extends the life of the print head by 50% compared with traditional printers. With high-definition printing resolution and almost 100% image restoration, DTF printing is a great way to diversify inventory and save time and money.
UV printers
UV printers (also known as flatbed UV printers) are versatile printing devices specifically designed to print on flat objects. Nevertheless, these printers can also print on cylindrical items like mugs using molds. UV printers are equipped with a cooling system composed of a UV lamp and an air-cooled water-cooling system. The high temperature of the UV lamp speeds up the curing and adhesion of the ink, whereas the cooling system is there to cool down the lamp.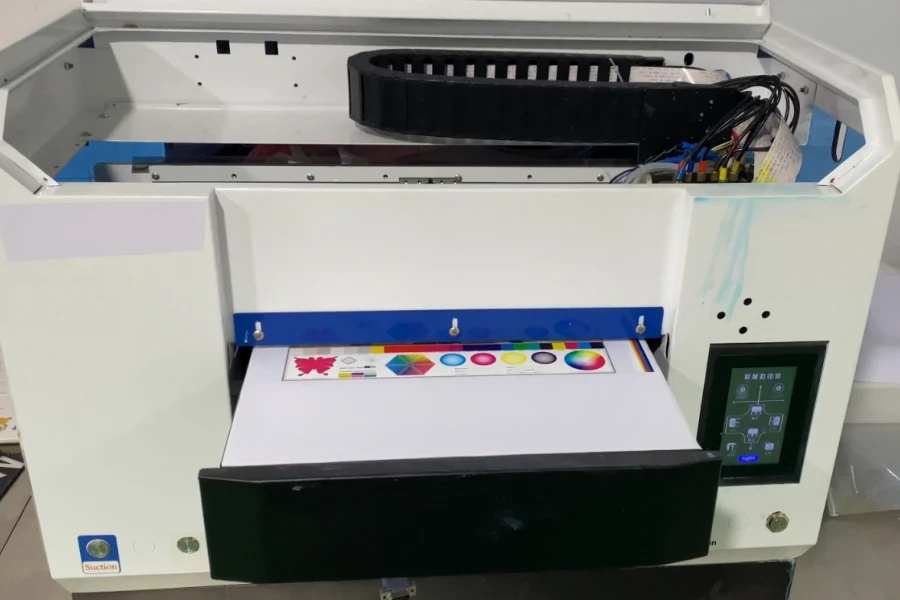 Application and advantages of UV printers
UV printers are fit for personal and business use. You can print colored pictures on different types of materials, such as wood, glass, and leather. The drying process is quick, even if the picture has many color layers.
The ink used in these printers has a unique effect that makes the picture appear 3D. Most importantly, UV printing is relatively cheap because you don't need to use additional materials in finishing. Despite the initial high investment in the UV printer, you will save time, effort, and money in the long run.
DTG printers
DTG printers are machines that can print directly onto clothes. They have pronounced advantages and disadvantages. They are more eco-friendly than other types of printers, have more color options, and can make highly detailed prints. However, they also use expensive ink, need complicated maintenance, and can easily get clogged.
Unlike UV printers that use a UV lamp to dry the pattern, DTG printers use water-based pigments. The latter utilizes digital technology to provide unique and customizable designs and works best on clothes made of natural fibers like cotton, bamboo, linen, or linen blends.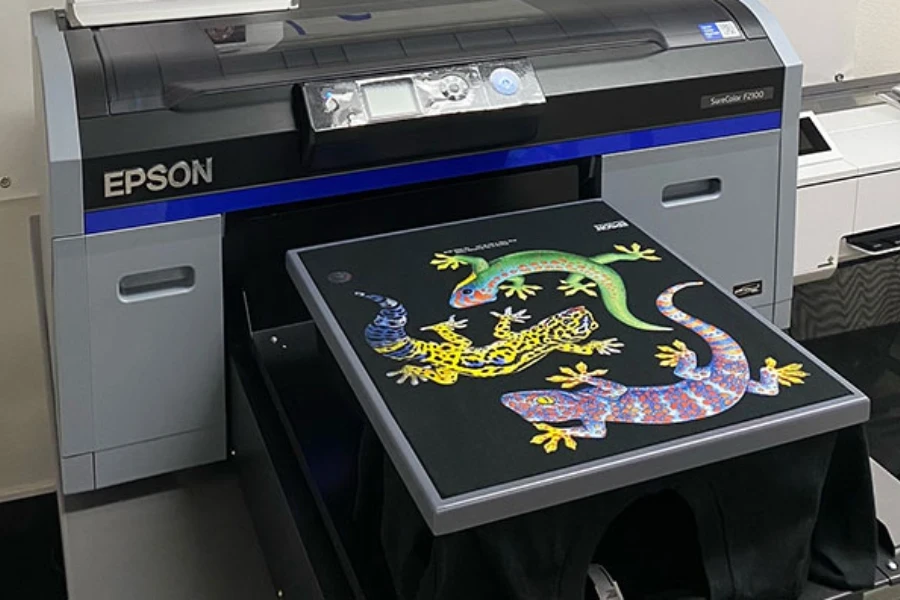 Application and advantages of dye sublimation printers
DTG printing became popular around the mid-2000s. With a DTG printer, you can send a design straight from a computer to a printer fed with the printing material (it can be any fabric). The printer then uses eco-friendly ink to recreate the design in full color on the material.
This method is much easier than traditional ways of printing on clothes, such as screen printing and embroidery. You don't even need to have special skills to use them. Once you get the hang of DTG printing, you can experiment with all sorts of things, like hats, socks, bags, and even lampshades.
Dye sublimation printers
Before DTF printing emerged, dye sublimation was the favored technology. Both processes have the same flow and steps. First, the pattern is printed on transfer paper. Then, the paper is subjected to high-temperature heat pressing (over 200 degrees Celsius) to change the ink from solid to gas, followed by the actual printing on the fabric.
However, compared with DTF printers, dye sublimation printers have some limitations. For instance, using transfer papers is less convenient than using transfer films. As a result, less vibrant designs are produced. Moreover, some fabrics cannot withstand temperatures over 200 degrees Celsius.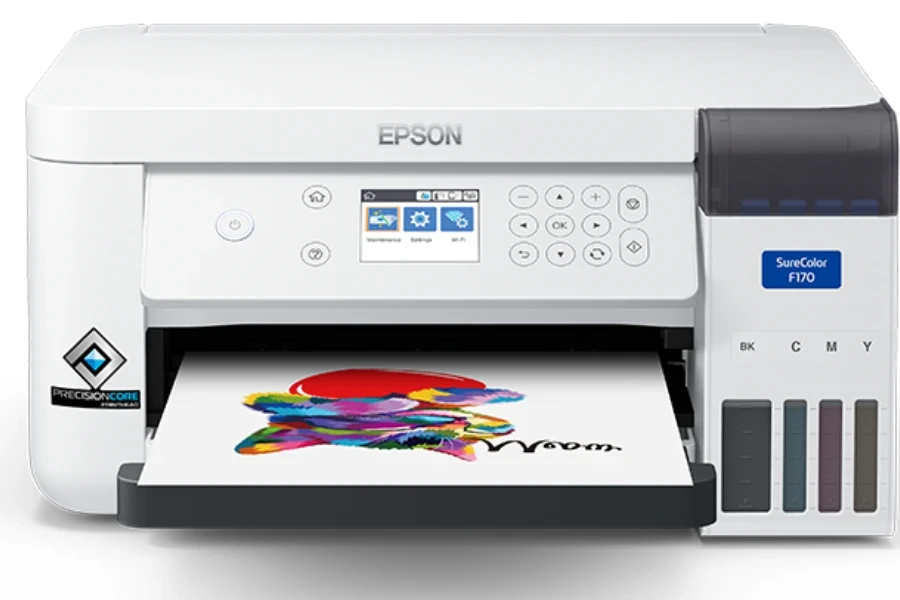 Application and advantages of dye sublimation printers
In general, sublimation printers are used to print on polyester fabrics. As printing technology progresses, they can now be utilized to decorate a wide range of apparel, signs, banners, and even plaques and mouse pads.
The cost-effectiveness and user-friendliness of dye sublimation printers make them a practical choice for business use. These printers do not need expensive sublimation papers to create good prints. You can also easily replenish thermal sublimation ink.
Moreover, they require minimal maintenance because sublimation ink does not easily cause blockages. You can print your images on a wide variety of items whenever and wherever there's a sublimation printer around.
UV DTF printers
UV DTF printers are products of a new printing technology that combines the features of UV and DTF printers (hence the name). Also known as sticker or transfer paper printers, these machines utilize two types of films: an adhesive film A and a transparent film B.
The printer first prints CMYKWV ink on film A and then uses a laminating machine to combine it with film B, creating a sticker. The printed pattern can be directly pasted onto a smooth surface when film B is removed. UV DTF stickers are waterproof, scratch-resistant, and durable but may not work on uneven surfaces.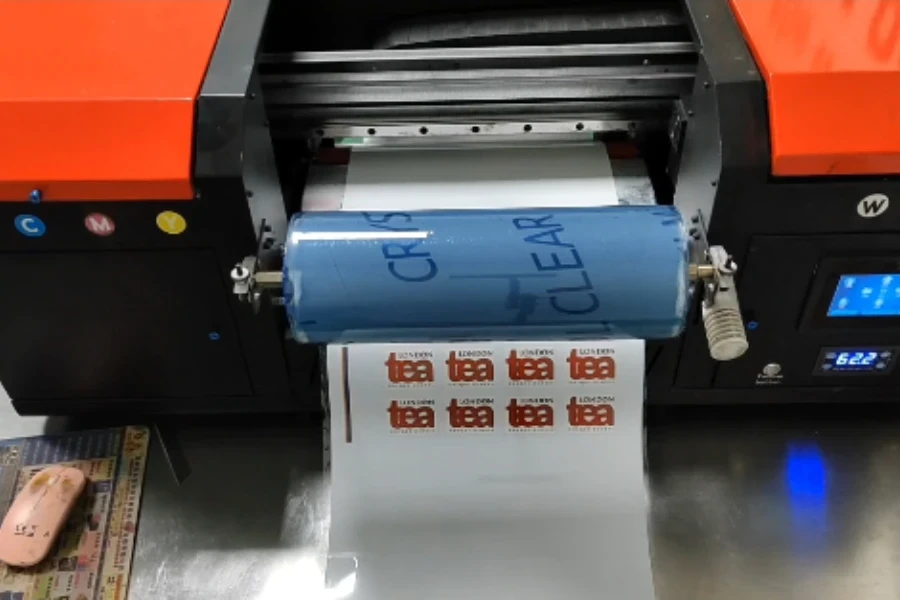 In addition to the two films, a UV DTF printer requires two machines, glue, and gloss to complete the printing process. The glue is sprayed on top of the film to enhance the stickiness of the sticker and make it waterproof. For the gloss, it's recommended to use UV varnish to create a more vibrant and luxurious tactile impression. The printer can also be fed with gold and silver films to add a sophisticated touch.
Application and advantages of UV DTF printers
The UV DTF printing technology overcomes the limitations of traditional printers by providing compatibility with a wide range of materials, maintaining clarity and color intensity, and speeding up production. UV DTF printers can accurately print high-quality patterns, which is why they are widely used to print food menus and product logos. These machines are also suitable for printing on outdoor apparel and items as they are durable and not easily scratched.
In summary, UV DTF printers have advantages over UV and DTF printers, such as compatibility with uneven surfaces, high printing accuracy, and superior printing quality.
Each type of inkjet printer has its own set of pros and cons. The key to finding which one suits you best is to know your printing requirements and what material you want to use.
Source from Procolored
Disclaimer: The information set forth above is provided by Procolored independently of Alibaba.com. Alibaba.com makes no representation and warranties as to the quality and reliability of the seller and products.
Was this article helpful?