Businesses that take orders and ship to various locations always need printing services. Since orders must be shipped with labels, tags, and other necessary information, retailers must have at least one printer.
They'll need durable, fast, and versatile printing devices for this. And that's where a thermal printer comes in.
This article will reveal various thermal printing trends in the market that businesses can capitalize on to boost their profits this year and beyond.
Table of Contents
Trends in the thermal printing market
Why thermal printing?
How does thermal printing work?
Four thermal printers for 2023
The bottom line
Trends in the thermal printing market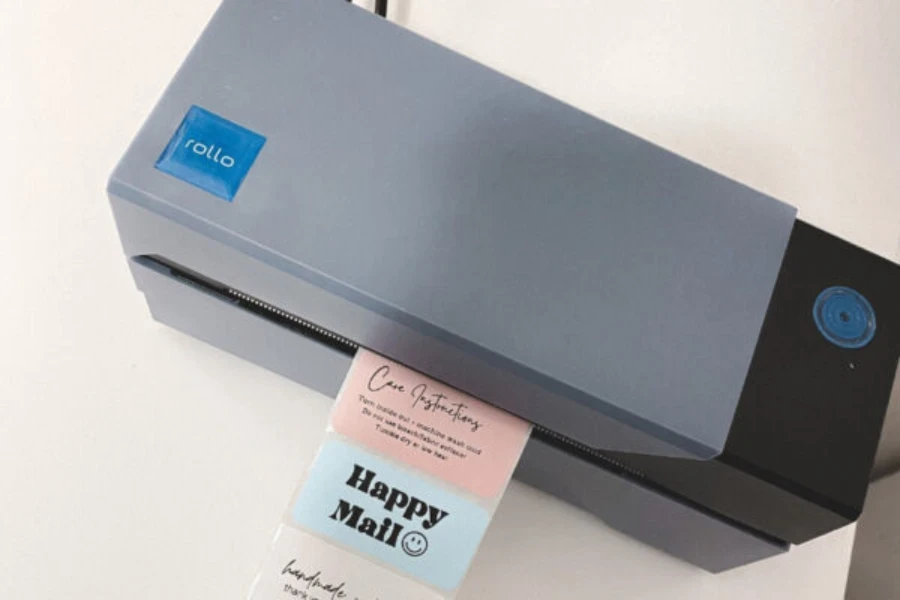 The global thermal printing market hit USD 44.00 Billion in 2021, and experts predict it will register a 4.4% compound annual growth rate (CAGR) over the forecast period (2022-2030).
Also, the increased use of thermal barcode printers and RFIDs in the evolving e-commerce industry contributes to the market's growth.
The global thermal printing market is also segmented into printers and supplies. The printers had the largest market share in 2021, while the 'supplies' part is projected to surge.
Experts categorize the global thermal printing market into barcode, RFID, kiosk, POS, card, and ticket printers. In addition, the barcode printer category accounted for the largest revenue share in 2021.
In 2021, North America generated the most considerable revenue, followed by the Asia-Pacific and Europe markets.
Why thermal printing?
Thermal printers are the go-to devices for online businesses. They're also handy for other functions, like printing price tags, shipping labels, and ID badges.
Although they use less energy than regular printers, they're environmentally friendly and can help businesses save on energy bills.
Thermal printing utilizes heat to generate images or text on paper, creating high-quality images.
In addition, thermal printers produce precise, long-lasting images with incredible resistance to environmental factors. Since there is no ink to smear, thermally printed images look more legible.
Thermal printers also boast fantastic speed as they can generate images in milliseconds. As a result, businesses can engage in faster labeling or receipt printing.
More importantly, unlike their impact-style counterparts, most thermal printers don't rely on many moving parts, making them more durable and reliable.
And since they don't need complex repairs and frequent servicing, thermal printers have lower maintenance costs.
How does thermal printing work?
Thermal transfer printing
Thermal transfer melts a ribbon coating to print texts and images on printing materials like paper. This digital process uses enough heat to ensure the print sticks to the paper.
However, it's different from direct thermal printing, which doesn't use ribbons in its processes. Nevertheless, thermal transfer printers can work with more materials than their direct counterparts, including polypropylene and polyester.
As a result, thermal transfer printers can use more durable materials with extended lifetimes, like polyester. However, it may be more expensive than printing on traditional materials.
More importantly, sellers can match their label material with different ribbons for maximum durability. Adding colored ribbons can enhance the label's appearance and showcase a fancier brand image.
Direct thermal printing
On the other hand, direct thermal printing ditches ribbons and utilizes chemically treated and heat-sensitive materials. Moreover, the media blackens to create the desired image when it passes under a thermal printhead.
In addition, direct thermal printers also don't need ribbons or ink to generate texts and images. Plus, they're one of the easiest thermal printers to use and make on the market.
Due to their more straightforward, ribbon-free mechanics, direct thermal printers are more compact. This is partly why most mobile printers use direct thermal technology.
Labels printed with direct thermal printers showcase an incredible lifespan. However, exposing them to environments above room temperature or areas with excess sunlight and abrasion will reduce their quality.
Direct thermal printing is ideal for applications that don't require a long shelf life. Some of the best ones include printing receipts and shipping labels. Nevertheless, businesses must abstain from using them to generate product labels.
On a lighter note, direct thermal printers are incredibly easy to maintain. As a result, retailers won't need to replace any extra material except the ones necessary for printing.
Four thermal printers for 2023
Mobile thermal printers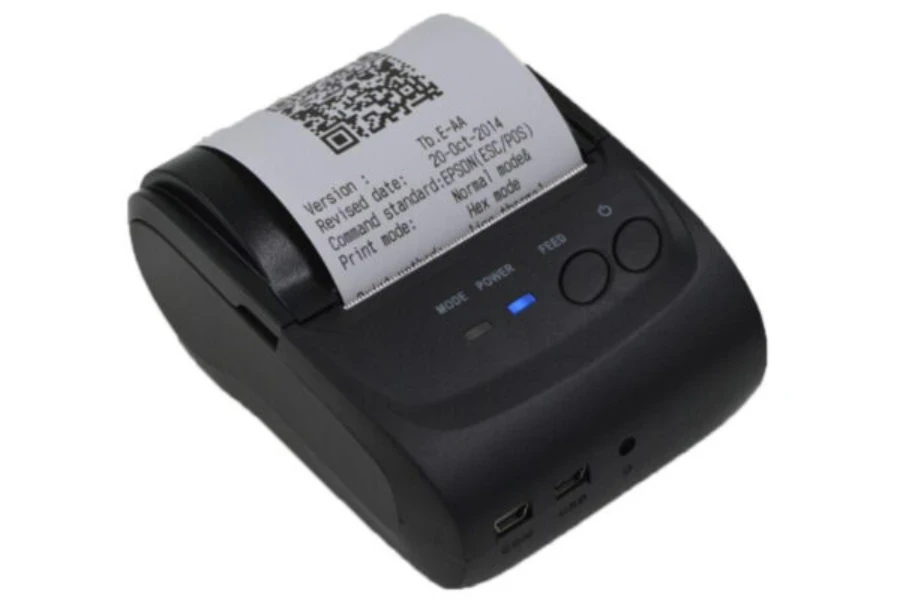 Order fulfillment is a time-sensitive task. Retailers must pick up the goods, pack them, and prepare them for delivery before the estimated date. But several things can slow down the process, including printing.
A seller's ability to retain consumers often depends on how fast they can get orders to the final destination. Mobile thermal printers are one of the best ways to stay ahead of schedule in the printing department.
These devices are portable enough to meet the average retailer's mobile barcode and receipt printing needs. In addition, they weigh next to nothing while offering top-notch durability. Mobile thermal printers also provide wireless connectivity but are mostly limited to Bluetooth.
Additionally, mobile printers are smaller than other options, making them ideal for businesses that need on-the-go printing services to increase efficiency.
Some mobile printers can resist damage from water sprays, immersion, and drastic temperature ranges.
Mobile thermal printers are ideal for retailers engaged in healthcare, warehouse management, transportation, and manufacturing businesses.
Desktop thermal printers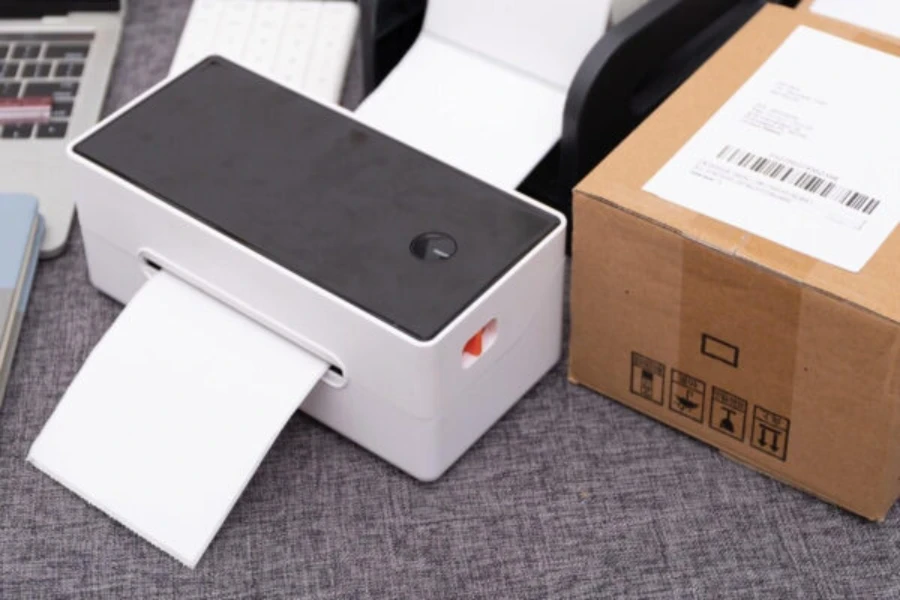 True to their name, desktop printers can fit comfortably on a desk or other small spaces. In addition, they require low maintenance, have simple operations, and provide many wired and wireless connectivity options.
Desktop thermal printers are also compact and ideal for printing less than 2,000 labels daily. In addition, these printers have multiple features, and retailers can use them without needing a PC connection.
They're also reliable, cost-effective, and can efficiently handle a moderate level of print jobs. Businesses can use these thermal printers in retail, hospitality, transportation, healthcare, and light manufacturing.
Industrial thermal printers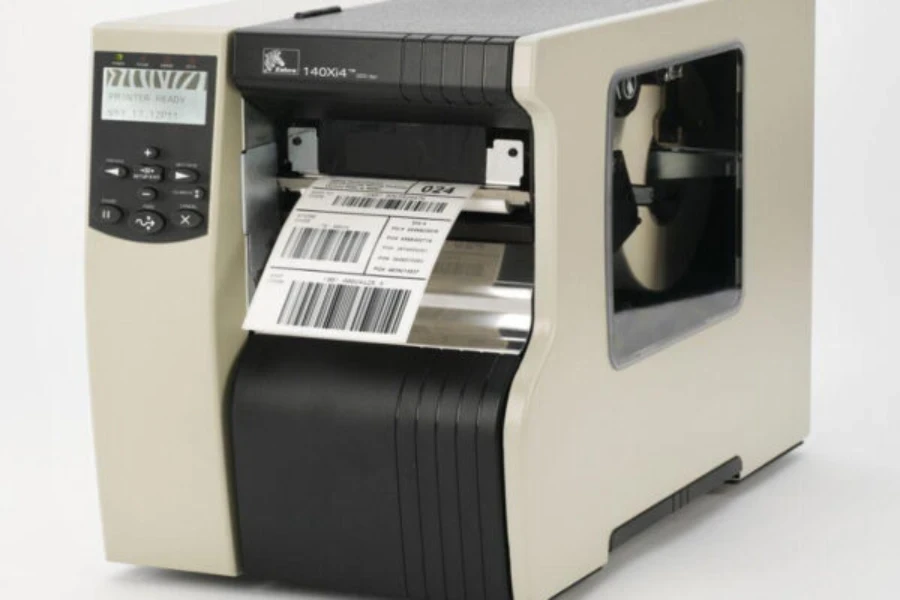 Industrial printers are designed for maximum productivity and efficiency, especially in demanding environments like warehouses and factories.
As the name suggests, these printers are larger and tougher than standard desktop printers. They are made for frequent use and are incredibly adept for super-fast speeds, durability, and low-cost running.
Additionally, businesses can use them daily for high-volume barcode and label printing. Industrial thermal printers are robust and solid, giving years of service even in high-pressure fast environments.
High-quality models are incredibly durable and support 24/7 operation. In addition, they have larger label roll and ribbon capacities, which require less frequent changes.
These printers are ideal for businesses printing more than 1000 labels per day. They have a fast print speed and numerous connectivity options. They can help a brand see its real-time supply chain, raise efficiency, and capitalize on Internet of Things (IoT) technologies to secure a competitive advantage.
Thermal print engines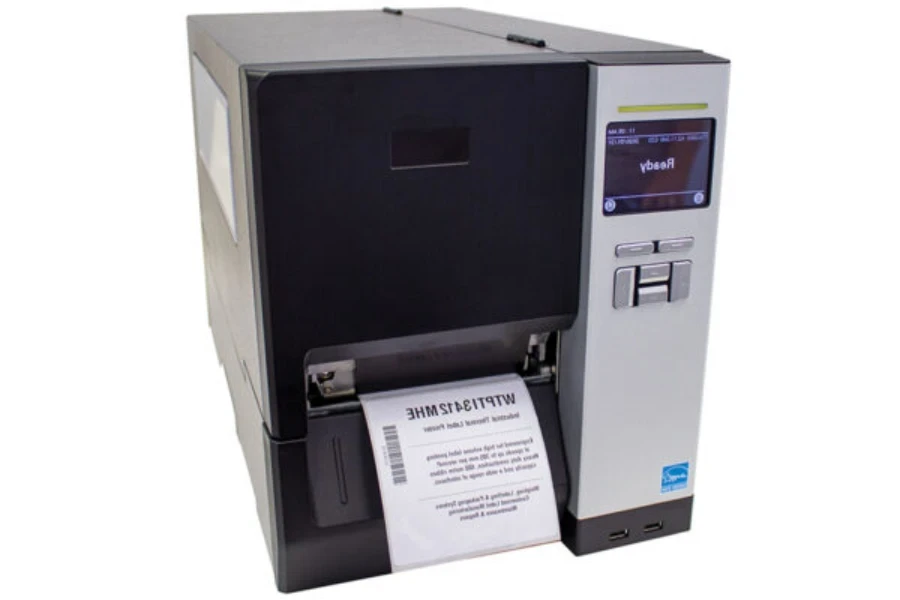 A print engine is an industrial-grade label printer unit that can be fully integrated into various applications critical to automated labeling systems.
They have designs that work in a print-and-apply system, like packaging lines. For example, a product sensor typically accompanies print engines to activate printing while an applicator attaches the label to the marked item.
Print engines are durable enough that can perform nonstop. They are built to work around the clock for high-demand label applications, with rugged construction, incredible print speed, and easy maintenance.
The bottom line
Thermal printing offers many benefits, motivating businesses to switch to this novel technology. Thankfully, regardless of the business size, there is a printing method specifically tailored to meet demands.
Mobile, desktop, industrial thermal printers, and thermal print engines have durability as the common factor despite how much work they process.
Sellers can focus on these thermal printing trends to speed up their labeling and receipt processes and make sales more efficient.
Was this article helpful?