Touchscreens felt groundbreaking when they were first released. Not only were they were more convenient than buttons and looked cool but also, led to the invention and use of stylus pens. These digital pens then made it easier to do previously analog-only pursuits like writing or drawing on a screen, as well as selecting and moving objects with greater ease.
In this article, we'll provide helpful tips and cover everything businesses should know before they update their stylus offerings.
Table of Contents
An overview of the stylus pen market
Why consumers love stylus pens
The different types of stylus pen
Tips for choosing the right stylus pens in 2023
Conclusion
An overview of the stylus pen market
The stylus pen market's value was valued at US $60 million in 2021, growing to US $66 million in 2023. Experts predict it will continue to have a CAGR of 5.96% to hit US $141 million by 2030.
North America currently leads the market, with experts anticipating a CAGR of 8.1% over the forecast period. Europe follows closely behind with a US $40 million share at a forecast CAGR of 9.25%.
Why consumers love stylus pens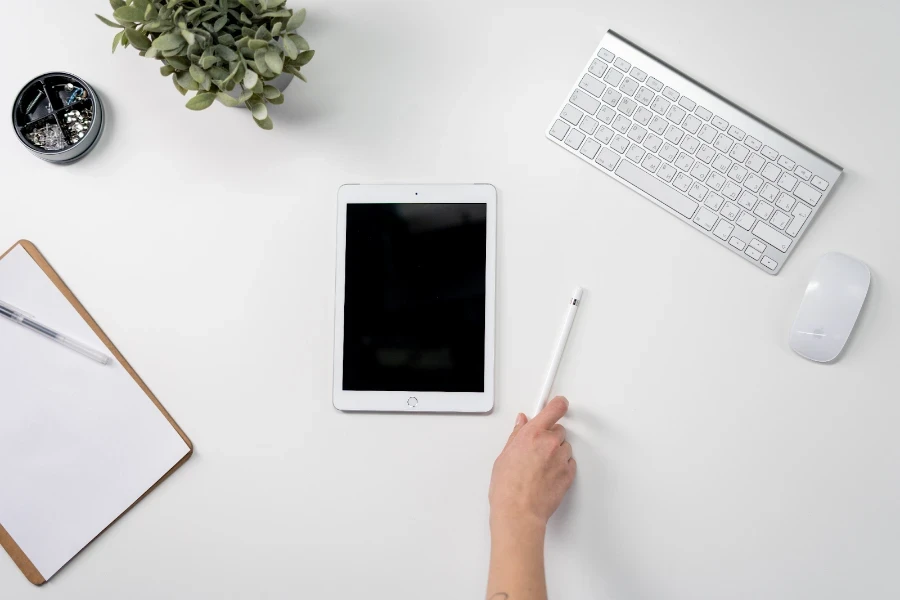 Stylus pens use pressure-reactive technology to allow people to write or draw on various touchscreen surfaces. Most stylus pens are used alongside drawing tablets, but others also work with devices that accept digital input.
Consumers love stylus pens for their ability to increase precision when working with digital media, making them a favorite tool among digital artists and designers.
Unlike traditional input methods (keyboards and mice), styluses can be used to write or draw directly on a device's screen, no fingers necessary. Their responsiveness and heightened accuracy give unrivaled line control, allowing unrivalled digital writing or drawing flow.
Google Ads data reveals that stylus pens command a staggering number of monthly searches. With branded stylus pens peaking at 1.2 million searches, while the generic search term has a healthy 246,000 inquiries.
However, searches for branded stylus pens dropped to 1 million in September, while searches for generic varieties fell from 301,000 in April to 246,000 in September.
The different types of stylus pen
Today, three major types of stylus pens are available in the market: passive (capacitive), active, and Bluetooth-enabled. Interestingly, each type uses different technology, giving them different abilities.
Capacitive stylus pens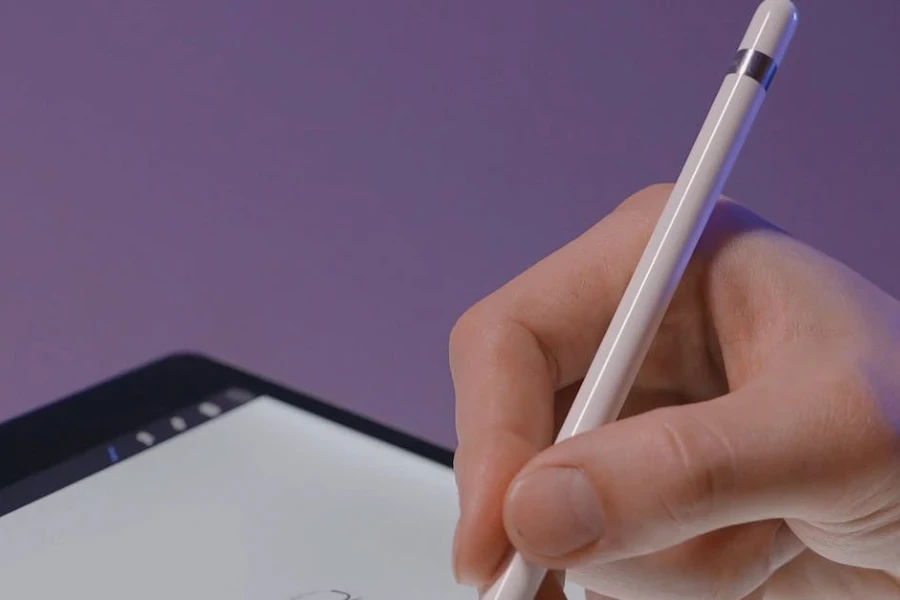 Passive stylus pens, also known as capacitive styluses, were the first-generation styluses for touchscreens. They have a wider tip that the device recognizes when the user touches or presses it against the screen.
These stylus pens allow the screen to recognize the tip as a real touch. There are also special passive stylus pens manufactured for infrared and optical touchscreens.
However, passive stylus pens have one major limitation: their wide tip means less precision. As a result, they're not the best choice for detailed tasks like creating vector illustrations or editing photos.
According to Google Ads, "capacitive stylus" gets 3,600 average monthly searches, making it more popular than the next related keyword, "capacitive stylus pen," which generates 1,600 searches on average.
But while "capacitive stylus" suffered a 20% drop in September (3,600 to 2,900 searches), "captive stylus pen" witnessed a 20% uptick from 1,300 in June to 1,600 in September.
Active stylus pens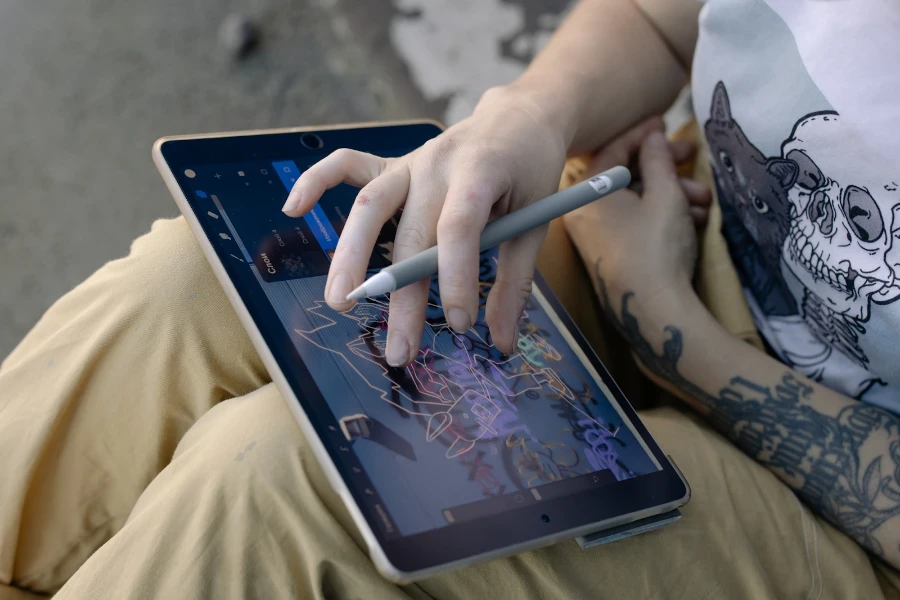 Active stylus pens are the most advanced of the three types of styluses. They use an active digitizer – a tiny chip inside the screen – and electromagnetic waves to communicate with the touchscreen device. 
This technology lets consumers enjoy amazing features like pressure sensitivity, tilt detection, and palm rejection. But there's a caveat: This added technology means that active stylus pens are usually more expensive than passive stylus pens. Plus, they require batteries to work, meaning consumers have to recharge them.
Despite that, active stylus pens are more popular than their passive counterparts. According to Google Ads, branded variants like "Lenovo pen" and "HP active stylus" get 22,200 (up from 14,800 two months previously, a 30% increase) and 14,800 (from 9,900, a 20% increase) searches, respectively. 
Bluetooth-enabled stylus pens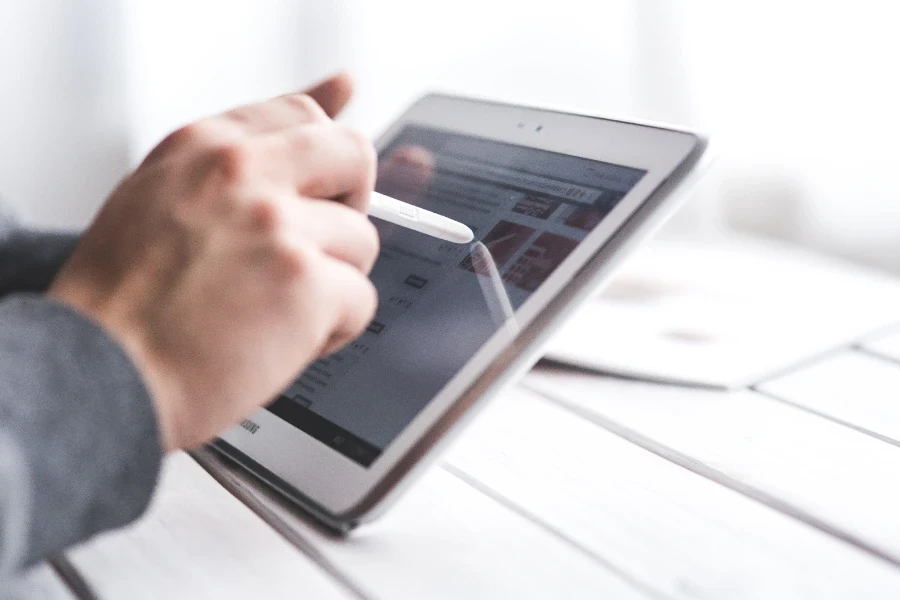 Bluetooth stylus pens are the third type of stylus pen to consider. They provide better precision than passive styluses, and manufacturers often pack them with extra features like shortcut buttons or adjustable pressure sensitivity levels.
However, Bluetooth-enabled stylus pens are the most expensive of the lot and only work with Bluetooth-enabled devices. Regardless, they're the go-to for consumers who value advanced features. 
Surprisingly, Bluetooth-enable stylus pens attract the least number of searches among the three types. The first keyword, "Bluetooth stylus," generates 1,000 average monthly searches, while the second, "Bluetooth stylus for Android," gets 720 inquiries.
Tips for choosing the right stylus pens in 2023
Consider pressure sensitivity, accuracy, and responsiveness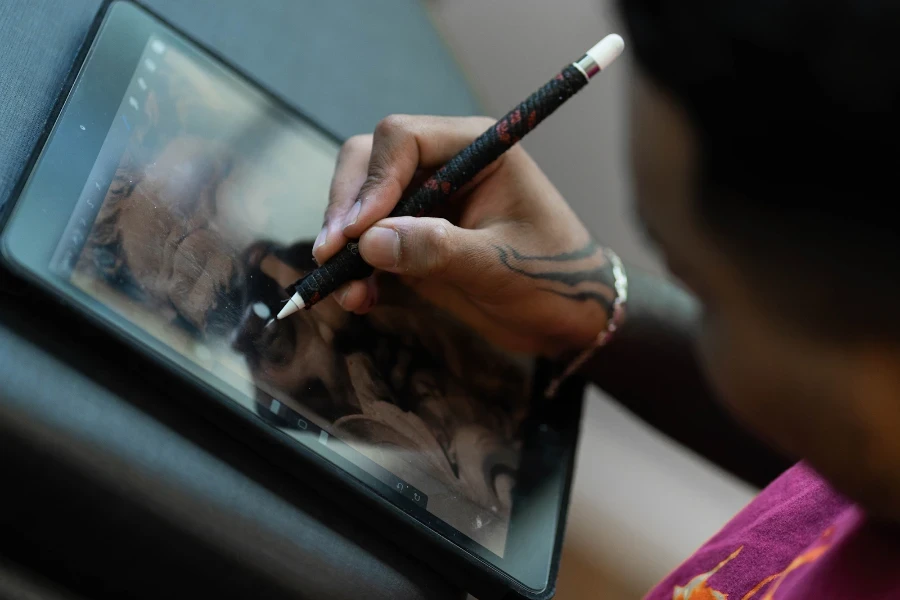 Businesses in the market for stylus pens must consider pressure sensitivity, accuracy, and responsiveness before purchasing. These factors will greatly influence a user's overall experience, so knowing how the pens rate on each of these functions is essential.
Pressure sensitivity matters most for consumers seeking styluses for art or handwriting. Stylus pens with higher pressure sensitivity give users more control over the thickness and style of their strokes, making their artwork more detailed and expressive.
Here's a table showing the best pressure sensitivity options for stylus pens:
| | |
| --- | --- |
| Pressure sensitivity level | Application |
| 1024 | A good pressure sensitivity level. Ideal for basic tasks like taking notes or annotating documents. Consumers can also use them for digital art, but details and expression may be limited. |
| 2048 | The minimum pressure sensitivity level for digital art and design. It offers precise control over line thickness and opacity, allowing users to create more detailed and expressive artwork. |
| 4096 | The highest pressure sensitivity level, as well as the most common pressure sensitivity for stylus pens. Its incredibly precise control over thickness and opacity makes it the best option for highly detailed and expressive digital artwork. |
Note: Consumers that use stylus pens for basic tasks like navigation or day-to-day computer work won't require fine-tuned pressure sensitivity.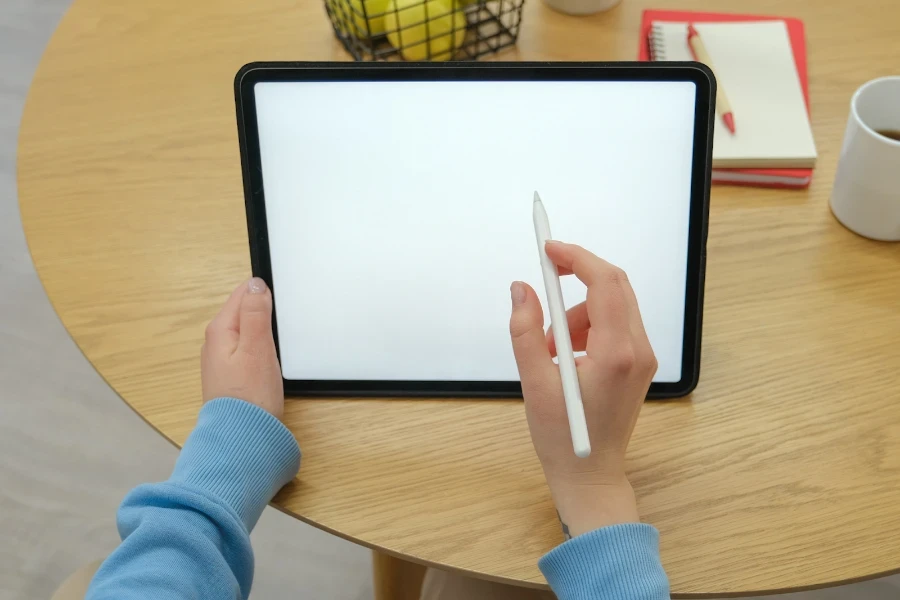 Accuracy and pressure sensitivity work hand-in-hand to allow precise movements, and highly accurate stylus pens can effortlessly track the hand's movement – an essential feature for tasks like drawing and drafting.
Accuracy and pressure sensitivity are important, but they don't mean much if the stylus is not responsive, which measures how quickly the device responds to the user's actions. 
Hence, a pen with good responsiveness lets users make fast and precise movements without lag or delay. It's especially crucial for tasks that require quick actions, like fast-paced work or gaming.
Opt for good battery life and charging conditions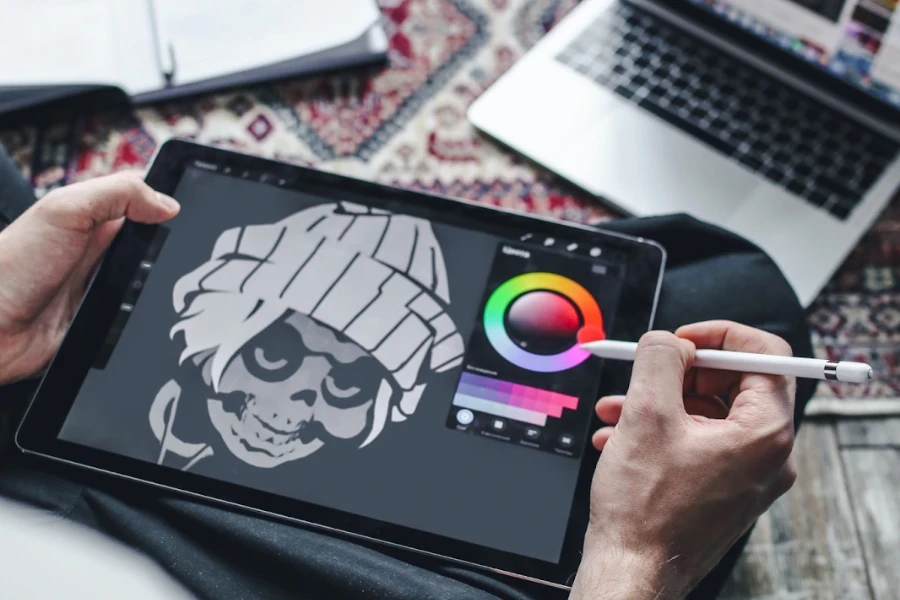 In addition to pressure sensitivity, accuracy, and responsiveness, it's crucial to consider battery life and charging when stocking up on stylus pens. Generally, stylus pens come in two types:  rechargeable or battery powered.
Consumers interested in rechargeable styluses will be interested to know how long the battery lasts on one charge and how long it takes to recharge. Also, it's important to note whether the stylus comes with a charger or if consumers must buy one separately.
Additional features are a big plus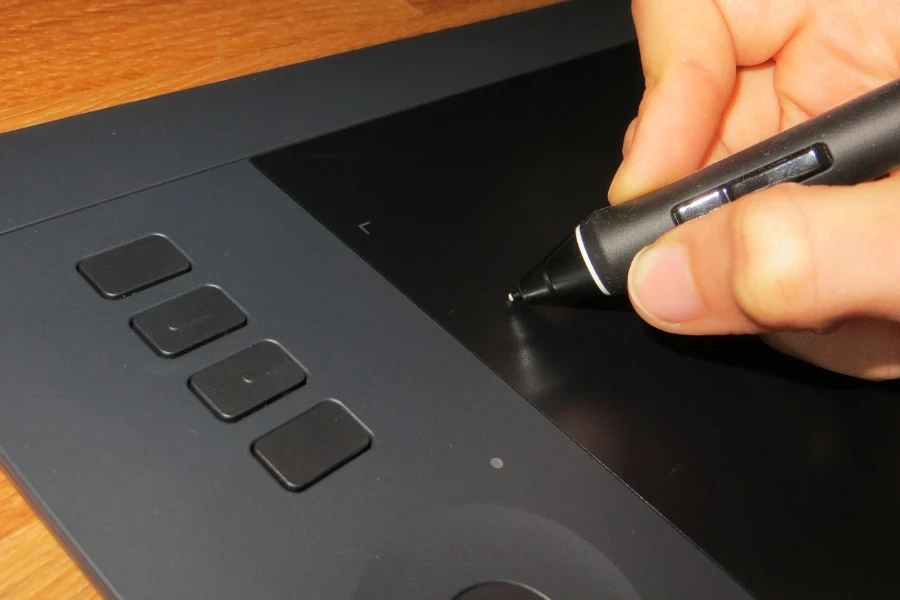 Some stylus pens are generic, while others come packed with extra features that make them more attractive. Some consumers will be fine with the basic features, but more savvy users will seek out additional features for a better experience.
For example, some pens have a built-in pen holder to secure the stylus when it's not being used. Others have an eraser function that lets users quickly correct writing or drawing mistakes.
Factor in design and build quality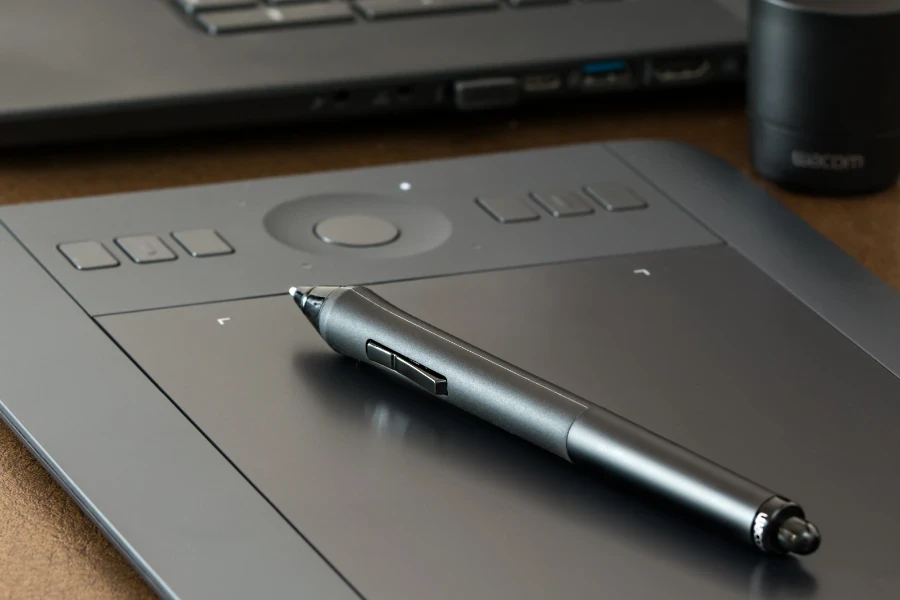 When choosing styluses, also consider their build and design. Consumers who plan to use them frequently will want a stylus with a sturdy construction.
Additionally, design affects the pen's comfort during use. For instance, some people prefer styluses with a large grip, while others may favor variants with slimmer designs. 
Conclusion
Stylus pens are an indispensable tool in this new digital era. Their precision and control make them necessary for improved digital drawing and note-making tasks; attempting these activities without them may now lead to considerable wasted time and effort. They're also profitable, meaning stocking on styluses can open up opportunities for sales and profits.
Now that you know what factors to consider when purchasing styluses in 2023, take a look at the huge range of options available on Alibaba.com.
Was this article helpful?