In a fast-paced fashion landscape, very few trends stand the test of time – but one that remains relevant is refined minimalism. Embodying the mantra of "less is more," this trend is a classic approach that captures the essence of understated elegance by maximizing relatively fewer clothing pieces to create simple yet fabulous outfits.
A minimalist wardrobe comprises fewer staple pieces that are easily interchangeable with one another to maximize the number of outfits a consumer can create. The simplicity of the trend makes it versatile and easily adaptable.
As a business, leveraging the refined minimalism trend is a great way to boost sales, as catalog options are straightforward yet inspiring and lucrative. This article will explore the five best trends, highlighting their key elements and creative twists that appeal to the modern woman.
Table of Contents
Refined minimalism apparel market outlook
Top 5 women's apparel trends exuding refined minimalism
The bottom line
Refined minimalism apparel market outlook
The refined minimalism trend worldwide encompasses diverse elements like denim, leather, white button-up shirts, oversized knits, and tailoring, each helping to boost the marker's profitability. The denim market was valued at around USD 128 million in 2022, projected to expand at a 4.3% compound annual growth rate (CAGR), reaching USD 179.67 million by 2030.
Leather also plays a significant role, boasting a market size of USD 420 billion in 2022, poised to surge to USD 735 billion by 2032, with a growth rate of 5.76%. In parallel, shirts have achieved a value of USD 77 billion in 2023, set to grow at a 2.18% annual rate from 2023-2027. According to experts, the global tailoring market was approximately USD 9.6 billion in 2022, predicted to hit USD 14 billion by 2032.
Top 5 women's apparel trends exuding refined minimalism
Denim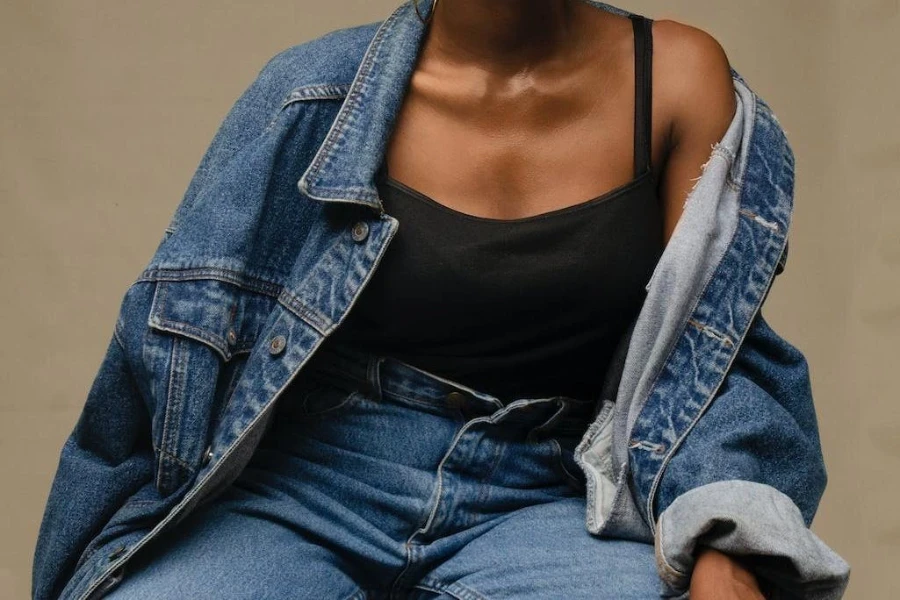 In addition to being very comfortable, denim pieces are effortlessly versatile and ever-iconic. This fabric isn't just an everyday fabric; in its classic simplicity, denim can be a powerful item in a minimalist wardrobe. These pieces go with almost everything, whether it's a pair of jeans, a jacket, a skirt, or a denim dress.
Shoppers can pair denim pants with different tops, like a simple white tee for a casual look or a tucked-in silk blouse for more formal settings. They can also opt for lightweight cashmere sweaters with darker-shade skirts. Denim dresses with subtle detailing, or belted, can also epitomize a polished look.
Layering denim is another good way to pull off these pieces. For instance, a tailored denim blazer over a crisp white shirt creates a posh silhouette, while shoulder-draped denim jackets exude calm confidence. For consumers that want to rock the all-denim look, denim-on-denim outfits, like chunky sweaters or long coats, are the ultimate fashion week look.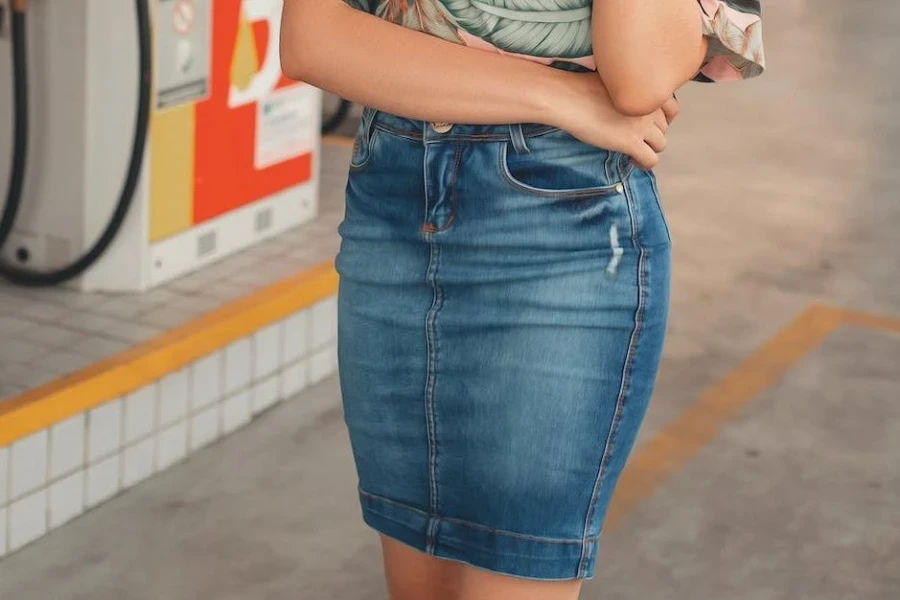 Consider clean lines, muted colors, and refined tailoring when offering these pieces. Embrace the simplicity of denim and avoid adding too many details. Remember to choose pieces that buyers can easily integrate into their wardrobes to mix and match.
Crisp white button-up shirts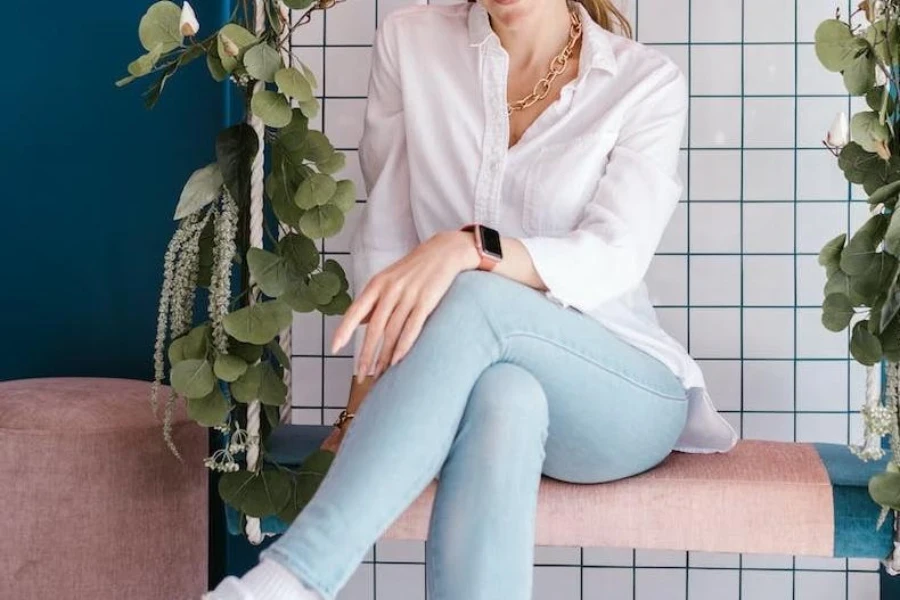 White button-up shirts are the origin of every on and off-duty minimalist styling. From classic Oxford, relaxed oversized style, or a tailored tunic, the clean lines and simplicity of white button-up shirts make them seamlessly adaptable to various aesthetics.
Consumers can tuck a fitted white button-up shirt into high-waisted trousers or pencil skirts for an effortlessly chic and professional ensemble. Slim-cut jeans or wide-leg pants will do the trick in a more relaxed setting. Rolling up the sleeves or cinching the waist with a sleek belt adds structure and a casual atmosphere to the look.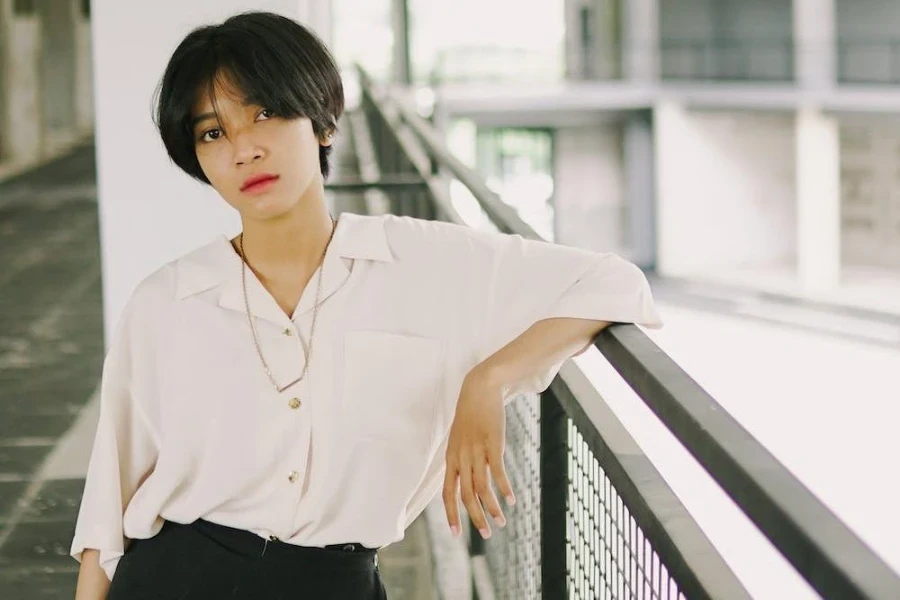 White button-up shirts are also suitable for layering. Shoppers can wear them unbuttoned over a tank top or camisole while pairing them with a tailored skirt for a fresh, minimalistic look.
Businesses can leverage these staple items by offering numerous styling options. Pay attention to quality fabrics that drape elegantly and are suited for various body types. They should also be free of bold and flashy embellishments, allowing users to focus on the simplicity and beauty of the clothing.
Leather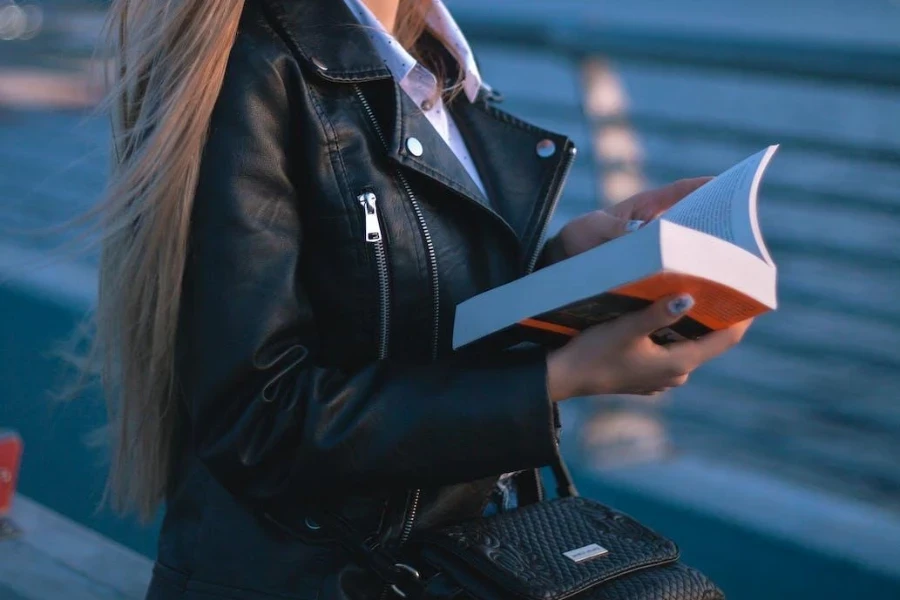 Leather trousers, skirts, blazers, or dresses deserve a place in every minimalist wardrobe. The texture-rich fabric allows customers to create outfits that are strong yet understated.
For instance, consumers can rock a leather skirt with a tucked-in silk blouse in a complementary neutral shade for an effortless ensemble. Those seeking a more formal look may opt for tailored trousers and a crisp white shirt for a professional style.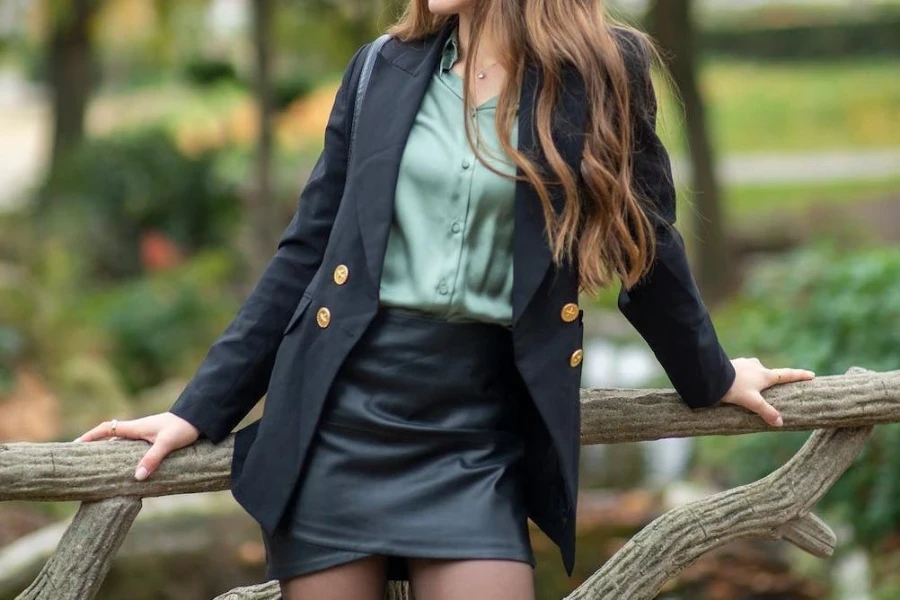 For casual occasions, shoppers may style high-waisted leather bottoms with cropped t-shirts, turtlenecks, or chunky sweaters. A leather jacket draped over the shoulders or leather trousers paired with classic white tees are also good options.
Brands should keep a neutral color palette: black, camel, and brown are ideal options for this trend. These colors are easily interchangeable with the rest of the minimalist wardrobe and hence are essential.
Chunky oversized knit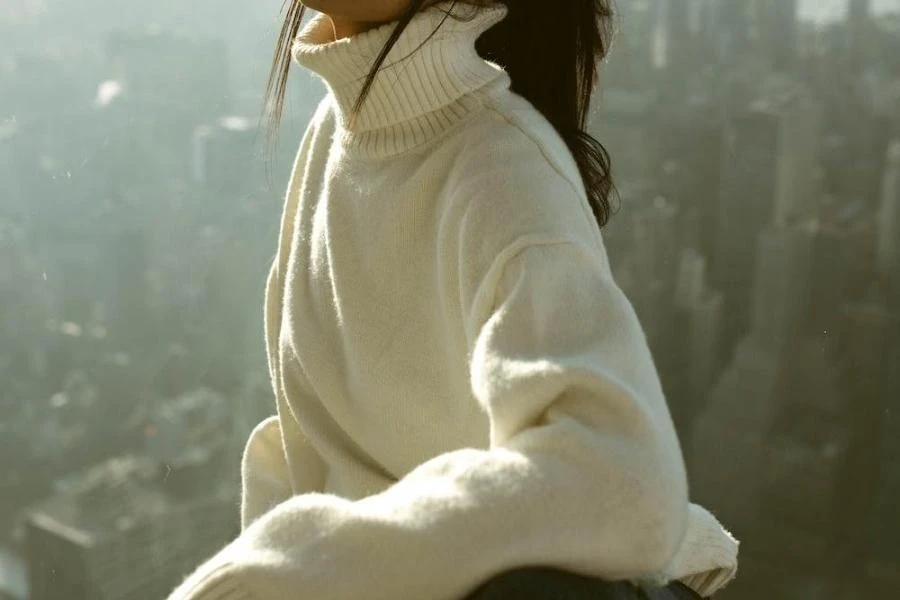 Cozy and stylish, knits come with different layering options. Customers can dress this up or down depending on the occasion. Their voluminous silhouette and wooly texture exude warmth and comfort while providing a base for multiple stylish ensembles.
One of the chicest ways consumers can pair this is with tailored, sleek trousers. The contrasting textures create a balanced look for corporate casual outings or relaxed formal evenings. Tucking a corner of the sweater is also recommended.
For those seeking a more streamlined silhouette, a knit turtleneck paired with a minimalistic A-line skirt or high-waisted jeans accentuates the waist and creates a refined and comfortable look.
Shoppers can play with textures by layering a chunky oversized knit with a flowy midi skirt. It adds visual interest and creates a well-rounded ensemble on both fabrics.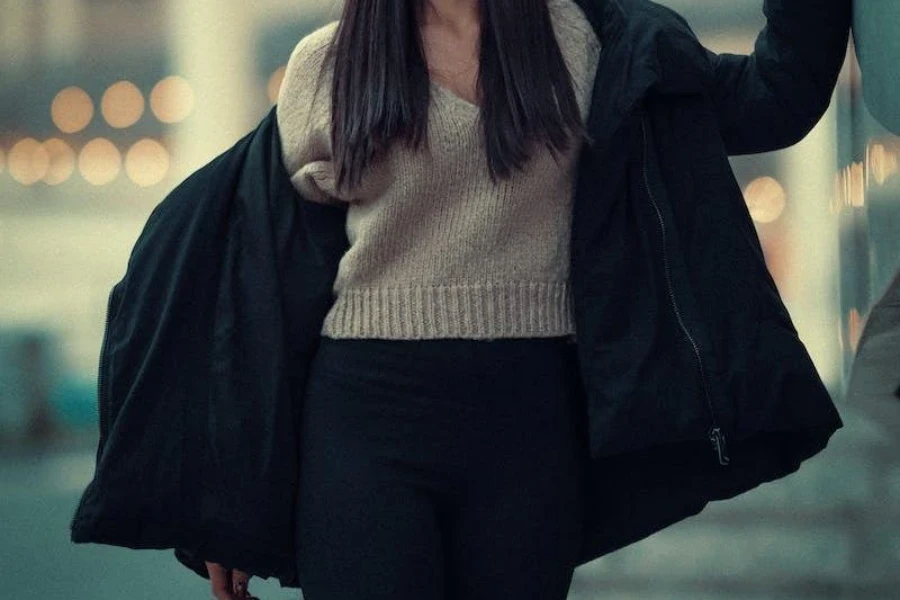 Brands can top up on various designs of this trend, from turtlenecks and crewnecks to V-necks. Colors in neutral tones or pastels also go well, as buyers can easily transition from casual to more sophisticated looks using these sweaters.
Tailoring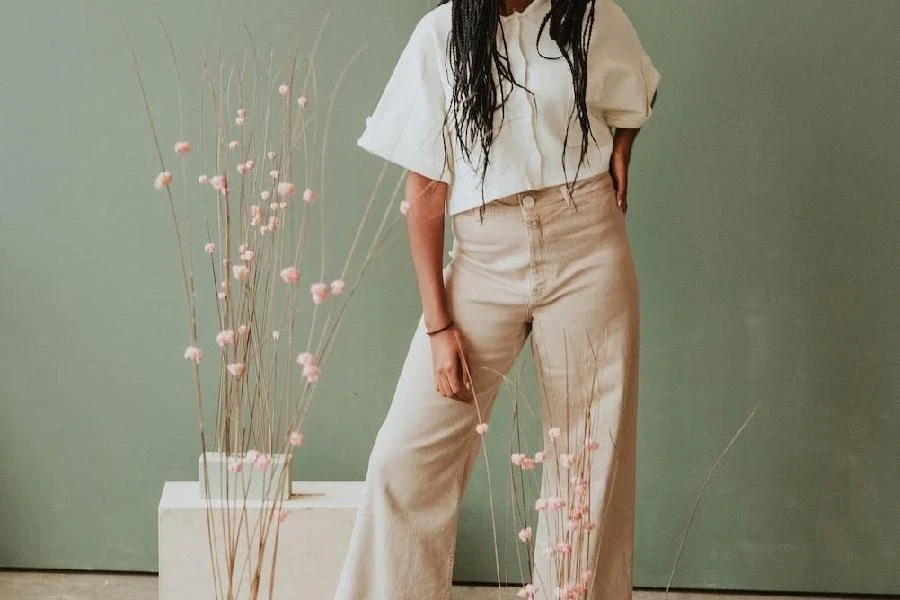 Tailored pieces are the backbone of every minimalist wardrobe. Structured blazers and tailored bottoms in neutral hues like black, beige, tan, white, and brown seamlessly fit different styling occasions.
But tailoring is not just about well-fitted clothes; it is the art of transforming one's style through precise and detailed designs. Imagine a perfectly tailored blazer that enhances the silhouette of the shoulders for an impeccable structure. Shoppers can style this with tailored bottoms for a strict professional ensemble or for other casual bottoms like wide-leg pants and even denim.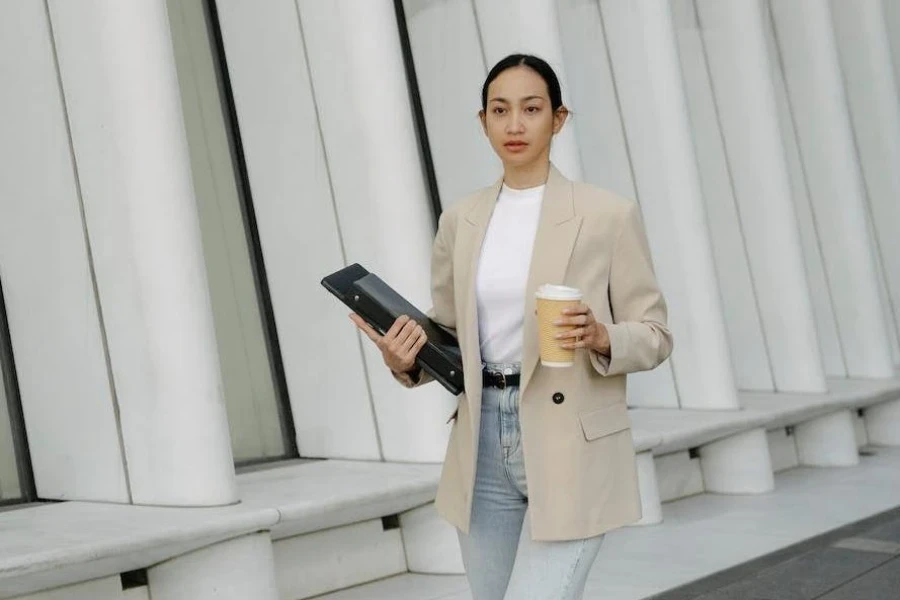 Tailored trousers are another wardrobe staple to watch out for. The way they highlight the waist and lengthen the legs can make a simple outfit top-notch. Consumers can pair them with matching jackets or a simple white top to blend formal and casual fashion.
The bottom line
Businesses have the potential to leverage these minimalist trends in the coming years, especially since these key pieces are classic, thus ensuring that catalogs stay fresh and appealing to fashion-forward consumers.
From denim to tailored pieces, there's a trend for every business to capitalize on. Alternatively, brands can decide to trade more than one or all of these trends for even more profit and reputation. By staying updated with the latest trends and offering the best quality pieces in the market, businesses can foster a good brand image and set themselves up for success in the years ahead.
Was this article helpful?