The bathroom product market is no stranger to exciting new innovations and trends. From cutting-edge technological enhancements to classic fixtures and fittings, these are the latest bathroom design trends for businesses to boost their profit in 2024.
Table of Contents
The market for bathroom products
Top 6 bathroom design trends in 2024
The future of the bathroom industry
The market for bathroom products
The market for bathroom products can be categorized into three segments: bathroom basins, bathroom furniture, and bathroom accessories. Globally, the bathroom products market grew from $98.81 billion in 2022 to $111.64 billion in 2023 at a compound annual growth rate (CAGR) of 13.0%. The market is expected to grow to $164.86 billion in 2027 at a CAGR of 10.2%.
Bathroom products are used by commercial, residential, and institutional customers, with the construction sector witnessing notable growth due to the increasing need for housing units and governments across the world offering additional funding to enhance sanitation in public places. There is also a growing inclination toward a functional, hygienic, and elegant lifestyle that will bolster the market for the next few years.
Top 6 bathroom design trends in 2024
High-tech toilets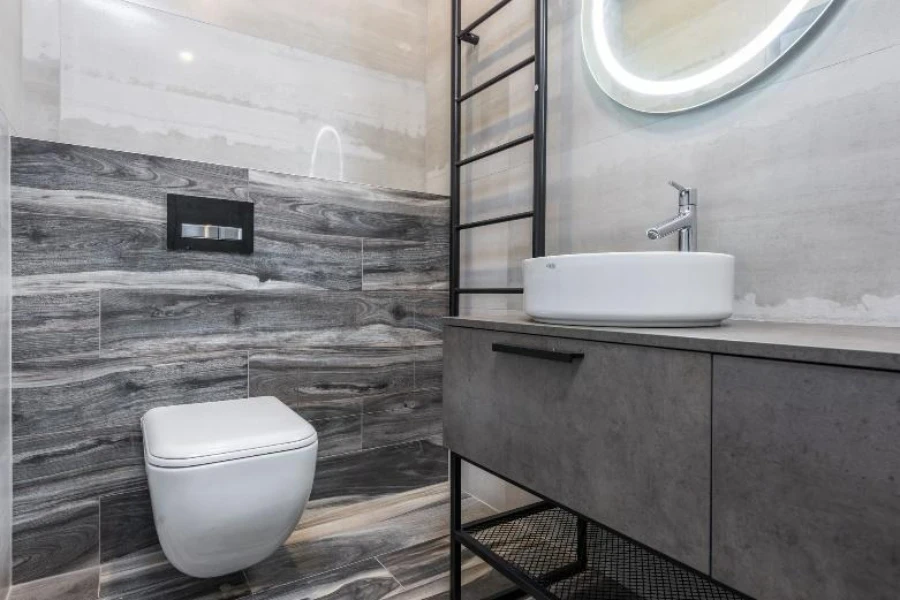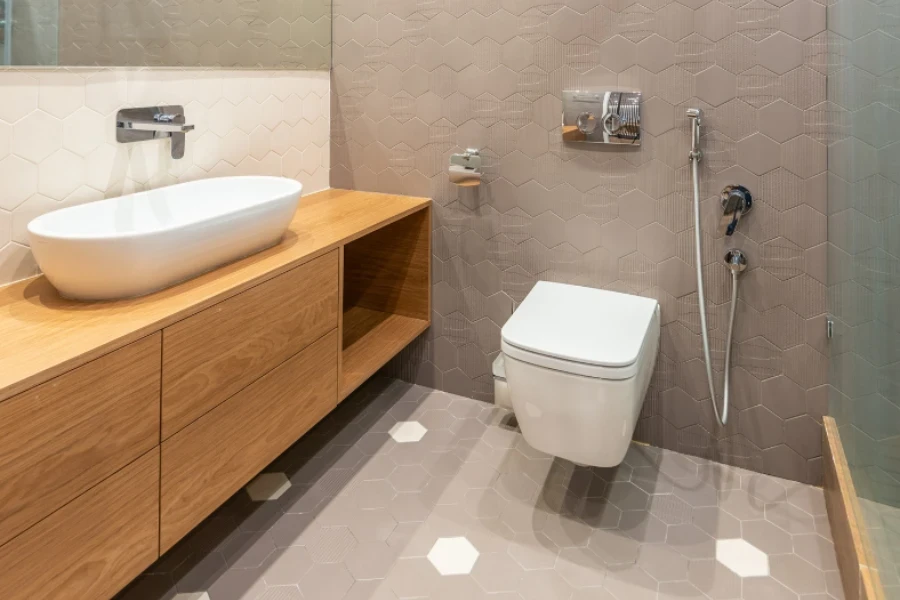 Smart toilets will continue their reign in the market in 2024. An American survey conducted by Realtor.com® and YouGov in 2020 found that smart toilets are the most wanted device when renovating a bathroom. Smart toilets are widely used in residential households and public restrooms in office spaces, shopping malls, and cinemas.
Toilets with smart technology are often designed to be more compact and sleeker than traditional toilets. They come with self-cleaning properties and focus on hygiene through bidet functions, a rimless design, or an additional protective antimicrobial coating. Intelligent toilets can even come with touch-free automatic lids that are motion-activated, or hands-free flushing with touchless digital controls.
A smart toilet can have added features such as heated seats, adjustable water temperature, night lights, and Bluetooth speakers. Customers may also look for eco-friendly low-flow toilets and bidets that offer personalized settings for each family member.
Smart mirrors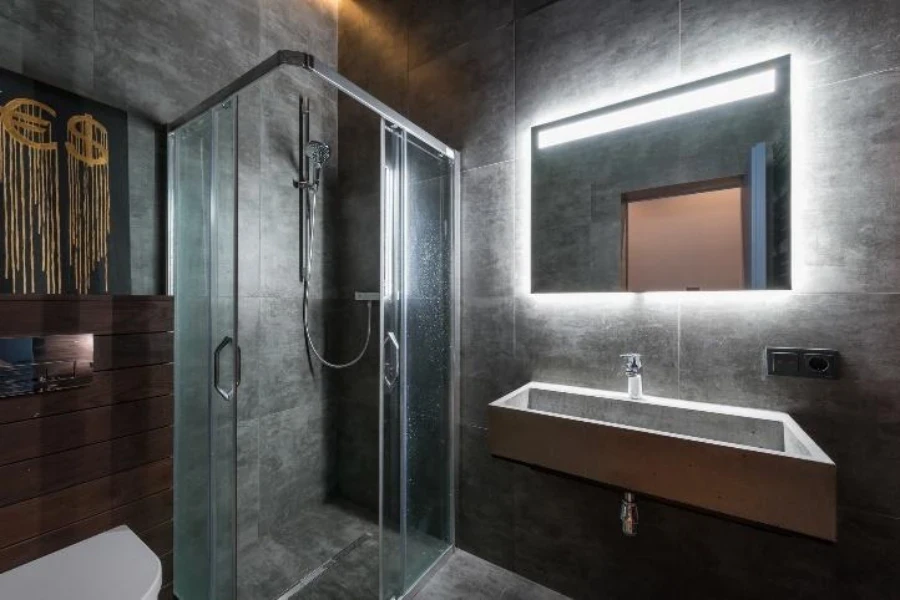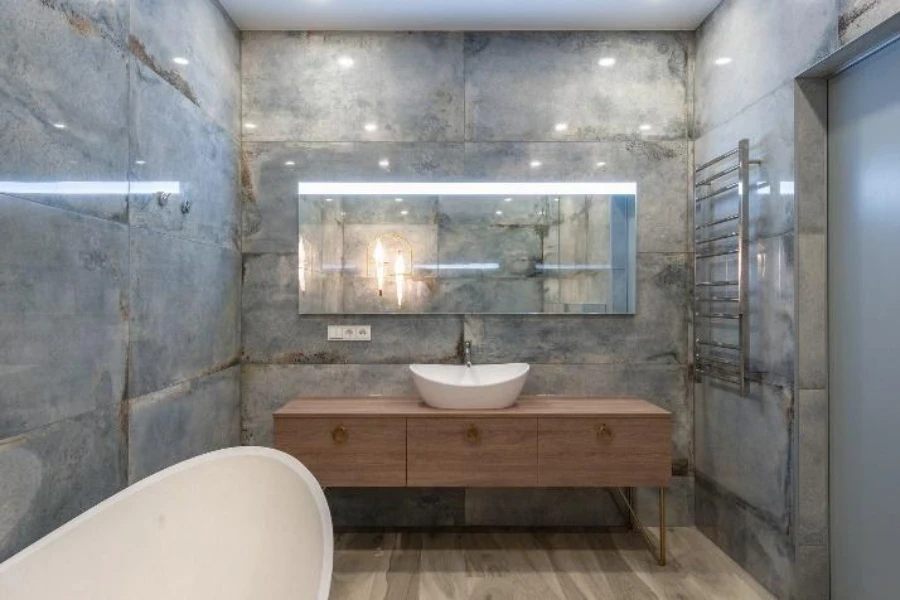 Smart mirrors are bath mirrors that are connected to the internet to make morning routines more convenient and efficient. The market for these types of mirrors is expected to grow substantially in the residential segment from 2023 to 2032.
Smart bathroom mirrors may come with LED lights and built-in displays for time, calendar, traffic reports, or weather forecast. Customers with busy lives may also appreciate interactive mirrors that are linked to other devices in the house so they can multitask without leaving the bathroom.
Customers may be excited by a smart bathroom mirror they can interact with through touch screen or voice controls to perform activities such as playing music or searching for skincare or makeup recommendations. Leading-edge mirrors can even come with skin analysis technology that will provide information on customers' skin types and offer tips on how to address skin concerns.
Luxury fixtures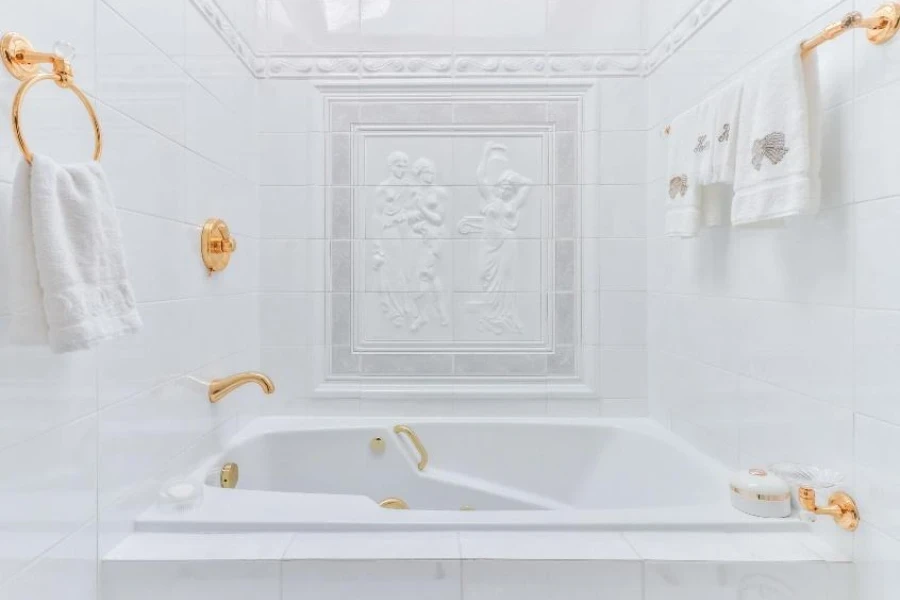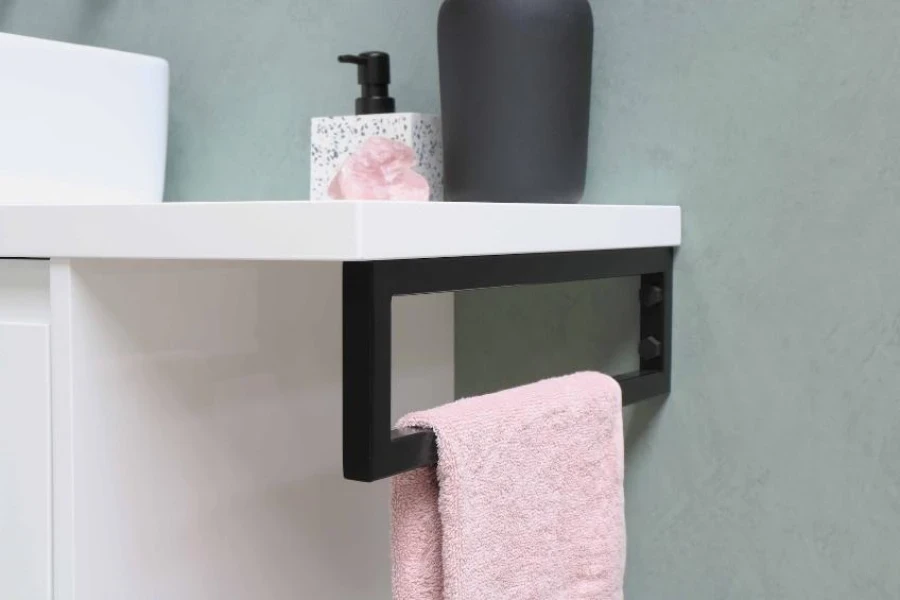 The spa-like bathroom continues to be a popular design aesthetic for 2024. Luxurious fixtures like faucets, showerheads, towel bars, and cabinet hardware contribute to exceptional bathroom or powder room interior design.
Gold, silver, or bronze metal remain outstanding materials for bathroom fixtures because of their timeless sophistication. For a striking and bold alternative, matte black bathroom fixtures are a stylish accent against an all-white bathroom.
Customers may also be interested in architectural bathroom faucets that serve as an artistic fitting in the sink and bathtub areas. As a finishing touch, luxury light fixtures like pendant lights, chandeliers, vanity lights, wall lamps, or LED strips help enhance the overall atmosphere of the bathroom.
Shower technology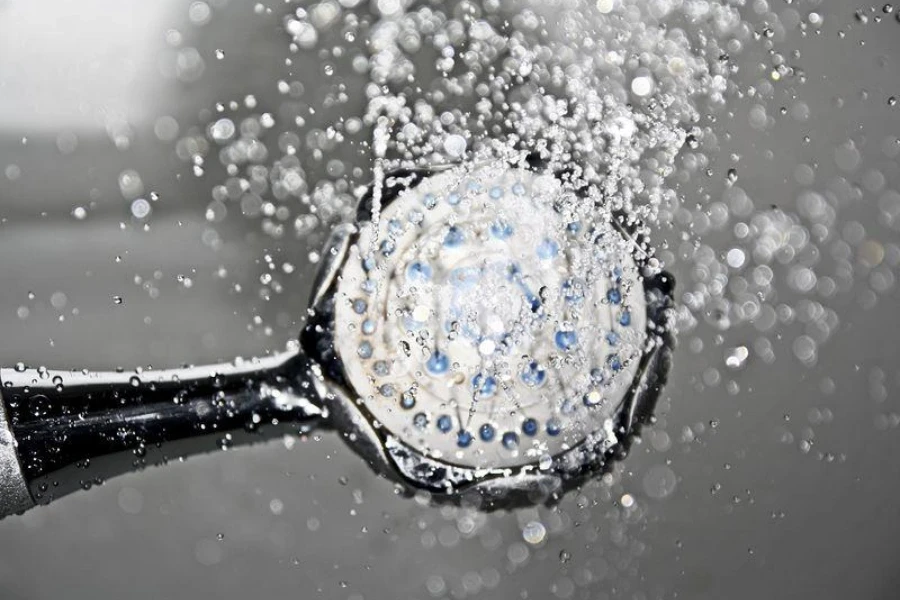 The smart shower market is projected to maintain steady growth between 2023 and 2030. Shower technology is commonly used by eco-conscious customers who want to control shower duration and water flow rate. Families with young children may be particularly interested in thermostatic shower heads that can maintain a steady water temperature to prevent the shower from getting too hot and causing accidental burns.
To create a trendy, spa-like environment, many customers will also look for steam showers, built-in benches, aromatherapy systems, or rain shower heads with features like personalized spray settings, sound speakers, and LED chromatherapy lights. LED light colors can be preset or customized by the customer using a mobile app for a truly unique experience.
Freestanding bathtubs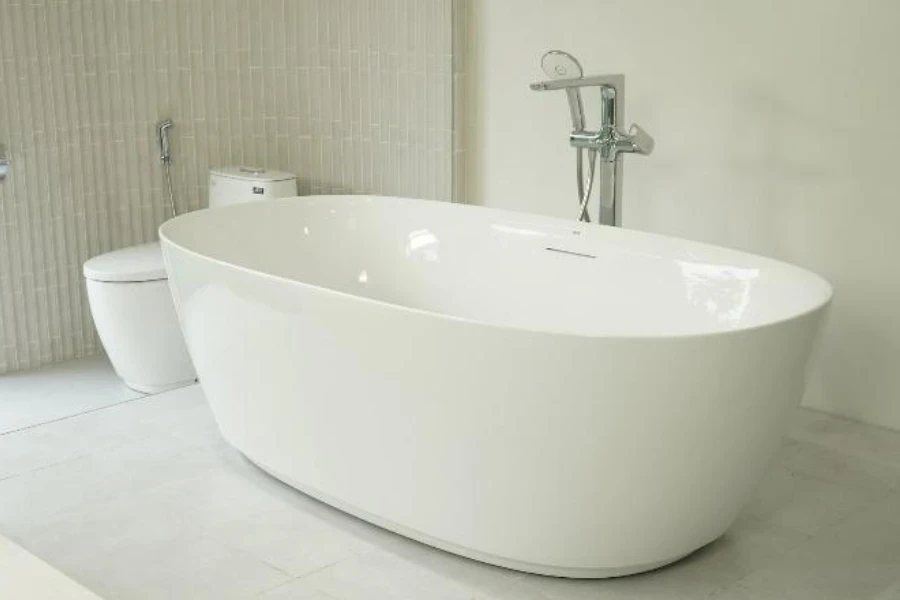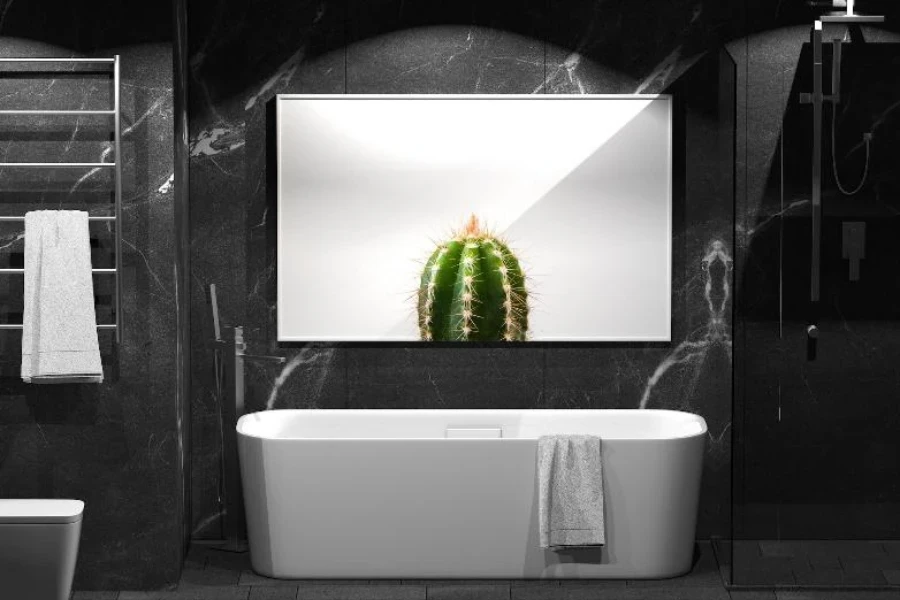 Sculptural bathtubs that combine stunning freestanding shapes with functionality are a big bathroom trend for 2024. A freestanding tub is an ideal focal point in any bathroom and is easy to keep clean because it is not connected to the wall through edges or joints. For small bathroom designs, a semi-freestanding bathtub that is partly enclosed by one wall is a common alternative. Modern bathrooms may use black or copper as striking colors for a freestanding bathtub.
Smart bathtubs are also generally designed as freestanding tubs that customers can fully submerge their body in. They are popular among customers seeking skin detoxification or relief from chronic pain. These types of soaking tubs will come with features like audio systems, fog machines, aromatherapy dispensers, and chromatherapy lights. Smart tubs can also include variable speed whirlpool pumps or airpool blowers and an inline heater to maintain consistent water temperature.
Statement vanities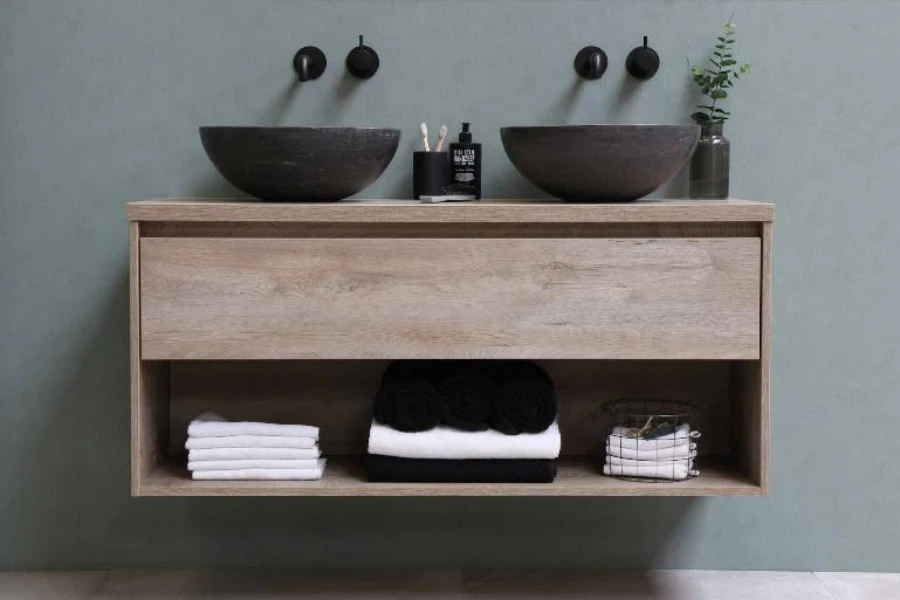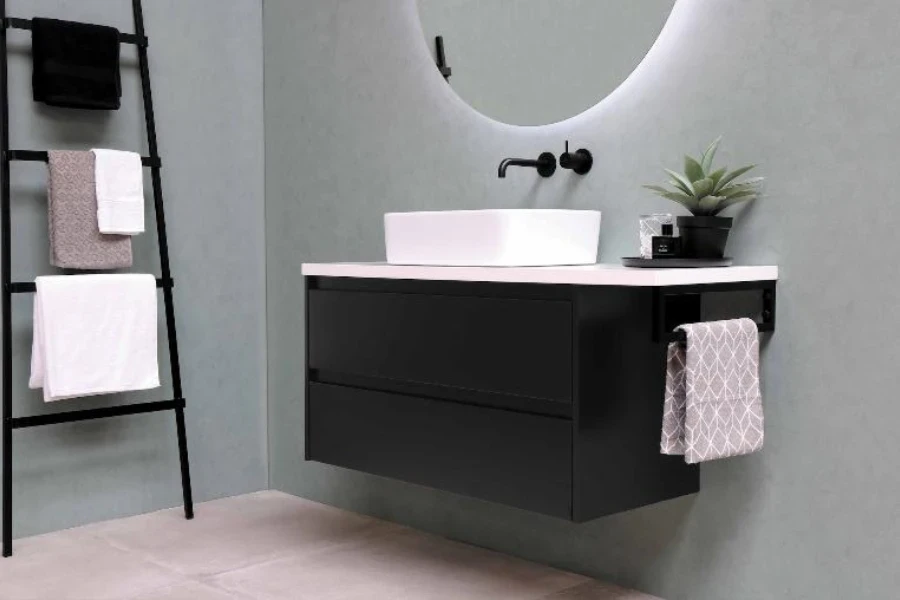 Statement vanities make a strong impression in bathrooms of all sizes. Floating vanities are a big trend for contemporary bathrooms because they maximize floor space and promote minimalist design.
A floating bathroom vanity is further enhanced with a sleek basin or vessel sink in unique shapes, materials, or colors. For a bathroom with a cabinet vanity, handle-less fronts with push-to-open drawers prevent the vanity from appearing too outdated.
Although a monochromatic look with classic black, white, beige, or gray vanity design is common, there are also more bathroom vanities nowadays featuring pastel color palettes, striking backsplash tiles or wall tiles, waterproof wallpaper, contrasting concrete or marble countertops, and washbasins with speckled terrazzo finishes.
The future of the bathroom industry
The forecasted bathroom design trends for 2024 are as exciting as ever. A focus on health and wellness is driving the demand for bathroom products like smart toilets, high-tech mirrors, and shower technology. These smart bathroom products offer benefits such as convenience, safety, reduced waste, and improved hygiene. For modern bathroom design, luxury fixtures and statement vanities can make any bathroom renovation a success.
Smart bathroom products are gaining traction in the industry with a growing adoption of home automation. Competitors in the industry are investing in eco-friendly and smart tech-integrated products to boost their market share. The future of the industry is moving towards fully connected bathrooms where all fixtures are integrated with each other and linked to a larger network within the home. New businesses are advised to break into the market by capitalizing on the latest innovation in bathroom design trends.
Was this article helpful?