While modern speakers retain some of the same features from a century ago – boxes with drivers that transform electronic signals into sound – they've evolved into an almost unrecognisable product, even shrinking to the point of fitting in your pocket.
One of the other most notable improvements is how they don't need physical wires to receive those electronic signals – goodbye cables! This has helped wireless speakers take the audio industry by storm, and it's easy to see why.
Below we'll delve into the latest wireless speaker trends shaking the audio industry in 2023-2024, as well as provide an overview of the booming wireless speaker market.
Table of Contents
The state of the wireless speaker market in 2023
4 wireless speaker trends for audiophiles in 2023
Trendy features to look out for when purchasing wireless speakers
Conclusion
The state of the wireless speaker market in 2023
Wireless speakers are all the rage in 2023, with their portability, audio quality, and convenience speaking to many consumers. According to research, the value of the wireless speaker market is forecast to grow from US $27.68 billion in 2023 to US $79.07 billion by FY 2028 at a steady CAGR of 23.36%. 
Marketers attribute the industry's rapid growth to three primary drivers: the growing preference for portable speakers, rising investment in the smart home segment, and the influx of wireless speaker innovations.
Research also suggests North America will account for the largest share of the wireless speaker market. Currently, Bluetooth speakers have a significant portion of the market share but Wi-Fi variants are catching up fast.
4 wireless speaker trends for audiophiles in 2023
Modern wireless speakers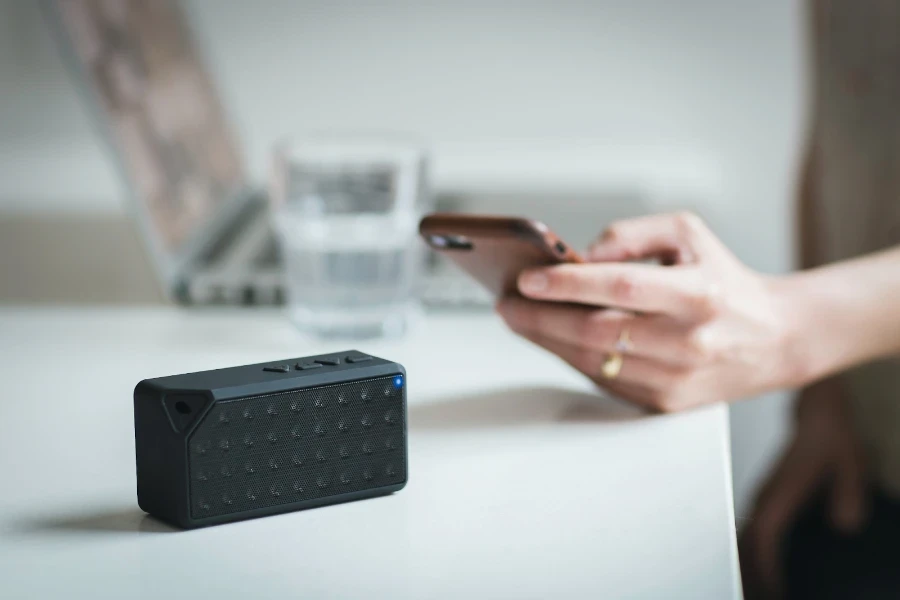 Although wireless speakers come in various types, they all rely on radio frequencies (RF) to receive signals. Moreover, the most common options for modern wireless speakers include Bluetooth and WiFi, with some even offering both.
Bluetooth wireless speakers are more common than their Wi-Fi counterparts and allow users to connect to an audio source (computers, smartphones, or tablets) and stream their music without the need for cables.
Many wireless speakers have their glaring advantages. These can include in-built rechargeable batteries so consumers can rock their playlists outside or on the go, as well as splash-proof or fully waterproof designs, making them ideal for vibing at the beach or poolside.
However, Bluetooth technology has some drawbacks. For example, range and audio quality can pose a problem for some models due to latency and limited bandwidth.
Step in the latest wireless technology: Wi-Fi speakers. Wi-Fi speakers use a stronger wireless protocol to give consumers a better audio experience. What's the difference between Wi-Fi and Bluetooth speakers? In short, Wi-Fi streaming provides more bandwidth and improved sound quality.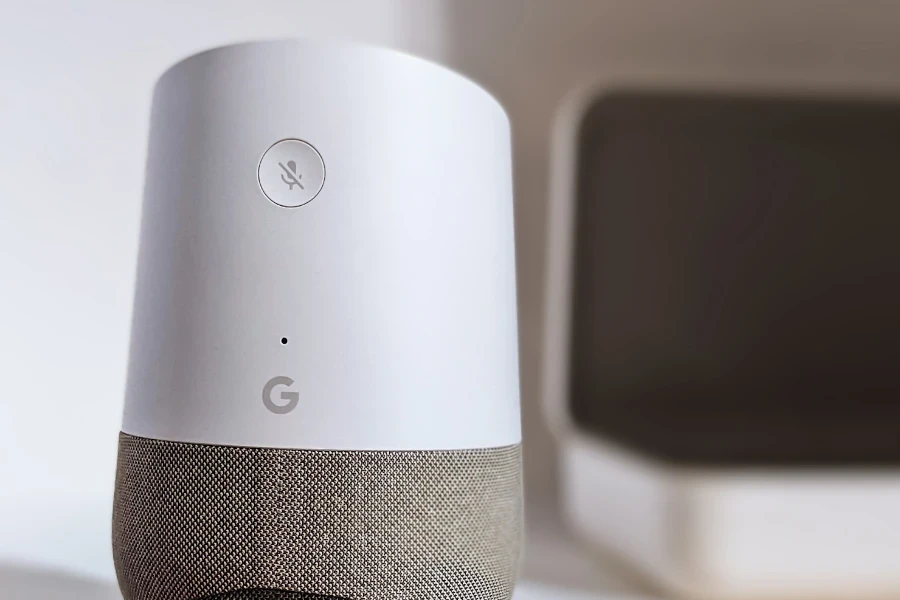 There's another important difference: Wi-Fi speakers allow consumers to use their phones as they would when streaming music. Hence, they can answer calls, watch videos, and play games without interrupting their music, which is mostly unheard of with Bluetooth technology.
Some Wi-Fi speakers even offer smart tech, allowing consumers to choose tracks, adjust the volume, and perform other tasks with voice commands.
As it stands, "Bluetooth speakers" generate 1,220,000 average monthly searches, according to Google Ads. Despite suffering a 20% drop in September 2023, the keyword's search volume remains strong at 1,000,000 searches.
On the other hand, Wi-Fi speakers still mostly cater to a niche audience of audiophiles who prioritize audio quality above all. While not as staggering as their Bluetooth counterparts, "Wi-Fi speakers" still average an impressive 22,200 searches monthly.
Powered speakers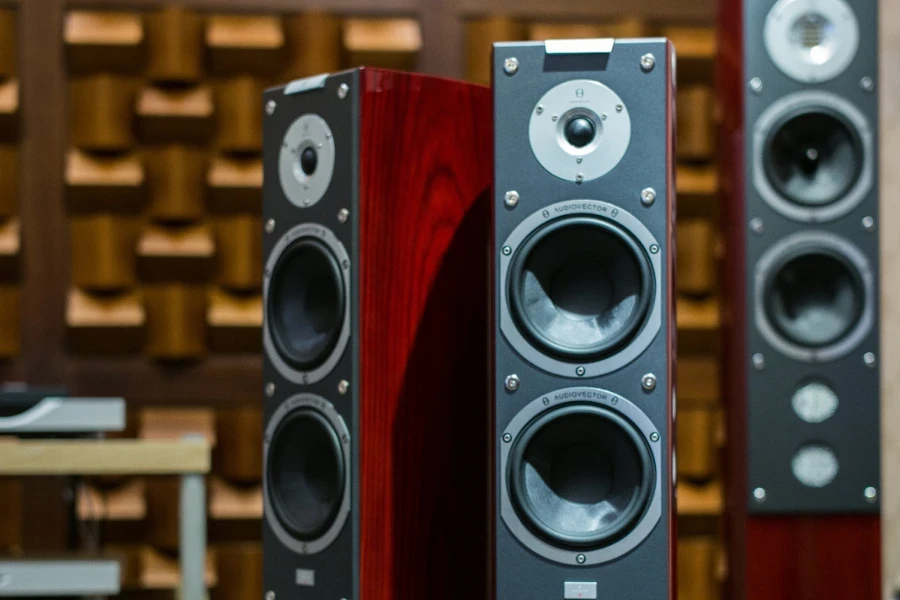 As opposed to wireless speakers, powered speakers often come with built-in amplifiers, allowing them to deliver outstanding performance and top-notch music quality.
Powered speakers have gained even more popularity as their designs deliver an exceptionally clear sound. Recent models even feature wireless connectivity so consumers can stream music from their mobile devices.
So, what's the downside? For starters, amplifiers are not beginner-friendly. The average user may find them tricky to set up, especially when they need to dial in the right power rating. However, most powered speakers come ready to start blasting music right out of the box, no setups required.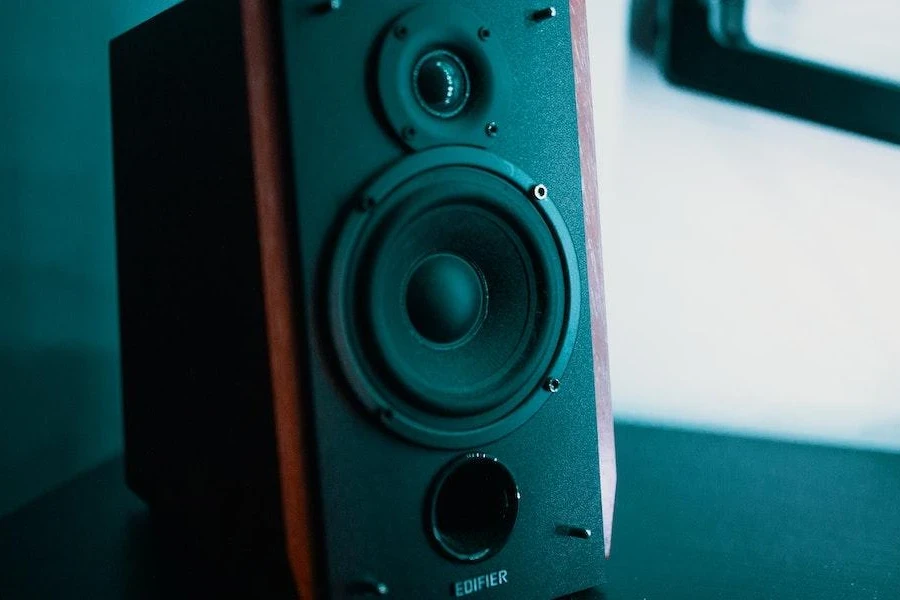 But that's not all. Consumers also love powered speakers for their stereo benefits. These speakers will separate the sound between the listener's left and right ears, replicating how they'll hear a live concert.
According to Google Ads, "powered speakers" drew 22,200 searches in September 2023, proving that powered speakers generate significant interest, especially among audiophiles.
Central channel speakers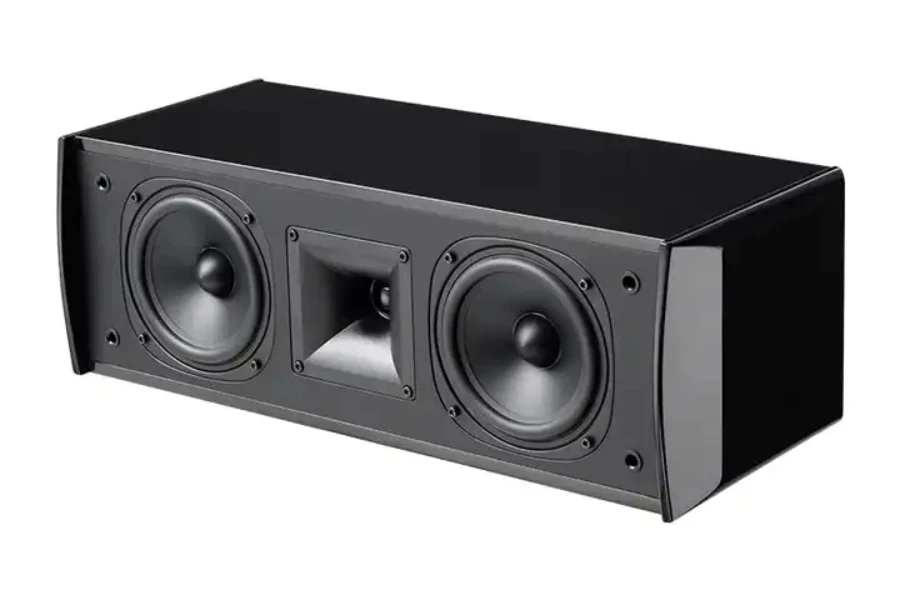 To enhance the home theater or overall listening experience, consumers may consider adding a central channel speaker to their surround sound setup. These speakers are well-known for their immersive and high-quality sound, making movies and music seem more "lifelike."
However, because movie sound design often has little bass information programmed to the center channel, consumers searching for significant bass may be left wanting with central channel speakers.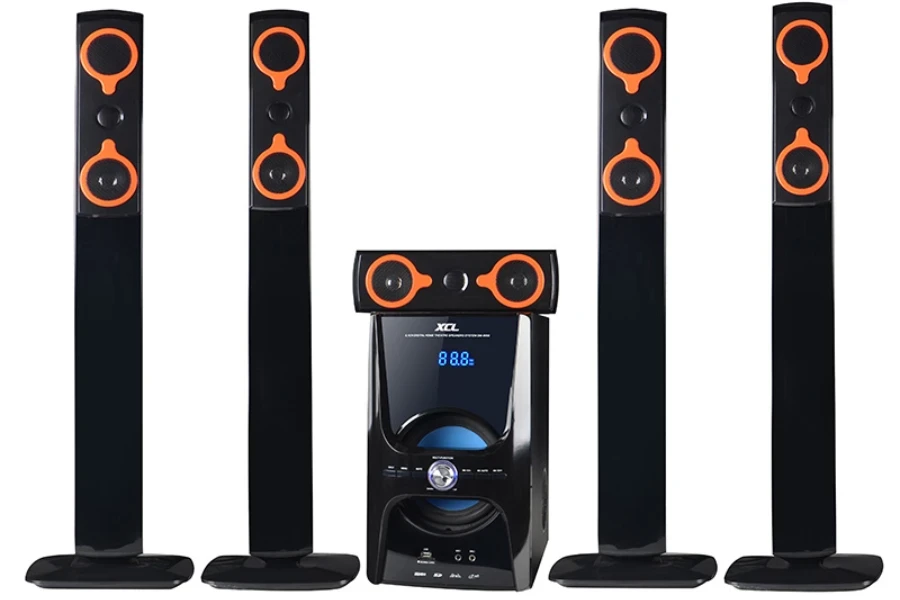 The best central channel speakers, however, enhance the sound to give in natural, lifelike qualities. Nevertheless, the most effective way to maximize the central channel speaker's performance is with a mix of different speaker types.
Google Ads data reveals that search interest for "central channel speakers" increased from 480 in April 2023 to 1,300 in September 2023, reflecting a more than 50% boost in 6 months.
Architectural speakers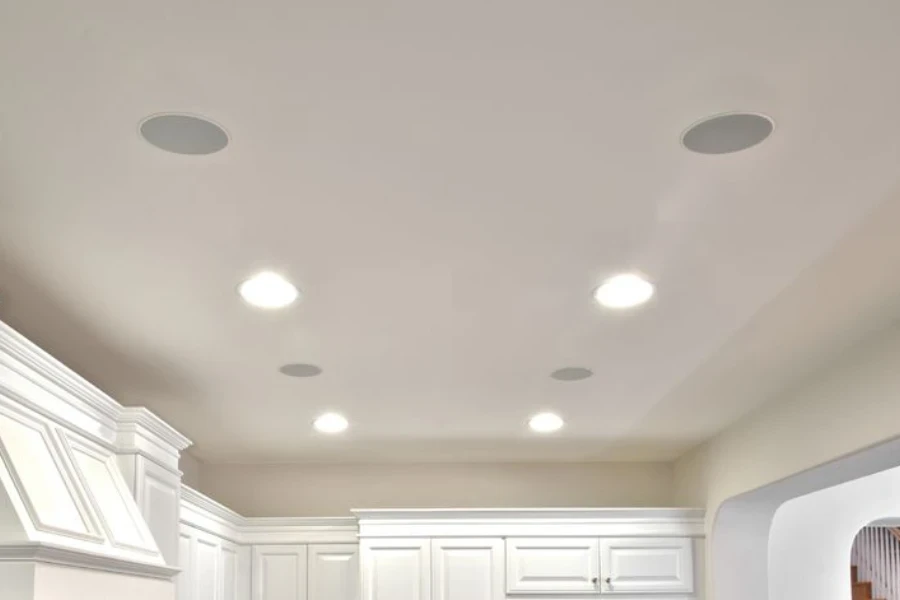 Architectural speakers are a fresh addition to the audio tech scene, and are poised to revolutionize the music experience. These speakers have special designs that allow consumers to install them in ceilings or walls, creating an immersive ambient sound.
Ceiling speakers, in particular, are becoming increasingly popular, offering a fantastic way to enjoy music without using up valuable floor space. These speakers typically don't come in traditional box-like enclosures, which may raise suspicions about their build and sound quality.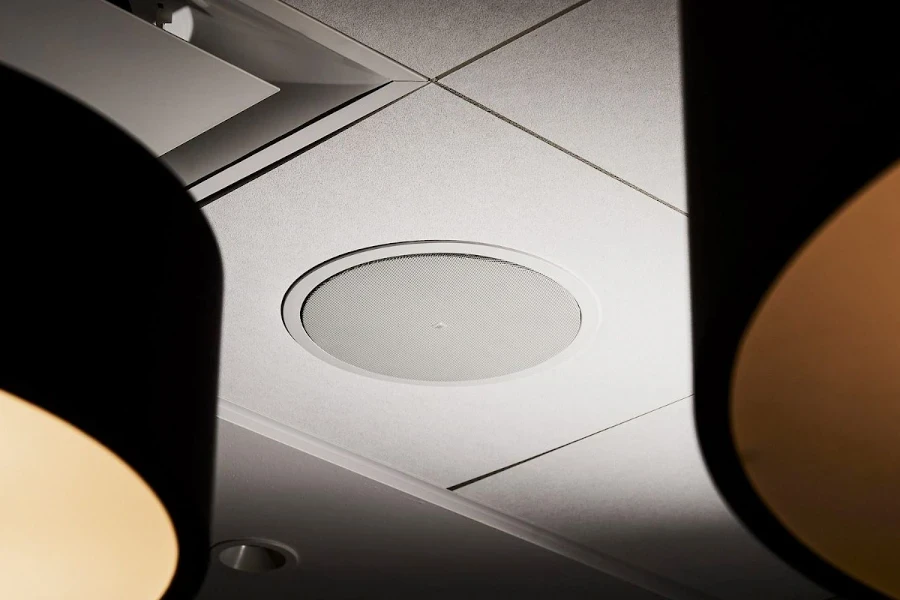 However, lacking a "box" doesn't necessarily mean worse sound. That's because the walls and ceiling around the speakers act as an enclosure, helping to isolate the sound for a beautiful audio experience.
According to Google Ads, "ceiling speakers" attract significant attention, averaging 40,500 monthly searches, including 33,100 in September 2023. In contrast, "in-wall loudspeakers" received 12,100 searches in the same month, a slightly lower performance than their ceiling counterparts.
Trendy features to look out for when purchasing wireless speakers
Connectors and docks
Some wireless speakers allow consumers to connect their smartphones or other devices using a USB cable. Such connections can allow them to avoid annoying auditory dropouts that can occur with wireless connections. Consumers only need to ensure they have the right cable for their device; iPhones typically use a nin-pin lightning connector, while Android phones usually have a USB-C jack.
Access to online music services
While wireless speakers are popular for streaming digital audio from phones or computers, many also offer direct access to popular music streaming services like Spotify, Amazon Music, and Pandora.
Input and output ports
Wireless speakers often feature extra audio inputs for connecting devices like TVs, CD players, or cassette decks using cables. Some speakers can also charge the consumer's phone through a USB port, and may even have digital audio inputs to connect devices like Blu-ray/DVD/CD players.
Voice recognition, remote control, and hands-free functionality
Using voice recognition to control a speaker might seem fun, but it can often be unreliable. Typically, a regular remote or smartphone app is a more dependable way for consumers to operate a wireless speaker remotely.
However, some newer models integrate advanced voice recognition with smart-speaker features for a better experience. Certain Bluetooth wireless speakers also allow consumers to answer or make phone calls through them, providing an unbeatable hands-free experience.
Conclusion
Audio technology has significantly transformed over the past 10 years, particularly when it comes to speakers. These advancements have reshaped how consumers enjoy music and sound, delivering immersive listening experiences.
However, in our fast-paced world, it's easy to miss out on these significant technological advancements, especially for businesses hoping to enter the market. That's why it's advisable to focus on modern wireless, architectural, center channel, and powered speakers to attract more consumers in 2023.
If you're wanting to source the latest audio tech, look no further than the thousands of cutting-edge options on Alibaba.com.
Was this article helpful?