It's all about style and comfort in 2023 as more moms and dads are becoming conscious of their boys' looks, especially with the rise of social media.
While the market expands to include new offerings, businesses can update their catalog by keeping up with the latest trends. This article will give an overview of the global kids' apparel market and highlight five must-know boys' clothing trends for A/W 2023/24.
Table of Contents
A detailed review of the boy's apparel market
Top 5 A/W boy's clothing trends mothers will love in 2023
Stock up on these trends
A detailed review of the boy's apparel market
Key market insights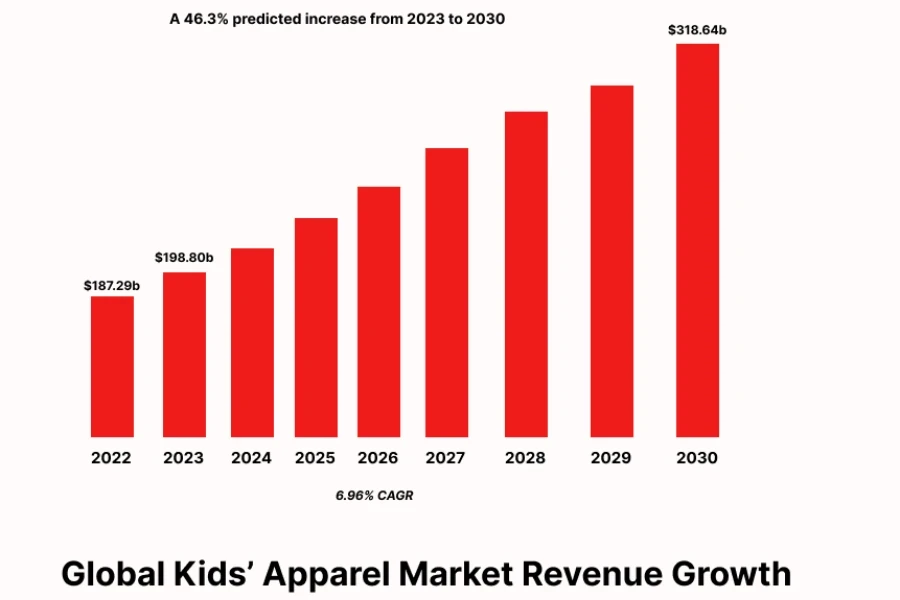 Fashion experts estimate that the global kids' apparel market will hit USD 198.80 billion in 2023 and grow to USD 318.34 billion by 2030. This means an expected compound annual growth rate (CAGR) of 6.96% over the forecast period.
End-user analysis
Experts predict the boys segment to hold the largest share as the birth rate for boys has been higher than for girls in recent decades. According to the World Bank, 106 baby boys were born for every 100 girls in 2021. For this reason, designers are introducing new clothing designs to sell more boy products.
Latest market trends
Matching outfits and social media set to boost market sales
Parents worldwide use social media to share pictures of themselves and their children rocking matching outfits. Interestingly, major brands like Dolce & Gabbana inspired this trend by creating scaled-down versions of adult clothing suitable for kids.
Nevertheless, this trend has become highly popular, especially with the influence of celebrity parents like Kim Kardashian and Beyoncé, driving the market's growth. Additionally, kids spending more time on social media increases their brand awareness and willingness to express clothing preferences. Parents are also ready to invest in these choices, further fueling market expansion.
The emergence of gender-neutral baby apparel
A notable trend gaining remarkable traction is the popularity of gender-neutral infant clothing. In response to this trend, several prominent market players are introducing unisex sections within their children's clothing assortments.
Consumers now display increased awareness of their babies' appearances and are ready to embrace novel cultural shifts. These factors are poised to propel the demand for children's apparel in the upcoming years.
Driving factors
An increasing rate of newborn children favoring market growth
Rising newborn children numbers globally drive demand for children's clothing. As a result, parents are spending more on kids' apparel due to reduced child mortality rates. In 2021, the World Bank estimated that 25% of the world's population was under 15 years old, showing the children's apparel market's profitability.
Rising demand for branded clothing to boost market progress
The changes in consumer lifestyles have led to rising demand for branded apparel – which also boosts the demand for children's clothing.
Restraining factors
Raw material price volatility obstructs product sales
Experts say the raw material price fluctuations can hinder the global children's clothing market growth. Interestingly, they expect the increasing prices of yarn to skyrocket as the global market's demand for cotton continues to rise. More importantly, the price rise has disrupted the textile value chain, impacting the final price of kids' apparel products.
Product type segmentation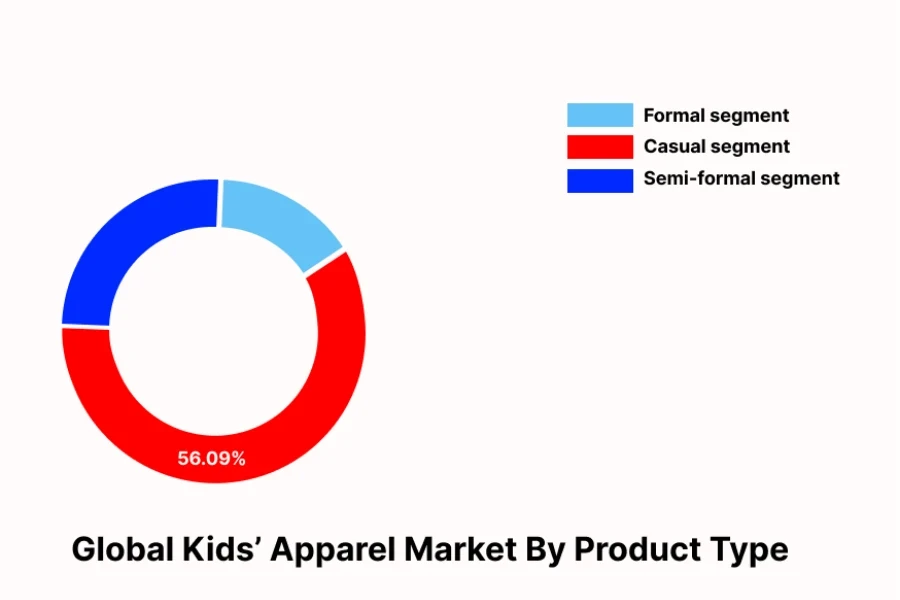 The casual segment is on its way to gaining even more market share over the forecast period. The increasing demand for light, comfortable, easy-to-wear clothes contributes positively to the segment's promising growth.
Age group segmentation
Analysts also divide the market into three age segments: 5 years, 5-10 years, and above 10 years. Notably, the above 10 years segment dominated the market in 2022, with experts attributing it to the escalating inclination towards branded attire.
The emerging trend of familial matching outfits, generating heightened interest in the product offerings, also contributes to the segment's dominance. Additionally, the surging desire for voguish and contemporary clothing is pivotal in propelling this market's expansion.
Anticipated growth in the under 5 years segment
Forecasts indicate substantial growth for the under 5 years segment throughout the projected period. This projection is driven by the increasing count of newborns and the rising number of parents gravitating towards sustainable/robust clothing options for their young ones.
Regional insights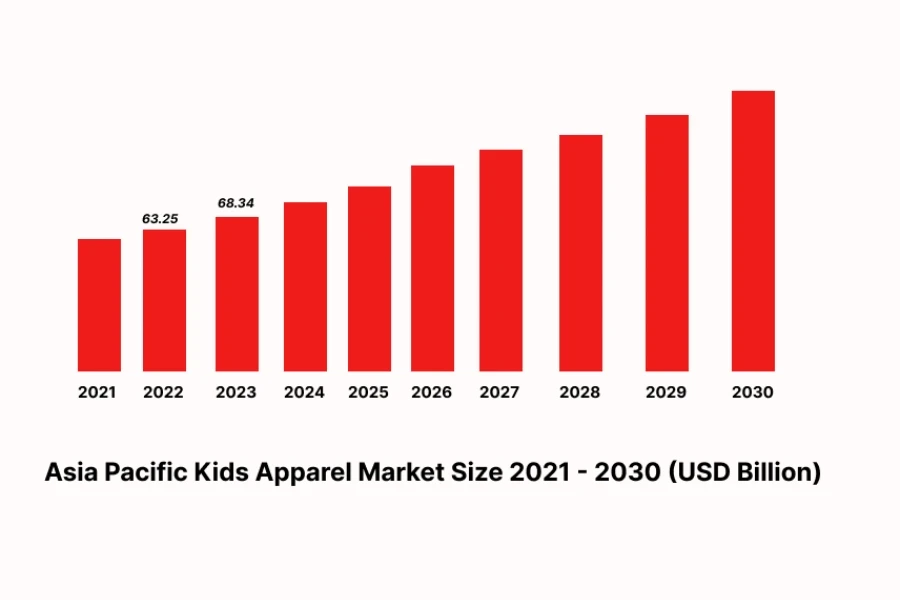 Experts project the kids' apparel market in Asia Pacific will maintain its dominance over the forecast period. The region grew from USD 63.25 billion to USD 68.34 billion in 2023. They attribute its speedy growth to the growing infant population, increased disposable income, and improved childcare facilities in rural and urban areas.
Consequently, the North American market is set for significant growth, while Europe continues holding a substantial share driven by the region's growing kids population (from 4.07 million new born babies in 2020 to 4.09 billion in 2021). In addition, the anticipated growth in South America's kids' apparel market stems from increasing disposable income and evolving lifestyles.
Top 5 A/W boy's clothing trends mothers will love in 2023
Base layers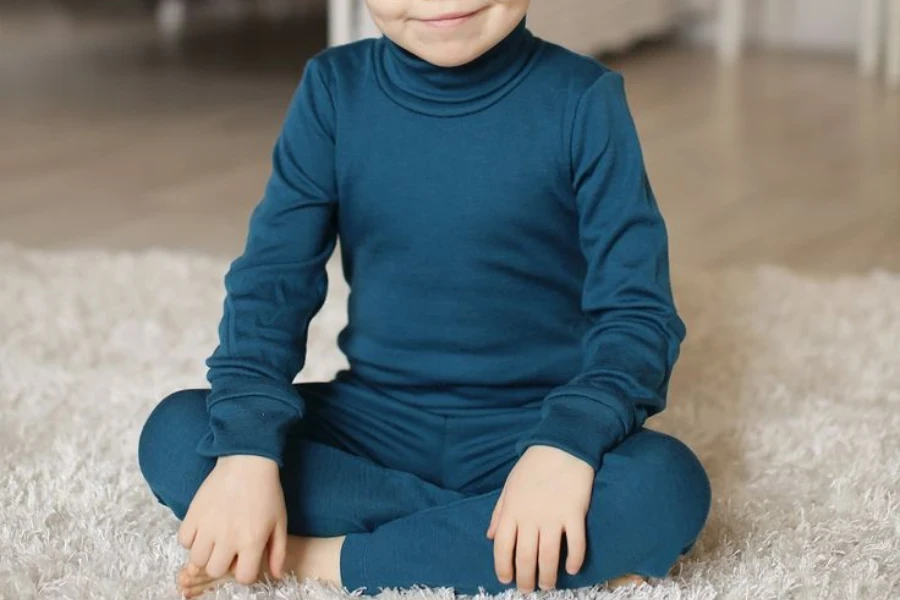 Kids need more than just lovely coats and good boots to play outside in the winter. In fact, keeping young boys warm starts at the bottom with base layers, as the best way to dress kids for the cold outdoors is in layers. And this season will see an unexpected surge in demand for these warm beauties.
However, not all base layers are equal. For instance, merino wool base layers are top picks in 2023 for their extreme durability. They're also soft and lightweight, making them the perfect comfy garment for boys to wear under any winter outfit.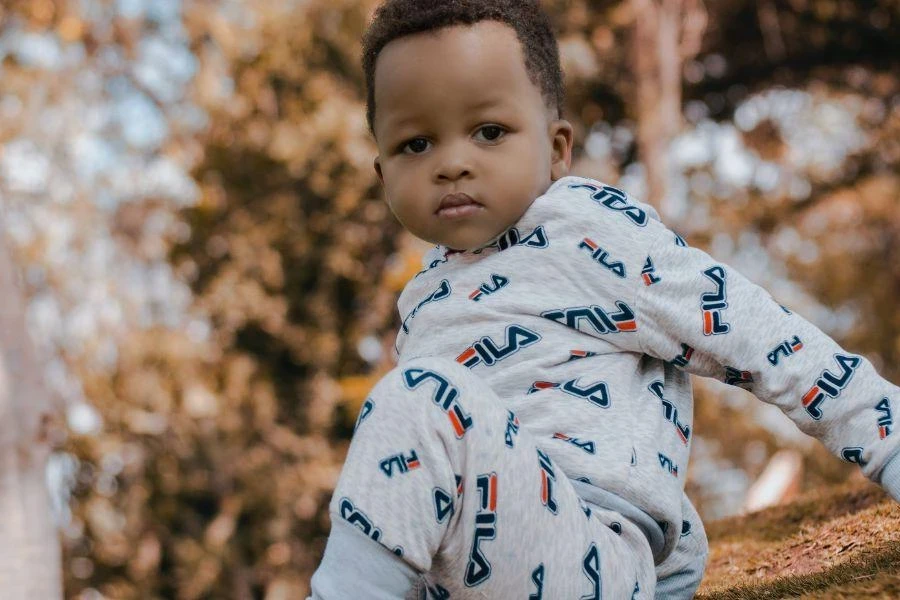 Although not as hot as their wool cousins, synthetic base layers are also popular for boys this season as a more affordable alternative. Plus, they feature impressive quick-dry and moisture-wicking properties to keep the little ones comfy while active.
Fleece jacket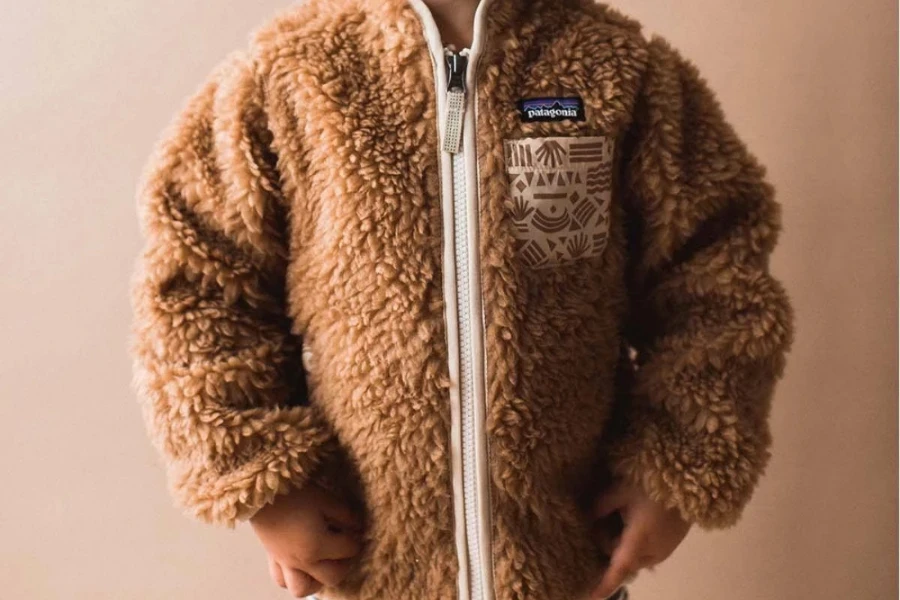 Fleece jackets are the go-to winter staple in any boy's wardrobe. They're versatile enough for kids to wear from chilly summer days to cold winter environments.
These jackets have the perfect thickness, making them a good match for layering with base layers or heavier coats. Boys can wear fleece jackets as stand-alone mid-layers or throw them over lighter ski mid-layers.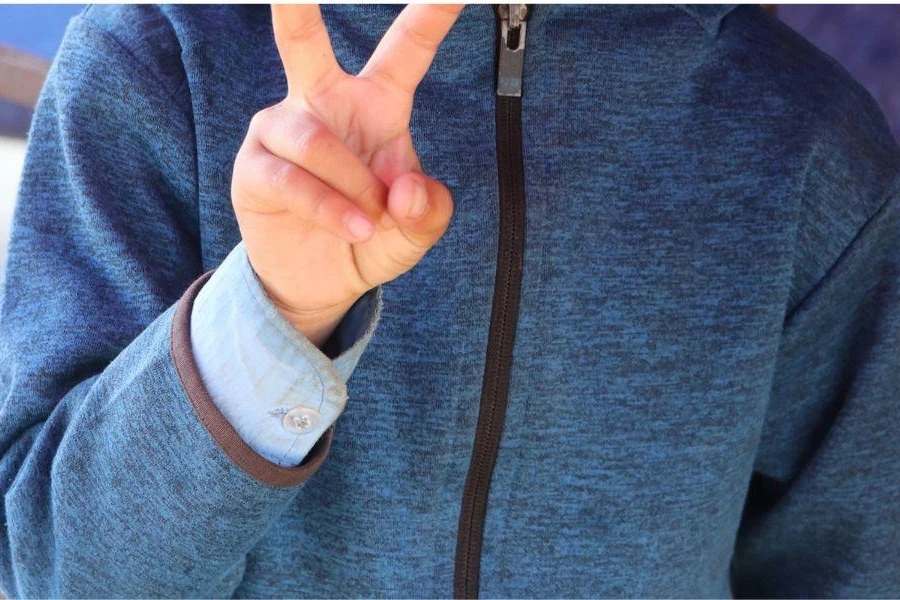 One reason why parents love fleece jackets is their benefits. They offer high-end fabric qualities (like water repellency and durability) at affordable prices, making them a top choice for children's winter outfits. Fleece jackets also trap body heat effectively, helping to keep boys warm in chilly environments.
Padded jacket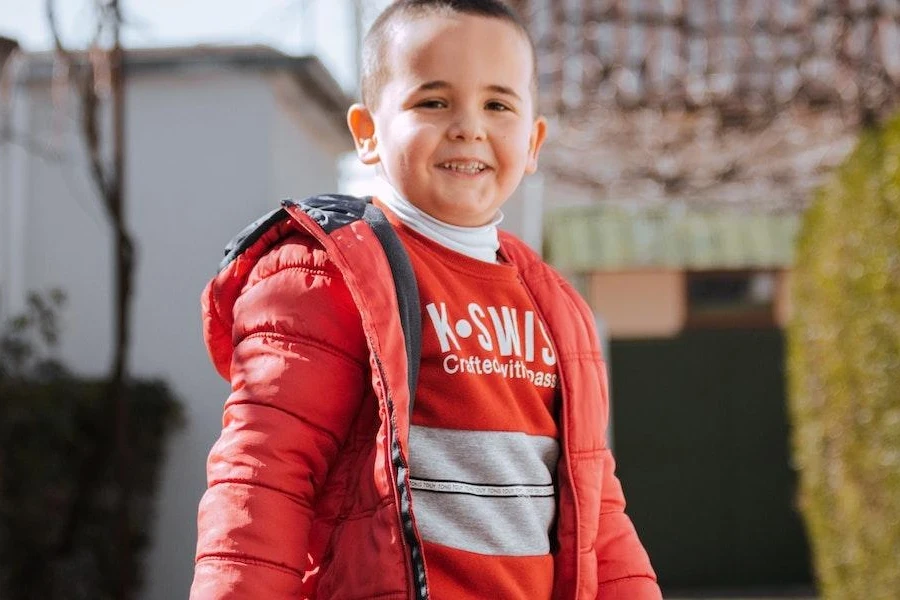 Parents looking to keep their little ones warm and on-trend can't go wrong with padded jackets. Usually, these jackets are lightweight and super soft, with some featuring hoods for extra protection.
Recent iterations of the padded jacket for kids feature subtle but highly effective reflecting details for safety in darker environments.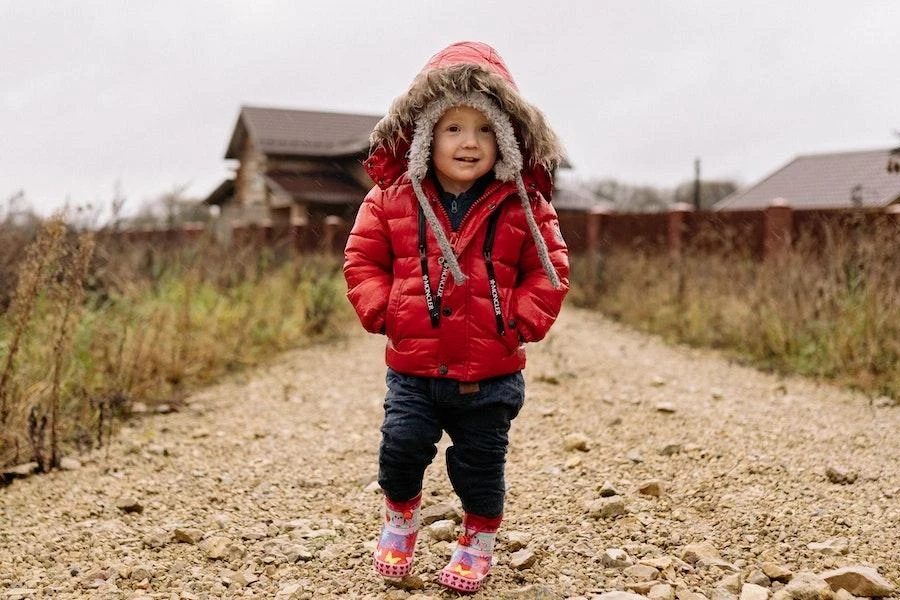 Padded jackets are key to elevating boys' winter wardrobes, and whether parents want them for school or just for fun, they're a go-to for the fashion-conscious youngster.
Fleece pants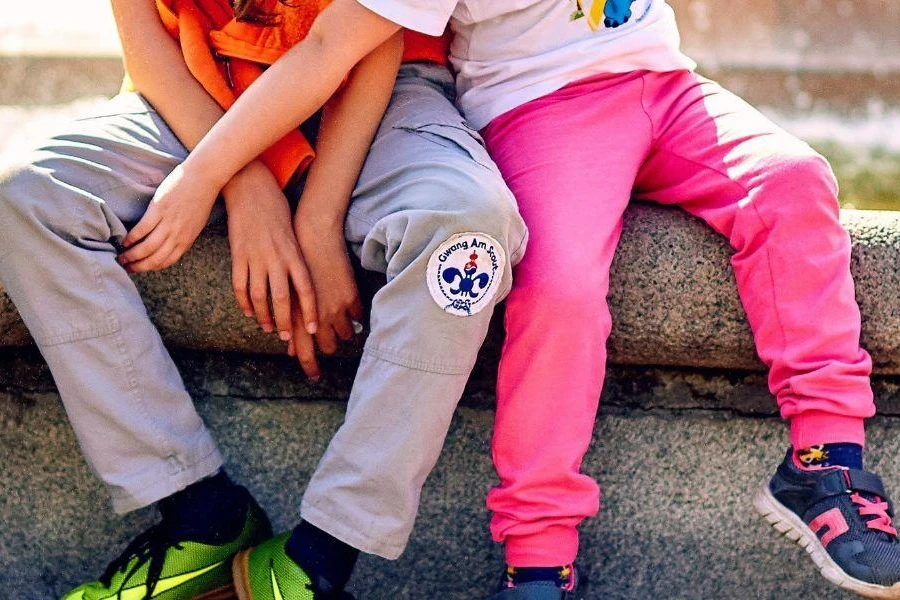 Cozy and thick fleece pants are great layering pieces that help keep kiddos warm. Their designs also keep them dry, allowing boys to play and have fun– even in damp, cold conditions.
Manufacturers often design fleece pants for growing kids, adding a functional drawstring or elastic waistband for easy adjustment. More importantly, these warm pants are lightweight and soft on the skin, so no itching or irritation here.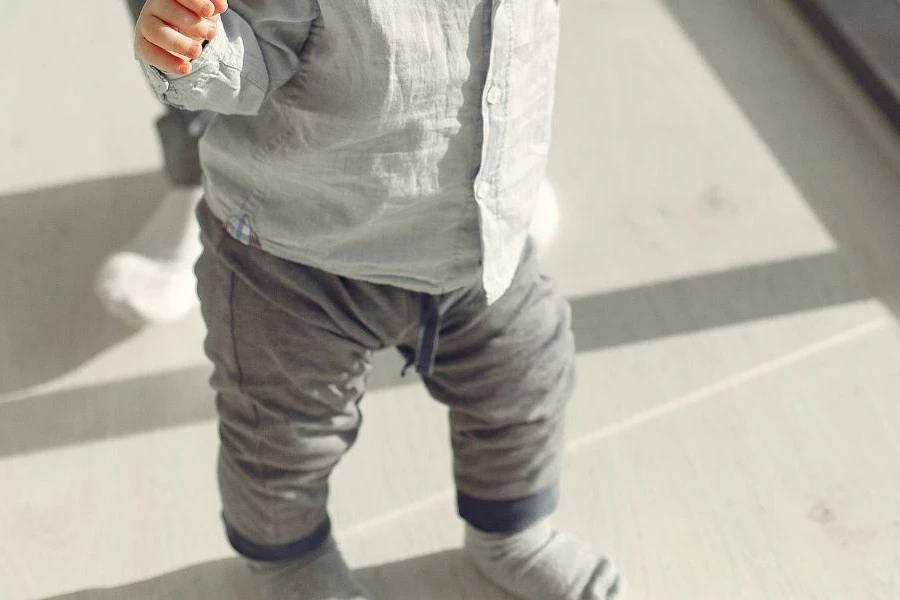 Although they perform excellently independently, parents can layer fleece pants under a rain suit or snow pants to give their kids extra warmth and coziness.
Sweatshirts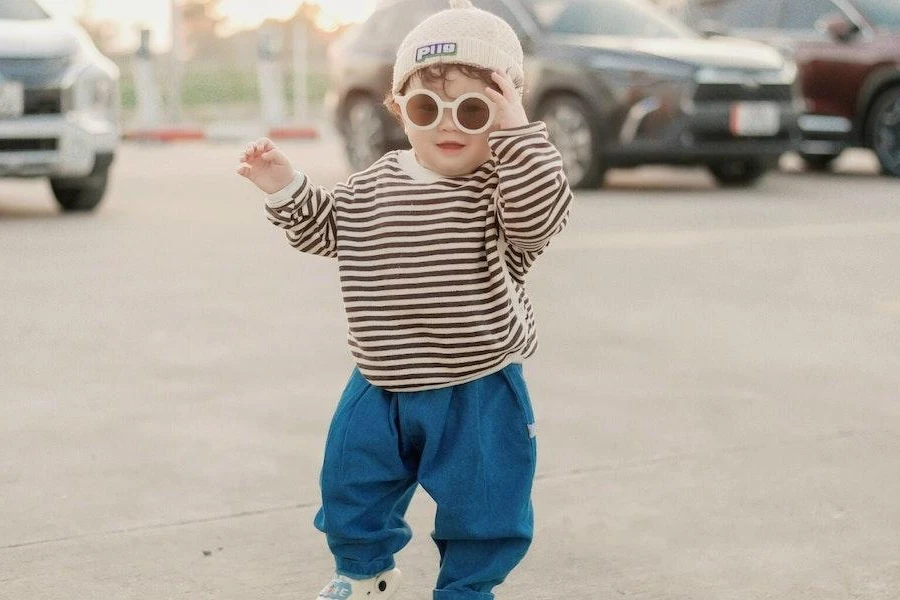 When it comes to versatility, sweatshirts reign supreme. They are stylish, cool, and comfortable, perfect for active little boys.
Parents can dress their little ones in sweatshirts all year, regardless of season. With many sizes, designs, and colors, getting one that matches various preferences is easy.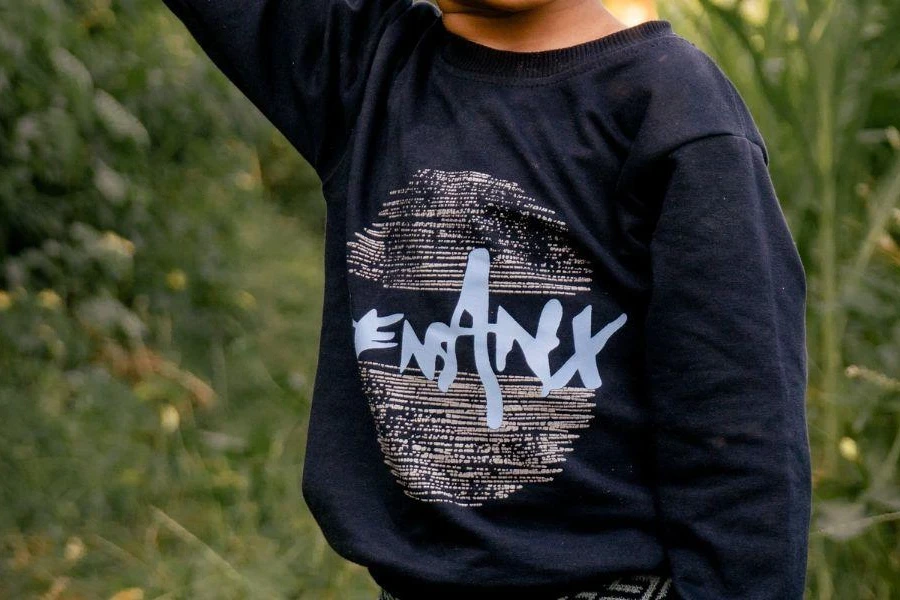 The best part is that sweatshirts work with almost anything boys wear during winter. Whether casual or layered outfits, these comfy shirts look fantastic regardless of the setting. Plus, some may feature hoodies for extra cold protection.
Stock up on these trends
Although winter is a time to bulk up in layers and oversized garments, parents still want their boys to look stylish this season. Thankfully, the kids' apparel market caters to this demand by offering several trendy and stylish options for boys to combat the cold and look good while at it.
Base layers, fleece jackets, padded jackets, fleece pants, and sweatshirts are the top boy's clothing trends to glean in A/W 2023. Businesses can leverage these trends to keep up with the changing market and surging demand.
Was this article helpful?