The construction industry, with its heavy equipment, is booming across the globe. A wheel loader is an example of construction equipment that can lift, scoop, load, and carry material for various operations. The versatility of this equipment makes it one of the most sought-after machines in several industries.
The wheel loader machine comes in different models and types. Therefore, companies are faced with the tough decision of buying the right machines to get the job done efficiently. Since purchasing this equipment is a huge investment, companies need the right information to make the correct decision.
Table of contents
Future market share for wheel loaders
Factors to consider when buying a used wheel loader machine
Types of wheel loaders
Key global brands for wheel loader machines
Future market share for wheel loaders
Wheel loaders' global market size is projected to grow by $17.33 billion at a CAGR of 9.33% from 2021 to 2025. An MDC research even projects that the wheel loader market will exceed $23.74 billion by 2030.
The MDC projection shows that this growth is fuelled by increased investment in public infrastructure in various countries across the globe. The global construction industry is also estimated to reach $10.5 trillion by 2023, growing at a CAGR of 4.2%, thus prompting increased demand for wheel loaders.
Factors to consider when buying a used wheel loader machine
Construction or industrial companies need trusted sources of information to help them make a better decision when purchasing a wheel loader. They can consider several important factors to ensure the selected wheel loader will perform the intended tasks efficiently. Continue reading to find out these factors.
Size of the wheel loader machine
The first thing one should consider when purchasing a wheel loader is the size of the machine. It is determined by the size of the purchasing company's project. The company will assess the scope of work at hand to determine the size of the wheel loader it needs.
For instance, a company in the construction industry uses this heavy equipment for excavation before leveling. In contrast, the timber industry needs wheel loaders to cut logs and transport them to another location. Wheel loader size is important in maximizing return on investment (ROI), hence the need for companies to get it right.
Generally, the wheel loader size depends on the scope of work, size, volume, and material weight that should be moved. If a company deals with large and heavy construction materials, they will need a bigger wheel loader with higher horsepower.
Durability
Purchasing a wheel loader is a huge investment, and businesses are looking for high ROI. Since this heavy equipment is subject to extreme conditions and tough jobs, companies should choose wheel loaders with protective elements like light shields, guard screens, etc.
Companies should also consider wheel loaders whose vulnerable components like hydraulic hoses are protected against potential damage. Such protective components enhance the wheel loader's durability, allowing operators to work comfortably in tough environments. A durable wheel loader should perform its intended job through these tough conditions for a long period.
Wheel loader bucket type
Buckets make wheel loaders versatile and are one of the most important attachments to these machines. When considering a wheel loader's bucket type, the company should compute its daily production figures and the density of materials it intends to handle. Since most construction and production companies handle different materials, it is standard practice to use heavy materials as the base for bucket specs.
Wheel loader attachments
Wheel loaders have different accessories and attachments that a company can purchase to amplify their versatility. Some popular attachments include:
Grapples
Blades
Hedge trimmers
Forks
Rippers
Ensure the wheel loader you intend to purchase can accommodate several attachments to improve its capabilities. The purchasing company could ensure that the wheel loader has a quick automatic hitch to enhance the speed at which attachments can be changed.
They should also ensure they get all the safety and security attachments of the machine. Avoid wheel loaders whose attachments are rare in the market.
Wheel loader maintenance
Every machine requires regular maintenance. Construction or production companies should consider wheel loaders with easy engine and hydraulic hose maintenance. Extended service intervals and component quality mean less service time and more time that the wheel loader is used onsite.
Comfortability
Wheel loader operators spend over 10 hours every day working on the machine. Keeping them comfortable, engaged, and cool helps with optimizing onsite productivity. What shows that a wheel loader is comfortable?
It should guarantee smooth rides.
It should also have air conditioning to keep the operators cool.
It should have a suspension seat that is easy on the operator's back during long shift hours.
Its joystick controls should be easy to use.
Its cab area should be spacious.
Wheel loader tyres
Owners of medium and large wheel loaders rarely have problems purchasing tyres. However, small and compact wheel loaders may require the right rubber tyres. The wheel loader's speed requirements and weight will also determine which tyres are needed.
Here are some wheel loader's tyres and their application:
Solid tyres – suitable for industrial applications
Bias tyres – suitable for quarry or gravel sites
Radial tyres – ideal for high speed because they provide excellent traction
Flotation tyres – suitable for muddy or soft ground since they are wider
A company will consider the correct tyres depending on its projects, but it can also buy a new set of appropriate tyres if the area of operation or application changes.
Breakout force
Breakout force measures a wheel loader's power at the tip of its bucket and lift capacity. A wheel loader with a higher breakout force can dig and lift faster, increasing productivity. Therefore, it is essential to examine the machine's breakout force as indicated in the brochure specs.
Long-term objective
Though some companies focus on the wheel loader's pricing, more is needed to determine the machine's real value. Another important factor worth considering is the operational costs. For instance, a fuel-efficient wheel loader will minimize operational costs, resulting in big savings.
Buyers should also consider wheel loaders with minimum carbon emissions to adhere to community requirements. The resale value is another long-term objective that affects the machine's costs. A wheel loader with higher resale value is more lucrative than those with lower resale value.
Power
A wheel loader's power capacity is a double-edged sword. Though high power means faster performance, it is not always advantageous. A high-powered engine will guzzle more fuel, which will increase operational costs. A company should evaluate its work demand to know its ideal horsepower needs.
Types of wheel loaders
There are four types of wheel loaders suitable for different uses and applications.
1. Compact wheel loader
Compact wheel loaders are highly maneuverable machines with great material handling capabilities to accomplish more within a short time. They are relatively small and suitable for sites with small spaces. Compact loaders also have swift travel speeds, high bucket capacity, and excellent pushing power, enabling operators to perform a wide range of challenging tasks, especially those that need maneuverability.
Pros
Fuel efficiency
Great maneuverability
Fewer carbon emissions
High speed and smaller turning radius
Cons
Low auxiliary hydraulic output
Low power hose, hence limited in operation.
2. Small wheel loader
The small wheel loader, also called the skid steer loader, is the most versatile machine used in construction. It almost resembles a compact wheel loader, although it is more maneuverable and can be used in sites with low clearance. The small wheel loader also offers a wide range of attachments, hence their versatility.
Pros
High versatility
High maneuverability
High speed
Higher horsepower than compact
Suitable for small spaces
Cons
Low carrying capacity
Lower horsepower than the medium and large wheel loader
3. Medium wheel loader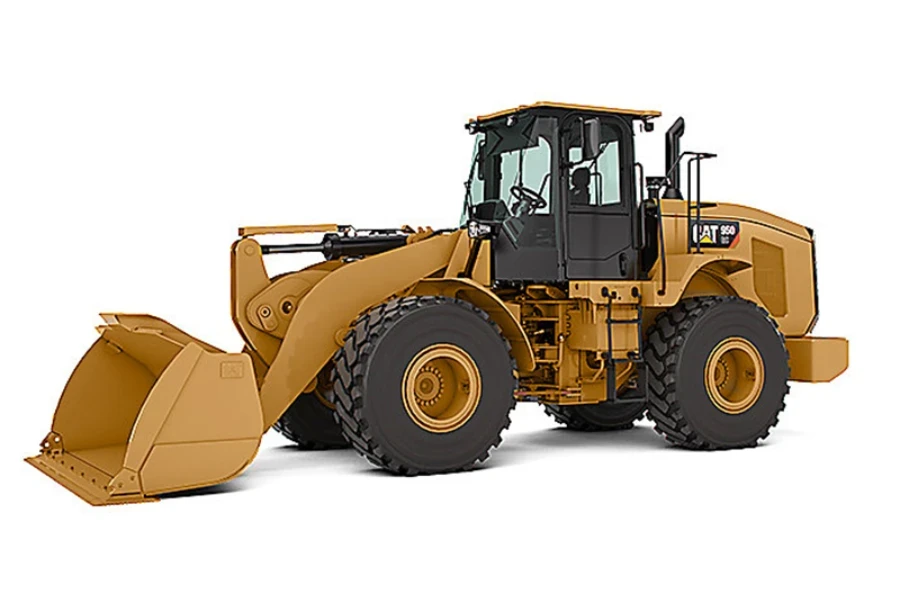 Medium wheel loaders are relatively larger and can handle materials, truckload, and stockpiles. They provide operators with comfortability with low-effort controls and spacious cab areas. A medium wheel loader is between a large and small wheel loader, meaning its horsepower is adequate for medium tasks.
Pros
More versatility with the ability to use various attachment
Faster hydrostatic transmission
Large carrying capacity
Low maintenance
Cons
Difficult to maneuver in small spaces
More costly than the smaller version
4. Large wheel loader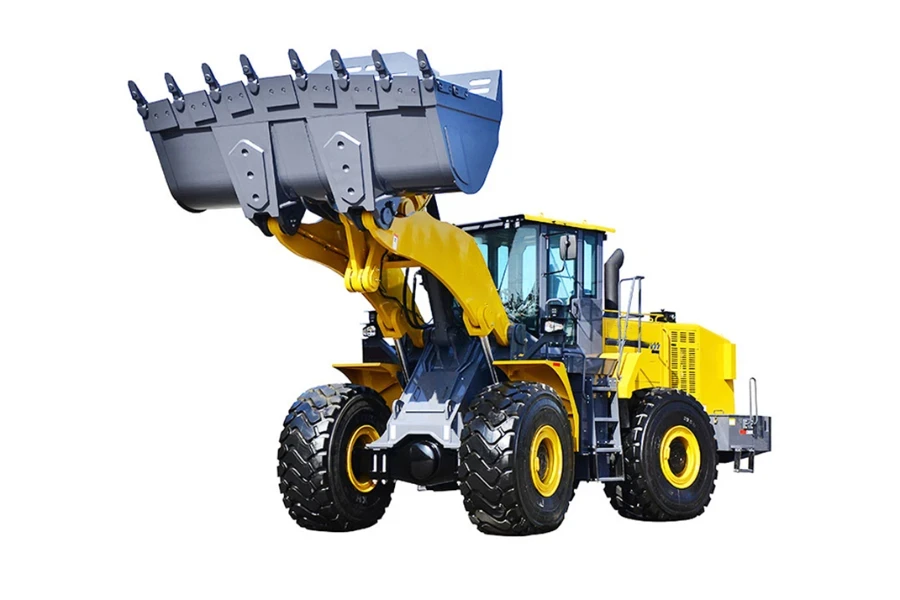 Large wheel loaders are often built with durable materials to handle the toughest jobs a wheel loader can be subjected to. They can be found in quarrying, block handling, aggregate, material handling, waste handling, and civil and building construction. The large wheel loader is suitable for companies with huge operations.
Pros
High carrying capacity
Easy operations
Low maintenance
Reduced operating cost
Higher horsepower
Cons
Low maneuverability
High purchase cost
Key global brands for wheel loader machines
Caterpillar (CAT)
John Deere
Case
Volvo
Hyundai
Komatsu
Doosan
Kawasaki
JCB
New Holland
Conclusion
A wheel loader is only one of the machines needed in the construction and agricultural industry; however, how does it fit your company's big picture? A company can maximize its wheel loader's revenue generation capacity by frequently using it. A versatile wheel loader machine with several attachment capabilities can enlarge its loading abilities for better returns.
Was this article helpful?