Picnics are a great way to spend a lazy summer's day, but their enjoyment can be severely hindered if the picnic mat isn't up to snuff. That's partly why more and more consumers are turning to waterproof picnic blankets over standard fabric varieties. These blankets are designed to keep the food and drinks dry, as well as the people sitting on them. Read on to learn about which waterproof picnic blankets are best in 2023.
Table of Contents
Global market value of the picnic blanket industry
Factors to consider when buying a waterproof picnic blanket
Top waterproof picnic blankets
Conclusion
Global market value of the picnic blanket industry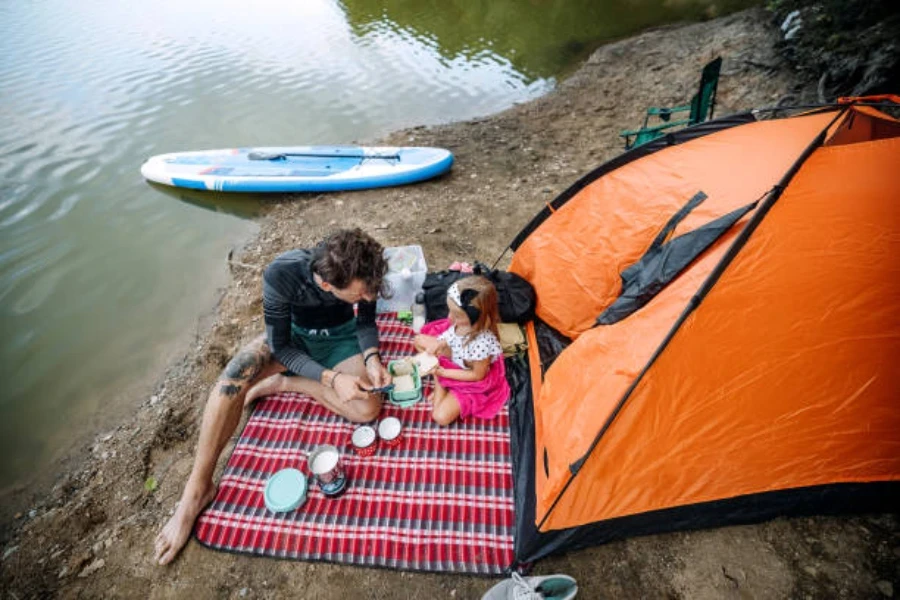 Picnic blankets have been a popular accessory for centuries, providing a layer to set out food and drinks and allowing people to comfortably sit on the ground without the worry of getting dirty. However, picnic blankets have evolved over the years, and blankets that were once made from rather basic fabrics are now borderline luxurious accessories with various features that reflect the different interests and needs of buyers.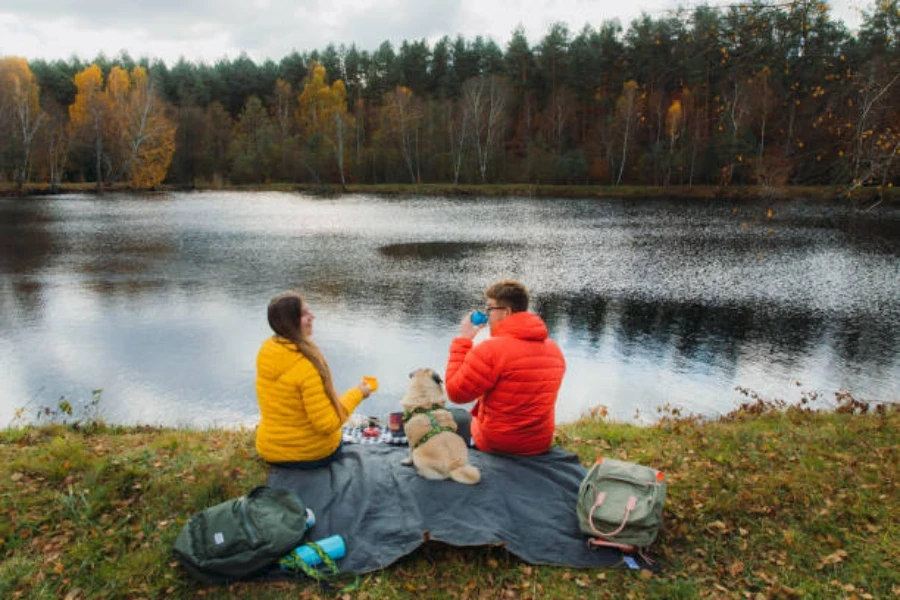 The global market value of the luxury picnic industry is projected to have a compound annual growth rate (CAGR) of at least 10.1% between 2020 and 2027, bringing the total market value to approximately US $1.1 billion by the end of 2027. This growth is due to a number of factors, including a higher disposable income among consumers and a growing interest in outdoor pursuits.
Factors to consider when buying a waterproof picnic blanket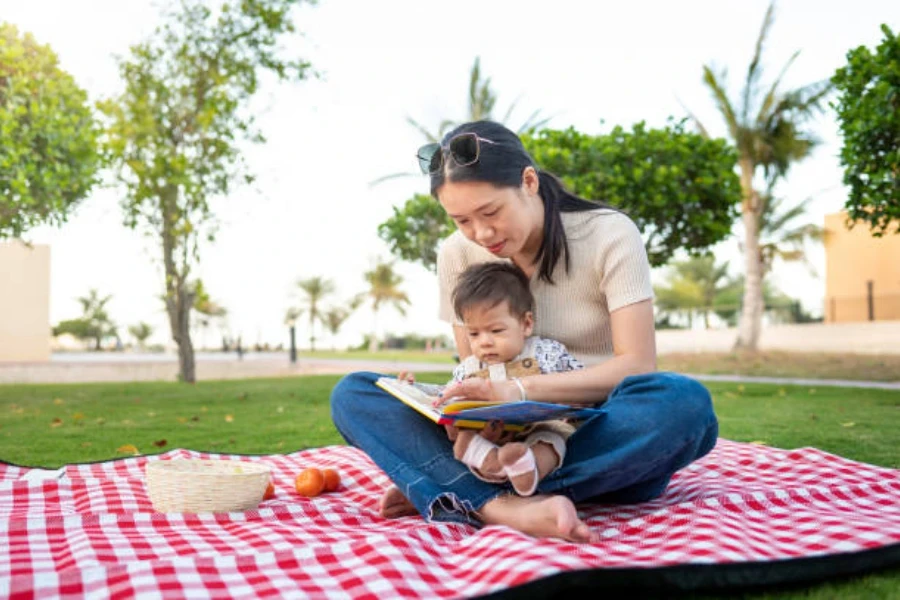 When choosing a waterproof picnic blanket, consumers will look at several key factors before making their purchase. Below are some important factors to consider before stocking up:
Ease of cleaning – Since picnic mats will be placed on the ground and used to rest food and drinks on, it's important that they are easy to clean before storing them away. Waterproof blankets in particular are relatively easy to clean and can usually simply be wiped down using a damp cloth or wipe.
Size – The desired size of the waterproof picnic blanket depends on the needs of the consumer. Smaller mats are designed to hold one or two people, making them perfect for couples or individuals. Larger-sized mats are meant for bigger groups and can hold more items.
Material – In order for these mats to be waterproof they must be made of materials such as polyester or have a PVC backing to prevent moisture from permeating the fabric. This also makes them much easier to clean than the average picnic blanket.
Portability – Picnic blankets can be rather rigid depending on what material they're made from. Many modern picnic blankets are very lightweight and compact and include handles or straps so that they're simple to carry.
Comfort and durability – One of the biggest factors to consider when it comes to waterproof picnic blankets is how comfortable they are. Generally, the thicker the blanket the more comfortable and better insulated it will be. They should also be durable so that they can withstand frequent use outdoors. 
Accessories – More luxurious waterproof picnic blankets are designed with additional pockets or come with accessories such as cutlery to enhance the picnic experience.
Top waterproof picnic blankets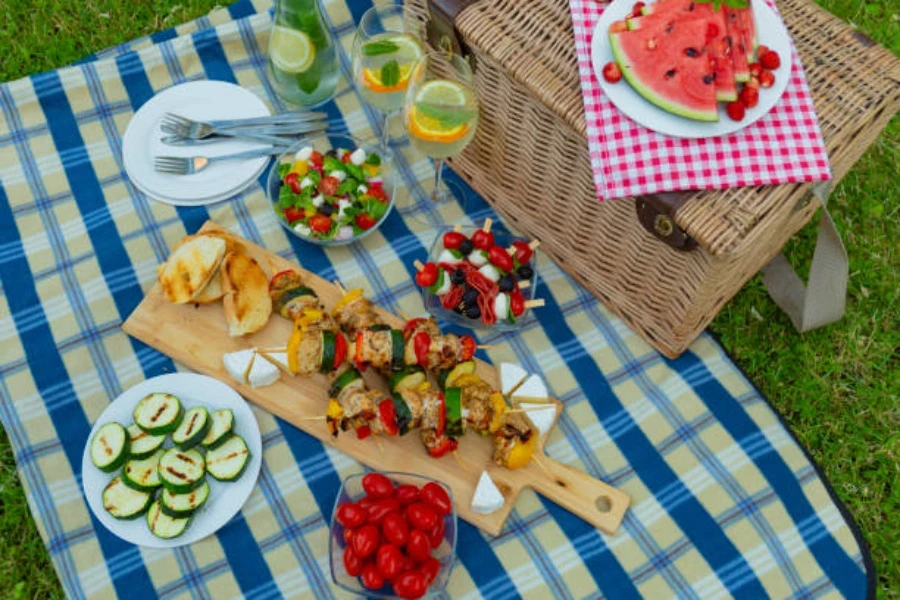 With more consumers taking the time to enjoy the great outdoors, picnics have once again become a popular activity among families and friends. Picnic benches aren't always available, which is why consumers turn to picnic blankets instead. In addition, as the technology improves, more and more consumers are buying waterproof picnic blankets as a more comfortable and practical alternative to traditional picnic blankets.
According to Google Ads, "picnic mat" has an average monthly search volume of 27,100 searches. The search volume grew to 33,100 in June and July and was at its lowest point in colder months, such as February and March, where the search volume was 22,100. In addition, "waterproof picnic blanket" has a search volume of 5,400 on average, reaching its highest point in June with 9,900 searches and its lowest search volume in March and April with 2,900 monthly searches.
Looking at the specific types of waterproof picnic blanket consumers are searching for, "large picnic mat" comes out on top with 2,400 monthly searches, followed by "waterproof beach blanket" at 880 searches, "foldable picnic blanket" at 590 searches, and "quilted picnic blanket" at 390 searches per month.
Below, we'll take a closer look at each of these varieties.
Large picnic mats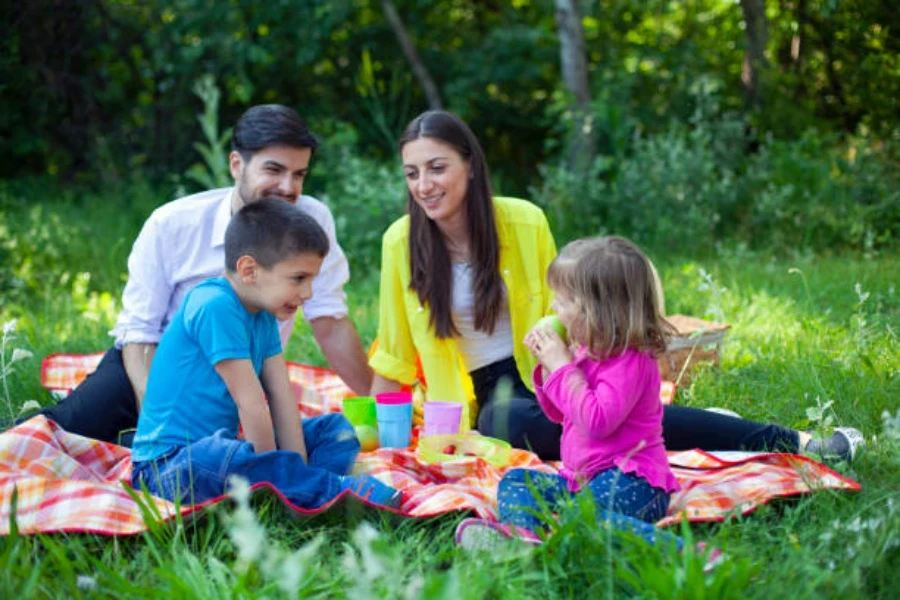 Large picnic mats are the most popular type of waterproof picnic mat available. Designed to hold more than two people, they're ideal for family functions or picnics with friends. Having waterproof backing is also essential for protecting the mat from dampness and ensuring that any belongings placed on it stay dry.
As with all picnic blankets, it's important that they offer some degree of comfort, are easy to clean either manually or via a washing machine, and are made from a high-quality material that is able to withstand a lot of outdoor use. Consumers will often choose large picnic mats that have vibrant patterns, adding a little color to the picnic experience. 
Looking at the average monthly search volume of "large picnic mat," Google Ads shows that there has been a 15% increase in searches between April 2023 and September 2023, with 1,600 and 1,900 average searches, respectively. The highest number of searches fell in January, with 4,400 searches.
Waterproof beach blankets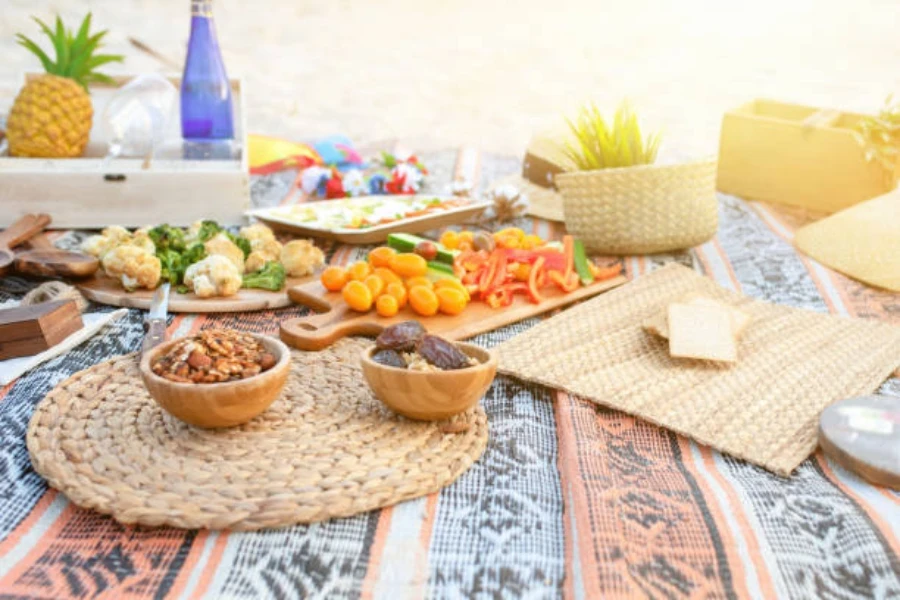 While many picnickers head to the park, consumers are increasingly bringing their waterproof picnic blankets to the beach along with their beach chairs. Waterproof beach blankets help beachgoers have a relaxing and fun day, helping to repel water from the sand and stop it from getting in food, etc. These blankets should be lightweight, easy to set up, and often come with a carrying strap or bag, reducing the effort needed to transport them. 
What consumers love about waterproof beach blankets is that they're also sand resistant. Many traditional beach blankets pick up a lot of sand throughout the day, which is almost impossible to get out of the fibers. However, polyester or nylon materials will repel the sand once the blanket is shaken, a big bonus when it comes to packing up. It's also common for these blankets to come with anchor pockets so that they can easily be tied down if conditions get windy.
There was a 60% increase in monthly searches for "waterproof beach blanket" between March 2023 (390 searches) and September 2023 (1,000 searches), with July and August having the highest search volume at 1,600 searches.
Foldable picnic blankets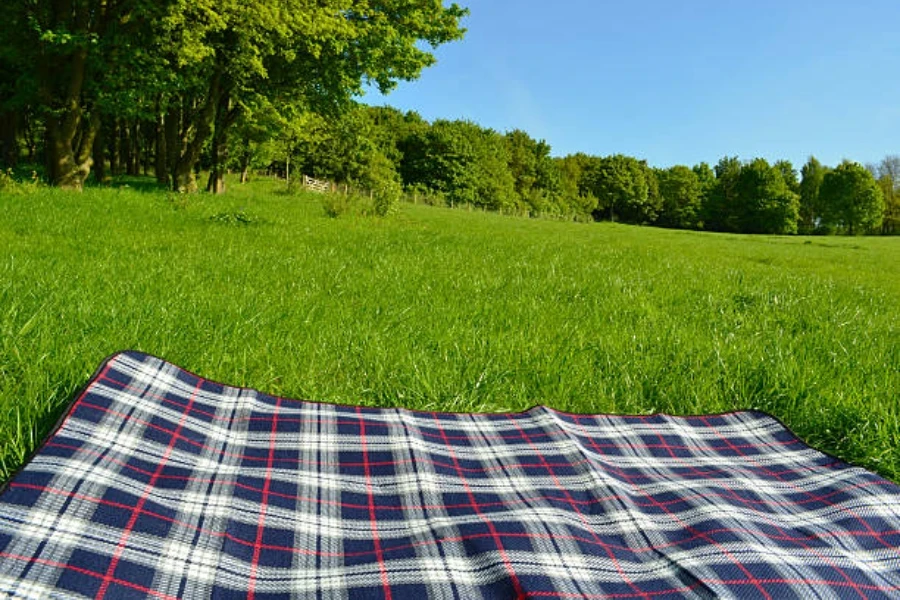 Foldable picnic blankets come in various sizes as well as shapes, including round, square, and many others. These picnic blankets offer similar features to other types of waterproof picnic mats but with the addition of being more compact and easy to transport. These blankets are often made of more rigid materials, which enables them to be folded along their seams into a compact shape. The top layer of these blankets should be made of a soft and comfortable material, such as polyester or fleece, to ensure that they're enjoyable to sit on.
Between February 2023 (210 searches) and September 2023 (720 searches) there was an increase in searches of 70% for these types of blanket, with June and July witnessing the highest monthly searches at 1,300 on average.
Quilted picnic blankets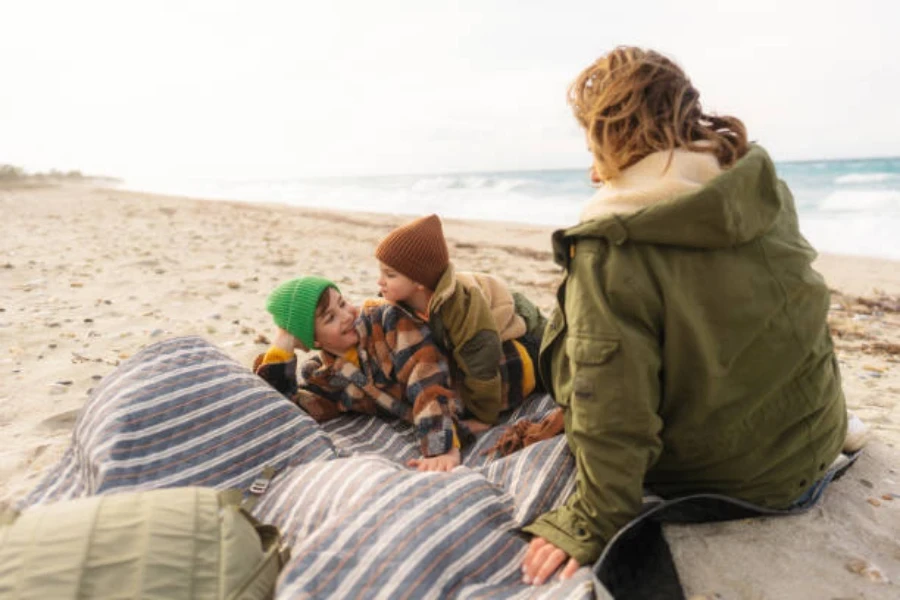 Waterproof quilted picnic blankets are popular among consumers who plan to spend a lot of time outdoors or plan to picnic in cooler weather. It's important that this type of waterproof picnic blanket has a durable and thick waterproof backing on it so that they better repel any moisture that may be on the ground. The quilted element not only helps add a layer of comfort but also additional insulation, which is welcome when sitting long periods of time. As with all waterproof picnic blankets, consumers will also look for a size that's suitable for their needs as well as portability and any accessories that may be included.
Between March 2023 (260 searches) and September 2023 (480 searches), there was a 45% increase in average monthly searches for quilted picnic blankets, with June and July seeing the highest number at 720 searches.
Conclusion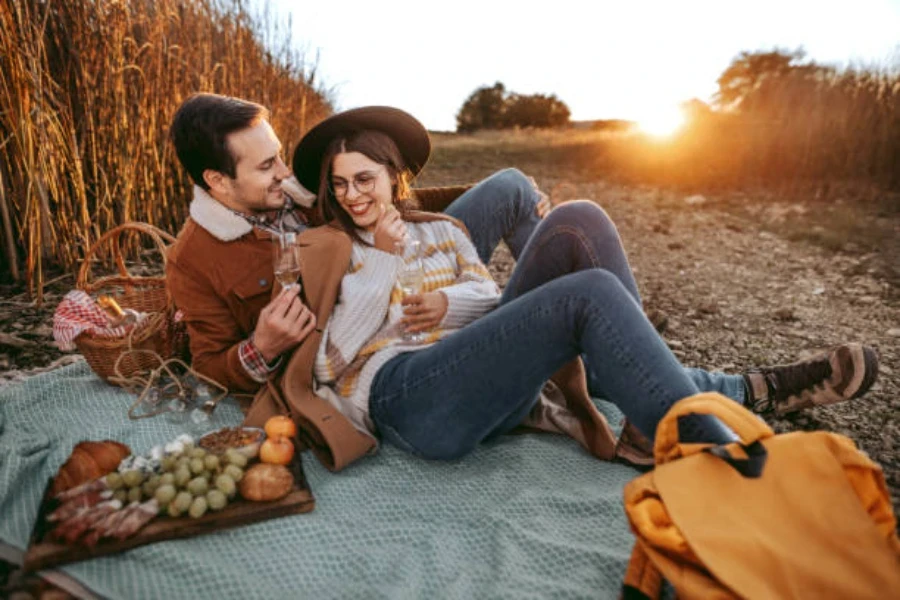 When it comes to choosing the best waterproof picnic blanket, you'll want to take into account factors such as overall size, how easy they are to clean, the materials used, any accessories that they include, its portability, and the level of comfort they provide. While waterproof picnic blankets can be used in various situations and locations, it's important to keep in mind that some are designed with specific elements in mind, such as wind, sand, and cold temperatures. Waterproof picnic blankets are expected to grow in popularity in the coming years as consumers spend more of their disposable income on higher-end picnic products.
If you're in the market for picnic blankets and accessories, browse thousands of items on Alibaba.com today.
Was this article helpful?