Crawler cranes are a vital part of a number of industries globally, but they are not cheap to acquire. If you are planning on buying a used crawler crane instead of a new one, then this guide has you covered. It explores the range of used crawler cranes available, suggests some areas of focus when inspecting a prospective machine, and highlights the key factors to consider to ensure you find the right crawler cranes in 2023.
Table of Contents
The second hand crawler crane market
Second hand crawler crane availability
What to look for when inspecting a used crawler crane
Final thoughts
The second hand crawler crane market
Alt text: the global truck crane market to grow by 6% CAGR
The global market for crawler cranes is seen as robust and growing healthily, driven by a post-pandemic boom in construction and infrastructure projects. Crawler cranes are in demand for high lift projects such as high-rise, bridges and wind turbine assembly. Although research numbers differ, overall demand is seen as increasing over the 5-year period from 2023 to 2028, with one survey projecting a growth from US$ 2.9 billion to US$ 4.3 billion by 2028, at a compound annual growth rate (CAGR) of 6.52%, and another projecting a growth from a lower base of US$2.2 billion to USD 3.04 billion by 2028 at a CAGR of 6.1%.
With this projected growth of over 6% CAGR, construction companies may feel positive about investment in new machines as a long term investment. However, a post-pandemic economic uncertainty, and the threat of canceled or delayed projects, may make buyers more cautious of a large capital outlay into new machines, and in such cases the used market may be more attractive.
New crawler cranes are expected to have a useful life of at least 10 years at around 2000 hrs annual usage before major parts are replaced, but can have a much longer life if well maintained, and many major manufacturers expect a useful life to exceed 30,000 hrs or more. This makes second hand crawler cranes a viable option, and a prospective buyer will want to compare costs as well as be confident of the used machine's maintenance history.
Second hand crawler crane availability
Crawler cranes are available in the second hand market in a wide range of sizes and capacities, from small cranes that can lift around 30 tons, up to super lift crawlers that can lift over 3000 tons. Smaller cranes can be found with telescopic booms, but as crane lifting capacity gets above 100 tons they tend to be more exclusively fitted with a lattice boom, as they are lighter and stronger when lifting at height. Height capability varies with model, with lower lift machines at around 160 feet (50m), and larger versions able to lift up to heights of around 650 feet (200m). Stability and safety are important considerations with crawler cranes so a buyer should select a machine that can comfortably lift to the expectations of the project.
Small weight capacity, below 100 tons
Model
Hitachi KH125

Boom
Lattice
Lift capacity
35 tons
Max height
50 m
Year
2005
Price
US$ 27,000
Model
XCMG XGC55

Boom
Lattice
Lift capacity
55 tons
Max height
37 m
Year
2019
Price
US$ 39,200
Model
XGTC80

Boom
Telescopic
Lift capacity
80 tons
Max height
NA
Year
2015
Price
US$ 30,000
Model
Liebherr HS855HD


Boom
Lattice
Lift capacity
90 tons
Max height
NA
Year
2006
Price
US$ 136,000
Medium weight capacity, 100-300 tons
Model
Kobelco 7150

Boom
Lattice
Lift capacity
150 tons
Max height
9.5 m
Year
2011
Price
US$ 90,000
Model
IHI DCH2000

Boom
Lattice
Lift capacity
200 tons
Max height
90 m
Year
2020
Price
US$ 71,000
Model
Kobelco CKE2500

Boom
Lattice
Lift capacity
250 tons
Max height
73 m
Year
2005
Price
US$ 380,000
Model
Liebherr 270


Boom
Lattice
Lift capacity
270 tons
Max height
98 m
Year
2010
Price
US$ 200,000
Super lift capacity, above 300 tons
Model
Sumitomo KH5000

Boom
Lattice
Lift capacity
550 tons
Max height
NA
Year
1994
Price
US$ 600,000
Model
Kobelco SL6000


Boom
Lattice
Lift capacity
550 tons
Max height
84 m
Year
2008
Price
US$ 4,000,000
What to look for when inspecting a used crawler crane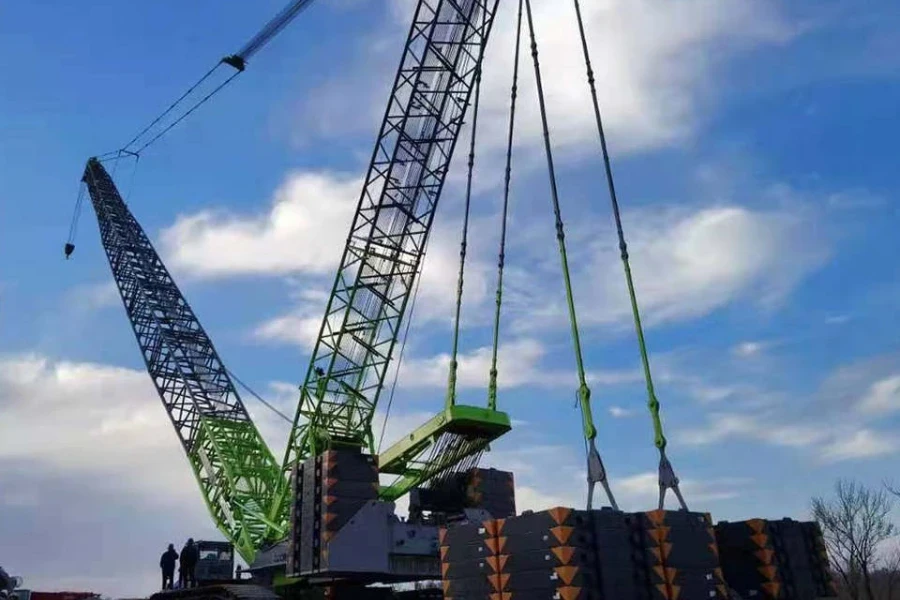 As can be seen from the sample selection above, second hand crawler cranes are available in a range of sizes and lift capacities (tonnage and height). The crane's purpose and intended job must be clear to the buyer, to select the right lift capacity and boom type. The buyer may have a preference for well known brands, or may be prepared to choose lesser known brands. Although price is the main consideration for buying second hand, cranes have safety and risk considerations, so the buyer must consider the condition of the machine and maintenance history.
When buying a crawler crane online, the buyer will want to shortlist a few options for a more detailed review and then, once a choice is made, will need to properly assess the crane condition through a physical inspection.
Shortlisting from online choices
When the potential buyer first views options online, the first impressions will come from the clarity and range of photos available, followed by the technical details as listed, and of course the declared age. Photos alone will not tell the whole story, and the shrewd buyer will ask for maintenance records and service intervals. It is also advisable to ask what parts have been replaced, and what quality of parts were used for replacement.
Of course, assessing the crane condition from photos and records alone will give an incomplete picture, and a thorough physical inspection is essential. This may be conducted at the seller's facilities, or otherwise may be done after taking delivery. If the latter, then it will be important for the buyer to get a satisfaction guarantee and/or a return and refund warranty.
Conducting a physical inspection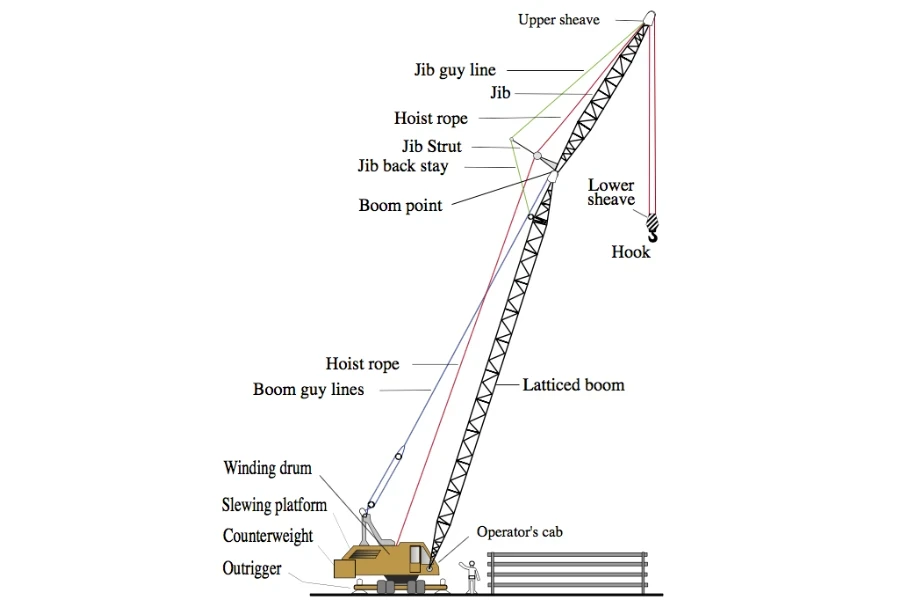 Once the machine is onsite, start with a visual check and walk-round. Does the crawler crane look to be in new condition or a little used? Are there signs of dents, scratches, rust, weldings and patches? A few dents and scratches is not unusual as these cranes work in very hardy conditions, and poor paintwork doesn't necessarily mean lack of care. However, an older machine with a fresh repaint may mean that the machine has been repainted to disguise previous problems.
The three major components of a crawler crane are the crawler chassis, the rotating platform (slewing platform), and then the crane boom and components. This section will look at what to inspect in these three main components and their individual parts.
Chassis
The chassis main components are the track and rollers, the outrigger stabilizers, and the rotating turntable. Crawler cranes don't move much once they are positioned for lifting, but wear and tear will happen over time.
The track itself needs inspecting for signs of wear and damage, as do the sprockets, pins, chain and rollers. Look closely for worn or shiny pins, sharp edges on the bushings, or any side to side movement on the track. Does the track appear loose or slack, which is a sign of wear? Otherwise, if the track is tight, has a link been removed to tighten it? The technical specifications will detail the correct number of links per track.
The outriggers, if fitted, extend from the chassis using hydraulics, and provide much needed stability for the crane by widening its footprint and adjusting any leveling. Check that the outriggers extend and retract fully, and are planted correctly and firmly. Check the hydraulics, check all hoses and fittings for a tight seal, and that there is no sign of leakage.
The turntable holds the base of the crane and connects the chassis to the slewing platform. It is designed to rotate through 360 degrees, and must not only take the weight of the crane and attached load, but must do so with stability. Any rocking or movement in the turntable adds instability and safety risk. The turntable must rotate smoothly, without any unevenness or instability. Pay attention to the swing bearings for any sign of damage as replacement would be costly.
The undercarriage provides stability for the crane and creates a wide platform and low center of gravity. Therefore the chassis should be in good condition throughout, as should the outriggers and turntable. Any instability is a safety issue, and chassis replacement will be expensive.
Slewing platform
The main components to inspect on the slewing platform are the operator's cab, engine, counterweights, winding drum and wire rope (steel cable).
The engine will be a powerful diesel model and will need to be in good condition and have been well maintained. Check the maintenance records for maintenance periods, and records of oil and filter changes. Look for any record parts replacement and check that quality parts were used. Look for any signs of leaks or emissions of white or black smoke. Check that the engine meets any EPA emissions certified.
The operator's cab controls, instrument panels, joysticks and foot pedals should be inspected. Check that all windows are intact and that visibility is not impaired. Check that the operator's seat is working and that any other internal fittings are intact. Start the engine and try the controls and steering.
The counterweights on a crawler crane are important to allow the crane to carry heavy loads without overbalancing. Check the condition of the counterweights and ensure that the number of weights provided meets the specifications.
The winding drum must be able to wind up the wire rope tightly and also release it under control. Check that the forward and reverse winding mechanisms work under full control and that the wire rope is wound tightly. Check the overwinding proof device by ensuring that the stopper fully engages with the ratchet wheel. Check that the drum is running freely, is mounted evenly and is well lubricated.
The wire rope, or steel cable, will take all of the weight of the load as the rope runs up from the drum, through the boom and sheaves, to the hook. Wire rope fails overtime and must be checked carefully. Frayed areas or snapped fibers mean the rope is close to failing. Corrosion weakens the rope from within, as well as on the surface, so look for signs of rust or rusty leaks from within the rope fibers. A weakened rope must be replaced, and the buyer can expect to replace it periodically, but they would not want that expense when first buying the machine.
Boom, jib, sheaves, block and hook
If the crawler is fitted with a telescopic boom, check that it can extend and retract smoothly. The telescopic mechanism is hydraulic, so check all hydraulics for leaks that would reduce the pressure and therefore power. Inspect each of the boom sections for signs of weakness or damage, and look for any welded plate repairs or cracks that could mean a structural weakness.
If the crawler is fitted with a lattice boom, check for any signs of broken connections, especially at the joints of the spars, and look for any signs of rust, welding or repair. Excessive rust, damaged or broken spars, or poor welding repairs, can all weaken the lattice framework, which could lead to catastrophic failure.
All crawler cranes, whether telescopic or lattice, have an optional jib extension. Jibs are usually lattice design, so check the jib framework in the same way as for a lattice boom, and check the condition of the connecting pins and lugs.
Check that the sheaves (pulleys), blocks and pins, are intact and that they rotate freely. Check for any signs of chipping or denting, as any weakness in these can lead to a failure under heavy load. Also check that the hook is intact with no cracks and that the safety latch works.
Load moment indicators (LMI)
Most modern cranes use a Load Moment Indicator (LMI), with sensors placed at strategic points on the crane, to monitor performance and warn of overloading or overbalancing. If an LMI is fitted, all sensors and measurements should be tested. An older second hand crane may not have one fitted, so it would be wise to include in the purchase cost the fitting and testing of a compatible version.
Final thoughts
Crawler cranes cover a wide range of weight and height capability and there is a wide choice of second hand crawler cranes available. Used machines can be a large cost saving over a new machine and are definitely an option to consider for the cost-conscious buyer.
Safety is an important factor that must be included in any purchase considerations. When heavy weights are lifted to great heights, there is always the potential for failure, and accidents do happen. The buyer must professionally inspect the crawler for stability, and for any signs of damage or weakness in the lifting mechanisms. That can only be done with a physical inspection. Therefore the buyer would be wise to inspect the crane at the supplier's facilities prior to purchase, or otherwise choose a supplier that offers a satisfaction guarantee.
For more information on the wide choices of used crawler cranes available, check out the Alibaba.com showroom.
Was this article helpful?