Denim is always an essential part of the men's apparel mix. This article will overview the top denim items and trends from the Spring/Summer 2024 menswear catwalks and collections. We'll look at the changing retail landscape and provide guidance for retailers on investing in key silhouettes and applying trends in a commercial way. Whether you need hero pieces or ideas to refresh your denim offering, this guide has you covered.
Table of Contents
The comfort straight-leg jean
The wide-leg jean
The trucker jacket
The denim short
The denim blazer
The comfort straight-leg jean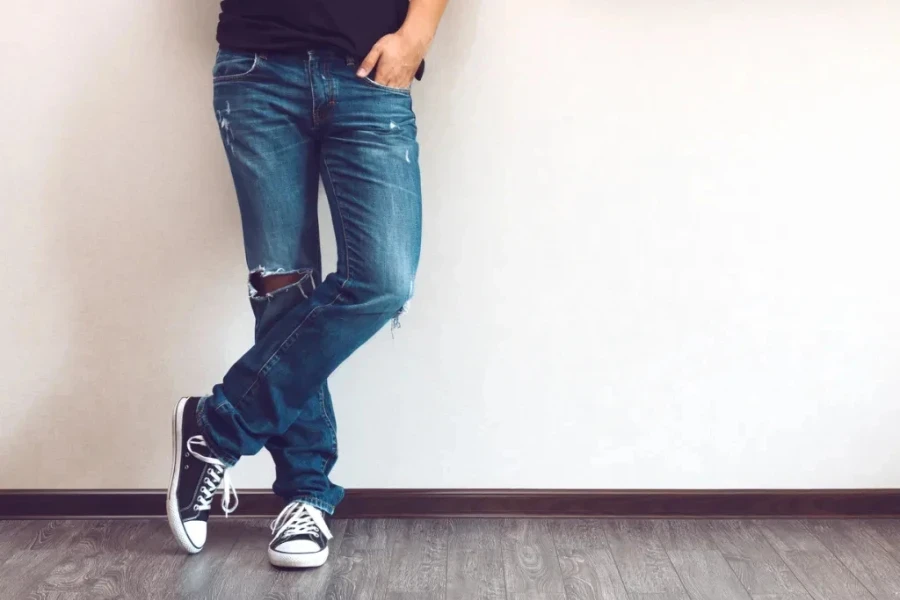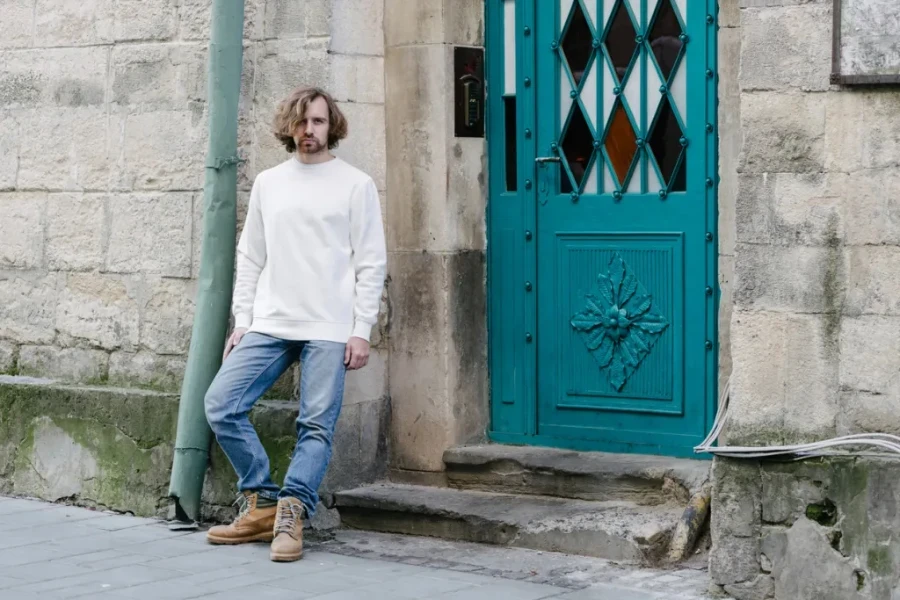 The comfort straight-leg jean has become a staple men's denim style, offering versatility and wide appeal. This classic jean silhouette saw significant growth on both the runways and in retail markets for Spring/Summer 2024.
On the catwalks, labels showcased creative finishes on the straight leg jean to align with different aesthetics. For example, a slight hem tightening creates a retro barrel leg shape. Adding belt embellishments or contrast stitching brings in a more striking, statement look.
The comfort straight leg also dominated the retail landscape. This style took up over half of the new denim mix for UK and US retailers.
The straight leg's rise demonstrates its balance of comfort, flattering fit and timeless quality. It works across generations, from mature shoppers wanting ease of movement to Millennial and Gen Z consumers embracing looser 1990s inspired fits.
For retailers, the straight leg jean is a strong invest item with versatility to bridge trends. Try out subtle details like raw hems or whiskering for a worn effect. Opt for rigid or dark washes for vintage appeal. With minimal tweaks, the comfort straight leg can work across a range of aesthetics from rugged Americana to refined workwear. It's an essential base to refresh your denim bottoms assortment.
The wide-leg jean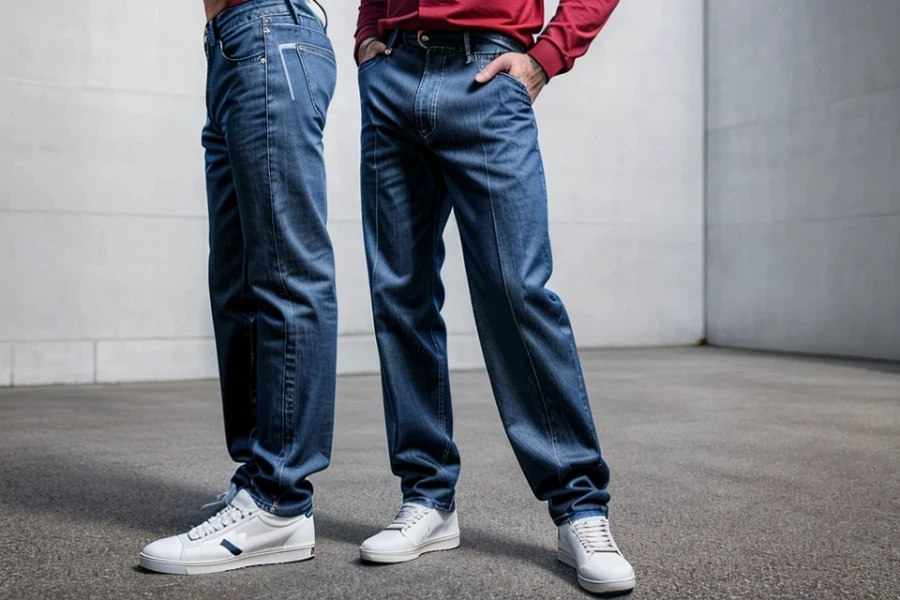 Wide-leg and relaxed silhouettes are making a comeback thanks to nostalgic 1990s styling. For Spring/Summer 2024, the wide-leg jean stood out on both the runways and in retail tracking.
On the catwalks, labels showcased the wide leg jean's range. Vintage low rise baggy jeans with distressed finishes fit with streetwear. High waisted versions took on a simple, clean '70s vibe. Designers also mixed the wide leg with tailored pieces and preppy knits for an eclectic mood.
In retail, the wide-leg jean remains a minor part of the overall mix. But it showed solid growth compared to previous seasons. This points to its potential as an emerging silhouette to watch.
For retailers, wide-leg jeans can add novelty. Keep styles wearable for commercial appeal. Try out vintage washes and fraying on low rise baggy fits. Or opt for high waisted versions in clean medium washes for a more elevated take. The wide-leg also pairs well with on-trend sheer and crop tops for bold high summer styling.
While still a test item, the reemergence of the wide-leg jean shows its potential. Use it to tap into nostalgic vibes with youthful shoppers looking for authentic nineties styles.
The trucker jacket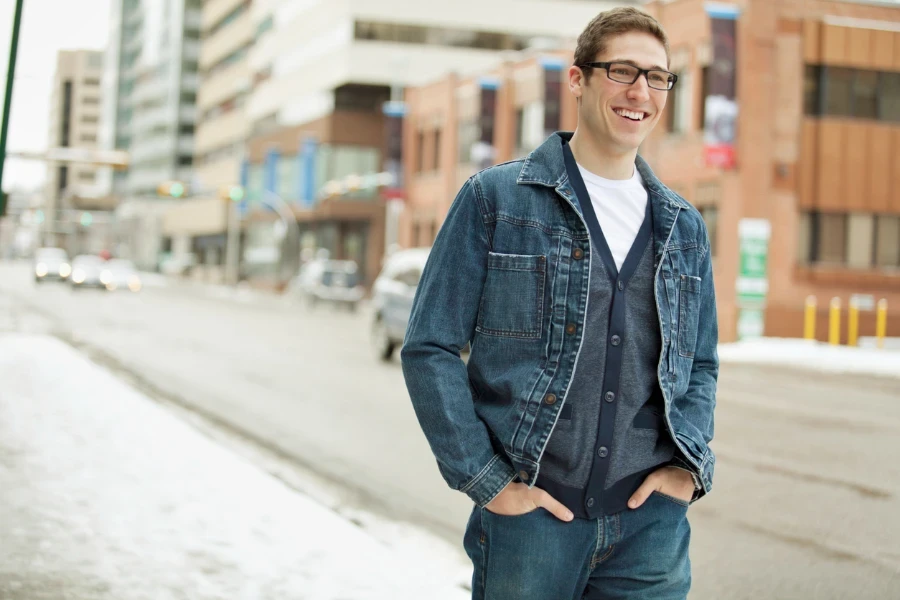 The trucker or denim jacket is a modern classic that continues to evolve each season. For Spring/Summer 2024, labels showed the trucker's versatility through creative fabrics and silhouettes. Retailers can also look to subtle updates to refresh this menswear staple.
On the runways, designers customized the denim trucker while retaining its iconic utility and durability. Cropped and oversized versions fit with streetwear vibes. Spliced fabrics and metallic finishes added striking surface interest. Details like contrast panels and pockets kept things fresh.
In terms of retail, the denim trucker makes up a consistent share each season. It's an expected piece consumers want every spring and summer. Subtle shifts like faded prints, colored washes and cropped cuts can capture newness.
For merchandising, focus on wearable finishes and versatile styling. Try mineral washes or speckled effects for a well-worn look. Oversized truckers pair perfectly with sleek joggers and shorts for modern contrast. And don't forget timeless white denim versions as the warmer months approach.
The denim trucker will always be a seasonal essential. Use clever fabrics and silhouettes to keep this icon feeling current.
The denim short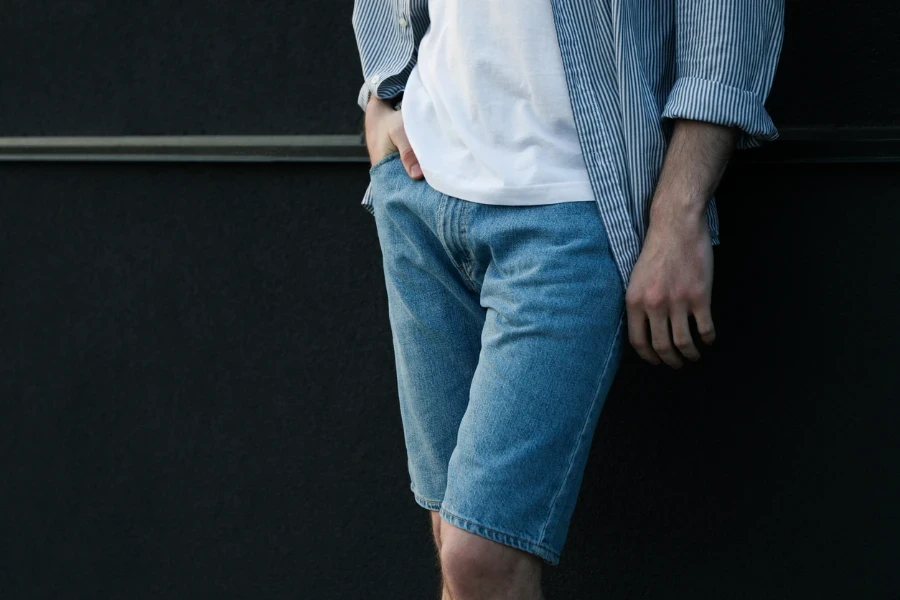 Denim shorts stood out on the Spring/Summer 2024 runways, from distressed cutoffs to tailored bermudas. This category has strong seasonal appeal for retailers catering to warmer weather and festivals.
On the catwalks, shorts took center stage. Designers played with proportions from super short gym styles to longer kneecap lengths. Relaxed and baggy fits provided laidback contrast to slim tailored versions. Distressing and frayed hems amplified the denim short's youthful vibe.
For retailers, denim shorts saw declining performance in previous seasons. However their prominence on the catwalks hints at a comeback. Focus on leg-baring lengths while balancing commercial appeal.
Try out short shorts and frayed cutoffs to tap into nostalgic 90s dressing. Offer bermuda and cargo styles too for more coverage and versatility. Showcase denim shorts as part of music festival or vacation-ready vignettes.
Refreshing your denim shorts assortment with new proportions and fits will capture the Spring/Summer 2024 mood. Style them solo or as part of statement denim looks.
The denim blazer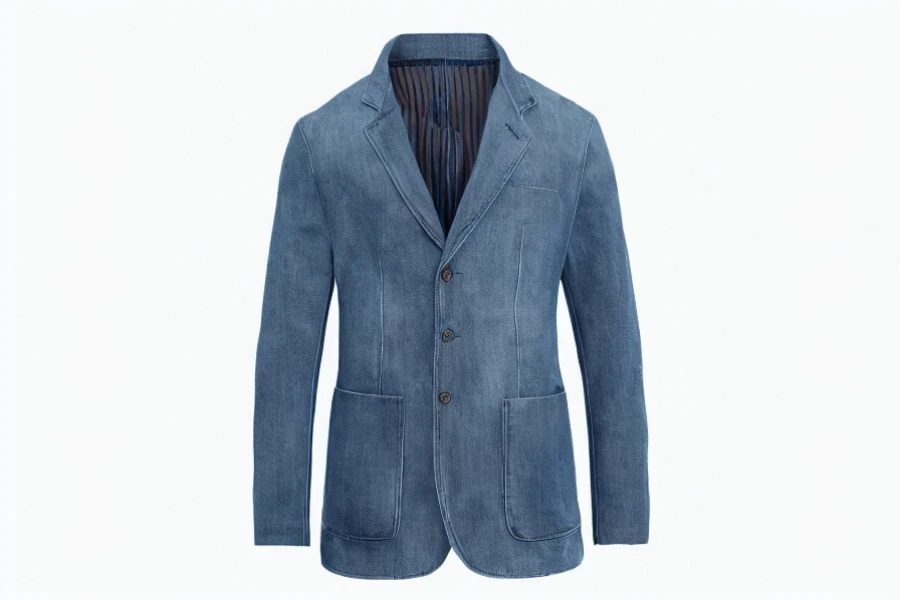 The denim blazer showed up across Spring/Summer 2024 runways, taking the trucker jacket to a more tailored realm. This elevated denim style allows retailers to capture the workleisure trend.
Designers transformed the denim blazer in creative ways. Silhouettes ranged from oversized to cropped. Details like contrast sleeves, welt pockets and notched lapels added formal flair. Pairing denim jackets with pinstriped trousers furthered the workwear mood.
For retailers, the denim blazer remains a test item with more novelty than commercial appeal. Make styling feel luxe but approachable through fabrics and fits. Try a relaxed oversized shape in lightweight non-stretch denim. Add trouser-inspired details like pleated backs or silk linings.
Merchandise denim blazers alongside slick joggers and loafers to drive the workleisure aesthetic. They also work for transitional weather, layered over hoodies and under wool coats.
Use the denim blazer to deliver elevated denim appeal to style-driven shoppers. With careful detailing, it can span both casual days and smart occasions.
Conclusion
Use this guide on hero denim items to capture the key S/S 24 trends. Focus on the top-performing comfort straight leg while testing wide-leg and shorts variations. Add novelty through silhouettes and details to refresh your offering. Denim continues to be essential for men – follow these tips to create a compelling assortment.
Was this article helpful?