Men once felt apprehensive about wearing pink. But now, they aren't shying away from trying trending prints and graphics—regardless of color. On the other hand, manufacturers follow this new direction by including these exciting prints and graphics trends in their menswear catalogs.
Although prints are everywhere, knowing the right ones to invest in makes a difference. This article highlights five prints and graphics that look breathtaking on various menswear items.
Table of Contents
The global men's prints and graphics market
Five essential prints and graphics that men will love in 2024
Rounding up
The global men's prints and graphics market
Market size
Experts valued the global decorated apparel market at US$ 25.83 billion in 2022 and expect it to grow at a 12.9% compound annual growth rate (CAGR) from 2023 to 2030. The surging demand for sublimation, embroidery, heat transfer, and screen printing on clothing worldwide drives the market.
Technological advancements in digital printing have significantly impacted the market, offering a reduced environmental footprint and greater personalization flexibility.
Key innovations in the market
The market has seen key innovations in apparel decoration technologies, including advancements in direct-to-garment digital printing, embroidery, and laser decoration. However, challenges remain in ensuring product quality and consistency, especially for small and medium-sized enterprises launching new products.
Embroidery accounted for the largest share of the market in 2022, offering high quality and value addition to clothing. Screen printing is expected to expand rapidly due to its crisp and durable prints. Offline channels dominate the distribution, but online channels are growing due to the convenience of online shopping.
Regions
Asia Pacific holds a significant market share, driven by increasing disposable income and the influence of social media on fashion trends. China and India offer vast opportunities for manufacturers due to low production costs and abundant raw materials. Europe and North America also show strong growth, with a rising trend of personalized and retro-designed apparel. Retro designs and patterns are popular among consumers in the UK and the US.
Five essential prints and graphics men will love in 2024
Paisley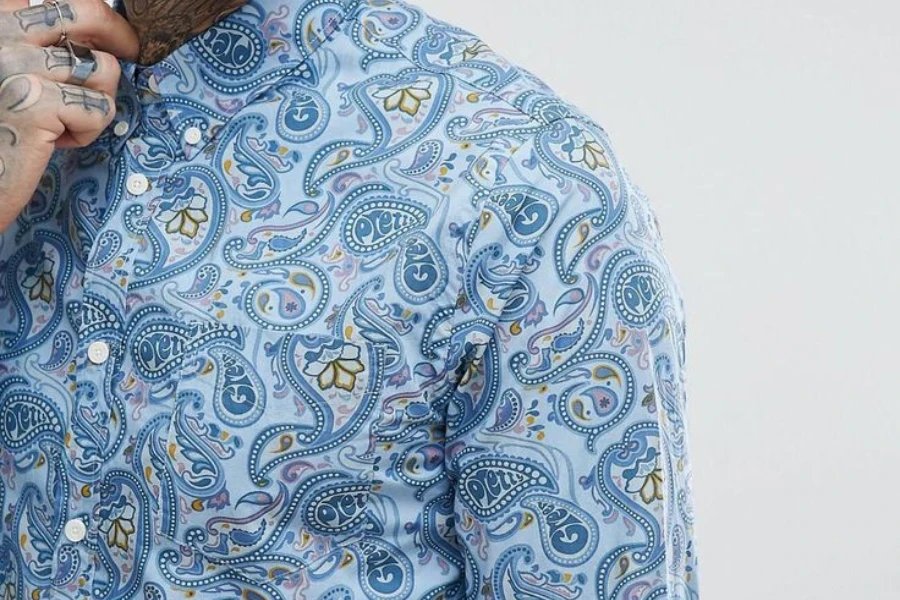 This timeless and captivating print is not just visually appealing. Paisley is a design that has endured the test of time and continues to make its mark on men's fashion.
Paisley is a teardrop-shaped pattern that originated in the Middle East. Although it has existed since the 11th century, paisley gained popularity during the 1960s and 1970s as part of the bohemian and psychedelic movements. Since then, the pattern has never gone out of style, making occasional comebacks in various forms and adaptations.
What's fantastic about paisley is its incredible versatility. Businesses can find these prints in various sizes, colors, and scales, making them suitable for different fashion tastes and occasions.
Bold and large-scale paisley prints are a fantastic choice for the more adventurous fashion-forward gentlemen. They exude confidence and are perfect for making a strong impression. Consumers can rock the print on shirts, blazers, and even statement trousers. However, the rest of the outfit will need something simple to let the paisley pattern shine.
On the other hand, consumers who prefer a more understated approach will love smaller-scale paisley prints. They're perfect for incorporating paisley into any outfit without overwhelming it. Men may consider pocket squares, ties, or socks with subtle paisley accents for more personality.
In addition, paisley has a diverse color palette. Classic choices include rich jewel tones like deep blues, purples, and greens. However, modern iterations might play with brighter colors or pastel shades.
Stripes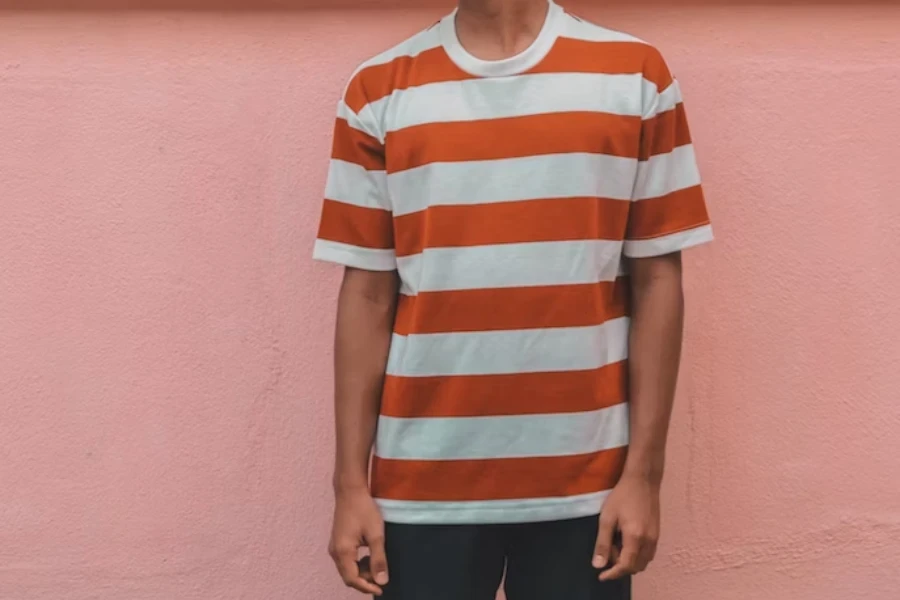 Even though stripes have been around for a long time, they will always be among the few that come to mind when thinking of classic men's prints. They are simple yet incredibly versatile, making them a wardrobe essential for every stylish man.
What makes stripes so appealing is their ability to suit various looks and occasions. From casual to formal, there's a striped option for every event. No doubt, stripes look dashing on dress shirts, t-shirts, blazers, polo shirts, and sweaters. They also feel fantastic on ties and scarves.
Horizontal stripes are a great go-to for men looking to add casual charm to their outfits. They create a relaxed and laid-back vibe, making them perfect for weekend outings or beach vacations. Male consumers can pair a classic navy and white horizontal striped t-shirt with well-fitting jeans or chinos for an effortlessly cool ensemble.
Alternatively, men seeking a more polished and elongating effect will vibe more with vertical stripes. Indeed, a sharp dress shirt designed with thin vertical stripes will make an excellent choice for business meetings or formal events—especially when paired with a sleek suit.
Humble stripes can also be a game-changer for daring fashion adventurers. Naturally, this bold approach involves experimenting with mixed stripes (combining horizontal and vertical or mixing different stripe sizes) to create a bold and fashion-forward look. But, ensure the color palette remains cohesive to avoid a pattern clash.
Florals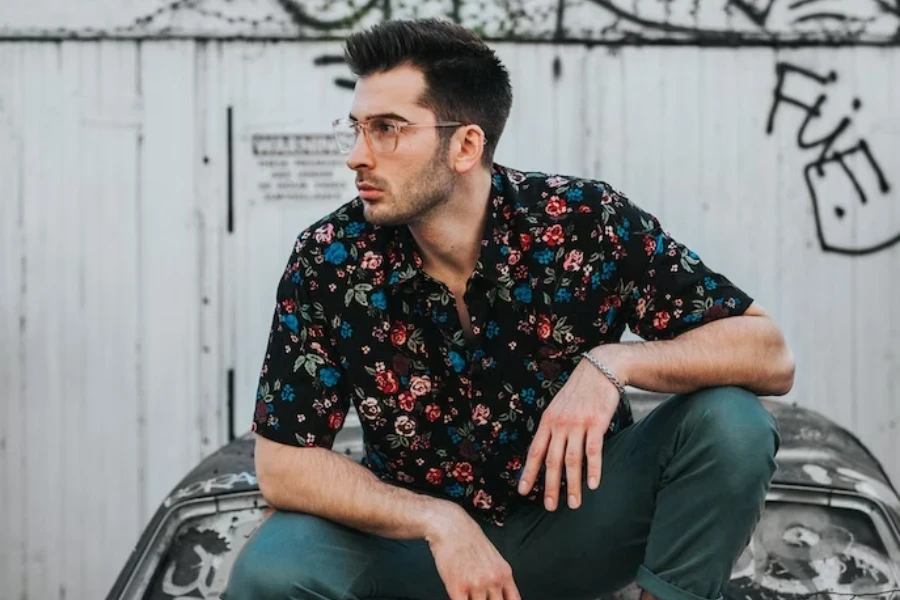 Once a women's exclusive, florals have bloomed into men's fashion with delightful designs that embrace nature's beauty. These flowery patterns can add a refreshing and distinctive touch to various outfits, making them perfect for expressing unique personalities.
Florals offer endless options to suit different styles and preferences. From ditsy and delicate floral motifs to bold, oversized blooms, men can find various types to match their fashion vibe.
However, men new to floral prints may consider starting with small-scale patterns. For example, a button-up shirt featuring tiny scattered flowers can be an approachable option. They can pair it with chinos or dark denim to rock a laid-back but stylish look, allowing men to add flair without going all-out on the floral trend.
On the other hand, men ready to make a statement will gravitate towards larger, more vibrant floral designs. In this regard, a statement floral blazer or a Hawaiian-inspired shirt will instantly attract them and help elevate their outfits.
Monochromatic floral patterns are another trend men can explore. Instead of the traditional colorful blooms, monochrome florals offer a modern and sophisticated twist. For example, a black and white floral shirt or a subtle gray floral tie can make any formal attire feel elegant.
Regarding styling, balance is critical. Since florals are already eye-catching, men must keep the rest of their outfits relatively simple. Consequently, they can pair their floral pieces with neutral solids or classic items like denim or navy trousers to let the print stand out.
Baroque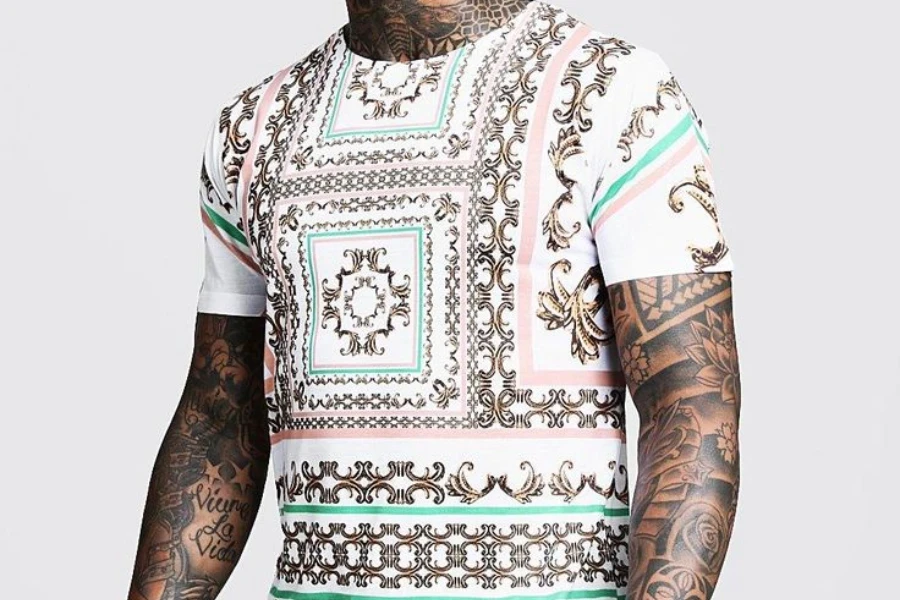 Hailing from the 17th-century artistic movement, baroque reemerges with striking opulence and extravagance. These grandeur prints are all about embracing luxury and ornate designs. Think of intricate patterns, elaborate swirls, and regal motifs.
Baroque displays a historical charm on various garments, from shirts and jackets to ties and scarves. They often feature darker, richer colors like burgundy, royal blue, and lush emerald green for a more intense regal appeal.
A classic way men can embrace this print trend is through a well-tailored blazer displaying baroque-inspired embroidery. Plus, it pairs well with tailored trousers or dark denim for a balanced and refined ensemble.
However, consumers interested in a more modern take on the trend can consider a baroque-print shirt. They can find variations with subtle all-over patterns or more prominent cuff or collar prints. The rest of the outfit can remain relatively simple so the baroque design can do the talking.
One thing to keep in mind when rocking the baroque trend is moderation. The prints are bold and attention-grabbing, so consumers avoid overloading their outfits with too many baroque elements.
Men unwilling to fully commit to baroque prints may opt for smaller accents, like belts with intricate detailing.
Monogram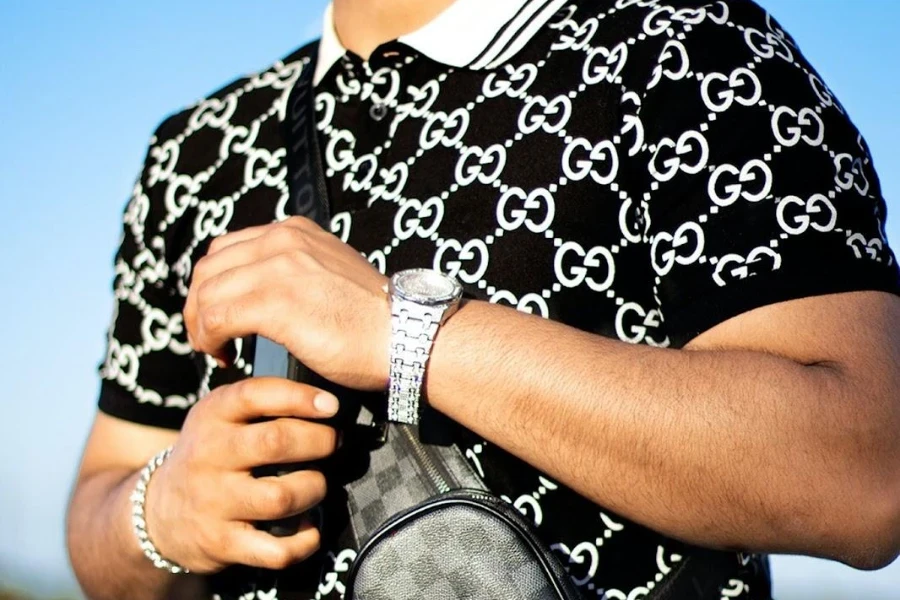 Monogram prints offer a unique men's styling approach. Instead of shapes or flowers, this trend combines letters, logos, or symbols to create a distinctive and personalized pattern. Additionally, monogram prints have a long history, dating back to royalty and nobility who used them to mark their belongings.
The beauty of monograms lies in their versatility. They look fantastic on various men's clothing, including shirts, jackets, t-shirts, and pants. However, monogram print is more of a customizable service, allowing consumers to enjoy endless creative possibilities.
Men can ease into the monogram trend with a monogrammed dress shirt. It instantly elevates formal attire and adds a feeling of exclusivity. It also works for t-shirts, making it possible to rock monogram styles in casual settings.
The best monogram styles come in similar shades to the fabric, crafting a subtle and sophisticated look. However, men can rock a bolder and more eye-catching effect by opting for contrasting colors.
Rounding up
Prints and graphics are enjoying increased popularity in recent years. They've made an attractive presence on shirts, sweaters, trousers, and vests. Even accessories like scarves, bow ties, and pocket squares can showcase these beautiful patterns.
No matter what menswear items businesses choose, investing in paisley, stripes, florals, baroque, and monogram prints/graphics is the way to go for more sales in 2024.
Was this article helpful?