The upcoming fashion season holds a fresh wave of mesmerizing looks in the form of exaggerated proportion outfits. These integrate varying unique elements into an effortlessly challenging fashion style. 
This article explores five exaggerated proportion trends that can reshape the fashion landscape and create compelling avenues for brand growth, giving businesses the opportunity to implement these inspiring trends into their offerings for maximum sales in 2023/24.
Table of Contents
The exaggerated proportions trend in 2023
Five outstanding exaggerated proportion outfit trends for 2023/24
Stock up on these trends
The exaggerated proportions trend in 2023
Exaggerated Proportions is a deja vu from the 1920s, which has returned back with widespread adoption by many fashionistas, celebrities, and run-way fashion models. This unique dressing style commands attention wherever it goes by encouraging female consumers to dress big.
Puffed sleeves, full skirts, oversized trousers, voluminous dresses, and oversized outerwear are the major apparel styles under this trend.
Clearly, this trend has proven to be lucrative based on its acceptance by mostly GenZ and millennial consumers. On top of this, the numbers don't lie, with the global oversized clothing market size currently valued at US$ 352.5 million in 2023, and expected to rise to US$ 685.87 million by 2030, with a compound annual growth rate (CAGR) of 5.9% from 2023 to 2030.
Five outstanding exaggerated proportion outfit trends for 2023/24
Puffed sleeves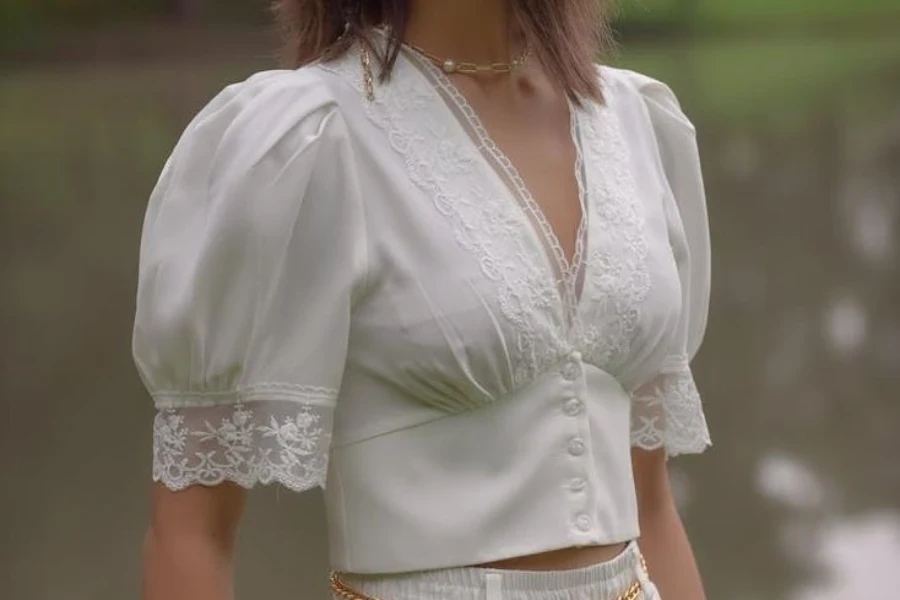 As a blast from the past, the puffed sleeves look is an emerging and dynamic trend that's currently seeking a spotlight in the fashion landscape today. These bulky sleeves add flair and drama to one's style and are a great addition to any fashion enthusiast's wardrobe.
When it comes to styling, wearers can consider the charm of a cheerful dress adorned with short puffed sleeves that exudes a youthful spirit. Alternatively, puffed sleeves on the allure of a flowy dinner gown add a touch of elegance and sophistication.
Puffed sleeves' subtle adaptiveness in different styles and occasions is their beauty. For instance, consumers can rock a balloon-sleeved top with high-waisted jeans for a chic daytime look.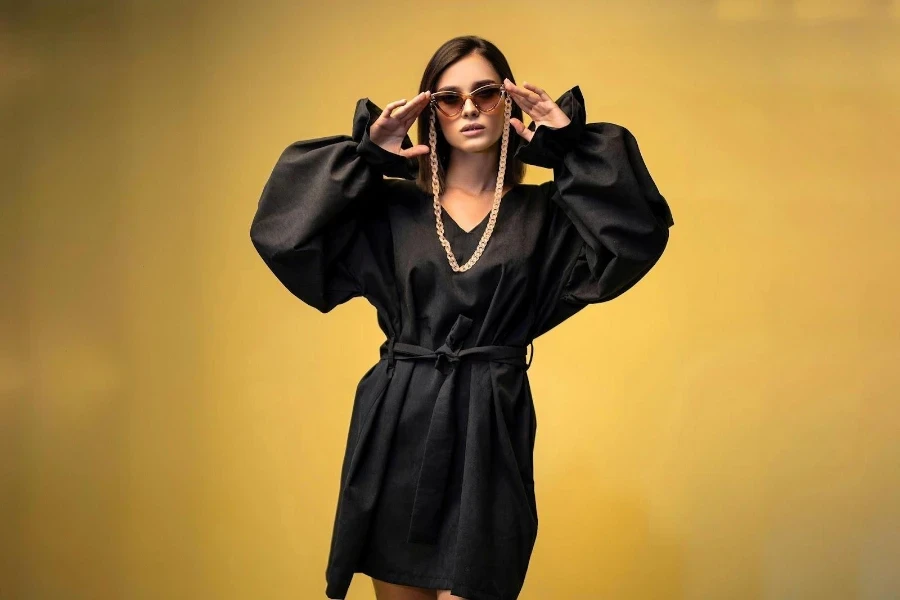 For a more formal ensemble, shoppers may pair a bishop-sleeved shirt, often characterized by its subtle taper around the wrist, with a pencil skirt. This simple outfit embodies the relaxed office vibe, exuding confidence and professional charm.
Lastly, consumers may opt for a bolder look with full upper arms and puffed sleeves that taper dramatically towards the forearm. This eye-catching piece is excellent for an elegant evening out.
Businesses aiming to leverage the puffed sleeves trend should offer diverse styles to cater to various preferences. Offering these styles in numerous colors, both vibrant and neutral, is imperative to maximizing this trend. Brands may also consider layering pieces like jackets and cardigans with puffed sleeves to extend their listings.
Full skirts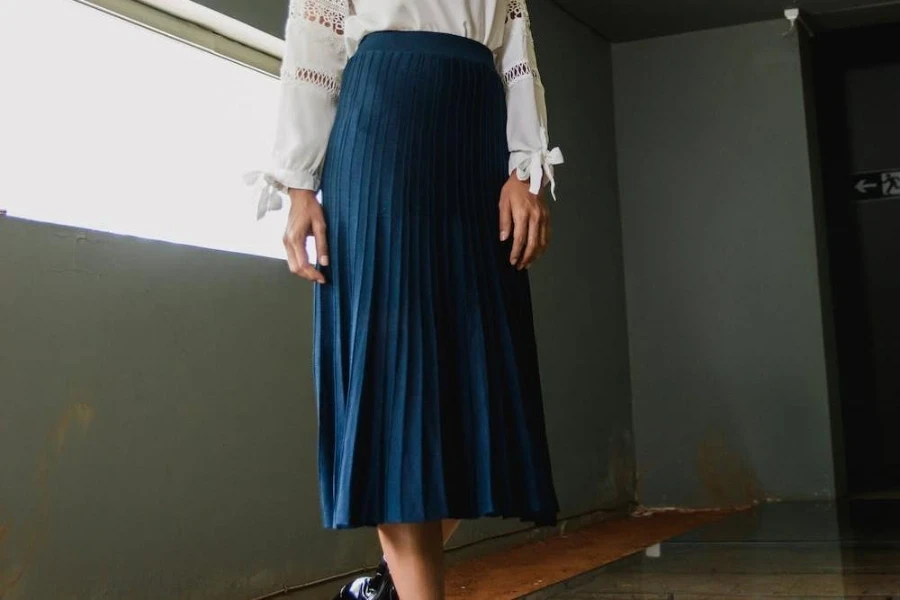 Full, voluminous skirts took the backseat for a while, but not anymore. These dramatic skirts can be key to transforming an otherwise mundane outfit into something poised and refined.
Consumers can wear them in casual settings with tucked-in graphic t-shirts and sneakers to create a cool and relaxed ensemble. In contrast, working-class shoppers should opt for tailored blouses instead to balance professionalism and style.
Customers can also rock full skirts for evening events by pairing them with sleek bodysuits or fitted tops to create a glamorous silhouette that adds confidence to the outfit.
When dealing with full skirts, sellers should offer skirts with multiple styling options so customers can easily transition from day to night. Focus on stocking skirts in various lengths, colors, and fabrics, and be bold and experiment with different prints and patterns for bold statement-making pieces.
Oversized trousers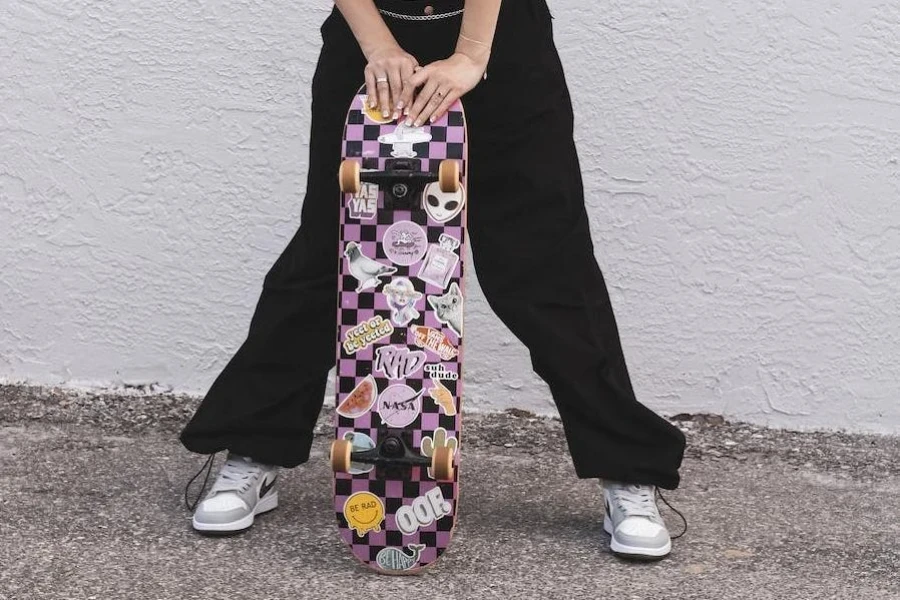 Everything from cargo and palazzos to wide-leg pants falls under these trendy pieces. Oversized trousers have been making waves since the advent of street fashion, but it's not just the casual looks that are here to stay; these voluminous pants redefine elegance by providing a mix of comfort and style, a unique avenue for self-expression.
Consumers have multiple options with oversized trousers. From tank tops and graphic tees for an everyday, chic, casual look to tailored blouses and luxury coats for formal wear. Shoppers may even embrace these pieces for more special events or evenings out. Add a sleek bodysuit or an off-shoulder top for a simple yet polished look.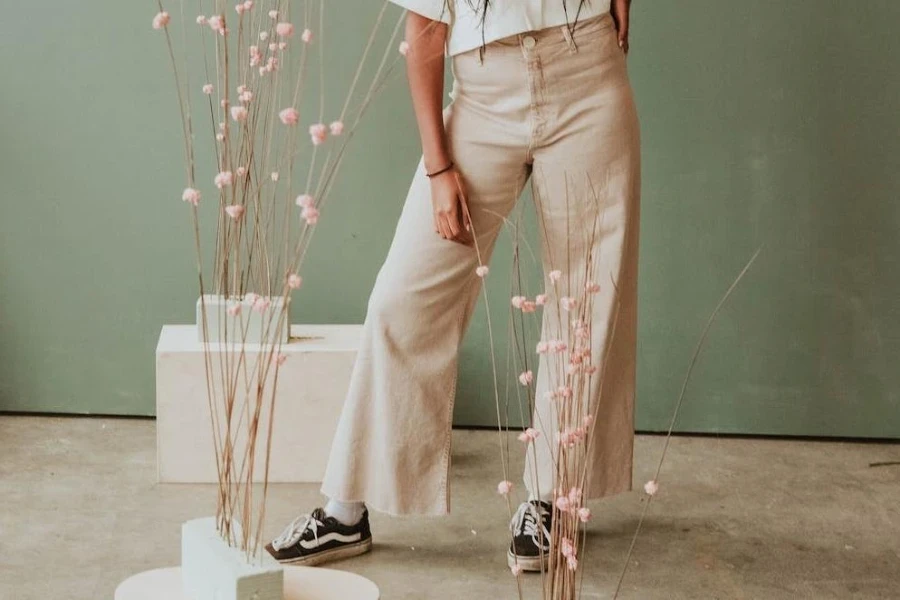 Businesses can capitalize on this lucrative trend by displaying oversized trousers in different styles, letting potential buyers envision numerous styling options that will lead them to purchase. 
Also, consider stocking various fabrics, colors, and patterns for multiple choices. Emphasis should be on neutral, timeless pieces that can mix and match with everything. However, be bold and offer an array of bold prints and vibrant colors.
Voluminous dresses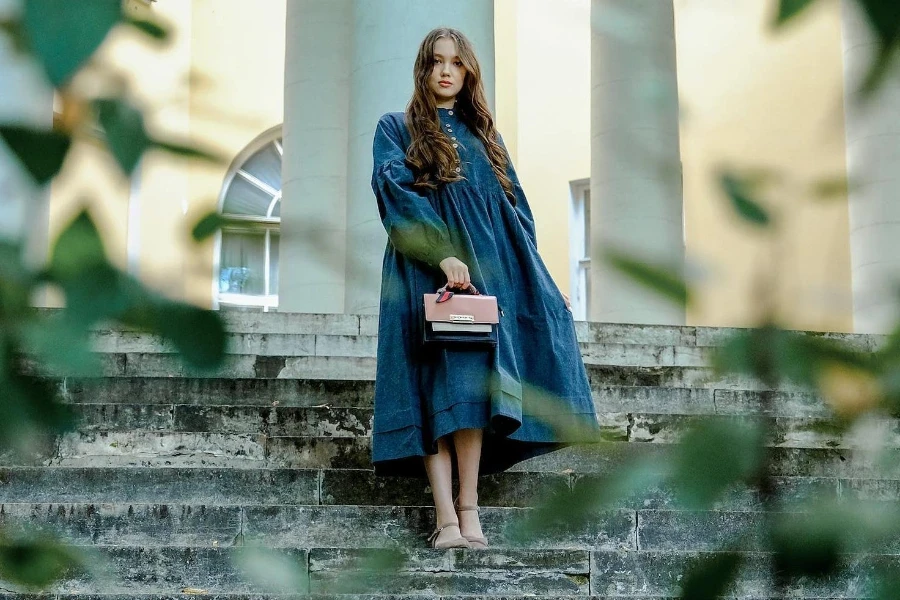 Who would have thought baggy, "shapeless" dresses would one day be trending? The fashion sphere does because these alluring dresses are in the next wave of trends that make a memorable fashion statement.
Picture a voluminous dress with chunky sneakers and a denim jacket, a casual ensemble that exudes comfort and style. Consumers can easily transition to a more refined setting by complementing the dress with a statement belt to accentuate the waist and keep their form balanced.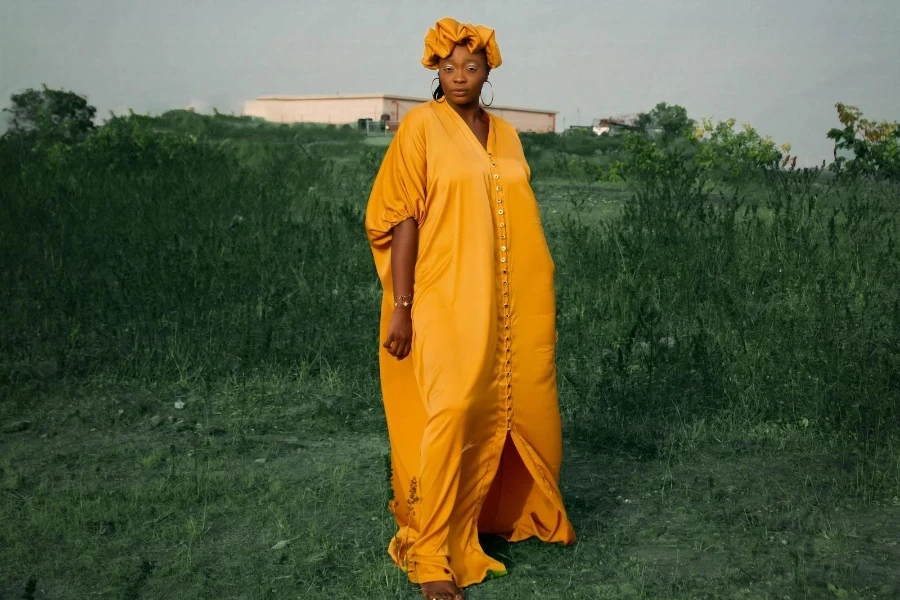 During sunset, shoppers can take their outfits to the next level by layering a tailored blazer over their dresses to add a modern twist. In all, the key is to properly accessorize for the beauty of these dresses to be seen.
Brands can leverage the beauty of these pieces by incorporating numerous styles and colors, including bold and eye-catching prints, textures, and patterns.
Oversized outerwear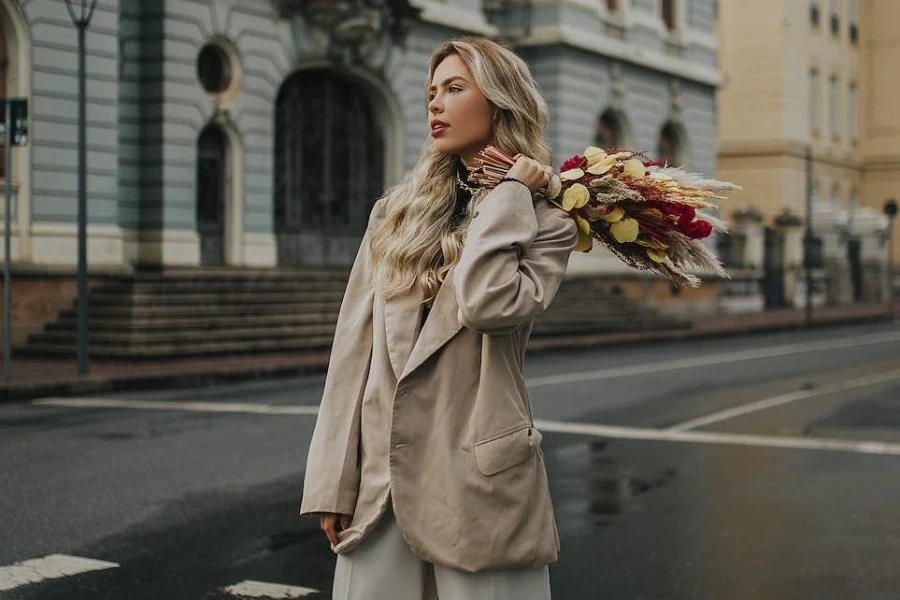 Layering can be anything from tailored vests and blazers to fur coats and warm winter jackets, but with oversized outerwear, these pieces are styled even higher. Picture the flair and laid-back vibe of oversized pieces placed on top of everyday outfits, offering a fusion of coziness and sophistication.
Consumers can alter an oversized coat over a fitted turtleneck shirt, paired with straight-cut trousers for a perfect daytime look. Or, customers can consider elevating their evening outfits by draping an oversized blazer over a slip dress for a posh and stylish look.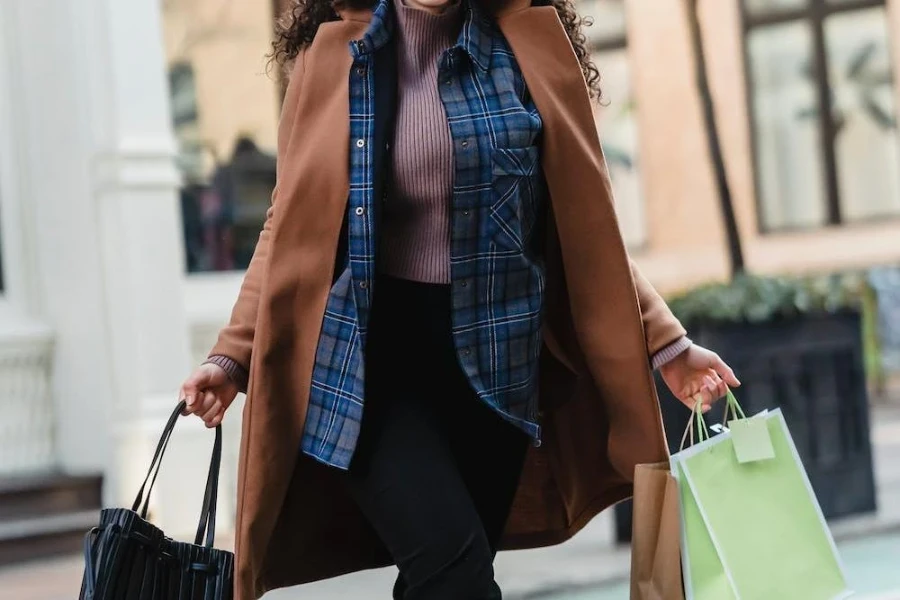 Brands hoping to thrive in the outerwear market should curate a versatile assortment, from coats and blazers to jackets and vests. Furthermore, they should do so in different fabrics and colors while guiding customers on various styling options to increase their chances of profit. 
Stock up on these trends
These unique, exaggerated-proportion outfits unlock a new dimension for styling and profit. The allure of bold silhouettes that these pieces offer presents fashion-forward customers with exciting options for art and self-expression.
Properly embracing and implementing these trends to cater to a large spectrum of consumer preferences can be the key to increasing sales and appeal in 2023/24. On top of this, stocking up on these captivating styles not only elevates profit potential but also allows brands to position themselves a converging point for both fashion and innovation.
Was this article helpful?