Scandi style beckons with its unique fusion of elevated comfort and innate elegance. It's a fashion ethos rooted in the precision of clean, tailored cuts, celebrating minimalist aesthetics, and embracing snug fits.
Within Scandinavian fashion, oversized silhouettes reign supreme, effortlessly marrying structure and ease. A palette dominated by soothing neutral tones, complemented by subtle pattern play, characterizes the Scandinavian wardrobe, replete with versatile pieces designed for effortless layering.
As the popularity of Scandinavian fashion continues to surge, with up to 3600 average monthly searches, businesses have an enticing opportunity to ride this wave to boost their profits and sales.
This article will explore captivating Scandinavian themes poised to capture consumers' attention in 2023/24.
Table of Contents
Is the Scandinavian theme still trending in 2023?
Five scandinavian clothing trends to leverage this season
Capitalize on these trends
Is the Scandinavian theme still trending in 2023?
During the early 20th century, Scandinavian fashion emerged on the international stage, drawing considerable attention. Brands such as Marimekko and Acne Studios gained prominence and were celebrated for their distinctive attributes: clean lines, striking prints, and a commitment to sustainable materials.
Today, this nordic design fashion has sustained and even expanded its popularity. This can be attributed to the region's unwavering dedication to sustainability and ethical production practices. Additionally, Scandinavian design brands have garnered acclaim for their steadfast commitment to delivering exceptional quality and craftsmanship in their products in 2023.
Scandinavian fashion has roots in the Nordic fashion market, which experts estimate to be valued at US$ 13 billion in 2022.
Five scandinavian clothing trends to leverage this season
The button-down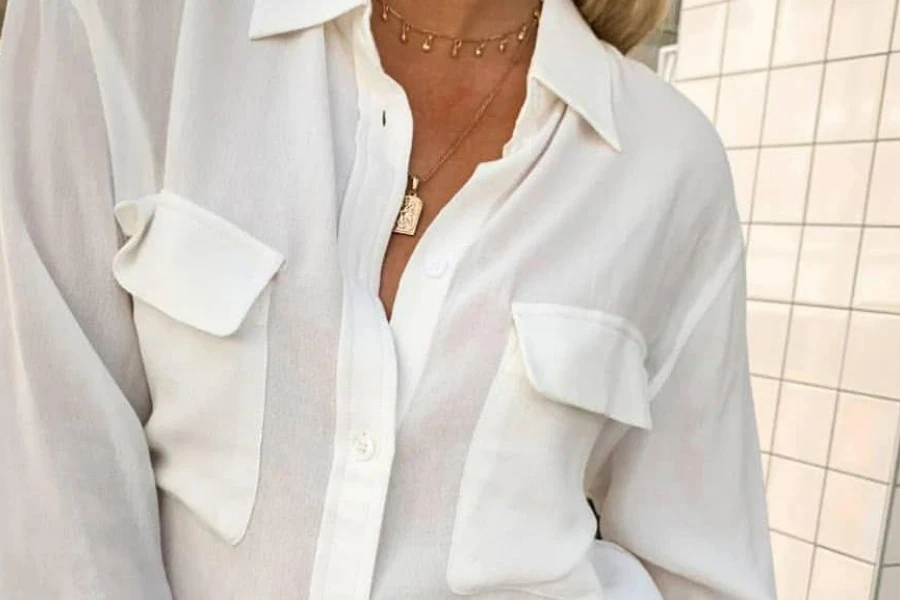 Button-down shirts have become a staple in Scandinavian fashion due to their versatility, simplicity, and timeless appeal. Scandinavian style is characterized by clean lines, neutral color palettes, and a focus on comfort and functionality, and button-down shirts fit seamlessly into this aesthetic.
An enduring favorite, the timeless white button-down shirt is fundamental to every Scandinavian closet. This versatile garment effortlessly pairs with jeans, slacks, or a skirt, offering a polished and sophisticated appearance suitable for casual and formal events.
The oversized button-down shirts represent a contemporary take on the timeless classic, delivering a comfortable and relaxed fit. They can serve as a chic dress option or be effortlessly combined with skinny jeans, resulting in a fresh and modern Scandinavian aesthetic.
Opting for striped button-down shirts with understated horizontal patterns is another well-received choice. These shirts introduce a subtle visual dimension, all while upholding the hallmark simplicity of Scandinavian style.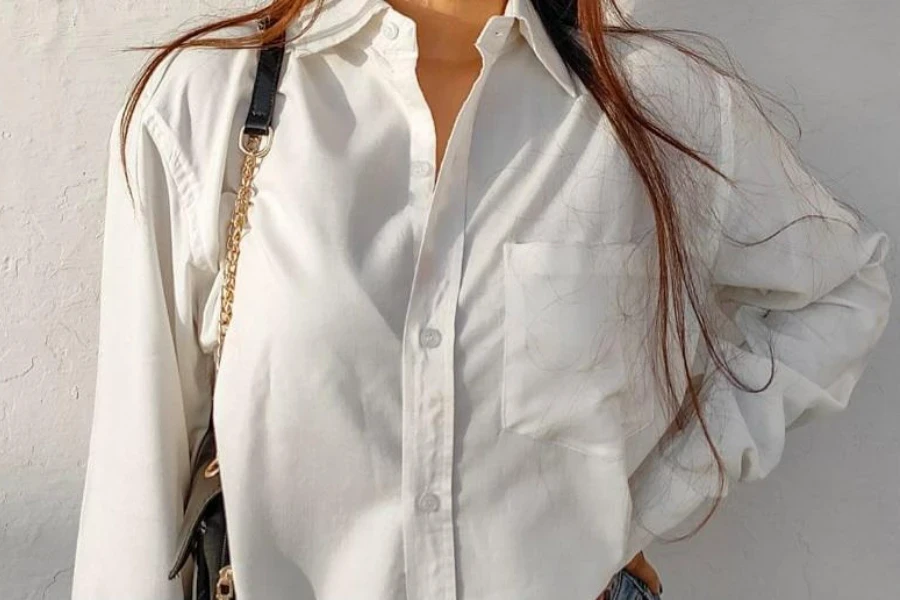 Chambray or denim button-down shirts cater to the current trend for a laid-back and rugged appearance. Men can effortlessly pair them with jeans or chinos to craft a relaxed yet stylish ensemble with an edge.
Flannel button-down shirts are a popular choice for colder months. They provide warmth and can layer snugly under sweaters or over t-shirts for a cozy, stylish look.
Statement coats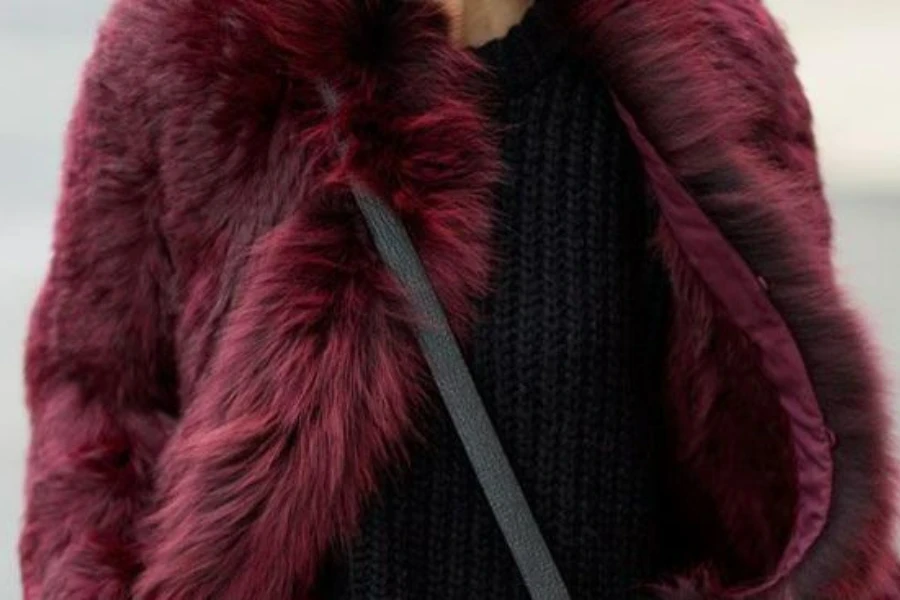 The "Statement Coat" is a popular Scandinavian clothing trend combining practicality with high-fashion aesthetics. It is a versatile and eye-catching choice for cold-weather functionality and stylish self-expression. 
This trend is particularly well-suited to the Scandinavian climate, where winters are long, dark, and chilly, making a distinctive and bold outerwear piece essential for staying warm while looking chic.
A classic variation of the statement coat is a single-breasted wool coat in a bold and vibrant color, such as bright red, mustard yellow, or royal blue. These coats often feature minimalistic design elements, letting the color speak for itself.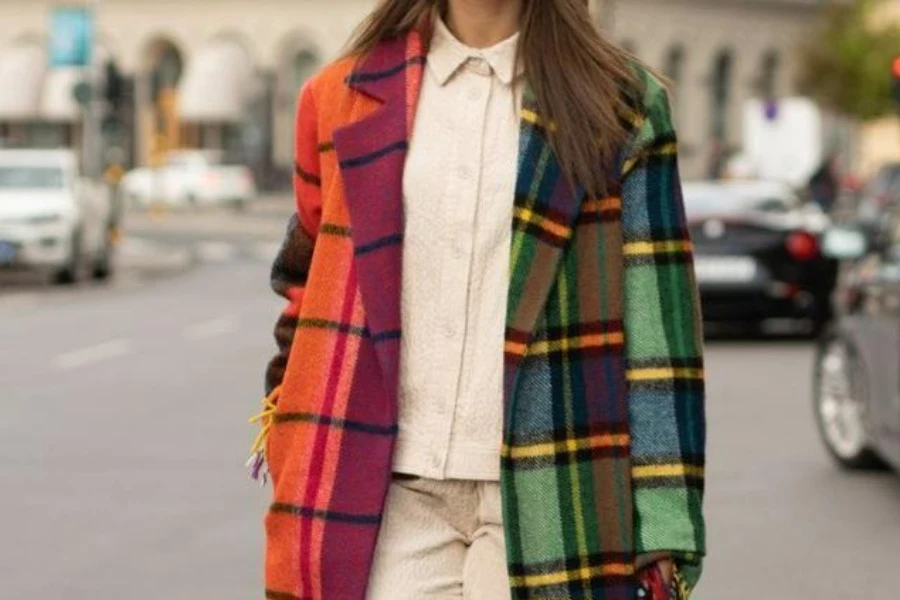 A patterned trench coat with checks, plaids, or geometric prints can be an excellent choice for a more sophisticated take on the trend. The classic trench's design, combined with striking patterns, creates a unique blend of elegance and edginess.
Faux fur statement coats offer both warmth and glamor. These coats often feature neutral tones or unconventional colors like emerald green or deep purple, making them a luxurious and bold choice for cold conditions.
The go-to denim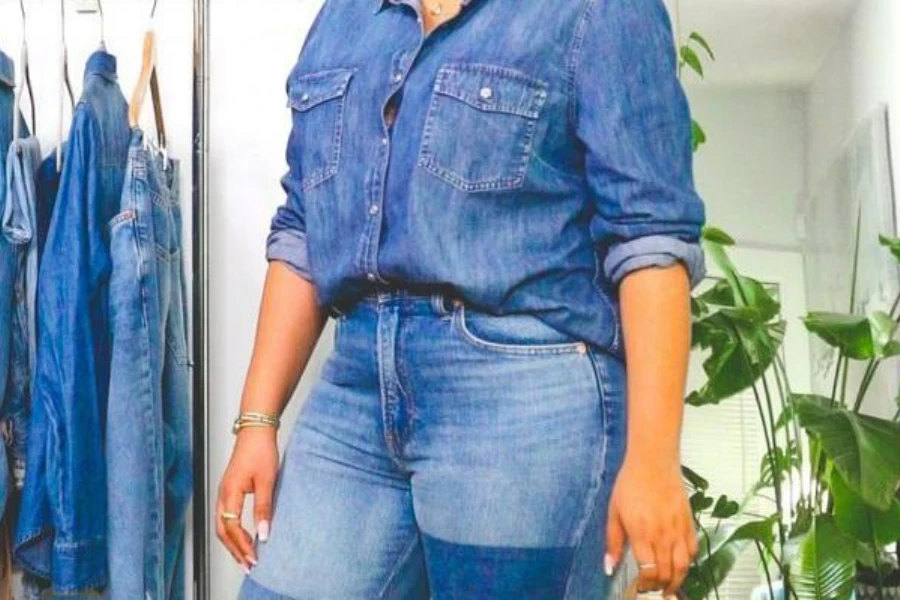 Denim has gained popularity recently under the Scandinavian theme for its blend of timeless style, practicality, and Nordic minimalism. Scandinavian denim fashion leans towards simplicity in terms of design and silhouettes.
Iconic denim jackets stand as a quintessential part of Scandinavian fashion. Versatile enough for year-round wear, consumers can layer them over sweaters or tuck them beneath overcoats to provide extra warmth during colder months.
Straight-leg or slim-fit blue jeans are also popular under this theme. They're versatile enough for fashion enthusiasts to dress up or down, and they also look dashing for various occasions ranging from casual to semi-formal.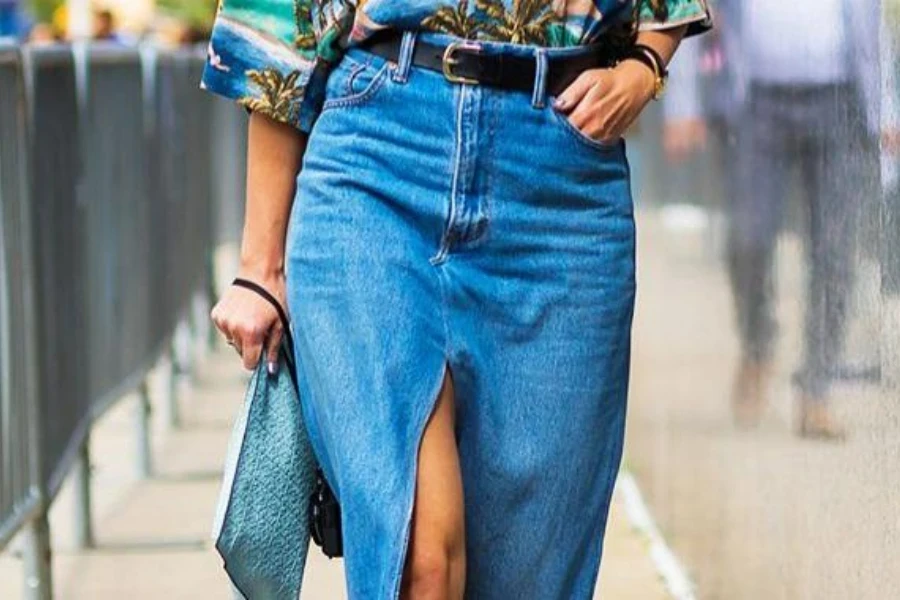 Wide-leg jeans have made a resurgence in Scandinavian fashion, providing a laid-back and comfortable alternative to skinny or slim-fit styles. These jeans exude a sense of effortless cool and can be paired with oversized sweaters and chunky boots for a chic and cozy autumn look.
Denim dresses, often available in A-line or shift silhouettes, offer a feminine reinterpretation of the trend. Perfect for casual occasions, these dresses allow women to accessorize for a more refined and formal appearance, adding a touch of versatility to their wardrobe.
In addition, denim overalls are a playful and practical choice for adults and children. They are often seen as a symbol of Scandinavian nostalgia and simplicity.
Slip dresses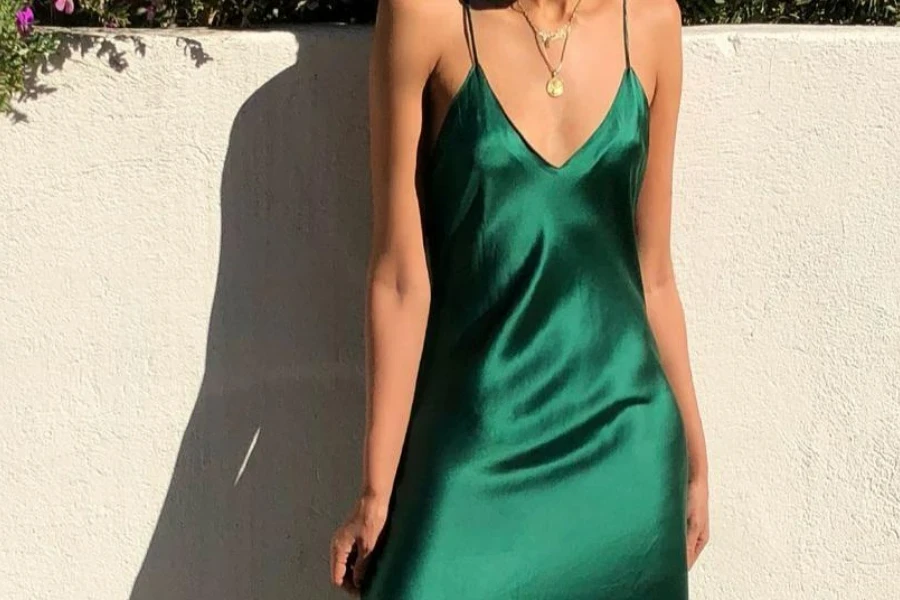 No matter what style consumers choose, a Scandinavian slip dress is a chic and timeless piece that looks stunning regardless of the occasion. Ladies seeking an effortless way to add elegance to their wardrobes can't go wrong with slip dresses.
The minimalist slip dress is the most common and trendy style. Many Scandinavian enthusiasts love them for their simple, clean lines and lack of unnecessary details. More importantly, these dresses often feature soft and flowing fabrics, like silk or satin.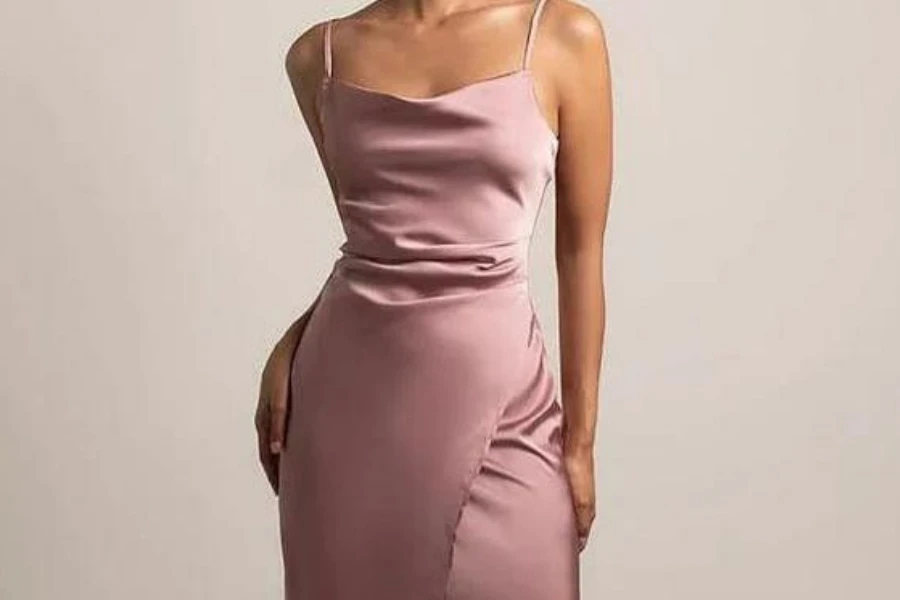 Consumers looking for something less basic can opt for textured slip dresses. Scandinavian designers often use textured fabrics to add interest to their slips, including anything from ribbed knit to tweed and lace. The texture can help create a more visually exciting dress that retains the minimalist aesthetic.
Printed slip dresses are also popular in Scandinavia. However, this trend avoids bold and attention-grabbing graphics. Instead, the prints are usually simple and geometric, like stripes or polka dots. Also, these dresses may feature more abstract or painterly patterns.
Trusty trousers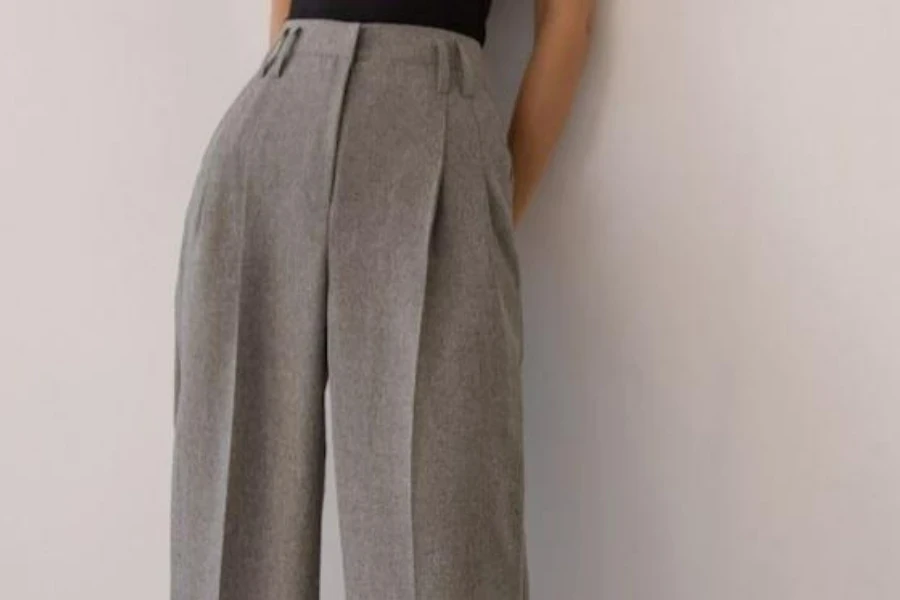 While denim is not a backup option, some consumers love revisiting classic alternatives to take a breath from the rugged blues. Thankfully, they can choose from endless trouser designs, selecting everything from leg silhouettes to fabric and colors.
Adding texture can be an unexpectedly delightful way to infuse dimension into Scandinavian outfits, and ribbed knit pants are the perfect way to do it. These pants provide a tactile element and bring a cozy sophistication to your ensemble, particularly when paired with a simple, monochrome sweater and leather ankle boots for a balanced and stylish look.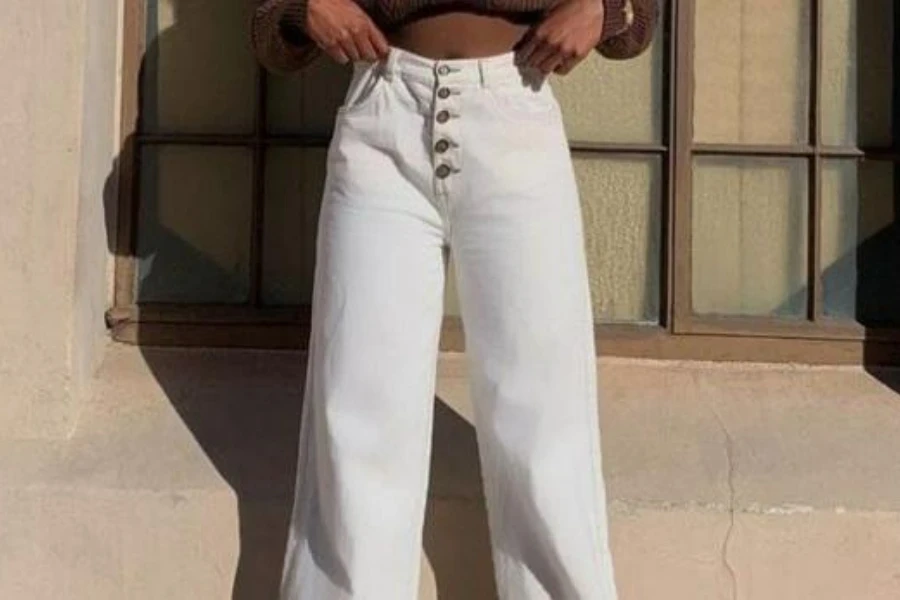 When the coldest days of winter arrive, donning a pair of vibrant patchwork pants can inject a refreshing burst of color and energy into consumers' wardrobes. These eye-catching pants can be beautifully complemented with a cozy, neutral-toned sweater, creating a striking contrast that brightens up even the grayest winter days.
While printed and colorful pants remain timeless favorites, no Scandinavian wardrobe can be complete without a pair of classic black trousers. These versatile staples can effortlessly work in various outfits. 
For a chic Scandinavian look, pair them with a crisp white button-down shirt or add a touch of sophistication with a tailored blazer. This combination ensures consumers are ready for any occasion with an understated yet elegant style.
Capitalize on these trends
In every corner of the fashion world, the timeless allure of Scandinavian style continues to leave its indelible mark, which is a testament to its enduring appeal and adaptability. The hallmarks of this Nordic theme are comfort, care, and an undeniable sense of cool.
Consumers interested in this aesthetic expect an effortless, laid-back allure that achieves classic elegance without tedium—while remaining effortlessly easy to wear.
Invest in button-down shirts, statement coats, denim, slip dresses, and classic trousers to cater to the Scandinavian theme lover's need for simple, clean, and stylish outfits. 
Was this article helpful?