Group exercises offer an excellent opportunity to stay in shape while fostering connections with different individuals. Unfortunately, the bustling atmosphere and crowdedness in the gym most times may pose drawbacks for some consumers.
As a result, they opt to create their home gym—-equipping it with smart fitness products to spice things up. These advanced workout tools can provide amazing workout experiences, with some even replicating the communal setting of regular gyms.
This article will explore the top five smart fitness products for various workout activities that gym enthusiasts will love in 2023.
Table of Contents
Is the smart fitness market gaining momentum in 2023?
What to look for before purchasing smart fitness products
Five profitable smart fitness products to leverage in 2023
The bottom line
Is the smart fitness market gaining momentum in 2023?
It seems anything "smart" is what sells these days, and fitness equipment is also seeing this trend. Experts valued the smart fitness market at US$ 16.90 billion in 2022, expecting it to reach US$ 98.75 billion by 2030.
They also predict the market will witness an impressive 25,18% compound annual growth rate (CAGR) from 2023 to 2030. The market's primary driver is the rising number of available virtual and online workouts, while smartwatches also contribute significantly to this overall growth.
North America is the largest regional market. It is expected to dominate over the projected period.
What to look for before purchasing smart fitness products
Quality and durability
Smart or not, quality and durability are important factors to consider when purchasing fitness equipment. With quality exercise equipment, consumers will perform their chosen exercises without worrying about safety and effectiveness.
In this regard, smart fitness equipment with high-quality materials (like steel or aluminum) and craftsmanship should be the top priority. To provide consumers with the highest quality products, businesses should seek out equipment with durable construction, strong frames, and dependable design.
Maintenance and ease of use
Smart fitness equipment should be easy to use and maintain, like every other machine. Prioritize smart treadmills, exercise bikes, and other equipment with user-friendly controls, clear displays, and easy-to-follow instructions so consumers can start their workout quickly without struggling with components.
Maintenance is another critical aspect that shouldn't be a hassle. For this reason, machines with quick-change or easy-to-remove parts are at the top of the list as they make maintenance much easier.
Safety features
Workout areas can be dangerous if consumers and equipment don't follow safety regulations. A slight mishap can cause serious injuries and, sometimes, loss of limbs. Thankfully, sellers can avoid such situations easily by opting for smart fitness equipment with safety features.
Consider models with safety features like weight supports and non-slip grips. Quality also plays a vital role in lowering the chances of machine failure or breakdowns during workout sessions.
Some other safety features to look for include:
Automatic stop
Emergency stop button
Safety key
Stable base.
Five profitable smart fitness products to leverage in 2023
Smart treadmills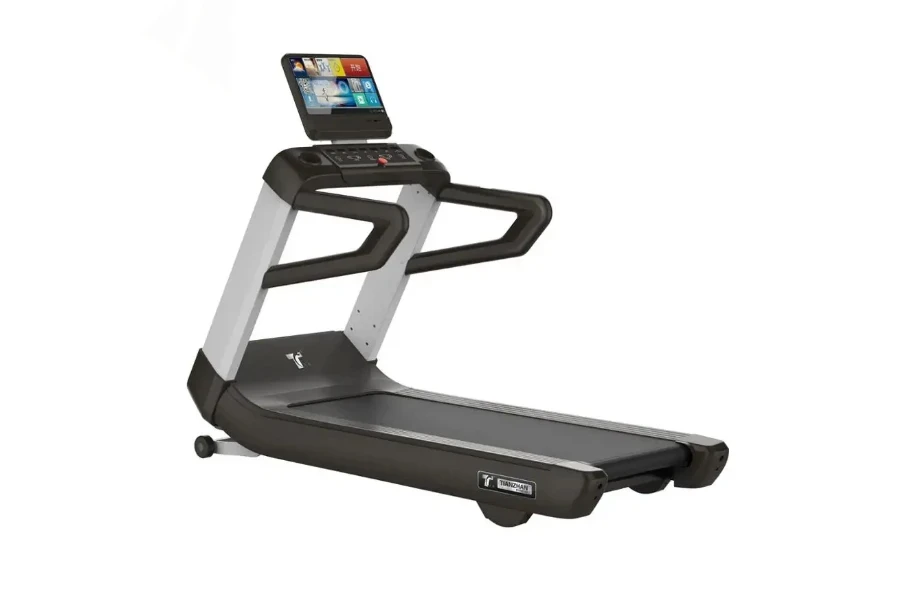 With technology seamlessly integrating into daily routines, it was only a matter of time before it rolled into the treadmill market. Treadmills have transformed remarkably from simple running surfaces to sophisticated integrated systems with advanced controls and features.
These exceptional fitness products empower consumers to tailor their exercise experience, monitor their advancements, and optimize their workout sessions.
A smart device wouldn't be complete without connectivity options for mobile devices. Smart treadmills seamlessly integrate with smartphones, enabling consumers to access user-friendly apps. 
Smart treadmills also offer pre-programmed workouts and adaptive speed controls, often equipped with large LCD screens for added convenience.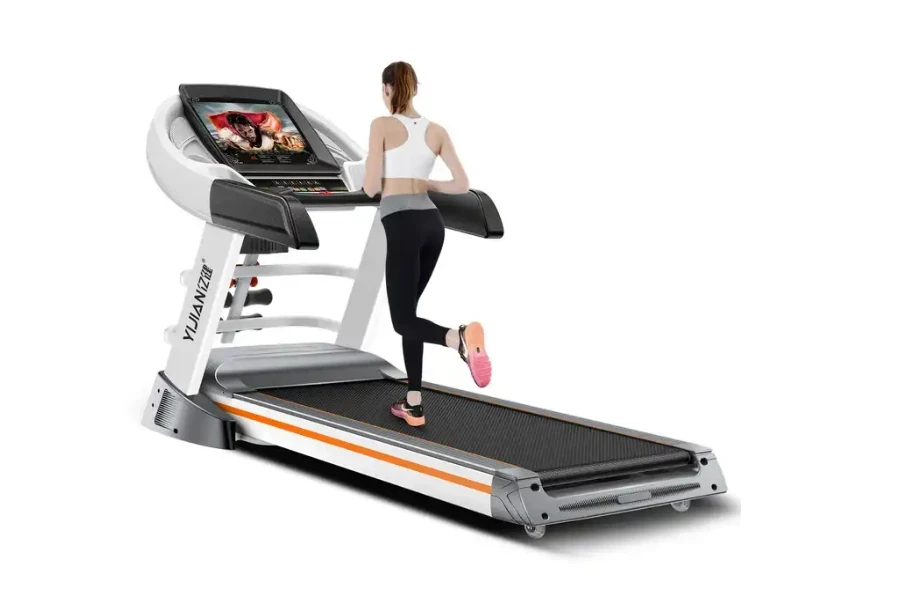 Consumers can also access pre-programmed workouts, Bluetooth capabilities, and adaptive speed controls. Plus, large LCDs are common on smart treadmills.
These displays can show workout data media playback and offer various entertainment options. But that's not all. Some treadmills have smart TVs with highly responsive touch displays, offering an enhanced user experience.
Smart treadmills may also offer different scenic routes for consumers, displaying them on the screen and immersing them in their walk or run.
According to Google Ads, branded smart treadmills get 8100 average monthly searches. However, the search volume suffered a 50% decline this year, dropping from 12100 in January to 6600 in September.
On the other hand, generic smart treadmills average 2400 searches, though it dropped to 1600 monthly in September. Although both search categories experienced drops, they still hold significant consumer interest.
Smart rowing machines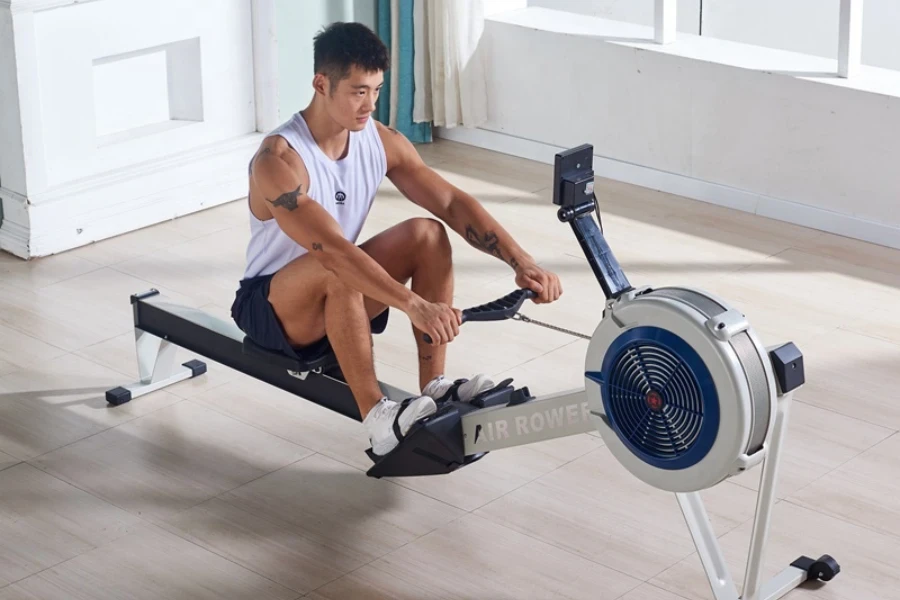 Smart rowing machines are innovative exercise devices that combine the benefits of traditional rowing machines with advanced technology, providing users with a more engaging and effective workout experience.
Manufacturers design smart rowing machines to mimic the motion of rowing a boat. They offer various resistance mechanisms, including air, magnetic, and water resistance. While air-resistance rowers use a flywheel with adjustable dampers to control resistance, magnetic variants use magnets to do the same.
In addition, water-resistance rowers use a water tank to mimic natural rowing, with resistance levels changing based on the rowing speed. Like other smart devices, smart rowers come with various connectivity features.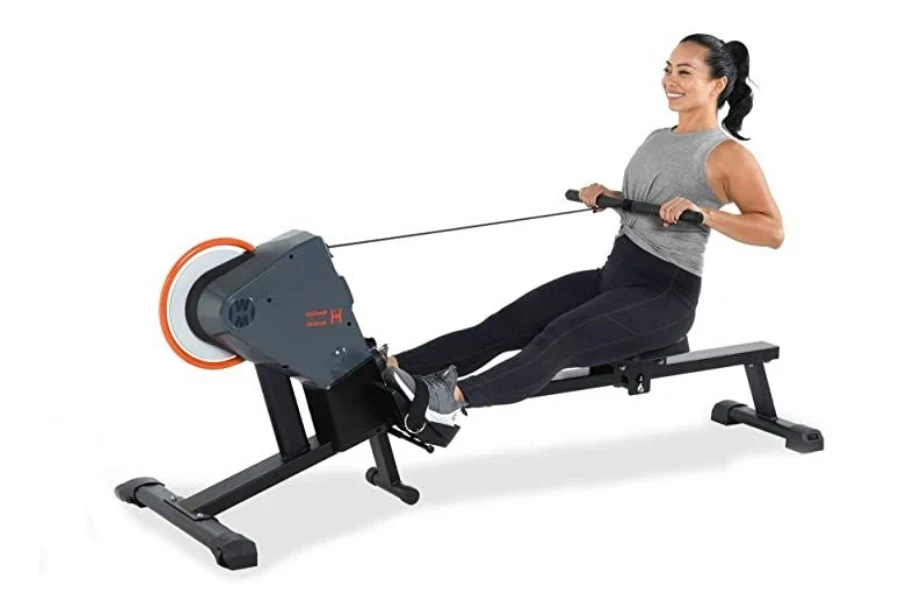 Note: Water and air rowers are popular for their natural and smooth rowing motion.
Manufacturers equip smart rowers with Bluetooth and WiFi, allowing consumers to connect them to smartphones, tablets, or smartwatches. As a result, they can access various apps and track their workouts in real time.
Additionally, smart rowing machines typically have built-in displays to show essential workout metrics. They can display time, distance, strokes per minute, calories burned, and heart rate. Some models have touch screens for easy navigation through workout programs and settings.
Smart rowing machines cater to a niche market—usually consumers with rowing experience or those interested in adding it to their workout. Nevertheless, the term "smart rowing machine" garners an average of 390 monthly searches.
In 2023, search interest only experienced a marginal 2% decline, reaching 320 searches in September.
Smart stationary bikes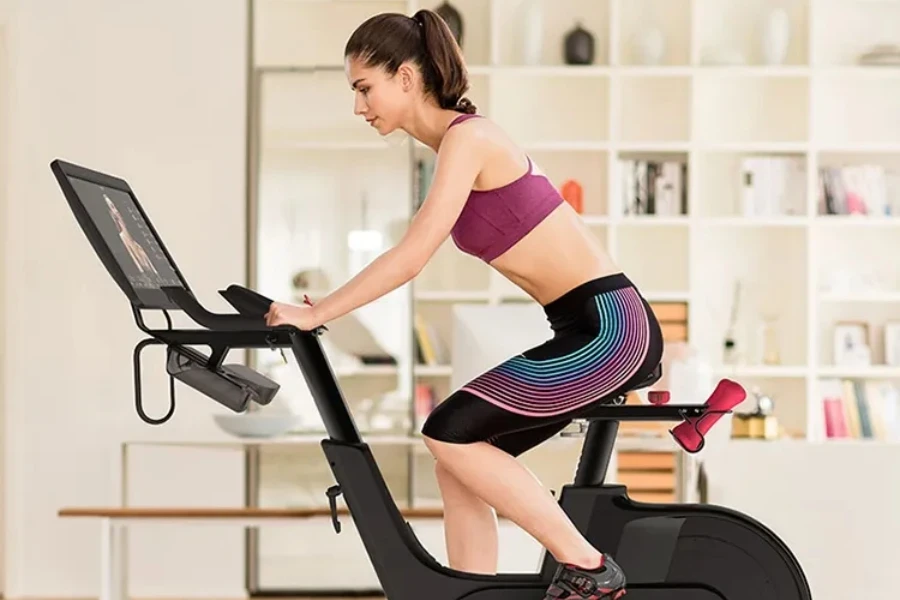 Cycling is one of the best ways to keep fit. While riding a bike is thrilling, not everyone appreciates the experience. However, consumers can enjoy the health benefits of cycling with smart stationary bikes.
These bikes simulate the riding experience, helping consumers improve cardiovascular fitness, track performance, and stay motivated without leaving their homes. Usually, smart stationary bikes use magnetic, belt-driven, or flywheel-based resistance systems to replicate outdoor cycling.
Consumers can enjoy features like automatic resistance adjustment to mimic inclines and declines, providing a more realistic riding experience. In addition to connectivity options (Bluetooth, WiFi, or ANT+), many smart bikes feature built-in touchscreens or tablet holders to display real-time workout data.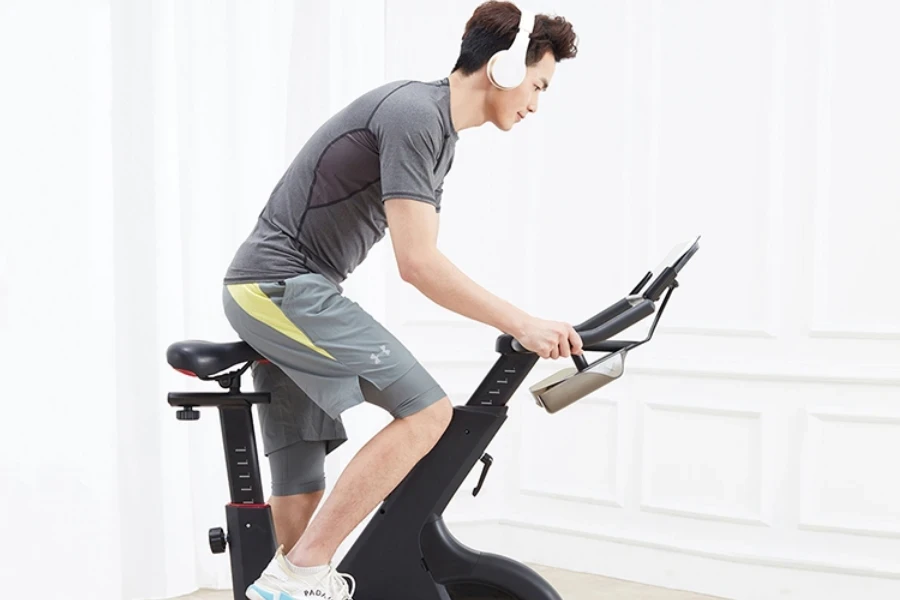 The touchscreen display also provides access to interactive training programs, including on-demand/live classes and virtual rides. Plus, smart stationary bikes often integrate with well-known fitness platforms like Peloton, iFit, Zwift, and Echelon.
Smart stationary bikes may be considered niche products, as not everyone is passionate about cycling. According to data from Google Ads, these bikes receive an average of 210 monthly searches, with search volume peaking at 320 in February and declining to 110 in September.
Smart yoga mats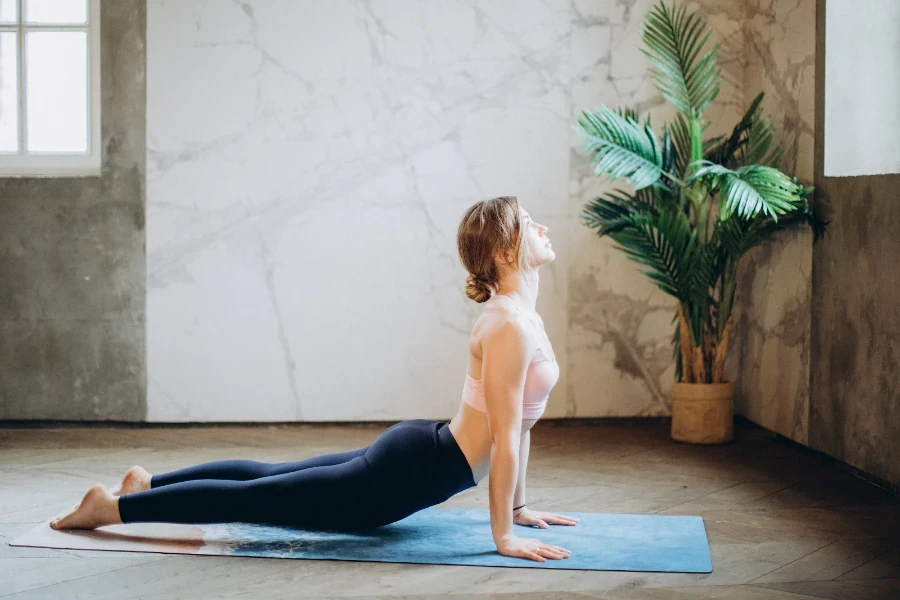 Although it may seem surprising, yoga mats have also adopted the smart trend. Their designs give users feedback, guidance, and convenience during yoga sessions, making them way better than regular variants.
Manufacturers make these mats from high-quality, non-toxic materials like natural rubber or TPE (thermoplastic elastomer), ensuring a comfortable and non-slip surface for yoga practice.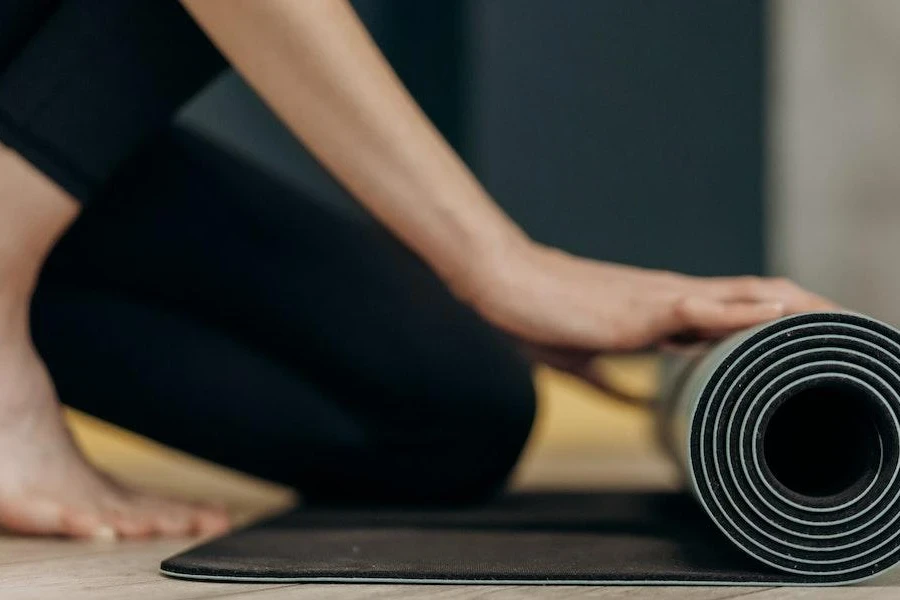 A notable feature of smart yoga mats is how they incorporate embedded sensors. What makes them particularly impressive is their ability to accurately detect the user's movements and body positioning during yoga poses.
Google Ads data reveals that smart yoga mats consistently attract an average of 480 monthly searches, with this search volume remaining steady since June 2023.
Smart weight systems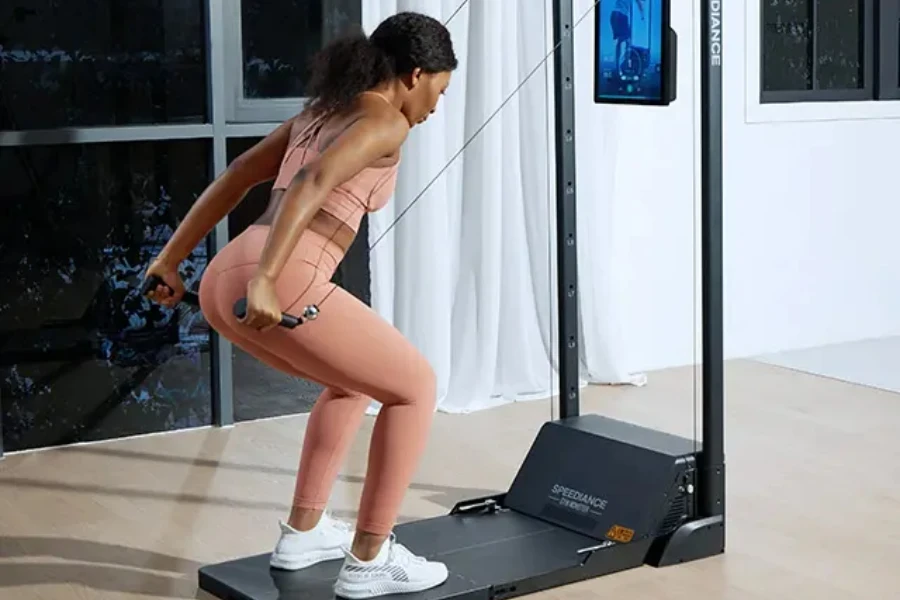 While dumbbells and barbells have their merits, smart weight systems offer a superior fitness experience. Usually, they include adjustable weight sets and resistance systems like cables or bands.
However, the standout feature here is that users can select their preferred weight level or resistance, allowing them to personalize their workouts.
Access to pre-programmed workouts and extensive exercise libraries is another appealing advantage of smart weight systems. With this feature, consumers can engage in guided workouts for specific purposes.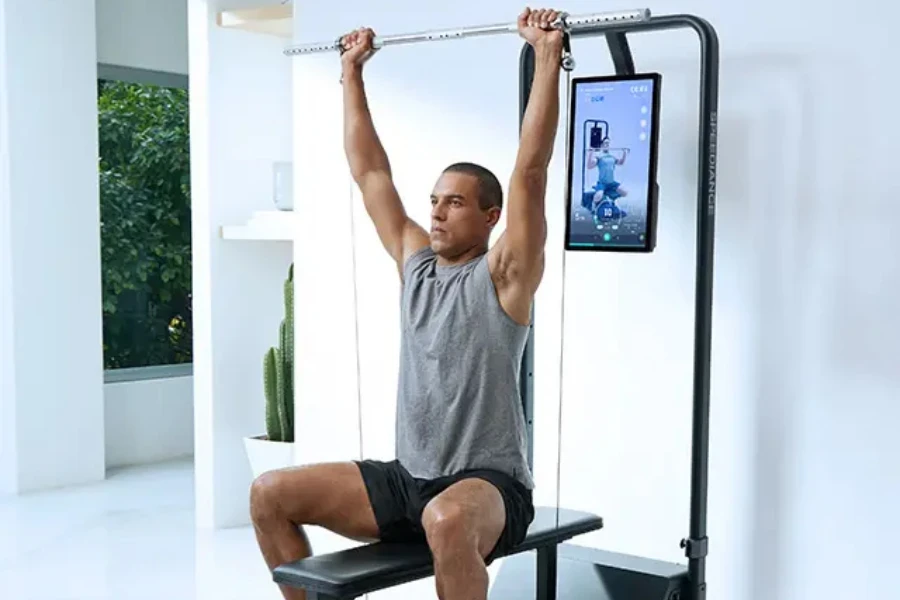 For example, they can do activities focusing on specific muscle groups, complete with step-by-step instructions and video demonstrations.
Smart weight systems are an upcoming trend. At the moment, they get only 30 average monthly searches. But, these numbers will surely boost as home gyms gradually dominate the industry.
The bottom line
The ideal workout environment isn't one filled with expensive gear or the most spacious area; it's where consumers feel the most at ease while keeping fit.
By incorporating smart exercise equipment like the ones listed above, consumers are not simply establishing a home workout space—they're crafting a personalized haven for their well-being.
Smart treadmills, rowing machines, stationary bikes, yoga mats, and weight systems are the smart fitness product trends gaining momentum in 2023.
Was this article helpful?