Ocean freight, or sea freight, can be simply described as shipping goods internationally by sea, from one country to another, or domestically from one port to another. It is a reliable and well-established method of moving goods, and is especially efficient for large and heavy weight products, and for bulk shipments. Ocean freight is cheaper than air, but the port to port transit time can vary due to sailing schedules, port operations (including loading and unloading), and the chosen shipping route.
If you are trying to decide whether ocean freight is the best method of transport for your logistics needs, then read on for a rundown of how ocean freight shipping works, and which key considerations you need to keep in mind when arranging your shipments.
Table of Contents
What is ocean freight shipping?
How does ocean freight shipping work?
The main trade lanes
Booking and container loading
Port arrival and container unloading
Booking FCL and LCL shipments on Alibaba.com
Final tips
What is ocean freight shipping?
Ocean freight is loaded onto ships either in a sealed shipping container, or if large and bulky, are loaded as is. Most shippers would either pay for a full container load (FCL), or load their goods as less than a full container load (LCL) with another customer's goods.
When shippers buy space, they are renting the full container, or space within a partially full container. The price you pay will be determined by the current market rate, the chosen route, and any additional surcharges.
The time it takes for the shipment to get from one port to another will depend first on when the ship is due to sail–and it may not sail for several days while it loads–and then on the chosen route. Transit times from port to port are fairly consistent but may vary slightly during the year or may change based on weather conditions.
In general, the cost of shipping is charged by container space. However, there are maximum weights for each container, so if your products are very heavy and dense, then you may hit a weight limit for the container before filling it with your goods.
How does ocean freight shipping work?
Since the introduction of containerization, goods are packed into the containers before they reach the vessel, and can then be loaded easily, quickly and efficiently, and stacked densely.
Common types of containers
There are typically four types and sizes of containers although there are international variations. 20ft and 40ft general purpose containers have an external width of 8ft and a height of 8ft 6in. There are also higher versions of each with a 9ft 6in height version for both the 20ft and 40ft high cube containers. These four types are referred to as 20GP, 40GP, 20HC and 40HC respectively. The internal capacity will be reduced by the width of the corrugated walls and floor.
There are three weight capacities for containers, marked on the outside of the container doors.
The tare weight is the weight of the empty container.
The payload, or net weight, is the maximum weight of the cargo that the container can hold.
The gross weight is the tare weight plus the payload weight, so this represents the maximum total weight of the container.
FCL vs LCL shipments
A full container is referred to as FCL (Full Container Load). If your shipment is small, it can be shipped as LCL (Less than Container Load), packed on its own pallet base, and loaded into a container with other parties' cargo to fill the container. Loading/unloading your pallet(s) with other clients pallets is called 'stuffing/unstuffing' and incurs a surcharge. Pallets that are not stackable may also incur a non-stackable surcharge.
LCL is usually more expensive per pallet, and less secure in stuffing, unstuffing and overland transportation. FCL containers can stay locked throughout shipping, except possibly for customs inspection, and cargo can be transported overland securely within the container.
There is a cost break between the number of pallets sent LCL versus FCL, whereby at around 5-6 pallets the cost for LCL starts to be as much or more than taking an entire (but partially filled) 20ft FCL container.
Although overall gross container weight is a factor, the main consideration for filling a container is how much cargo can be loaded into it. Your freight forwarder will advise on whether the shipment is best consolidated as LCL, or whether it will take up a complete container on its own as FCL, factoring in cost, transit time and security.
The main trade lanes
With ocean shipping there are many options to consider. Choosing an ocean carrier, departure date, and sailing schedule all affect an importer's supply chain and freight forwarding planning. There are also options for routing with cost and land transport implications. Once a preferred route is selected, you can then source a suitable vessel and departure date, book space on the ship and arrange for shipment transfer and loading.
There are a number of major shipping routes east to west, and west to east, with most routes following specific predetermined shipping lanes. This means there is little flexibility to adjust planned routes.
The top three regional trade lanes are broken down in this way:
Asia to North America, Transpacific Routes Eastbound (TPEB)
Asia to Europe, Far East Westbound (FEWB)
Intra-Asia Routes
Shipping transit times from China can take about 13-20 days to arrive on the US west coast via the Transpacific Route Eastbound, or if through the Panama Canal to the US east coast in about 30-32 days.
The traditional route from Asia to Europe via the Far East Westbound route passes through the South China Sea, the Malacca Strait, the Indian Ocean and the Suez Canal. This route from China usually takes around 35-40 days.
Booking and container loading
Shipping confirmation
Once the shipment details are finalized, the container can be booked on a suitable vessel. A freight forwarder will have access to multiple carriers and can negotiate special rates based on the importer's overall volume. Alternatively, you could book directly with a shipping line, but they will probably only book on one of their own vessels.
A more recent innovation is to book through a freight marketplace that aggregates shipping rates and offers a variety of options, such as Alibaba.com Freight, which is powered by Freightos.
Port arrival and container unloading
Port operations and trucking
Two of the main types of machinery to move containers around a storage yard and onto trucks are rubber-tire gantries and reach stackers.
Rubber-tire gantries have wheels, and are large cranes that are able to fully straddle containers. Larger gantries may run on tracks and straddle several rows of containers.
Reach-stackers have a long arm to stack containers several rows deep, or to move them onto semi-trailers and rail cars.
Avoiding detention and demurrage charges
Demurrage charges relate to the time a container is inside a terminal after arrival. Detention is a charge for extended use of the container itself, until it is returned empty to the shipping line. Demurrage and detention can result in thousands of dollars in per diem charges.
To avoid demurrage charges, move your containers out of the port once they are discharged from the vessel. You are usually allowed 3-5 free days until demurrage charges start being levied.
Detention refers to the time the container is outside the port, where the shipper holds on to the container beyond the allowed free days. Returning the empty container promptly allows importers to avoid detention charges.
Booking FCL and LCL shipments on Alibaba.com
Ocean freight rates, including FCL and LCL rates, are available on Alibaba.com and on Alibaba.com Freight for multiple routes.
Final tips
Ocean freight remains the backbone of the international goods trade market with around 80-90% of all global goods movement traveling by sea. For small items there is a choice of transport mode, but for larger goods the options are limited to long overland routes, or ocean shipping.
Transit times from port to port are likely to be several weeks depending on the route, but the lengthier travel time comes at a lower cost than by air. As a result, ocean freight will continue to be the transport mode of choice for large, heavy and bulky shipments, where transit times of a few weeks is acceptable and where cost is a key factor.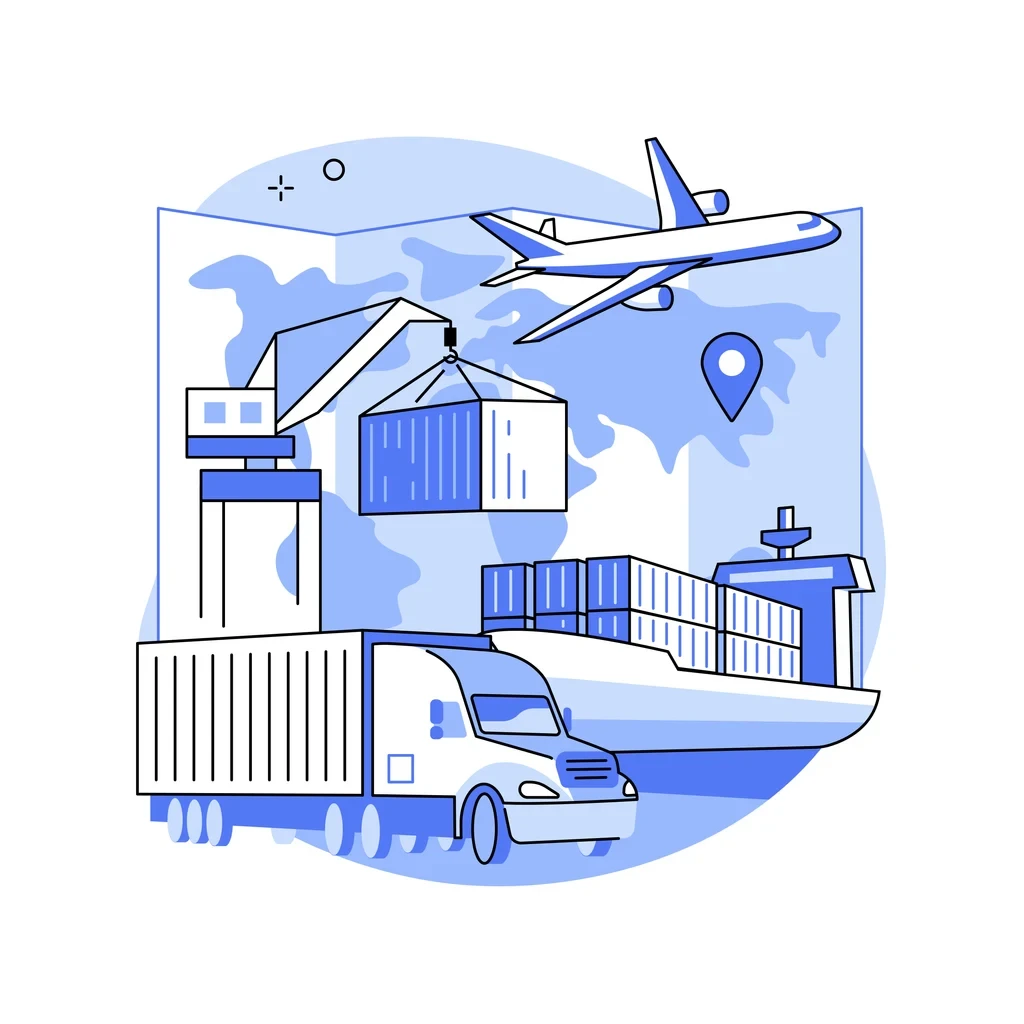 Looking for a logistics solution with competitive pricing, full visibility, and readily accessible customer support? Check out the Alibaba.com Logistics Marketplace today.
Was this article helpful?