Air freight, or air cargo, can be simply described as shipping goods internationally by air, from one country to another, or domestically across a large country. It is a fast and reliable method of moving goods, especially for smaller, high-value goods, as well as perishables and other time-sensitive items.
Air freight is more expensive than ocean freight, but comes with the advantage of airport-to-airport transit times being just a few days, as opposed to weeks at sea. As a result, it can be more cost effective to ship high-value and high-margin goods via air than ocean freight.
Deciding whether air freight is the best method of transport for one's needs means calculating the cost of your shipment and understanding the likely transit time. This article therefore aims to assist businesses to get a better understanding of air freight transportation, so that they can confidently assess whether it is the right solution for their logistics needs.
Table of Contents
What is air freight shipping?
How does air freight shipping work?
Speed versus cost
Requirements for air freight shipments
Key benefits of using air freight
Risks of using air freight
Booking air freight shipments on Alibaba.com
Final tips
What is air freight shipping?
Air freight is loaded onto dedicated cargo aircraft or in available cargo space on passenger aircrafts. Space and weight are limited to the allocated cargo area within the fuselage, as load balancing is an important part of aircraft safety. It is therefore important to know the weight of each cargo unit, and to ensure that it cannot move about during the flight.
Air carriers distinguish between actual, volumetric and chargeable weight and it's important to know the difference between them when shipping. Your carrier will look at the actual weight and the volumetric weight of your shipment, and then your chargeable weight will then be calculated.
The actual weight of your shipment is the entire shipment weight, including any packaging and pallets, which is typically expressed in kilograms (kgs).
The volumetric, or dimensional, weight (the volume of your cargo) is based on your shipment's dimensions (length, width and height in centimeters). It is also expressed in kilograms and a density ratio is applied.
For air freight, a density ratio of 1:6 is applied and the following formula is used to calculate chargeable weight:
( ( L x W x H, in centimeters ) / 6,000 ) x number of packages
When planning and packing your shipment, you can calculate your likely chargeable weight depending on the packaging used.
How does air freight shipping work?
Because of the limited cargo space and the complexity of weight calculation, airlines prefer that cargo is first loaded into specialized containers called Unit Load Devices (ULDs). The ULDs are sized for each aircraft type and shaped for their location within the aircraft fuselage. On passenger aircrafts the lower deck will be loaded with ULDs. They are weighed and balanced across the plane, and are also assigned their own cargo manifest so that the container and its contents can be tracked.
Shipping timelines
The primary advantage of air freight is its much shorter transit times compared to land or sea and each step in the process is geared for speed. Space can be booked, sometimes at short notice, and the goods are expected to move speedily from the cargo warehouse to aircraft loading zone. Planes are loaded quickly, the flight will typically take hours rather than days, and goods are offloaded quickly and presented to customs for expedited clearance. Unless the shipment is subject to unforeseen delays, it is reasonable to expect that your goods could reach their destination within 2-3 days, depending on the commodity type.
Typical commodities in air freight shipping
Because air freight costs are higher, the commodities shipped by air are likely to be high-value or time-sensitive. These can include important documents and contracts, luxury goods, pharmaceuticals, and electronic consumer goods, where the cost and/or importance of the items justify the freight costs.
Perishable goods also benefit from the fast time to market that air freight offers. Items such as flowers and plants, fresh fruits and vegetables, meats and seafood products are all examples of perishables that use air freight.
Air freight also offers competitive advantages for manufacturers who use the short transit times to get production samples or first orders to market quickly, which may be followed up later with larger orders by sea.
Emergency spare parts and just-in-time production goods are also usually shipped by air to avoid costly factory production downtime or to provide better customer responsiveness. Air express providers offer a guaranteed faster air service than air freight providers, typically focusing on smaller and higher-value items.
Speed versus cost
The benefits of a fast door-to-door transit time come with additional cost, so any manufacturer or buyer comparing the options between ocean and air freight (or even air express) will need to evaluate the varying cost benefits of each.
Benefits of speedy shipments
Some goods require speedy transit, thus any item that will lose its competitive advantage with a time delay may require a fast delivery. That can apply to perishable goods that must be fresh and in good condition. Goods that are needed by customers urgently, and for which the customer is prepared to pay a premium, will be suitable for air freight shipping. And any other goods that give the seller a competitive advantage by getting to market first will also make air freight the best choice.
Costs and product margins
Where the benefits are clear, the profit margin must still be sufficient to warrant the choice of air freight. Cost calculation must factor in every aspect of getting the products to the customer, including packing, shipping costs, and all duties and clearance charges.
If the customer is prepared to pay for the expedited service, the choice is clear. If the perishable product must be fresh and cannot be sold if it arrives late, then again the choice is clear. Where the cost is an opportunity cost, such as the competitive advantage of getting to the customer before the competitor, the calculation is one of business won or lost, and potential business growth.
Sometimes though, it is necessary to move the product quickly by air, even at a loss, where the usual choice would be sea. This might be to preserve an existing client relationship or to make good on a service failure, and in these cases the valuation is one of reputation, even at a zero profit or net loss.
Requirements for air freight shipments
There are three main requirements for an air freight shipment:
Acceptable commodity
The commodity must be an acceptable item under IATA regulations. For example, dangerous goods (HAZMAT) are highly restricted, with some not permitted on any flights, or permitted only on non-passenger flights. Perishables may require refrigeration. Live animals being shipped via air freight would require proper caging, food and care.
Packing
The goods must be prepared/packed correctly for the specific commodity type. The goods must not move about within their packing, so that they don't break, leak or shift their weight. Your freight handler will advise on the best packing to meet aircraft and goods safety requirements.
Documentation
The documents required for air freight differ to those required for ocean freight, so to avoid delay or rejection, the goods must have all of the necessary documentation. Some of the more important documents are Bill of Lading (or Air Waybill ), Certificate of Origin, and Commercial Invoice.
Key benefits of using air freight
The key benefits of using air freight are a fast transit time of the goods over long distances, in days rather than weeks, and with a high level of safety and security. Air freight is reliable and with a global network, it can access as many points in the world as there are airports. It can also be more cost-effective than ocean freight when the items are high-margin and high-value.
Risks of using air freight
In general, air freight is regarded as reliable and safe, and usually more reliable than ocean freight. Bad weather can delay flights and some cities suffer from higher than average weather risk that may bring about airport closures for several days. However, flights usually depart on schedule, or can be rerouted or rescheduled to a later flight, typically on the same day.
Most major airlines operate their main international route between their major hub cities within a country. If the freight is heading to a provincial city or town, it will be offloaded from the main wide-bodied aircraft, and loaded onto a smaller plane. Switching aircraft increases the risk of damage, mis-routing or loss. Also, where the goods are to be shipped to an infrequent destination, fewer flights means limited cargo space, which can cause delays in waiting for available space.
Booking air freight shipments on Alibaba.com
Air freight rates, including volumetric and chargeable rates, are available on Alibaba.com and on Alibaba.com Freight for multiple routes.
Final tips
Air freight is now as established and as common a means of shipping as ocean freight and is a sensible choice when transit time is the main factor. Recent increases in ocean freight prices have at least temporarily reduced the massive cost advantage that ocean freight used to have over air freight. As a result, air freight will continue to be the transport mode of choice for common perishable items and high-value goods, and can be cost competitive for high-margin products.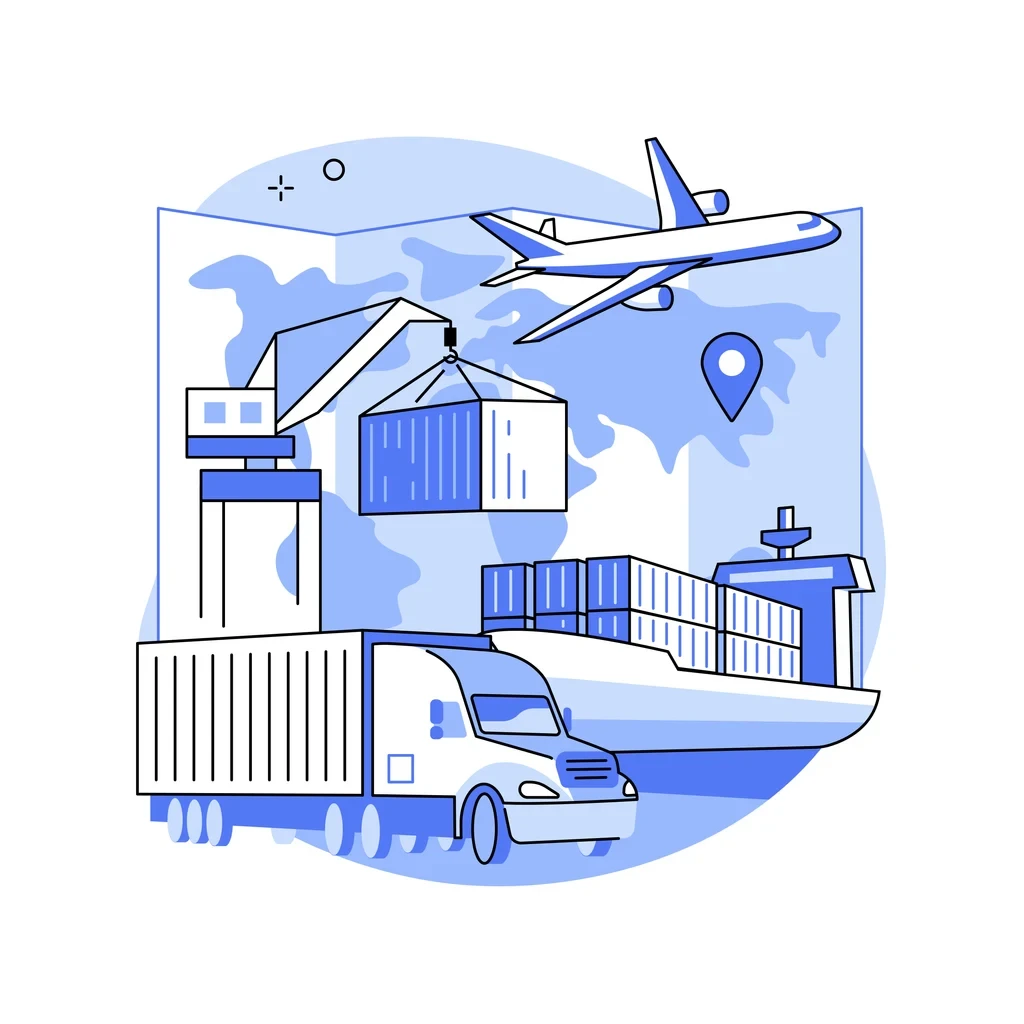 Looking for a logistics solution with competitive pricing, full visibility, and readily accessible customer support? Check out the Alibaba.com Logistics Marketplace today.
Was this article helpful?