There's a common misconception that text messages are only good for sending promotional offers and discounts.
In truth, text message marketing can be a powerful tool to remind customers of their abandoned carts and encourage them to complete their purchases.
Over the last few years, text message marketing has become rooted in ecommerce marketing strategies. However, many marketers don't use this channel to its full capacity and subsequently miss an excellent opportunity to automate text messages for cart recovery and generate more revenue.
In this article, we'll show you how to automate text messages for cart recovery and boost your revenue with this channel.
Table of Contents
What is an abandoned cart SMS?
Abandoned cart SMS template
Why send cart abandonment SMS?
Ideas to fold SMS into your abandoned cart strategy
Abandoned cart SMS examples
Wrap up
What is an abandoned cart SMS?
An abandoned cart SMS is a text message that reminds shoppers to complete their purchase after they leave items in their cart. It's a simple and effective way to recover lost sales.
An SMS is short and direct, so it only needs a few essential elements: a catchy headline, a clear call to action, and a sense of urgency. You don't need any visuals or design skills to create and send one in minutes.
However, you need the shopper's consent and phone number before sending cart abandonment messages. Different SMS providers may have different ways of tracking this data, so check with yours before starting an automated cart abandonment SMS campaign.
Abandoned cart SMS template
When crafting a successful cart abandonment SMS, certain key elements play a pivotal role. These elements capture your customers' attention and drive them back to complete their purchase.
Here's a blueprint of essential components that ensure your SMS stands out:
Brand name. Don't be an anonymous sender. Put your brand name at the front or indicated in the copy to get instant brand recognition.
Shopper's name. By including your customer's name, you will make your message more personal.
Brief yet compelling copy. Typically, a single SMS shouldn't exceed 160 characters, so short and sweet copy is exactly what you need. Emotional triggers like a sense of urgency or scarcity can help your text message to convert.
Discount code. Offering discount codes depends on your strategy. However, if you are willing to offer one, don't forget to include it in your message.
CTA. Every promotional message should have a clear call-to-action, no matter how short it is.
URL. Always add a link to your store that leads directly to the abandoned cart.
Opt-Out. Always add an unsubscribe option to your SMS. It is a must-have element in every promotional message.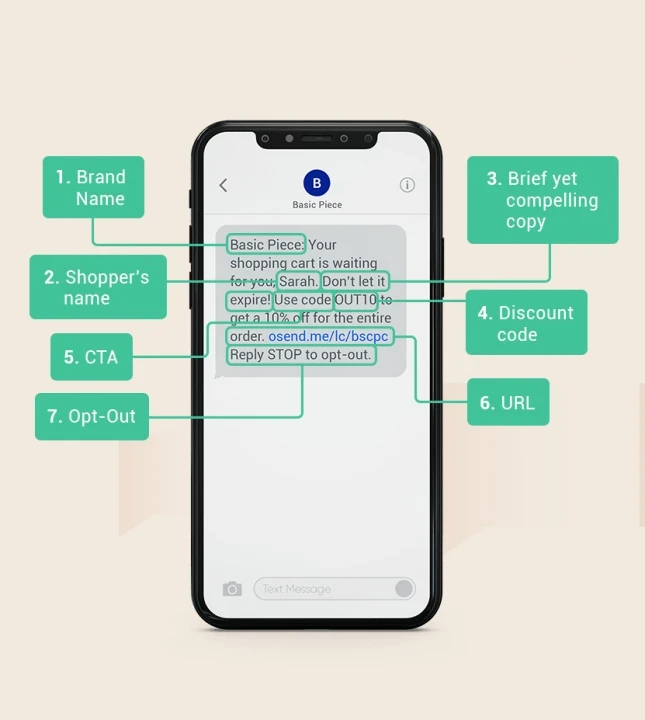 Why send cart abandonment SMS?
Without a doubt, an SMS abandoned cart message reminder is a tool to consider adding to your marketing toolbox. And here is why:
SMS has very high reach as a marketing channel. More and more people are opting into SMS, with 75% of customers saying they wouldn't mind receiving an SMS from a brand.
SMS marketing is more affordable than Facebook or Google retargeting. In the US, text messages cost around $0.20 per SMS (plans without unlimited texts). But the average cost for remarketing on Google is $0.66 to $1.23 per click.
SMS is quick to consume and gets more engagement than an email: 97% of text messages are read in the first four minutes of receipt, and retailers see a 400% lift in click rates from SMS compared to email.
It's easy to be personal with SMS. This channel is perfect for personalized, time-sensitive messages—like cart abandonment reminders. Dynamic fields allow customer names and offer insertion to entice purchase completion.
Although it might be a bit too early to build an entire marketing strategy solely on SMS, it's a perfect addition to already existing email marketing, social media, and other digital marketing channels.
According to Omnisend research, the purchase rate of campaigns using three or more channels is 287% higher than single-channel campaigns. Additionally, omnichannel campaigns that involve SMS are 47.7% more likely to end in conversion.
Ideas to fold SMS into your abandoned cart strategy
Here are some ideas for incorporating SMS into your abandoned cart strategy (they'll open up opportunities to re-engage potential customers and boost conversions):
Send a friendly reminder
Spice up the reminder with an exclusive coupon code
Ask if your shoppers have any questions
Use your brand tone
Add multimedia
Combine abandoned cart SMS and emails
1. Send a friendly reminder
As mentioned earlier, ideally SMS should go hand-in-hand with an email to achieve the maximum result. So you can send a friendly reminder of an abandoned cart via email, and the next day send a text message as the last reminder before the cart expires. It would be a time-sensitive notification—a perfect fit for the SMS channel.
Here's how this workflow would look.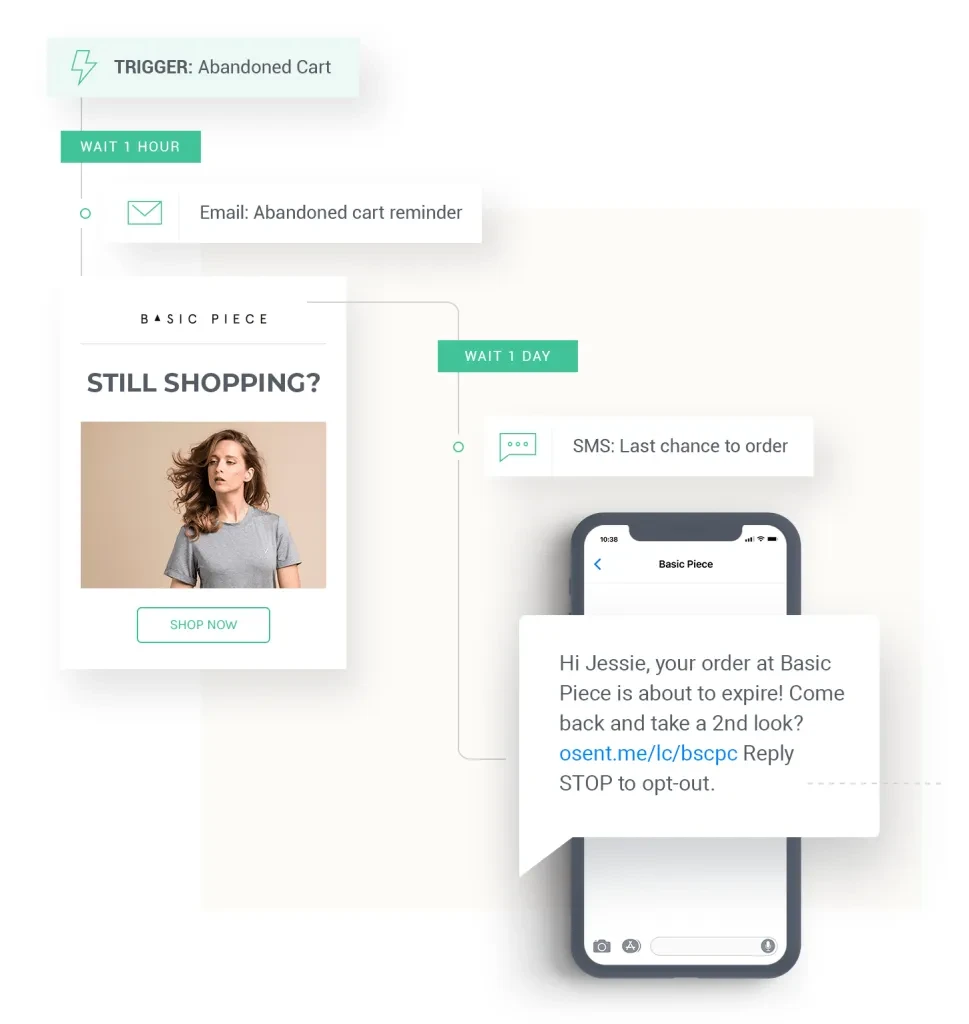 2. Spice up the reminder with an exclusive coupon code
Using a discount code can be a powerful way to provide your shoppers with yet another reason to purchase the products they were already thinking of.
However, you may not want to spoil your shoppers and offer discounts for all abandoned carts—maybe only for those over $150?
In this case, you can simply split your cart abandonment workflow depending on the value. The blueprint of such a workflow would look like this: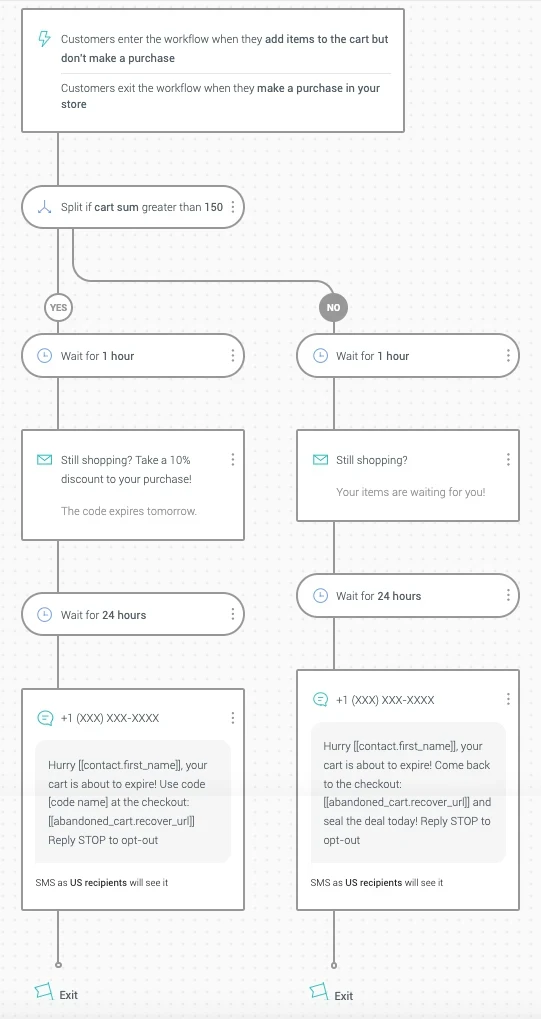 3. Ask if your shoppers have any questions
If you sell exclusive products, offering some help might turn out very well.
Let's say you sell jewelry. Your accessories under $300 sell out fast, but luxurious ones with gems are abandoned more often. For you, this might be fine, as you know it takes customers longer to decide on purchasing more expensive jewelry.
At this point, your cart abandonment strategy might again be split based on the cart value. For the less expensive carts, you can send messages only to remind the shoppers about the items in their cart. For the higher value carts, your messages may offer some sort of assistance (or even a discount). For these customers, you may also consider retargeting them on Facebook.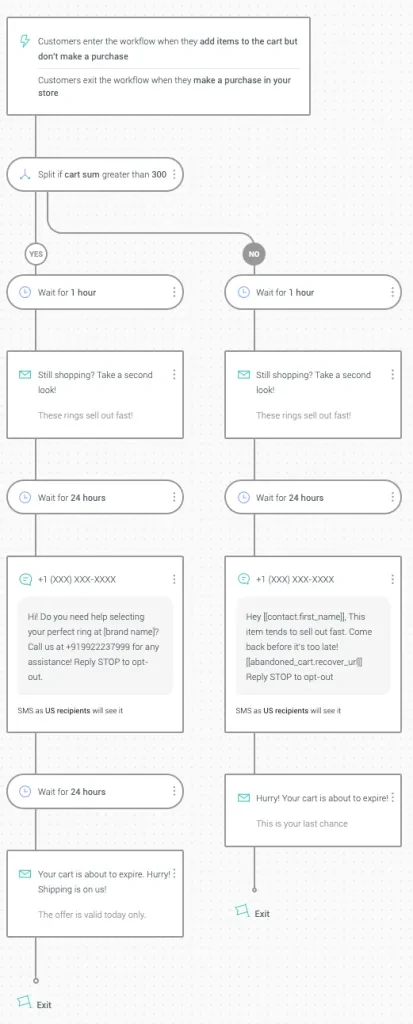 Here's another example, for the same jewelry seller. By knowing your customer abandoned an engagement ring, you can trigger a specific set of messages to customers leaving an engagement ring versus those who abandoned a pair of earrings.
You may also choose not to send SMS reminders to those engagement ring shoppers so as not to potentially spoil the surprise. On the other hand, SMS reminders for the earring shoppers may be the perfect tool to recover the sale. This personalized journey matters.
Here are a few more ideas to try too:
Shuffle the timing between messages.
Variy the number of messages and the sequence of SMS and emails.
Use a different tone of voice.
Use different messaging to loyal customers and newcomers.
Provide discount codes only in SMS and tell about it in your signup forms, etc.
This screenshot demonstrates one way of encouraging SMS subscriptions in your signup forms: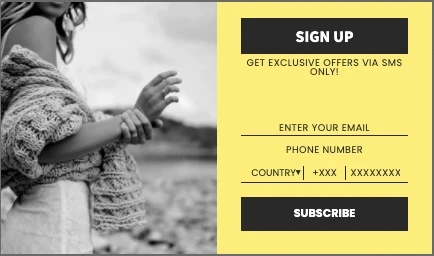 4. Use your brand tone
When adding SMS into your abandoned cart strategy, make sure you incorporate your brand's unique tone into the messages. Creative writing styles that align with your brand personality can captivate recipients and make your texts stand out. You may want to:
Be conversational
Inject a touch of humor
Create urgency
Emphasize brand values
Personalize content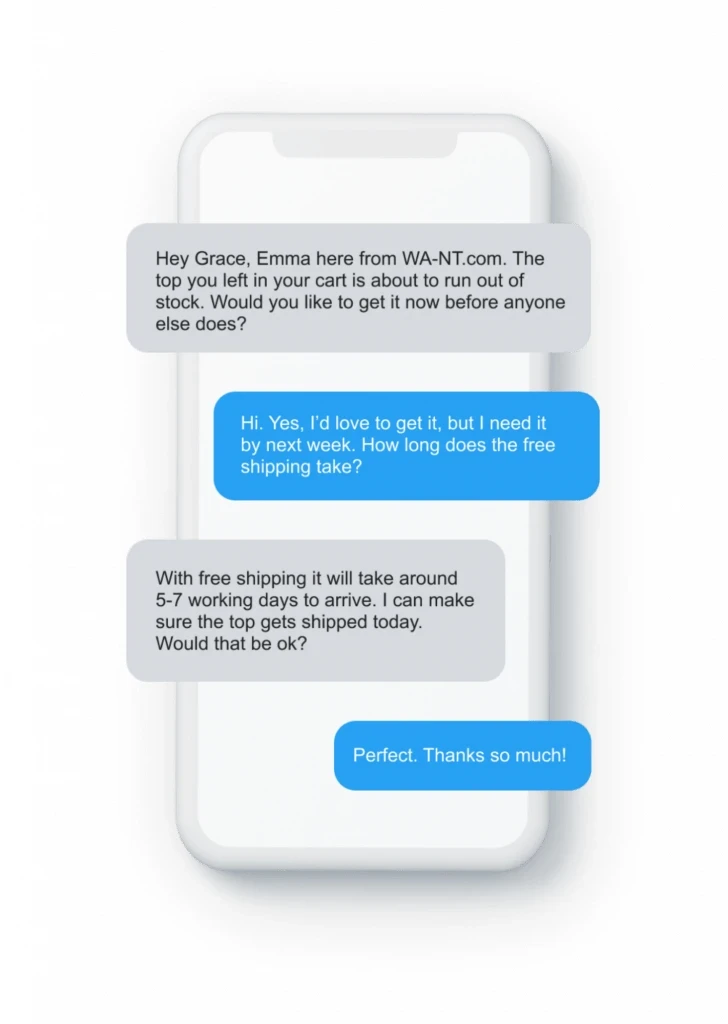 Remember, your brand tone sets you apart from competitors. It also establishes a memorable identity in your customers' minds.
By leveraging creative writing styles in your SMS, you can entice recipients to return to their abandoned carts and complete their purchases.
5. Add multimedia
Elevate your SMS game by incorporating multimedia elements like images or GIFs into your abandoned cart strategy.
Visual content can effectively showcase abandoned products, reminding customers of what they left behind and reigniting their interest. Consider sending image-rich SMS showcasing the abandoned products, complete with enticing visuals and a clear CTA.
With multimedia, you can creatively display products, share enticing offers, and convey your brand's personality more effectively.
Visual content not only captures attention but also enhances the overall shopping experience. Ensure the multimedia is mobile-friendly and doesn't compromise the message's clarity.
6. Combine abandoned cart SMS and emails
Maximize cart recovery efforts by integrating the power of SMS and emails in your strategy.
Send an initial cart abandonment email, followed by a well-timed SMS reminder. Combining both channels increases the chances of reaching customers promptly and effectively. Here are some tactics to optimize this approach:
Synchronize timing: Ensure SMS and email messages complement each other. Space them strategically to avoid overwhelming customers while maintaining engagement.
Personalization: Leverage customer data to create personalized messages across both channels. Address customers by name and recommend specific items left in their carts.
Exclusive Offers: Use SMS to deliver limited-time discounts or unique offers, enticing customers to return and complete their purchases.
Abandonment Sequence: Set up a follow-up SMS and emails to remind customers about their cart and gradually intensify the call-to-action.
Harness the combined strength of SMS and emails to improve cart recovery rates and drive more sales.
Abandoned cart SMS examples
These are a few abandoned cart text message examples:
Discount code
This cart SMS contains a discount code to motivate the recipient to finish the purchase:
[Brand name]: Your shopping cart is waiting for you, [customer's name]. Don't let it expire! Use code [code name] to get 10% off for the entire order. [link to the abandoned cart] Reply STOP to opt-out.
Limited-time offer
Urgency is created by offering a time-sensitive deal in this SMS:
[Brand name]: Hi [subscriber name], your cart is about to expire. Enjoy 15% off for the next 2 hours only! Hurry and complete your purchase now: [Link to cart] Reply STOP to opt out.
Free shipping incentive
This cart recovery SMS highlights free shipping as an added benefit:
[Subscriber name], we've got a little surprise for you—complimentary shipping for your cart! Complete your purchase and enjoy this exclusive benefit: [Link to cart] Reply STOP to opt out.
Product recommendation
This SMS cart recovery message suggests alternative products to pique the customer's interest:
[Subscriber name], here's something we think you'll adore! Complement your cart with our top picks and get 15% off. Discover now: [Link to recommended products] Reply STOP to opt out.
Limited stock alert
This abandoned cart text message creates urgency by notifying the customer of limited stock availability:
Quick, [Subscriber name]! The item in your cart is nearly sold out. Secure it now before it's gone forever: [Link to cart] Reply STOP to opt-out.
Flash sale announcement
This SMS informs customers about an ongoing flash sale:
[Brand name]: [Subscriber name], you're in luck! An exclusive flash sale is live now. Enjoy 25% off your cart purchase. Don't wait, shop before it's gone: [Link to cart] Reply STOP to opt-out.
Customer testimonial
This abandoned cart text message includes a customer testimonial to build trust and encourage the purchase:
Hi [Subscriber name], our customers rave about their purchases! Join them in experiencing greatness. Complete your cart and enjoy 10% off: [Link to cart] Reply STOP to opt out.
Personal milestone incentive
This SMS celebrates a customer milestone with a special offer:
Congrats, [Subscriber name]! You've unlocked VIP status. Treat yourself to 20% off your cart as a token of our appreciation: [Link to cart] Reply STOP to opt out.
Abandoned cart follow-up
This cart recovery SMS follows up on an abandoned cart without any incentives:
Hi [Subscriber name], just a friendly reminder about your cart. Finish your purchase to complete your look! [Link to cart] Reply STOP to opt out.
Personalized reminder
This SMS cart recovery message includes specific cart details for a personalized touch:
Hi [Subscriber name], we saved your cart with [item name]. Ready to buy now? Enjoy 10% off with code OLIVIA10. [Link to cart] Reply STOP to opt out.
Wrap up
As you can see, when it comes to ideas about what to test in your abandoned cart strategy, the sky is the limit. The most important thing is not to limit yourself by sending a single, one-type-fits-all email reminder. Instead, employ more channels and use customer data to personalize your messages and win back those abandoned carts.
SMS is a powerful addition to your digital marketing strategy and can lead you toward a bigger and more sophisticated digital marketing strategy. If your customers have opted into the SMS program, it's a sign that is a channel they want to be communicated with.
Don't be scared to try it! 
Source from Omnisend
Disclaimer: The information set forth above is provided by Omnisend independently of Alibaba.com. Alibaba.com makes no representation and warranties as to the quality and reliability of the seller and products.
Was this article helpful?