Car diffusers offer aromatic fragrances and help to improve a car's environment.
Find out everything you need to know about car diffusers, including their different types, features, and what to consider before sourcing them.
Table of Contents
An overview of the car diffuser industry
The types of car diffusers consumers frequently buy
How to choose the right car diffusers for consumers
Conclusion
An overview of the car diffuser industry
The car diffuser market is growing at an expected CAGR of 8.5% over the forecast period of 2018-2028. Currently, the Asia-Pacific region is providing the best opportunities for manufacturers when it comes to selling car diffusers. This shouldn't come as a surprise considering the region's growing automobile production capabilites, as well as a booming middle class that is looking for products that reflect their pursuit of a more luxurious lifestyle.
Furthermore, the popularity of car diffusers is expected to grow due to a rise in e-commerce sales and imports, allowing consumers to find their preferred car diffusers via online stores.
The most common reasons for consumers wanting car diffusers are:
Promoting alertness during driving
Providing mental clarity when inside a car
Removing foul odors from the car
Preventing germ accumulation inside the car
Providing a general, pleasant scent or fragrance
The types of car diffusers consumers frequently buy
Below are three types of diffusers that consumers regularly purchase:
Plug-in diffusers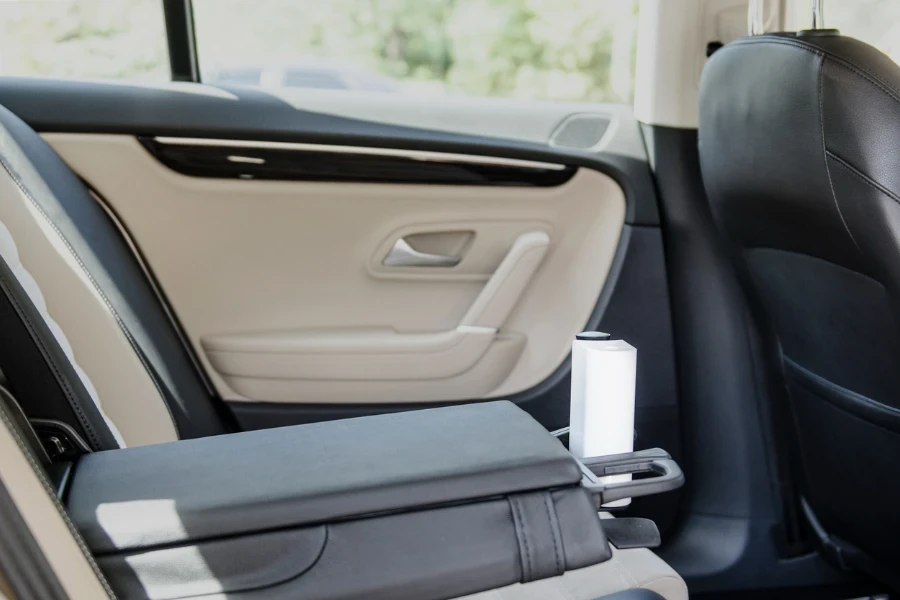 These are the most commonly used type of car diffusers and are favored by consumers for their adaptability, being easily plugged into a car's USB charging socket. This design ranks it as a popular figure, with most of them coming with LED lights for added aesthetic appeal. Moreover, plug-in car diffusers can release mists at various speeds, thus, increasing the intensity of the fragrance inside the car.
Pros
Portable, allowing consumers to carry them and plug into any USB port
Adjustable scent diffusion
Easy-to-alter scents and speeds for a stronger fragrance
Cons
Requires a USB port to work
Intermittent configuration doesn't last long during long drives
LED lights can be a distraction when driving
Rechargeable diffusers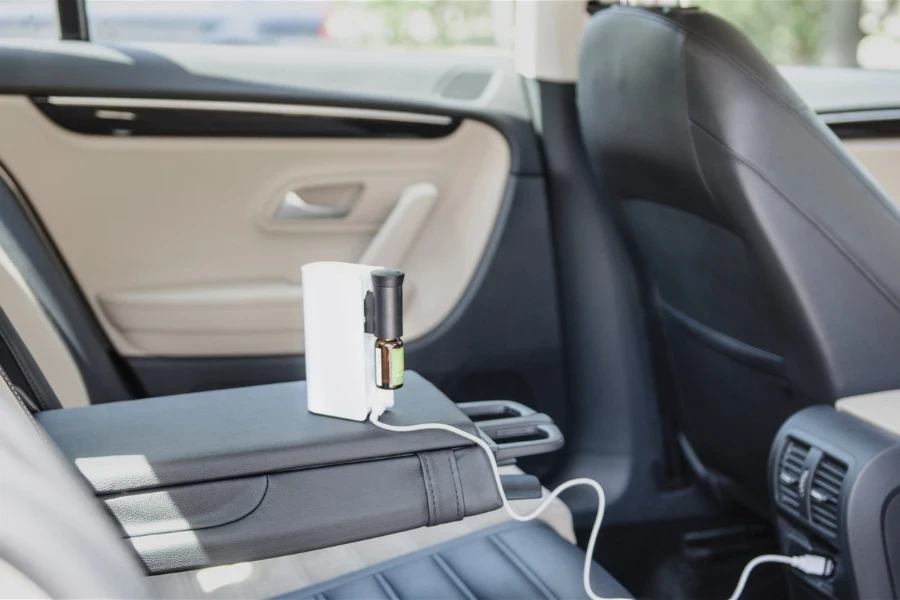 Rechargeable diffusers are similar to plug-in diffusers, except they can be powered via rechargeable batteries. Therefore, they don't need to be plugged in for it to work, allowing them to be placed anywhere inside the car.
Pros
Can operate without a USB port
Most come with an auto shut-off mechanism to conserve energy
Quiet operation
Cons
Vent clip diffusers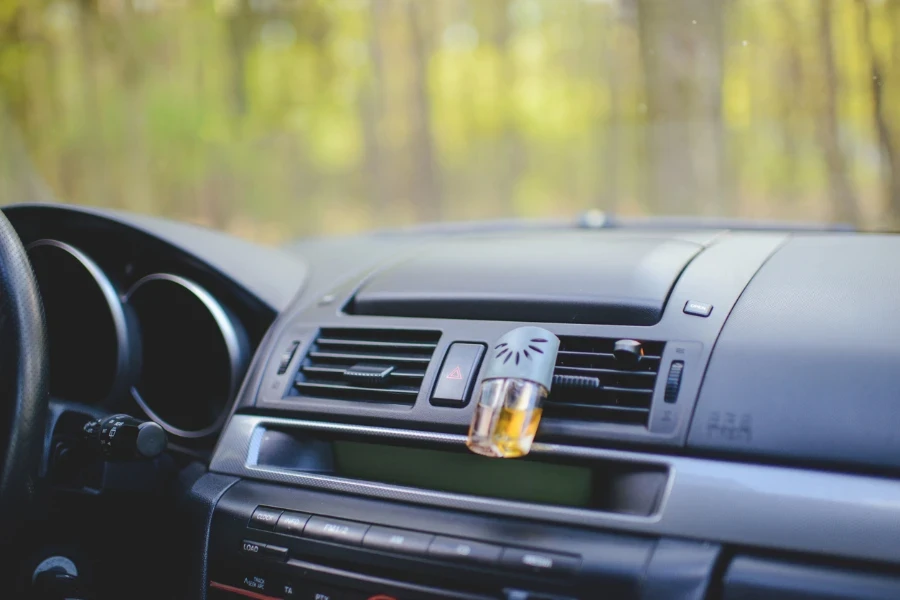 The third type of car diffuser are vent clip diffusers, which can be attached to the air-conditioner outlet inside cars. These diffusers have refillable essential oil bottles, as well as pads inside that absorb the oil. They work by utilizing the air conditioner's hot or cool air to emit essential oils.
Pros
Lasts longer than plug-in diffusers
Have a simple working mechanism that utilizes the warm and cool air from the air conditioner outlet
Does not require a power outlet for it to work
Cons
Ccent may not be as strong as compared to other types
Requires more maintenance to remove the wick, clean the bottle, and stock spare bottles, etc.
How to choose the right car diffusers for consumers
Now that we've learned about the different types of car diffusers, it's time to consider the other factors that matter before buying a certain type of car diffuser. These factors can vary depending on specific demographics but generally these are the major factors that should be taken into consideration:
Portability
Portability ranks as one of the most essential factors for buyers. Is the diffuser USB-friendly? Can they be carried with ease? For example, most compact diffusers come with a USB connection, making them an appealing prospect for consumers overall.
Safety
It is important to make sure that the diffusers – especially ones that come with essential oils – do not contain toxic substances that could pollute the air inside the car and put consumers in danger. Therefore, it is ideal to choose BPA-free essential oil diffusers for improved safety.
Moreover, diffusers should not affect a driver's vision or mood when they're driving by over-emitting scents or making them feel drowsy. Hence, sourcing diffusers with an automatic cut-off function is also crucial.
Running capacity
The diffuser's running capacity is another important factor that appeals to consumers. When the diffusers have a larger capacity, they can emit fragrances for a longer period of time.
Nevertheless, diffusers that come with large capacities should not be so big that they can't fit inside the car's cup holder, for instance. Moreover, it is best that they have a limited diffusion time, especially when they're being used in closed spaces, such as inside a car.
Durability
Another essential factor is to look for diffusers that are worth the money. These can be diffusers with a higher price but they offer better durability. This means it is a value buy for the consumers and many look for long-lasting diffusers.
Design
A diffuser's design should not impact their ease of use. For instance, diffusers with a top switch are easier to operate while driving.
Moreover, diffusers should come with a design that is easy to use and comfortably fits in a car's air-conditioner vent, cup holder, or anywhere else that the consumer may want to store it.
Conclusion
Car diffusers should not be overlooked by wholesalers, retailers, and other businesses looking to source automotive-related parts and accessories for their target market.
The segment's growth is backed by an increased demand and production of automobiles in general as well as consumers' growing needs to exhibit a luxurious lifestyle by having pleasant scents, which may have the added benefit of improving driving alertness and mental clarity. If you're looking to stock car diffusers for your business, do not hesitate to browse the massive range of products on Alibaba.com.
Was this article helpful?