The world of tiki is a delightful experience, and a significant part of this allure lies in dressing up. The term "tiki" refers to Polynesian pop fashion, which offers a captivating array of styles, catering to every era and body type.
Whether consumers are drawn to the alluring bombshell aesthetics of the 1950s or the free-spirited boho vibes of the '70s—there's a style for everyone. This article will explore five unique tiki-inspired looks men and women will love in 2023/24.
Table of Contents
Why the tiki-inspired style is popular today
Five tiki-inspired Looks for men and women in 2023/24
Watch these trends
Why the tiki-inspired style is popular today
Tiki fashion is a clothing style inspired by Polynesian culture, notably from the South Pacific, with its origins dating back to the 1930s and 1940s when American fascination with the region grew.
The 1950s marked the peak of tiki fashion, coinciding with the rise of tiki bars and restaurants, which featured vibrant and exotic clothing, contributing to a festive ambiance.
Although tiki fashion waned for some time, it's experiencing a revival in 2023 as nostalgia brings the era back into the spotlight. The theme is also popular today for its close connection to the tropics, attracting consumers with carefree and relaxed aesthetics.
Tiki style, known for its vibrant prints and decorative elements, plays a role in the global decorated apparel market. Experts anticipate this industry to grow to US$ 68.17 billion by 2030.
Five tiki-inspired Looks for men and women in 2023/24
Full circle skirts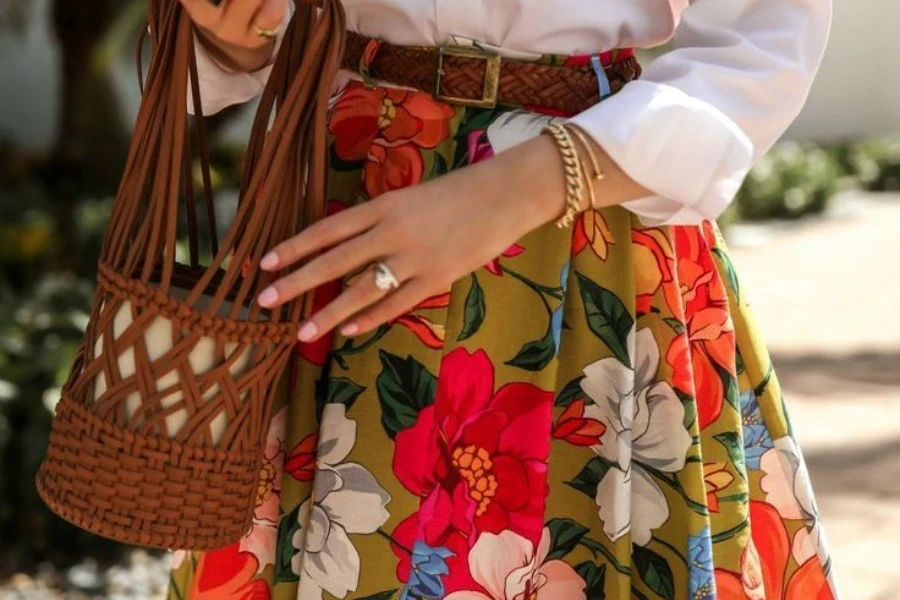 Radiating twirl and fun, full-circle skirts take center stage with a singular goal: accentuating the wearer's figure to the fullest. These skirts demand a generous amount of fabric to achieve their captivating and flattering effect, all while retaining their elegant simplicity in design.
Tiki fashion celebrates using natural fibers such as cotton, linen, and rayon, with full-circle skirts crafted from these materials emerging as a prominent trend within this style. These breathable and comfortable fibers make skirts created from them exceptionally well-suited for tropical climates.
Asymmetrical hemlines are currently a coveted fashion trend, offering an opportunity to infuse a hint of tiki-inspired charm into full-circle skirts. Enthusiastic fashion fans will undoubtedly appreciate the allure of asymmetrical full-circle skirts featuring playful irregular hemlines or jagged edges.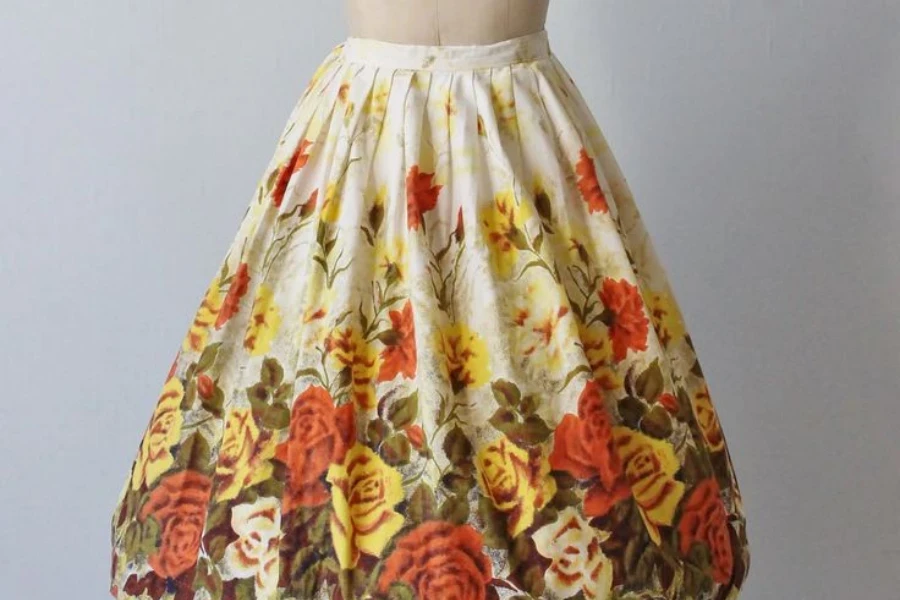 For this reason, these skirts are a standout choice for those seeking a touch of tiki chic in their wardrobe. Pair asymmetrical full-circle skirts with a bold tropical print top to complete the look.
Pattern mixing is an emerging trend that's making waves in the fashion world, and it seamlessly blends with the tiki-inspired skirt scene. No doubt, skirts that artfully meld two or more distinct prints, such as playful palm tree motifs intertwined with vibrant hibiscus florals, are destined to turn heads this season. 
For a fashion-forward ensemble, pair these pattern-rich skirts with a solid-colored top that complements one of the featured hues in the skirt's design, creating a harmonious and stylish look that captures the essence of tiki chic.
Skirts have witnessed impressive potential in recent years. Experts tally the market's revenue at US$ 101.40 billion in 2023, expecting it to witness a 2.86% compound annual growth rate (CAGR) from 2023 to 2027.
Bowling-inspired shirts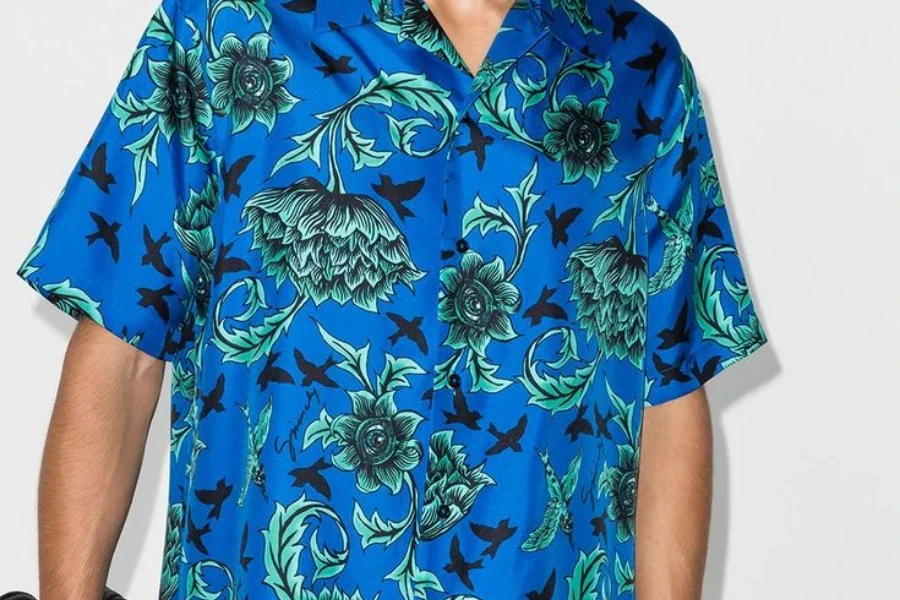 Despite their prior association with less favorable personas, bowling shirts are experiencing a resurgence this season, infused with tiki-inspired elements to breathe new life into their image.
Bowling shirts, characterized by their short sleeves, button-down collars, and roomy, boxy silhouettes, exude a distinctly masculine vibe. Furthermore, the bold prints and patterns commonly adorning bowling shirts make them an excellent canvas for incorporating tiki-inspired designs.
Oversized bowling shirts are a beloved trend, offering a stylish avenue to infuse a tropical flair into any ensemble. To make the most of this trend, men can pair one with slim-fitting shorts or trousers in a complementary color.
Incorporating metallic accents is a fantastic method to infuse glamor into tiki-inspired bowling shirts. Seek out variants featuring opulent gold/silver buttons or intricate metallic threadwork within the print for an added touch of sophistication.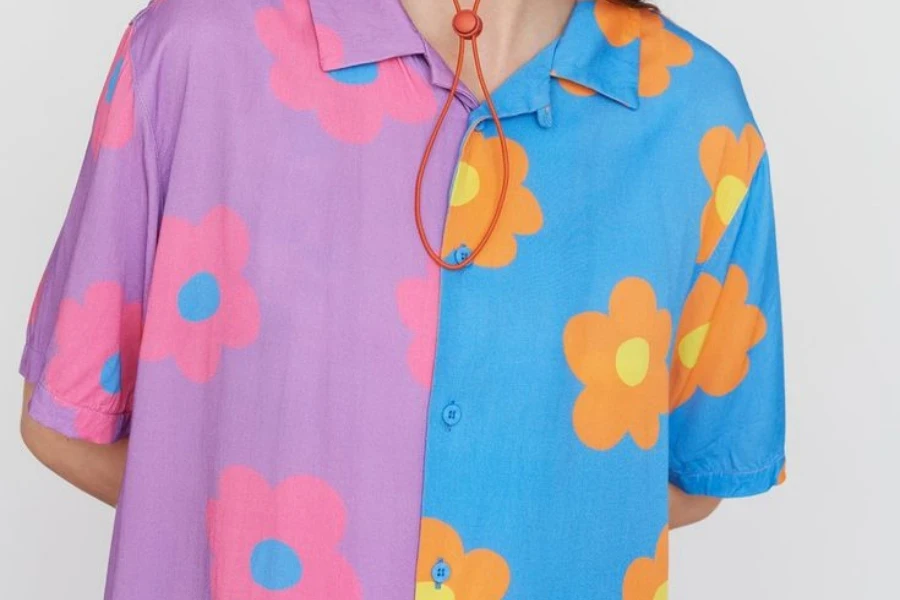 When styling such a shirt, men can match it with tailored chinos or dark denim. This combination balances casual and elegant, ensuring they exude a dapper and tropical-inspired look with a shimmering allure.
Embroidery bowling shirts are another delightful trend enhancing the intricacy of the tiki charm. Shirts featuring embroidered tiki gods, vibrant flowers, or other captivating tropical motifs are set to attract attention this year. Men can pair this detailed piece with solid-colored shorts to let the embroidery take center stage. 
With the men's shirt market finishing strong at US$ 91.70 billion in 2020, it's no surprise that trends like the bowling shirt are gaining momentum. Experts predict the market will grow at a 4.4% CAGR from 2021 to 2028.
Halter tops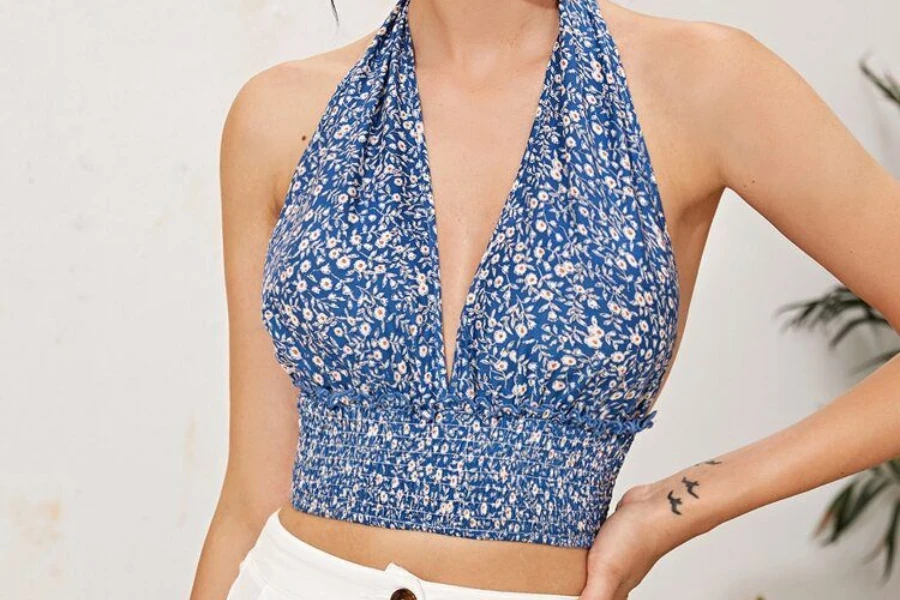 Tiki-inspired themes take on an alluring twist this season with halter tops. These tops elegantly drape around the wearer's neck, exposing the upper back and adding allure to the style.
Thanks to their versatility, halter tops have garnered a dedicated following among streetwear enthusiasts and beachgoers. With a range of neckline styles to choose from, consumers can sport halter tops in diverse ways. However, the spotlight this time is on tiki-inspired variations of this trendy garment.
Halter tops adorned with vibrant, tropical prints represent a timeless tiki-inspired style popular among women. Fashionable prints for this trend encompass iconic motifs such as pineapples, hibiscus blossoms, and swaying palm trees.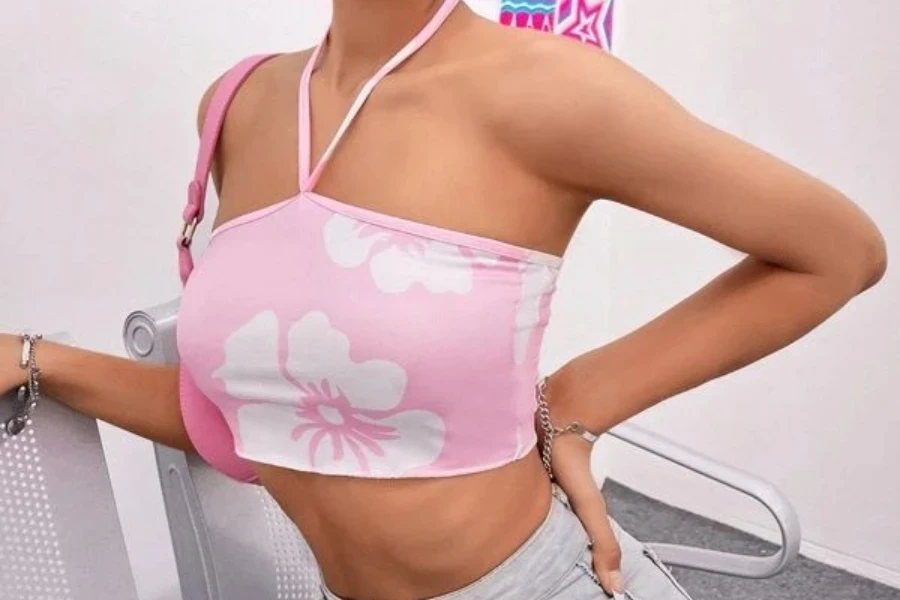 Ladies can rock their tropical-print halter tops with high-waisted shorts or flowy skirts to embrace the trend. The outfit effortlessly captures the essence of tiki chic, making it a go-to choice for those seeking a stylish and exotic vibe.
Halter tops featuring fringed hems are a stylish detail inspired by tiki culture. These tops have the remarkable ability to infuse any outfit with a whimsical sense and playfulness. Consumers can combine this piece with a flowing maxi skirt, preferably in a complementary color or pattern.
In addition, halter tops are part of the women's shirts and blouses market, which experts say will reach US$ 157.56 billion by 2028.
Linen pants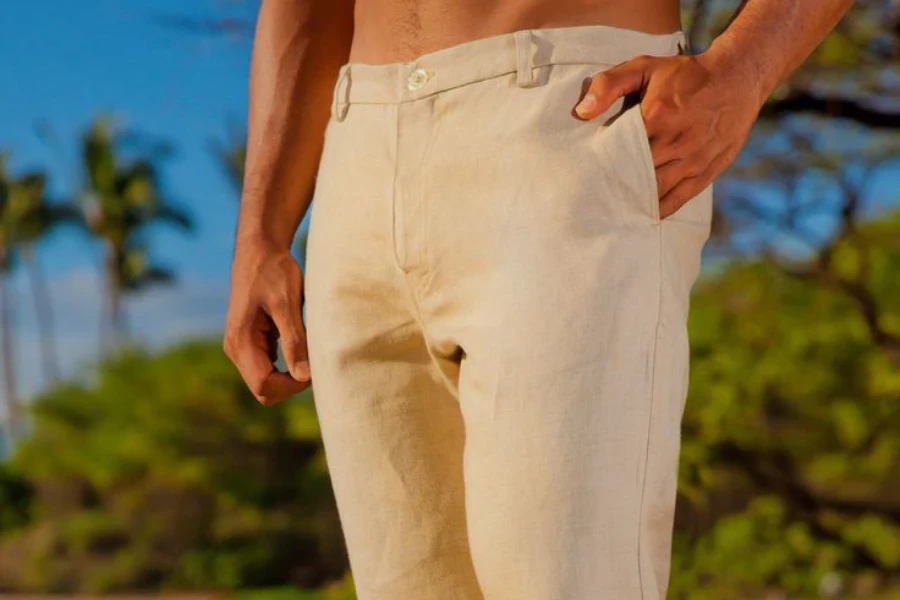 Summer offers an ideal opportunity to embrace chic and comfortable fashion, with linen pants sliding in as a top choice. These breezy trousers are comfortable and adorned with tropical prints or Polynesian-inspired motifs, adding a touch of tiki-inspired flair to your look.
A trendy choice for women's attire includes high-waisted linen pants designed to sit just below the belly button. This stylish feature flatters the figure and creates an illusion of longer legs. Pair the tiki-inspired high-waisted linen pants with a simple white t-shirt to create a relaxed yet elegant look.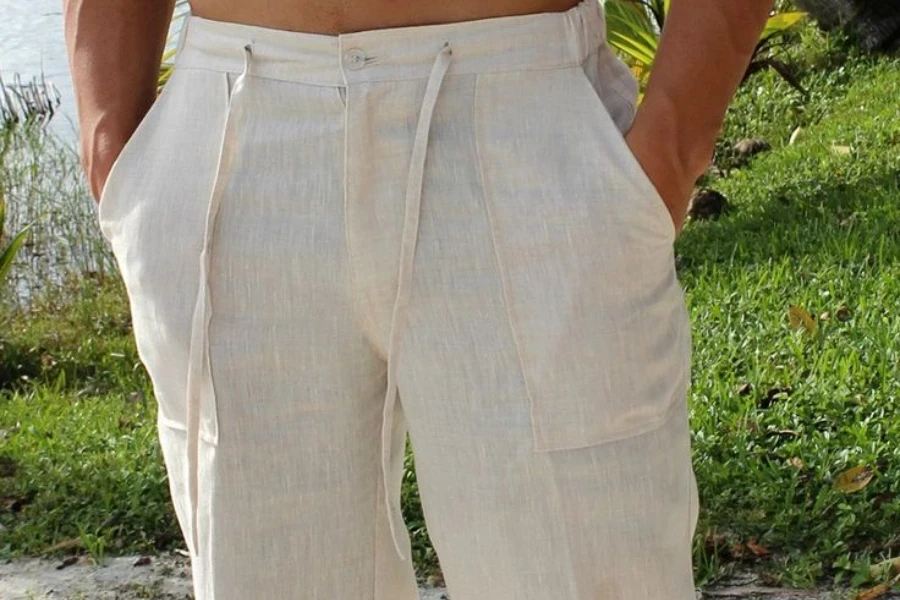 Alternatively, gentlemen can choose cropped linen trousers to elegantly display their feet, making them a splendid choice for beach ensembles. In addition, these pants make a gorgeous match with Hawaiian shirts.
Linen on linen is another stylish approach to donning these pants. Fortunately, it lacks the controversial nature of the "denim on denim" look. Instead, it radiates unparalleled fashion finesse and is a fantastic way to embrace a tiki-inspired attire.
More importantly, the linen fabric market is also showing tremendous promise. Experts valued it at US$ 806.7 million in 2022, forecasting it to reach US$ 1507.3 million by 2028 at an 11.0% CAGR.
Sarong dress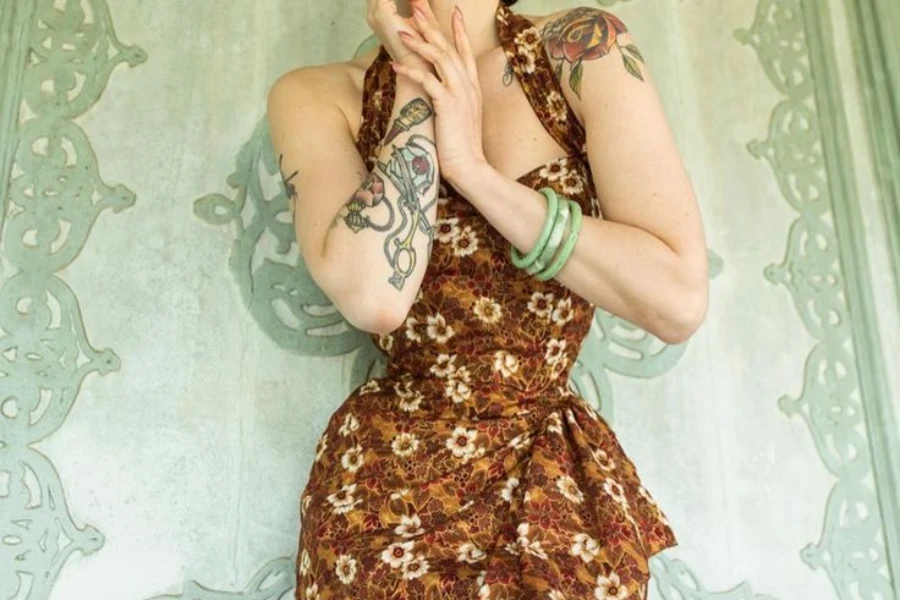 The sarong dress is crafted from a lengthy swath of fabric typically enveloped around the body. It is secured at the waist for men, while women secure it under the armpit. Originating as a traditional attire in ancient Southeast Asian nations, sarongs were donned by both genders. 
Today, modern sarongs have evolved, primarily serving as an essential beachwear piece for women. More importantly, these dresses' carefree and casual nature makes them the perfect tiki-inspired outfit.
The Hawaiian sarong dress is one trend women can wear in various ways. Although it's a simple look, it's sweet and feminine enough to turn heads.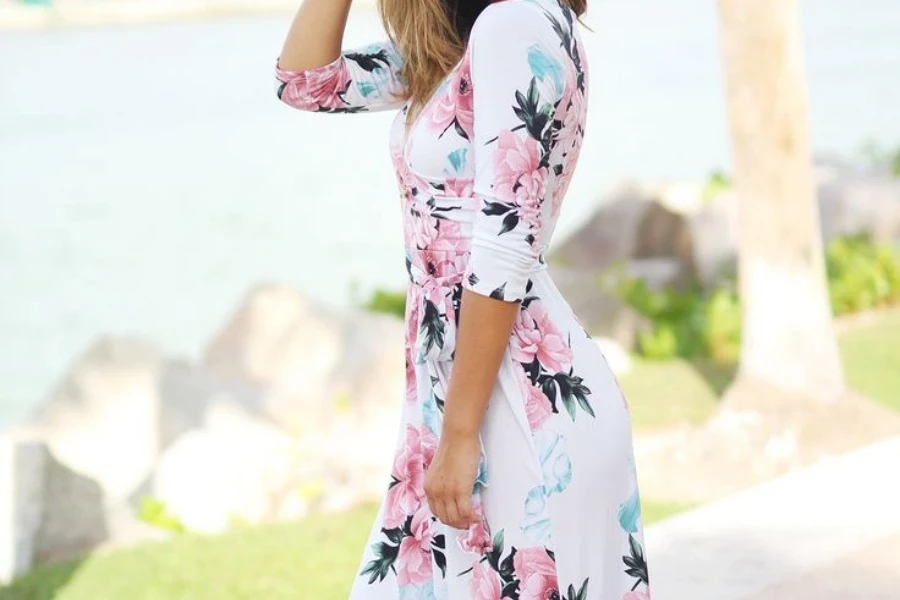 Women can also flaunt a beach sarong wrap with unique floral or tiki-inspired designs. Instead of taking the appearance of a full dress, ladies can style this trend as a skirt over a neckless top. Interestingly, it's the most straightforward way to rock a sarong dress.
Chiffon sarong dresses are another trendy option for women. Most variants come with pre-stitched designs while showcasing beautiful, unique floral prints that scream tiki aesthetics.
Sarong dresses are part of the global beachwear market, which experts say will grow at an 8.1% CAGR from US$ 22.1 billion in 2022 to US$ 41.1 billion by 2030.
Watch these trends
Tiki fashion is a strong contender for consumers going on vacations, to the beach, or a pool.
The winning options for those seeking unparalleled comfort include sarong dresses, halter tops, and full-circle skirts.
And gentlemen looking to exude style during their relaxation time should look no further than linen pants paired with classic bowling shirts.
These are the top tiki-inspired looks worth an investment in 2023/24.
Was this article helpful?