Key Takeaways:
Recent technology innovations have led to medical breakthroughs.
Current bioprinting challenges are largely related to limitations in printing resolution and speed.
The mass adoption of bioprinting is expected to lag behind traditional 3D manufacturing.
Bioprinting is a subset of 3D printing that focuses on the manufacture of bones, living tissues, blood vessels and organs. Over the past several years, improvements in 3D printing technology have led to the rising interest in 3D printers and bioprinters.
Interest in bioprinting in particular has been driven in part by the shortage of organ donors and requirements for matching.
According to Health Resources & Services Administration (HRSA), nearly 106,000 people are waiting for organs, and nearly 17 people die each year waiting for an organ transplant.
Developments in bioprinting technology have the potential to reduce the extent of the problem.
What recent innovations have occurred?
Prior to 2019, scientists in regenerative medicine had been successful in printing only simple tissues without blood vessels.
However, a major breakthrough happened when a group of researchers from Tel Aviv University 3D manufactured the first human heart, using the patient's own cells. While the artificial heart is only the size of a rabbit's heart, the development marked a major step forward for 3D printing in the medical field.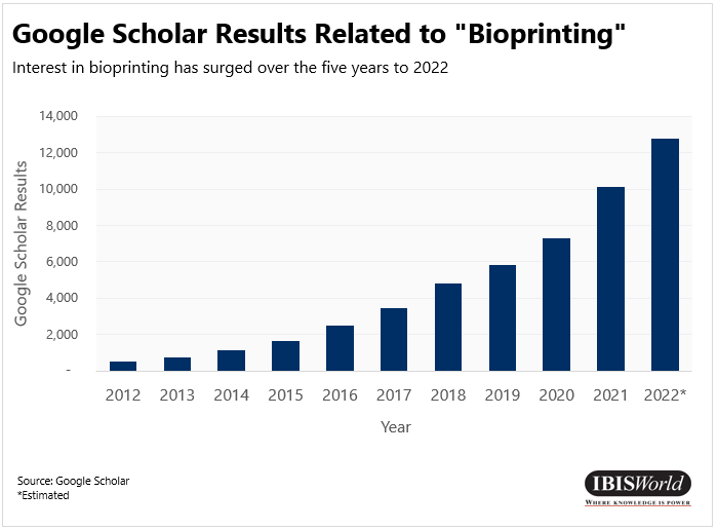 Research in bioprinting has continued, leading to new inventions. For example, in 2020, a group of scientists from Tsinghua University developed a bioprinting robot that can treat gastric wounds from inside the body. Most recently, in June 2022, doctors in the US implanted the first bio-printed ear implant grown from the patient's own living cells.
Overall, research in bioprinting has been increasingly moving in the direction of more complex tissues and organs.
What current limitations exist?
While research and development in bioprinting continue at a rapid rate, bioprinter manufacturers will need to overcome several technological challenges before bioprinting is adopted on a broader scale.
Current challenges in bioprinting are largely related to limitations in printing resolution and speed. Blood vessels, such as capillaries, can be extremely small, ranging between 2.0 and 12.0 micrometers. At the same time, the highest resolution laser-based bioprinters currently have a droplet size of 20.0 micrometers.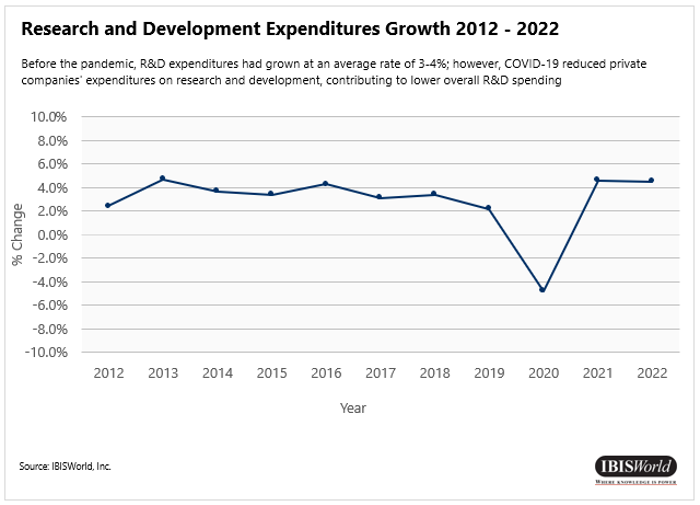 However, even if the droplet size is reduced to 2.0 micrometers, the speed required to make a bioprint remains very low. Unlike traditional 3D printing, bioprinting requires prints to be completed in a timely fashion to prevent tissue death. Thus, further improvements in the speed of bioprinting are critical.
When will we reach full market acceptance?
The future development of bioprinting technology will likely depend on developments in the broader 3D printing field and on progress in biomedical research.
Since the human body and its components have a more complicated structure than a regular 3D object, the mass adoption of bioprinting is expected to lag behind traditional 3D manufacturing.
Demand for bioprinted implants for medical use is expected to surge over the next 20 years. However, to achieve full market acceptance, companies operating in the bioprinting industry will likely need to overcome a range of ethical, technical and regulatory challenges.
Source from Ibisworld
Disclaimer: The information set forth above is provided by Ibisworld independently of Alibaba.com. Alibaba.com makes no representation and warranties as to the quality and reliability of the seller and products.
Was this article helpful?