Live streaming has gradually become a hobby and even a source of income for some. As a result, many consumers are on the lookout for equipment that allows them to create quality gaming content and engage their audience. After all, their viewers won't enjoy watching low-quality visuals or hearing interfering stream sounds.
Although using the right game streaming equipment can enhance anyone's setup, knowing where to start may be tricky. That's why this article aims to introduce businesses to the top livestream equipment gamers need in 2024.
Table of Contents
An overview of the live streaming market in 2024
Livestream equipment gamers need for high-quality streaming
Do live streamers need streaming software?
Wrapping up
An overview of the live streaming market in 2024
According to research, live streaming is blowing in popularity and profitability. Experts say the market will cross US$ 11.69 billion by the end of 2023. Plus, they anticipate it to experience a 10.44% compound annual growth rate (CAGR) and hit US$ 17.39 billion by 2027.
Experts also say there are four primary reasons why the market is growing exponentially, and they include the fact that:
Consumers use the best live-streaming equipment to connect with their audience.
Video games and e-sports are enjoying increased popularity.
Users like live streaming more than regular social media posts.
Smartphones and faster internet are spreading like wildfire globally, which helps make live streaming even more accessible.
Livestream equipment gamers need for high-quality streaming
High-quality microphone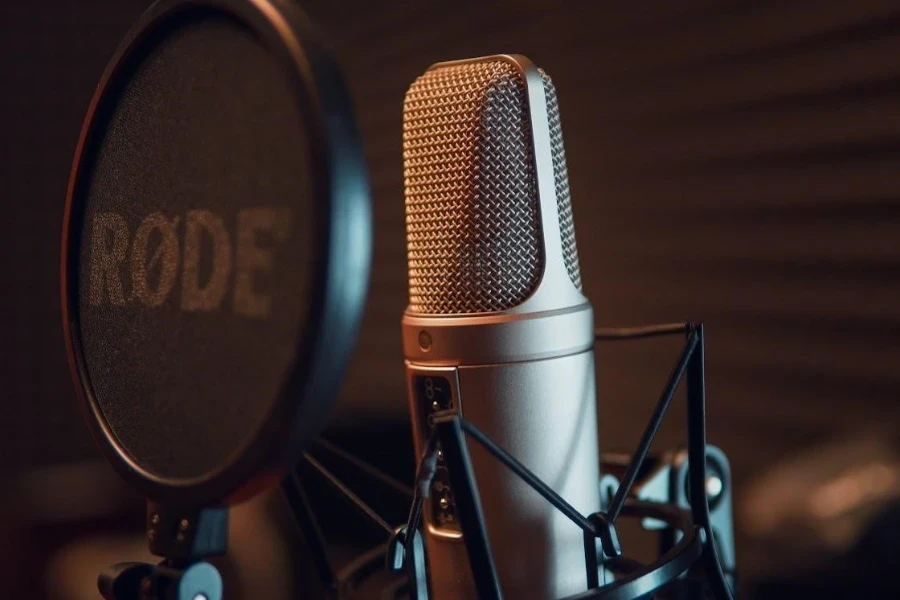 When streaming, having good communication is key, making top-notch microphones essential for gamers. Even if their webcam has a built-in microphone, it might not give that crystal-clear audio quality gamers need for their audience. That's where high-quality microphones come in to save the day.
USB microphones are catching on for streaming, and it's no surprise why. They're a breeze to set up and use—plus, they won't break the bank like those old-school XLR microphones.
Dynamic microphones are another important piece of tech for game live streaming. They're the go-to for consumers in a gaming room or a home office where things can get noisy. These microphones are not as sensitive as condenser mics, meaning they won't pick up all that distracting background noise.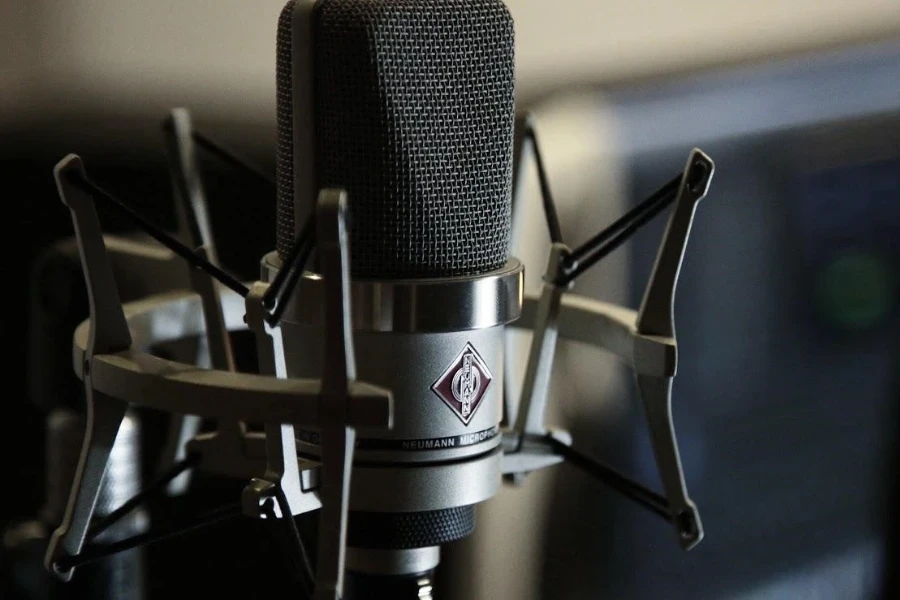 Even cooler is DSP technology for streaming microphones. With DSP features like equalization and compression, this important tech can work its mojo to make game streamers sound clear and pro-level.
But what's the next big thing? Microphones with built-in audio interfaces, that's what. With this technology, consumers don't have to clutter their streaming setup with extra equipment. Some even feature built-in mixers, so consumers can tweak their microphone and other audio levels without bothering with a separate mixer.
Gamer microphones are enjoying steady levels of popularity in 2023. They rounded up September with 27100 searches, boosting from 22000 in June 2023. They've also started October strong as the keyword currently has 22000 searches.
Capture cards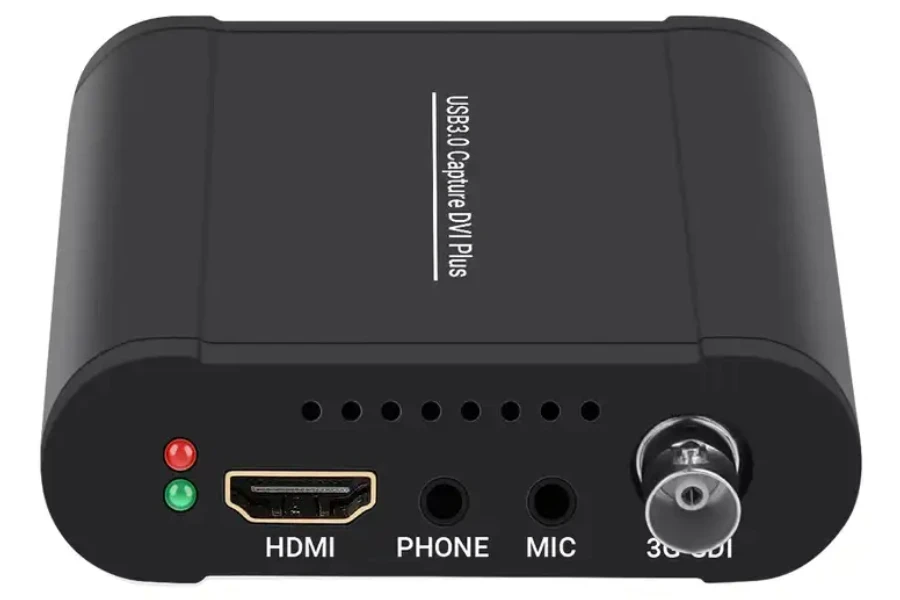 PC gamers usually don't need these devices to stream their gameplay—they can get all the necessary software. But capture cards are a must-have for consumers into console game streaming.
Capture cards are like the bridge between the consumer's PC and TV. They connect through USB and HDMI ports, letting gamers stream their console games in great quality. In truth, these devices now support higher resolutions and frame rates, allowing gamers to stream up to 4k resolution and 240 fps.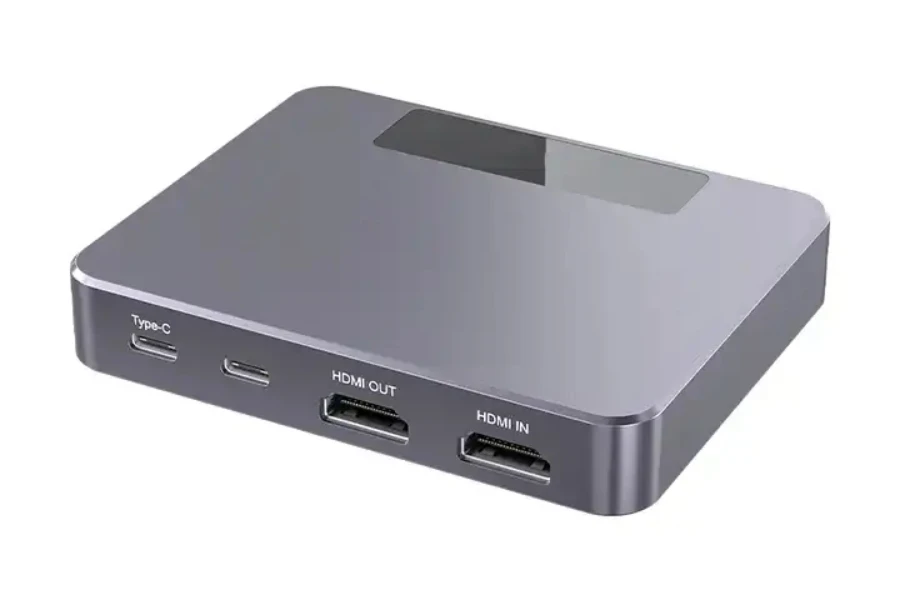 Here's what's interesting: Some newer capture cards can handle HDR (high dynamic range). Why is it interesting? It lets gamers capture and stream gameplay in different colors and brightness levels, making everything look realistic and immersive for viewers.
What's more, capture cards now also come with hardware encoding. They can easily handle video encoding without hogging the CPU, allowing the user's PC to focus on other necessary stuff, like running the streaming software.
Google Ads data reveals that capture cards hold significant interest in the market. Consumers have searched for them 110000 times since 2022 and that figure is the same even in October 2023.
Webcam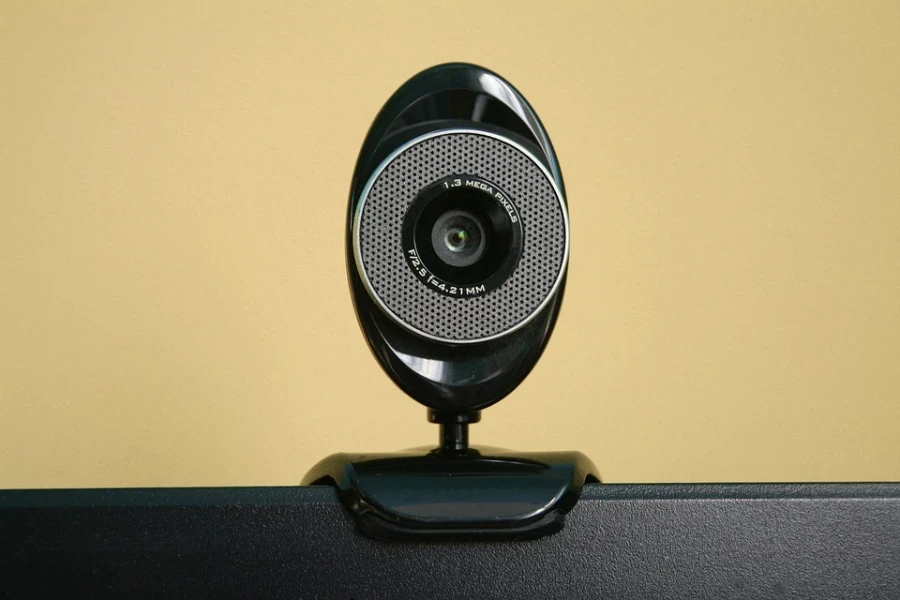 Consumers can't have a gaming stream without showing their faces. That's why offering them a great webcam is a smart move. However, the first thing they'll think about when purchasing a webcam for streaming is image quality—it's usually between full HD and HD variants.
Full HD (1080p) offers the best webcam quality. Consumers will get extra pixels, meaning their image will be super sharp, clear, and packed with detail—the colors will also pop like crazy. But a full HD webcam hogs more bandwidth.
On the other hand, HD or 720p at 30 fps is the baseline for a decent session. It's not as fancy as Full HD, but it's good enough for a successful gaming livestream.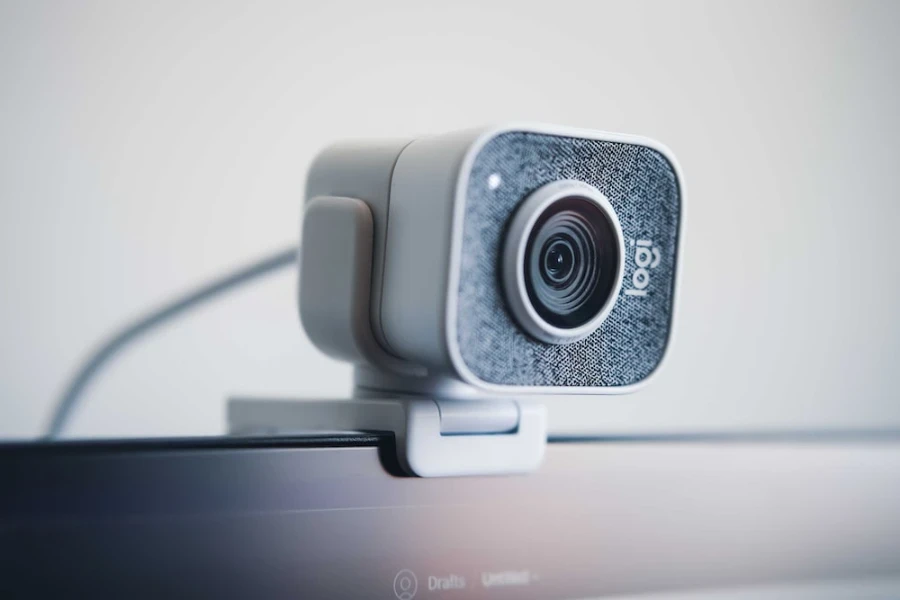 Another thing consumers want in their webcams is auto-focus. It helps keep the image looking sharp and clear, so that even if consumers are all over the place changing their distance from the camera during their stream, there'll be no blurry moments!
Streaming takes place in various lighting conditions. So, a good webcam will have excellent low-light performance, ensuring consumers remain visible and clear even in dimly lit environments.
Webcams are very popular, and Google Ads data proves it. In the first week of October, they already had 1220000 searches—just 10% smaller than their 1500000 searches in September 2023.
Audio mixer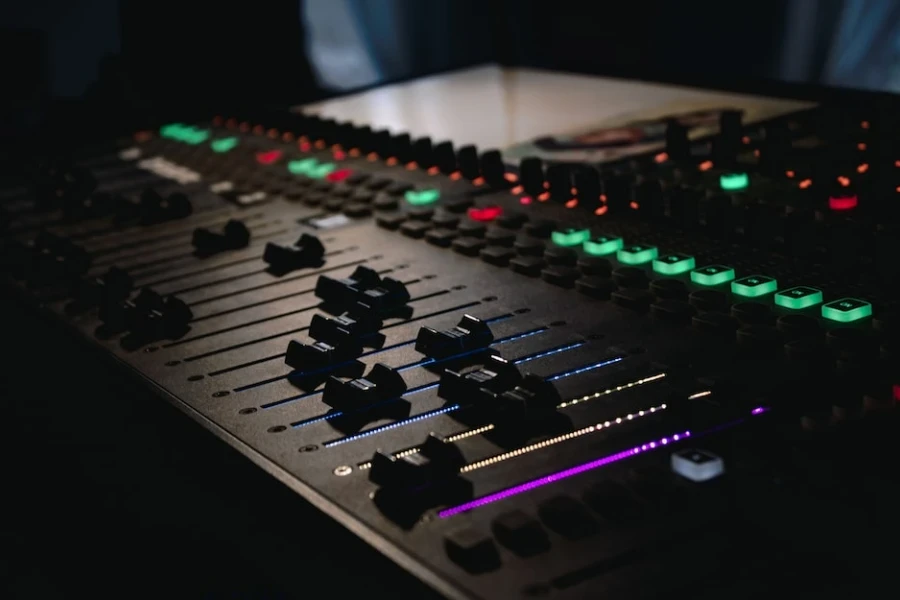 Audio mixers are the magic behind game live streaming. They're a must-have because they give streamers control over their audio quality. These boxes ensure viewers get the crystal-clear and immersive audio experience they crave.
With audio mixers, streamers are in charge of their sound. They can tweak and control different audio sources, like their microphone, game sounds, music, and voice chat. As a result, they'll make sure everything sounds balanced, and no channel drowns out the other.
Audio mixers are also like fancy soundboards. Consumers can do fantastic things with them, like adjusting volume levels, tweaking equalization settings, and adding real-time audio effects. It's the perfect tool to help make streams feel polished and professional.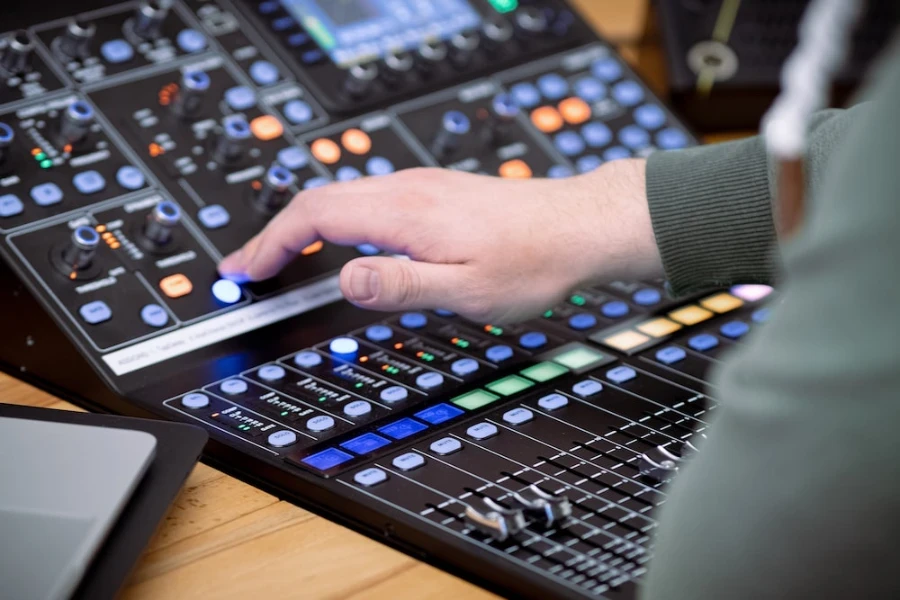 Noise reduction is another important technology for audio mixers. Usually, they come with features like noise gate and suppression, which work like noise ninjas to eliminate background sounds, pesky keyboard clicks, and other annoying audio that could distract viewers.
Although new, AI-powered mixers are also emerging for live streaming. They can help users with tasks like mixing and mastering different track levels in a mix, reducing the expertise needed to pull it off effectively.
According to Google Ads, "audio mixers" drew in 90500 searches in July 2023. The best part is they've maintained this search interest all the way to October 2023, proving that audio mixers are one of the most sought-after equipment for streamers.
Adjustable green screen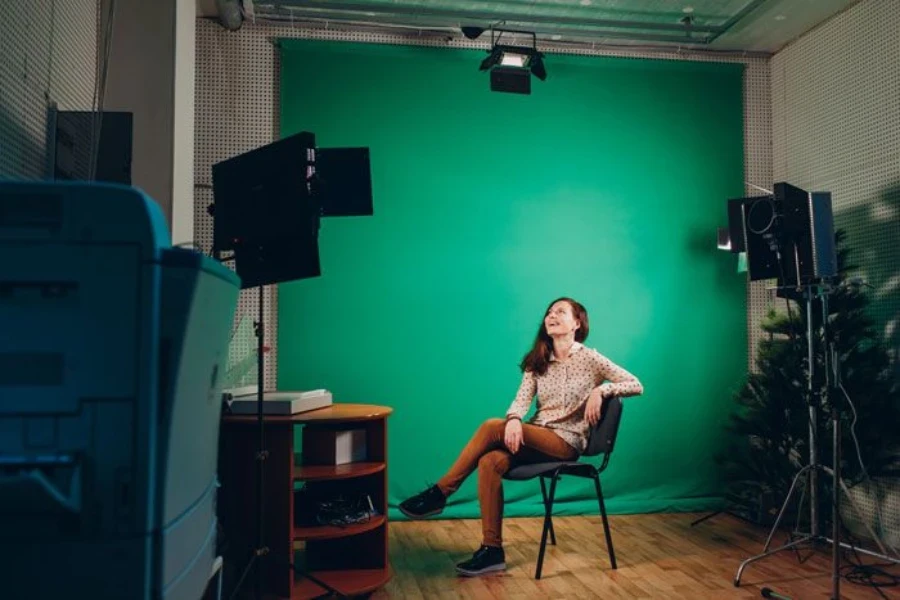 Generally, two types of game streamers exist: those who love showing off their streaming setup and those who prefer changing their backgrounds. Adjustable green screens are necessary for consumers in the second group. It's what gives their stream a professional and immersive vibe.
Green screens are amazing because they let streamers swap out their environment with an image or video they can think of. It's the go-to for adding a touch of creativity and personalization to any stream.
But while traditional green screens are not easy to move around, adjustable variants are incredibly flexible and versatile. Consumers can set them up or take them down easily, allowing them to stream from different locations or adapt to changing needs.
More importantly, green screen technology has advanced, highlighting even more impressive features. For example, consumers can now add interactive green effects to their streams, creating an enhanced dynamic and engaging experience for their viewers.
Virtual sets are also new for green screen streams. Consumers can craft elaborate and expensive-looking streaming environments without building them in real life—a more advanced version of changing just backgrounds.
AI has also made its way to green screens, allowing consumers to use AI-generated backgrounds for their streams. They can use any realistic to immersive stage to keep their audience engaged and happy.
Although green screens have been on a downward trend, they still command an impressive audience. According to Google Ads, green screen searches dropped by 20% from 1000000 in August 2023 to 823000 in October 2023—but there's still a good chance they'll see a boost as the live streaming market expands.
Excellent gaming PC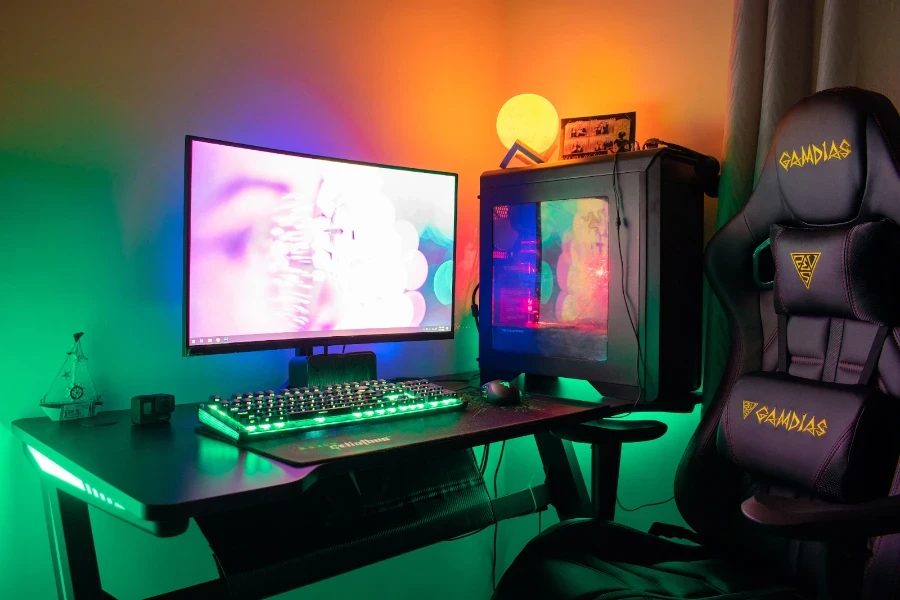 Game live streaming requires high computational power to simultaneously run the game, capture gameplay footage, encode the video, manage audio sources, and handle streaming software. The good news is that an excellent gaming PC can run these tasks smoothly without compromising gameplay performance.
Gaming PCs are dishing out more power than ever, with the latest hosting powerful processors and graphic cards like the Intel core i9-13900K and Nvidia GeForce RTX 4090. Here's the amazing part: these components can deliver incredibly high frame rates and stunning graphic quality, allowing consumers to stream the most demanding games.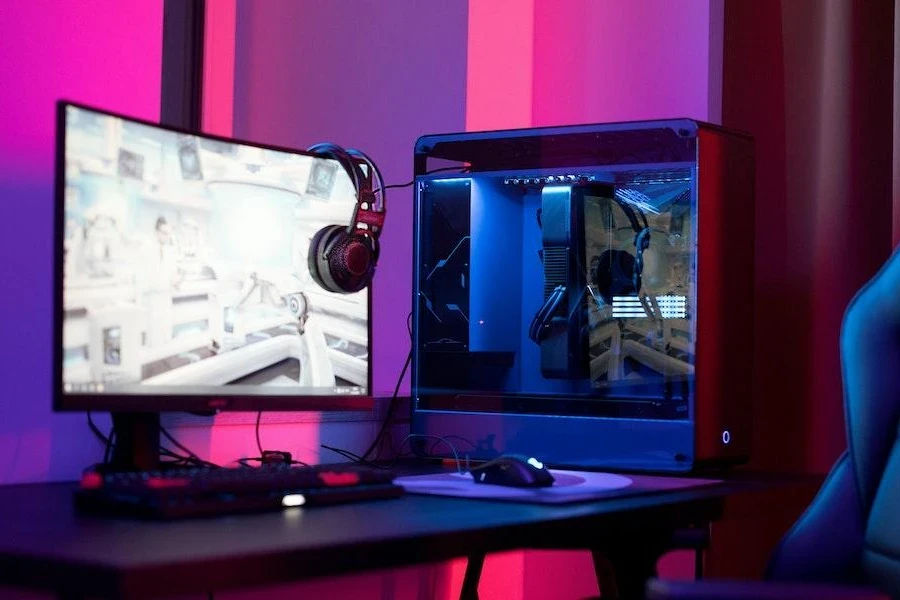 An even deeper dive shows two more technologies used in gaming PCs to enhance graphics quality and performance: Ray tracing and DLSS. The former creates realistic lighting and reflections, while the latter boosts frame rates without sacrificing image quality.
PC builders are not left out of these technological updates. They now have access to custom water cooling to provide better cooling performance, resulting in higher overclocks and more stable performance.
Gaming PCs are huge! Google Ads data shows that they've been getting 1.5 million searches since June 2023. Plus, they even peaked at 2.24 million searches in the beginning of 2023—but despite the gaming PC craze dying down, they're still the most popular equipment for streaming.
Do live streamers need streaming software?
Consumers can't have a proper setup without solid streaming software to back up all their hardware. These software tools let them tweak their stream layout and jazz it up with stunning visual effects.
Streaming software with more features offers better customizability, allowing gamers to optimize for the streaming equipment. Also, consumers can use browser-based software like Restream Studio and StreamYard or desktop versions like OBS.
Wrapping up
Twitch has seen a massive surge in popularity lately, thanks to big-name streamers like Ninja, Dr. Disrespect, and Shroud pushing the platform towards the platform.
Consumers don't need a gazillion followers or a wallet full of cash to start sharing their gaming adventures. But they'll need a few must-haves to ensure their viewers get a top-notch experience.
Businesses can profit from this need by stocking up on high-quality microphones, great webcams, capture cards, adjustable green screens, audio mixers, and excellent gaming PCs.
Was this article helpful?