Denim is always a staple fabric for men, but the spring/summer 2024 men's denim trends offer some exciting new twists on classic styles. Online retailers will want to take note of the key items outlined in this report to ensure their assortment stays on-trend. Incorporating these bold prints, utility silhouettes, and shorter lengths into your product mix will attract male shoppers who want fashion-forward denim options.
Table of Contents
Festival sets bring bold prints and matching pieces
Utility denim gets a soft, minimalist makeover
Shorter lengths hit mid-thigh for summer appeal
Creative repairs add interest to classic straight-fits
Oversized shackets offer easy styling versatility
Conclusion
Festival sets bring bold prints and matching pieces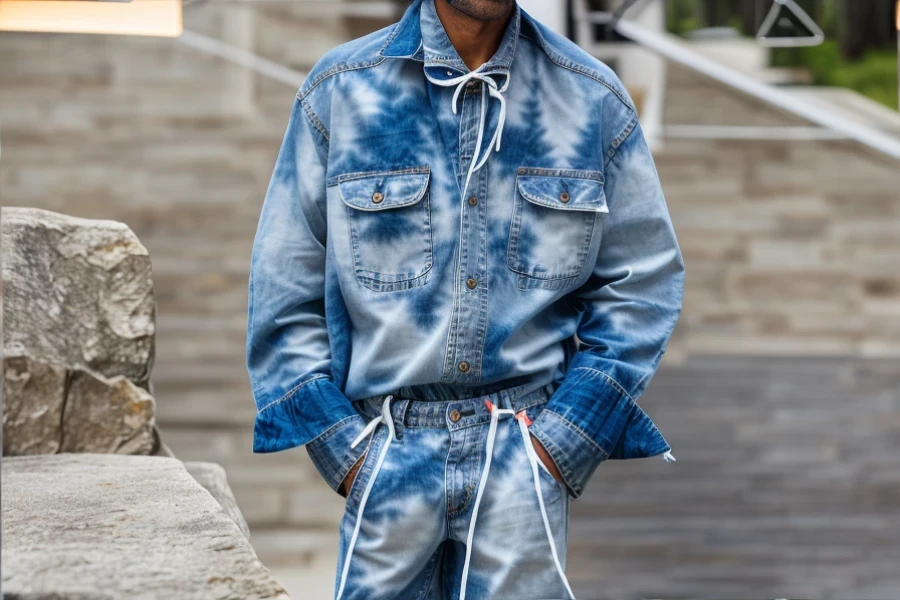 Music festivals are a prime spot to showcase adventurous men's fashion, and the spring/summer 2024 denim trends are primed for making a bold statement. Expect to see young male consumers embracing eye-catching graphic prints, denim-on-denim matching sets, and boxy, relaxed fits when dressing for concerts and summer events.
Designers are having fun with all-over prints, using them to transform basic denim styles into conversation-starting social media fodder. From tropical motifs to neon graphics, these vibrant prints pack plenty of visual punch. Brands should use more sustainable printing methods and responsible dyes whenever possible. Matching denim sets in the same all-over print create instant outfits perfect for warm-weather getaways and festivals.
Silhouettes tend to be neat and boxy for a classic festival look. However, for a more directional take, wider, oversized shapes combined with low-slung rise reference 90s skater styles and early 2000s influences. This relaxed fit provides the perfect backdrop for eye-popping prints. Details like raw hems, cargo pockets, and denim shirts or jackets complete the carefree vacation vibe.
Don't be afraid to go bold with the denim items you select for festivals and summer events. Graphic prints and denim sets appeal to younger male consumers who see music festivals as a place for self-expression. Focus on oversized, retro-inspired fits to complement these conversation-starting prints.
Utility denim gets a soft, minimalist makeover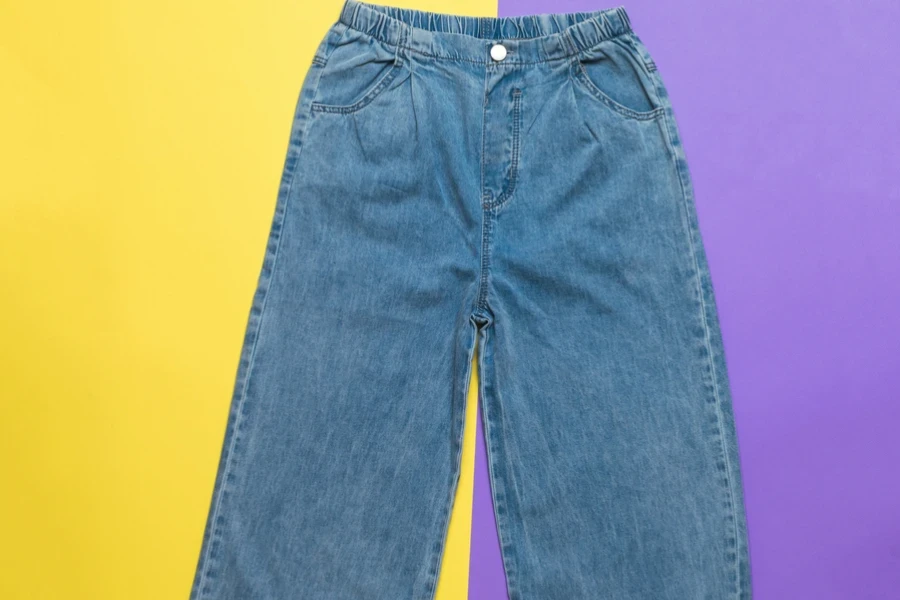 Utility and workwear styles have become wardrobe staples for men, thanks to their timeless appeal and versatile wearability. For spring/summer 2024, these classic utilitarian looks are getting refreshed with softer fabrics, lighter washes, and subtle design details. The result is an approachable take on utility denim that translates well into warm-weather looks.
Silhouettes tend towards a relaxed, easy fit with minimal extraneous details. For example, the utility jean or carpenter pant is updated with a lightweight fabric and lower rise for a more modern shape. Wide, trouser-inspired legs complement the pared-back vibe.
Small but impactful design tweaks add interest while maintaining a simplistic aesthetic. Details like twisted side seams, elasticated waistbands, and flap pockets build on the clean utility base. Distressed details and vintage washes bring in authentic workwear references.
The soft minimalism of these utility denim styles means they work year-round. Pair with t-shirts or casual shirts for an everyday look, or layer under blazers or coats when temperatures drop. With their fuss-free yet modern silhouettes, soft utility denims should form the foundation of any spring/summer men's bottoms assortment.
Shorter lengths hit mid-thigh for summer appeal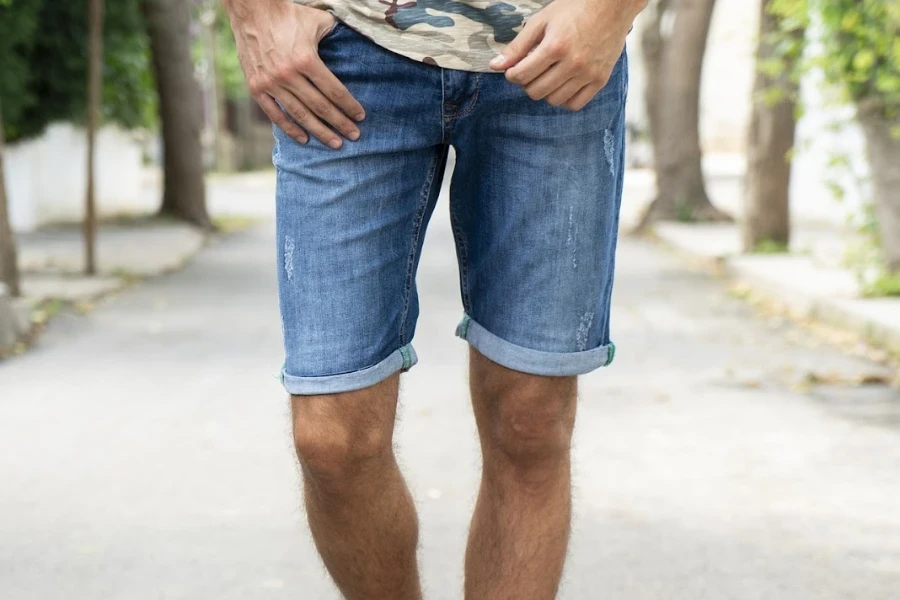 Short shorts grabbed attention on the spring/summer 2024 runways, hitting hotpant lengths in many designer collections. While this ultra-short length has shock value, the mid-thigh denim short provides a more commercially viable option for retailers. Sitting just above the mid-point of the thigh, this length feels current without being overly revealing.
The mid-thigh short pairs well with menswear's preference for loose, easy volumes. A baggy or wide-leg silhouette helps balance the shorter hemline. Low-slung rises nod to 90s skater styles and early 2000s fashion. Distressed cut-off hems reinforce the relaxed vibe.
For a more refined take, choose dark washes and match them with denim shirts or jackets. This dressed-up approach works well for occasions like summer weddings and events. Lean into the workwear trend by including utility pockets and fabric reinforcements.
The mid-thigh jean short hits the sweet spot between directional catwalk trends and commercial appeal. Young male consumers respond well to its nostalgic references to 90s/2000s fashion. Use loose, low-rise fits in cut-off light denim washes to incorporate this key item into your spring/summer bottoms assortment.
Creative repairs add interest to classic straight-fits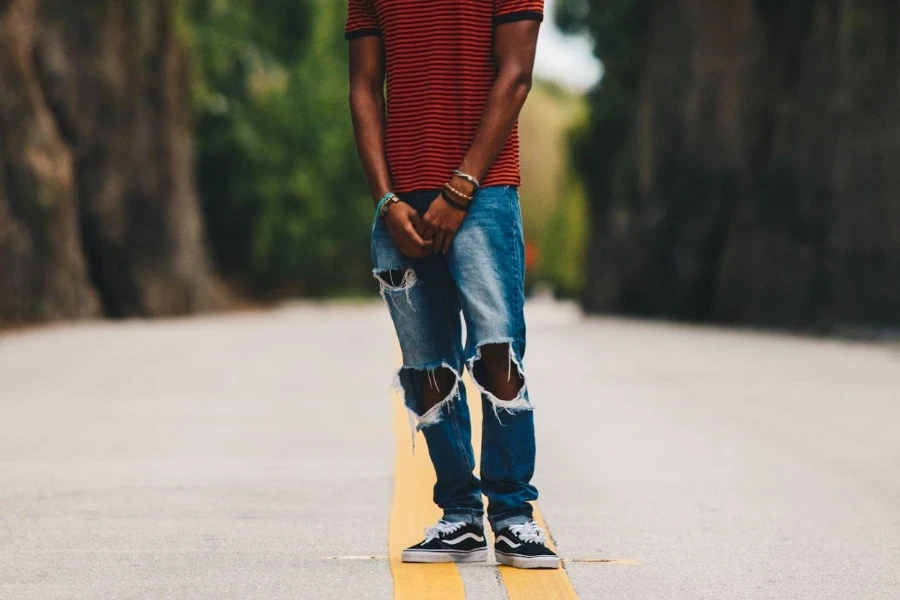 Denim customization has emerged as a form of self-expression for environmentally- conscious men. Artisans are repairing and embellishing vintage jeans using techniques like patching, visible mending, and hand-done distressing. These repairs transform well-worn denim into one-of-a-kind statement pieces.
Bring this DIY aesthetic into commercial production by using decorative repairs on classic straight jean fits. Strategically place contrast fabric patches over distressed areas, securing them neatly with overstitching. Play with colorful embroidery threads and unique stitches to creatively reinforce tears and holes.
Partnering with local denim repair artists to create limited-edition custom pieces is another option for adding this artisanal feel to your product mix. Hand-done techniques like visible mending make each pair of jeans truly unique.
For mass-market distressed styles, take care to securely reinforce any abrasions and tears. This maintains the structural integrity of the fabric while extending the life of the garment.
Oversized shackets offer easy styling versatility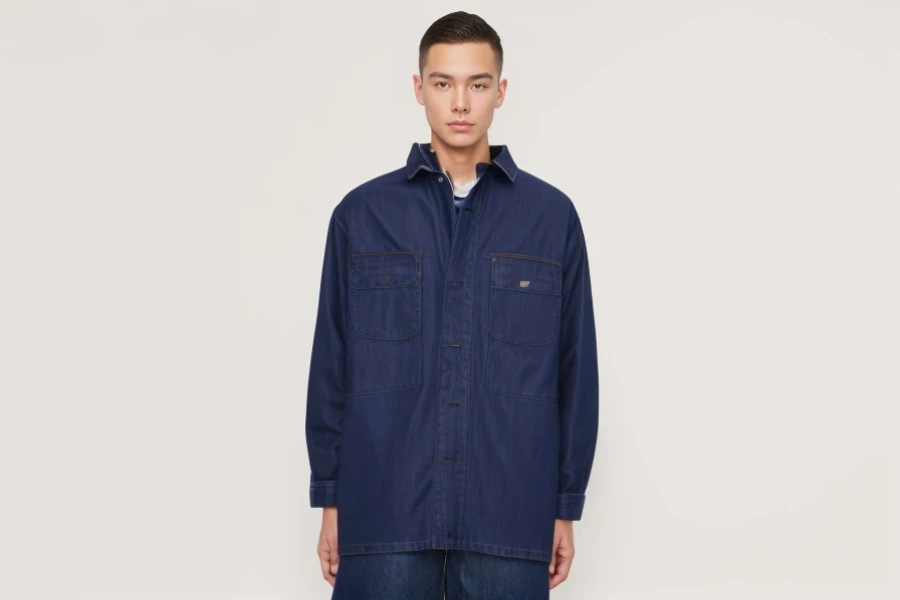 The utility trend inspires the denim shacket or overshirt for spring/summer 2024. With its roomy silhouette and functional details, this layering piece embodies the spirit of workwear while offering enhanced versatility.
Oversizing is key to the shacket's aesthetic. A boxy, drop-shouldered fit creates a relaxed shape. Extra-long hems and adjustable details like drawcords add to the kicked-back vibe. Pair this roomy top with slimmer bottoms to balance proportions.
Functional elements like flap pockets and button closures reference classic work shirts. Play with unconventional pocket shapes and asymmetric fastening placements to keep the look modern. Distressed details and two-tone fabric mixes provide additional interest.
Easy to throw on over t-shirts and casual button-downs, the utility shacket seamlessly transitions from season to season. Men appreciate its visual interest and practicality. Capture this iconic workwear look in oversized denim with utilitarian accents for an easy win.
Conclusion
Men's denim is getting a stylish update for spring/summer 2024. By incorporating bolder prints, softly minimalist utility looks, shorter silhouettes, creative repairs, and versatile shackets into your online product assortment, you'll attract male shoppers looking for fashion-forward takes on their denim wardrobe essentials. Use the key details outlined here as inspiration when building your S/S 2024 buy.
Was this article helpful?