Dumbbells are no longer considered an exercise tool solely for strength training. In today's market there are a wide variety of dumbbells available that cater to different workout routines and each one has a significant impact on how successful the routine is. There are advantages and disadvantages to each kind of dumbbell so choosing the correct version is vital in helping the consumer reach their overall fitness goals. Keep reading to learn more about the top types of dumbbells for workouts.
Table of Contents
Global market value of dumbbells
Types of dumbbells for workouts to consider
Conclusion
Global market value of dumbbells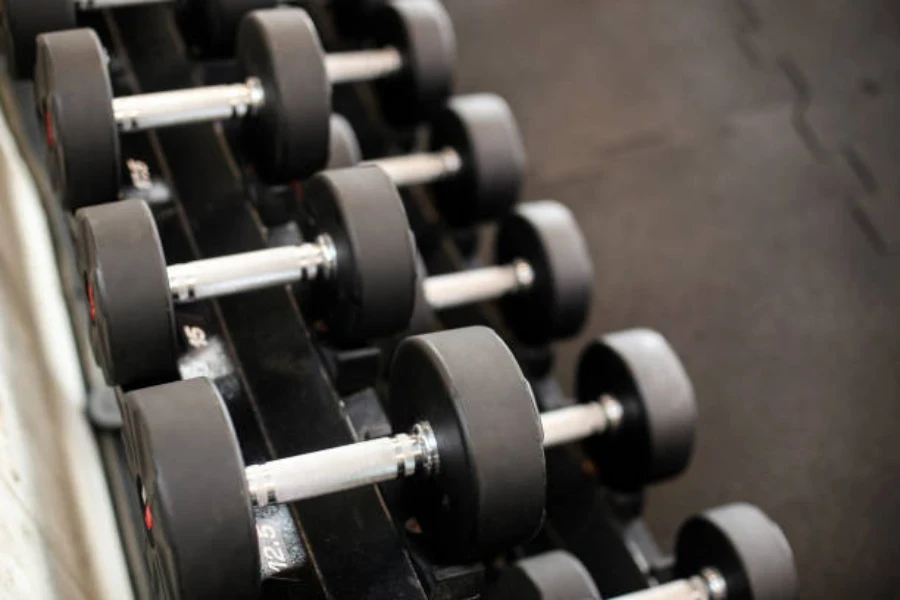 In recent years there has been a growing demand among consumers for home fitness equipment which has significantly helped to drive up the market value of dumbbells since they are small enough to use at home and store away when they're not in use. With consumers living a busy lifestyle it can be difficult for them to maintain a fitness routine but by having dumbbells at home as an alternative to the gym they are able to workout on their own schedule. And since dumbbells can be used for exercises beyond strength training they are a versatile option for many consumers.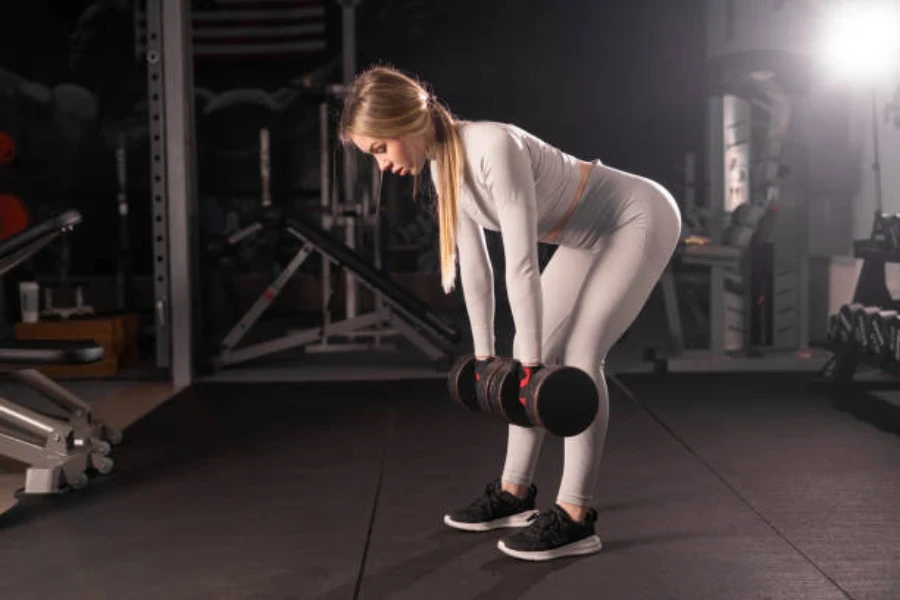 Dumbbells are still heavily used in gyms though and there are numerous types of dumbbells for workouts that consumers can now choose from, making this type of fitness equipment much more appealing than in recent decades. By 2022 the overall global market value of fitness equipment reached USD 16.04 billion and between 2023 and 2030 that number is projected to increase by at least a compound annual growth rate (CAGR) of 5.3%. Dumbbells in particular are expected to see a CAGR of at least 2.41% until 2025.
Types of dumbbells for workouts to consider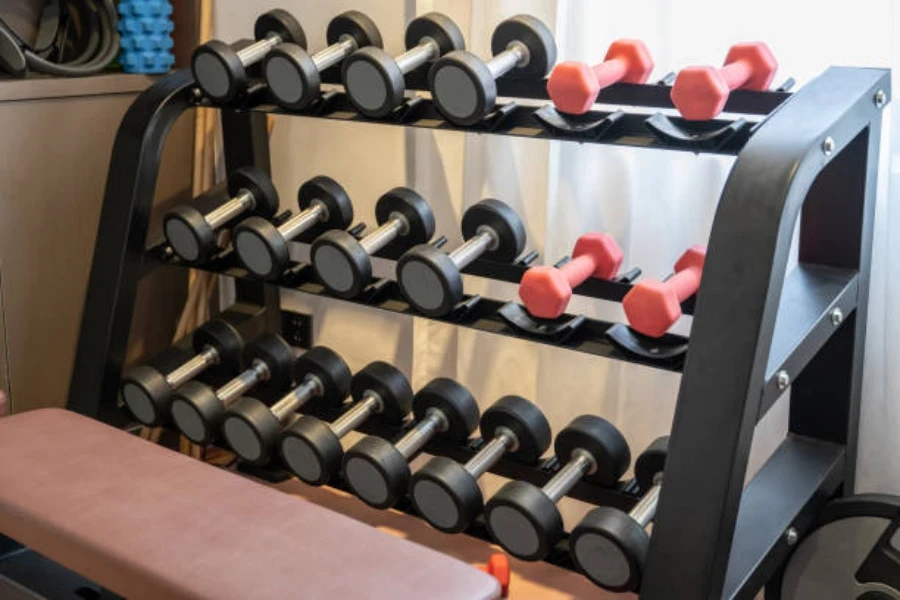 With dumbbells becoming more popular by the day there are now a good selection of them available on the market that cater to different workout routines as well as personal preferences. Whereas some dumbbells are designed purely for strength training others can be used for lighter workouts or yoga and balance routines.
According to Google Ads the word "dumbbells" has an average monthly search volume of 1 million. Of this number, the most searched for type of dumbbell is "adjustable dumbbells" at 201000 searches per month. This is followed by "hexagonal dumbbells" at 9900 searches, "rubber dumbbells" at 8100 searches, and "cast iron dumbbells" and "neoprene dumbbells" both at 3600 searches. This shows that consumers are looking for dumbbells that are easier to use, that take up minimal space when in storage, and that can be adjusted to help save money. Keep reading to learn more about each of these types of dumbbells for workouts.
Adjustable dumbbells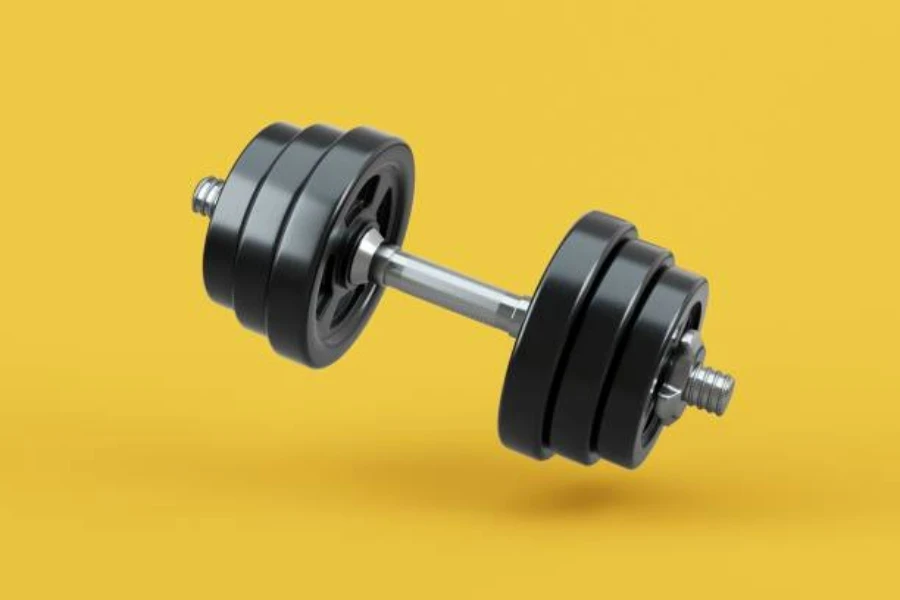 Adjustable dumbbells are very popular among consumers as they're considered space saving exercise equipment which is perfect for both home use and gyms that don't have much storage space on the floor. The biggest feature of the adjustable dumbbell is that the weight can be changed with ease to adapt to the fitness level of the individual using it. This means that the user doesn't have to find another dumbbell to use or a plate to add, they simply use the same one but adjust the resistance level using a dial or similar system.
Adjustable dumbbells are incredibly versatile and have a compact design so the consumer can replace multiple dumbbells for a single pair which is cost effective too. They also come with a built-in locking mechanism so the weights don't move around and cause injury. As with most dumbbells the adjustable dumbbells are built to last, being made of high-quality materials that can withstand a lot of use and lifting over time. 
Hexagonal dumbbells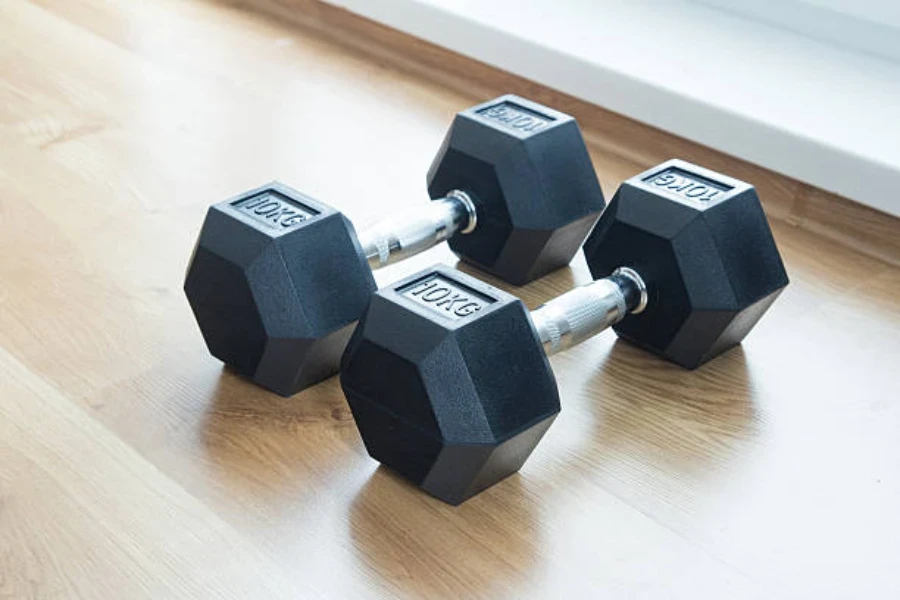 One of the most popular types of dumbbells for strength training are hexagonal dumbbells. These six sided dumbbells, also known as hex dumbbells, are designed with enhanced safety in mind so that the dumbbells don't roll when they're placed on the ground. They come in a wide range of weights so it's not uncommon to see them lined up in a gym in the strength training area, and if they're not on a rack they can be easily stacked thanks to their hexagonal shape.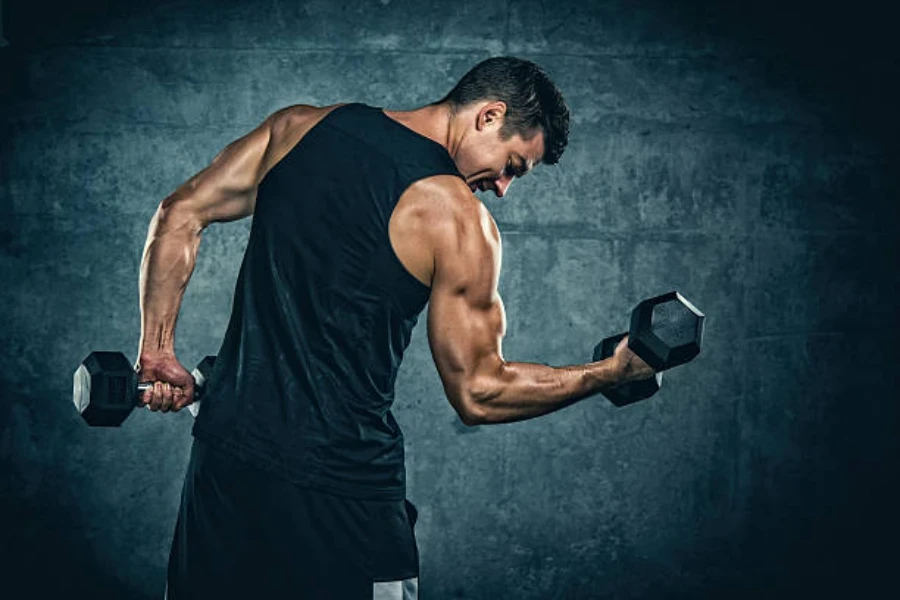 Since hexagonal dumbbells will be predominantly used for strength training they are very durably made, usually from materials such as cast iron or they will have rubber encasing on them that allows them to withstand consistent use over a long period of time. The grip is also designed in a way that helps to minimize hand fatigue and ensure the hand won't slip. Overall, hexagonal dumbbells are both affordable and versatile and with no assembly required and minimal maintenance needed they're the perfect investment for weight training.
Rubber dumbbells
Rubber dumbbells are a popular and often preferred type of dumbbell for strength training. These rubber coated dumbbells provide several benefits that consumers don't get with cast iron dumbbells. The rubber coating, for example, will cover the entire weight which protects it from corrosion and rust. This is particularly beneficial in humid climates where this is most likely to occur. It also offers floor protection if the weight is suddenly dropped as well as noise reduction when the dumbbells are placed on a hard surface. 
Depending on the type of rubber dumbbell being used the handle may or may not be covered in the rubber coating but in both cases the handle is designed to maximize the hand's grip. On top of these important features a lot of consumers enjoy the color options that rubber dumbbells come in which makes them easy to identify when planning a workout routine and they are available in different shapes such as hexagonal and rounded.
Cast iron dumbbells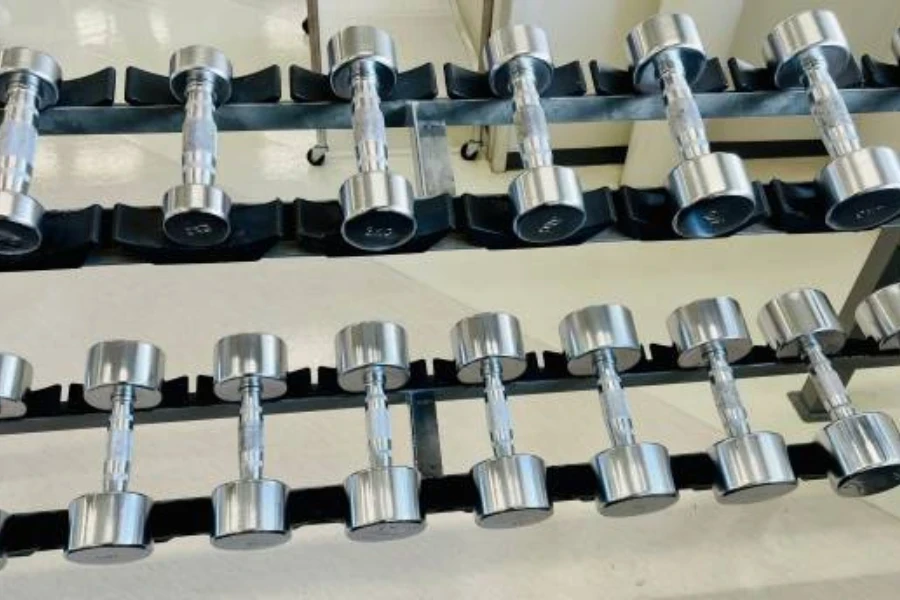 Cast iron dumbbells are a classic type of dumbbell that are popularly used in strength training, especially with consumers who aim to lift heavy weights. These dumbbells are made from solid iron so they are extremely durable and can withstand a lot of use over time. The traditional design of these dumbbells is what helps to make them attractive among consumers, with either a round or hexagonal design with a straight handle between the weights. Each dumbbell is precisely cast with a weight in mind since there is no added rubber or neoprene coating on them.
Cast iron dumbbells are very popular with consumers looking to focus on strength training but they wouldn't normally be used for activities such as yoga since they are more likely to cause injury when dropped due to the solid cast iron design.
Neoprene dumbbells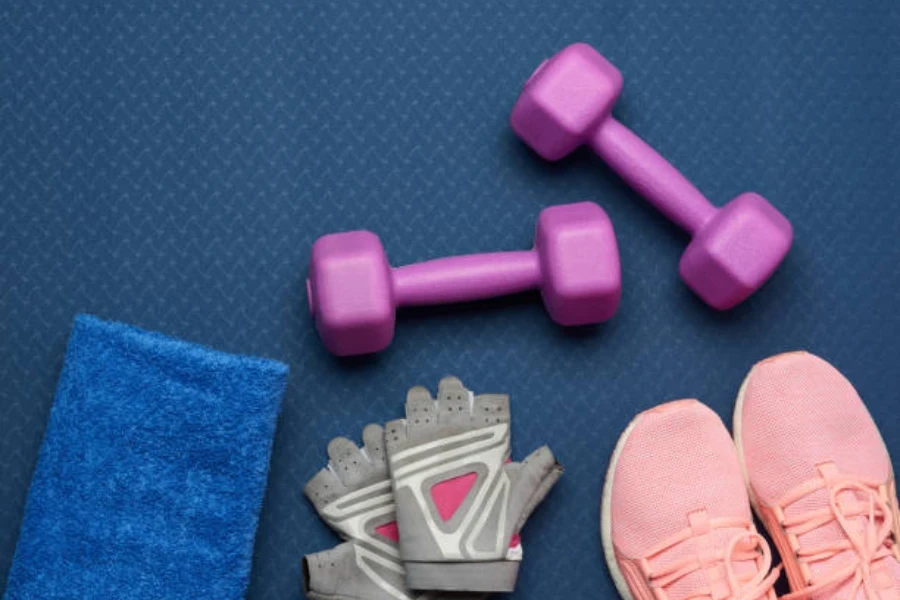 Neoprene dumbbells are fairly similar to rubber dumbbells but some consumers prefer to use this material when working out. The neoprene coating helps to protect the weight itself and at the same time offers a comfortable grip for the user with its cushioned surface. Neoprene is very easy to clean making neoprene weights a hygienic option for either home use or larger gyms.
Neoprene is a popular alternative to rubber since it can maintain its flexibility over time and is less likely to crack when used repetitively. It's also a good option for consumers who are allergic to natural rubber latex. Like the rubber dumbbells, neoprene dumbbells are available in a variety of vibrant colors which allows consumers to locate the weight they need more efficiently.
Conclusion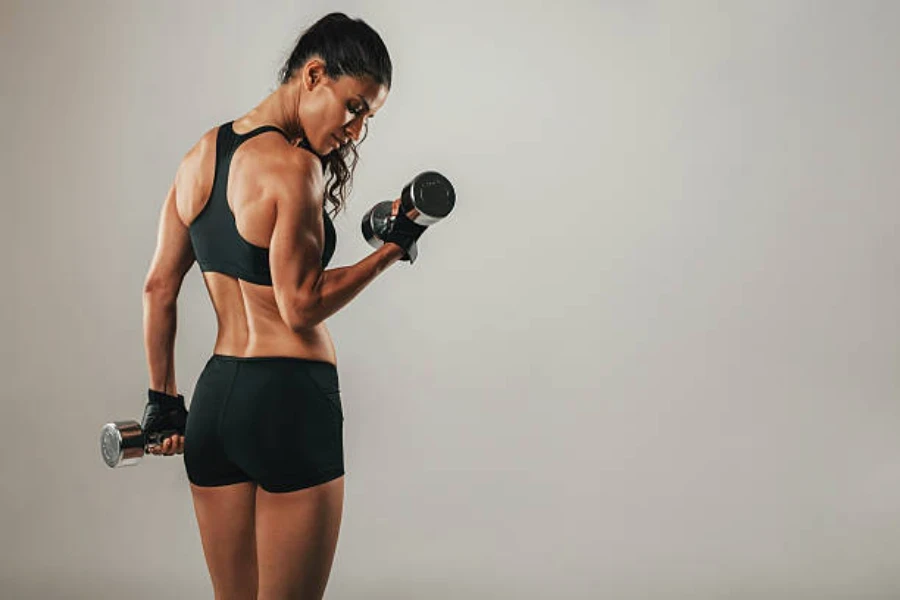 The top types of dumbbells for workouts cover a wide range of options for consumers of different fitness levels. In some instances cast iron dumbbells will be a popular choice, especially for heavy lifting, and in others versions of dumbbells such as hexagonal dumbbells or adjustable dumbbells are a better alternative when space may be limited or cost is an issue.
Consumers who are focusing on activities such as yoga, minimal strength training, or even rehabilitation may want to consider rubber or neoprene dumbbells that are designed with safety in mind. Dumbbells continue to be a popular choice of fitness equipment worldwide and are only gaining popularity as consumers focus more on their overall health both at home and in the gym.
Was this article helpful?