Mainstream fashion gives birth to various unlikely style combinations—but one that's particularly nostalgic and captivating is romantic academia. This theme combines timeless elegance with intellectual charm and a touch of romance.
Romantic academia isn't just about looks; it's also about creating a deep emotional connection with customers through nostalgia. But like every other industry, businesses must stay updated with the latest trends.
This article will explore five fantastic romantic academia aesthetic styles for 2023/24.
Table of Contents
Why is romantic academia relevant in 2023?
Five romantic academia trends to stock up on in 2023/24
Go get these trends
Why is romantic academia relevant in 2023?
There has been a growing trend towards modesty in fashion in recent years, as people have become more interested in clothes that make them feel comfortable and confident rather than clothes designed to be revealing. 
Romantic academia is a perfect example of this trend, focusing on long hemlines, loose-fitting garments, and demure details. It's a very versatile aesthetic with endless ways to interpret the style. For this reason, romantic academia is an excellent way for people to express their unique style.
Five romantic academia trends to stock up on in 2023/24
Jeans and sweaters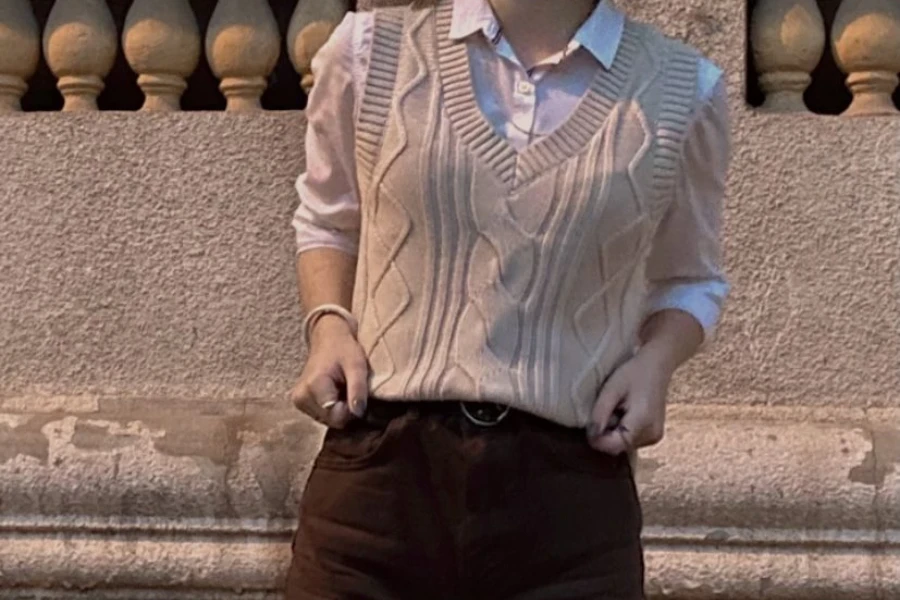 The concept of jeans as a romantic academia apparel trend is an intriguing fusion of classic, intellectual aesthetics with a touch of casual comfort. It brings together the timeless appeal of denim with the romanticism often associated with the world of academia.
High-waisted jeans evoke a sense of vintage charm, famous for their figure-enhancing silhouette. Their enduring popularity is underscored by their garnering approximately 135,000 monthly searches, firmly establishing them as a contemporary trend in 2023.
Wide-leg jeans are currently experiencing a remarkable surge in popularity, with an average of 301,000 monthly searches. These trousers effortlessly radiate an air of sophistication, combining a relaxed, comfortable fit with a polished appearance.
Mom jeans have seen a significant surge in popularity this year, with over 550,000 monthly searches from eager consumers. The relaxed fit and nostalgic vibes they offer are the key reasons behind their enduring appeal, effortlessly allowing wearers to channel a laid-back academic aesthetic.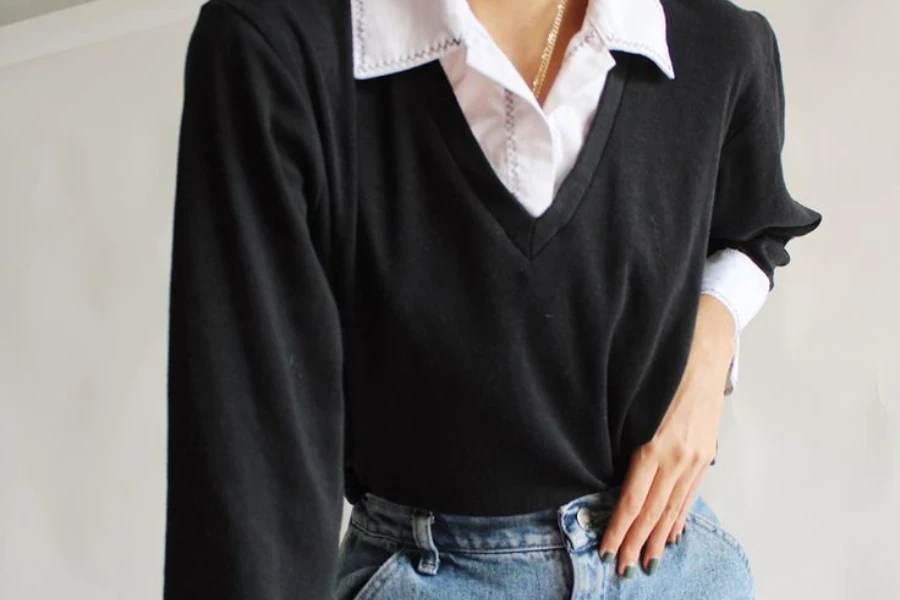 <alt="Lady wearing a black sweater on blue jeans ">
Image source: Pexels.com
Sweaters are one of the best ways consumers can match the timeless appeal of jeans. Why? Because they offer a blend of comfort with an air of intellectual sophistication. Their coziness and scholarly charm create an ensemble perfect for cooler days.
Cable-knit sweaters are a classic choice for this trend, boasting an impressive average of 60,500 monthly searches. They exude a retro appeal and craftsmanship that looks great in earthy tones. Pairing them with high-waisted jeans can effortlessly create a cozy, romantic ensemble.
Turtleneck sweaters are also a popular trend (over 90,500 searches) that effortlessly match wide-leg jeans. Cardigans are another trendy and versatile option (up to 1.8 million searches), perfect for layering with mom jeans.
Blouses and mini skirts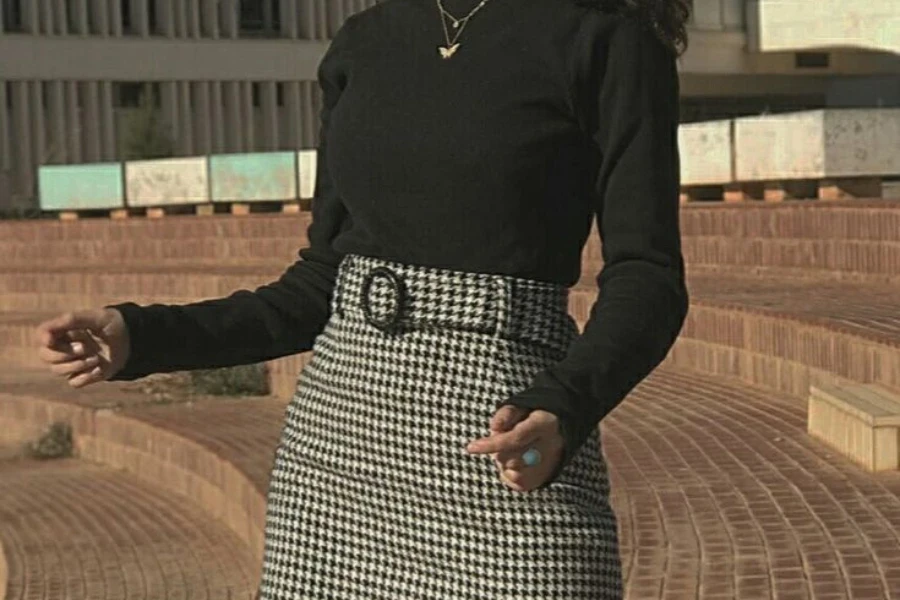 One can't discuss romantic academia without mentioning blouses. They embody this theme's delicate and sophisticated side, creating a versatile canvas for outfits that evoke romance and intellectualism.
Lace blouses are an essential element of this trend, cherished for their inherent femininity and vintage allure. Google Ads data reveals that lace blouses garner an impressive average of 27,100 monthly searches, confirming their enduring charm in 2023.
In 2023, Victorian blouses are making a resurgence as a noteworthy trend, capturing the attention of up to 4,400 searches. Characterized by their high necks, ruffled collars, and intricate detailing, Victorian blouses provide the ideal means to embody the essence of romantic academia.
Captivating and daring, mini skirts (combined with blouses) offer a fresh take on this romance and intellectualism fusion. When styled thoughtfully, mini skirts can embody a youthful yet scholarly aesthetic.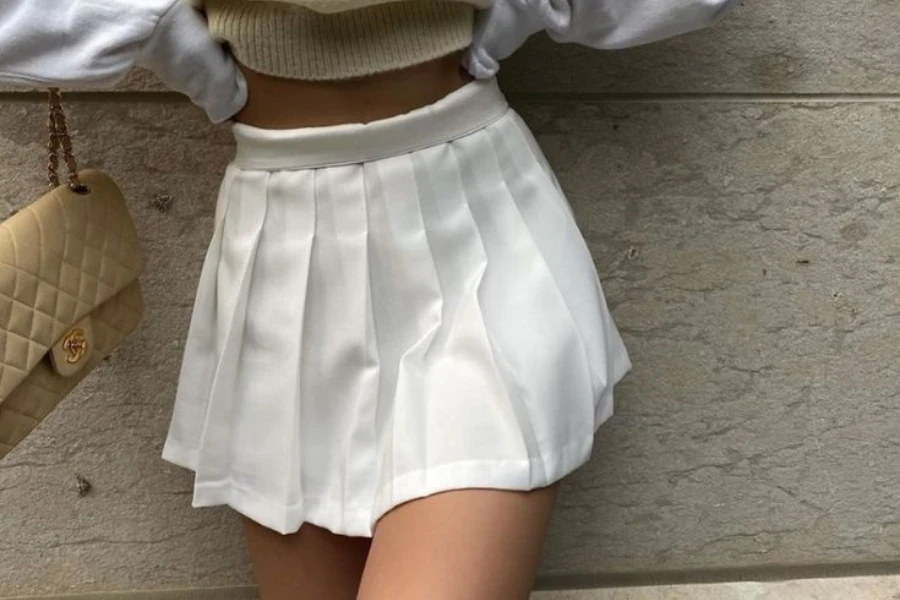 A-line mini skirts reign as one of the premier trends within this theme, celebrated for their timeless and figure-flattering silhouette. Their popularity remains consistent, boasting an average of 8,100 monthly searches, which reflects a 2% increase from 6,600 in July. 
Ladies can complete this ensemble by pairing these skirts with a tucked-in lace blouse or a well-fitted sweater, achieving a harmonious and polished appearance.
Pleated mini skirts thrive on nostalgia, evoking the charm of school uniforms, a style many women enjoy reimagining in contemporary fashion. The statistics underscore this sentiment, with a notable 22,200 monthly searches from consumers seeking these delightful pieces.
Opt for pleated skirts in neutral hues so consumers can pair them with crisp white Victorian blouses for a youthful ensemble.
Long-sleeved dresses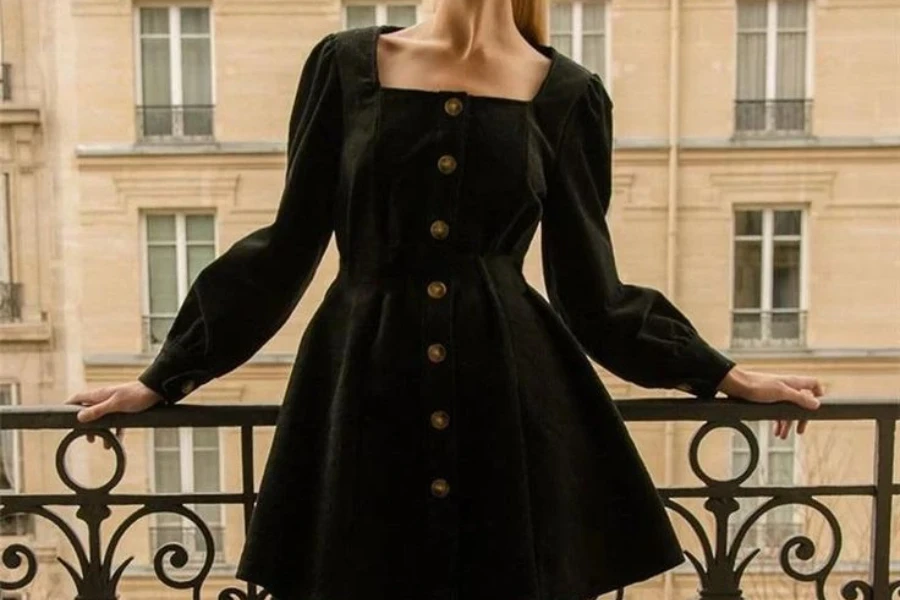 Long-sleeved dresses don't fall short regarding timeless sophistication. As a result, their designs are perfect for capturing the romantic academia aesthetic.
Midi-length dresses are a favored choice when crafting romantic academia ensembles, and the reasons are abundantly clear. They attract a substantial average of 60,500 monthly searches, affirming their status as a preferred option among women. 
Furthermore, dresses in muted colors that gracefully fall just below the knee offer the ideal canvas for achieving classic, timeless looks.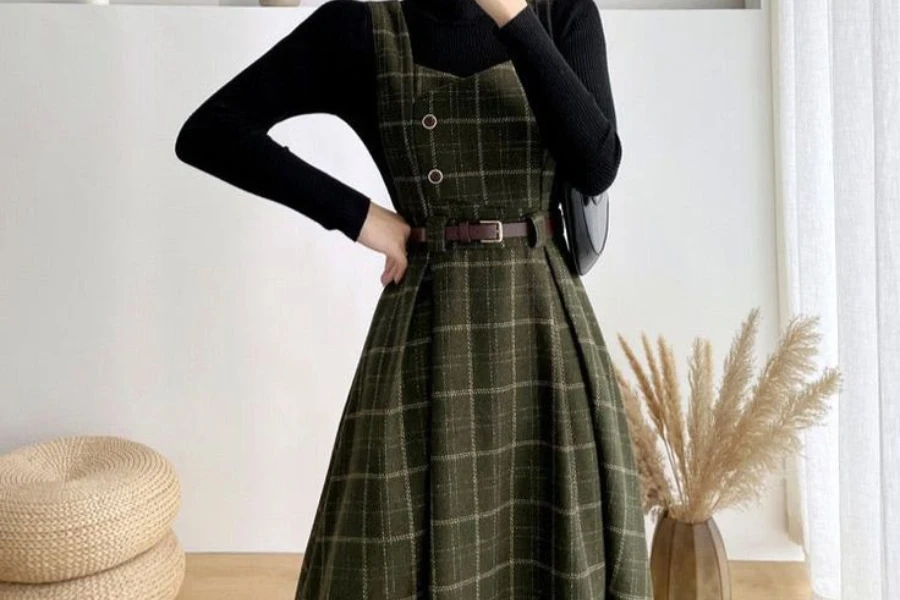 Velvet long-sleeved dresses have also gained widespread popularity, radiating an air of luxury and romance. Google Ads data reveals that these dresses command an average of 12,100 monthly searches. Although not reaching the same demand as midi dresses, they are still a notable trending choice.
Ladies can opt for velvet dresses in jewel tones like deep red, emerald green, or royal blue to create a luxurious and academic look.
For those seeking a refined and snug attire, turtleneck long-sleeved dresses present an excellent option. Especially favored are variants in neutral shades such as gray, camel, or black, as they contribute to a more sophisticated and polished appearance.
Crop tops and midi skirts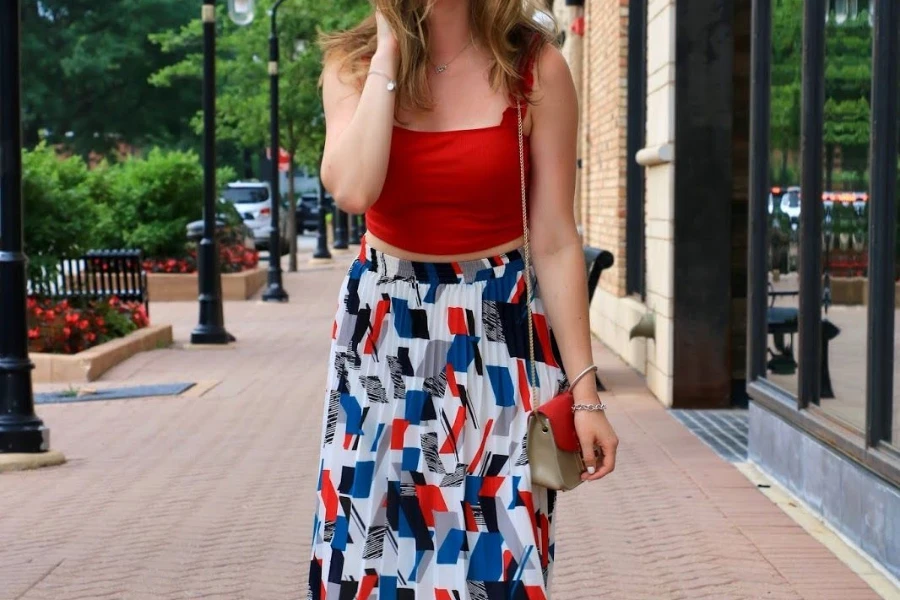 Crop tops may not be the most traditional choice for romantic academia apparel, but when styled thoughtfully, they can add a contemporary and playful twist to the trend.
With over 14800 average monthly searches, knit crop tops are emerging as a popular option for romantic academia enthusiasts. More importantly, knit crop tops offer a cozy, textured look that adds dimension to any outfit.
Lace crop tops have sustained their popularity this year, with a notable 12,100 searches in the past month. They introduce a delicate and romantic element, allowing consumers to infuse their attire with a heightened sense of femininity.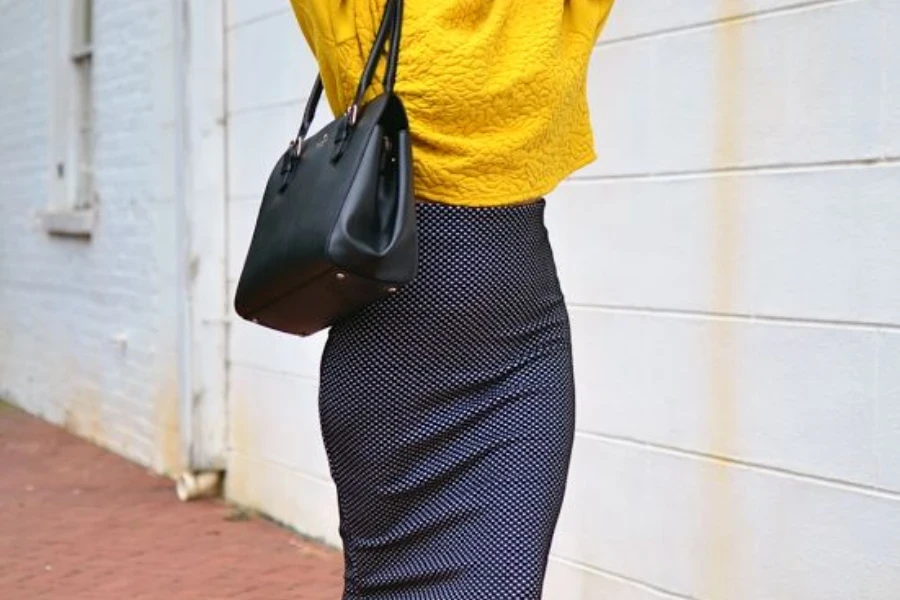 With their exceptionally short designs, crop tops benefit from a perfect pairing to achieve balance—and this is where midi skirts come into play. These skirts are timeless, radiating an aura of classic femininity and creating a harmonious ensemble when paired with crop tops.
Pleated midi skirts are a classic choice for this trend, as reflected in their impressive average of 22,200 monthly searches. They offer a graceful, flowing silhouette and can come in various materials such as chiffon, satin, or wool.
High-waisted midi skirts are another stylish choice, highlighting the wearer's waist and sculpting an elegant silhouette. Despite their average of 5,400 monthly searches, their popularity remains unwavering. Pairing them with lace crop tops can achieve a harmonious and scholarly appearance, striking a well-balanced fashion statement.
Plaid apron dress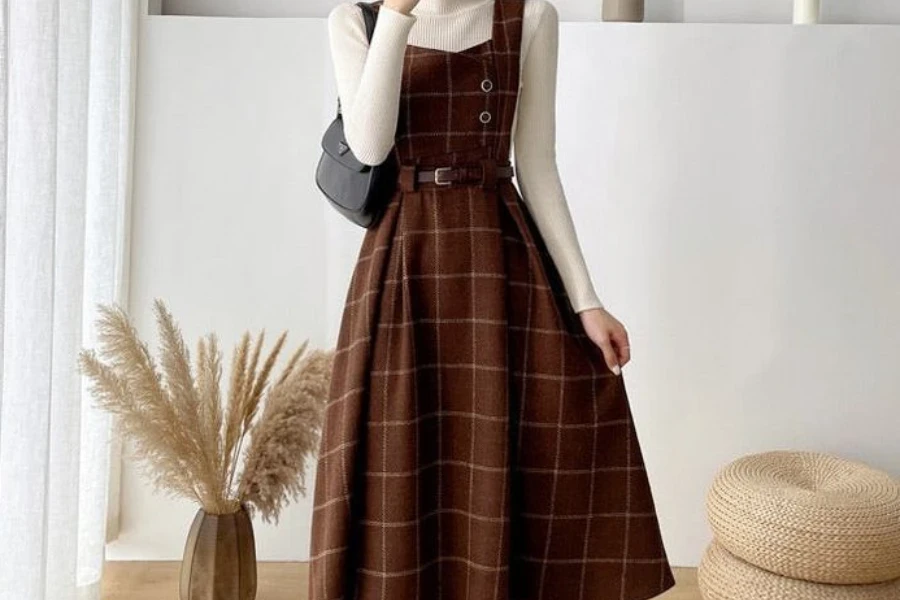 Mini skirts aren't the sole trend invoking school uniform nostalgia. Undoubtedly, plaid apron dresses also bring vintage charm reminiscent of classic school uniforms to the romantic academia apparel trend.
Classic plaid apron dresses feature a traditional pattern in muted or earthy tones like brown, navy, or forest green. They typically have a bib-like front with straps that cross over the back, giving them an apron-like appearance. These dresses are perfect for a vintage-inspired academia look.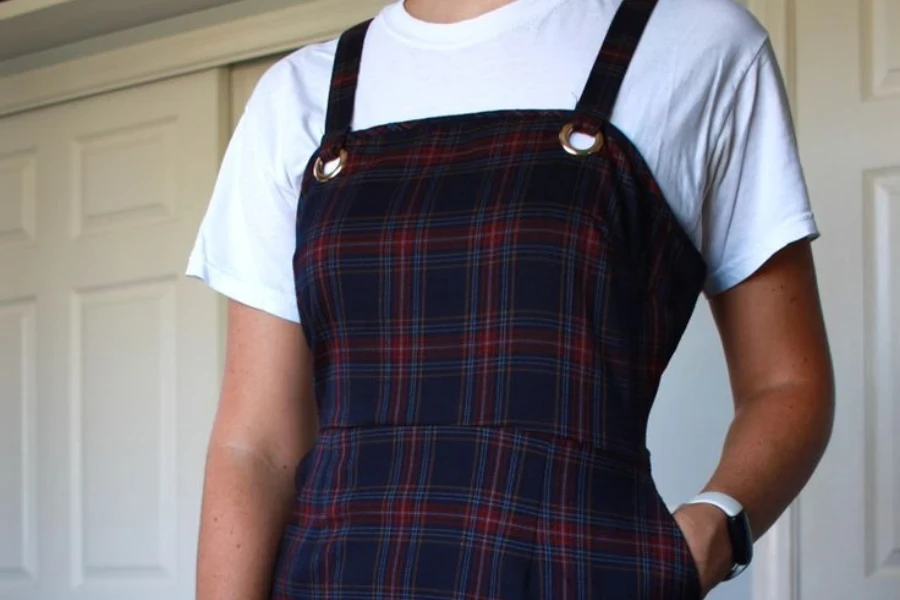 Pinafore dresses share similarities with apron dresses but typically feature a more streamlined design. They offer various neckline options, including square, V-neck, or scoop neck variations. 
Notably, these dresses attract an impressive search volume, with a monthly average of 90,500 inquiries. To fully embrace the trend, seek out pinafore dresses with plaid patterns, capturing its essence beautifully.
Go get these trends
Sustainability is no longer an option; it's necessary in today's fashion world. Romantic academia fashion aligns seamlessly with this ethos. Its timeless designs, quality materials, and emphasis on longevity make it inherently sustainable.
For businesses looking to invest in a fashion that not only captivates but also contributes to a more sustainable future, romantic academic fashion is a compelling choice, and these are the five trends to go for 2023/24.
Was this article helpful?