The all-in-one printer is the ultimate multitasker for any home office or small business. It prints, scans, copies, and often faxes with a single compact device. On top of this, there are inkjet printers, laser printers, models for photos, and models for documents.
As these options may seem overwhelming for buyers wanting to upgrade their current printer or to acquire their first multifunction printer, this article rounds up the best all-in-one printers for 2023 based on critical factors like print quality, features, and convenience.
Whether shoppers are looking for an affordable model for basic tasks or a more powerful workhorse, one of these top-rated printers is likely to be a perfect fit.
Table of Contents
Market overview
Key considerations
Best all-in-one printers
What retailers can learn from the flagship models?
Conclusion
Market overview
Experts estimate the global printer market size to be worth USD 51.98 billion in 2023 and project it to grow and reach USD 64.93 billion in 2028. This growth will occur at a compound annual growth rate (CAGR) of 4.55% during the 2023 to 2028 forecast period.
The market analysts revealed that North America holds the largest printer market share globally, with Asia-Pacific featured as the fastest-growing market from the report. They also disclosed that internationally recognized brands like HP, Canon, Epson, Xerox, and Brother are vital players controlling the printer market.
The vast market size emerges from manufacturers employing new technology and expanding to new markets, leading to printer demand growth. However, a relatively high ink cost remains a significant concern, reducing seller conversion rates from analog to digital printing. Ink prices are predicted to fall during the projection period due to increased applications and economies of scale.
Furthermore, the numerous advantages of multi-functional printers boost market growth among small and medium-sized businesses and private consumers. Sellers can use these insights to stock all-in-one printers, which benefit homes, schools, and firms. Before looking at the best all-in-one printers in 2023, the following section covers the features buyers want in these printing devices.
Key considerations
Wireless connectivity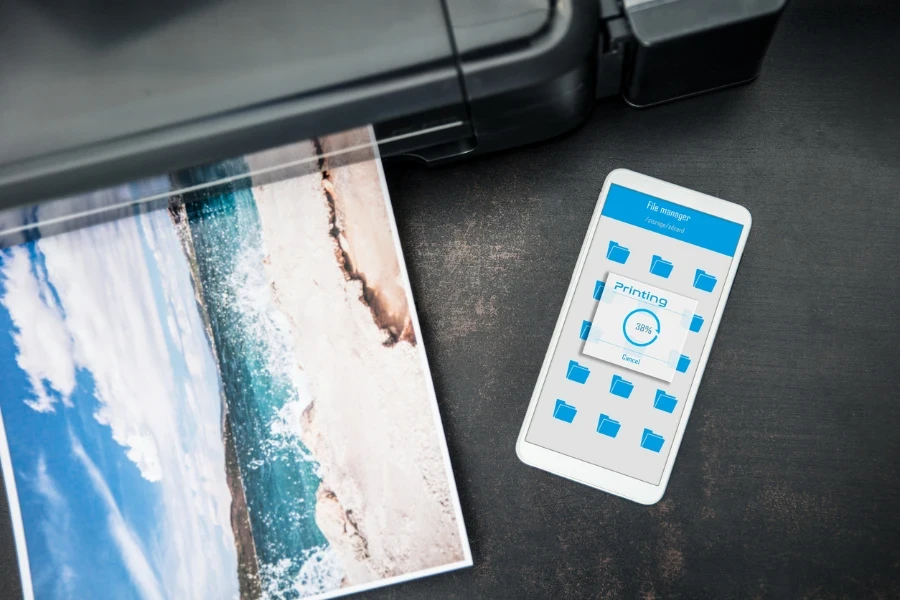 Wireless networking is an important feature present in today's multifunctional printers. It enables people to connect a printer to their device (such as a PC, smartphone, or tablet) without using physical wires. Wi-Fi technology is commonly used for this.
Wireless connectivity allows users to print from any device within range of their Wi-Fi network. This eliminates the requirement to transmit files or documents to a computer directly connected to the printer, increasing the flexibility and accessibility of printing.
Wi-Fi Direct function
Wi-Fi Direct feature enables devices to communicate directly without requiring a standard Wi-Fi network. It is especially beneficial when printing from a device not linked to the home or office network.
Wi-Fi Direct allows individuals to connect directly between their device (such as a smartphone) and the printer, allowing them to print without using an intermediary network.
Memory card and USB ports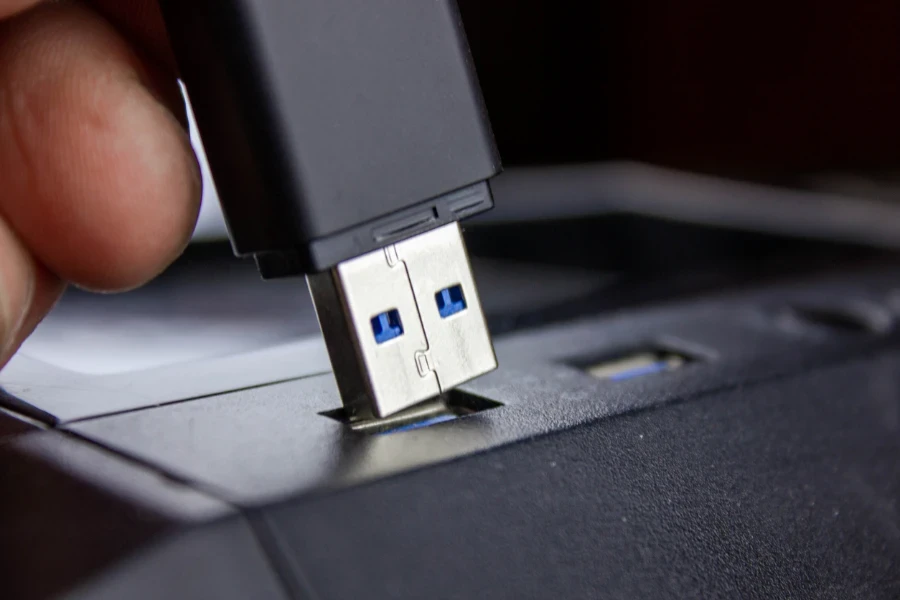 Memory cards and USB ports provide additional input for printing documents and photographs from external storage devices. Memory card slots can hold numerous cards from digital cameras or other devices, while USB ports allow users to attach USB drives or external hard drives.
These ports are handy when files are stored on SD cards or flash disks, and consumers wish to print them without transferring them to a computer.
Ink saving plan
An ink-saving plan is another crucial aspect to consider. This feature is provided by some printer manufacturers or third-party services to assist users in conserving ink and lowering printing costs. It usually contains settings or software that allow one to customize the print quality, such as draft mode or grayscale printing, which uses less ink.
Some printers may have automatic duplex printing (printing on both sides of the page) to save paper and ink. Saving plans may include ink cartridge recycling or automatic ink delivery when the ink runs low, ensuring users never run out of ink unexpectedly.
Best all-in-one printers
Canon Color ImageClass MF753Cdw: Best all-round multifunction printer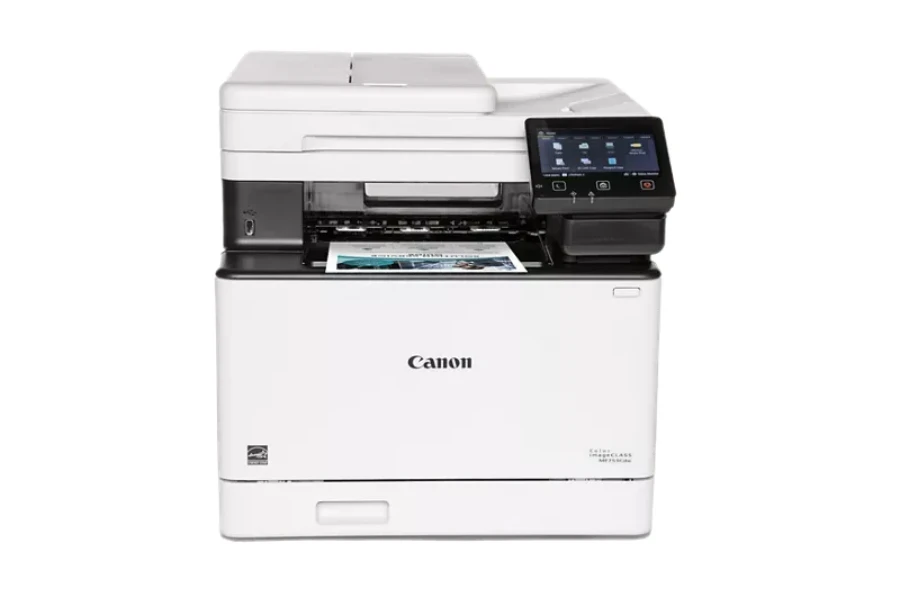 The Canon Color ImageClass MF753Cdw is an excellent multifunction printer for home and small office use. This printer allows printing up to 35 pages per minute in black and color. It uses Canon's Dual Resistant High-Density ink for dark, crisp text and vivid color images. The MF753Cdw has a full black cartridge and enough color toner for 1,100 papers.
Connecting the printer to a network is straightforward. It has built-in Ethernet, Wi-Fi, Wi-Fi Direct, and NFC connectivity options, enabling users to cloud print. USB and memory card ports also come standard in this printer.
The large 5-inch touchscreen in the printer makes navigating menus and selecting options simple and intuitive. With features like automatic duplexing for double-sided printing and up to 300-sheet ADF (automatic document feeder) for unassisted copying, scanning, and faxing, this multifunction printer aims to make office tasks more convenient.
Pros
Fast print speeds for efficiency
Intuitive touchscreen interface
Ethernet and Wi-Fi connectivity
Prints, scans, copies, and faxes
Cons
Higher upfront cost
Replacement ink cartridges can be pricey
Canon Pixma G7020: Best multifunction printer for photo prints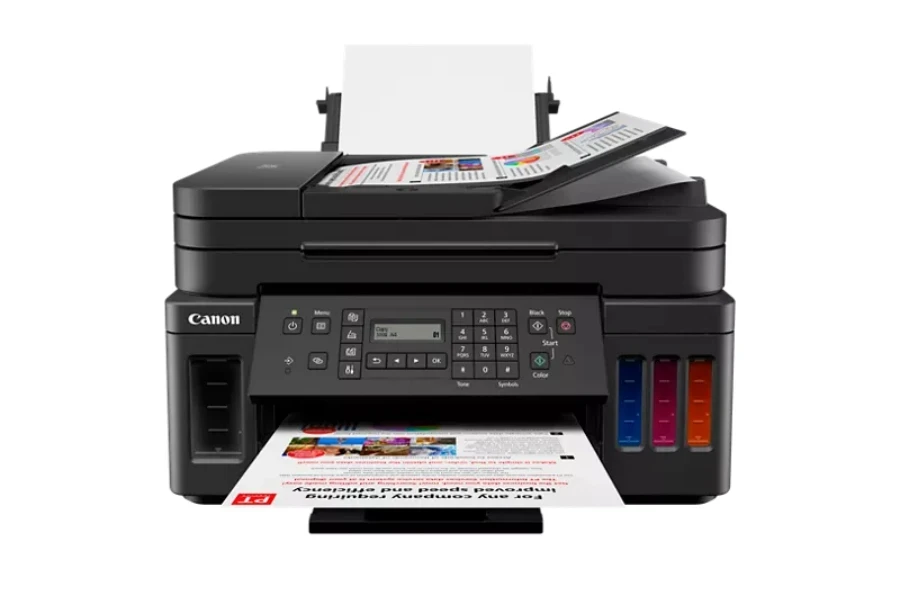 The Canon PIXMA G7020 Wireless Megatank printer is ideal for photo enthusiasts and families. Its excellent cost-to-print ratio and high black and color yield mean users can print many pages before refilling the ink tanks or buying new ink bottles, making it a cost-effective option. It also includes a sheetfed and flatbed scanner for scanning multiple papers or more fragile items like photographs.
While print speeds are good for photos, topping out at 15 ipm (images per minute) in black and 10 ipm in color, this model is a bit slow for document printing and copying compared to competitors. However, the G7020 makes up for it in print quality and versatility.
Pros
The cost per print is low
Page yield is high for both black and color papers
Solid construction
Color accuracy is adequate
Cons
Printing speed is slow for both monochrome and color papers
The screen interface is limited to two lines
HP Color LaserJet Pro MFP 4301fdw: Best laser multifunction printer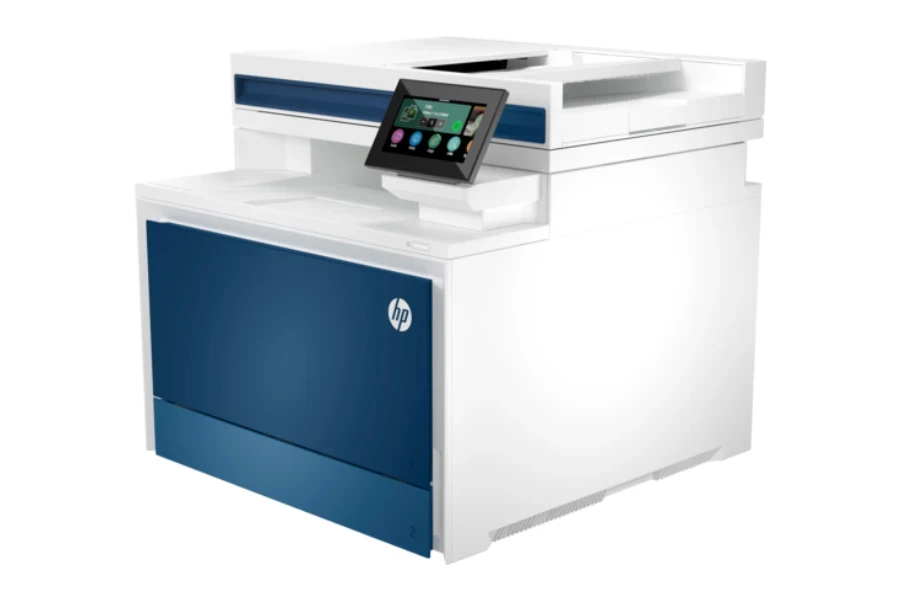 The HP Color LaserJet Pro MFP 4301fdw is a solid, dependable choice for an all-in-one laser printer. It offers print, copy, scan and fax functions in a single compact device.
This printer uses laser technology to produce high-quality prints at speeds up to 35 pages per minute in black and white and color. With a maximum resolution of 600 x 600 DPI, the HP LaserJet Pro 4301 series is perfect for printing high-quality text documents and other files in both black and white and color.
Connectivity options include USB, Wi-Fi, Wi-Fi Direct and Ethernet. The printer also supports mobile printing to aid users in printing directly from smartphones and tablets. Its 4-inch touchscreen provides an intuitive interface for controlling the MFP 4301fdw.
HP is a reputable brand that provides good customer support, and the MFP 4301fdw comes with a one-year limited warranty. Replacement toner cartridges yield up to 2,500 pages in black and 1,500 pages in color, helping keep the overall cost of ownership down.
Pros
Sturdy chassis construction
The printer is fast
Low maintenance cost
Cons
Bulky and heavy because of its solid construction
Epson EcoTank Pro ET-16650: Best tank multifunction printer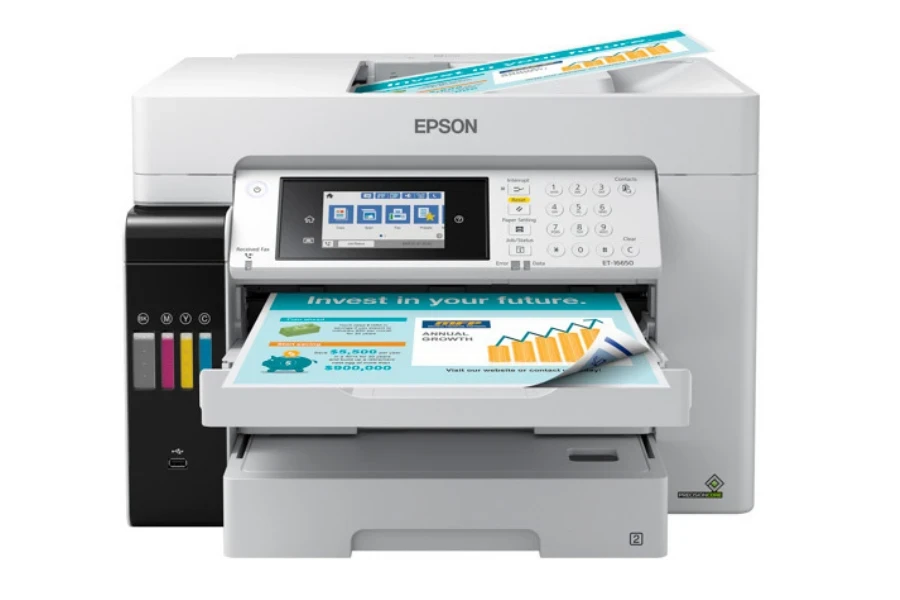 The Epson EcoTank Pro ET-16550 all-in-one printer suits buyers looking for an easy-to-use model with low running costs. It has a compact, space-saving design with an auto document feeder and a 4.3-inch touchscreen display.
This multifunction printer utilizes Epson's EcoTank ink tank system, where consumers can fill the large ink reservoirs with affordable ink bottles instead of expensive cartridges. The high-capacity ink tanks provide enough ink to print up to 7,500 black/6,000 color pages allowing users to save money on ink in the long run. Its printing speeds are moderate at 25 pages per minute.
Scanning and copying are also made accessible on this printer. Epson claims that in addition to printing vibrant prints up to 13″ x 19″, it can scan up to 11″ x 17″ papers. Its auto document feeder can hold up to 500 sheets for scanning, copying, and faxing multiple pages efficiently. The Epson EcoTank Pro ET-16550 provides Wi-Fi, Wi-Fi Direct, Ethernet, and USB options for connectivity.
Pros
Outstanding print quality
Rapid print speed of 25 ppm
Allows wide format printing
Low energy consumption
Cons
High acquisition price
Bulky printer
Brother MFC-J1170DW: Best budget MFP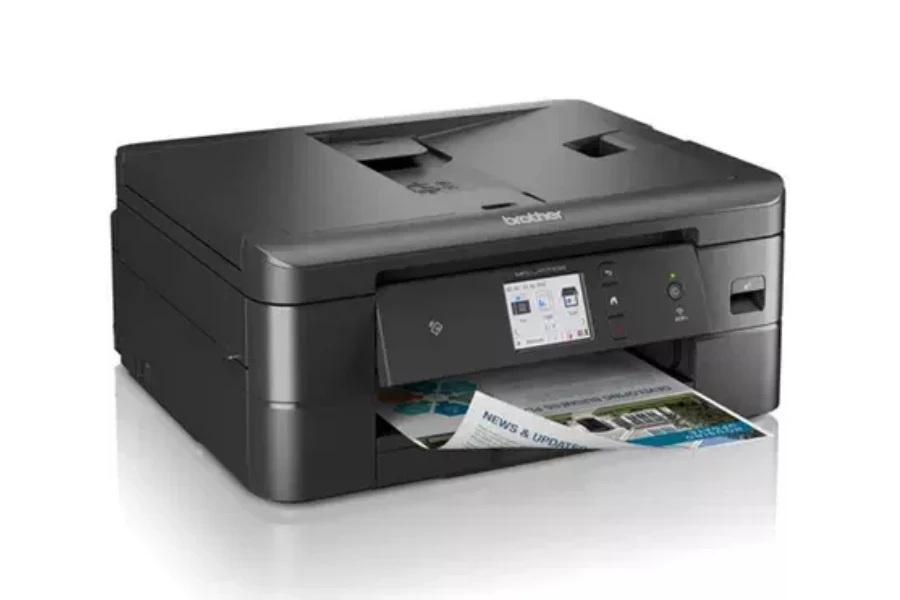 Families and businesses looking for an ideal budget-friendly option can pick the Brother MFC-J1170DW printer. It offers solid performance for the money. For USD 150, this all-in-one printer features a flatbed scanner, an automatic document feeder, and the option to print from a smartphone via NFC and wireless connectivity.
It can deliver high-quality prints, copies, scans, and faxes. It can print up to 15 ppm in black and ten ppm in color. The 20-sheet automatic document feeder makes copying, scanning, and faxing multi-page documents convenient.
The main downside is that ink cartridge costs can add up over time. Also, print speeds and paper capacity are more limited compared to higher-end models. However, for typical low-volume use, the MFC-J1170DW should suit most users' needs at an affordable price.
Pros
Reasonably priced
Good printing speeds
Small size
Cons
Ink cartridge costs can accumulate over time
HP OfficeJet 250: Best portable MFP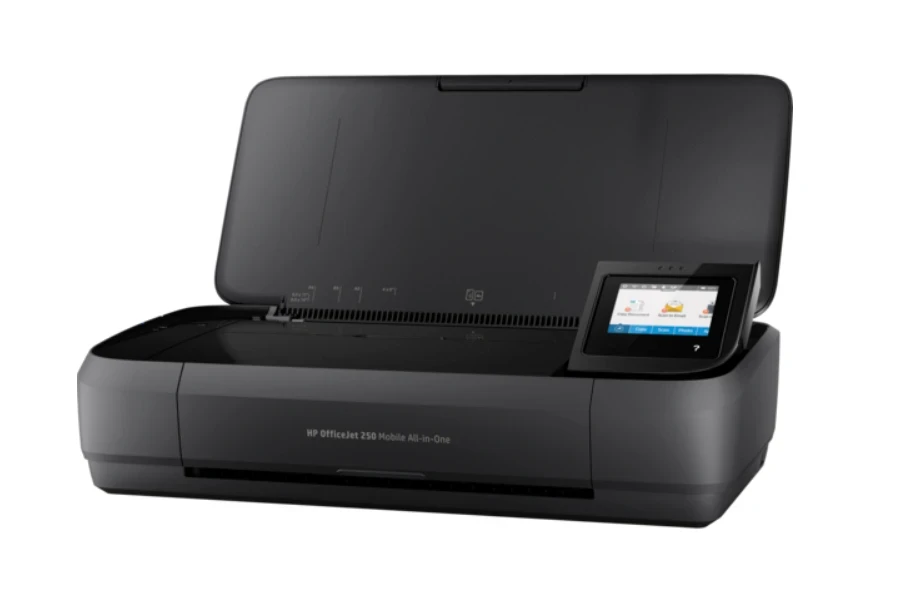 The HP OfficeJet 250 is a highly portable all-in-one printer excellent for small offices on the go. This multifunction printer offers print, copy, scan, and fax capabilities in a compact, lightweight package.
At just 4.5 pounds, the HP OfficeJet 250 is easy to move between work sites or pack up for travel. Despite its small size, it can print up to 10 pages per minute and yield up to 300 pages per month. The 2.2-inch touchscreen display, additionally, makes the printer simple to operate. It connects via Wi-Fi, Wi-Fi Direct, USB, and Bluetooth for wireless printing from laptops, tablets, and smartphones.
The HP OfficeJet 250 is also affordable to buy and operate. Replacement ink cartridges are readily available and inexpensive. For low-volume printing, the HP OfficeJet 250 offers solid performance and value in an ultra-portable package. Small office owners looking for an all-in-one printer that they can set up nearly anywhere will find a great solution in the HP OfficeJet 250.
Pros
It is mobile
Prints of exceptional quality
Long battery life
Respectable print speed
Cons
Canon imageClass MF275dw: Best printing performance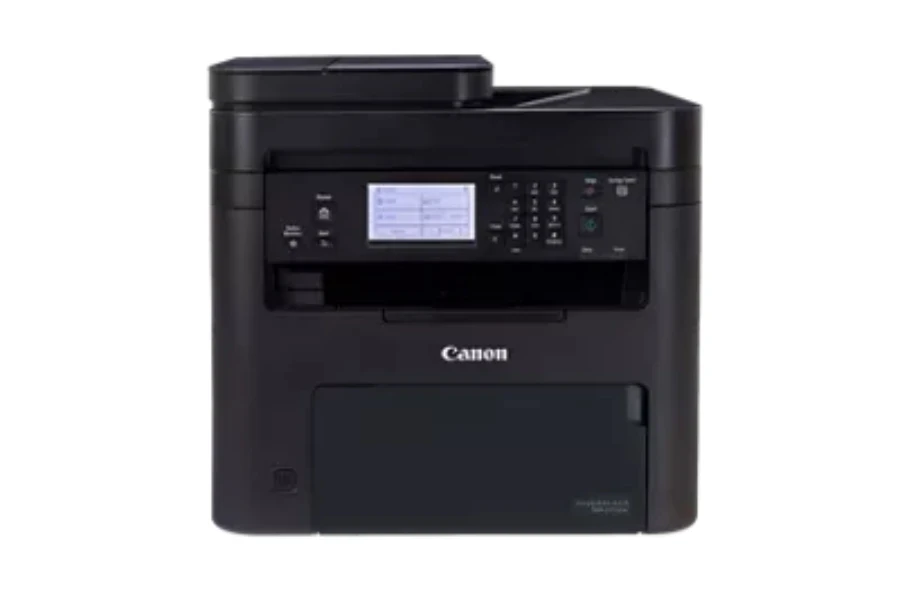 The Canon imageClass MF275dw is a compact, all-in-one monochrome laser printer that offers solid printing performance for the price, including faxing, copying, and scanning abilities.
This Canon printer churns out black and white prints at a brisk 36 pages per minute, so users will never have to wait long for their documents. It can print up to 8,000 pages monthly, which is more than enough for most home offices.
The MF375dw provides multiple connectivity choices to print from devices. It offers built-in Wi-Fi, Ethernet, USB, and peer-to-peer wireless options. Users can also print directly from mobile devices using the Canon PRINT app and Apple AirPrint.
While fast and loaded with features, the all-in-one printer is also budget-friendly. It has a low, upfront cost and helps keep ongoing costs down thanks to its high-yield toner cartridge that can print up to 3,000 pages.
Despite its solid performance, the MF275dw has a space-saving design. At just 15.4 inches wide and 14.6 inches deep, it takes up minimal room on a desk or shelf. The small size makes it easy to tuck into any home office, dorm room, or small business.
Pros
Prints, scans, copies, and faxes
Fast print speed
35-sheet automatic document feeder
Auto-duplex printing
Cons
Its 150-sheet tray may require refilling soon
Prints in black and white
What retailers can learn from the flagship models?
The growth trend of the flagship all-in-one printer models provides valuable insights for retailers. Retailers can learn a few things from these printer models' distinctive features that will help them offer their customers better products and services.
Here are a few of the key takeaways:
Diverse connectivity options: Flagship models have a range of connectivity choices. For instance, the Canon Color ImageClass MF753Cdw has Ethernet, Wi-Fi, and other features. Retailers should give priority to offering devices with versatility.
Print speed and quality: Retailers may showcase printers with high print speeds and high-quality output to entice customers looking for dependable printing solutions.
User-friendly interfaces: The inclusion of easy–to–use touchscreen interface features in various models improves user experience. Retailers should prioritize stocking flagship models that promote better user experience to entice customers.
Budget-friendly options: Flagship models have demonstrated they can offer both quality and performance at a reasonable price. Retailers should stock printer models that provide a balance between performance and cost.
Space-saving design: We've seen models like the Canon imageClass MF275dw offer compact designs suitable for small and home offices. Retailers should offer products that are great for space-saving.
Conclusion
Overall, while all-in-one printers will never match the quality of standalone devices, today's options provide solid value for many users. Any model on this list would make a great addition to a home or small office, letting buyers print, scan, copy, and fax with a single compact machine. The best all-in-one printer comes down to determining how much consumers print, their budget, and any essential extra features. To learn more about all-in-one printers, visit Alibaba.com.
Was this article helpful?