Cycling is a popular outdoor activity for many adults around the world. To add a unique twist to the cycling experience, some adults will turn to the tandem bike, which offers cyclists a way to connect with a friend, partner, or family member while enjoying the great outdoors. Keep reading to learn more about the top tandem bikes that adults love.
Table of Contents
Global market value of tandem bikes
Tandem bikes vs. regular bikes
Top-selling tandem bikes for adults
Conclusion
Global market value of tandem bikes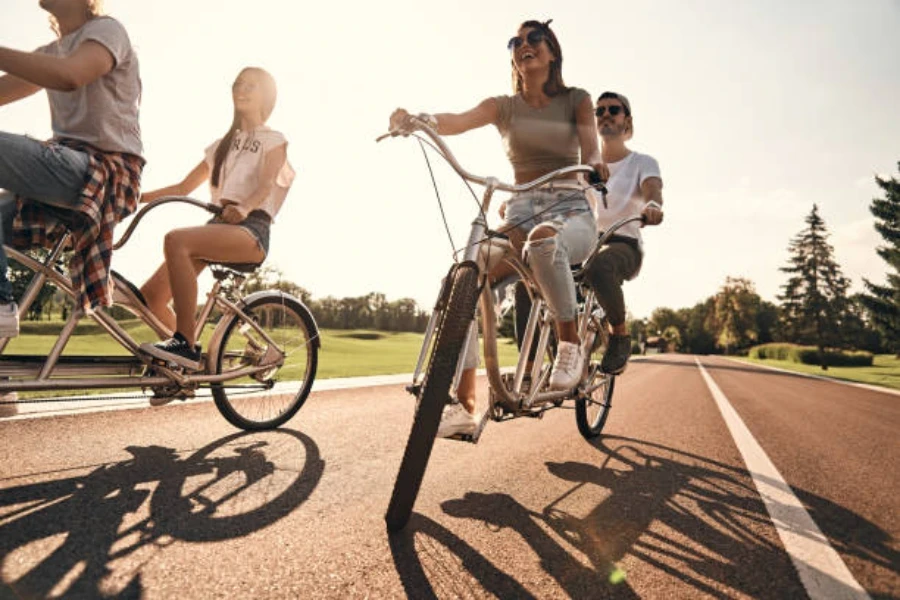 Cycling has always been a popular outdoor physical activity enjoyed by people of all ages. In recent years, the popularity of cycling has continued to rise alongside the demand for leisure activities that can be enjoyed alone or in groups. This popularity has been further fueled by an increased awareness of the importance of maintaining an active lifestyle and the benefits it can have in older age. All of this together has led to a growing acceptance of tandem bikes for adults.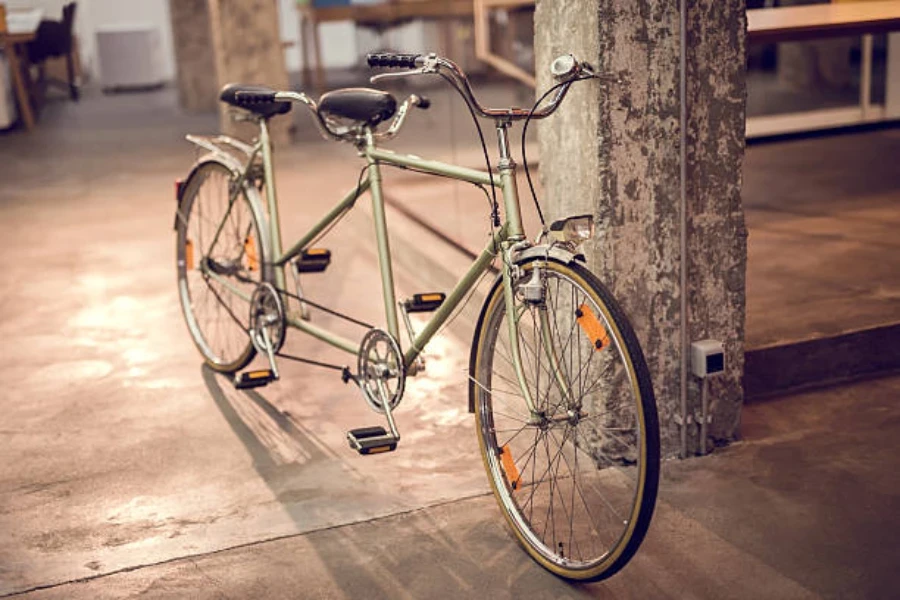 By the end of 2023, the global market value of bicycles is set to reach US $60.67 billion, aa figure that is expected to increase by a compound annual growth rate (CAGR) of approximately 5.64% between 2023-2027, bringing the overall value to approximately US $75.57 billion by 2027. Tandem bikes too are expected to have a CAGR of 5.5% between 2022-2030. This growth makes tandem bikes a worthwhile investment for buyers involved in selling outdoor goods.
Tandem bikes vs. regular bikes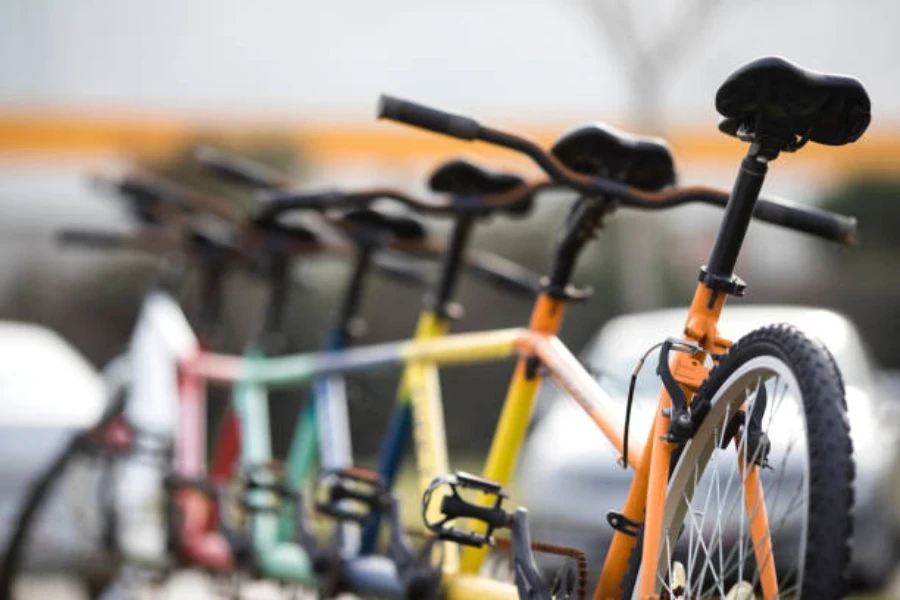 It may be obvious but the biggest difference between tandem bikes and regular bikes is the number of passengers: Regular bikes are designed to hold one rider and feature one handlebar, one seat, two foot pedals, and a shorter frame, while tandem bikes are designed for two riders to ride simultaneously. This helps to promote social interaction, coordination, and oftentimes, fun, that regular bikes sometimes don't.
Selecting the right bicycle will depend on what type of riding experience consumers want as well as what activities they intend to use it for.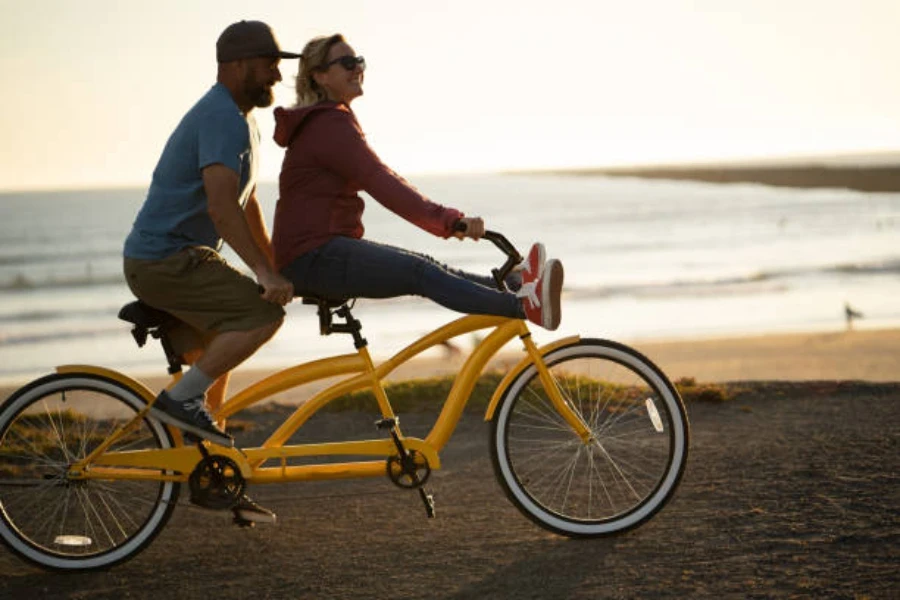 Tandem bikes tend to be more stable than regular bikes and can maintain higher speeds on flat or downhill terrain, but they do require teamwork and coordination in order to be used effectively, so they may not be for everyone.
Top-selling tandem bikes for adults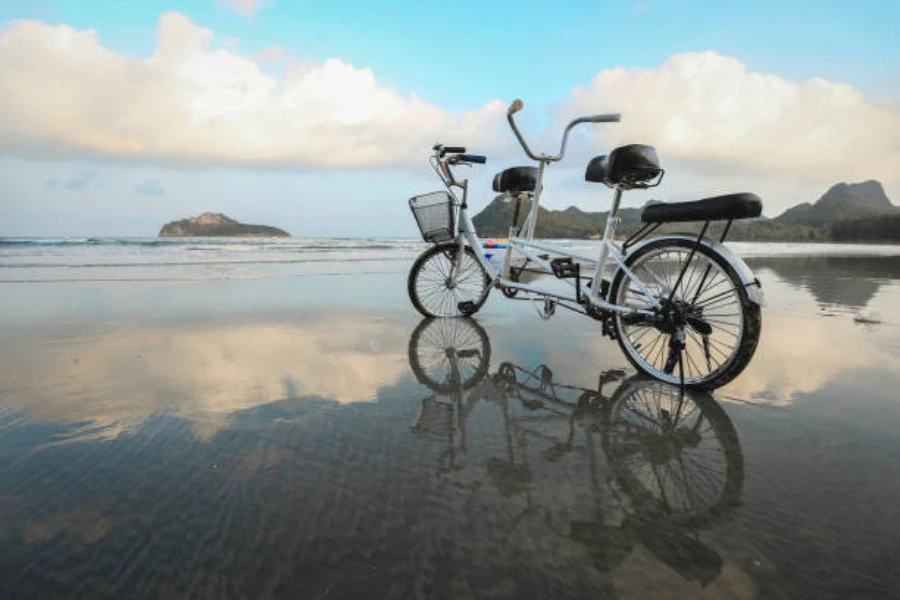 Tandem bikes have never been more popular among consumers than they are today. There are various versions of tandem bikes available on the market to suit the different needs of consumers, and each tandem bike has key features that differentiate them from others.
The most recent data from Google Ads shows that "tandem bike" has 60,500 average monthly searches. By looking at specific types of tandem bikes for adults, data shows that "electric tandem bike" comes out on top with 3,600 monthly searches followed by "MTB tandem" at 1,900 searches, "recumbent tandem bike" at 1,000 searches, "folding tandem bike" at 590 searches, and "fat tandem bike" at 260 searches. This may indicate that consumers are looking for more modern varieties of tandem bikes, providing an enhanced riding experience. Below we'll look at each type of bike mentioned above.
Electric tandem bikes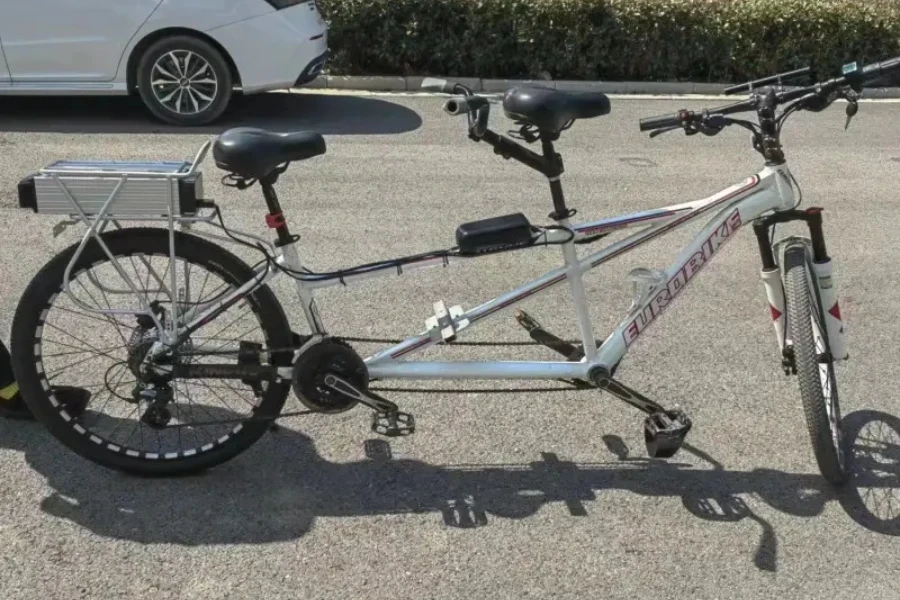 Riding a tandem bike is a unique experience, but not all riders may want to pedal for extended periods of time – that's where the electric tandem bike comes in. This tandem bike's electric assistance makes it perfect for riders get tired easily or have to ride on harder terrian, helping to provide additional power when needed. In most cases, electric tandem bikes offer riders various pedal assist modes so they can choose how much battery they use.
Some of the more advanced electric tandem bikes will also feature a screen on the handlebars for improved use, giving readouts of speed and distance.
Electric tandem bikes are quickly becoming one of the most popular varieties on the market. However, before purchasing, it's important to take into consideration their battery capacity as well as where the electric motor is placed, both of which will impact the users' riding experience.
MTB tandem bikes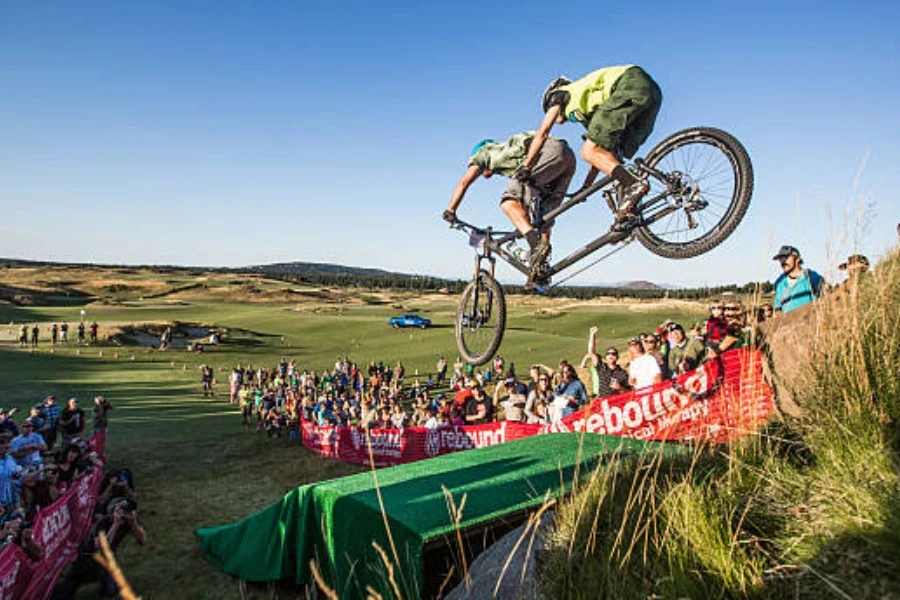 MTB (mountain tandem bikes) are a specialized bike used predominantly on off-road terrain. Several key features separate MTBs from regular road tandem bikes, incuding significantly wider wheels to allow for greater stability and traction on trails and disc brakes, which provide more powerful stopping power in off-road conditions.
Like regular mountain bikes, MTB tandem bikes also feature an added suspension system to help absorb any hard impact that the front tire will take. What's more, these bikes allow the two riders to pedal independently from one another, circumventing any issues that might arise from one rider having more pedaling power than the other. This is one of the best choices for tandem bikes for adults who seek adrenaline and outdoor adventures but it is advisable that beginners seek other models for safety reasons.
Recumbent tandem bikes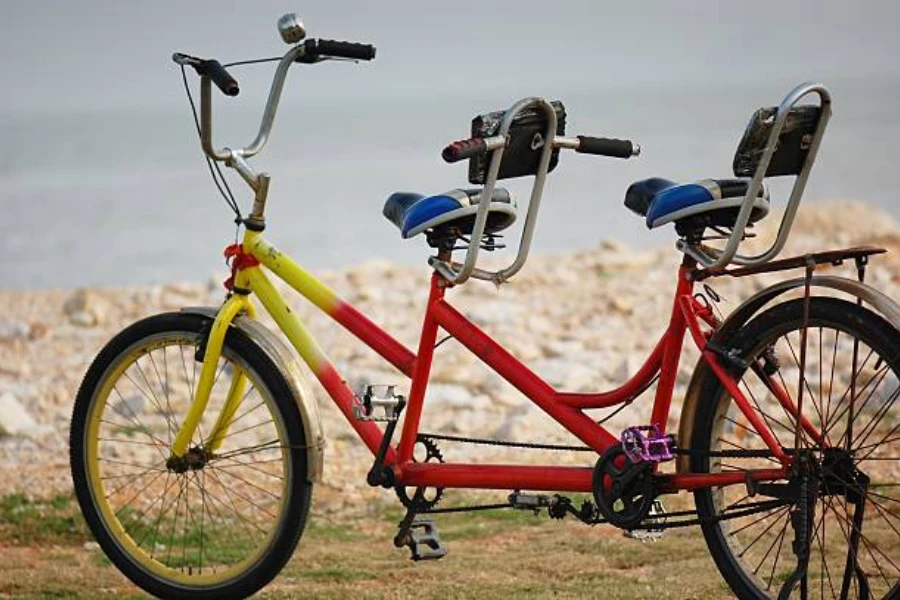 Some riders may find the seats on regular tandem bikes uncomfortable during prolonged rides, which isthe recumbent tandem bike comes in. The benefit of these tandem bikes is that they have a reclined seating for both riders, improving overall comfort and helping to reduce strain that regular bikes can have on the back and neck. These models also feature increased stability due to the seats being lower to the ground, which is beneficial for turns and downhill rides.
Consumers may need to take additional time to adjust the seats, pedals, and handlebars, so recumbent tandem bike do come with a slight learning curve, but overall, the added comfort is a big bonus for many.
Folding tandem bikes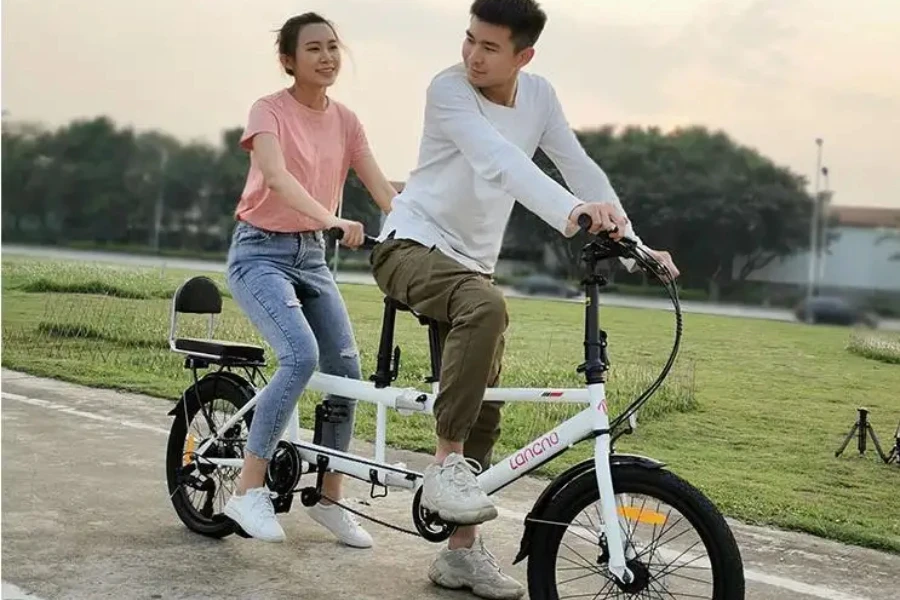 Consumers who have limited space or want to take their tandem bike on the go, make find folding tandem bikes to be the best option. These bikes are designed with a quick release mechanism in the center of the frame that allows it to be folded and stored with ease, which does not impact the stability of the frame when being used. Some folding tandem bikes will even come with a carrying case to make them easier to transport. 
Because of their smaller wheels, folding tandem bikes are best for urban environments rather than off-road conditions. They're most sought out by consumers who lack storage space, want to take them on public transportation, or carry it in their own vehicle for daily use.
Fat tandem bikes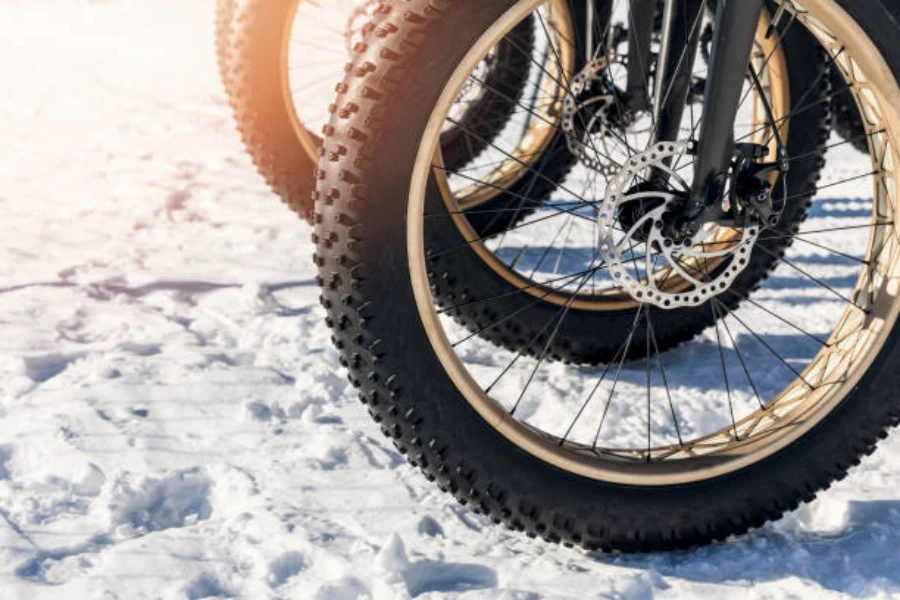 Like mountain tandem bikes, fat tandem bikes are also designed for off-road environments and, more specifically, in even harsher conditions such as snow and sand. The big difference between fat tandem bikes and other tandem bikes is the width of the tires. The tires usually range between 3.8 to 5 inches, which allows the bike to ride over various uneven surfaces. The tires also have lower pressure, helping them to better adapt to rougher surfaces.
Fat tandem bikes are also appreciated for their unique and visually appealing aesthetic, with the thick tires and distinctively durable frame making it stand out from other bikes. However, it's best to keep in mind that this bike isn't particularly suitable for road use, so will likely only appeal to a specific type of consumer.
Conclusion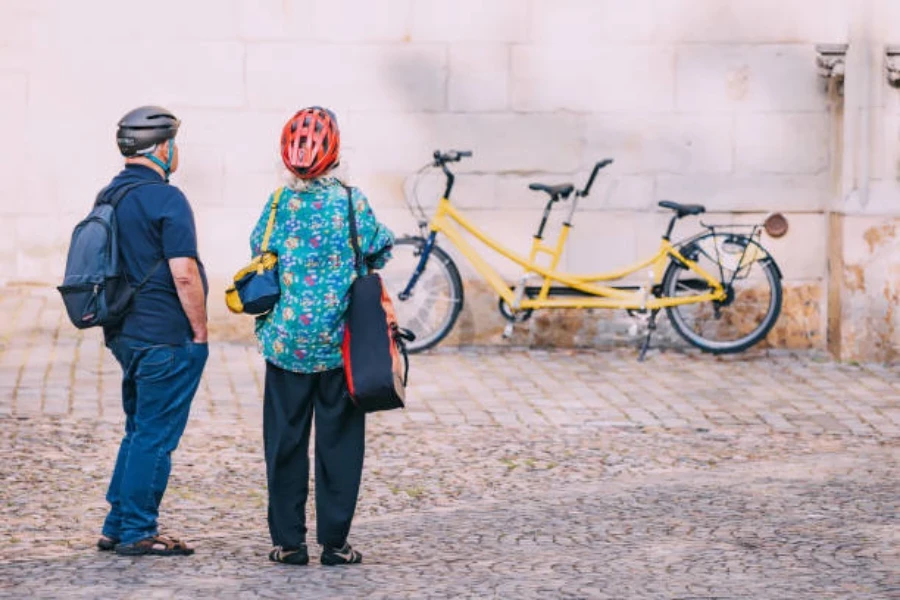 Tandem bikes offer a unique riding experience for cyclists that isn't offered by regular bikes. Bikes that allow two people to ride at the same time can make for a bonding experience, forcing riders to communicate to maintain stability and speed. Whereas some tandem bikes are designed for off-road adventures, others are more suited to urban areas or leisurely rides in the park. All in all, there is little doubt that the recent rise in popularity in tandem bikes will continue and that their projected market value will increase over the next several years.
Was this article helpful?