For consumers who are constantly moving but can't bear to part from their favorite tunes, portable radios are the way to go! Their compact and lightweight design allows buyers to keep their music playing no matter where they find themselves.
Whether they're embarking on a cross-country road trip, relaxing by the beach, or simply enjoying the great outdoors, portable radios provide a seamless audio experience. Their durability, sound quality, and convenience ensure that consumers never miss a beat during their adventures.
This article will explore 12 factors businesses should consider before selling portable radios in 2023.
Table of Contents
Are portable radios relevant in 2023?
12 things to consider when choosing portable radios
The bottom line
Are portable radios relevant in 2023?
The surge in global travel that began in 2021 has continued into 2023, with more and more consumers embarking on adventures. This trend has led to an increased demand for products that can function in remote settings, making portable radios a sought-after item.
Portable radios are part of the global radio market, which experts say will reach US$ 8.5 billion by 2027 at a 3.09% compound annual growth rate (CAGR). They also expect broadcast radio to hold the largest market share and North America to contribute 30% of the total revenue over the forecast period.
12 Things to consider when choosing portable radios
Sound quality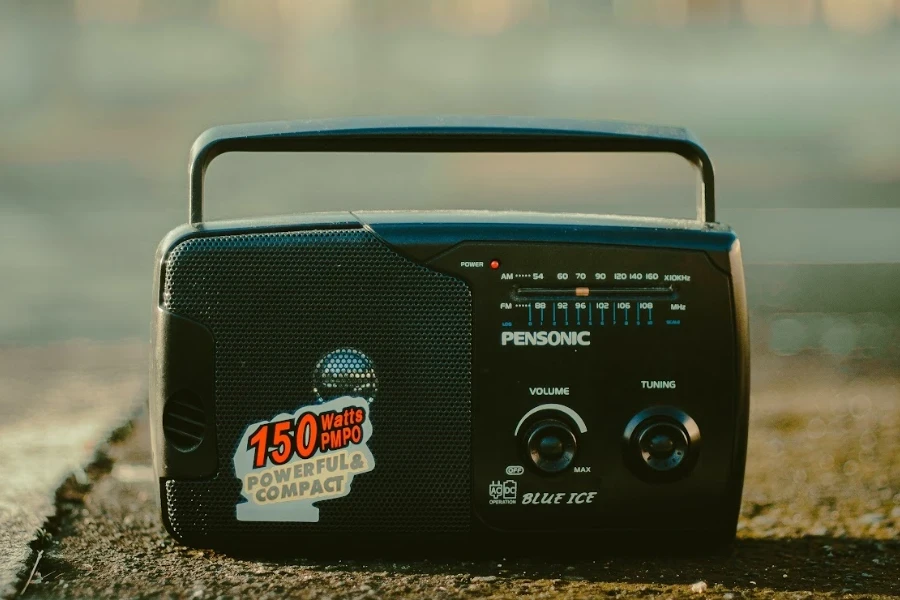 An exceptional portable radio elevates the listener's experience by providing crystal-clear, immersive sound. Nobody wants their favorite tunes to play as a muffled sound. So, businesses must prioritize those equipped with top-notch speakers and advanced audio drivers when choosing portable radios. 
Additionally, other features can take consumers' auditory quality to the next level. Consider radios with enhanced bass for those thumping beats, treble control to capture every nuanced melody, and customizable equalizer settings that allow listeners to fine-tune the audio precisely to their liking.
Google Ads suggests that some consumers prioritize the best sound quality for their portable radios. The search term "Best portable radio for sound quality" saw a roughly 70% uptick, rising from 260 searches in 2022 to 480 inquiries in September 2023. This data unquestionably reflects a growing trend in the portable radio market.
Durability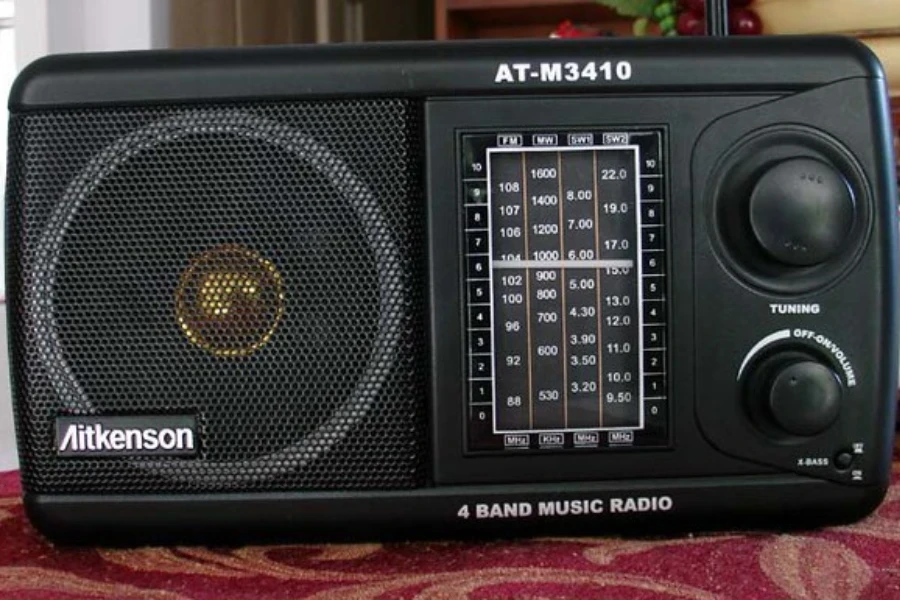 Portable radios are commonly used outdoors, exposing them to environmental factors like sunlight, rain, dust, and sand. Fortunately, their robust durability enables them to endure these conditions without significant damage.
Accidents can occur, and consumers may accidentally drop or bump portable radios. Therefore, businesses must look for durability features, like shock-resistant casings or internal components that can withstand minor impacts.
Water resistance is another relevant durability feature, especially for consumers using portable radios near water. Consequently, portable radios with IPX ratings can help businesses know their water resistance level.
Check out the table below summarizing the different IPX ratings and their corresponding water resistance levels:
| | |
| --- | --- |
| IPX rating | Water resistance level |
| IPX4 | Splash resistant |
| IPX5 | Water jet resistant (low pressure) |
| IPX6 | Water-resistant (high-pressure water jets) |
| IPX7 | Waterproof (submersible up to 1 meter) |
| IPX8 | Waterproof (submersible deeper than 1 meter) |
Signal and reception strength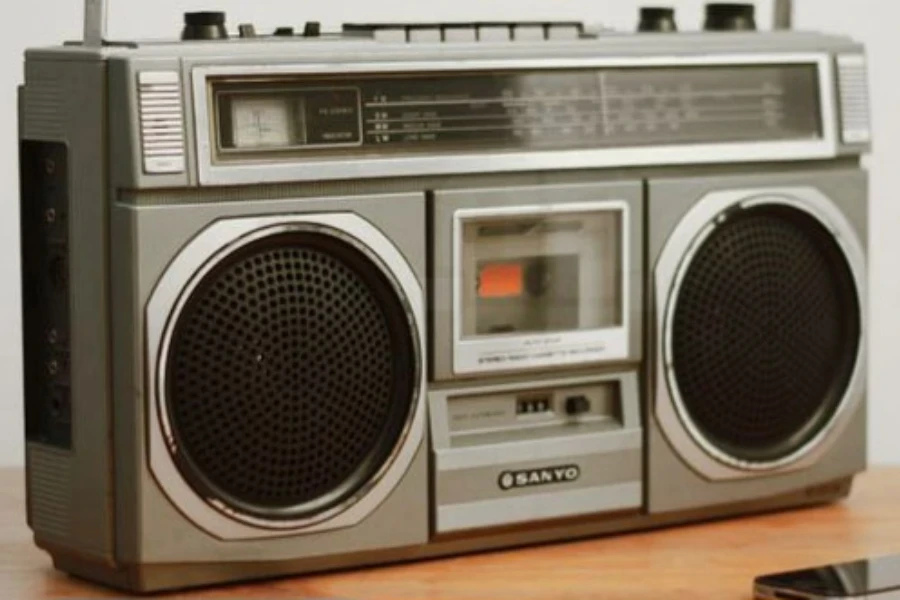 Portable radios must be able to pick up radio signals no matter where they are. In fact, strong signal and reception are directly correlated with the audio quality consumers receive. A weak signal can lead to subpar audio quality, resulting in static, interference, and dropouts, diminishing the listening experience.
Therefore, businesses must ensure that their chosen portable radios have the essential signal capture and reception features. Additionally, a more robust signal enables portable radios to access stations from more distant locations, which is advantageous for consumers traveling or residing in remote areas.
Here's a table showing various signal and reception strengths for portable radios:
| | |
| --- | --- |
| Signal strength (decibels) | Description |
| -100 dBm | Generally considered very weak and may fail to receive any sound. |
| -90 dBm | Will receive sound but may include static or interference. |
| -80 dBm | A clear signal quality but may include some dropouts. |
| -70 dBm | A better signal with clear and consistent sound quality. |
| -60 dBm | An excellent signal with no dropouts or interference. |
| -50 dBm | A perfect signal with impeccable sound quality. |
Note: Opt for portable radios with signal strengths ranging from -70 to -50 dBm.
Google Ads data indicates that consumers searched for "signal strength" 9,900 times monthly on average, with an increase to 12,100 searches in August, marking a 20% boost.
AM/FM radio tuner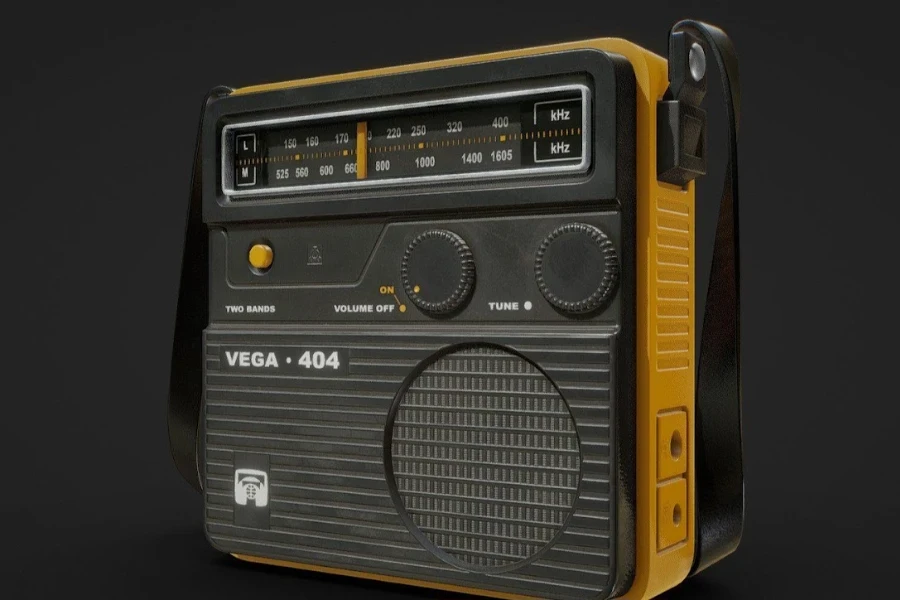 A portable radio offering FM and AM tuners gives consumers access to a broader selection of radio stations. While most radios come with both, some stick to only one. So, it's advisable to double-check before buying, especially if this feature is essential to the target consumers.
Moreover, most of the consumer base favors radios equipped with AM and FM capabilities. Google Ads data indicates that this feature receives up to 27,100 monthly searches, highlighting the importance for businesses to include it in their offerings, mainly if they aim to attract this market segment.
Display screen readability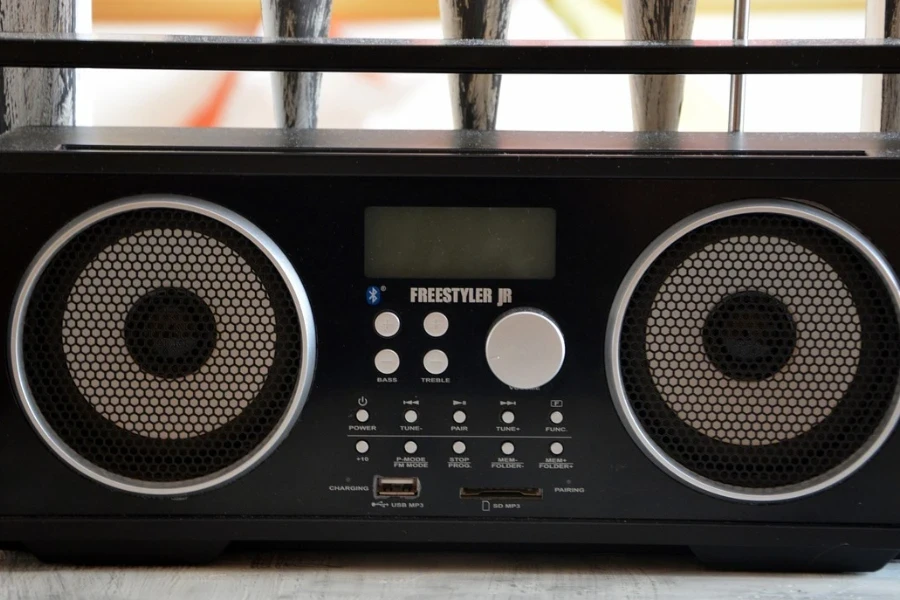 Portable radios should also feature a clear and easily readable display screen. Undoubtedly, this feature enhances the overall user experience by providing vital information such as radio frequencies, battery status, and song titles. While not mandatory, backlit screens are handy for nighttime usage, making them worth considering.
Businesses aiming to enhance their portable radio offerings can consider models featuring responsive touch screens. Beyond their convenience and visual appeal, touchscreen portable radios are in demand, with approximately 9,900 monthly searches (Based on Google Ads data).
But there's more to it. Standard radio displays also hold appeal, with around 1,600 consumers searching for them monthly.
User-friendly interface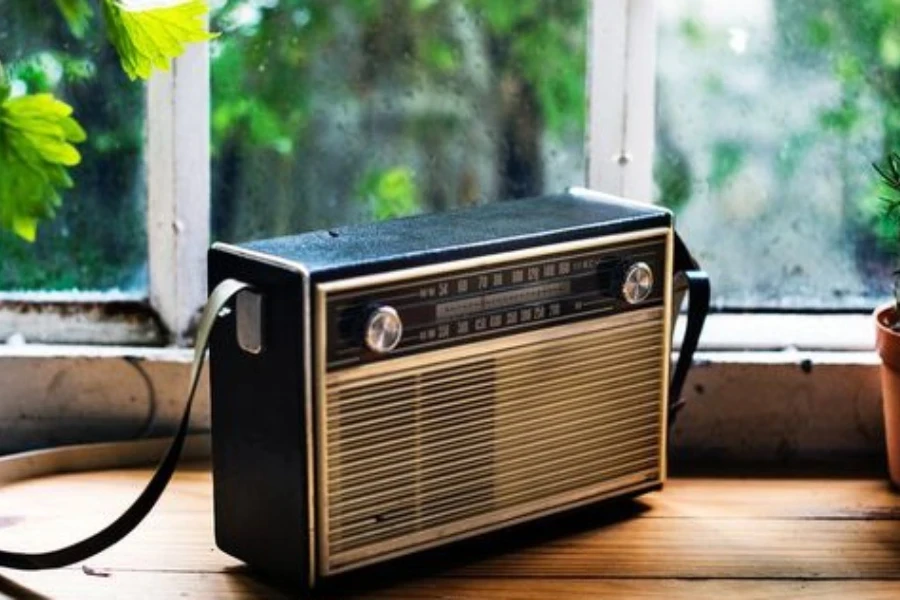 Consumers don't want to spend hours grappling with a portable radio. Thankfully, avoiding such situations is easy. Businesses only need to invest in portable radios with intuitive interfaces and user-friendly controls.
Look for design elements, like clearly labeled buttons, responsive displays, and straightforward navigation, to ensure consumers enjoy a hassle-free listening experience.
Data from Google Ads demonstrates that consumers highly favor user-friendly interfaces, with the search term "simple radio" consistently generating 22,200 monthly searches.
Design and aesthetics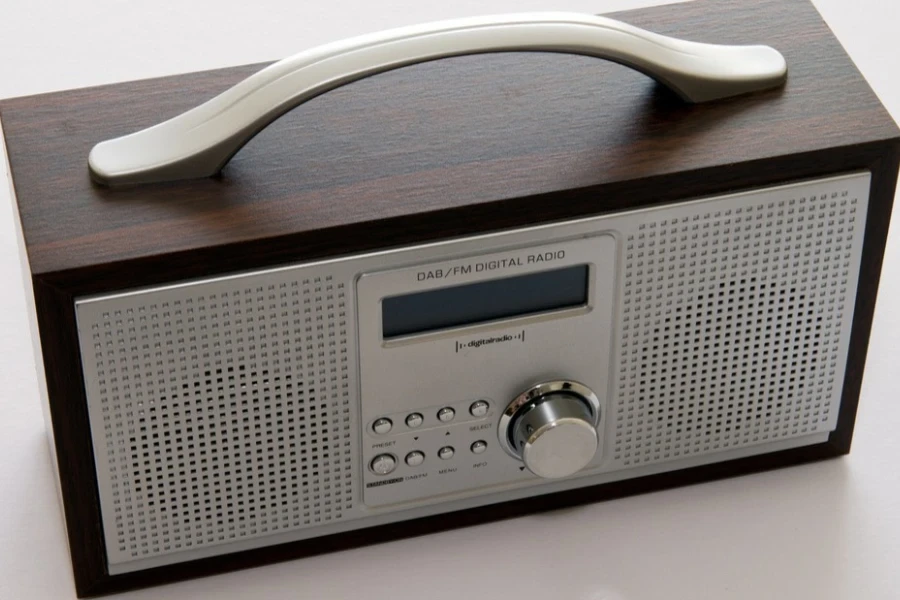 While they may not directly impact functionality, design and aesthetics matter for portable radios. Consumers will opt for designs and colors that align with their style. It could be a classic retro look or a sleek modern appearance.
The portable radio's appearance may not influence the listening experience, but it makes consumers feel stylish while enjoying their favorite tunes.
Nevertheless, businesses must understand consumers' preferences to provide the right products. The search term "retro radio" garners a remarkable 450,000 monthly searches and has recently surged to 550,000, reflecting a 20% increase.
Conversely, sleek modern radios offer solid performance, although they generate a comparatively lower average of 12,100 monthly searches. Regardless of the style businesses opt for, a potential audience is waiting to be reached.
Power source and battery life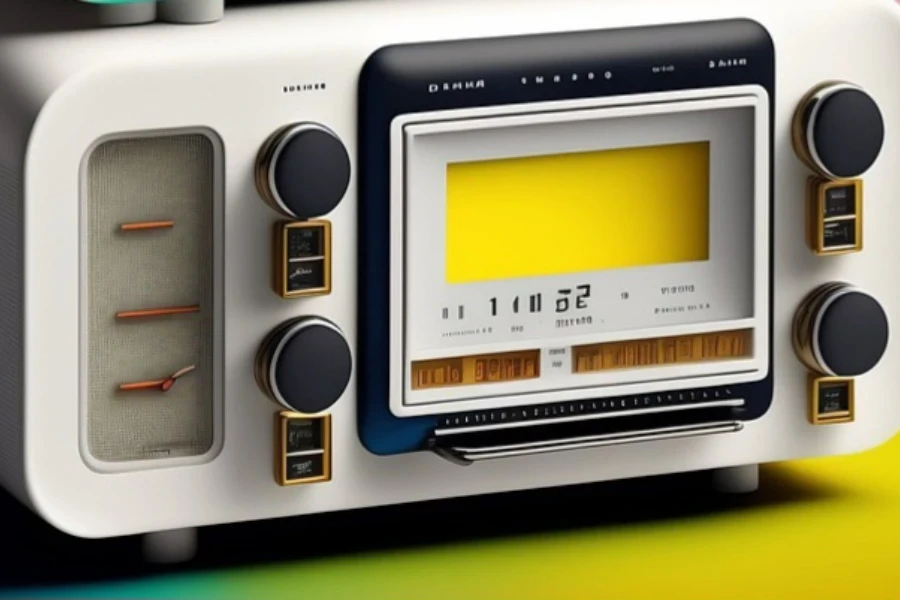 A long-lasting battery is essential to ensure consumers enjoy an uninterrupted music experience. After all, they'll expect their portable radio to last for extended periods, especially when traveling or staying in areas without electricity.
Portable radios with high battery capacities are a great option, but it's also worth considering power sources like rechargeable batteries or USB charging. They're more convenient than replacing batteries and eco-friendly, too.
Here's a table showing the different battery types portable radios can use and their average duration:
| | | |
| --- | --- | --- |
| Battery type | Best battery capacity | Average duration |
| AA batteries (2) | 1500 to 3000 mAh | 12 to 24 hours |
| AAA batteries (2) | 800 to 1500 mAh | 8 to 16 hours |
| NiMH batteries (2) | 2000 to 3000 mAh | 20 to 30 hours |
| Li-Ion batteries (2) | 2500 to 4000 mAh | 30 to 40 hours |
| Rechargeable battery pack | 5000 to 10000 mAh | 40 to 60 hours |
Note: The battery duration will depend on the consumer's usage and radio model.
Google Ads data reveals that battery-operated radios receive an average of 5,400 monthly searches. However, interest in these radios experienced a 20% decline in August, falling to 3,600 searches. Subsequently, it rebounded with a 30% increase, reaching 6,600 searches at the time of writing.
In contrast, rechargeable radios offer a slightly lower performance, consistently attracting 2,900 monthly searches.
Connectivity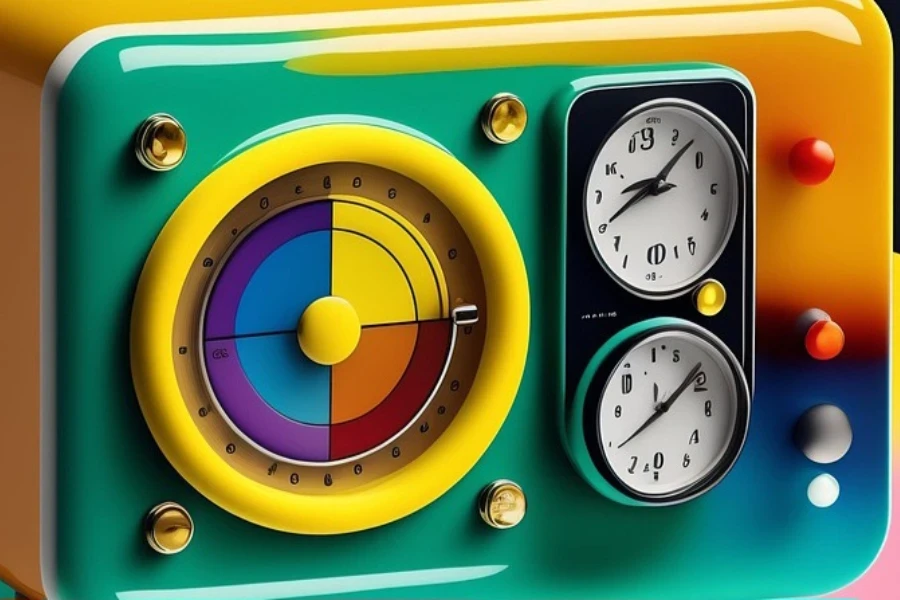 Portable radios connecting to smartphones or other devices via Bluetooth open up various possibilities. Bluetooth compatibility enables wireless music streaming and provides more listening choices than standard radio stations, significantly enhancing the consumer's overall experience.
Interestingly, "Bluetooth radios" have garnered significant attention in 2023. Google Ads data discloses that this search term generates 40,500 inquiries monthly, highlighting the strong consumer interest in this connectivity feature.
Preset station memory
Users always have a favorite radio station, but sometimes, they must tune through multiple channels to find it. However, the capability to save favorite radio stations as presets solves this issue, saving time and guaranteeing consumers won't miss out on their preferred channels.
Therefore, consider portable radios with preset station memory options. It'll provide consumers with a more convenient listening experience.
These keywords, "radio preset" and "preset radio," have relatively lower performance. "Radio preset" garners an average of 210 monthly searches, while "preset radio" receives 140 inquiries. Although these numbers may appear modest, their low competition suggests ample opportunities for profit.
Audio input options
Although radios primarily play audio from radio waves, not all follow that idea. Many portable radios can utilize radio waves while providing audio input options like AUX or USB.
These audio input options allow consumers to connect them to external audio sources, like smartphones, MP3 players, or USB drives, so they can take a break from stations and enjoy their personal music playlists.
According to Google Ads, adios with auxiliary ports receive 720 monthly searches, while USB radios garner 4,400 searches. Additionally, the keyword "Radio USB" records an average of 8,100 monthly searches. Offering portable radios with both input options would create even more opportunities.
Additional features
Look for portable radios with convenient extra features like built-in alarm clocks and sleep timers. These additional features can wake consumers up to their favorite radio station or let them drift off to soothing music.
Although they feel unnecessary, such features can transform portable radios into versatile companions that can do more than music playback. Interestingly, the keyword "clock radio" draws 33,100 monthly searches, indicating significant consumer interest in radios with these additional features.
The bottom line
Portable radios are great for various reasons. They provide a more reliable music experience than phones or MP3 players and are built to withstand adventures without concerns about damage.
Moreover, they serve as a valuable safety tool, informing consumers about essential updates such as weather conditions or potential disasters. Despite these benefits, portable radios occupy a niche market since most users prefer using the radio on their phones.
However, those seeking portable radios will want the best value—therefore, businesses should prioritize these tips to offer the finest portable radios in 2023.
Was this article helpful?