Grunge's resurgence reflects the playful chaos permeating the fashion industry and will continue to fuel young people's curiosity. Its current image, soft grunge, combines the feel of the mid-2010s when it first appeared, the femininity of the coquette style, and modern fashion.
Today, soft grunge attire frequently features floral prints, flannel shirts, ripped denim, tennis skirts, and slip dresses-with each piece perfectly reflecting the peculiar edgy spirit of the movement.
This article contains an in-depth analysis of five effortlessly cool soft grunge trends that business should know to stay up-to-date with this growing niche.
Table of Contents
Market outlook for soft grunge
Five soft grunge trends consumers will love in 2023/24
Closing words
Market outlook for soft grunge
The grunge aesthetic has created different variations, with some catering to specific niches. As a result, soft grunge offers a more laid-back approach to rugged styling with loose-fitting clothing, earth tones, and vintage pieces.
Like other grunge-inspired markets, soft grunge has several segments under it, making it relevant and profitable in today's fashion. The most popular ones include flannel shirts, growing annually at a 4.6% compound annual growth rate (CAGR), dresses/skirts projected to hit US$ 218.50 billion by 2028, and jeans valued at US$ 77.67 billion in 2022.
Five soft grunge trends consumers will love in 2023/24
Flannel shirts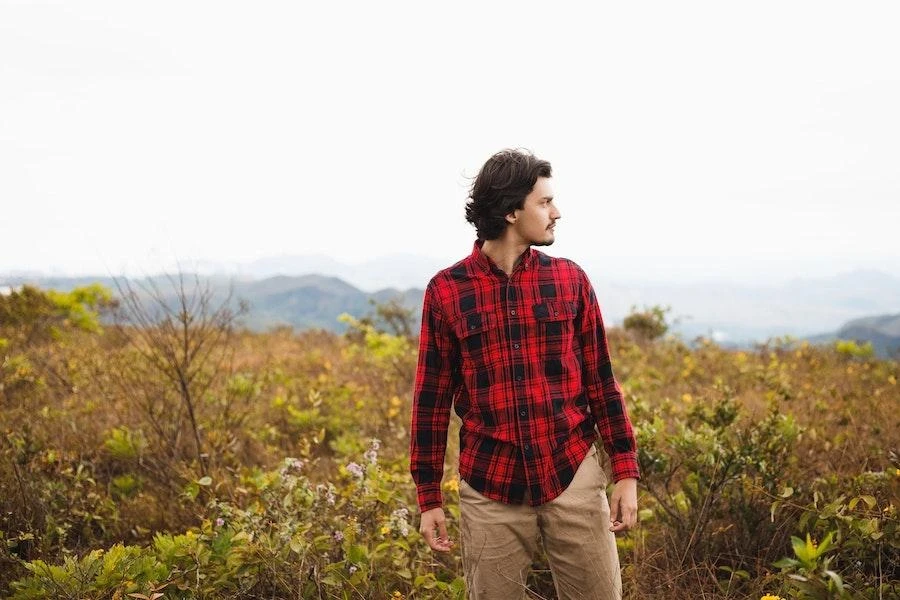 Flannel shirts were trendy in the 1990s and were perfect for creating a grunge-rock appearance. They are now the focal point of an elegant outfit rather than merely a casual choice for a camping trip or early-morning coffee run. They are the easiest way to adopt this style as flannel shirts are staples consumers may already have in their wardrobes.
Shoppers can create unique styles with the essentials and then accentuate them with accessories to achieve the runway look. For the soft grunge look, style the flannel shirt open with a white vest, baggy cargo pants/baggy mum jeans.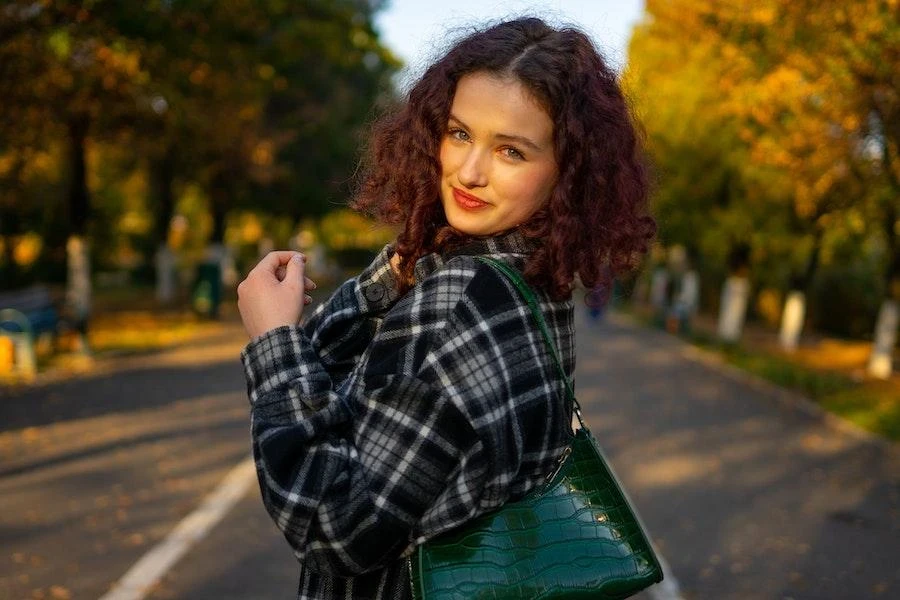 Another way to wear this season's hottest clothing item is with a maxi denim skirt, which is also in style right now, a high neck short sleeve bodysuit, and an open flannel shirt on top.
An oversized cotton flannel shirt can be worn open with wide-leg jeans and a ribbed tank for a look that works for the daytime, evening, or office, depending on the dress code. Alternatively, they can wear the shirt buttoned and tucked into a maxi slip skirt bag for a unique evening look. It can also be worn over athleisure ensembles.
Ripped jeans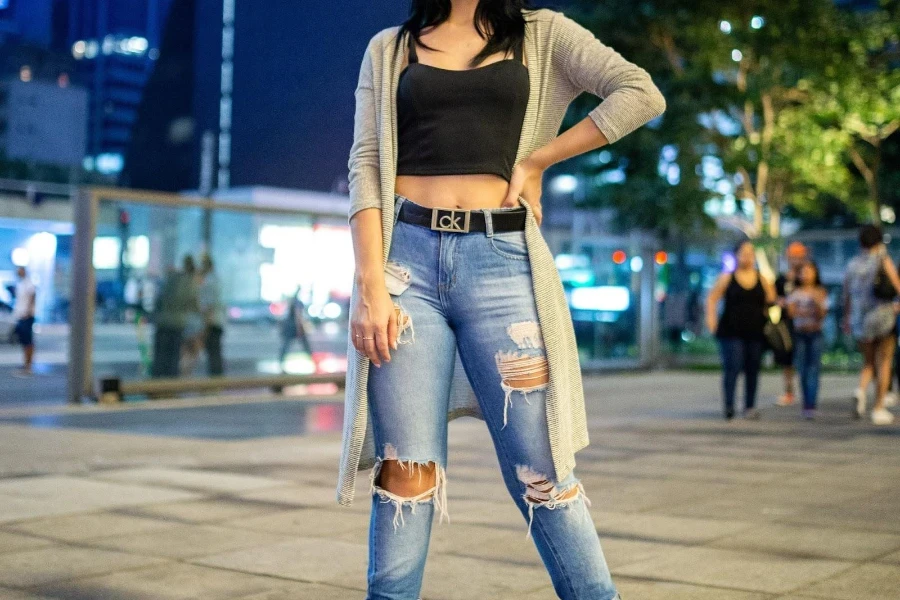 Ripped jeans are back, and they're more sophisticated than ever. Part of the appeal of the nineties-inspired distressed jeans has always been the story of work and life told in the rips, like how facial wrinkles etched in the skin show the years of joy and sorrows. Distressed jeans are an easy sell for any fashion enthusiast with a nostalgia-driven obsession.
As to how to wear them best, ripped jeans can be styled easily­-whether on hot or frigid days. The secret lies in finding the right yin and yang harmony. To emphasize the jeans, think about proportions and keep with straightforward essentials.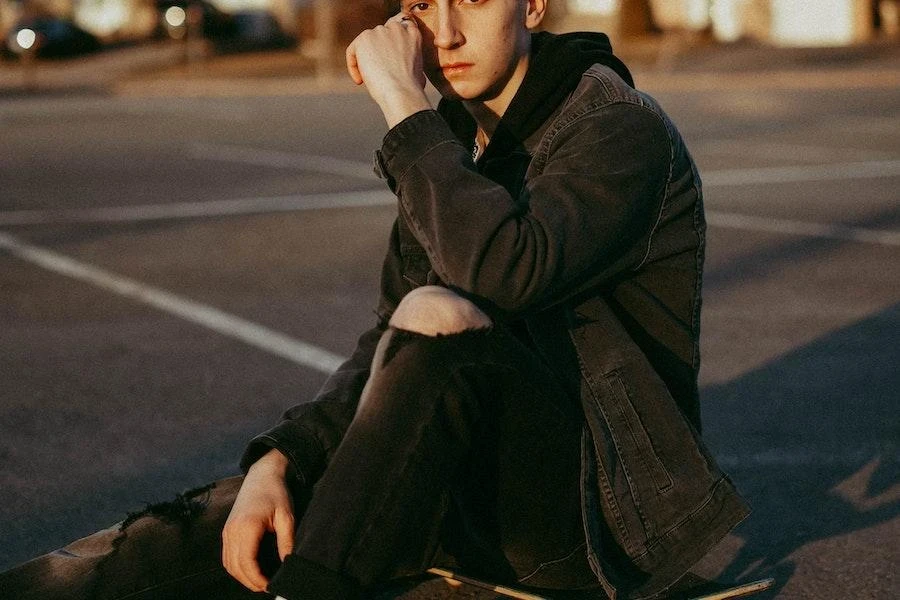 Consumers can pair ripped jeans with a crisp, clean top or even a luxurious knit. They can also wear ripped bottoms with oversized blazers or leather jackets and play with exaggerated proportions.
The combination of ripped jeans and stylish blouses creates a classy style that works in various settings. The elegant blouse's charm and the frayed jeans' casualness contrast beautifully, striking a lovely balance. High-waisted torn skinny jeans, a fitting silk shirt, and heels are one option for putting together a fashionable look.
Tennis skirts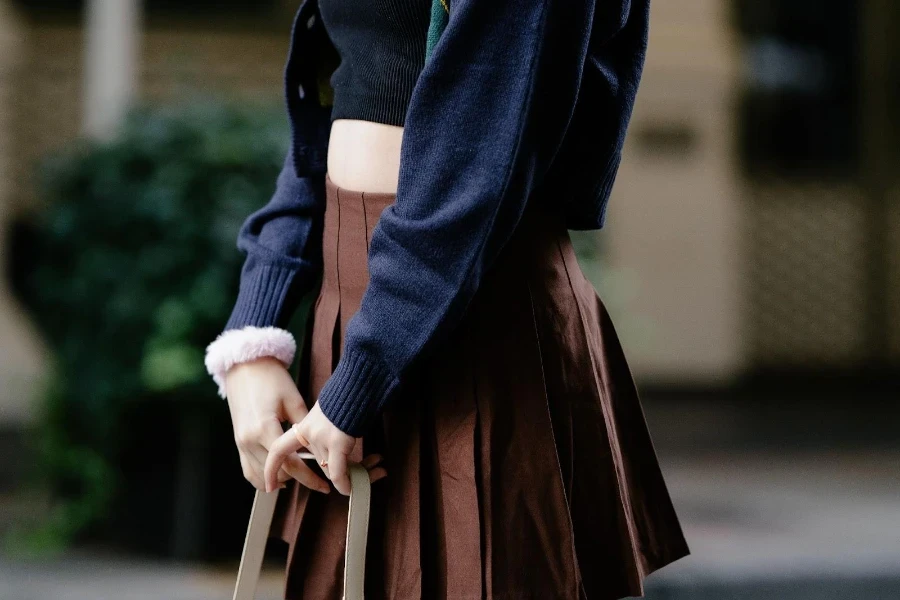 Tenniscore is the soft grunge trend that might never die, and rightfully so. At the core of this trend is the tennis skirt. Whether feeling inspired to pick up a racquet or simply wishing to channel the aesthetic, tennis skirts are the simplest way to pull off the soft grunge look.
Today's options vary significantly in terms of silhouette, material, and function, as some are designed for performance while others to, well, look pretty—meaning consumers would have all these in mind while shopping for one.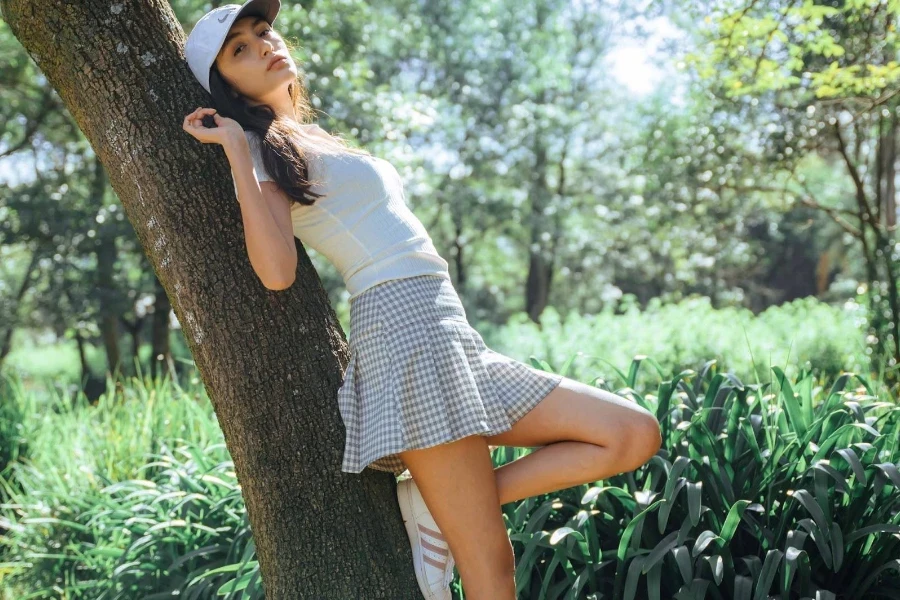 Contrary to popular belief, tennis skirts are incredibly versatile. Depending on how it's styled, this silhouette can appear preppy, athletic, grunge, or flirtatious. However, shoppers who can convey the soft grunge vibe can do so with the right accessories. And, of course, wearing a tennis skirt with a sweater vest or an oversized blazer is a timeless fashion choice.
Tennis skirts' appeal can be linked to their comfort and versatility. These skirts are ideal for any occasion, thanks to their sleek and stylish design. They are perfect for a night out on the town or a day trip with friends. With its timeless appeal and modern twist, it's no wonder why everyone loves this trend. This piece is a terrific way to wear the soft grunge look on or off the courts.
Floral kimono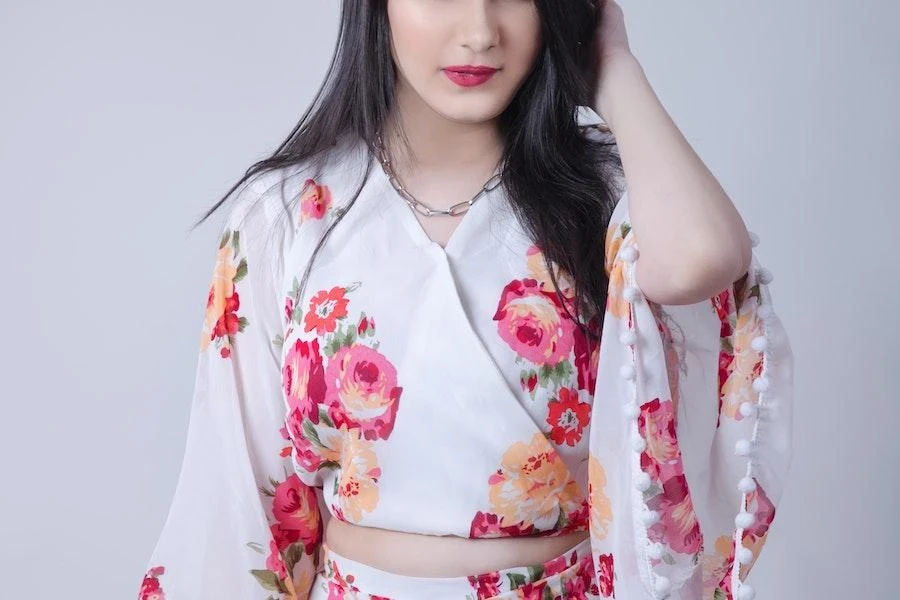 The spring/summer 2021 season saw a tremendous resurgence of floral prints, and this fashion trend isn't going anywhere soon. Kimonos are one of the best clothing items to display these lovely patterns because they come in vibrant colors, plus shoppers can switch up their look every day with different styles.
Kimonos with flower prints come in various styles, from classic Japanese kimonos to modern iterations of vintage aesthetics. Cherry blossoms and chrysanthemums are popular motifs that add an exquisite touch. At the same time, bolder options prefer vivid colors like red and purple that are eye-catching, whether at events or parties.
Lightweight chiffon flower kimonos are ideal for hot weather because of their lightweight construction and free, flowing fit. Silk kimonos are more formal, fitted, and constructed from premium silk fabric with elaborate floral motifs. Consumers looking for a more casual style will love linen kimonos as they are made from breathable linen fabric and offer a carefree, boho vibe.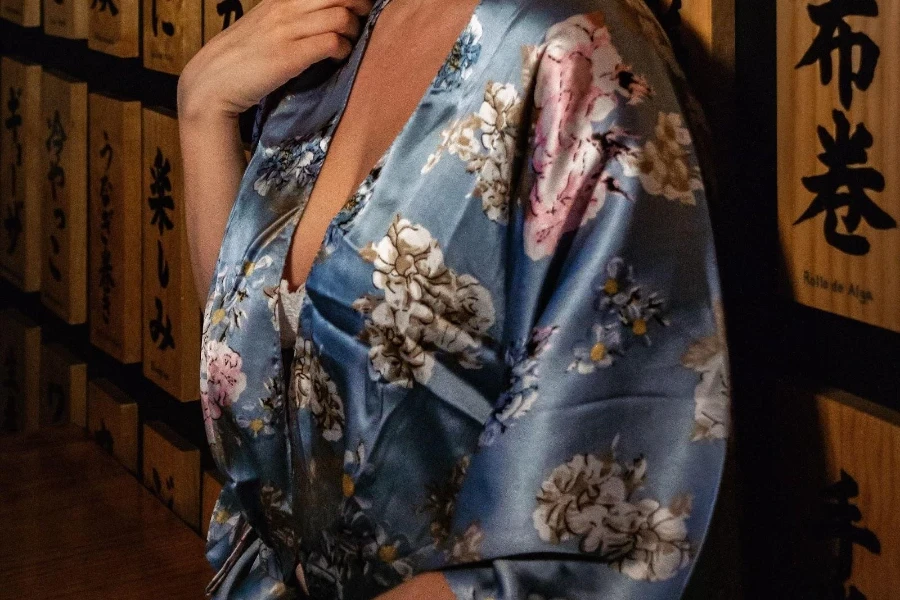 Cotton floral kimonos are yet another stylish choice for a casual kimono suited to daily wear because they are made from soft, comfy cotton fabric with a simple vintage style. Black floral kimonos are perfect if versatility is a crucial option.
With ease, a kimono may give a touch of refinement to a casual ensemble. Kimonos with a more structured cut or cropped fit are perfect for a modern spin on the traditional style. Floral Prints remain strong through 2023/24, making them impossible to ignore.
Slip dress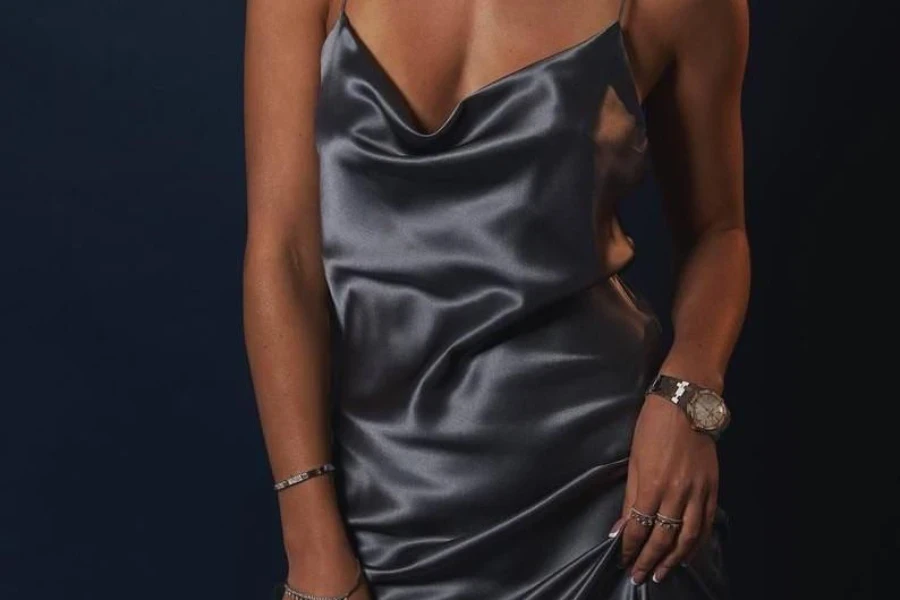 Slip dresses are effortlessly cool in every sense; their seductive silhouettes are airy and lightweight, making them a summertime go-to option. And while it was a popular choice among celebrities in the 1990s, the garment has evolved from the early minimalistic styles to its current, reinvented shape.
Slip dresses can be the best cocktail attire for evening events, wedding guest dresses, work dresses, or easy-breezy summer dresses. They also make for sophisticated dresses for fall when layered with cozy sweaters, blazers, or leather jackets. They offer boundless inspiration to style for '90s sentiments with items already owned, such as layered atop a white T-shirt or styled with shiny minimalist accessories.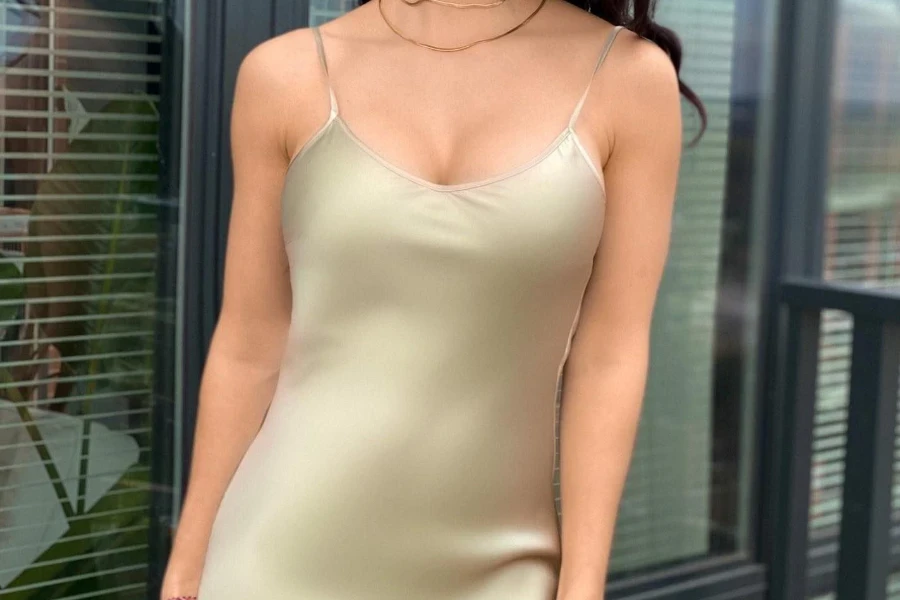 Few dress styles lend themselves to infinite occasions, layering options, and year-round use, like a slip dress. This is probably why the '90s-inspired slip dress is the chicest of all soft grunge trends.
Like the best shirt and sweater dresses, slip dresses are timeless and versatile. The look conveys an air of effortless elegance, especially when done with simplicity in mind.
Closing words
Soft grunge, or "pastel grunge," stems from the original grunge movement in the early 1990s. The grunge style has always been about approachability and individuality since its inception in the 1990s, and this still reflects in its contemporary iterations. Popular trends in the soft grunge aesthetic include the humble flannel, distressed jeans, classic slip, floral kimono, and preppy tennis skirt.
These contemporary twists on the original style are cool outfits even the '90s kids would approve of. With people wanting more down-to-earth attire, demand for these pieces will significantly increase even through 2023/24.
Was this article helpful?