Major FMCG players are making virgin plastic reduction a key target as 75% of consumers indicate a preference for environmentally friendly packaging, according to GlobalData a leading data and analytics company.
UN Secretary General António Guterres declared at a recent press conference that, "the era of global warming has ended, and the era of global boiling has arrived". This alarming statement came in the wake of this summer's soaring global temperatures, with scientists confirming that July was the hottest month on record. The remedy for 'global boiling' is well known and understood: cutting greenhouse gas emissions and transitioning to renewable energies.
With plastics accounting for 3.4% of greenhouse gas emissions globally, according to the OECD, cutting their use in the packaging industry is an essential part of global carbon emission reduction efforts. To do this, major FMCG players including Kraft Heinz, PepsiCo and Coca-Cola are making virgin plastic reduction a key target, alongside increasing the use of recycled plastics in the supply chain.
Arvindh Sundar, Packaging Consultant at GlobalData Consumer Custom Solutions, comments: "Packaging suppliers and companies in the food and drink industry are fully engaged in reducing virgin plastics across the supply chain. However, finding workable solutions of scale remains challenging and relies on the rapid development and deployment of new technologies and innovation."
Globally, plastics production has doubled from 234 metric tons in 2000 to 460 metric tons in 2019, with twice as much plastic waste being produced in the last two decades and only 9% of it being successfully recycled, according to the OECD.
Consumer demand for eco-friendly packaging is growing
Consumers are expressing increasing concern and taking direct action over environmental and sustainability issues, while governments are introducing more measures to cut carbon emissions.
According to GlobalData's latest consumer survey for Q1 2023, more than 75% of consumers globally consider environmentally friendly packaging material as either essential or nice to have when considering a product purchase.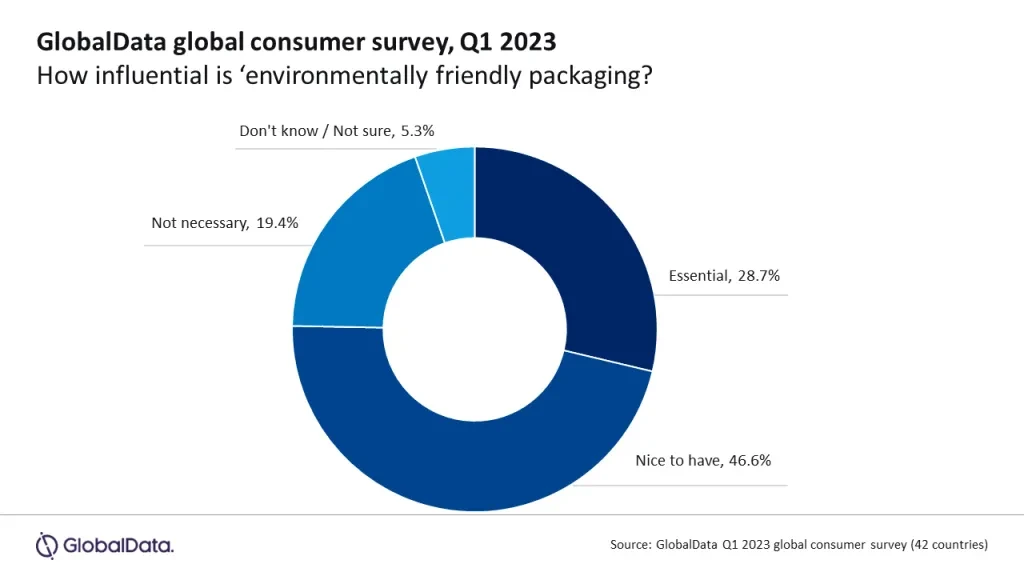 Government Intervention is increasing
The Scottish Government has highlighted the issue of reducing plastic packaging waste in the beverages industry with the planned launch of a deposit return scheme (DRS), which includes plastic bottles starting in 2025. Some 70% of Scots are in favour of the scheme, according to Zero Waste Scotland, which also confirms on its website that the scheme could cut 160,000 tonnes of CO2 equivalent emissions each year.
"Further government interventions could be considered if initiatives like this do not meet expected outcomes," comments Sundar. "While there is clearly a strong preference for eco-friendly packaging from consumers, the challenge for FMCG companies is to ensure they also remain competitive in terms of pricing amid the current cost of living crisis. Schemes like DRS can help, since they increase the amount of packaging being recycled and offer consumers an added incentive to make more eco-friendly choices."
FMCG companies step up their efforts to reduce plastics
The packaging industry and manufacturers are accelerating their efforts to further reduce plastics in the supply chain. Global food and beverage companies have set a number of goals around virgin plastic packaging reduction and are developing a pipeline of new initiatives to help achieve them.
Kraft Heinz has set new goals to minimise the use of virgin plastic by up to 20% by 2030, having already transitioned to 30% recycled content for most of its bottles sold in the UK, Brazil, and European markets. In partnership with Pulpex, the company is developing a paper-based, recyclable bottle using 100% sustainably sourced wood pulp for its Heinz Tomato Ketchup product. Currently, a prototype of the bottle is being tested to determine its performance before being launched into the market.
PepsiCo estimates that its plastic packaging reduction initiatives could eliminate more than 400,000 metric tons of virgin material by 2030. To achieve this goal, the company is designing packaging to minimize the use of materials, switching to alternative, environmentally friendly materials and working to reinvent packaging to reduce the need for single use plastics through reusable or low/no package models.
Coca-Cola Europacific Partners is investing in recycling start-up CuRe Technology to support efforts to eliminate virgin plastics in its bottles. The company has developed a 'polyester rejuvenation' technology which targets difficult-to-recycle polyester, such as material containing coloured pigments, transforming it into high quality rPET. This has created a new source of rPET with a carbon footprint claimed to be approximately 65% lower than virgin PET.
Meanwhile, Plastipak Packaging and LanzaTech Global are working in partnership to create the world's first PET resin, PPKNatura, from captured carbon emissions, which has the properties of virgin fossil PET but carries a reduced carbon footprint.
"Industry players and leading FMCG brands continue to advance work on reducing virgin plastic in their supply chains by replacing it with plant-based and recycled plastic content," adds Sundar. "Although a game-changing solution to eliminate virgin PET altogether remains elusive, the direction of travel is clear and further new technological developments could well provide a safe and commercially viable alternative in the years to come."
Source from Global Data
Disclaimer: The information set forth above is provided by Global Data independently of Alibaba.com. Alibaba.com makes no representation and warranties as to the quality and reliability of the seller and products.
Was this article helpful?