If you're exploring entering the auto repair shop or garage market or looking to provide products for those that do, you'll need to become familiar with the different types of equipment needed in a typical garage.
This will help to optimize your sourcing strategy efficiently and stock in-demand tools.
In this blog, we'll outline the equipment every auto repair shop worth their salt should stock as well as the variables involved when sourcing these products.
Table of Contents
Business potential of auto repair shop equipment
Types of equipment an auto repair shop needs
Factors to consider when sourcing equipment for auto repair shops
Conclusion
Business potential of auto repair shop equipment
In a 2023-2028 forecast study, the automotive garage equipment market was valued at around US $8.12 billion and it is projected to grow to US $11.27 billion by 2028 – a CAGR of over 4%.
The high market value and forecasted growth are mainly reflective of current increases in car production and sales. As a result, this is also leading to an increase in the demand for automotive repair and maintenance.
Therefore, auto garage owners also require an increasing number of advanced tools to stay ahead of market growth and to scale their business.
Types of equipment an auto repair shop needs
This list of auto repair equipment will help give a good overview as to the equipment you will need to source based on their application and importance to a particular auto repair shop.
Must-haves for mechanics
These tools are necessary for mechanics to make their day-to-day work more efficient.
Air compressors
Air compressors help mechanics do auto lifts and perform heavy work with reduced hassle. The quality of an air compressor depends on its horsepower (HP) and their air capacity.
Hydraulic lifts
An hydraulic lift enables mechanics to lift heavy automobiles by using a typical hydraulic mechanism. The main types of hydraulic lifts include two-post and four-post lifts, with the latter making it easier to load vehicles.
ATF changers
Automatic transmission fluid (ATF) changers are used for lubricating a vehicle's automatic transmission and fixing potential issues with the clutch.
Battery jumpers
A good battery jumper and cables are required to charge dead batteries, a common task for most auto repair shops.
Jack stands
Jack stands are needed for lifting a vehicle in order to fix the wheels. A quality jack stand is a must to avoid potential injuries. Pole jacks are also helpful for supporting the axles of raised vehicles.
Strut compressors
For working with suspension systems, Strut compressors help with replacing the strut of suspension systems. These are relatively delicate tools, hence, it is best to opt for higher-quality machines.
Grease guns
Grease guns are a common lubricating tool for auto repair fittings. Grease guns come in a variety of types, including air-powered, hand-powered, and electric.
Wheel aligners and balancers
Wheel aligners enable mechanics to adjust a wheel's angle, whereas a wheel balancer helps to balance the wheel's weight, helping to ensure that the vehicle drives evenly and smoothly on the road.
Injector cleaners
Injector cleaners help to solve issues with fuel injectors, clearing dirt and helping to reduce clogging. Injector cleaners are used frequently by mechanics to clean the engine, making them run as they should.
Engine analyzers
Engine analyzers are used to diagnose engine-related issues. They utilize various testing parameters, such as a timing pump, an ohmmeter, an ammeter, pressure gauges, and a voltmeter, to help mechanics better understand the root causes of a car's problem.
Cleaning and polishing equipment
Lastly, cleaning and polishing equipment is used in common cleaning jobs, making vehicles look good as new. These include a vacuum cleaner for vacuuming car seats and carpets, a paint sprayer for restoring the vehicle's color after frequent use, and a polisher for polishing the vehicle's metal and plastic components.
Pocket-friendly tools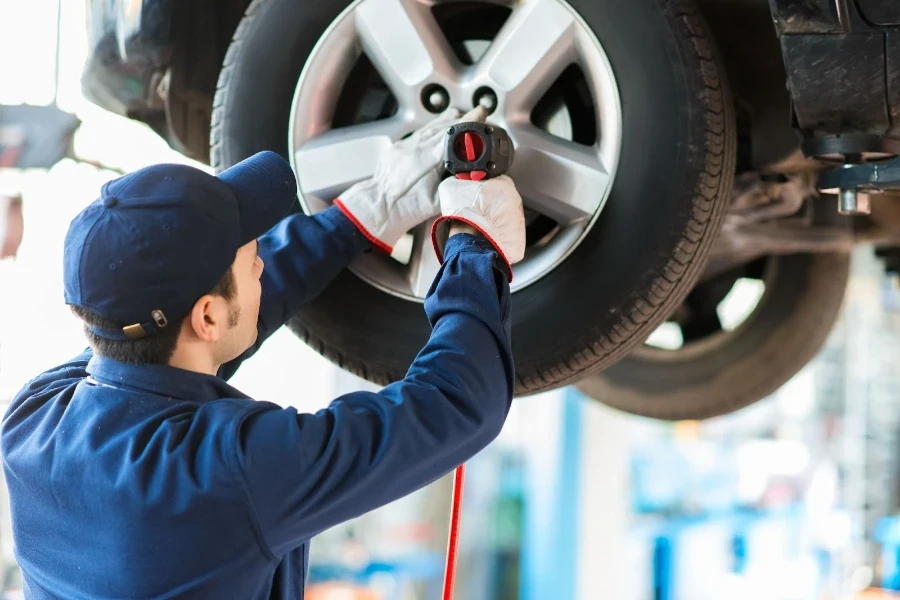 Here we'll outline different pocket-size tools that mechanics require when working on vehicles. While most of these are commonplace, some will be lesser-known to those not directly involved in the vehicle industry.
Wrenches
Wrenches are an essential tool for mechanics. The most common types include torque wrenches and oil filter wrenches.
A torque wrench helps to tighten spark plugs and accurately tightening of bolts at an exact torque. Meanwhile, oil filter wrenches help to easily position and remove the oil filter during oil changes.
In addition, rachets, or socket wrenches, help mechanics work at tight angles or in confined spaces.
Multimeters
Multimeters are used for diagnosis and troubleshooting by measuring the resistance, voltage, and amperes present in a car's battery and fuses.
Grinders
Grinder is helpful to cut metal at specific angles, particularly related to exhausts, brake systems, and for other tasks where cutting is required.
Tire pressure inflators
Tire pressure inflators help a mechanic to check and adjust a tire's ideal air pressure.
Work lights
LED flashlights help to provide light during complicated and long-duration work. In addition, a test light is useful for mechanics wanting to inspect fuses, light bulbs, and other electrical issues properlya.
Hammers
A hammer is another essential tool for mechanics working with jammed components and anything that requires added force to dislodge.
Funnels
Funnels help to avoid spillage when pouring oil or liquids into a vehicle, which could affect a car's engine if undertaken improperly. Therefore, a set of funnels is needed for mechanics when dealing with frequent oil and water changes.
Pliers
Pliers are helpful for repairing brakes, for replacing hoses and connectors, and especially when dealing with hot components in a vehicle. A vise-grip, otherwise known as locking pliers, help to firmly grip vehicle components that are in tight spaces or at awkward angles.
Impact guns
Impact guns are an advanced version of a wrench that help to remove wheel bolts easily and also for other heavy works relating to the steering and suspension systems. Cordless impact guns are preferred by mechanics as they provide more power.
Screwdrivers
Lastly, a mechanics list isn't complete without screwdrivers. It is a basic essential tool that helps to work with screws that are present in most components of a typical vehicle.
Protective wear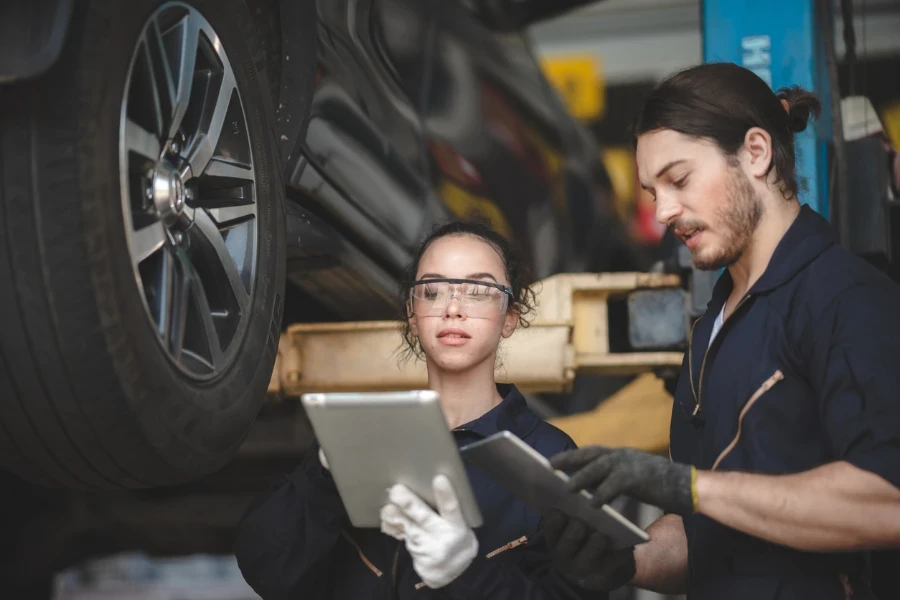 Safety is a key part of running a successful auto repair shop. Below are some common protective gear that most garages use:
Protective glasses
During grinding or welding works, mechanics will wear protective glasses to prevent any harmful chemicals, liquids, or debris from entering and injuring their eyes.
Gloves
Mechanics require gloves when working on a car's interior components and during other heavy work. While gloves come in disposable and non-disposable varieties, most mechanics prefer high-quality, chemical-resistant gloves for their added safety.
Protective shoes
Protective shoes protect mechanics from slippery surfaces, burns, and cuts. They also provide added mobility for productivity.
Overalls
Overalls provide complete body protection for mechanics while they do their work. High-quality protective gear should be both flame-resistant and durable.
Face shields
A face shield helps mechanics to work with added protection and comfort by avoiding potential inhalation of harmful chemicals and fumes.
Hand cleaners
After repairs dealing with dirt and oil, mechanics require hand cleaners to remove grease and other chemicals from their skin.
Factors to consider when sourcing equipment for auto repair shops
After learning about the different types of equipment mechanics use in auto repair shops, it is important to also consider the factors that go into stocking these products, such as:
Safety
Choose auto repair equipment that is of high quality so as to provide the best possible safety to mechanics.
Application of use
The scope of work is important when it comes to sourcing equipment. For instance, larger auto repair shops that deal with trucks require equipment that caters to such vehicle's specifications.
Budget
Budget is an essential factor when sourcing auto repair shop equipment. Larger auto repair shops, for example, require tools in bulk, thus require a bigger budget.
Durability
When sourcing auto repair shop equipment, another important aspect of making high-quality purchases is finding tools with high durability. This is a critical requirement for most auto repair garages.
Conclusion
This blog has provided an overview of the various equipment a typical auto repair shop requires, as well as their uses.
The auto repair garage market continues to grow due to favorable market conditions, providing an opportunity for businesses to source essential tools for auto repair shops so that they can build long-term business relationships.
Visit the auto tool store to fulfill your auto repair shop equipment wholesaling needs and snatch bargain deals today.
Was this article helpful?