The fundamental role and purpose of retail stores is evolving. The rise of e-commerce has forced retailers to reimagine the functionality of bricks-and-mortar outlets. This article touches on factors pushing online sales and the future of the retail store.
Move online
Over the five years through 2021, traditional retail sales in bricks-and-mortar establishments largely declined. In-store demand has been hampered by intense competition from e-commerce where operators are able to offer a wider range of products at lower prices and with convenient delivery options. Cost pressures from business rates have also contributed to the decline of the high street.
The shift online has been accelerated by the pandemic. Forced retail closures pushed consumers into experimentation and buying different products online. Even following the lifting of restrictions, online sales have remained elevated as a proportion of total retailing and well-above pre-pandemic levels.
Lessons from previous economic crises suggest consumer behaviour is sticky and some of the changes witnessed during the pandemic will stay, particularly as consumers increasingly value instant gratification and the convenience of goods being delivered or available for collection the next day.
According to the ONS' Internet Sales Index, online sales as a proportion of total retail sales excluding fuel rose from 14.5% in 2016 to 27.7% in 2021, remaining above the 19.1% recorded in 2019 prior to the pandemic.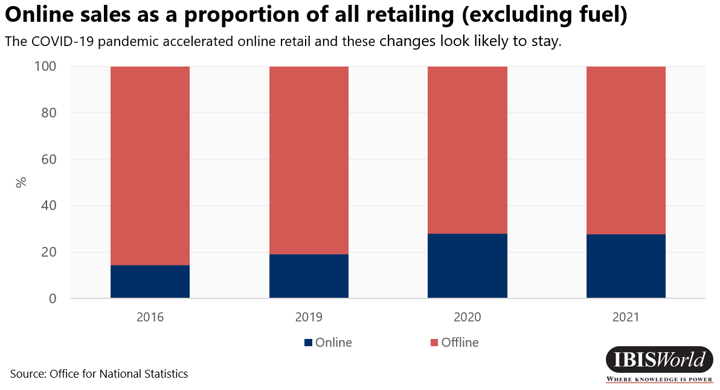 Demographic factors have also played a critical role in the acceleration of ecommerce. Gen Z individuals, which are those born between 1995 and 2010, have joined the workforce and are becoming both employees and customers with their own spending power and distinctive behaviour.
The Gen Z demographic are the first digitally native consumer, raised in an environment of technology where information is immediately accessible, meaning they place a strong emphasis on convenience.
Those in the younger demographic are also pragmatic and will investigate and assess a variety of possibilities before opting to purchase a product. The reliance on digital social networks have filtered through to the retail level and upped the ante on digital transformation.
The store's future
Despite an increasing focus on e-commerce and digital initiatives, for incumbents, the physical retail store is expected to remain the dominant purchasing channel and physical establishments are here to stay.
Individuals are social beings and physical retail is a leisure activity that encourages social engagement. Consumers still crave the in-store tactile experience and personalised customer service from sales assistants, particularly for premium goods, although convenience remains key to success
Consumers are increasingly demanding a frictionless retail experience and instant gratification of taking products home there and then are quickly becoming the norm.
With this in mind, the nature of the store itself in terms of format and function is expected to evolve. Struggling incumbents are expected to diversify into other areas. For example, in the face of declining sales and footfall, some department stores have converted retail spaces to serve alternative business purposes such as leisure, office space, residential and hospitality, particularly located in stand-alone buildings in prominent locations.
Luxury department store Jenners in Edinburgh is set to become a hotel with a smaller department store on its lower floors, while high-end department stores Fenwicks and John Lewis have been granted planning permission to convert almost half of their Bond Street and Oxford Street stores into commercial offices.
For some, stores are likely to take a smaller format and the nature of establishments is expected to shift from stores where goods are sold to behave more as immersive experiences and showrooms. For instance, major clothing retailer Primark has introduced beauty salons in-store, while in the Book Retailers industry, major player Waterstones has invested in store refurbishments, seeking to diversify its bookshops by adding cafes.
For others, establishments are expected to become localised fulfilment centres, warerooms (smaller warehouses) and automated order facilities for click-and-collect services and expedited delivery of online orders, mirroring consumers' desire for an experiential service and convenience. For instance, major courier Hermes has partnered with traditionally declining newsagents and stationery stores to form a ParcelShop network of 5,400 establishments where consumers can send, collect or return goods.
As a result of this shift in the nature of stores, investment into omnichannel operations and partnerships with online ordering and delivery platforms, such as Deliveroo and Uber Eats, are also expected to increase in order to satisfy consumers' demand for convenience.
Source from IBISWorld
Disclaimer: The information set forth above is provided by IBISWorld independently of Alibaba.com. Alibaba.com makes no representation and warranties as to the quality and reliability of the seller and products.
Was this article helpful?