Indoor lights are used to brighten and enhance the appearance of commercial and residential spaces. The most popular styles are constantly changing when it comes to interior lights. These are the latest indoor lighting design trends businesses should take advantage of in 2024.
Table of Contents
Key points about the lighting market
Indoor lighting trends in 2024
Staying on top of light fixture trends
Key points about the lighting market
Globally, the revenue in the lamps and lighting market amounts to USD 79.60 billion in 2023. The market is expected to experience a compound annual growth rate (CAGR) of 4.67% from 2023 to 2028. This market includes different types of lighting found inside residential and commercial buildings, such as table lamps, floor lamps, chandeliers, ceiling lights, and other indoor light fittings.
The continuously rising construction activities on a global scale are driving demand for indoor lighting in buildings like office spaces, apartments, and houses. Construction activities worldwide are forecasted to grow by over 70% by 2025.
When it comes to lighting, light-emitting diode (LED) lights are expected to witness the highest growth rate within the forecast period. The surging demand for LED lighting is due to favorable government initiatives that encourage the replacement of incandescent lights with LED to support environmental sustainability.
Indoor lighting trends in 2024
Industrial lighting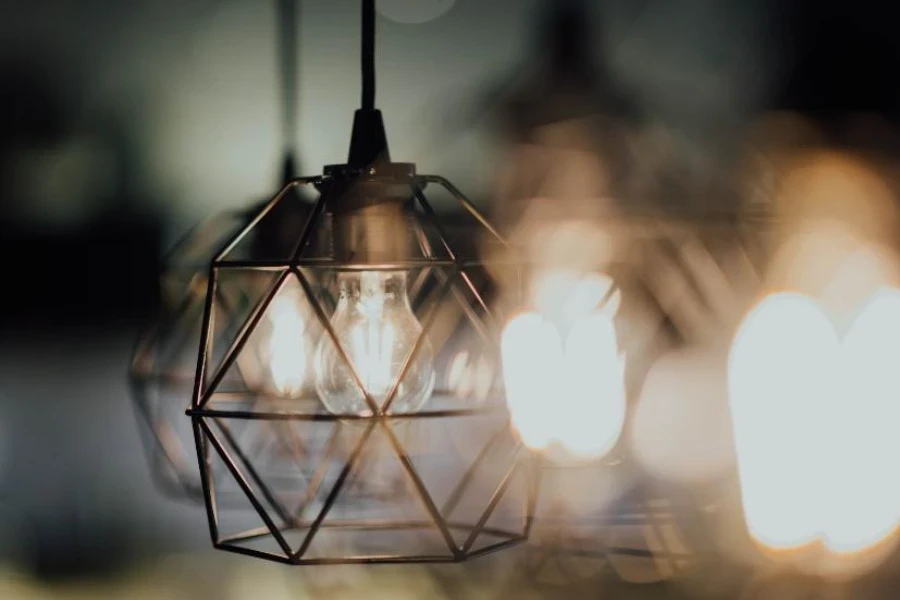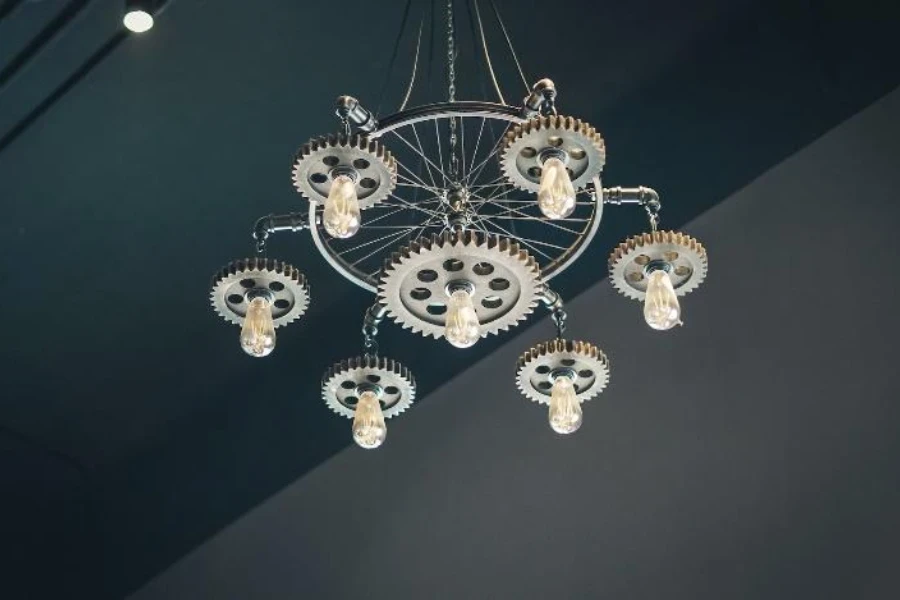 Country and farmhouse light fixtures with fabric lampshades or coverings are no longer trendy as industrial lighting takes over in 2024. Industrial lighting is a design trend that references the simple and sturdy aesthetic of factories and industrial spaces.
Industrial light fixtures are void of embellishment and are intended to be more functional than decorative. However, combined with modern interiors or contrasted against antique furniture, industrial lamps and lights can be transformed into stylish interior accessories.
Industrial lights are made of robust and easy to clean materials like steel and aluminum. They generally come in the color of natural unfinished metal, such as black, gold, silver, copper, or bronze. Industrial lamps can also feature details like exposed light bulbs, anchor chains, heavy duty links, chainmail metal weaves, or caged designs.
Black accents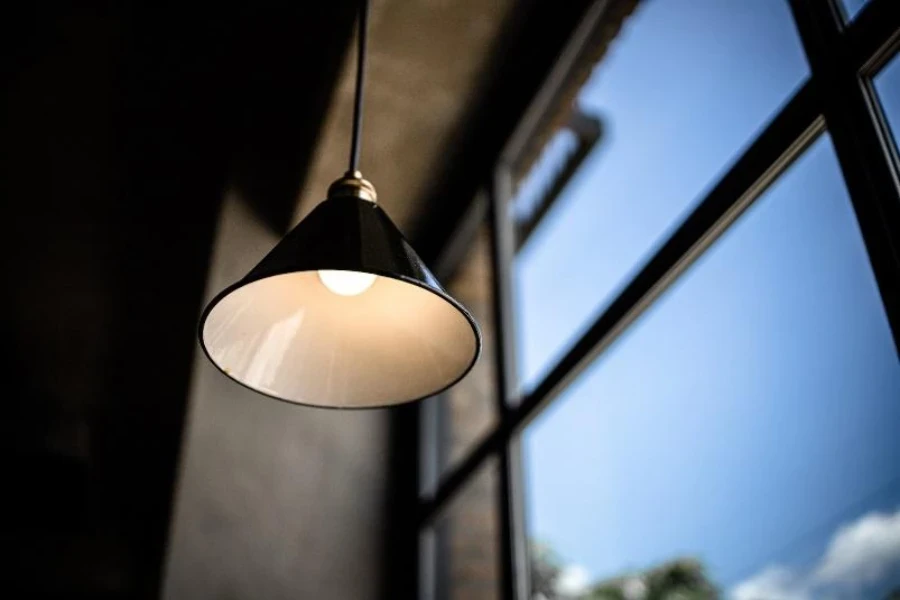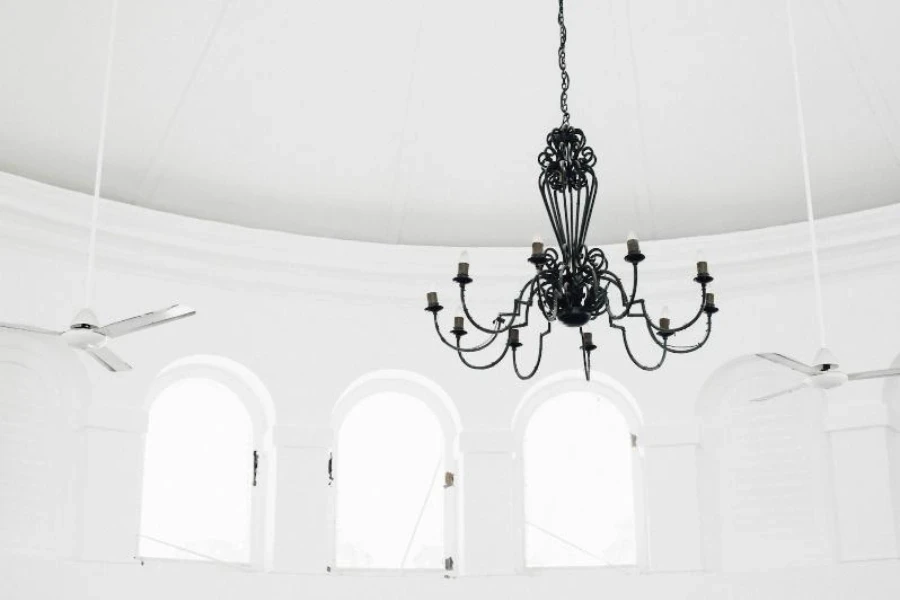 Black lights are a trend that can be incorporated into any interior design style. The striking look of a saturated black light exudes elegance and is commonly used to accent rooms with neutral color schemes.
A variety of black light fixtures can add depth to a space, including floor lamps, table lamps, chandeliers, or wall sconces. They are often constructed from black metal and can be complemented with touches of brass, rose gold, or silver along the fixture or inside the lamp for an elevated appearance.
Black indoor lights can be given extra style with interesting textures or unexpected shapes. A black rattan light offers a sophisticated bohemian look, while structures that involve curves, linear lines, or geometric angles will satisfy any contemporary interior.
Architectural forms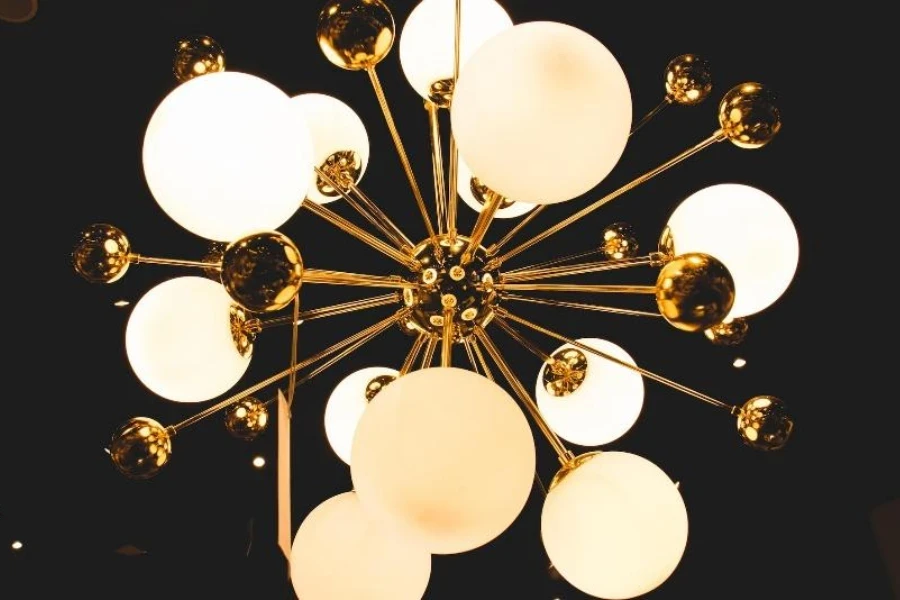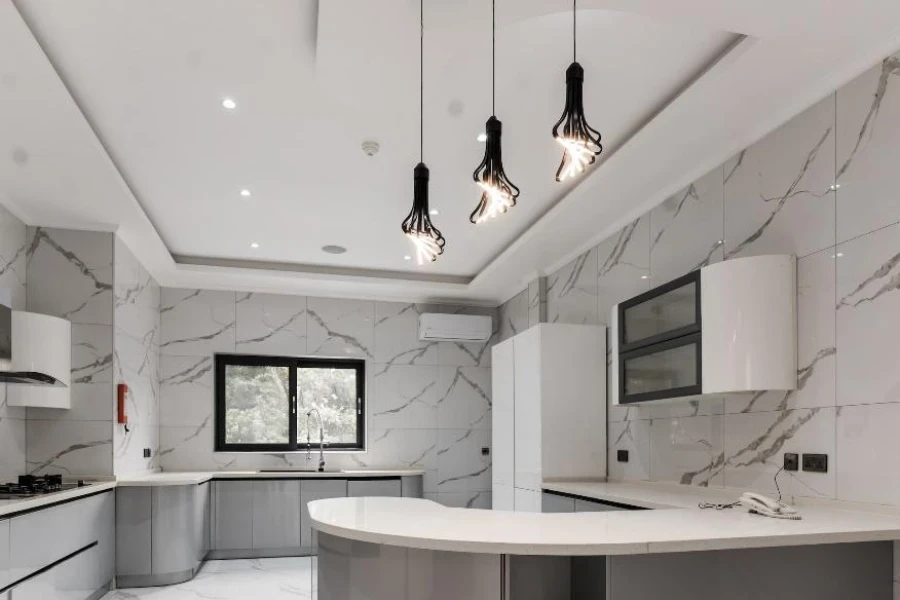 A bold and eye-catching design is expected to be popular for lighting in 2024. Lamps and lights with architectural forms will be used like sculptures or decorative art in a room.
Architectural chandeliers or pendant lights with dynamic shapes featuring curves, rings, globes, circles, ovals, or rounded pieces will be ideal for creating comfortable and cozy interiors. Additionally, there will be an excitement around unusual shapes and a strong art deco influence with geometric shapes and angular forms.
Architectural lights are commonly made from matte or glossy molded metal for a minimalist aesthetic. An interest in large scale architectural light fixtures is also expected to reign this year but businesses are advised to take advantage of the trend before it passes.
Linear light fixtures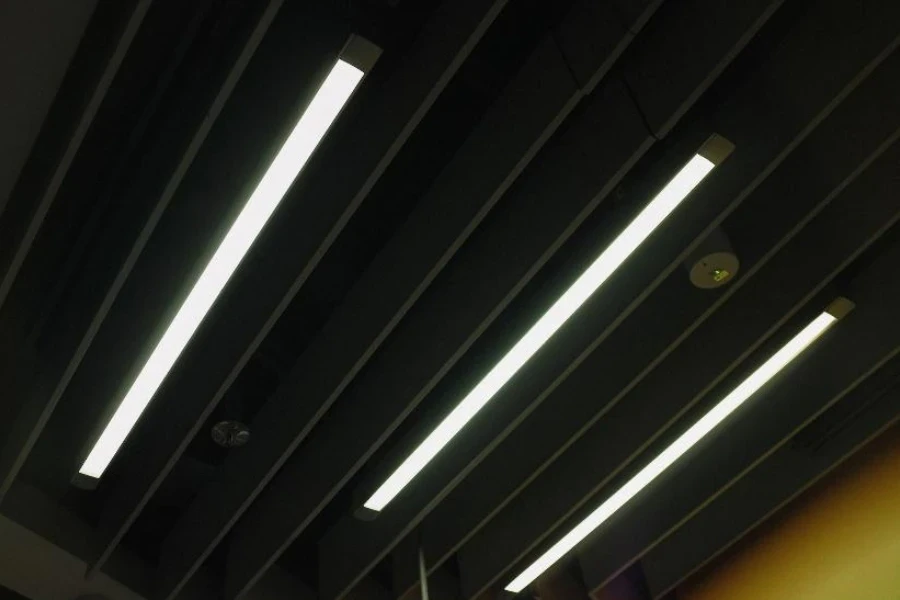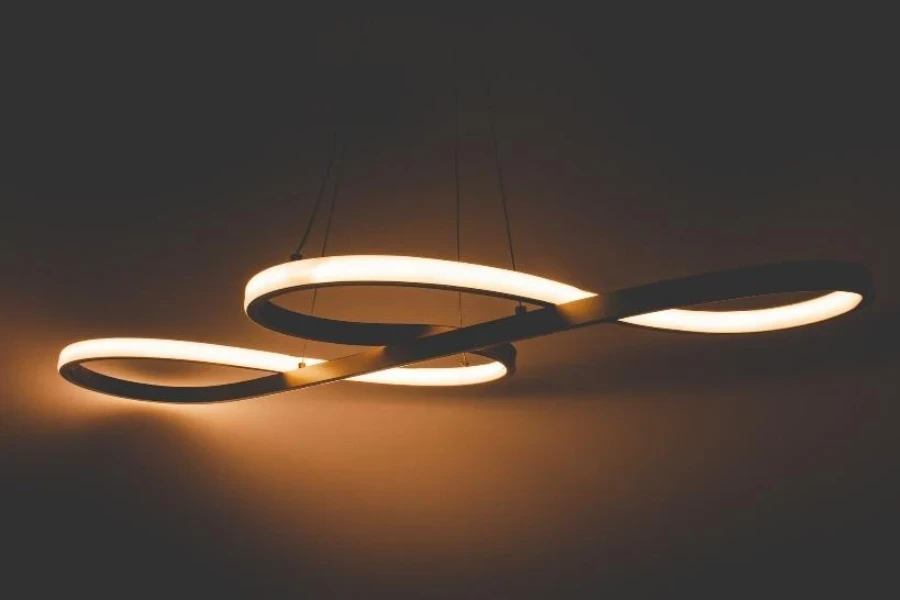 Another lighting trend this year is linear light fixtures. A linear lighting fixture is a light designed in a straight continuous or broken line. Linear lighting can feature a series of suspended pendant lamps or LED strips applied along the length of the fixture. Alternatively, elongated lights can also be decorated with curvy lines and free flowing configurations to add drama to the space.
Linear lights are ideal as light sources for large rooms, corridors, or above a long table, such as a kitchen island, dining room table, home office desk, or boardroom table. Linear lighting is often hung from the ceiling, although this type of lighting can also be installed as a vanity light in a bathroom or as strips along the floor in hallways, next to the steps on a staircase, or even under the headboard of a bed for a futuristic atmosphere.
Spot lighting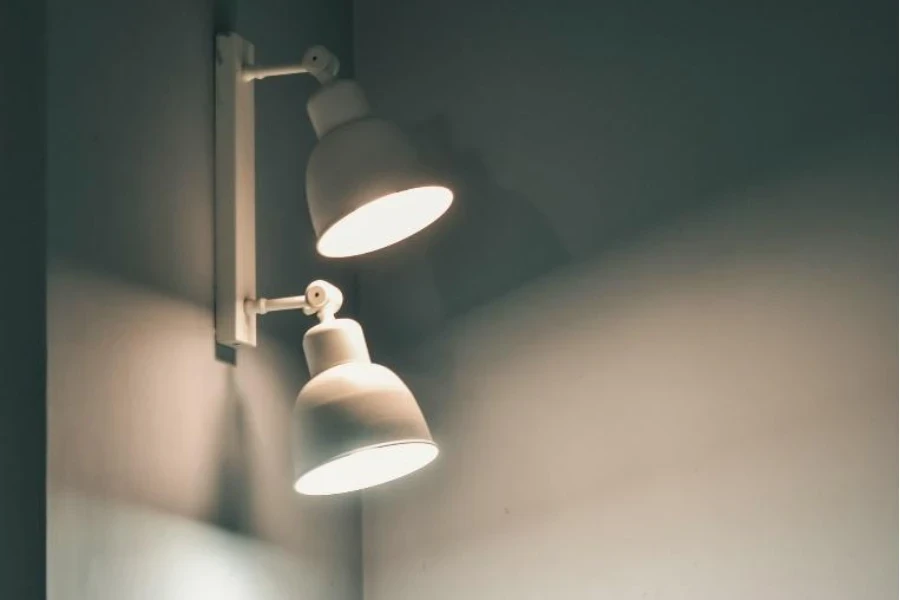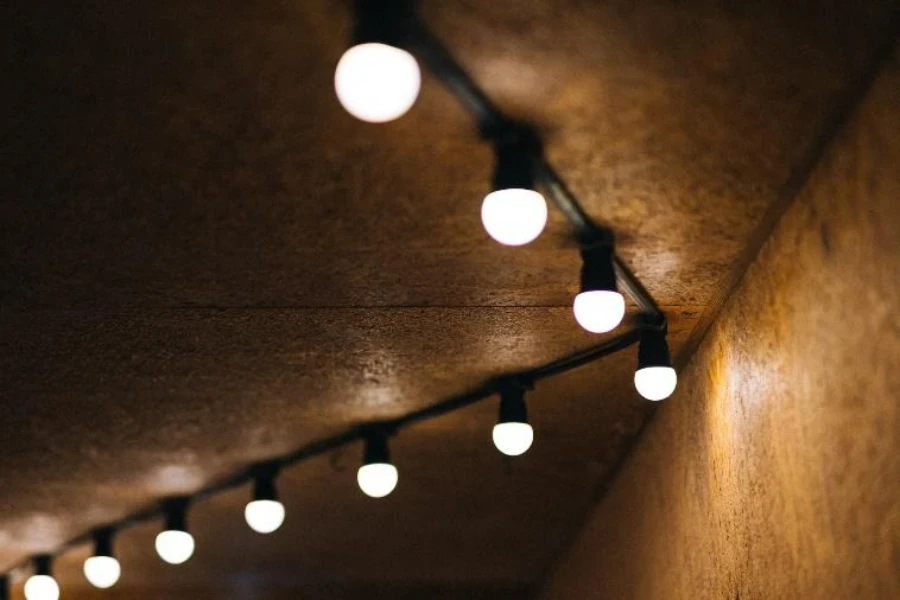 In 2024, spot lighting will begin to replace traditional chandeliers and ceiling lights. Spotlights feature a narrow beam of directional light and can be mounted to either a ceiling or wall. This type of light is suitable for modern interior design because of its industrial appeal.
Spot light fixtures offer plenty of light without taking up too much space, making them ideal for areas like the kitchen, living room, or focal point of a room. Customers with studios, low ceilings, or atypical layouts may also be interested in the simplicity and versatility of spot lighting.
Indoor spot lights can also feature adjustable 360 degree directional lamps for more control over where the light is directed. The lamps can even be affixed to a track for flexibility in rooms that are larger and require more lighting.
Staying on top of light fixture trends
The trends in the indoor lighting market for 2024 shine a light on architectural form and practical design. Industrial light fixtures dominate the market with their quality construction and unfinished appeal. For customers interested in more decorative pieces, architectural light fixtures and linear lights use size and shape to make a big statement. Finally, spot lighting gives customers flexibility in rooms with angular ceilings, while black light fixtures add a sleek and sophisticated accent to any room.
There is a need for indoor lighting among both residential and commercial customers. As a result, there is significant opportunity in the market for businesses to take advantage of. With a positive outlook on future industry growth, businesses should stay ahead of competitors by offering trendy lights in the upcoming year.
Was this article helpful?