Washi tape, a sustainable low-cost crafting item, has been hugely popular since 2008. For adults, it's a great way to escape the chaos of life by personalizing gifts and decorating journals, jewelry, stationery, and more. For children, washi tape can improve motor skills, inspire creativity, and be used for games, providing hours of family entertainment.
In this article, you'll find 12 creative and fun uses for washi tape, suitable for all ages.
Table of Contents
What is washi tape and why is it popular?
How to use washi tape for arts and crafts
How to play with washi tape for young kids
Conclusion
What is washi tape and why is it popular?
Washi tape is a fun and sustainable way to play, decorate, and learn without creating too much mess. It works as a type of masking tape but, rather than being made from non-sustainable plastics, is made from materials such as bamboo or rice paper. This means it can be torn easily and without the need for scissors, making it a perfect learning and crafting tool for children.
Washi tape comes in many shapes, sizes, colors, and styles, opening up the potential for a huge collection. There's also no limit to its potential usage: decorate a pencil holder with flower and polka dot washi tape, cover a door with colorful stripes, mark a diary in cute kawaii characters, make glasses gold and sparkly, and so much more. Washi tape dispensers also help to keep a collector's tape all in one place.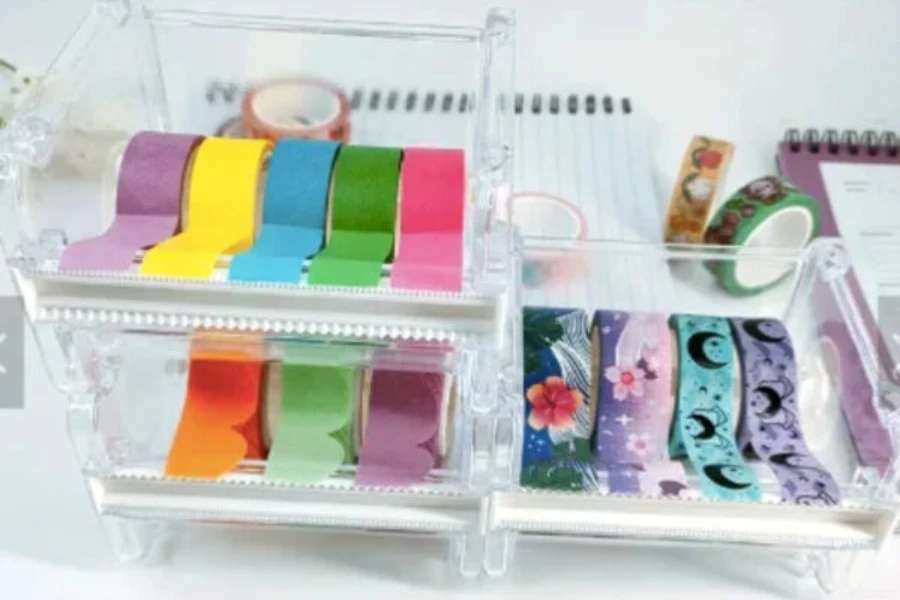 Washi tape can help younger children to improve their motor skills as they attempt to stick it in straight lines or around circular objects. It can also help stimulate their creativity as they decide which colors and patterns to put together, where to put them, and how to decorate various objects. Finally, washi tape can help children of all ages to learn how to play in a way that isn't reliant on technology. Instead, washi tape gives us the opportunity to relearn simple games such as hop-scotch, noughts and crosses, and storytelling, in a colorful way.
Washi tape has become a core component of arts and crafts among adults. The wide range of colors and styles available means that no matter their personal taste, adults will always be able to find a washi tape perfect for them. It can be used for decorative purposes to create individual styles and even as painters tape to define edges around a room. Perhaps most importantly, washi tape can help adults take a breather from daily life, allowing them to enter the calming world of art.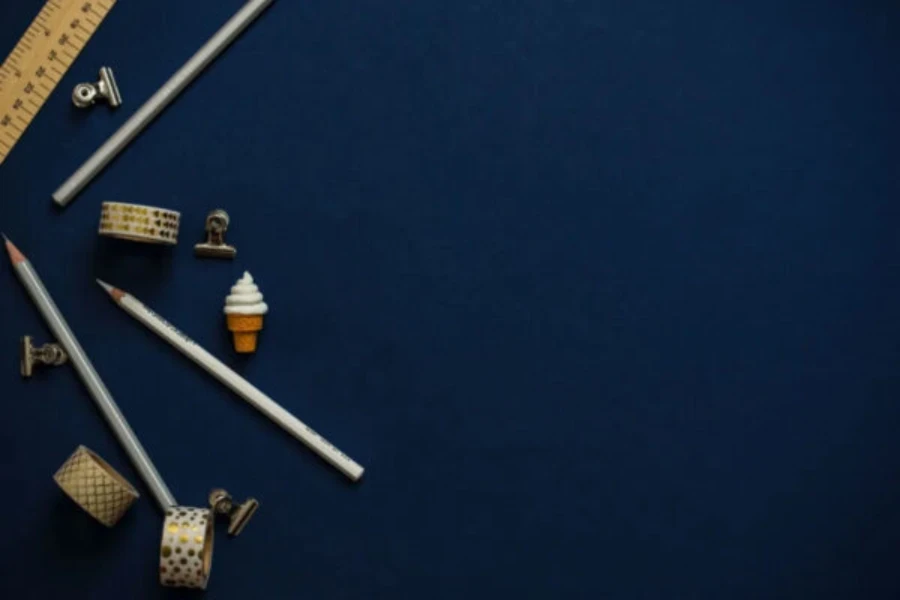 How to use washi tape for arts and crafts
Decorating wooden bracelets
Decorating wooden bracelets with washi tape is a fantastic way to personalize an otherwise simple piece of jewelry. For example, crafters can use washi tape to cover all sorts of pieces – from wooden bangles and wooden bracelets with ties to wooden beaded bracelets – with their favorite colors and patterns.
Making personalized stationery
Washi tape can also allow individuals to stand out from the crowd at school or in the office, and as a way of ensuring they never lose them again, by decorating their stationery whatever way they please.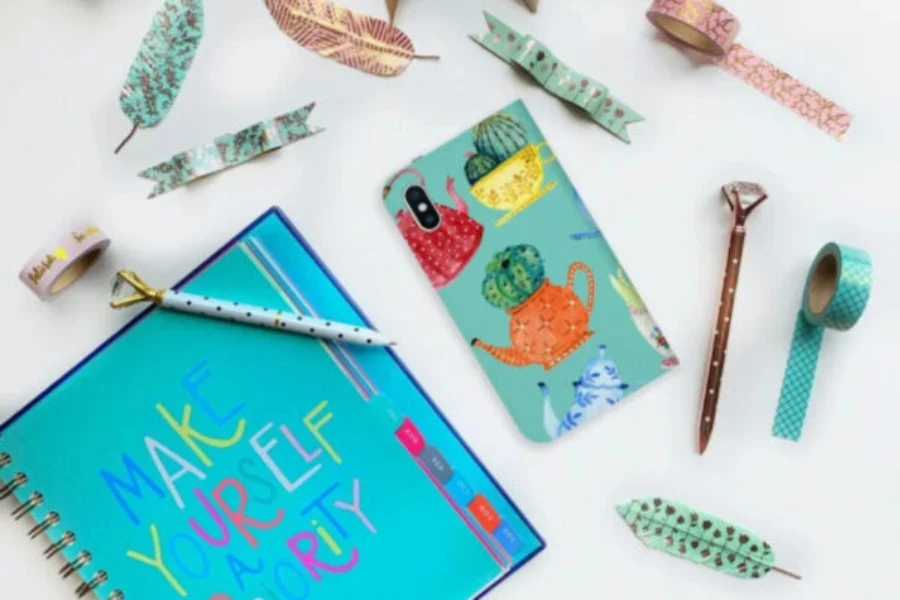 Decorating picture frames, lipsticks, plant pots, and pencil holders
Washi tape's bright colors and elegant designs means that it can be used to decorate any item.
Better yet, the same tape can be used to decorate a whole collection of objects, such as picture frames, lipsticks, plant pots, and pencil holders, creating a unique personal collection in their preferred style.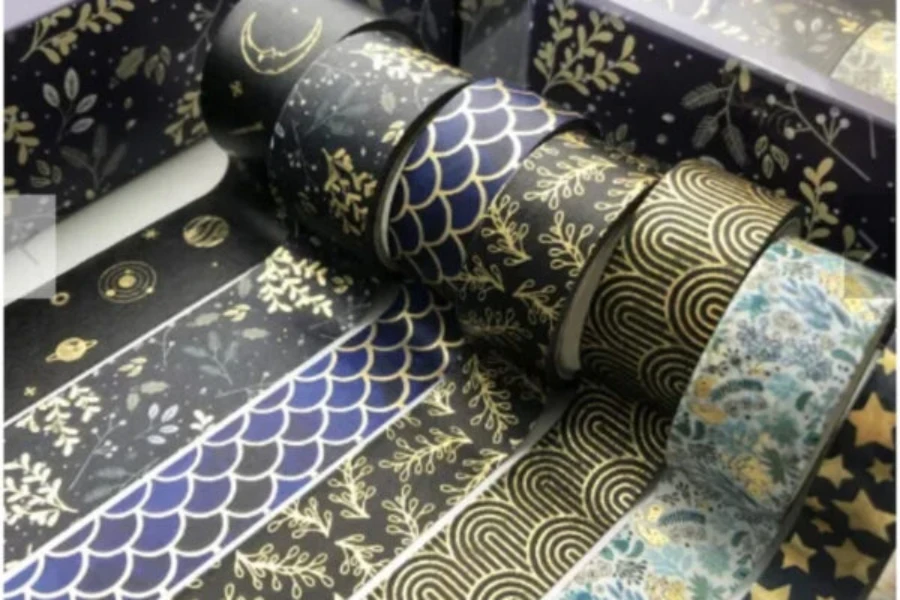 Personalizing puzzles and other games
Decorating the backs of puzzles and cards, jenga blocks, and other fun table games is another way to add a touch of personalization using washi tape. Decorating games can also expand their usage. For example, adding colors or messages onto the blocks or pieces of a game can help create new rules. If decorating jenga blocks, gamers could decide that each color means a different thing – if someone removes a green block, maybe they have to do a dare, or if they remove a purple block, perhaps they will have to play two truths and a lie.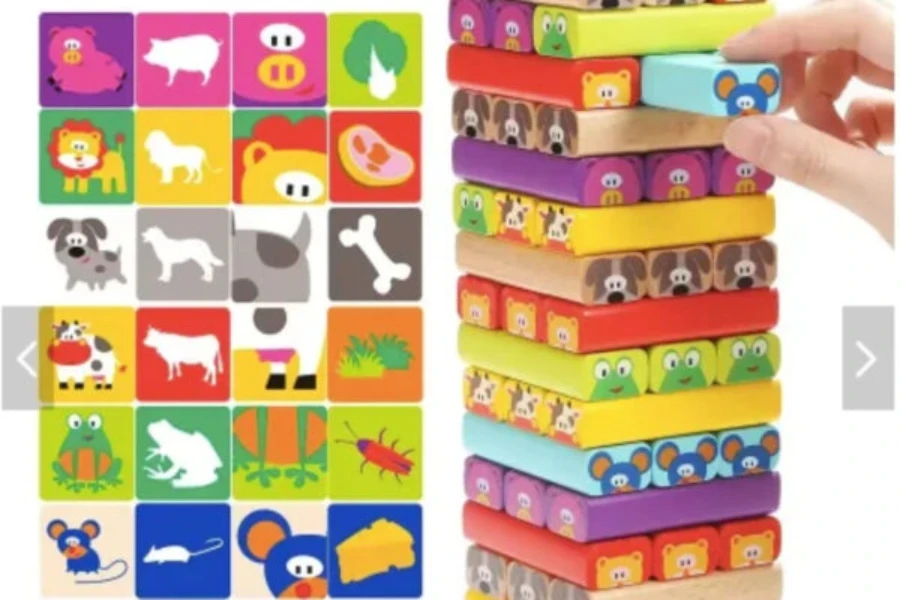 Expressing moods with washi tape journaling and journal decoration
When journaling, washi tape can be used to help with expressing mood too. For example, if the journaller is feeling somber, they could decorate the entry in dark colors or with sad and angry kawaii washi characters. Likewise, if they're feeling upbeat, they could use lively summer colors or flowers.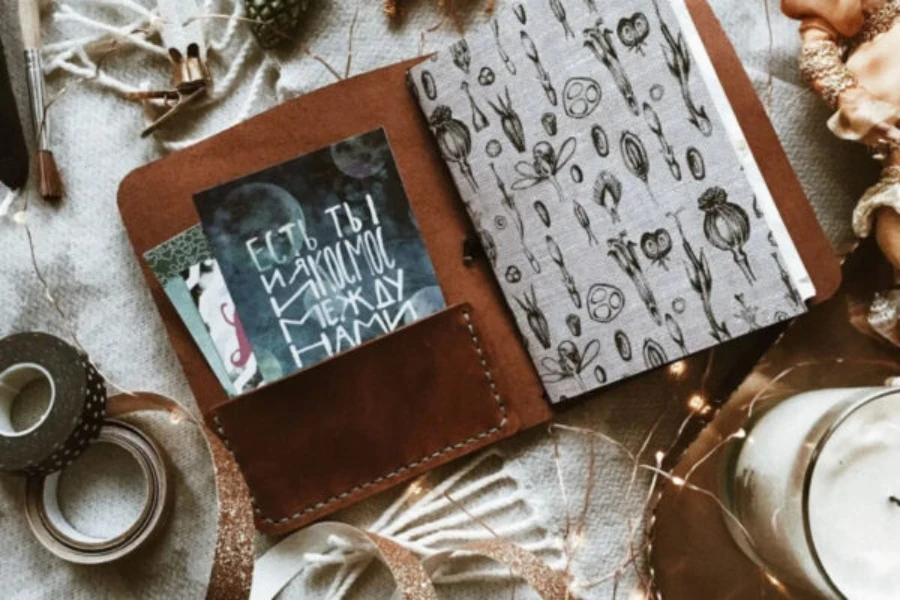 Creating perfectly wrapped gifts
Gifting is another aspect where washi tape can help transform an otherwise bland present into something special. It can be easily used as a packing tape to create elegant and perfectly wrapped gifts for loved ones. It is important to cut the washi packing tape correctly when gifting so as to avoid messy edges. To do this, gift-wrappers should invest in a tape dispenser with a cutter, such as a cute doughnut or heart-shaped tape dispenser.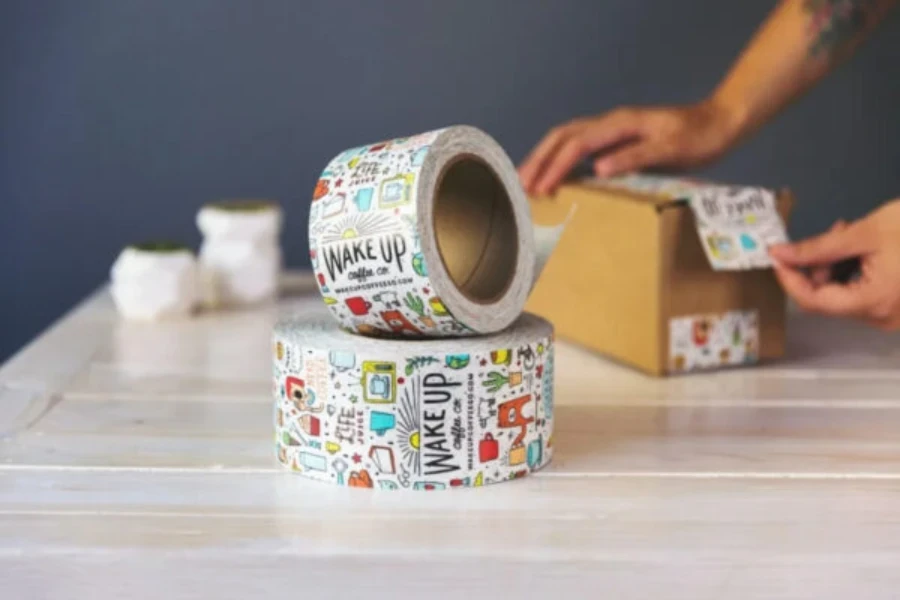 How to play with washi tape for young kids
Making a washi tape mural
Unlike paint, pens, duct tape, and packing tape, washi tape won't peel off walls or leave permanent stains. This makes it great for novice mural painters. It can be used to decorate walls, attach photographs to the walls, or even as a storytime tape, where one person draws something on the wall using washi tape and the next person expands on that drawing, slowly creating a story mural.
Creating floor games with washi tape
Just as with walls, washi tape does not leave marks on floorboards and can be easily removed. This means it can be used to create floor games, such as hopscotch, noughts and crosses, and hangman, or even to demarcate tracks for small bicycles or toy car races.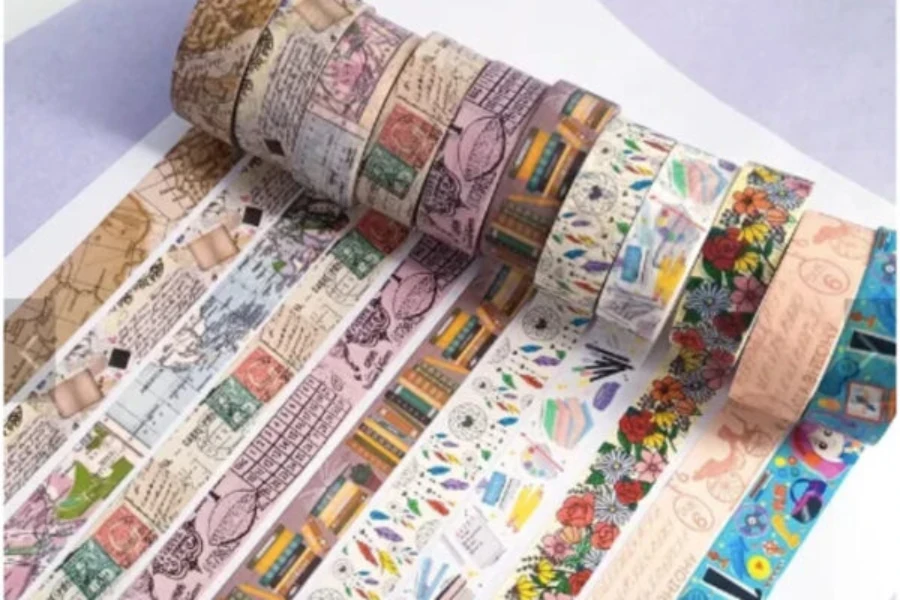 Tracking growth with washi tape growth charts
Washi tape can also be used as a height tracker, noting down a child's height on a door frame or wall. This method not only shows how much a child has grown but also how their tastes change over time, with the type of tape that they choose reflecting their current favorite washi theme or color.
Making stick and washi tape puppets
Creating stick men and hand puppets is another imaginative and fun activity that can be achieved with washi tape. This activity combines creation and storytelling, meaning it's the perfect way to play as a family while improving childrens' motor skills and creativity. Additionally, these puppets can be used for games or kept by parents as a cherished memory.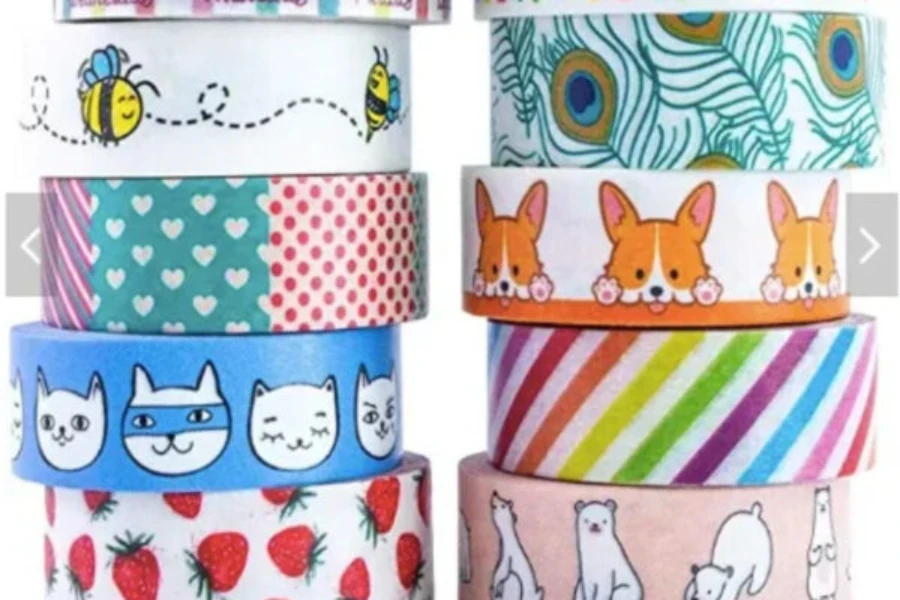 Learning colors and counting
Washi tape can also be used to help children learn simple skills such as colors or counting. One example is to tape off 10 squares with a number under each and then to ask the child to place that many marbles, beads, or other small items into each square. This game helps children make the connection between numbers and quantities.
These types of games can also be used to help children learn colors and shapes, such as by asking them to place their pink toys in a pink triangle made using washi tape, or their green toys in a green square.
Making a washi tape name for kids' rooms
Personalizing a bedroom is a big part of creating individuality, and there is no better way than by adding a personal touch. For children's rooms, especially when there's more than one, families may want to wrap large cardboard or foam letters with washi tape to spell out their names or simple affirmations such as "live," "love," or "laugh." These can be placed on shelves, doors, in windows, and more, and can even be further decorated with fairy lights for an extra special touch.
Conclusion
Playing with washi tape is not only fun, creative, and can enhance our feeling of calm but also has health benefits for children by improving motor skills and concentration. It's also the perfect sustainable and low-cost item for families, with a huge variety of colors and styles. Thanks to many types of washi tape dispenser, stocking a diverse range of these tapes can provide a lucrative opportunity for arts and crafts businesses, kids toy shops, or education centers.
Was this article helpful?