In the world of global trade, it's tough to keep up with the curveballs that get thrown your way. From shipping costs soaring by a staggering 77% between January 2021 and August 2022 due to escalated fuel and labor costs to the shaky uncertainties of global trade policies, the ecommerce landscape seems persistently daunting.
Plus, there's the hurdle of inefficient sourcing when you're dealing with suppliers who need to be properly vetted. It's a hard reality to swallow, isn't it? But don't fret! There's light at the end of the tunnel, and it's called Super September!
Designed to be more than just a mere annual promotion, Super September is an opportunity for business buyers to stock up for the upcoming holiday seasons or set the stage for the 2024 trends. Continue reading to understand what Super September is, its key benefits, and how to find eligible products on Alibaba.com!
Table of Contents
What is Super September on Alibaba.com?
What are the key benefits of Super September?
How to find Super September products on Alibaba.com?
Start sourcing from Alibaba.com
What is Super September on Alibaba.com?
Super September is an annual, month-long event on Alibaba.com. This event runs from the stroke of midnight on September 1, 2023, and lasts until 23:59:59 PT on September 30, 2023. The Super September event is the largest annual promotion, linking business buyers worldwide with an extensive selection of 70+ million featured products across 40+ leading industries.
The ultimate objective of the Super September event is to serve as a platform that allows business buyers to secure the products they need at competitive prices. It's all about ensuring that buyers have access to product quality, low prices, and purchase protection throughout their sourcing journey.
With economic conditions pushing prices higher, the Super September event provides business buyers with a sense of certainty and predictability when stocking up their inventory. Besides substantial discounts, Super September provides buyers with an "extended 60-day money-back policy", granting them peace of mind.
Furthermore, the "On-time Delivery Guarantee" ensures products arrive within the defined deadline. If the delivery doesn't meet the agreed-upon timeframe, buyers are entitled to a refund of up to US $100, boosting confidence in their time-sensitive inventory management. This means that all orders placed on Alibaba.com during Super September are well protected right from the time of payment, through delivery, to aftersales.
What are the key benefits of Super September?
Super September presents an unmissable opportunity for businesses looking to manage sourcing with confidence and gain a competitive edge in today's unpredictable markets. Super September offers business buyers greater savings, guaranteed quality, and streamlined sourcing, making their sourcing process both predictable and assured.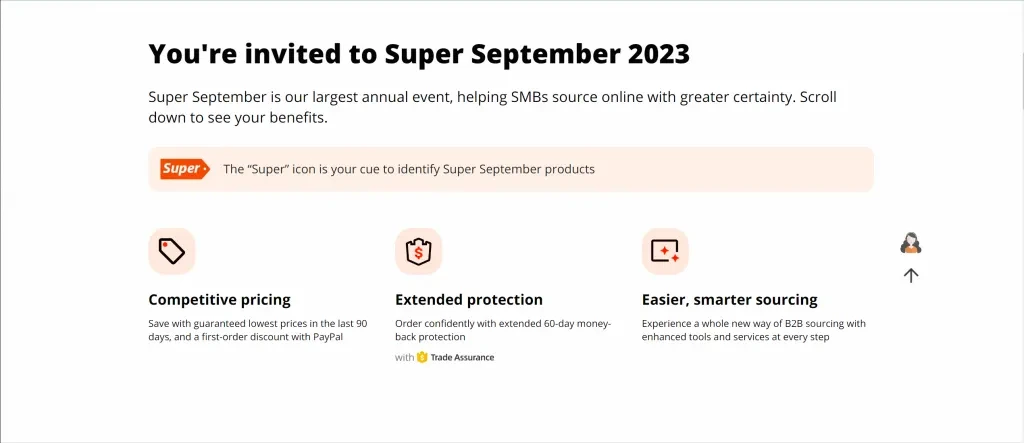 Competitive pricing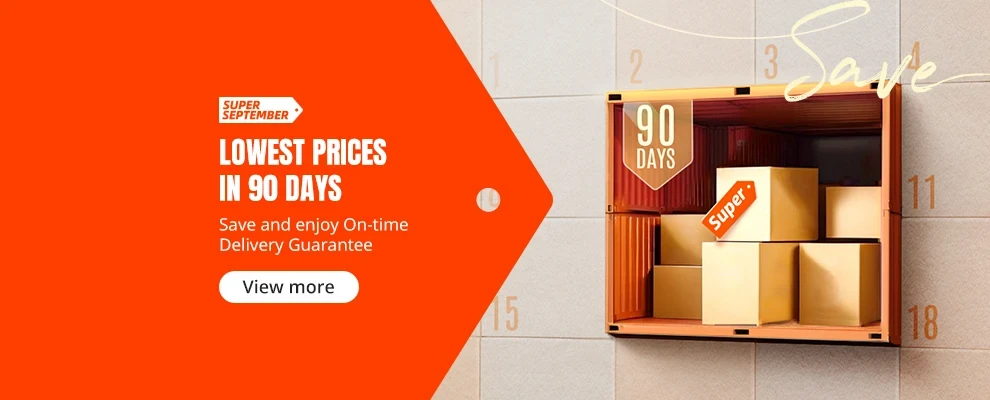 The Super September event guarantees the lowest product prices in the last 90 days. Whether buyers are looking for items across categories such as apparel, beauty, consumer electronics, or home decor, they can be assured that they are purchasing the product at the absolute best price available.
Additionally, the event provides particularly attractive prices for new buyers. Through PayPal, Alibaba.com offers a discount of US $3 off every US $150 spent by these business buyers. While this is capped at a cumulative US $45 discount, it serves as an irresistible incentive for newcomers to explore and tap into the expansive product range available at this event.
Extra layer of protection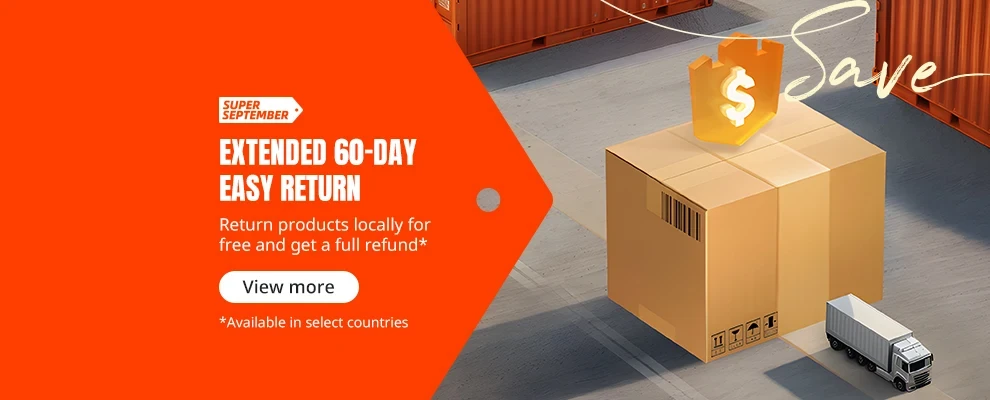 During the Super September event, all eligible product orders are protected for free with Trade Assurance. As a mediator between the buyer and supplier, Alibaba.com ensures the transaction is completed safely and successfully, as long as buyers keep all communications and transactions on the platform.
This free escrow service keeps the payments safe on Alibaba.com using SSL encryption and PCI DSS security standards. Payments are securely held and sent to the supplier once the buyer confirms product delivery.
Besides secure and safe transactions, buyers enjoy an extended 60-day money-back protection in case their purchase does not meet the agreed order terms. This is an extra 30 days in addition to the regular 30-day period offered on Alibaba.com. (Enterprise and Enterprise Pro Buyers are entitled to a 60-day refund period which is not limited to the duration of the offer.)
During this money-back period, buyers can claim a full refund in various situations – for example, if their order does not ship, is missing, or arrives with product issues. Additionally, buyers can use the Easy Return service to return defective products to a local warehouse for free and claim a full refund. Buyers have the option to do both — use the Easy Return service and claim a refund — for complete peace of mind.
Easier and smarter sourcing
Super September is not just about attractive pricing and safe transactions; it serves as an open door to a myriad of enhanced tools and services designed to facilitate the sourcing journey significantly for business buyers and bring the world market literally at their fingertips.
The following tools provide business buyers with a smarter and faster sourcing experience:
Upgraded Image Search
Narrow down search results by searching by image and text simultaneously with our new multisearch feature. (Text feature is app only)
Smart Request for Quotation (RFQ)
Communicate your sourcing needs more effectively with our enhanced RFQ tool that provides predictive sentence completion and image generation.
LIVE with real-time translation
Enjoy barrier-free video chats with suppliers, as translated captions in your choice of 17 languages are provided in real-time.
Get 360° views of factories from the comfort of anywhere.
Search for and book reliable and cost-effective logistics solutions from verified providers.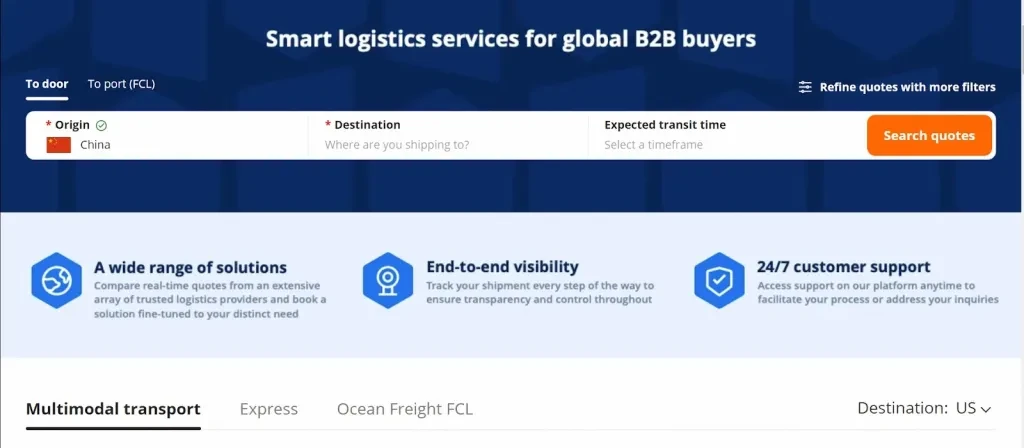 With access to Alibaba.com Logistics Services Marketplace, business buyers can find comprehensive logistics services. These services cover everything – from shipping and storing goods to getting them through customs. Plus, the marketplace features over 100 trustworthy service providers who can handle different transportation needs.
📢Learn more about these digital sourcing tools at the Alibaba.com Co-Create Event in Las Vegas from September 7-8. Reserve your seat now to explore and engage with 10+ enhanced platform tools and services, redefining your sourcing experience!
How to find Super September products on Alibaba.com?
By now, it's clear how Super September offers an excellent opportunity for business buyers to benefit from guaranteed savings, secured payments, and efficient sourcing. But the question remains: How can buyers find eligible products for the Super September promotion?
Worry not! Here are two easy ways to locate Super September products on Alibaba.com:
1) Look for the icon
Look for the "Super" icon throughout Alibaba.com to source from 70+ million featured products across 40+ leading industries.
2) Search and filter
Find these deals easily using the "Super September" and "90-day lowest prices" filters on the search page.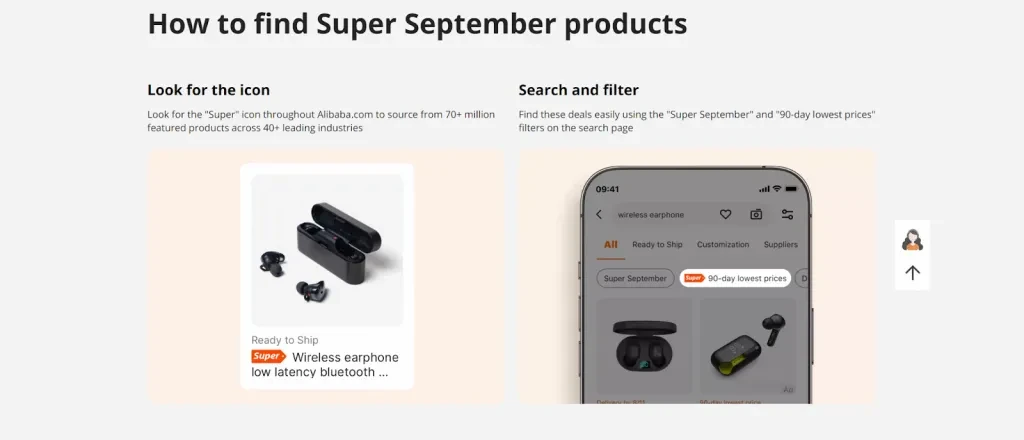 Start sourcing from Alibaba.com
Now is the perfect time for business buyers to plan their agenda for the Super September promotions. Visit Alibaba.com to confidently replenish your inventory and gain a competitive edge in today's unpredictable market!
Was this article helpful?