No matter how we may feel about it, luxury goods are undoubtedly the most successful at stirring intense consumer interests and promoting brand reputation, both of which often allow them to fetch premium prices in the market.
However, if you are dealing with sports products rather than luxury goods, how can you still ignite fascination and command better prices for your products? Golf, the sport frequently linked with elegance and prestige, is probably the closest answer to that.
To begin or to sharpen your venture into the golf sports business, let's continue reading to obtain valuable and useful sourcing suggestions as well as essential selection criteria for popular golf training aids in 2023!
Table of Contents
Market summary
Sourcing the right golf training aids
Popular golf training aids in 2023
Swing into action
Market summary
A brief overview of the worldwide golf market
Prior to conducting a succinct analysis of the golf training aids market, let's examine the entire global golf industry together.
The number of new golf players has been on a steady increase ever since 2020, with the pandemic being attributed as the main pusher behind such a substantial surge. People were seeking an escape to satisfy their eagerness to engage in outdoor activity back then and the enthusiasm for this trend does not seem to diminish even as the pandemic eases.
2022 marked a glorious year for the golf industry in the United States, with more than 25 million Americans, which means about 8% of the nation's total population, reportedly involved in the sport of golf. This represents a jump of more than 1 million in terms of number of golf players compared to the figure recorded in 2019, where there were about 24.3 million golf players.
Meanwhile, the market for golf-related products including golf balls, golf clubs, golf bags, and associated accessories and apparel is equally promising. It is expected to experience a more than US$ 1 billion increase over the next 4 years, rising from US$ 8.37 billion in 2022 to US$ 9.91 billion by 2027.
The golf training aids market
The considerable growth witnessed in the US and global golf market underscores the growing potential of various golf training aids. Concurrently, the golf training aids market is continuously expanding, driven by technological advancements and the introduction of innovative products.
In fact, according to several key trends, the aims to offer a more immersive and engaging training experience for golfers are the main factors behind a compound annual growth rate (CAGR) of 3.57% between 2022 to 2028, bringing the total worldwide golf training aids market size from US$ 519.1 million in 2022 to US$ 640.7 million in 2028.
This growth will be primarily driven by significant advancements in hardware, including the integration of advanced sensors and tracking technologies in golf training aids as well as the incorporation of smart devices. The increasing popularity of online platforms and mobile applications also facilitates the proliferation of personalized coaching and training programs. These programs further enhance golfers' skills and training experiences, propelling the sales of golf training aids at the same time.
Sourcing the right golf training aids
While there may not be any specific recipe for procuring the most effective golf training aids or perfect training aid, the following selection criteria may act as the guiding principle:
User value perception
Similar to most product sourcing processes, when sourcing golf training aids, it's best to consider the perceived value of the products from a user's perspective. Above all, this means the pricing level should align with the users' expectations without compromising quality, providing a favorable cost-to-performance ratio. To achieve this, it is imperative to ensure the procurement of durable, cost-effective high-quality golf training products.
At the same time, the ease of use factor is another noteworthy value perception from the consumer perspective, the selected products should ideally be as user-friendly as possible and come with clear instructions to help users get the most from the products.
User attributes
Next, it's essential to factor in the varying needs of different user segments. This involves catering to diverse training needs. Generally, beginners may prefer simpler, foundational aids, while intermediate and advanced players tend to demand more specialized, sophisticated training.
When it comes to gender, although there might be certain tools customized for women or men, training aids are generally oriented toward a unisex audience. Instead, age preference can be a key factor that marks notable differences. Training aids for junior players may need to emphasize features that are more engaging, simple, or appealing in design, whereas for older, mature players, features that are technologically advanced or highly analytical may be preferred.
User application
The user application scenario is another key criterion. Simply put, this is a consideration of the various environments in which users will utilize their golf training aids. For indoor settings, for example, the design of the training aids should allow for minimal disturbance, and cater for considering factors such as noise and potential constraints or detriment to surroundings. Products designed for outdoor use, meanwhile, should be weather-resistant, and robust enough to withstand varying terrain conditions.
Furthermore, taking into consideration that the users may practice in various settings, the significance of portability should not be underestimated. Foldable or retractable training aids which are lightweight, easy to assemble, and disassemble, for instance, will almost certainly appeal to users who value flexibility.
Popular golf training aids in 2023
For novice golfers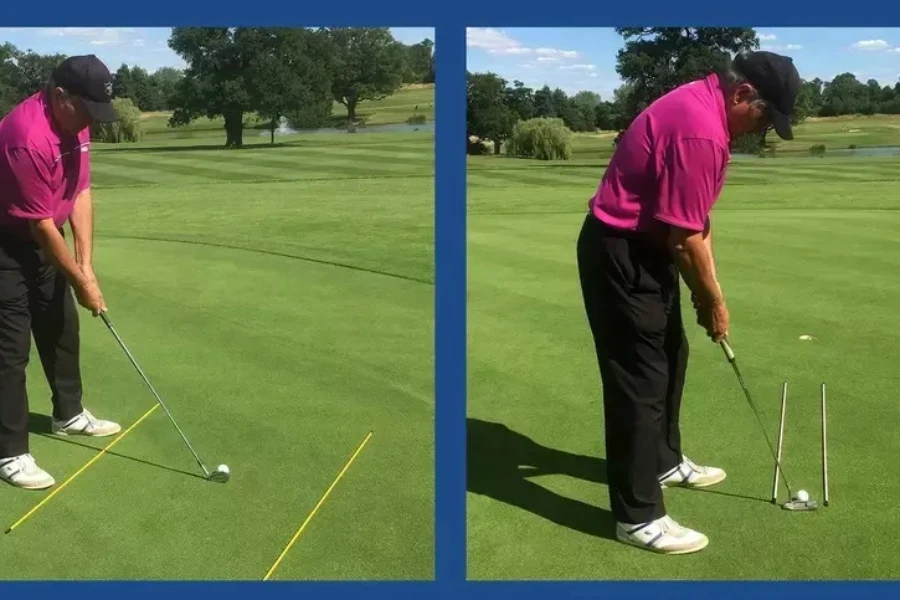 Even though there are quite a number of golf training aids designed for novice golfers to pick up and improve their golfing skills, the importance of golf swing trainers in shaping and refining the technique required for a successful swing can't be understated.
A vital feature that stresses the efficiency of a swing trainer is its ability to guide a golfer's swing along the correct path. This particular trait related to swing path shines brightest through a swing trainer with a laser light attached to the grip of any golf club, easily providing real-time visual feedback on whether the swing plane and clubface angle are too steep, flat, or just right.
A function like this is no doubt a helpful feedback mechanism to improve swing precision. Furthermore, a swing trainer that includes a removable aggravating set provides much greater flexibility to allow it to be adjusted to suit different user requirements and more customizable training arrangements tailored to individual needs.
In the meantime, a grip trainer designed to enhance golf performance through better grip strength, stability, and consistency also serves as an essential versatile tool as beginners start to refine their accuracy, control, and confidence. This golf grip trainer with an anti-slip feature and made from a combination of PC and TPR, for example, is not only comfortable to hold but is only durable enough to withstand regular use.
A waterproof grip trainer made from rubber can also offer similar product durability and comfort while continuing its key mission of correcting hand positioning and grasping to create muscle memory for the correct grip.
Conversely, alignment sticks (also called alignment rods) serve as multipurpose tools that significantly work to refine ball striking, accuracy, and overall shot consistency to build a solid foundation for the golf swing. For instance, an alignment stick that is suitable for both indoor and outdoor use is good for full swing, short-distance race, putting, and posture correction.This versatility makes it a great multifunctional training stick. An ideal alignment stick should also ideally be lightweight and suitable for heavy-duty usage, such as this alignment stick with fiberglass and latex rubber construction.
For intermediate golfers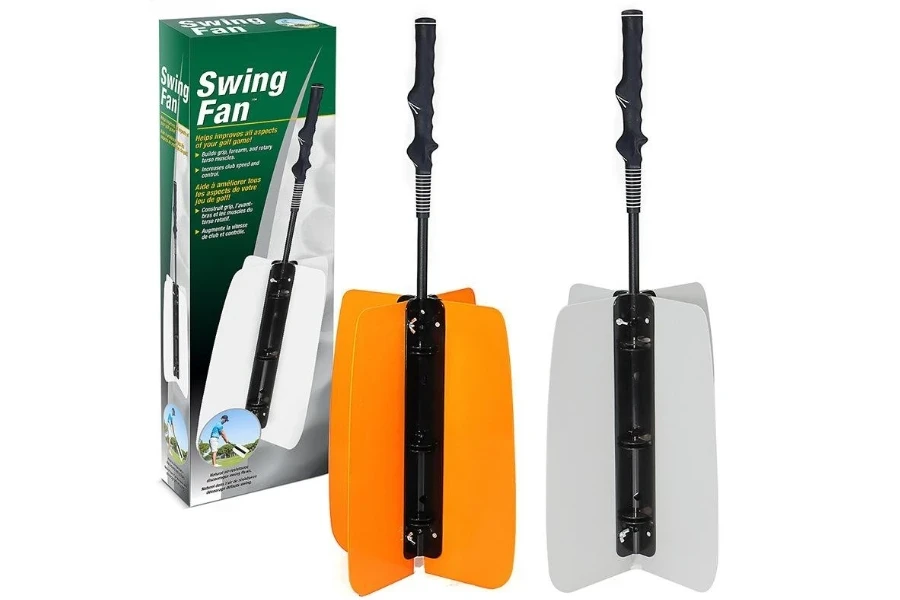 After passing through the phase of concentrating on the foundational elements of golf such as mastering grip, posture, and basic swing mechanics, novice golfers normally proceed to focus on refining specific skills to improve their overall game. As depicted in the picture above, the power fan, which is also known as golf power resistance or golf swing fan, is one of such ideal tools for them to move on to the intermediate level as it aids in enhancing clubhead speed and specific muscles.
A power fan featuring an upgraded, comfortable grip with a V-shaped design to increase wind resistance, for example, results in an adjustable resistance that offers challenging workouts and stimulates the application of wrist, waist, and arm force for diverse strength training levels. On the other hand, a power fan made of durable plastic and rubber and that comes with a dual-size offering provides both long-lastingness and versatility to users, catering to different purposes.
Additionally, the practice green, which is also known as the practice mat and features lifelike grass that closely mimics real-world golf courses, is another popular option for intermediate golfers. The practice green has a direct impact on helping them to perfect a critical aspect of the game: their putting techniques. Developing a strong putting skill is critical for achieving lower scores and is commonly zeroed in once golfers have advanced beyond the beginner level.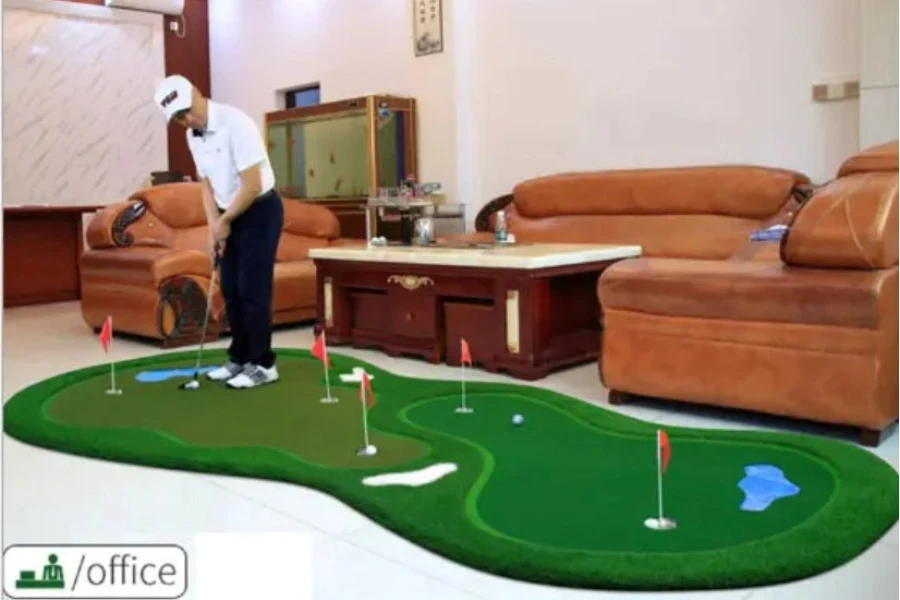 Since boasting natural grass that closely resembles real grass conditions is one of the key features of it, a practice green that presents golfers with a realistic feel through its unique combination of short and long grasses is set to stand out. Similarly, a practice mat that features artificial lakes and sand pits may also further exemplify the significant feature of realistic practice conditions as it allows the effective targeting of diverse training requirements.
Ultimately, a large practice mat that highlighted its high-density mixture of both long and short grasses certainly helps to place more emphasis on the importance of authentic sensory experiences in golf training, which serves as the key to honing overall skills effectively.
For advanced golfers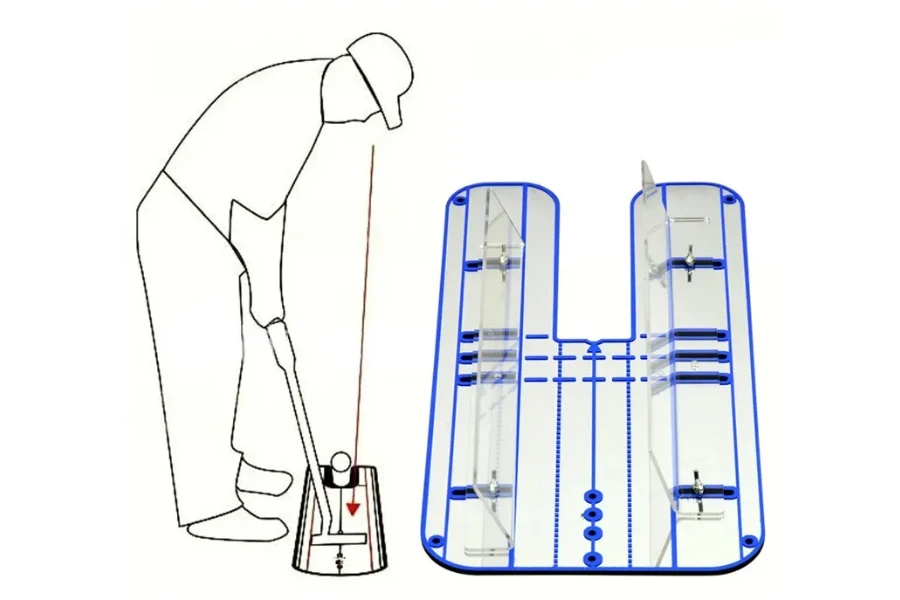 Different from intermediate golfers who generally have a solid grasp on the fundamentals of golf and are in the quest of refining their techniques, advanced golfers typically focus on polishing their accuracy, precision, and consistency to a professional level.
A putting mirror, same as the one featured in the picture above is obviously one of such tools that can provide crucial feedback on the minute aspects of a golfer's putting stroke. It is basically a marked reflector that helps advanced golfers check their eye, head, shoulder, and putter alignment on the ground. It aids in enhancing meticulous stroke accuracy and improving body positioning, achieving all these while maintaining consistent eye alignment, thereby empowering them to achieve the necessary precision required to putt successfully.
Taking this into account, a putting mirror designed with specialties to improve putter face alignment and create an accelerating stroke acts as a great companion tool for advanced golfers seeking to excel in successful putting. Meanwhile, a putting mirror that gives particular attention to shoulder alignment also accentuates the need for a proper body position in executing a successful golf swing.
On the other hand, a launch monitor is a device that provides detailed data such as swing speed, ball speed, swing tempo, launch angle, carry distance, etc. vital data that assist advanced golfers in fine-tuning and optimizing every part of their performance. While intermediate golfers can certainly benefit from understanding these metrics too, the in-depth analysis and potential for subtle refinements are most beneficial for advanced players who have already established a consistent swing.
And what better functionality exists for detecting these precise adjustments than the swing video recording feature provided by the launch monitor? Combined with an environmental condition compensation function that ensures accurate data analysis on temperature and humidity regardless of environmental conditions, such recording allows for repeating swing analysis for precise improvement review.
A launch monitor coupled with a golf simulator, in the meantime, is able to provide a holistic user experience by conveniently transforming any space into a performance-driven golf simulator, offering instant feedback and real-time data on various aspects of the game to avid expert golfers.
Swing into action
Multiple data prove that the global golf market continues to flourish as we navigate through 2023, leading to a burgeoning golf training aid market. Sourcing the right golf training equipment that caters to different proficiency levels is a strategic move to accommodate the growing interest in golf from beginners to advanced players.
Paying attention to users' value perception, understanding their attributes and the application of these golf aids can be extremely useful throughout the purchase decision-making process among wholesalers. To stay up to date in 2023's popular golf training aids market, it is essential to keep an eye on training aids such as swing trainers and alignment sticks for beginners, practice green and power fan for intermediates, and the much sought-after launch monitors and putting mirrors for the advanced players.
Proceed to ride the wave of growth by taking action now to capitalize on these insights to stay ahead of the curve in the dynamic golf training aids market. Keep your business updated and well-informed by regularly visiting Alibaba Reads. your dependable source for the latest wholesale business insights and trends.
Was this article helpful?