Key Takeaways:
Soaring supermarket prices continue to put cost pressures on consumers
Supermarket giants Woolworths and Coles locked prices on hundreds of everyday grocery items
The fresh food category led price rises during the December quarter of 2022
Food price inflation is anticipated to continue until at least mid-2023
Supermarket prices have surged over recent months, with food and grocery prices being a key contributor to inflation across Australia. According to data from investment bank UBS, food prices at Woolworths and Coles increased at an average of 9.2% over the three months to December 2022, jumping from an average of 8.2% in the September quarter. These figures reflect a difficult final quarter of 2022 for consumers and increasing volatility in supermarkets. While the supermarkets' price freeze initiatives brought temporary relief for consumers, food inflation is still expected to continue in 2023.
Not such fresh prices
Data from the Australian Bureau of Statistics (ABS) also shows that grocery prices rose across the December quarter of 2022-23, on the back of higher costs for farmers and producers and strong demand during the Christmas period.
Dairy and related products recorded the largest increase, at 4.2%.
Milk, in particular, was scarce in 2022, which pushed up retail prices.
Strong international demand, grain supply disruptions and higher fuel and fertiliser costs have increased meat prices.
Australia's eastern flood crisis disrupted the supply of fresh produce during the year, but easing supply constraints prompted a 7.3% drop in fruit and vegetables prices.
The drop in fruit and vegetable prices partially offset the overall increase in grocery prices in the December quarter.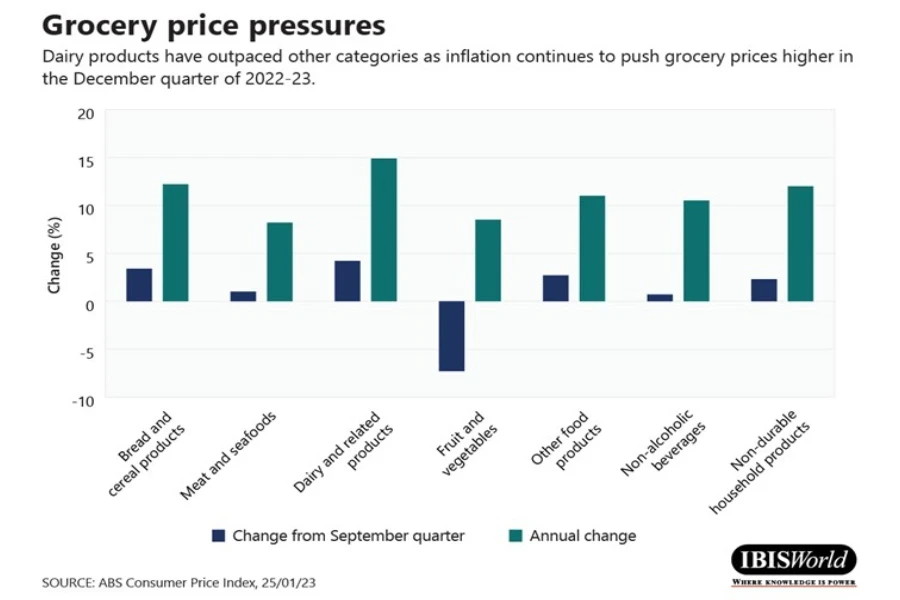 Price battle: Woolworths versus Coles
During the second half of 2022, Woolworths and Coles both implemented six-month price freezes. Under these commitments, essential items listed by each supermarket would remain at the same price despite the impact of inflation. Woolworths' price freeze program has since expired, but Coles announced that it would extend its price freeze indefinitely.
Both supermarkets employed different approaches when it came to tackling the cost pressures imposed upon shoppers. Despite Woolworths' price guarantee expiring, the company announced that it would continue to hold many items at the same price. The company took a seasonal approach, having recently introduced a price reduction program across 300 summer grocery items. Woolworths has stated that it will continue to review cost increase requests from suppliers on a case-by-case basis.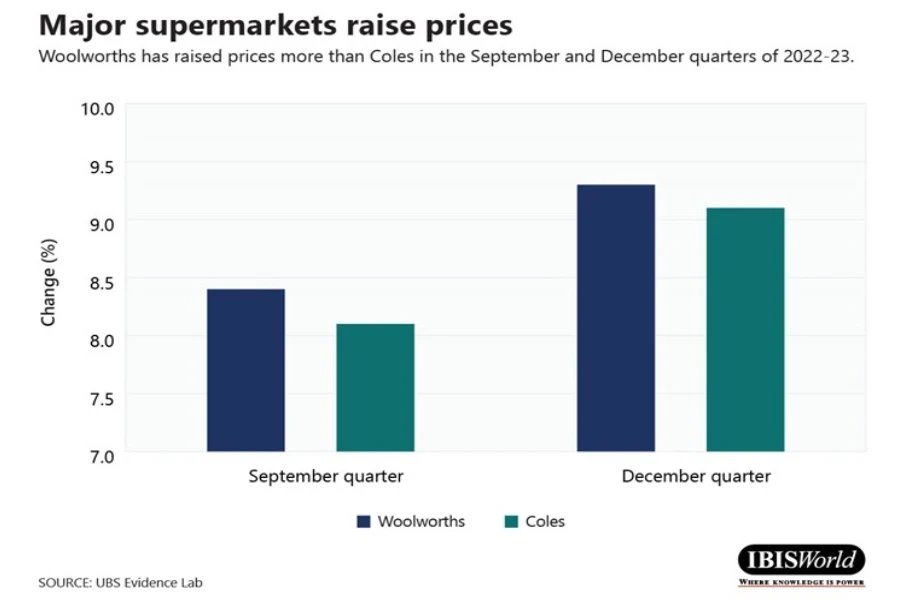 Despite these price freezes, UBS data shows that overall prices were slightly higher at Woolworths than at Coles over the September and December quarters of 2022-23. Woolworths implemented sharper price increases in fresh produce, while Coles raised prices more on other groceries. Coles was more aggressive in its discounting and promotions, seeking to differentiate on price to gain market share from its major rival.
What do price changes mean for the Supermarkets and Grocery Stores industry?
The Australian Supermarkets and Grocery Stores industry has thrived over the past five years. Industry revenue has grown at an annualised 2.2% over the five years through 2022-23, to total $130.2 billion. Consumers' panic buying behaviours following the initial outbreak of COVID-19 significantly boosted industry revenue. The shutdown of substitutes such as restaurants and cafes reduced demand for hospitality and food service sectors, which prompted buyers to turn to supermarkets.
More recently, the industry has benefitted from rising food inflation, which has prompted supermarkets to raise their prices. Supermarkets have the ability to pass on higher supplier prices to their customers, pushing up industry revenue and supporting profit margins. However, this uptick has been less pronounced with non-essential items, as demand for necessities is inelastic.
Woolworths and Coles have largely used inflationary pressures to their advantage, but Aldi and Costco's continued expansion poses a threat to the supermarket giants. Cost concerns prompted price-conscious consumers to turn to the lower cost supermarkets. Operating on a price-oriented basis, Aldi's market share has risen to 10.1% in 2022-23. Competition from smaller players has forced Woolworths and Coles to re-evaluate their strategies to remain price competitive and provide strong customer experiences as a point of difference.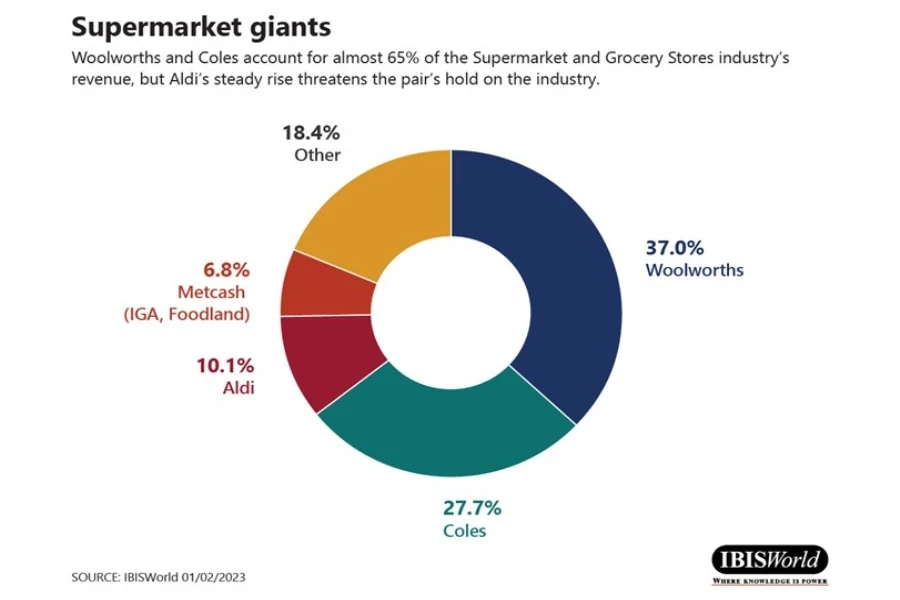 Woolworths and Coles have been proactive in adjusting to consumers' needs in their attempts to maintain market share. For instance, both companies have invested in data analytics to track consumers' shopping habits and preferences. Woolworth's has expanded its data analysis capabilities through the majority-share purchase of data analytics firm Quantium in May 2021, combining it with its in-house big data operations to form a new business unit, WiQ.
Delivery: A shift in the shopping landscape
Supermarkets have expanded their online shopping presence alongside their bricks-and-mortar stores. Major players benefited from strong demand for online grocery shopping following the COVID-19 outbreak. Revenue for the online grocery sales industry in Australia increased by 46.2% in 2020-21, as the uptick in online shopping extended to everyday groceries. While the robust demand for online grocery shopping has softened since the peak of the pandemic, supermarkets have continued to invest in their online channels, as consumers are drawn to the convenience and easier price comparisons they offer.
Outlook: Mixed bag
The supermarkets and grocery stores' industry revenue is forecast to grow at an annualised 1.8% to $142.2 billion over the five years through 2027-28, as industry players continue to take advantage of inflationary pressures. While the RBA suggests that the inflation rate reached its peak at the end of 2022, food inflation is still widely anticipated to continue until at least June this year. Lower cost supermarkets are on track to continue putting pressure on the supermarket giants as many consumers opt for more affordable alternatives amid ongoing cost of living pressures. Online sales are also likely to remain important for supermarkets, with Woolworths and Coles having already gained a competitive advantage due to their existing store networks.
What do rising grocery prices mean for the business landscape in Australia?
The effects of rising grocery prices certainly extend beyond players within the supermarket industry.  These price pressures are set to have flow on effects in non-essential sectors as real household discretionary income plummets in the current year. The sectors most likely to feel the heat include retail, gyms, sports, leisure and food services, as consumers reduce non-essential spending to counter higher prices for necessities at the supermarket checkout. In turn, manufacturers will likely face lower demand for non-essential items. Some firms in these sectors may need to restructure their operations or re-negotiate with suppliers in order to remain viable.
Banks and financial services firms may encounter an increase in the number of clients who can't repay their loans. Meanwhile, consulting firms will need to consider their advisory strategies, ensuring they account for the impact of rising supermarket costs and weaker discretionary incomes on clients and their industries. Sales and marketing players with a consumer focus will need to account for decreased discretionary spending, which will likely require re-evaluating marketing efforts to maintain projected revenue levels. In general, businesses across the economy may need to renegotiate their supplier contracts and look to increasing efficiencies in other areas of their operations.
Source from IBISWorld
Disclaimer: The information set forth above is provided by IBISWorld independently of Alibaba.com. Alibaba.com makes no representation and warranties as to the quality and reliability of the seller and products.
Was this article helpful?