The 19th century was adorned with elegant lace, magnificent gowns, and a regally dark allure. Thankfully, the timeless charm of this pastime is returning in full swing with a gothic twist.
Now, women can immerse themselves in an enchanting world where beauty and mystery harmoniously entwine—while looking good. But how can businesses leverage the demand for this timeless aesthetic?
Read on to discover the best women's Victorian goth trends to offer fashion enthusiasts in 2023/24.
Table of Contents
A brief overview of the Victorian Goth apparel trend market
Five Victorian goth trends for women in 2023/24
Rounding up
A brief overview of the Victorian Goth apparel trend market
Victorian goth is a subgenre of goth fashion, characterized by its focus on dark, elegant clothing with details like lace, velvet, corsets. The trend often features black, but other dark colors like red, purple, and green are also popular, making it attractive to gothic women interested in Victorian aesthetics.
As mentioned earlier, lace and corsets are two dominant segments fueling the Victorian goth market. While experts predict the lace market will reach US$ 63.43 billion by 2030, they also say the corset market will grow beyond US$ 170 million by 2027.
Five Victorian goth trends for women in 2023/24
Lace blouses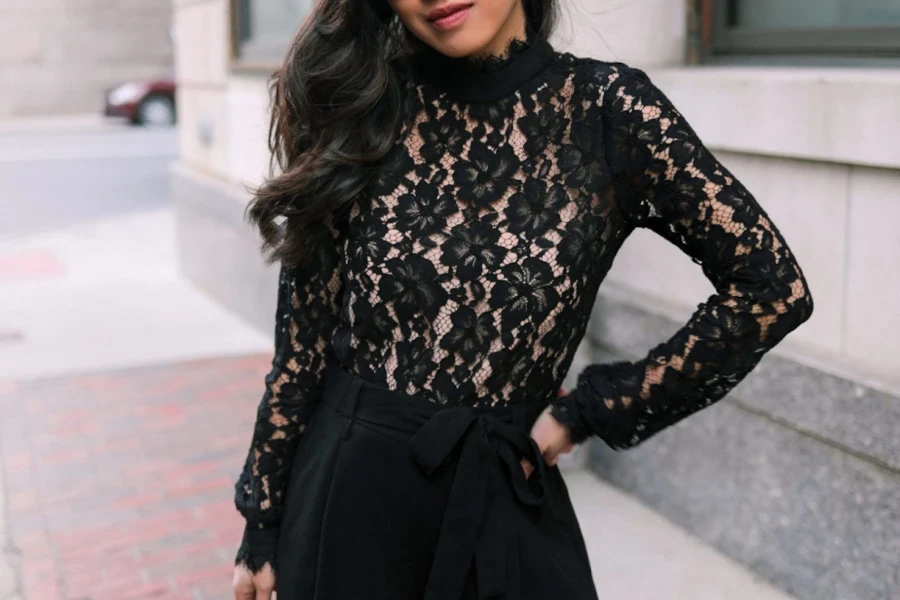 This Victorian goth staple effortlessly adds a touch of dark elegance to women's wardrobes. Lace blouses are ethereal pieces that exude a sense of romanticism and mystery, making them perfect for embracing the Victorian goth trend with a modern twist.
Black is a classic choice for lace blouses, evoking the quintessential gothic aesthetic. However, customers can experiment with deep purples, rich burgundies, or dark greens to add color to their ensemble. These darker hues further enhance the Victorian goth vibe, allowing them to explore various fascinating styles.
Lace blouses have also received multiple updates since their inception in the early 1900s. One of the more recent trends is the off-shoulder lace blouse. It's popular for consumers that attend special occasions because of its feminine aesthetics and elegance.
Another trendy option is sheer lace blouses. They are perfect for layering and can make any outfit feel more glamorous. Alternatively, ladies can use lace blouses with embroidery details to add personality to their looks.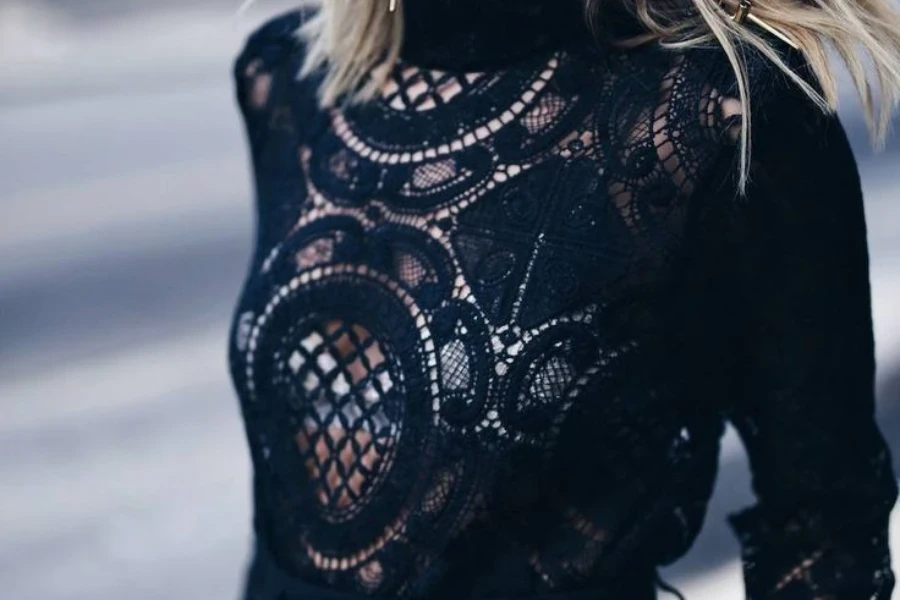 In addition, lace blouses with puff sleeves are a fun and flirty way to rock a Victorian goth style. They can add a touch of sweetness to any casual or formal look. Lace blouses with cutouts also add a modern twist to this classic trend. Undoubtedly, they're set to turn heads with unique designs that show off shoulders, back, or chest.
Women can create a Victorian goth-inspired outfit by pairing lace blouses with black velvet skirts or tailored trousers, achieving a luxurious contrast. Alternatively, layering a faux leather jacket with Victorian details or a sleek black blazer over the lace blouse will exude an edgy aesthetic suitable for night outs and fashion-forward events.
Dark-flowing dresses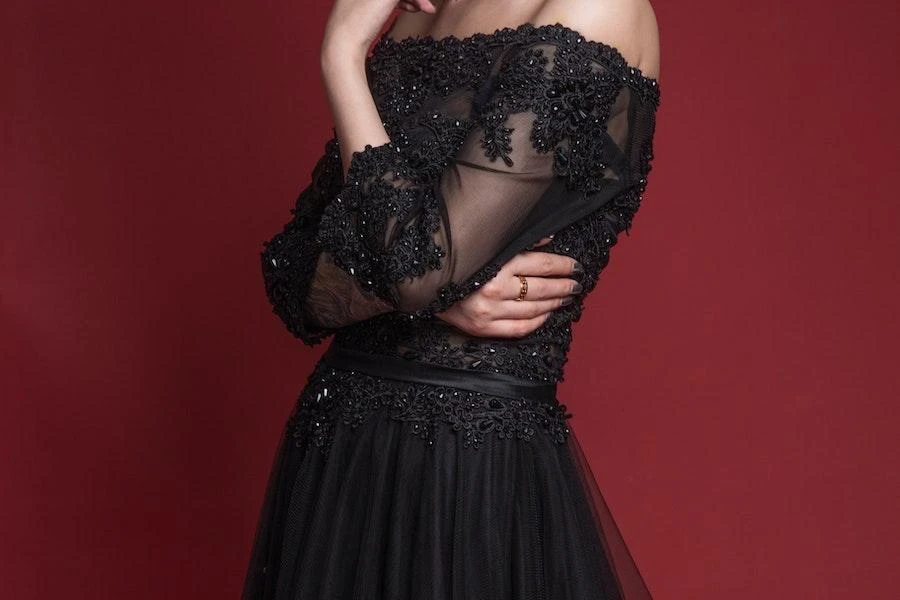 The beauty of the dark-flowing dress comes alive when consumers glide through the night, exuding an aura of Gothic elegance and enchantment. Dark-flowing dresses are an integral part of the Victorian goth trend, capturing the essence of vintage-inspired fashion with a contemporary take.
These dresses often feature intricate details like lace panels, high necklines, and billowing sleeves, evoking a sense of drama and sophistication reminiscent for consumers who love the Victorian era. The flowing silhouette adds a touch of mystery and ethereality, while the dark color palette further enhances the enigmatic aura.
Speaking of dark color palettes, ladies can embrace deep, rich hues like black, navy, or deep purple to channel the otherworldly aura reminiscent of this trend. On a deeper level, these darker shades add depth and create a seamless canvas to showcase intricate details and textures for consumers who love to steal the show. In this regard, dresses with velvet trimmings, lace overlays, or ornate embroidery are the best picks for this trend.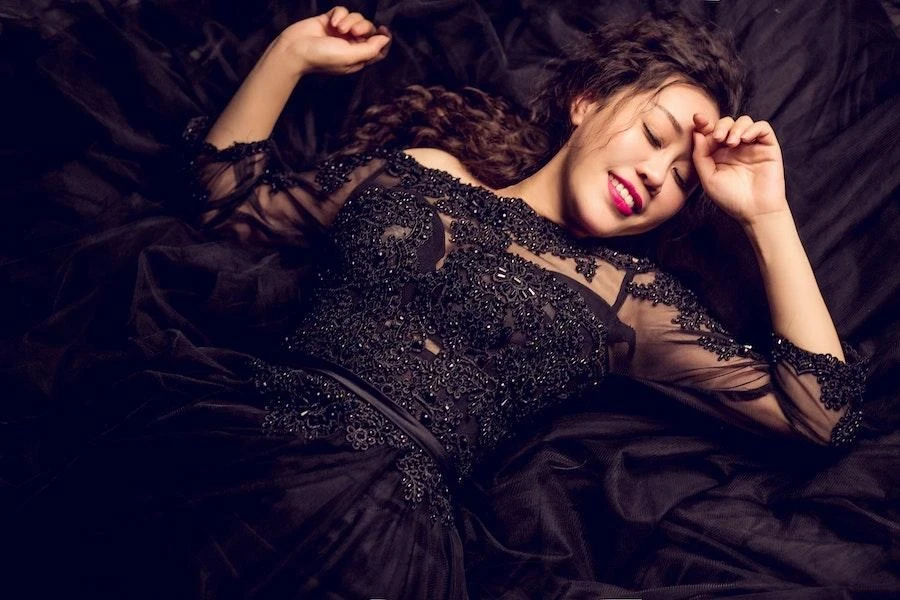 The dark flowing dress can also make fantastic winter outfits to combat the chill. Hence, female consumers can throw on an opulent long velvet or faux fur coat with intricate button details over their dress for this outfit. The coat will keep them warm while adding a layer of gothic elegance to the ensemble.
Black midi skirts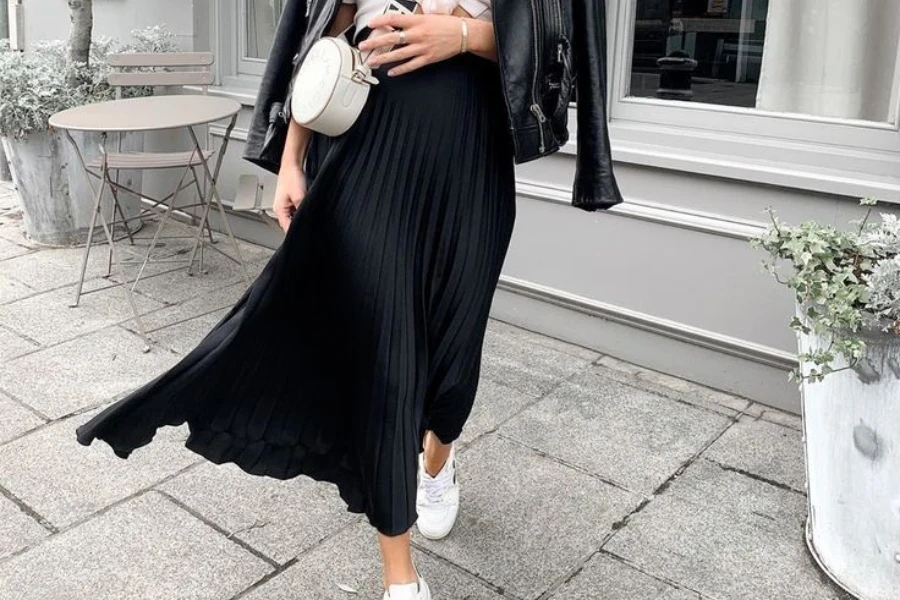 Midi skirts exude a sense of femininity and grace, while black adds a touch of Gothic allure, creating the perfect foundation for various gothic-inspired ensembles—perfect for consumers who love to give a sassy look. Skirts with lace trimmings, velvet accents, or ornate embroidery are some of the best options for an element of visual intrigue.
Regarding style and design, women can choose from many midi skirt trends. For example, female consumers who prefer classic looks can rock a black pleated midi skirt. It's the perfect item for work, school, or night outs.
On the other hand, consumers looking for a more feminine and flirty option will love black ruffled midi skirts. They easily transcend the seasons, allowing women to enjoy various Victorian goth ensembles—regardless of the weather. High-waisted midi skirts are also hot this season as they provide a flattering option for all body types.
Black satin midi skirts are also gaining traction this season as a more luxurious and elegant option for Victorian goth enthusiasts. Black leather skirts also enter the Victorian goth spotlight with enough edginess and coolness to make heads turn.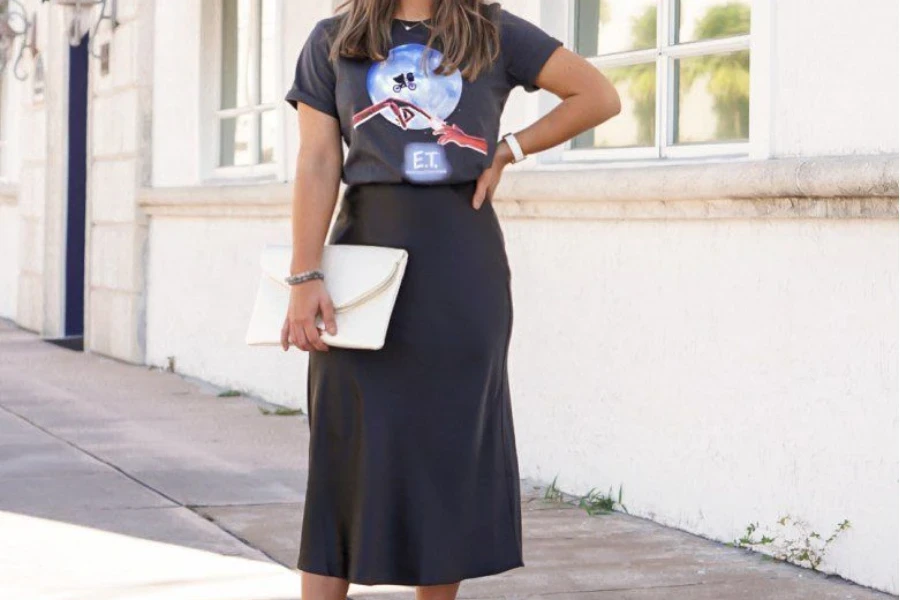 The best partner for the black midi skirt is a ruffled or lace-detailed blouse. It creates a classic Victorian-inspired look that embraces the era's aesthetics. The blouse's high neckline and intricate details complement the skirt's elegance, adding to the overall gothic beauty.
Wearing a graphic band t-shirt or a crop top with a black midi skirt is another exciting way to rock a Victorian goth outfit. It merges classic and contemporary elements to create a unique and striking ensemble.
Corsets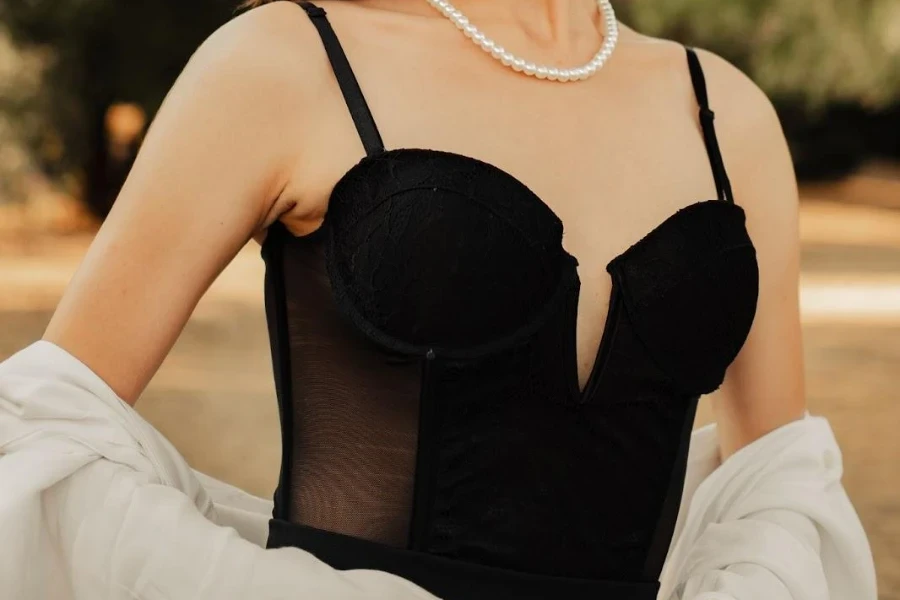 Once the epitome of Victorian elegance and sensuality, corsets are making a bold comeback as a prominent element in the Victorian goth trend. These structured garments have captured the imagination of fashion enthusiasts, allowing them to embrace their dark and daring side while paying homage to the era of opulence and decadence.
Corsets come in various styles, from classic black satin to vibrant patterns with rich embroidery and lace overlays. They are designed to cinch the waist, accentuate the curves, and create an hourglass silhouette, exuding confidence and allure. With their eye-catching lace-up detailing and steel boning, corsets are a stunning centerpiece for any Victorian goth look.
Although these structured beauties have been killing it since the early 19th century, recent iterations have come with exciting updates. For example, modern corsets are no longer about waist-cinching alone. Now, they offer less-restrictive designs to provide structure and support for women who embrace freedom without ignoring style.
In addition, some corsets now feature bustier tops to make outfits sexier. Typically, manufacturers make them from sheer or lace fabrics to add more to their allure. Corsets with cutouts are also trending this season as they allow women to show off their skin and turn heads.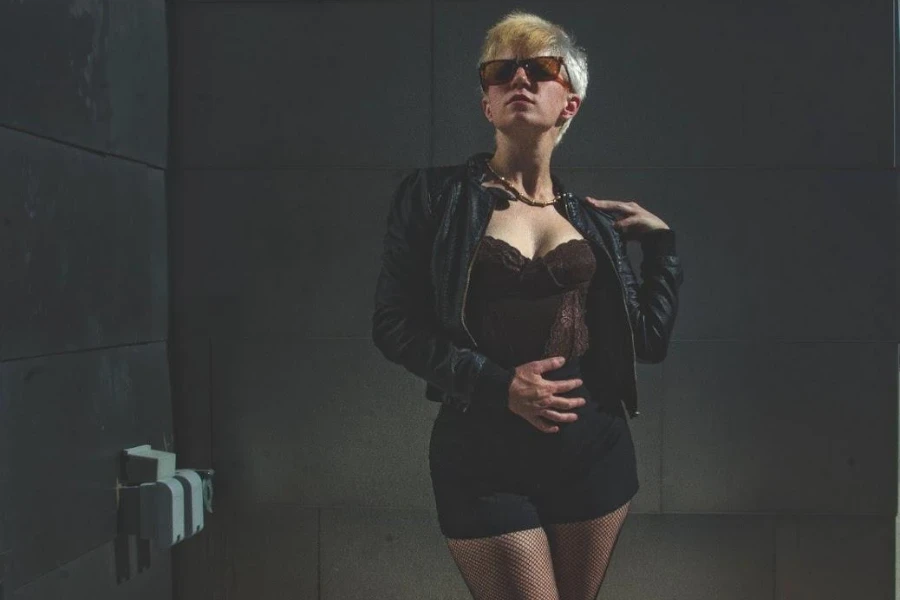 One option to achieve a Victorian goth-inspired style is pairing a corset with a flowing maxi skirt, demanding lace trimming or velvet accents on the corset. Alternatively, women can pair the corset with high-waisted skinny jeans or leather leggings for a chic and edgy gothic look. Layering the ensemble with a velvet cape or faux fur stole adds a dramatic touch, creating a show-stopping appearance.
Layered coats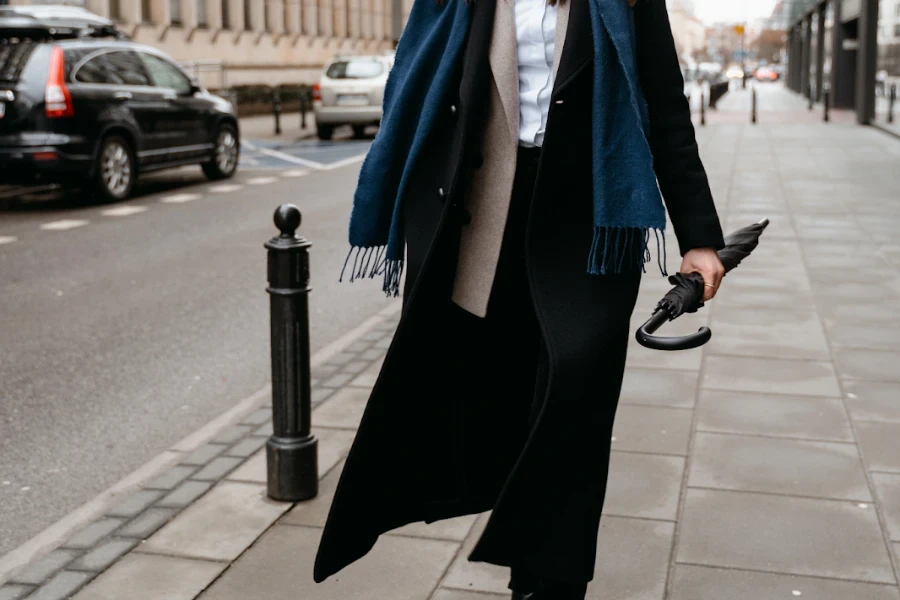 The Victorian goth trend is about embracing layers, and layered coats are the perfect way for female consumers to achieve a chic and practical look in the colder months.
Layered coats often feature cape-like drapes, asymmetrical hemlines, and intricate buttons, adding a touch of drama and sophistication to winter attires. But, the Victorian goth aesthetic sees these coats embody rich, dark colors like black, deep red, or forest green.
Oversized layered coats are the go-to for women looking to stay warm and stylish. Another great option is longline coats. While oversized coats are more fashionable, longline variants offer more sophistication. Women can also rock shearling and trench coats in darker colors to complement their Victorian goth outfits.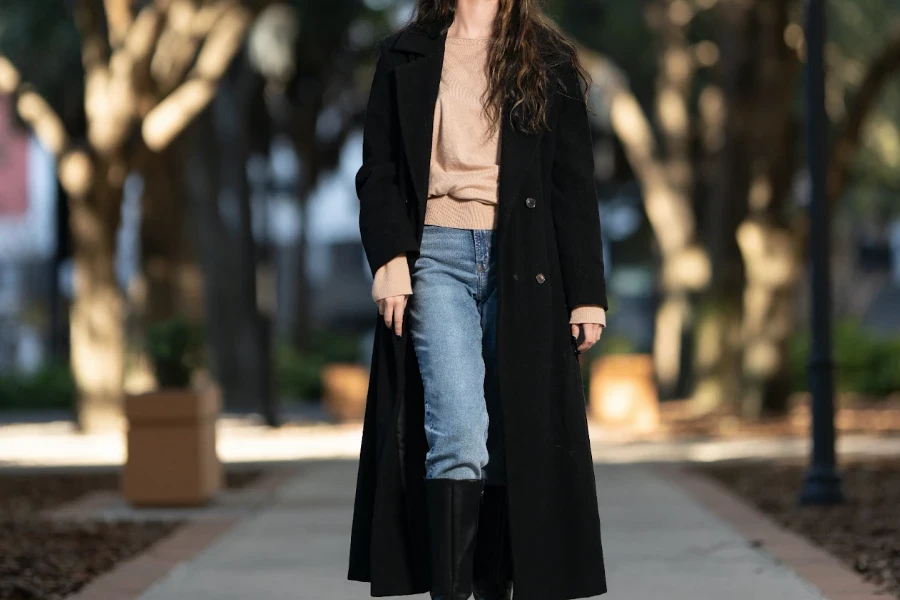 For a regal and enchanting Victorian goth outfit, pair a layered coat with a sumptuous velvet or silk long flowing dress. This combination creates a captivating contrast that captures the era's beauty while exuding a contemporary allure.
Rounding up
The Victorian era may be gone, but its fashion remains a staple in modern times. While many items like corsets and black flowing dresses look fantastic, they exude an even greater charm when combined with gothic elements.
As a result, many Victorian goth trends are bursting into women's fashion with unrivaled luxury and elegance. Retailers can focus on the five trends discussed in this article to ensure they appeal to this niche 2023/24.
Was this article helpful?