2023 proved that leggings aren't just errand wear or athleisure; they can also be boujee. This cool weather staple has climbed the fashion ladder and has become a mainstay, with many runways and celebrities showing fresh ways of styling this piece for several occasions.
Unsurprisingly, the world would quickly pick up these trends, increasing their demand over the coming months. This article will explore five leggings trends currently topping the list of several fashion projections for 2024 and also take a peek into the global market.
Table of Contents
What's the size of the leggings market?
Five outstanding legging trends for women in 2024
Stock up on these trends
What's the size of the leggings market?
The value of the global leggings market was estimated at $13.36 billion in 2023 and is projected to grow at a CAGR of 2.82% from 2023 to 2027. It has both well-established players and several small and medium players. Both categories face a problematic playing field due to intense competition and challenging market penetration. However, leggings and tights brands are relentlessly engaging in consumer research to provide top-notch value. This and the increasing demand for branded and premium leggings are opening fresh doors of opportunities in the market.
While offline channels contributed hugely to the market's revenue, with over 75% in 2023, online platforms are estimated to snowball at a CAGR of 7.3% from 2023 to 2027, based on the above report.
Five outstanding legging trends for women in 2024
Sheer leggings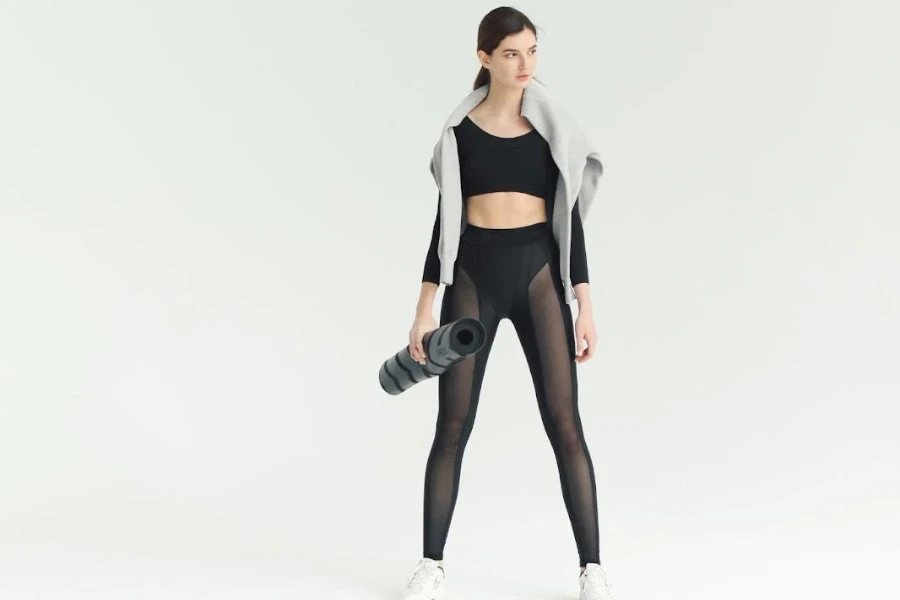 Sheer leggings are essential fashion hacks, so pay attention to their economic impact. They can lengthen the legs, act as a slippery layer so skirts and dresses don't bunch or ride up while walking, and enhance appearance. Consumers apprehensive about showing any skin will find this piece very helpful.
In the warmer months, it can be the ideal go-to product because it works like makeup for legs, hiding any imperfections or flaws. A flesh-toned, sheer pair that gives the legs a makeup look is best for evening events where women want to look flawless. It also allows shoppers to transition their summer dresses, shorts, and rompers into the colder months while adding warmth and dimension to their look.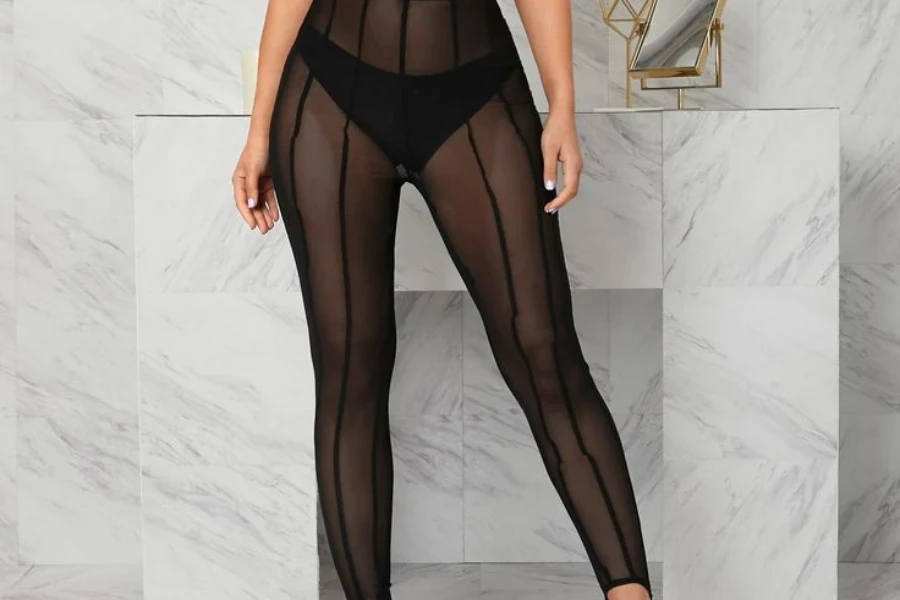 Consumers can dress them up with a straightforward, fitted top for a night out or keep it laid-back with an oversized jumper. Or pair them with a vibrant, patterned top and denim jacket, for a daring, fashionable look.
Keeping the rest of the outfit simple will help it complement the softness of the leggings. Never be afraid to combine different textures, such as pairing them with a fluffy coat or jacket, to give your outfit depth.
Embellished leggings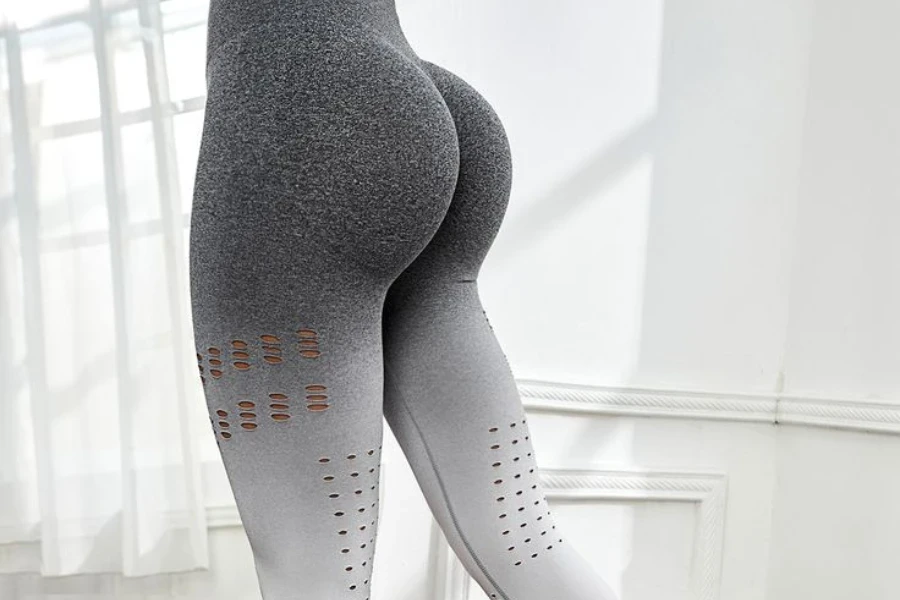 Embellished leggings have become popular in the fashion industry as a fun alternative to muted, monochromatic neutral tones. However, they have evolved from gym leggings into attractive bottoms that can be worn almost anywhere.
Thanks to their modish sophistication and edgy outlook, they are a great way to stand out and feel more confident. They are super comfortable, fun, and versatile. On top of that, they are appropriate to wear in any month of the year.
But they can be tricky to pull off well, especially for women who aren't so daring. The best way to coordinate the colors of the top and the bottoms is to pick one color from the print on the bottoms and then select the shirt in that same color. Slimming silhouettes and solid colors will nicely complement the boldness of the leggings while maintaining a tough-luxe and casual balance.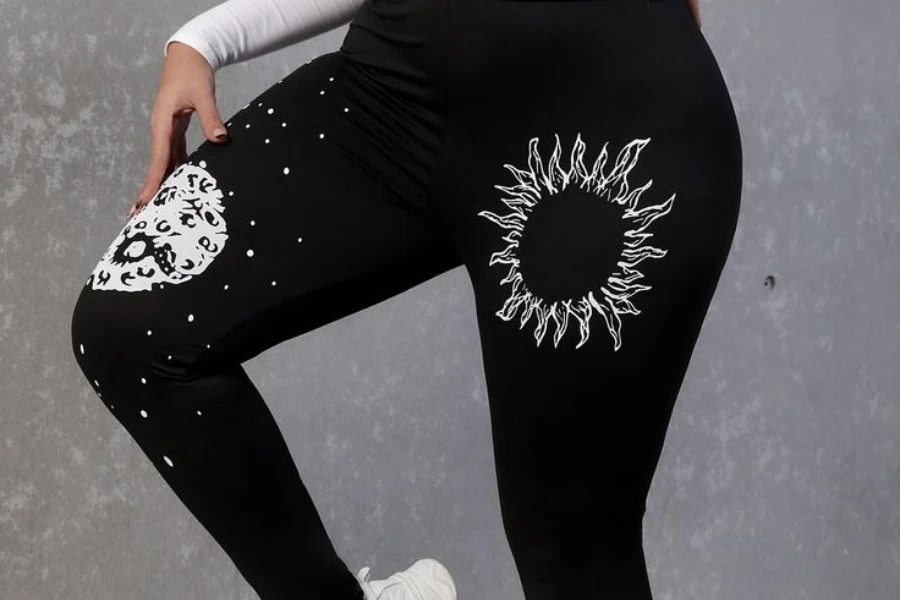 They can also wear this piece with a classic jacket and heels for a chic, business-casual look. Both regular and cropped tops, cardigans, and coats also look good with them. With so many lightweight but high-quality designs, consumers won't ever have to worry about them being see-through, making them a fantastic summer alternative.
Faux leather leggings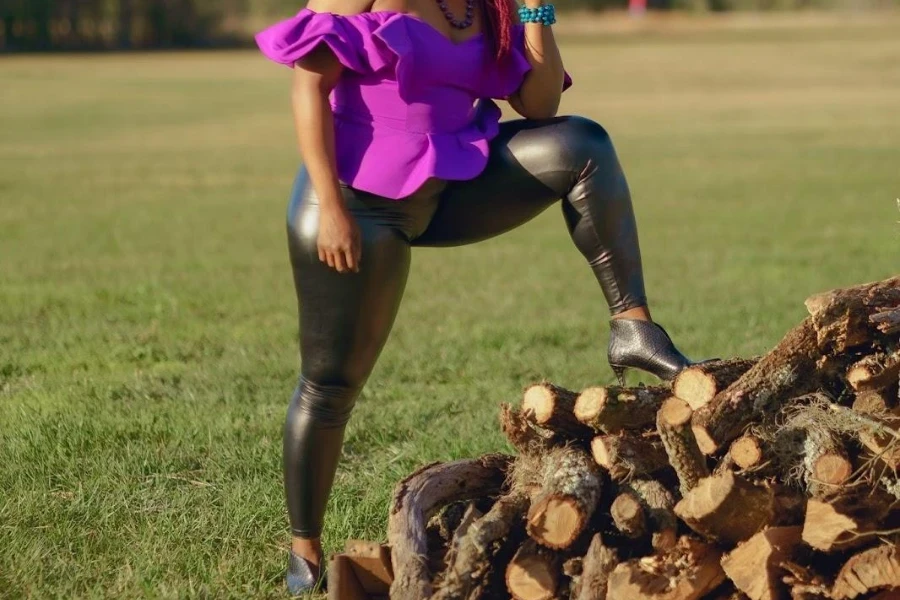 Recently, faux leather leggings have been trending—and for good reason! They are not only incredibly flattering but also give the freedom to put together a variety of looks that ladies can wear from autumn into winter. They can work anywhere that jeans are appropriate or as the ideal neutral.
These leggings are made of a synthetic material that resembles genuine leather in appearance and texture but is much less expensive. Whether to work or an evening out, wearing faux leather leggings is eye-catching and adds confidence. They can be a fun way to liven up a plain outfit.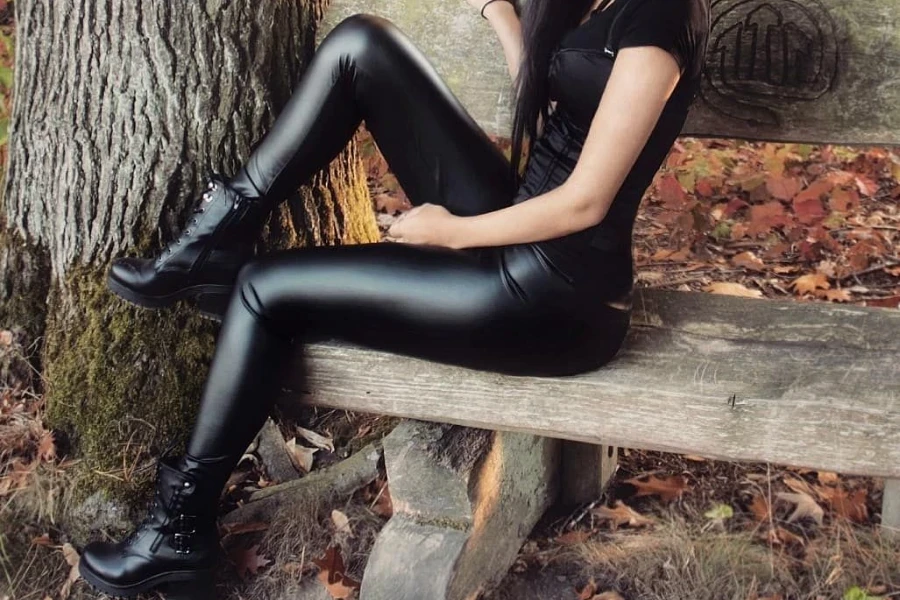 Depending on the situation, consumers can dress them up or down and are chic and fashionable. Put on a simple t-shirt and these leggings for a stylish yet laid-back appearance. Add a denim jacket for a more put-together appearance. Pair them with a blouse and finish the look with a blazer for more formal elegance.
Two-piece leggings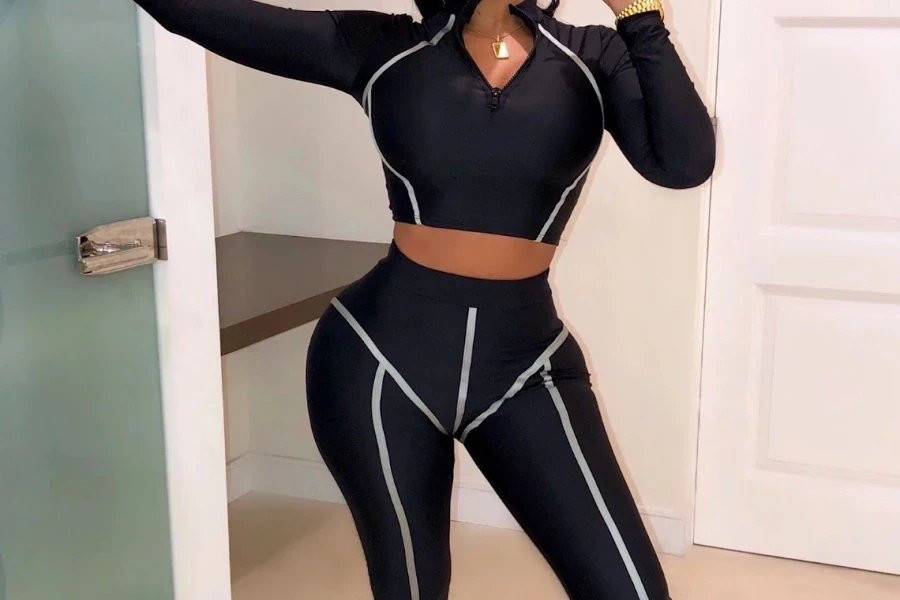 Matching sets have always had a polished appearance. The two-piece outfit is sure to enhance beauty and appeal. It is an excellent option for consumers who want to dress up their appearance without sacrificing comfort.
The two-piece is perfect as a business suit set or weekend loungewear knits for doing laps or running errands. Although they are great for everyday wear, this trendy item is also ideal for a special date night out.
Consumers can wear it for a casual look. Or they can crank up the energy and put on a blazer.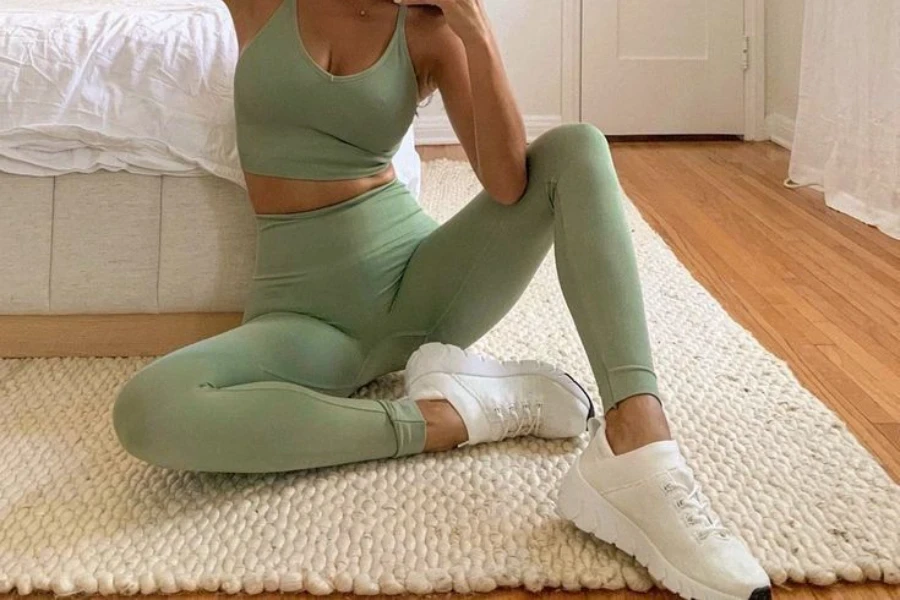 High-waist leggings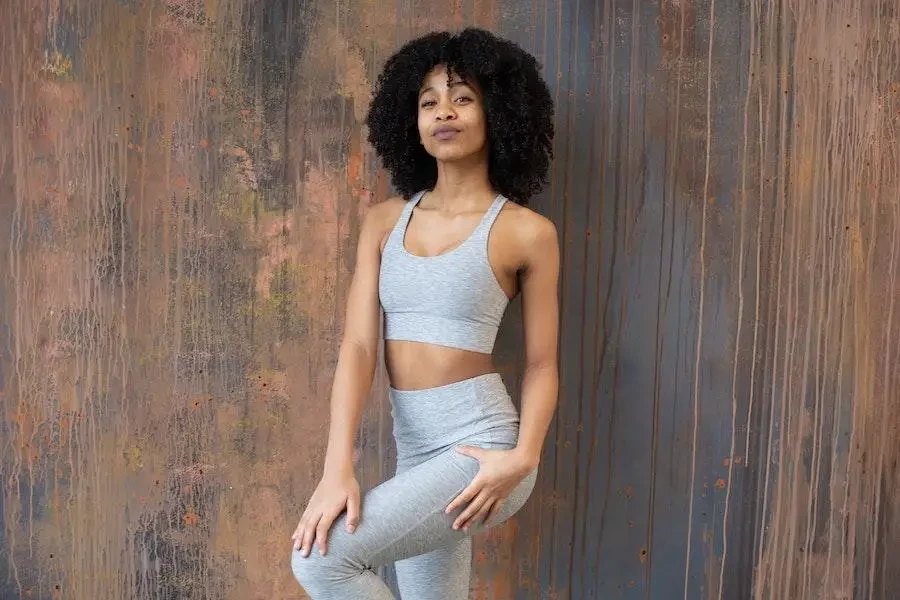 High-waisted leggings are a must-have item. They are not only very cozy, but they are also adaptable. Shoppers can wear them for exercising, going out, and lounging around the house. These versatile bottoms are perfect for any situation and look great on everyone. Shoppers love them because they lengthen the legs, giving off a put-together aura without sacrificing comfort.
Paying attention to the fit and wearing high-waist leggings with the right blouse are the keys to styling them. They can be made more casual with a graphic t-shirt or dressed up with a blazer.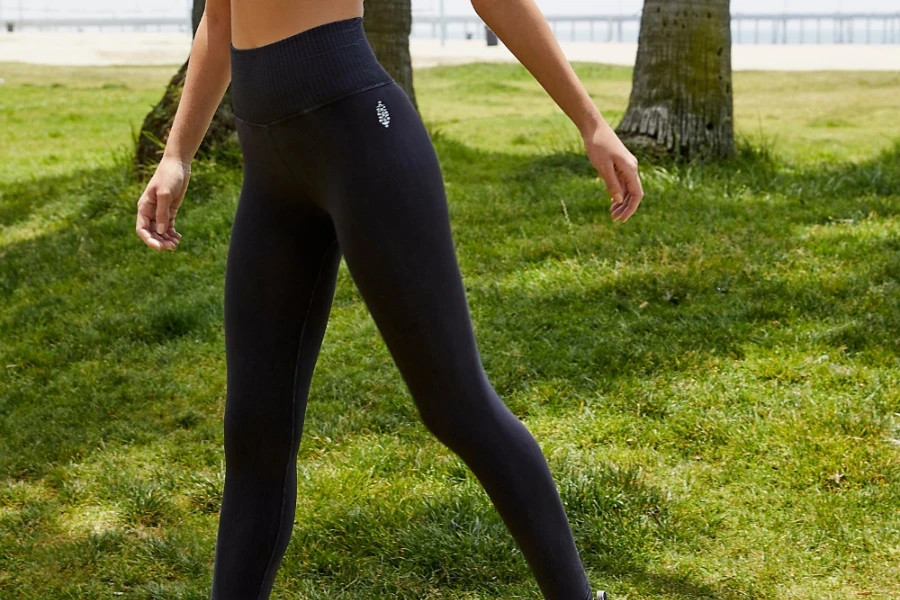 Leggings with a high waist and cozy sweater make for an easy outfit for the afternoon. This outfit is perfect for running errands or meeting up with friends. For a more polished appearance, wear them instead with a stylish blouse. This ensemble is also an excellent option for a special event or night out.
Stock up on these trends
People are looking for comfortable and stylish leggings that they can use daily for various activities. Leggings fit for several occasions would also be a top seller in the coming year. For 2024, sellers should expect to sell options that provide comfort, styling potential, and durability.
Sheer leggings give that bare-but-better look. Embellished leggings are perfect for daring styling. The two-piece is so easy to style. Faux leather and high-waisted leggings are a bold and edgy way to wear the leggings trend.
These leggings are excellent comfy options for working out, unwinding with some yoga, work, or going out for a casual brunch with friends. Brands should consider these for increased market penetration and more yield in 2024.
Was this article helpful?