Pregnancy is an exciting time. However, it is also a period full of changes. Moms-to-be are adapting to their changing bodies — their growing belly, the morning sickness, sudden cravings, and more. In the past, such changes were associated with pregnant women giving up on their personal style and sticking to simple, baggy clothes. But not anymore! Moms-to-be these days prefer to flaunt their baby bump in style and through their own maternity fashion.
Nonetheless, they might still be confused about how to dress for their new body shape. This is why it is vital that you, as a retailer, help them with maternity dresses that are stylish and comfortable. To help you, here is a list of the top maternity clothes trends.
Table of Contents
Provide comfort with flowy maternity tops
Baggy but classy maternity shirts for working moms-to-be
Stay cheerful in print maternity dresses
Figure-framing maternity dresses for social occasions
Maternity pants and leggings: the all-rounder
Conclusion
Provide comfort with flowy maternity tops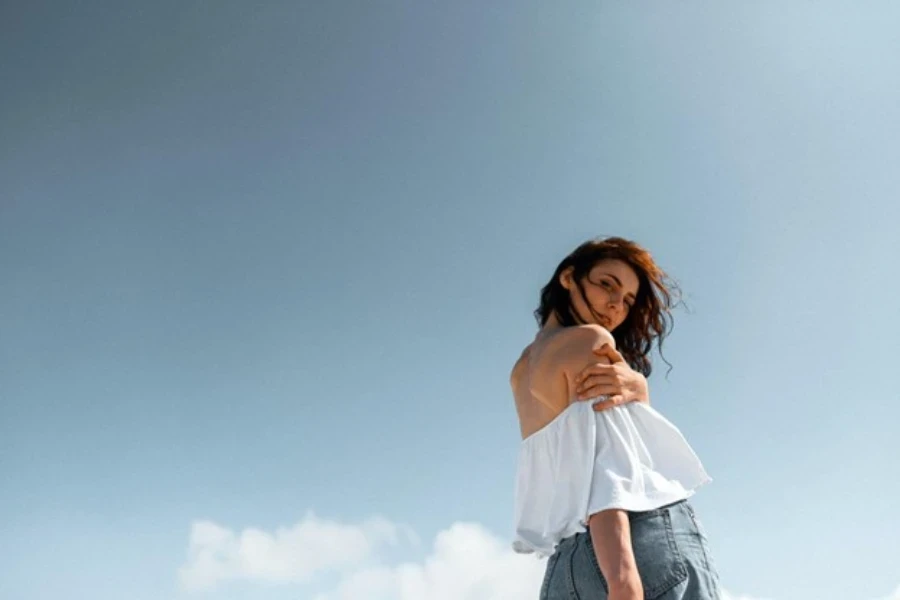 A flowy maternity top is ideal for pregnant women who aren't yet ready to reveal their good news to the world. Such tops fall loosely over the body frame and the growing belly, helping your customers keep their pregnancy under wraps.
Furthermore, flowy maternity tops can be used even after the baby bump begins to show. Since they are oversized and roomy, they can easily accommodate the big belly without dragging your customers' fashion quotient down. The best thing is that flowy maternity tops pair well with anything from jeans to hiking leggings or even over dresses.
Ensure you offer flowy maternity tops made of comfortable fabrics, such as wool, silk, silk-blend, crepe, and cotton. You will score extra brownie points if you can offer them oversized button-up tops. Such tops are nursing-friendly, so your customers will be able to use them postpartum.
Baggy but classy maternity shirts for working moms-to-be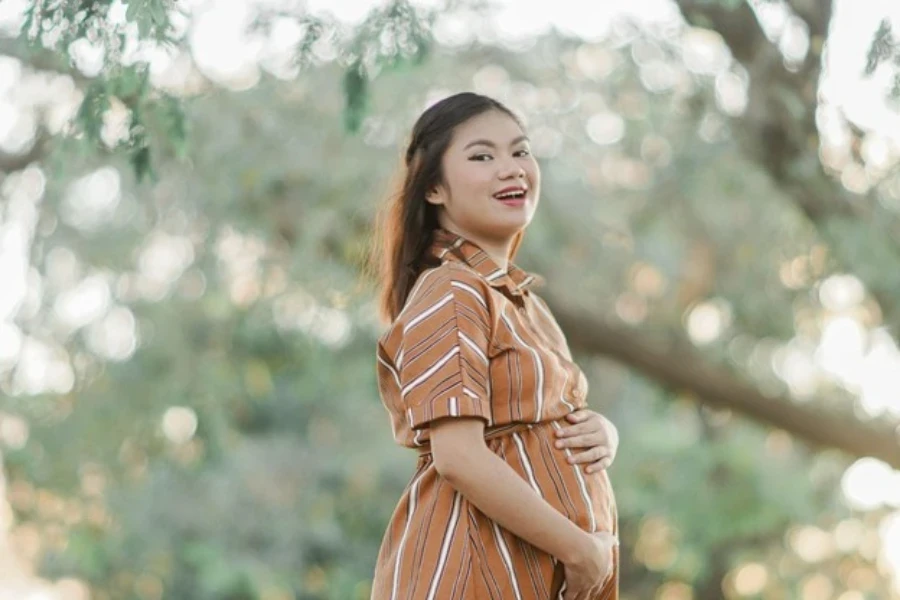 It is always a challenge for pregnant women to find professional maternity clothing. Hence, it is crucial that you present them with various clothing options to help them achieve that boss lady look without worrying about the baby bump. There is no better way to do this than by offering them formal shirts with extra room, which are a must-have in a working woman's maternity wardrobe.
Oversized button-up shirts serve especially well during pregnancy and go with everything from pencil skirts to dress pants and jeans. Nonetheless, don't limit yourself to one type of shirt. Instead, fill your store with flannel shirts, which can be great for business meetings, dress shirts that are great to be worn to the office, and more. Additionally, remember to stock a variety of patterns, from block color to polka dot or butterflies — pregnancy shouldn't mean loss of individual style.
Stay cheerful in print maternity dresses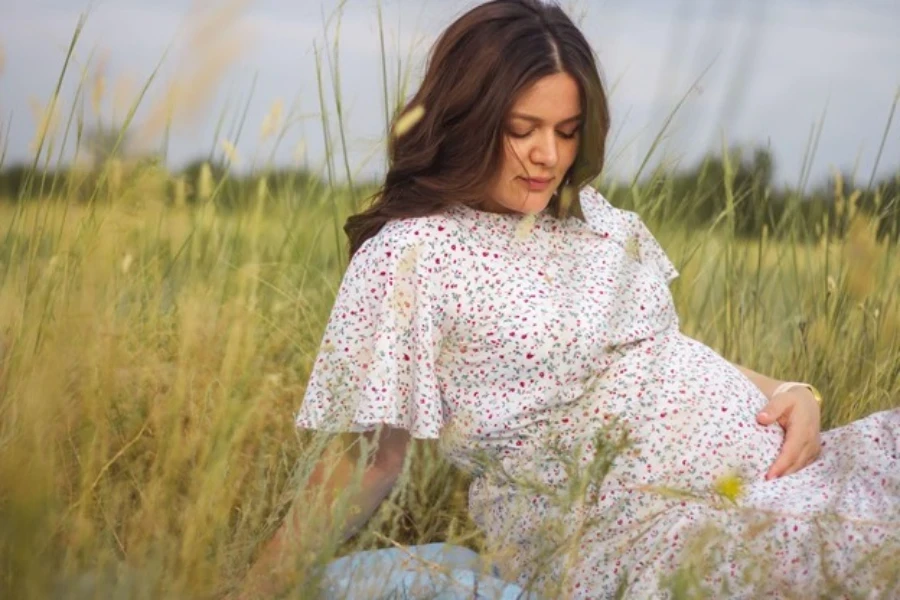 Prints and patterns are a great way to bring out the glow and radiance of moms-to-be. After all, there is a reason why they are considered a bestselling maternity style.
When sourcing patterned and striped maternity outfits for your store, make sure you have a good understanding about their size and placements. For example, maternity clothes with narrow stripes and smaller patterns help create a slim illusion to offer moms-to-be a flattering look.
You may have also heard that the color black makes people look slimmer. However, the truth is that looking slim depends more on the cloth fitting instead of the color. So, don't be afraid to provide vibrant maternity outfits to your expecting customers. Choose prints like deeper-toned blooms, animal prints, checks, and more in vibrant shades including orange, pink, green, and blue. These can refresh your customers' moods to keep them stress-free. Of course, it is also worth considering the season — brighter colors are always a bigger seller in summer!
Figure-framing maternity dresses for social occasions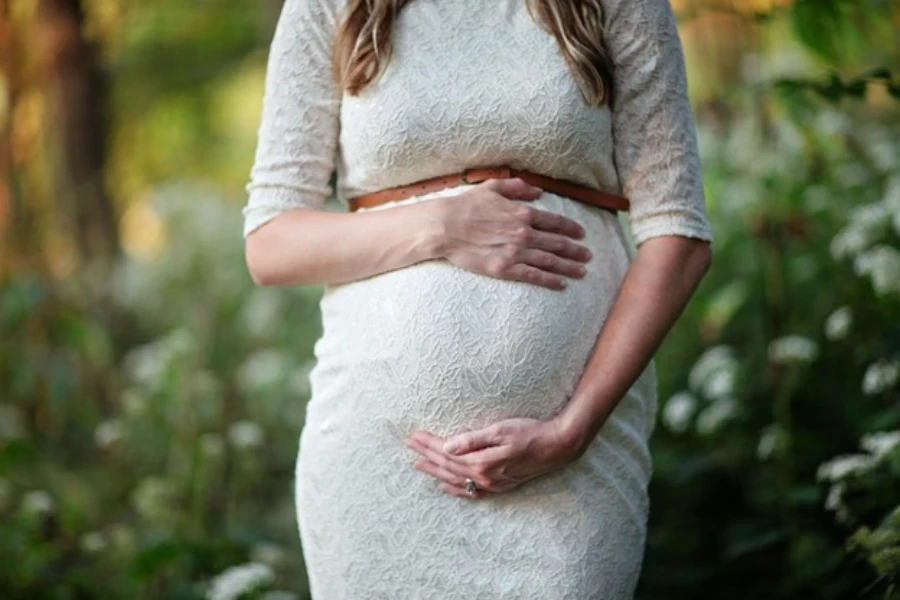 As women walk into their second and third trimesters, they get enthusiastic about flaunting their fully-blown baby bump, particularly during social occasions. Figure-framing dresses are perfect for helping them do this. For instance, think tie-waist and wrap dresses, empire waists, and fluid babydoll dresses.
Help your customers find a silhouette that is comfortable to be worn for as long as they want to. Additionally, offer them maternity outfits that align with their personal style.
For example, the empire waist dress exudes femininity and could fit the pregnant body shape perfectly without being too clingy. On the other hand, an a-line dress beautifully flows down the baby bump without overly emphasizing the curves. Pregnant women looking to accentuate their bump in a comfortable way will love a stretchy cocktail dress. Lastly, a tie-waist or wrap dress will create the illusion of a drawn-in shape without constricting the growing belly, while still creating a more fitted silhouette.
Maternity pants and leggings: the all-rounder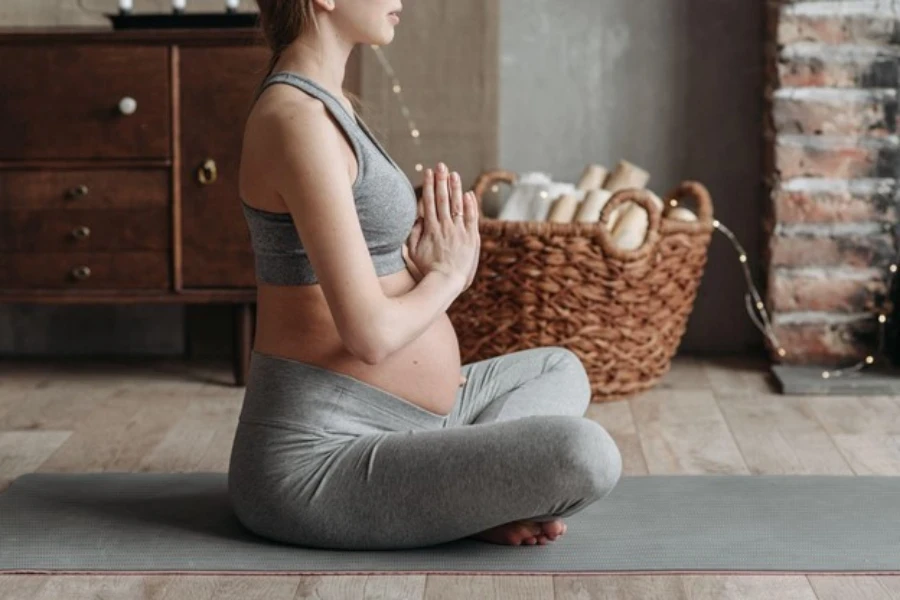 Pants and leggings are maternity basics that every pregnant woman should have in her maternity wardrobe. In fact, they will have to stock a few different maternity pants and leggings styles to get through all three trimesters.
Consider offering them full-length, ankle-length, and cropped-length pants, skinny, straight, flare, and boot-cut trousers, and formal pants. Ensure comfort is at the top of your mind when sourcing maternity pants for your clients. Ideally, you should offer them pants with elastic waistbands instead of buttons and zippers. This will ensure that the pants will grow alongside your clients' growing bellies.
Furthermore, when sourcing maternity leggings, choose various colors and patterns. Leggings are a versatile ensemble. They can go with literally anything, from tees to dresses and from jumpers to leather jackets, and more. So, if you offer your customers the right leggings, you can be sure they will be living in those throughout their pregnancy and beyond.
Conclusion
Trendy maternity clothes are a pregnancy essential, no matter what trimester your customers are in. While regular blouses, shirts, and T-shirts will work initially, your customers' baby bump will keep growing. This means your customers will need clothes that will perfectly fit their changing bodies.
This article lists the top five maternity clothing trends to help you stock your store right. Regardless of which trends you choose to embrace, the rule of thumb is to help your customers feel good and comfortable in the maternity clothes you offer. So work with that in mind, and you will be on the right track.
If you are on the hunt for marketplaces to source maternity outfits, consider Alibaba.com. You will find vendors offering a wide array of maternity clothing at affordable price points.
Was this article helpful?