The free-spirited essence of the late 1960s is experiencing a resurgence in contemporary fashion, allowing exceptional trends like neo-hippie to dominate the catwalks again. The alluring hippie fashion charm for men continues to captivate major designers and flood the market with eye-catching outfits.
Embracing this iconic style is now more accessible than ever, allowing businesses to leverage it as an opportunity to generate profits. With a wide range of authentic vintage pieces, this article will explore five neo-hippie outfit ideas with high potential for 2023/24.
Table of Contents
How profitable is the neo-hippie fashion market?
Five neo-hippie outfits men will love in 2023/24
Last words
How profitable is the neo-hippie fashion market?
The hippie look was such a big hit that designers and manufacturers couldn't help but reimagine the style in various ways. In the early 2010s, the neo-hippie trend entered the fashion scene with loose-fitting clothing made from natural materials, tie-dye, peace signs, and other symbols related to the hippie movement.
The Neo-hippie market also attracts more Gen Z and millennial consumers due to its focus on sustainability. According to research, 62% of Gen Z consumers would purchase from sustainable brands, with 73% ready to spend more on ethically produced goods.The consumers of sustainability embrace transparent apparel production and have become more sensitive to environmental issues globally.
Five neo-hippie outfits men will love in 2023/24
The spiritualist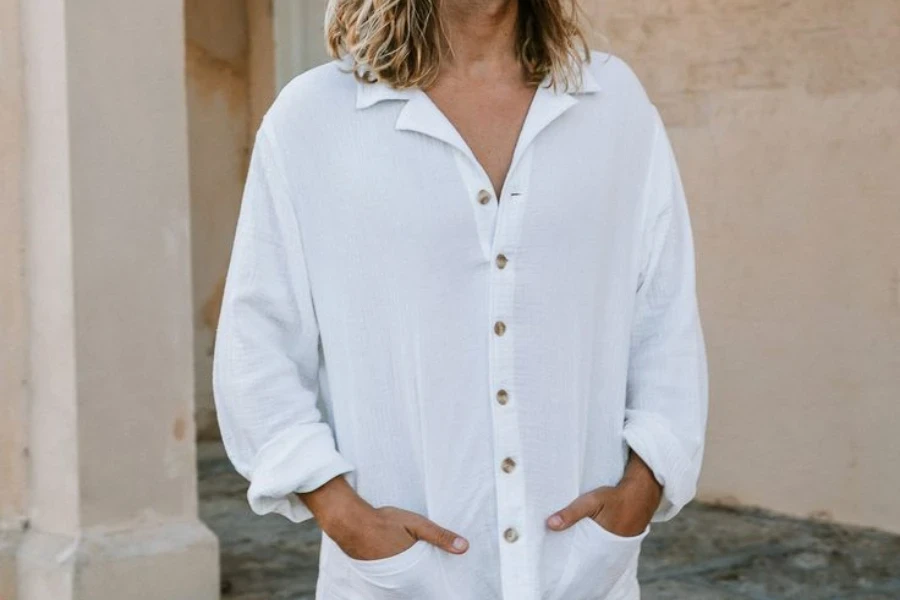 The "spiritualist" neo-hippie trend is a fashion style that draws inspiration from spiritual and ethnic influences. In truth, the hippie movement in the late 1960s popularized the theme, particularly after The Beatles' trip to India in 1968. The spiritualist trend blends Eastern and ethnic elements, featuring loose, comfortable, and flowy clothing emphasizing simplicity and earthy tones.
At the core of the spiritualist trend are tunics, capes, and light, flowy outerwear. The tunics are typically loose-fitting; manufacturers make them from soft fabrics like linen. They also come in white, off-white, pale stone-washed colors, or ethnic prints.
Alternatively, consumers can use Henley shirts instead of tunics in one to two sizes up for a relaxed fit. Additionally, men may layer embroidered or beaded vests over the shirts, adding texture and detailing, while fringe vests also work well for cooler months.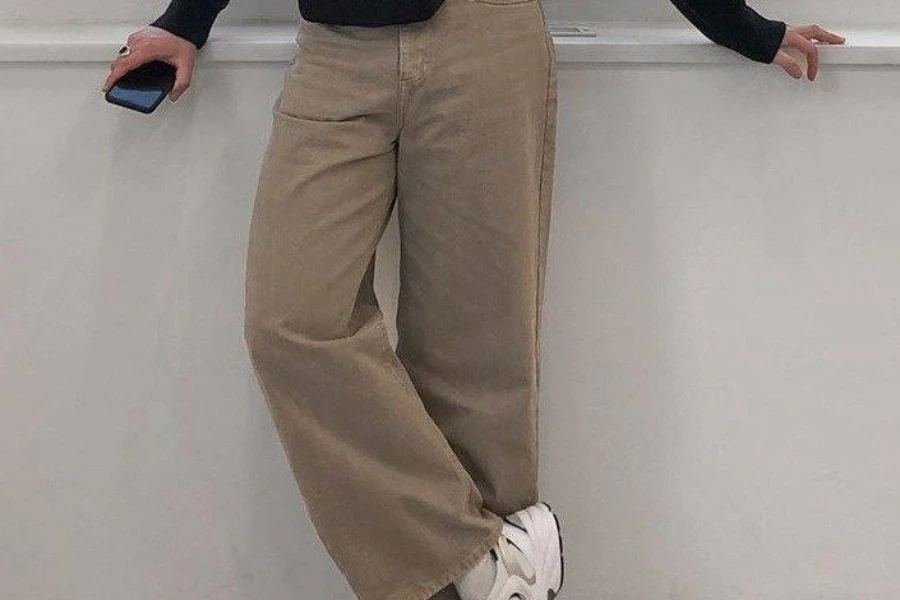 The spiritualist trend sticks to a simple color palette, usually incorporating only one or two rich colors. Although patterns can be diverse, they don't necessarily have to be Indian. As such, the theme can encompass styles such as prairie, patchwork, folk, Native American, or other ethnic patterns. The focus is embracing cultural diversity and expressing a bohemian, free-spirited vibe.
Moving on to pants, flared trousers are a key element in this trend. They come in cool colors like gray, smoke blue, violet, or vertical stripes, enhancing the overall neo-hippie aesthetic. Beach pants and loose-fitting linen trousers also contribute to the unique and comfortable nature of the outfit.
Merry prankster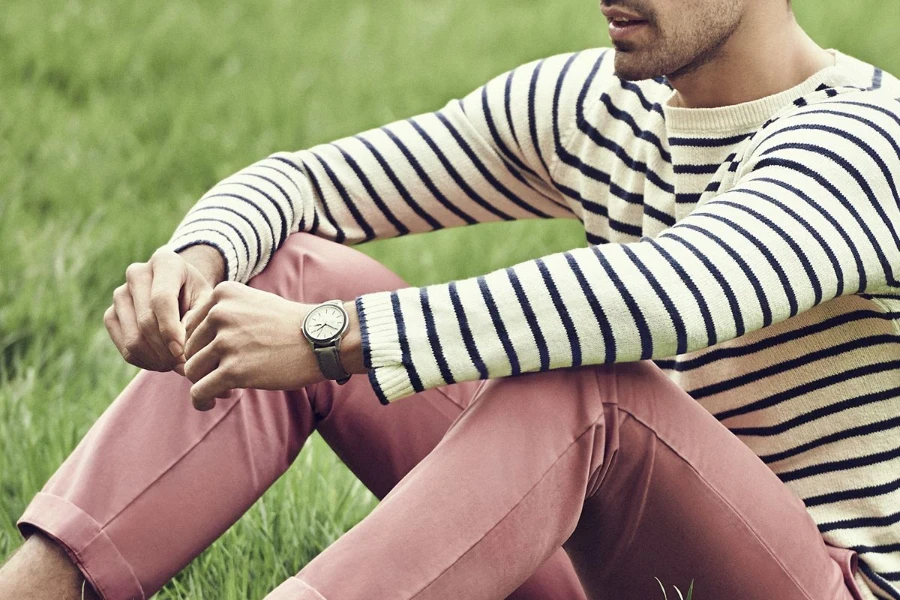 This neo-hippie theme offers a captivating fusion of the 1960s counterculture elements inspired by the antics of the Merry Pranksters led by author Ken Kesey. Merry pranksters embody the early hippie era's spirit, blending beatnik and traditional fashion elements to create a distinctive and versatile style. More importantly, the look is visually appealing and offers multiple outfit possibilities, making it a sought-after choice for modern fashion enthusiasts seeking a touch of retro charm.
Simple and authentic shirts are at the heart of the Merry Prankster outfit trend. The "Age of Aquarius" cut horizontal stripe shirt or a solid-colored shirt in warm tones is a perfect foundation for a merry prankster outfit. Also, polos, tees, and camp shirts work well to achieve the laid-back vibe, while elaborate patterns and slogans are unnecessary to maintain a clean and classic aesthetic.
For cooler weather, incorporating chunky cable knit sweaters or turtlenecks in natural colors adds both style and practicality to the ensemble. This look takes inspiration from 1950s and 1960s shirt and sweater styles, allowing for a seamless blend of retro elements.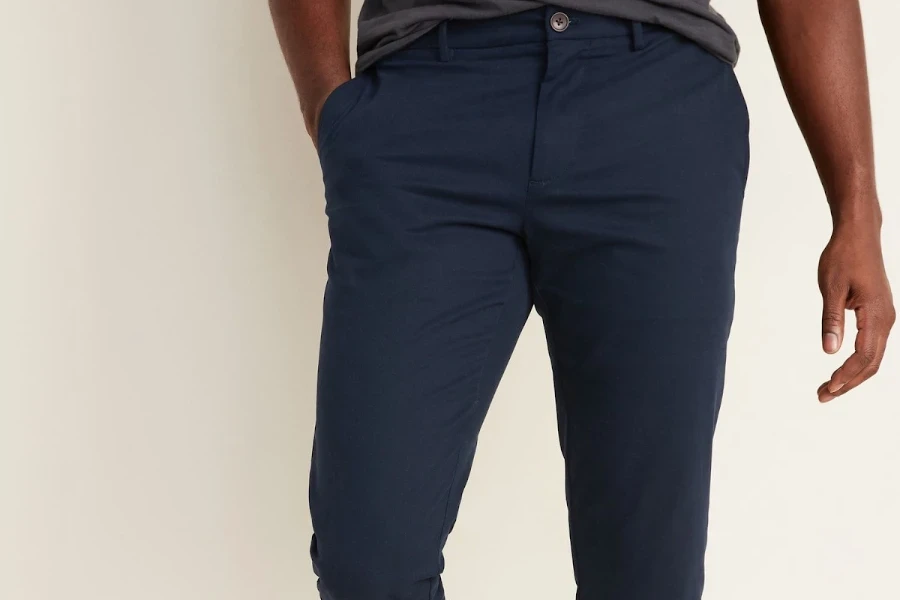 The Merry Prankster outfit calls for straight-cut casual stovepipe trousers in earthy tones such as white, light gray, dark blue, brown, olive, or khaki. Businesses should keep away from bleached, dyed, or clunky blue jeans to preserve the authentic spirit of the theme.
Ideally, the trousers are hemmed to flood length, sitting around one to two inches above the shoe, or men can opt for a shorter hem than usual to add a deliberate and subtle flair to the overall look.
Bohemian cowboy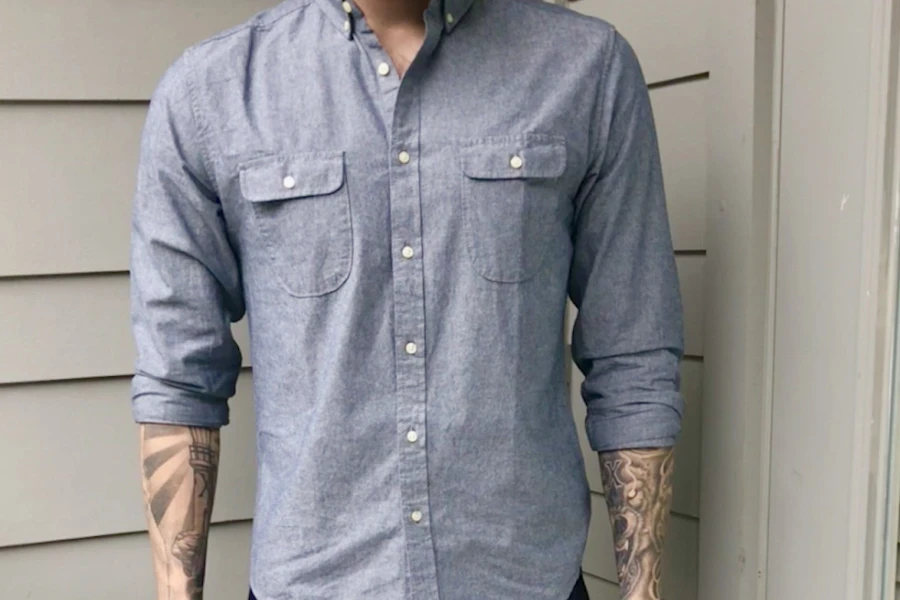 This theme merges two distinct styles: the free-spirited bohemian and the rugged cowboy. It represents a unique nod to the history of Americana within hippie culture, standing out amidst the sea of tie-dye and floral prints. Men's workwear heavily inspires the Bohemian Cowboy look, particularly blue-collar shirts like plaids and chambray shirts, which hippies transformed into oversized, trendy pieces.
Chambray work shirts or simple non-novelty Western shirts dominate this neo-hippie theme. Ideally, men can wear these shirts oversized with the top two to three buttons undone, adding a relaxed and carefree vibe to the outfit.
For colder months, men can layer them with denim or a fringe leather jacket, adding texture and warmth to the ensemble. However, consumers seeking a more "country look" will prefer the iconic Type II denim jacket, returning to classic Americana.
One of the distinctive features of the Bohemian Cowboy trend is the willingness to embrace double denim or "denim on denim" looks, creating a bold and daring style statement. This fearless approach to layering denim pieces adds an element of rugged charm, merging the bohemian and cowboy aesthetics.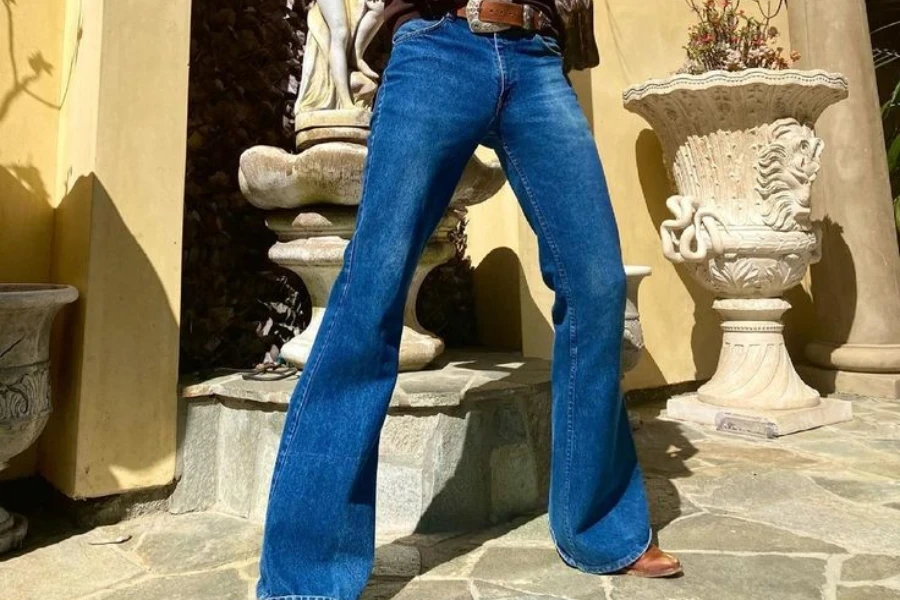 Since the Bohemian Cowboy outfit is all about denim, bell-bottom blue jeans take center stage while embodying the iconic hippie vibe. The denim washes can contrast with dark or light denim shirts. Consumers can also opt for soft-colored jeans on light denim shirts to create a harmonious or eclectic appearance.
Black or gray flared denim also works well with a light blue shirt. Men looking to push the bohemian boundaries further can incorporate overalls into the look. They can also wear them without a shirt to exude a distinct, carefree, and playful vibe.
Dapper hippie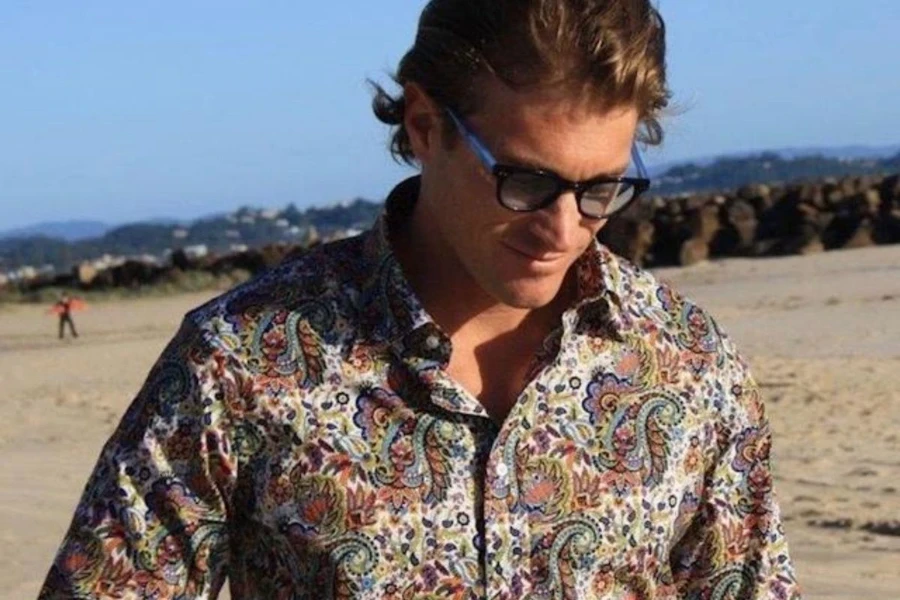 Who says hippies can't work with formal attire? Dapper hippie offers a refined and polished take on the traditional hippie fashion, making it perfect for events or occasions requiring a slightly more sophisticated look, without compromising on the essence of the hippie culture.
This theme incorporates elements of formalwear, such as suits, blazers, and shirts in bold patterns, while embracing the bohemian and free-spirited nature of the hippie movement. As a result, button-up shirts with eye-catching designs are a popular option for dapper hippie ensembles.
They often include bright solid, floral patterns, tie-dye, or paisley prints. But to add a formal touch to these patterned shirts, men can pair them with solid velvet, corduroy, or chambray blazers.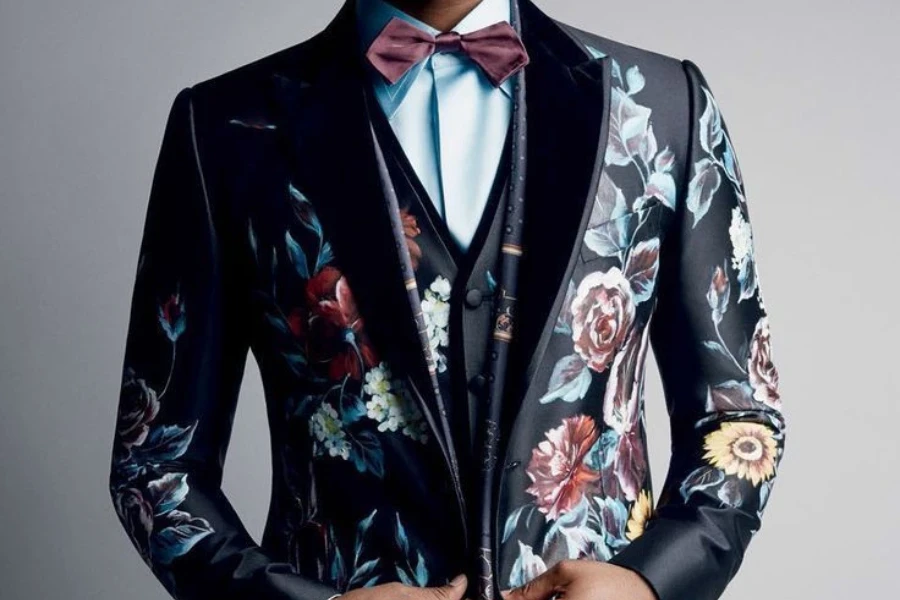 Alternatively, consumers can match solid-colored shirts with floral, paisley, or striped blazers to craft a more eclectic and playful look. But that's not all. Smoking jackets and bright tailcoats also appear in this trend, providing a fun twist while maintaining a relatively dressy vibe.
Indeed, embracing the dapper hippie style requires bright colors and busy patterns. Since it opens the door for more versatility and creativity, men can match their shirts and blazers with suit pants, corduroy trousers, non-distressed jeans, or patterned bottoms. They can also go the extra mile with bell-bottom or flared pants, paying homage to the iconic '60s style.
Organic mechanic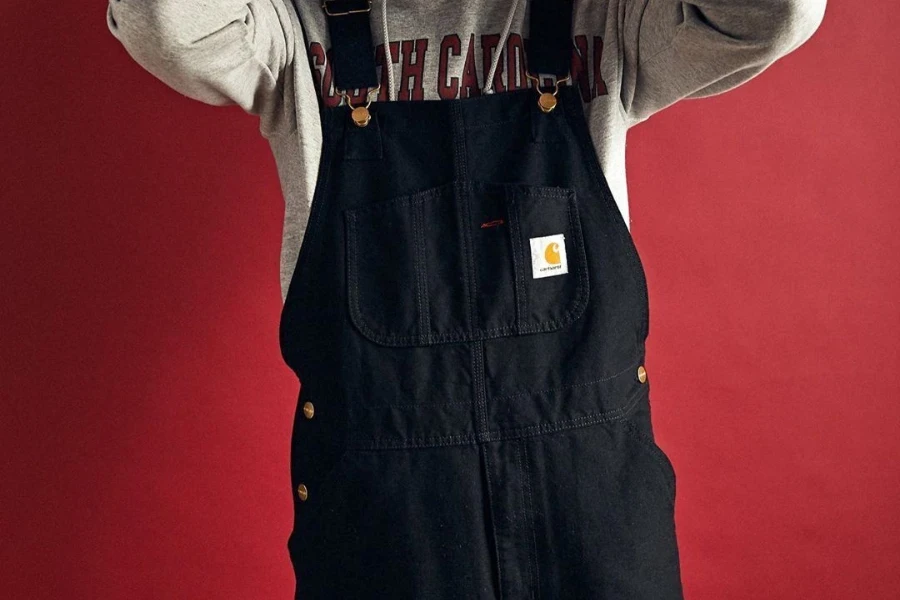 Yes! Hippie also makes an impressive combo with military surplus and workwear influences. The trend also highlights a commitment to sustainability, durability, and a counterculture movement connection.
T-shirts or Henleys in white or tie-dye play a vital role in this theme as comfortable base layers. However, the focal point is the mechanic's coverall, which pays homage to workwear's practicality while providing a unique and unconventional hippie look.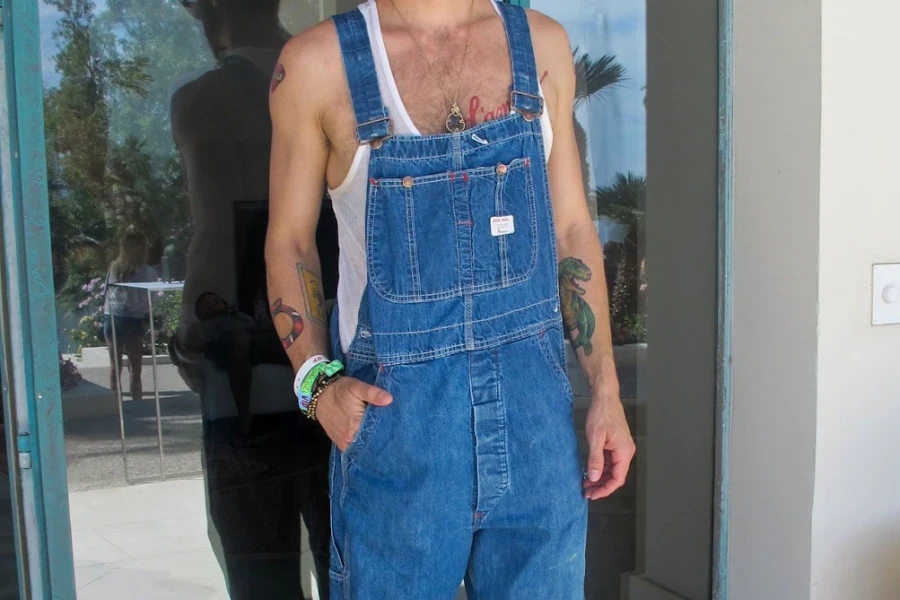 Although they look fantastic as stand-alone outfits, men can layer an A-2 bomber or field jacket over them to further embrace the military surplus influence. Interestingly, the outfit's field jackets with patches add an authentic touch, giving it veteran protester vibes.
Last words
Nowadays, a hippie outfit for men is more than just an ensemble. It has become a portal for consumers to relive and revel in the transformative spirit of the 1960s.
Yet, as the hippie movement embraced individuality, nonconformity, and rejecting traditional fashion norms, consumers don't have to stick to the past. These neo-hippie trends introduce a new twist, allowing men to intertwine elements or forge new paths within hippie fashion.
Focus on the spiritualist, merry prankster, bohemian cowboy, dapper hippie, and organic mechanic trends to offer men a window into the vibrant inventory of timeless garments.
Was this article helpful?