As autumn arrives, it's time to explore the key apparel trends spotted across the latest lookbooks. Leather jackets shake off their rugged reputation with new silhouettes. Wide-leg and flared denim emerges as the silhouette of the season. Oversized button-up shirts find new life with modern updates. And dresses indulge in bold floral fantasies. Read on for an inside look at these and other top trends direct from the source. With their versatile styling, these items are set to fill autumn wardrobes with both comfort and flair. Whether ladies seek effortless weekend wear or polished workweek essentials, these looks deliver.
Table of Contents
'90s leather jackets make a comeback
Wide-leg and flared denim rises in popularity
Oversized button-up shirts get a revamp
Plaids and checks recapture nostalgia
The denim skirt 2.0
Dresses go full floral fantasy
Final thoughts
'90s leather jackets make a comeback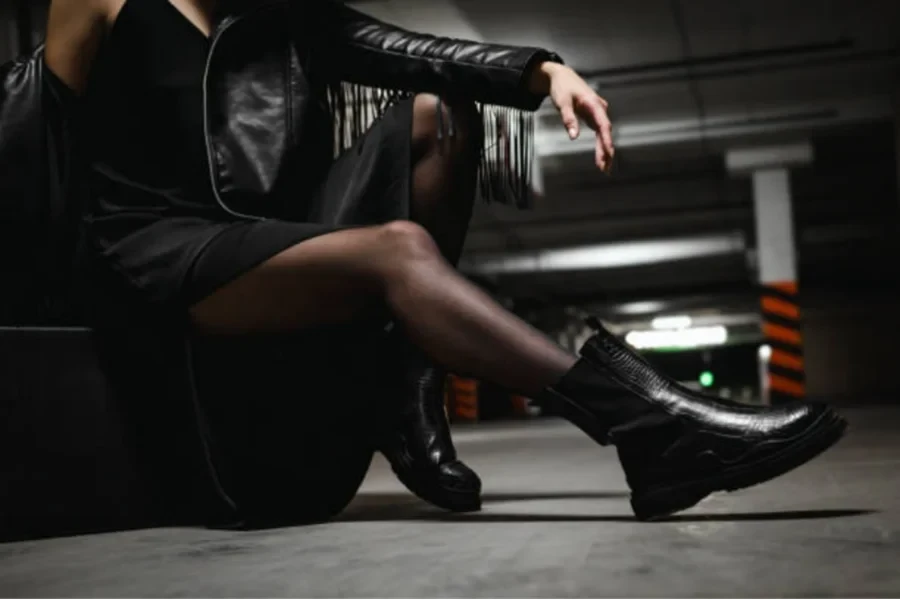 Leather emerges as a standout material for autumn, shaking off its rugged reputation with a range of new styles. Bombers capture that old-school vintage vibe in updated finishes like buttery-soft lambskin and distressed, washed treatments. Oversized blazers in leather or leather-look fabrics create polished versatility from the office to evenings out. Quilted leather jackets also lend a refined edge for transitional weather.
Moto jackets remain a staple but now include fresh cropped proportions as well as new takes on the classic biker silhouette. Details like buckles, zippers, and belted waists keep the edge factor high. Washed metallic leathers in iridescent bronzes, coppers and rose golds lend feminine flair.
For a more menswear-inspired mood, try Harrington and varsity jacket shapes in leather or faux leather. Contrast sleeves and sporty striped ribbed trims capture that throwback collegiate vibe.
Leather skirts, trousers and dresses also expand options for head-to-toe leather looks. Whether sleek faux leather pencil skirts or buttery leather midi designs, they introduce new ways to wear the perennial fabric. Leather-look leggings and joggers bring moto appeal to athleisure.
Leather's expanded versatility allows it to span occasions and aesthetics this autumn. Tough moto pieces perfectly balance feminine ruffles and florals. While supple lambskin and metallic leathers lend refinement and polish. Leather provides a thread to unite both casual and tailored autumn wardrobes.
Wide-leg and flared denim rises in popularity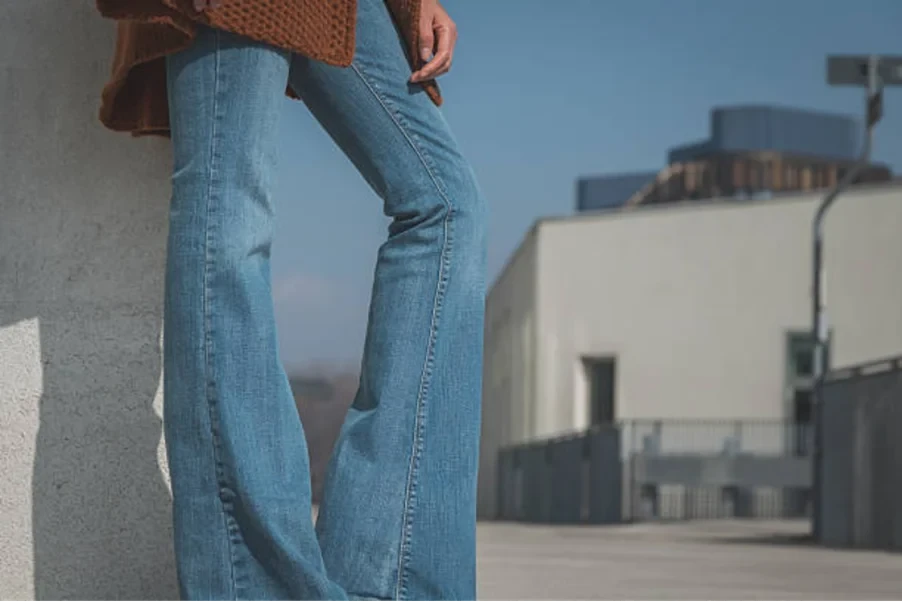 Denim takes a dramatic turn this season with the return of wide-leg and flared silhouettes. After seasons dominated by skinny fits, it's time for jeans and skirts to spread out.
Maxi denim skirts make a sweeping comeback, ideal for showcasing boots and booties. Aim for calf-grazing and ankle-skimming lengths for ease of movement. Softer chambray or vintage wash treatments lend versatility from day to night. Pair with crop tops, chunky knits and oversized button-downs.
Jeans also embrace the return of the flare, echoing seventies inspirations. Go full retro with high-waisted styles and exposed button flys. Or try cropped flares for those not yet ready to fully commit. Look for light vintage washes or rich indigo shades. Cuff hems to highlight statement shoes.
Wide-leg denim provides a laidback alternative, perfect for relaxed weekends. Try frequent wash treatments for extra softness and comfort. Pair with fitted tees, tank tops or bodysuits to balance proportions.
Denim workwear and utilitarian styles also uptrend with roomy carpenter pants and cargos. Multiple pockets add function while adjustable details cinch the waist.
The expansion of denim's silhouettes introduces new ways to wear this perennial fabric. Lean into denim's seventies heritage or take a more modern approach by pairing dramatic flares with sleek minimalist tops. Wide-leg and flared denim creates versatility from off-duty days to nights out.
Oversized button-up shirts get a revamp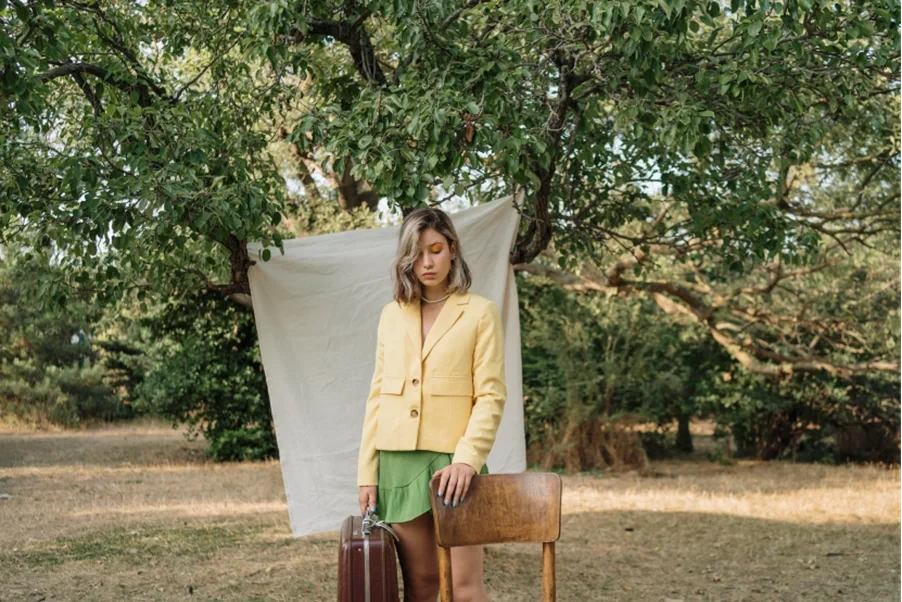 The button-up shirt shrugs off its corporate reputation this season with playful new oversized proportions. Volume through the shoulders and billowing sleeves lends these staples a whole new personality.
Plaids, updated with bold enlarged checks or muted color palettes, keep the look grounded. Try tonal shades like navy with light blue or deep burgundy with cream. Checks and buffalo plaids also feel fresh in olive, mustard and chocolate brown hues.
For weekends, look for soft flannels and brushed cottons. Roll up the sleeves and pair with jeans or joggers. Crisp poplin shirts offer polished potential for workdays when tucked into midi skirts or tailored trousers.
Silky satin button-down shirts provide an effortlessly luxe foundation piece for transitional layering. Look for interesting details like lace yoke bibs, broderie anglaise trim, and ruched sleeves. Tie at the waist over leggings or jeans on casual days.
Oversized silhouettes allow endless styling possibilities. Feminize with maxi skirts, leather leggings, or skinny jeans. Or lean into the menswear mood by layering over wide-leg trousers and loafers.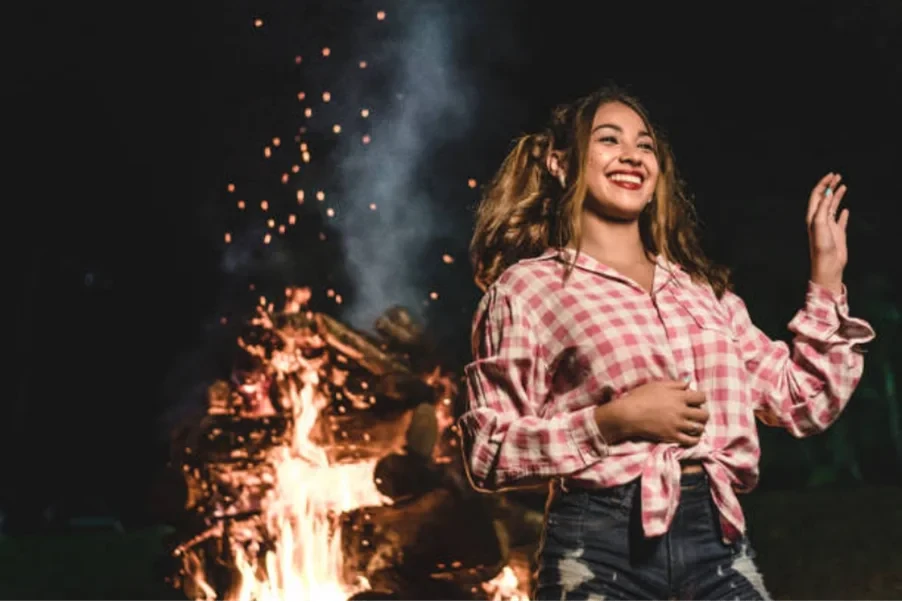 Cropped button-down interpretations feel fresh for youthful customers. Try knotting and tying shirts to reveal hints of skin. Pair with high-waisted bottoms for matching or contrasting color play.
By playing with exaggerated proportions and fabrics, the classic button-up shirt transforms into a versatile hero piece for autumn. Elevate everyday outfits effortlessly from this foundational wardrobe staple.
Plaids and checks recapture nostalgia
Heritage-inspired plaids and checks bring cozy nostalgia to autumn assortments. These classic prints provide an anchoring foundation to layered fall outfits.
Buffalo check emerges as a key pattern for outerwear. Try oversized coats in bold black and ivory or muted olive and taupe colorways. Pair with wide-leg bottoms for harmonious proportions.
For a more polished mood, incorporate houndstooth and Prince of Wales check wool blazers. Contrast against billowing maxi skirts and dresses.
Gingham offers retro charm from picnic-ready midi dresses to pleated mini skirts. Look for oversized takes on the print for relaxed button-down shirts.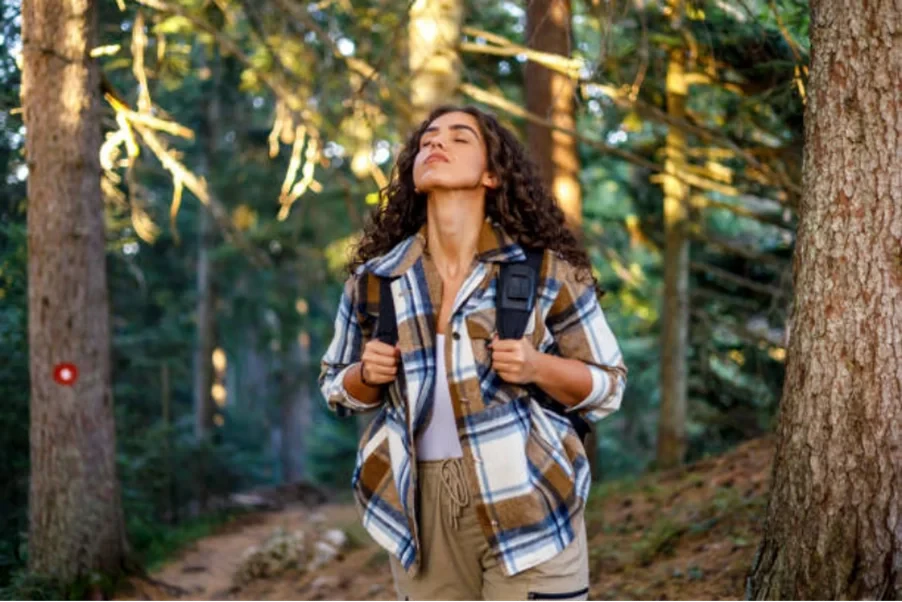 Plaid flannel shirts and shackets capture easy weekend appeal. Style with leggings and jeans or layer over delicate slip dresses. Checks and plaids also feel fresh and current in muted earth tones of moss green, chestnut brown and mushroom gray.
For business casual looks, try wool trousers or A-line skirts in coordinated micro check or subtle plaid patterns. Pair with silky camisoles or crisp poplin shirts.
Plaids and checks reminisce of cozy fall days past but also provide timeless versatility. From grunge-inspired weekends to refined workwear moments, these patterns help create autumn wardrobes with longevity and nostalgic charm.
The denim skirt 2.0
The denim skirt enjoys a stylish update this autumn in fresh new lengths. Midi and maxi options provide more coverage while allowing for movement.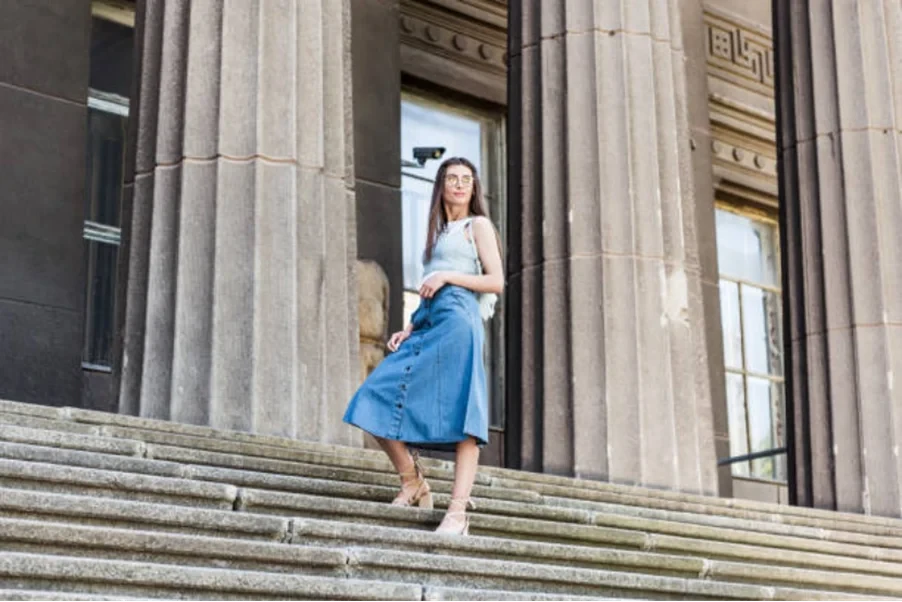 A-line denim maxis are key, lending vintage appeal while remaining contemporary. Look for details like front slits, exposed buttons, and frayed hems. Chambray or darker indigo washes keep the look casual enough for daytime. Pair with oversized knits, crisp white sneakers, and ankle socks.
For evenings, consider body-skimming denim pencil skirts with center back slits. Tuck in silky camisoles or flowy blouses. Heels elevate the look.
Denim minis also feel current with high-waisted silhouettes and frayed cut-off hems. Contrast the shrunken length with oversized outerwear for proportions play. Add opaque tights or leather boots for transitional weather.
Vintage-inspired washes, lighter finishes, and distressing soften denim's rugged reputation. While details like buttons, rivets, and mixed dye effects maintain the attitude.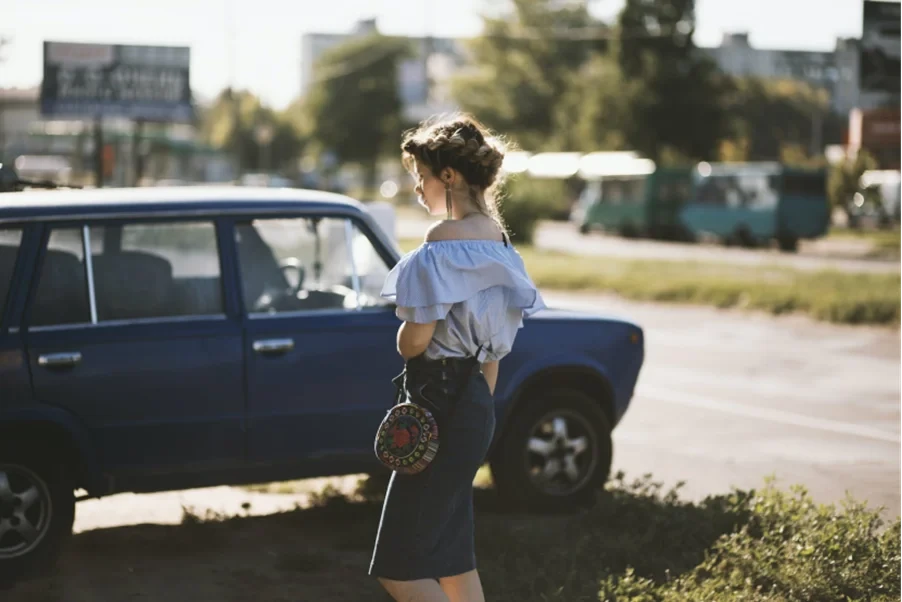 Denim skirts provide an easy avenue to tap into autumn's seventies trend while still remaining modern. Pair with boho peasant blouses, western boots, or menswear-inspired outerwear for an unexpected twist.
Dresses go full floral fantasy
Florals take a darker, moodier turn this autumn, reinventing romantic dresses with gothic edge. Deep hues like oxblood red, midnight navy, and hunter green replace predictable pastels. Embrace bold blooms and artful placements rather than ditzy florals.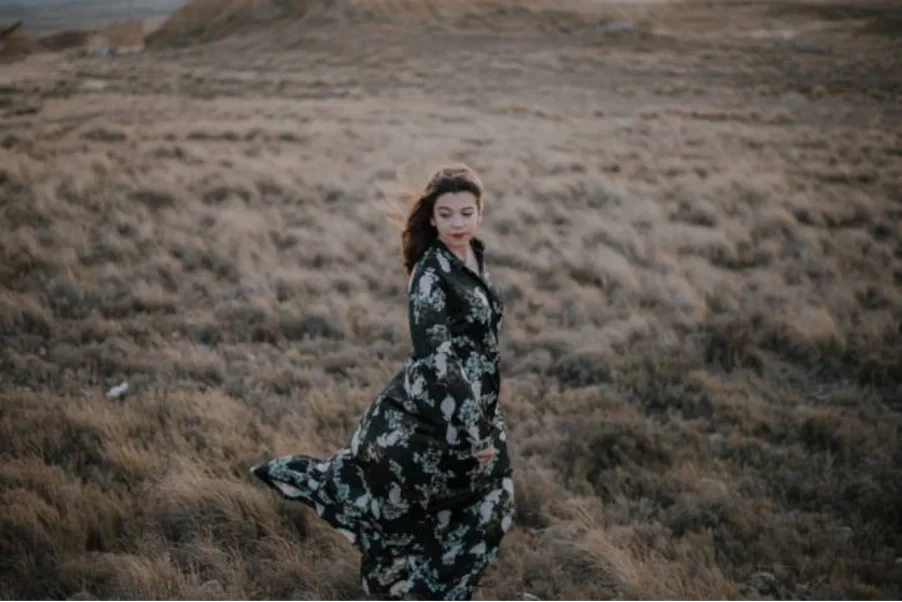 Look for muted velvet florals with seventies-inspired shapes. Flounced sleeves, mock necklines, and ruffled hems counter the fabrics' opulence. Pair with western boots for unexpected contrast.
Metallic jacquards and flocking effects lend sheen to autumn's moody blooms. Shimmering silver flowers cascading down a skirt catch the light with movement. Flocked overlays in black lend lush texture.
Distressed details like frayed lace and deconstructed hems refresh floral dresses into modern heirlooms. Cold-shoulder and off-the-shoulder necklines feel alluringly antique, while still keeping silhouettes contemporary.
For pops of color, try vivid watercolor washes or photographic florals with hyperrealism. Vines cascading over a slip dress or vivid roses climbing a skirt provide artful interest.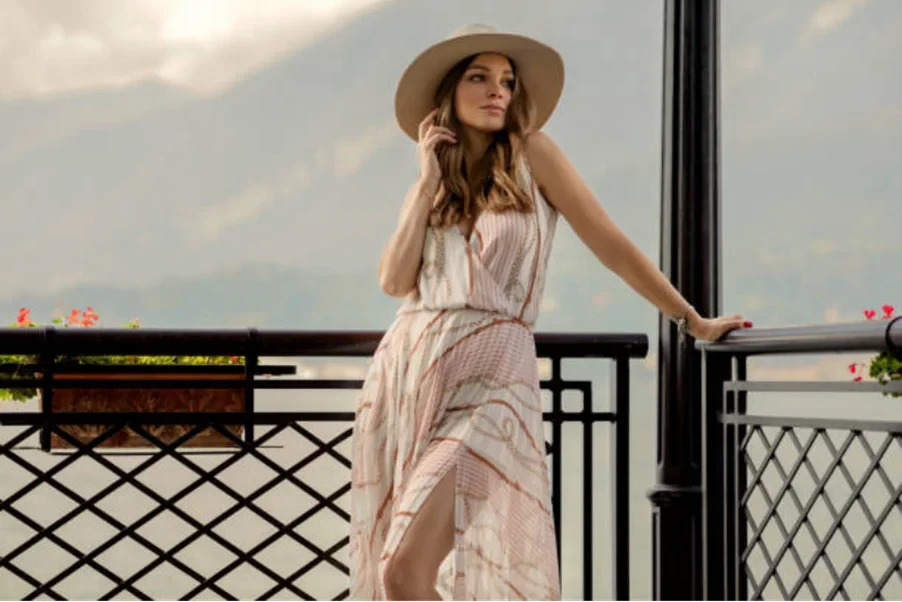 By playing with darker palettes, unusual fabrics, and artful prints, autumn florals feel lush yet modern. These updated takes on the feminine print capture autumn's gothic romance.
Final thoughts
As the new season arrives, one can look to these standout apparel trends to inspire autumn and winter buying. Their versatility means these items will lend longevity to modern wardrobes for seasons to come. Leather jackets, wide-leg denim, plaids, and moody florals are just a few of the top directions spotted across recent retail lookbooks. By incorporating these key looks into inventories, everyone can deliver the must-have fashions that are sought each autumn. With creativity and personalization, unique stamp will be put on these essential trends. As the leaves begin to change, these styles offer both timeless appeal and on-trend edge to satisfy every autumn aesthetic.
Was this article helpful?